New Zealand Road Trip Journal: Queenstown (Week 5)
Well I'm 5 weeks down in my New Zealand road trip. I was actually supposed to be flying home this week….but then I landed in Queenstown, and I got stuck. And funny enough, my first impressions of this town were not all that good. I had heard it was over-commercialized, over-run with tourists, and over-priced. As soon as I saw the hour-long line at Fergburger, I believed that all of these things must be true.
10 days later, guess what. I'm still here. Whoopsies. I've discovered that beneath the crazy (and it IS crazy at the height of summer) surface, Queenstown has so much to offer. Cool cafes with AMAZING coffee, rad (really smart, talented people), and tons of accessible hiking terrain. Plus, it's really freakin' gorgeous. It's how I think of some of the cool mountain towns in the states, but here you have the ability to remain slightly more anonymous due to the international community and influx of travelers.
Here are my New Zealand travel highlights from week 5! If you missed the first month, you can check out all of my New Zealand road trip posts here. And if you want to follow me in real time as I continue my road trip, I'm posting on snapchat regularly (name: bearfoottheory).
Arrowtown (Day 30)
I was excited to return to Queenstown after a few days in the mountains and was hoping that the holiday craziness had subsided a bit. It was still busy, but not nearly as mad as the previous weekend. I was excited to dive in and a week later….I'm still here.
Queenstown doesn't have a ton of cheap places to camp, but 12-mile Campground managed by the Department of Conservation is about a 15 minute drive from town and right on the shore of Lake Wakatipu. It's absolutely massive and it was nice being able to spread out (some of the other campsites I've stayed at in New Zealand have been very tight…like you can almost hear people snoring in the next van over.)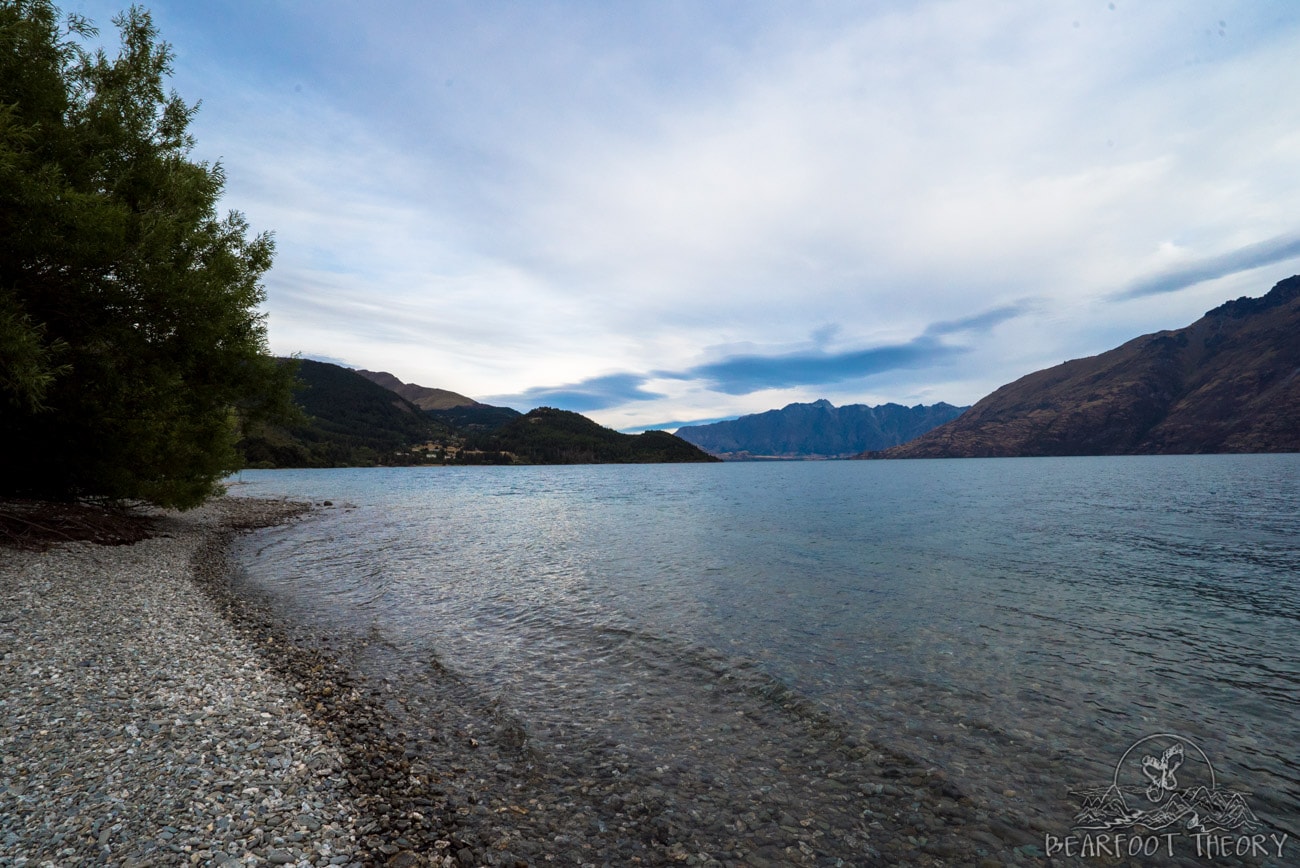 The only problem with the 12-mile Campground is there is no shower. I'm quickly getting used to being smelly and going days without soaping down…but after three days backpacking in Mt. Aspiring National Park I was desperate. Luckily the Aquatic Center in town has hot, clean showers that you can use for $8 NZ, plus they have a killer hot tub that you can also use. It's no day at the spa, but when you are living the van life, this is luxury at its finest.
After getting cleaned up, I took the short drive up to Arrowtown, a charming little (former) gold mining town that kinda reminded me of a smaller version of old-town Sacramento.
I decided to grab a cider at a bar and do a little work before hitting up the Tobin Track, a 1 hour round trip trail/gravel road that took me to the a nice lookout point.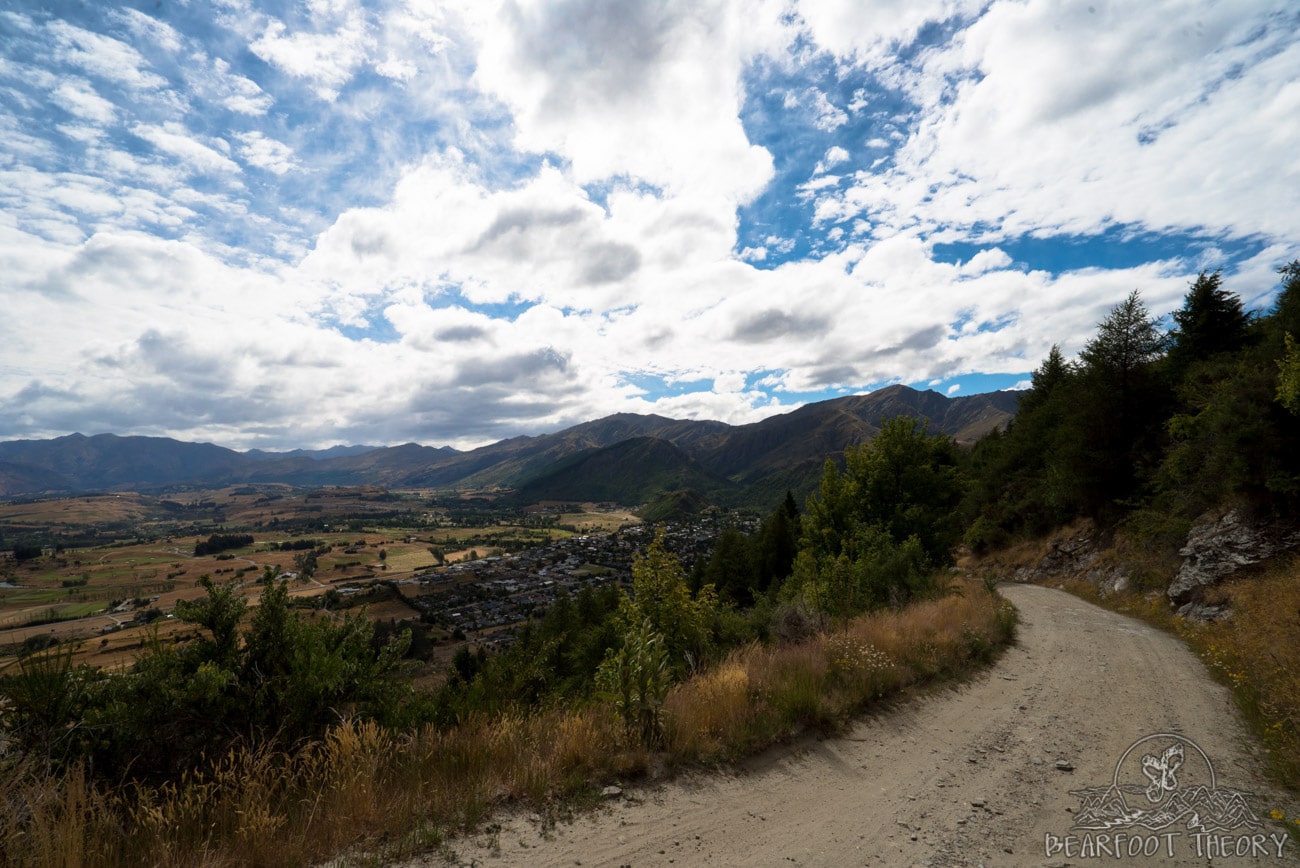 That night, I returned to my nest at 12-mile Campground and whipped up a delicious salmon salad dinner with my neighbor Jake who I met while backpacking in Mt. Aspiring National Park a few days prior.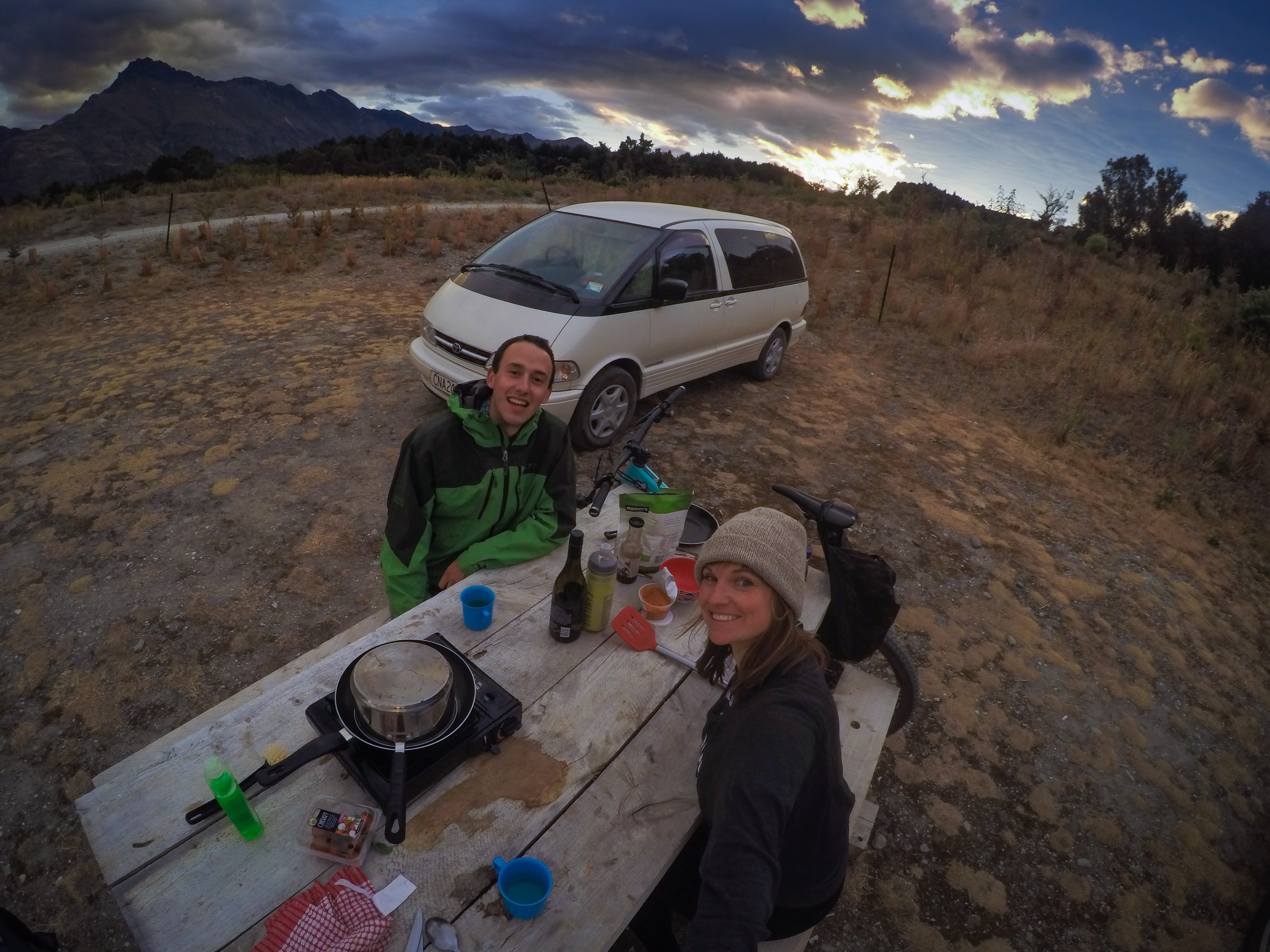 Catch-up Day in Queenstown (Day 31)
Not much to report here. Coffee, Work, Cider, Work, Laundry, Dinner in the Vanette, and then a Night on the Town.
If you are looking for fun nightlife…Queenstown is definitely the most happenin' spot I've been to so far. It was Friday night, so I decided to do a little bar hopping. Some of the bars were a little bit frat-like and not so much my scene. I did stumble on one bar though that I totally dug called the Bunker. The drink prices were pretty outrageous, but the cocktails were innovative, they had a cool down-tempo-ish DJ rockin' some tunes, and had a cool fire pit out on the deck.
I also took a much needed day off from the camera, so there's no photos from today.
Hiking Ben Lomond (Day 32)
It has been windy in Queenstown. Like really really windy. Not ideal for hiking to the summit of Ben Lomond, but I figured if I waited for perfect weather, it may never happen. Ben Lomond is one of the tallest peaks that towers over Queenstown at 5,735 feet.
There's two ways to hike Ben Lomond. The first is to catch the Skyline Gondola up the first 1,300 feet. Given the total elevation gain of the Ben Lomond hike is nearly 4,500 feet, this is a good option to save some energy if you are willing to pay the $32 price tag.
Me? Not so much. I decided I'd hike right up from the very bottom and save myself some money instead. It took me about 50 minutes of steady paced hiking to reach the gondola, and this section turned out to be one of the steepest parts of the entire trail, along with the final push to the summit.
Once I reached the gondola, I followed the signs to the left which led to the summit track. Quickly I emerged from the bush, and as the views got better, the wind got stronger.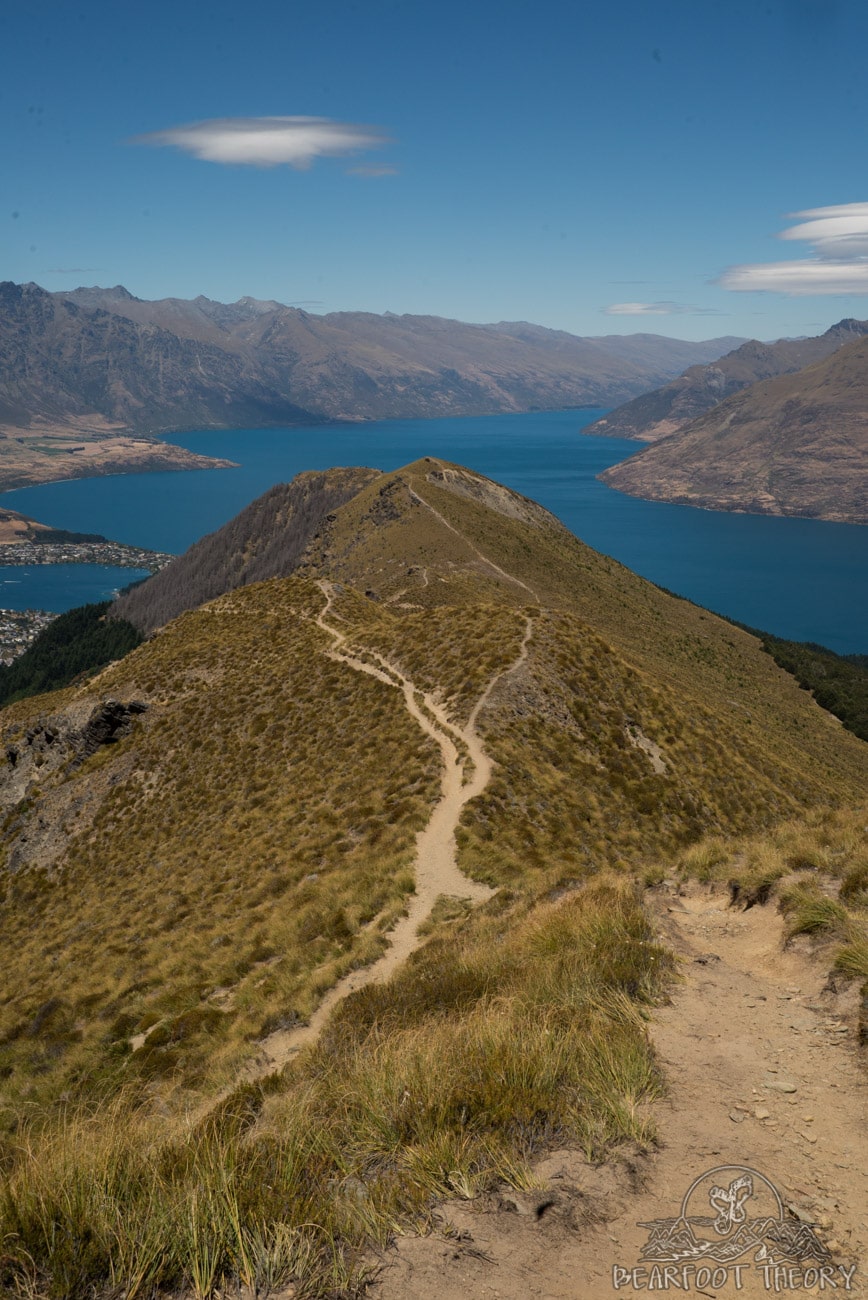 By the time I got to the saddle I was getting felt like I was going to get blown right off the mountain. For a hot second, I contemplated turning around, but I figured if I didn't make it to top now, I probably wasn't going to try again. So I keep pushing and after 2 hours of non-stop hiking, I finally made it to the summit. (For your planning purposes, the DOC suggests giving 6-8 hours round trip).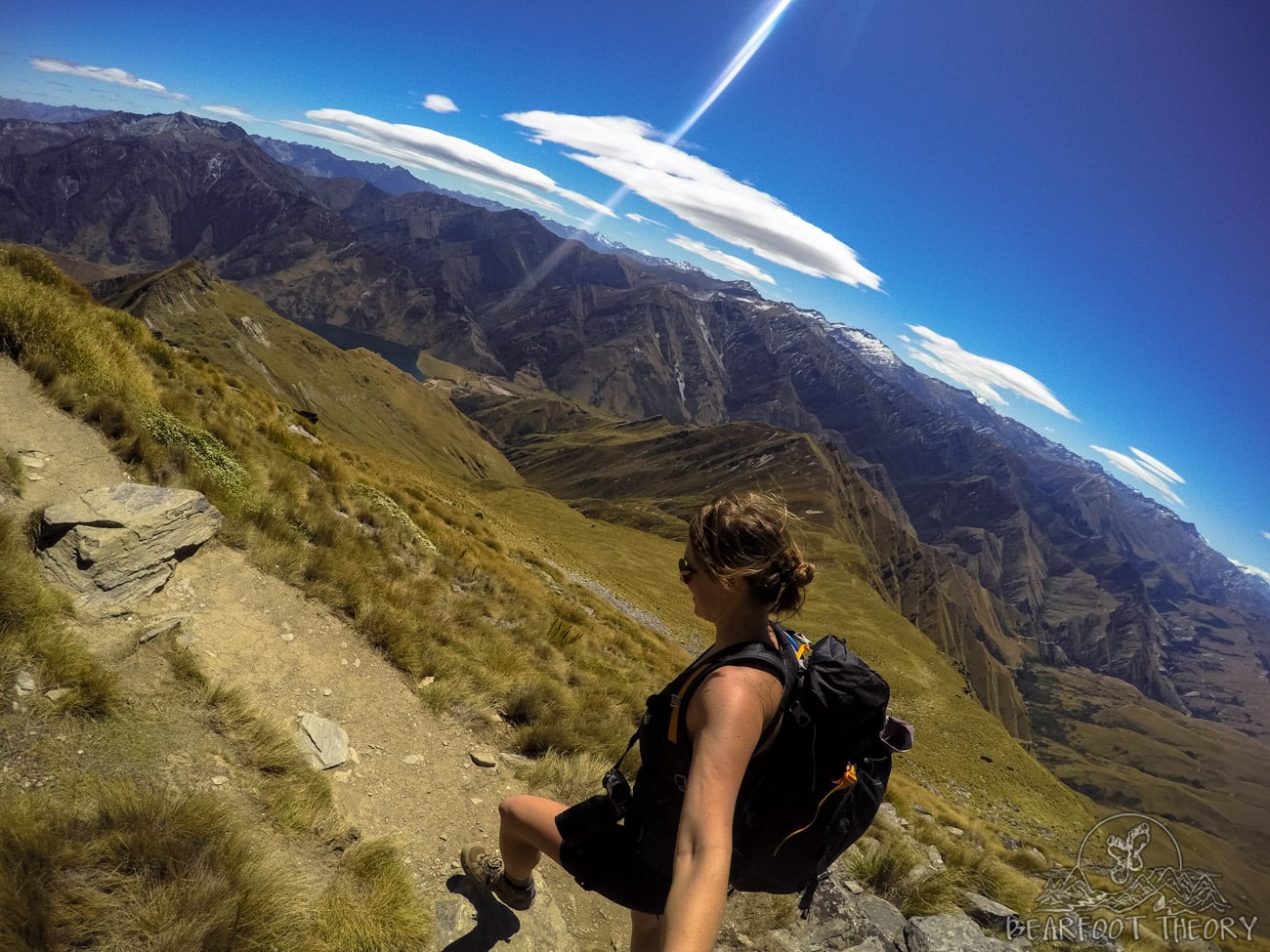 Even though I was blowing dirt of my nose for a couple days after, the 360 views from the Ben Lomond summit were totally worth getting sand blasted for. A must-do for any hiker in Queenstown.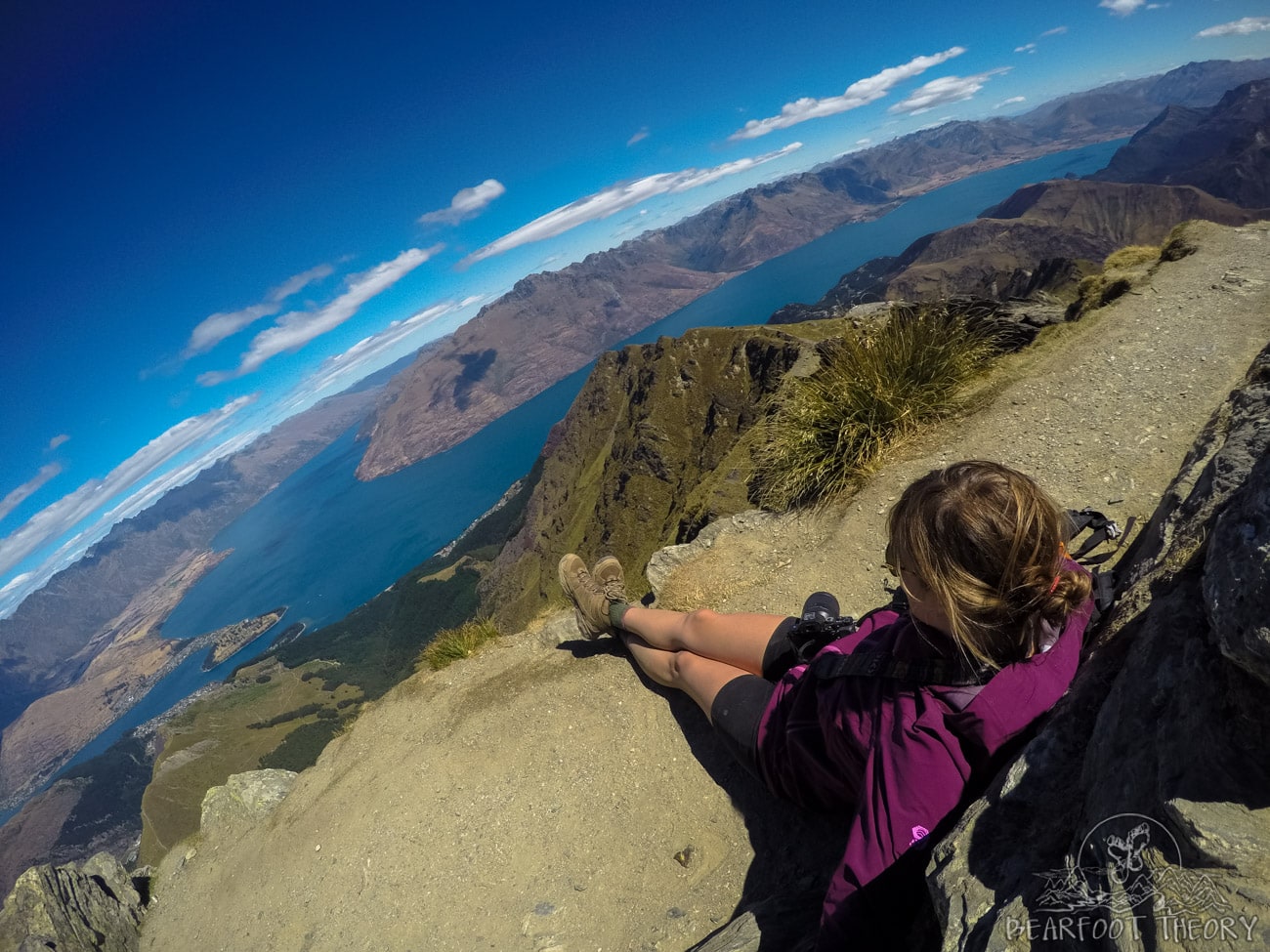 Climbing in Wanaka (Day 33)
Apart from a couple months that I spent in a climbing gym way back when I lived in Washington DC, I have zero experience climbing outdoors. But a friend I made in Queenstown invited to take me climbing in Wanaka over the weekend so I figured I'd put my rusty skills to the test.
We made a quick pit stop at the Cardrona Hotel on the drive over, which I would definitely recommend if you are driving between Wanaka and Queenstown. It's an old road side hotel with a very well-manicured garden out back. Order up a long black coffee and you won't be disappointed.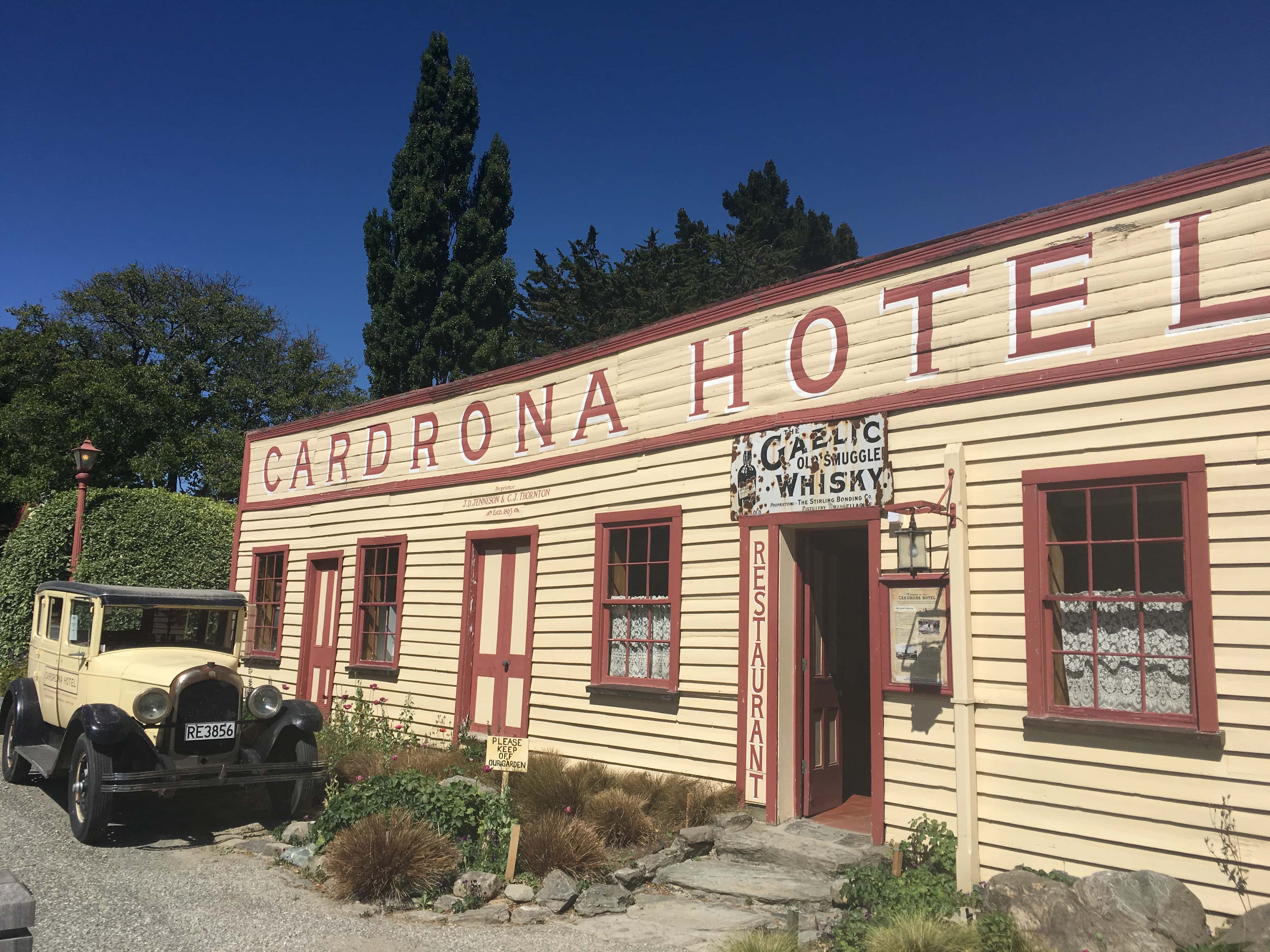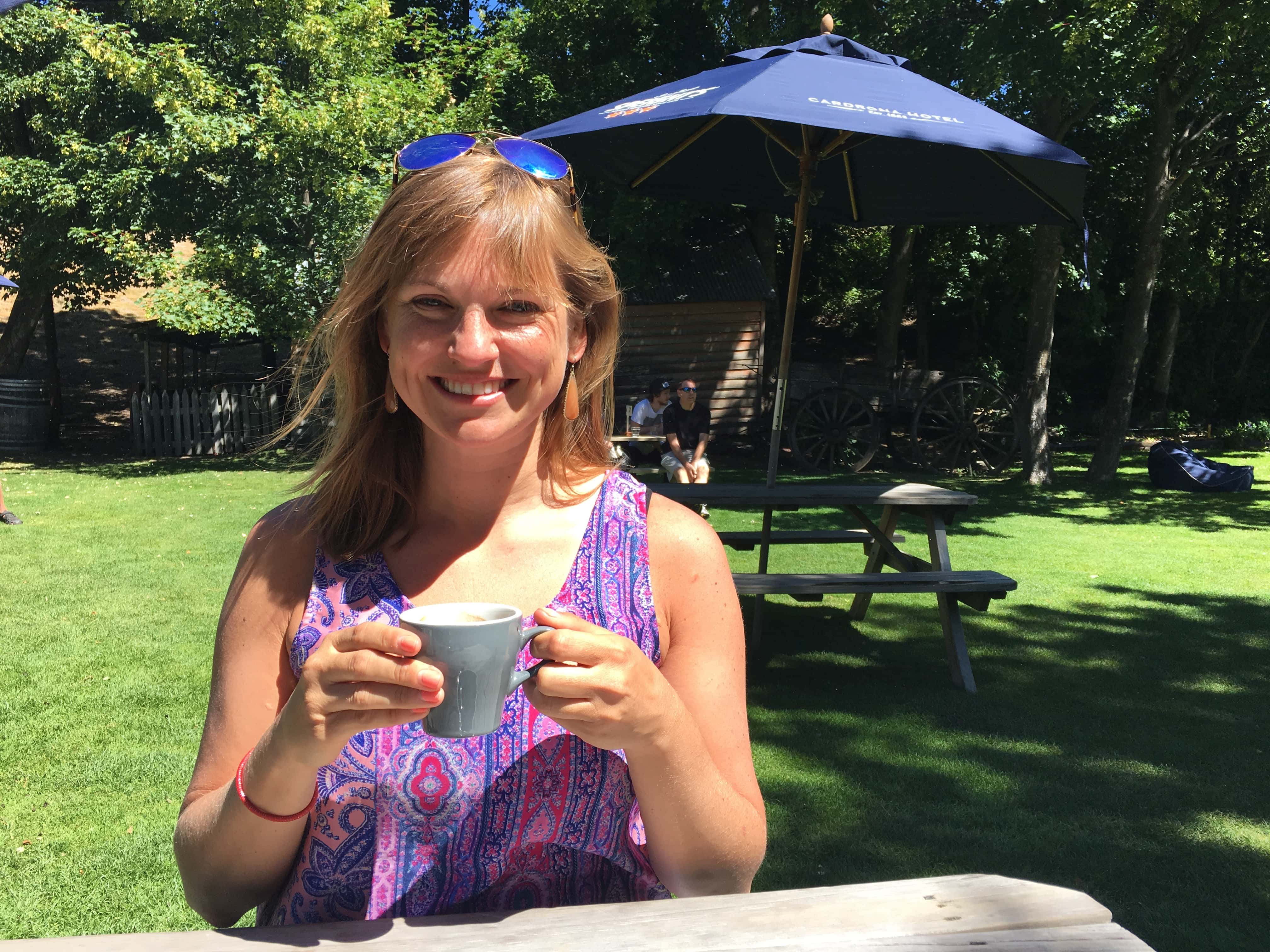 Once we got to Wanaka, my friend took me to one of the more popular climbing areas about 20 minutes from Wanaka on the way to Mt. Aspiring. Unfortunately I took very few pictures, since it's kinda hard to take pictures while you are belaying or on the ropes. Safety first, right folks?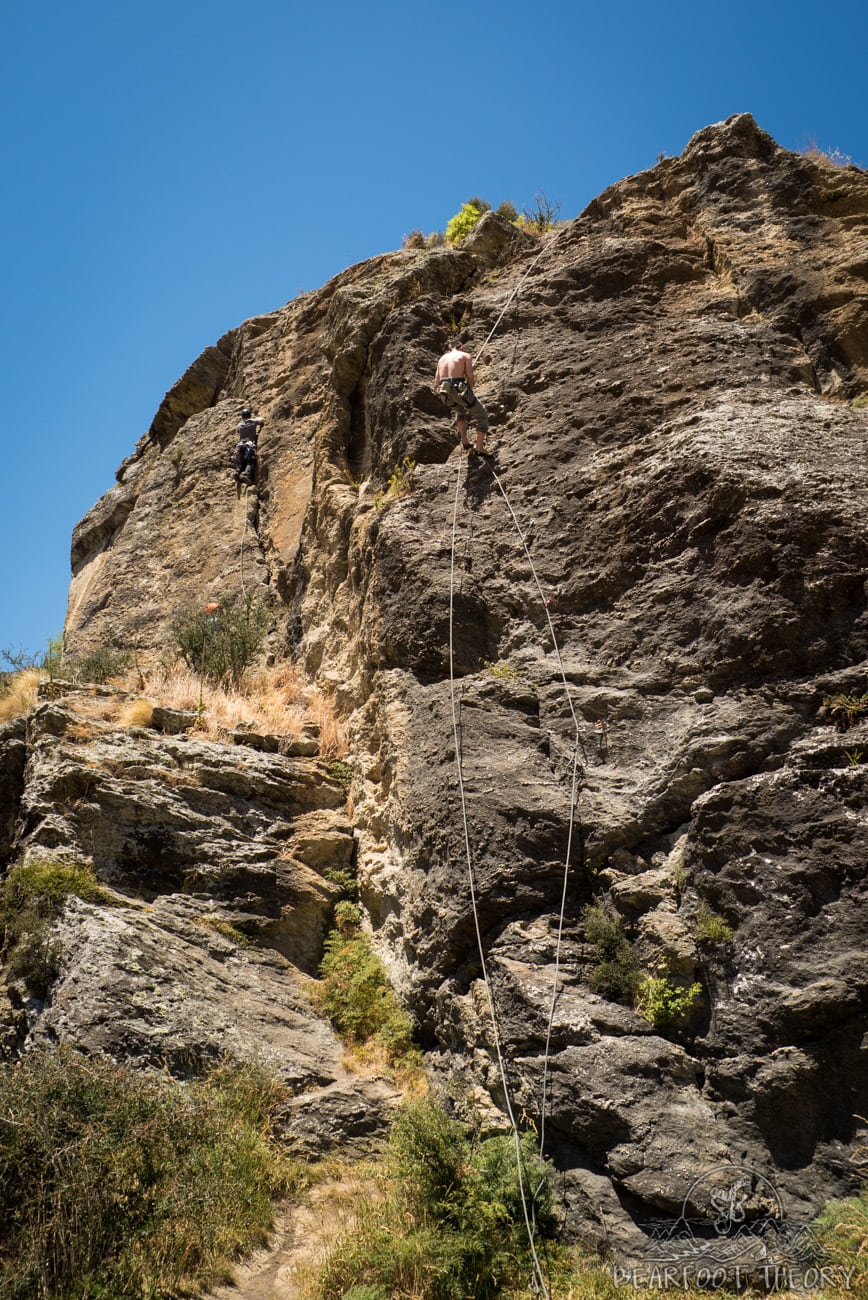 It was a super hot day, so after climbing we decided to hit the lake for a swim. Lake Wanaka is huge with tons of places to pull off and hang out. So the first good beach we saw, we pulled off, cracked open a couple of cold beers and our sandwiches, and our put on our suits.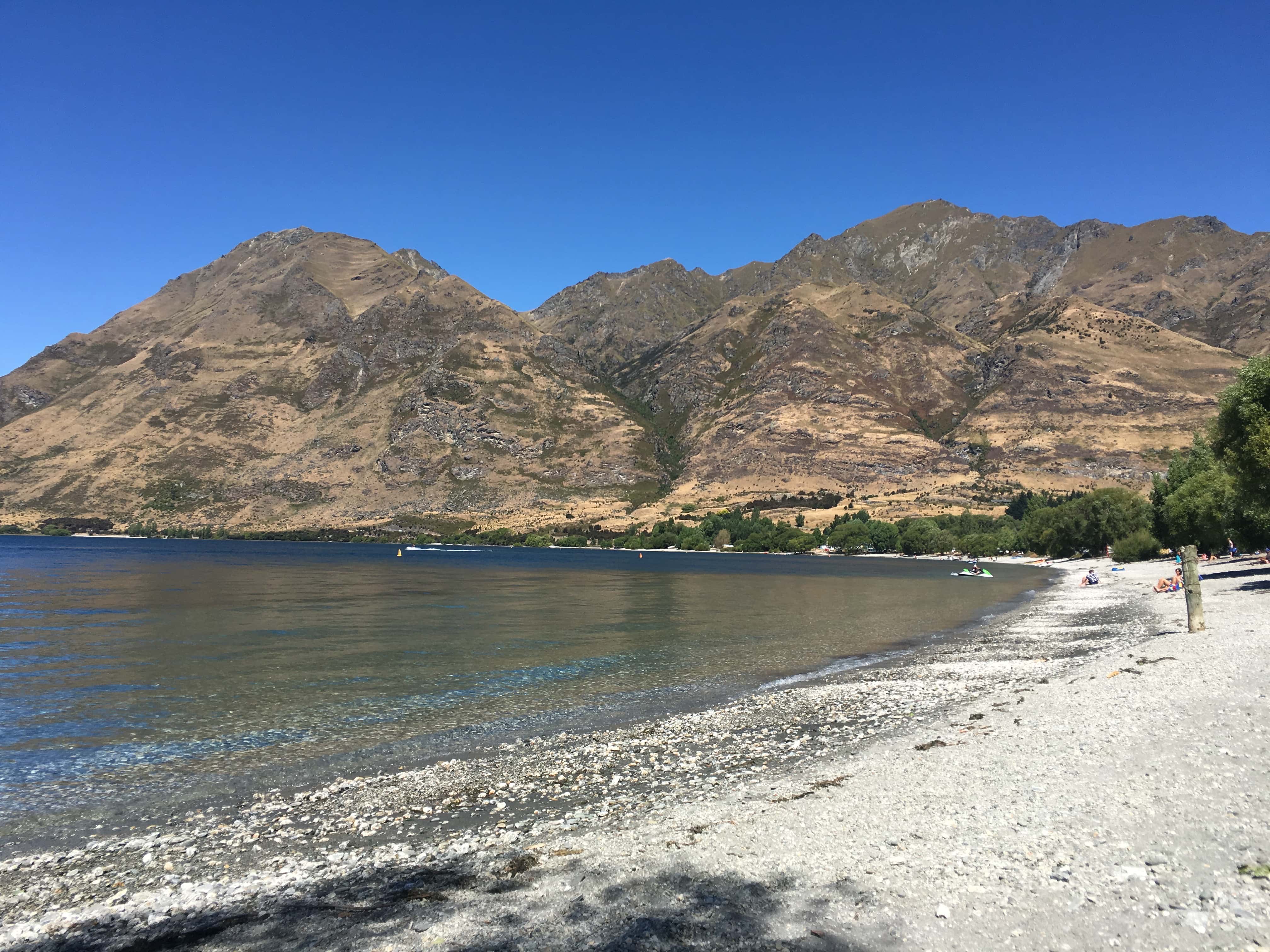 We finished the day with dinner in Wanaka with some impressively tasty Lamb Madras and creamy Chicken Tikka Masala at the Bombay Palace, followed by lively open mic night which happens every sunday at Finnagins, the Irish Bar in Wanaka.
Bumming around Queenstown (Day 34-37)
I didn't mean to stay in Queenstown so long. I swear. Especially with my initial impression of this place being a overrun tourist mecca. But somehow I've gotten stuck in here. Yeah it's busy. Yeah it's expensive. But all the hustle and bustle is worth dealing with in order to wake up to these views every day. It's got the prettiest mountains out of all the towns I've been to so far, combined with more than ample modern amenities. Plus it's got a vibrant international community, as well as super friendly locals. And the 12-mile DOC campground is so mellow. You can't really ask for more.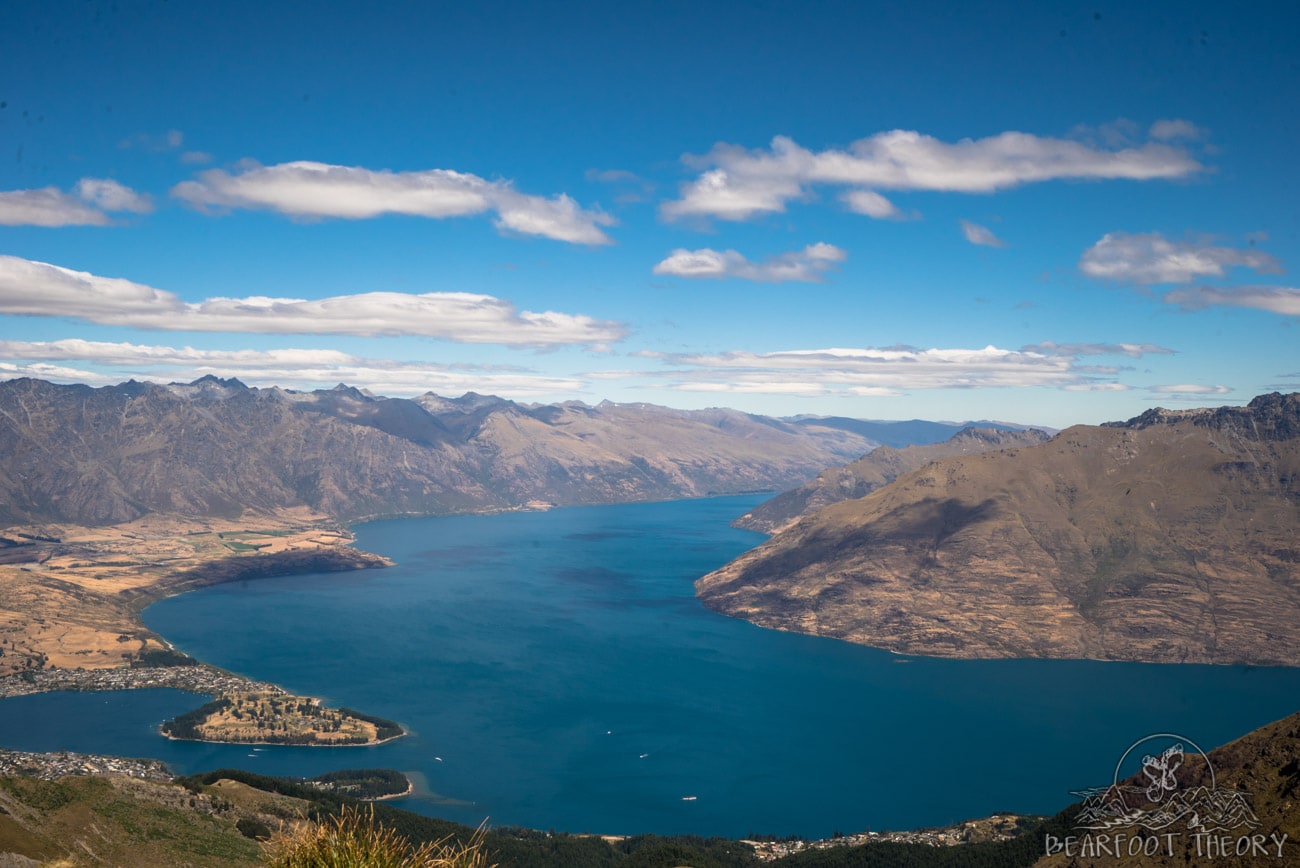 One of my Queenstown highlights this week happened when I was sitting on the beach just outside of town talking on the phone to a friend back home. All of a sudden I heard a dude yell out "hey, you wanna go fishin'?" My first thought was that this guy was trying to sell me some sort of tour. So I asked, "wait, like for free." And he said "yea, for free." Ok then.
Back home, I probably would have thought twice, thinking that this guy had ulterior motives, like maybe he was a serial killer or something. But these Kiwis….they are just so genuine. As a solo female traveler you definitely still need to be careful and trust your gut, but I think there is less to worry about here on the South Island than other places I've traveled. (I also carry my SPOT transponder with me when I'm off doing things alone in case of an emergency).
So I went ahead and boarded the Hazy Dayz (I'm sure my mom is not happy reading this…but she would be happy to know that I also texted my friend Jake from camp that if I wasn't back by dinner time that he needed to come looking for me.)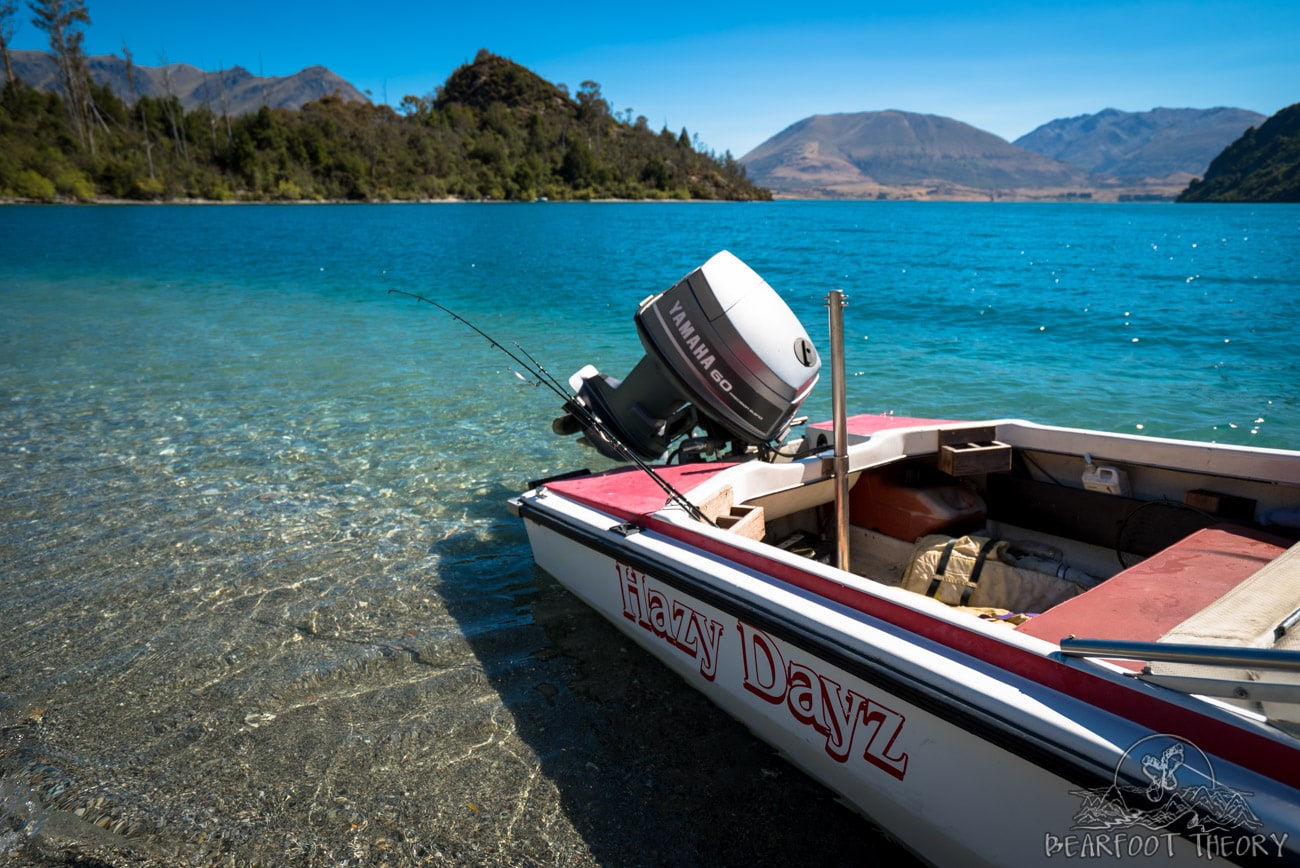 Anyways, I made it home alive. We trolled for trout, drank Coronas, chilled out to some reggae music, and slowly made our way to Bob's Cove, a gorgeous secret beach that I probably would've never found on my own. Besides getting way to much sun, it turned out to be another unexpectedly awesome day in New Zealand.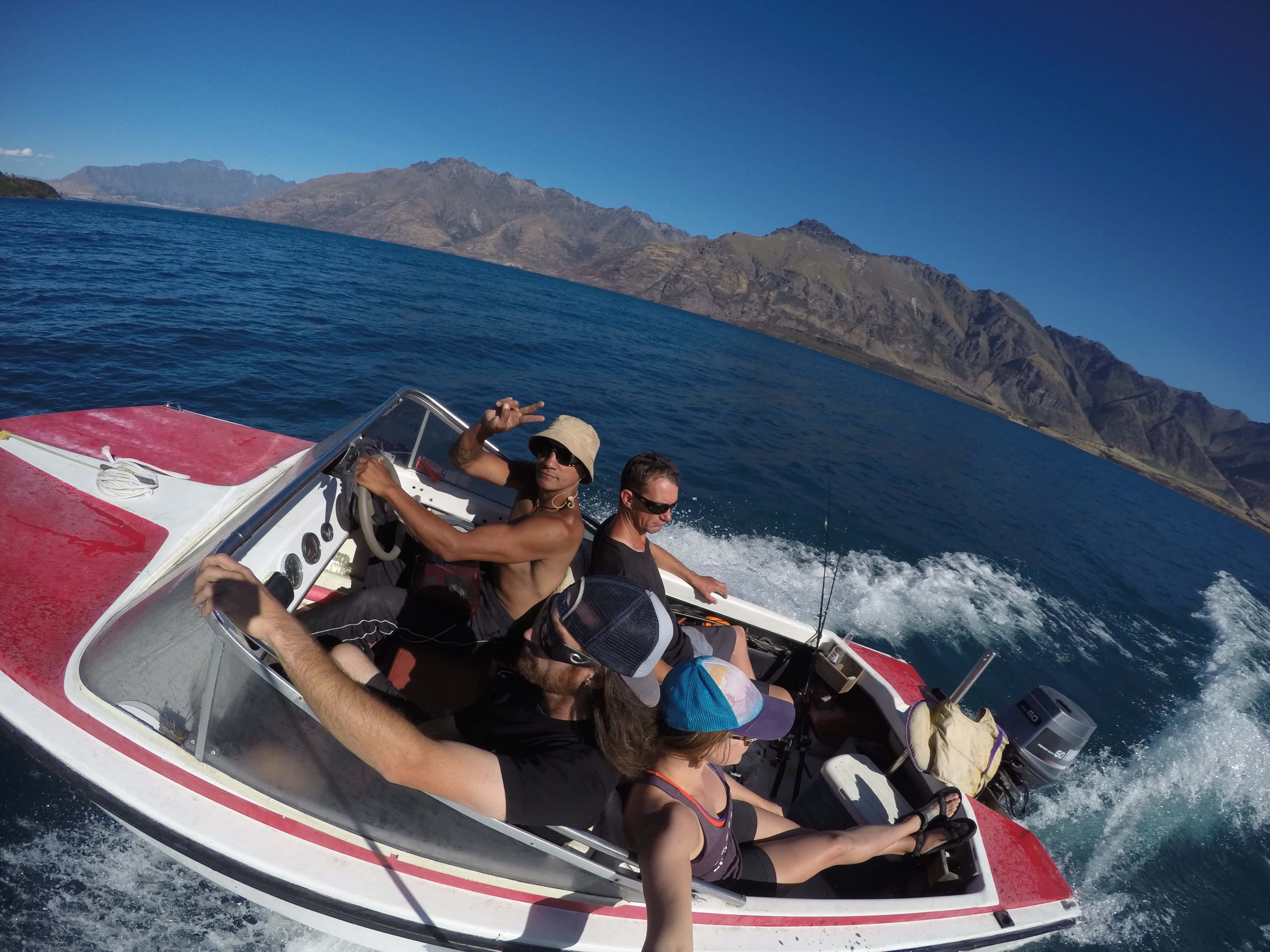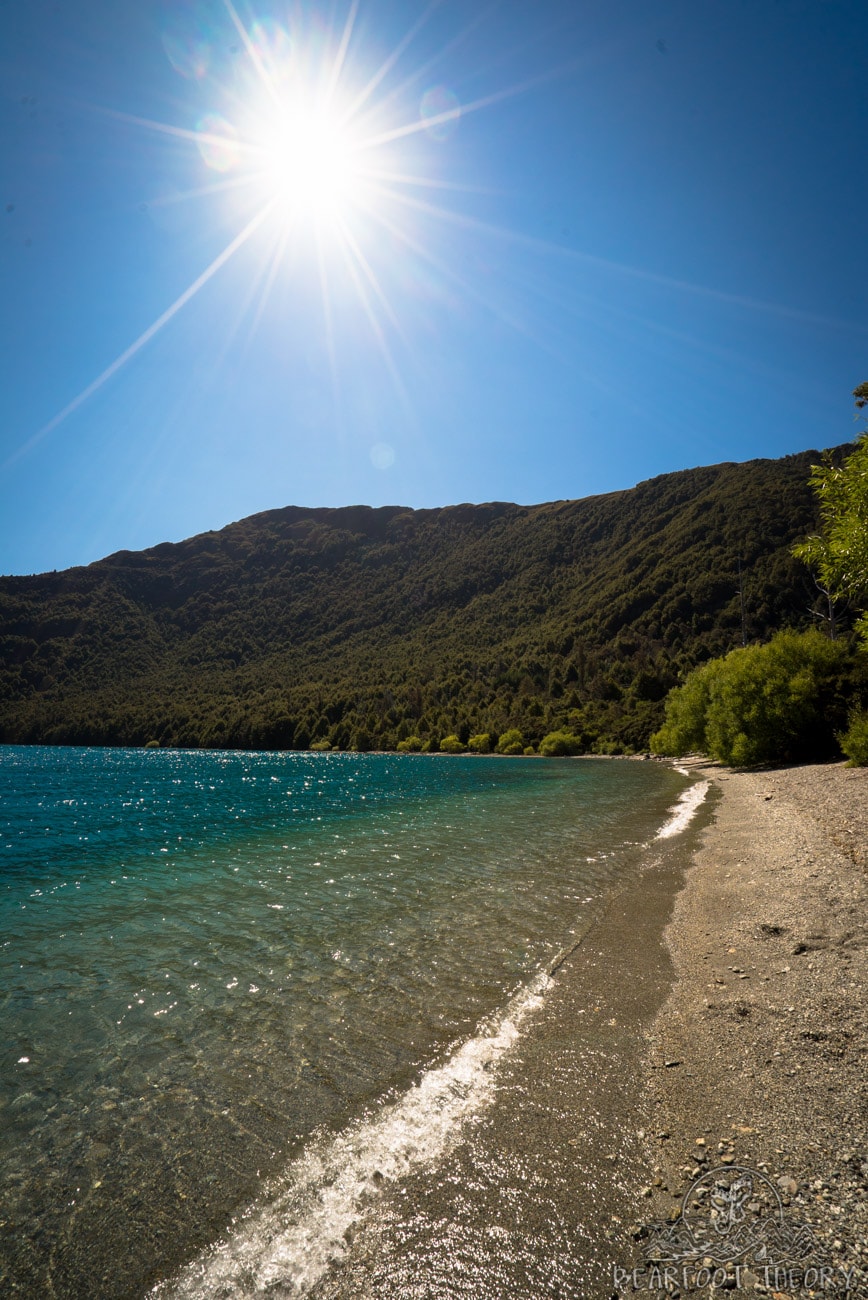 I've also started to dabble in some of the adventure activities that people come to Queenstown for, the first being a jet boat ride through Shotover Canyon. And these boats are crazy fast…they claim 85 km/hour…and that's through a super narrow river canyon with tons of boulders to dodge. It was just scary enough to get the adrenaline flowing and for those of you with families, it's totally a kid friendly activity. The only thing was I found the ride to be a little on the pricey side for 30 minutes of boat time.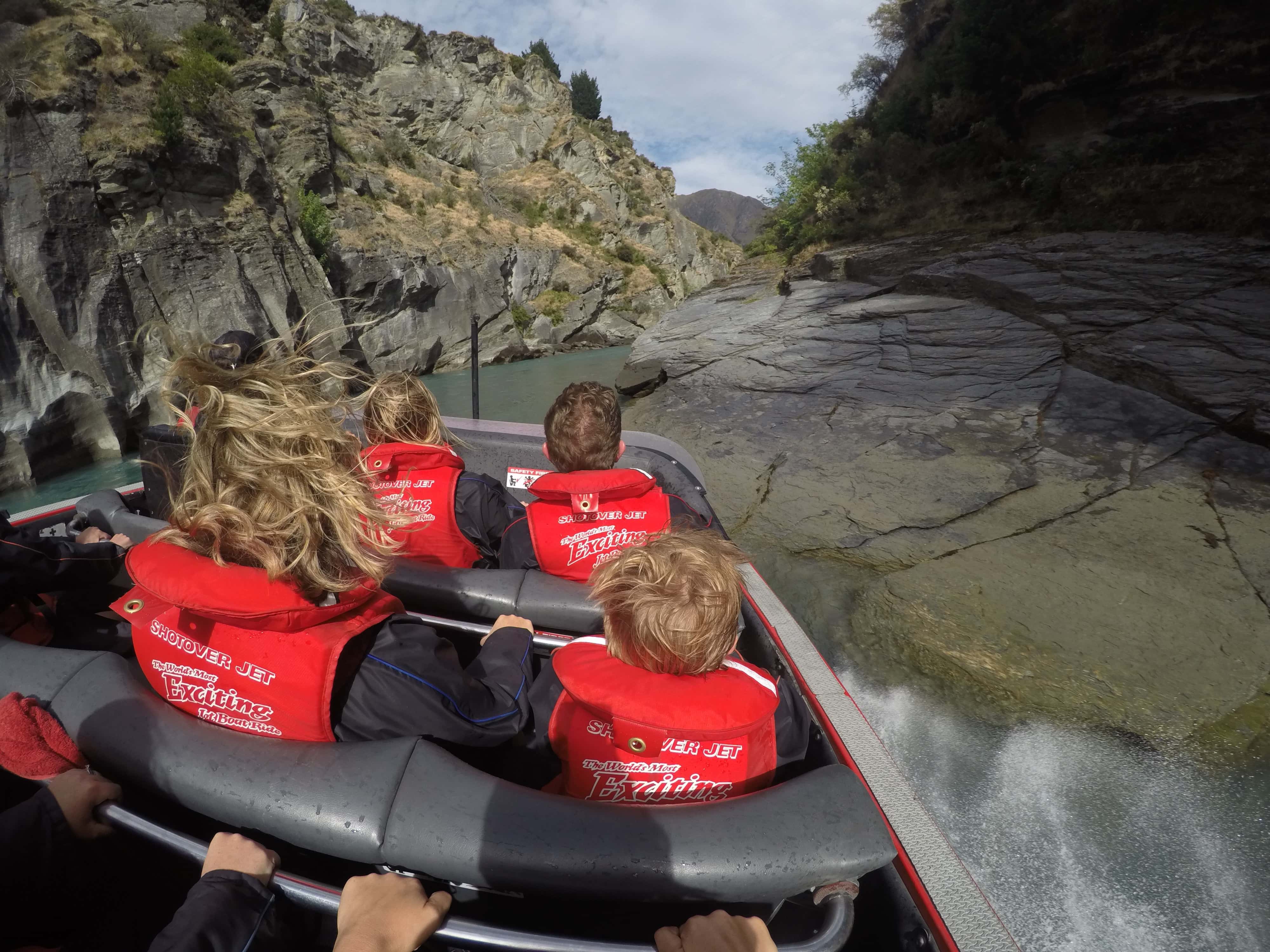 As for the other activities, I'm hoping to go packrafting, and I'm still on the fence about bungee jumping…I'm going to stew on it a bit longer before deciding to take the plunge.
Besides that, I've been wandering around town, hiking, and finding some cool hangout spots. Atlas Pub, Halo, and Winnie's are a few of my favorite places to work, drink, and eat.
I also met up with an awesome woman named Jane, who is the blogger behind local website Queenstown Life, for some bomb fish tacos from Taco Medic. She gave me some suggestions for other trails to hit up, like the 2 hour Mt. Crighton loop trail which I hiked one evening for sunset.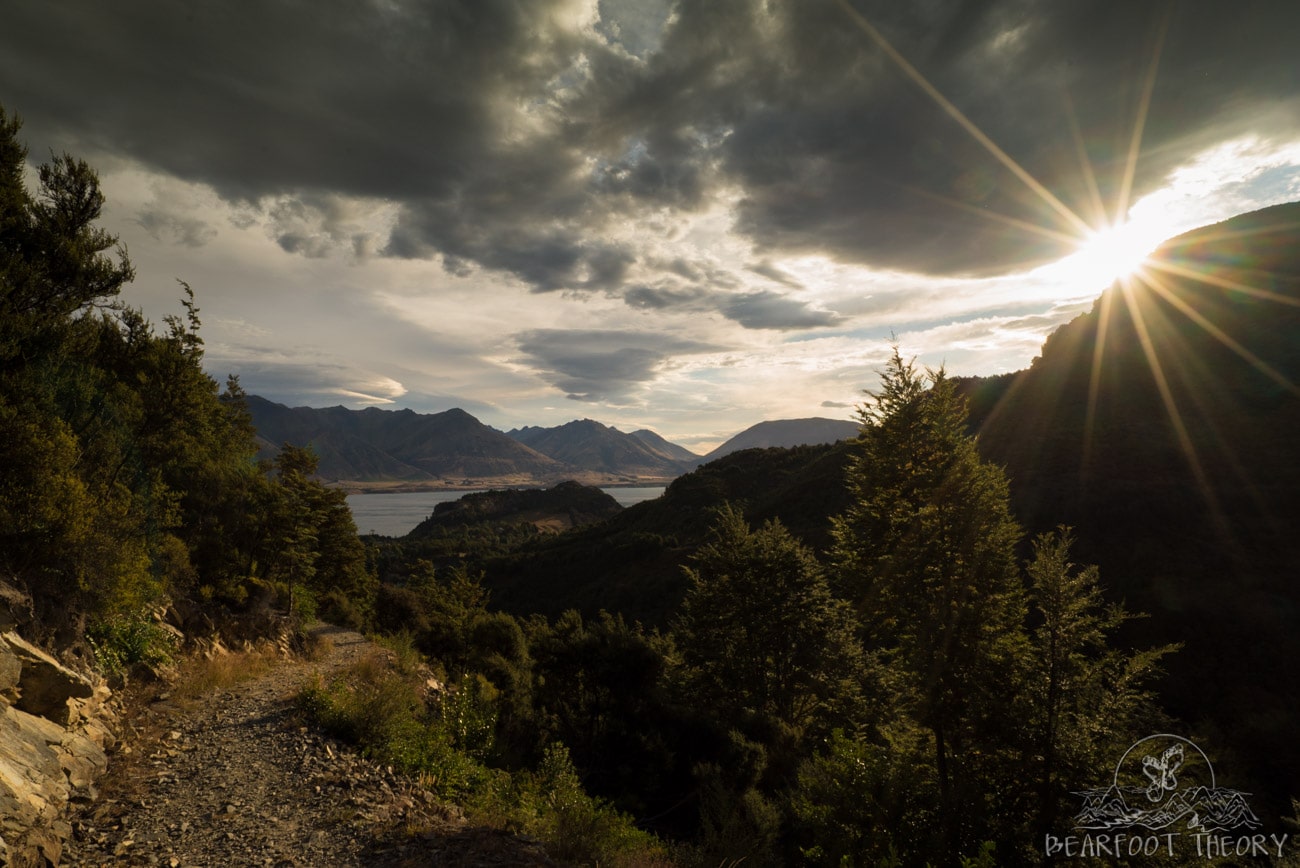 – More New Zealand Posts –
Now as I enter week 6, I'm about to leave Queenstown for a bit, but I have a feeling I'll be back. Next up I'll be checking out waterfalls and the coastal forest in the region called the Catlins , as well as the college beach town of Dunedin.
WHERE IN NEW ZEALAND WOULD YOU LIKE TO GO?
LEAVE A COMMENT, TWEET ME, OR WRITE ME A POST ON FACEBOOK.