New Zealand Road Trip: The Catlins, Dunedin & Oamaru
Road tripping along New Zealand's Southern Scenic Highway, waterfall chasing in the Catlins, quirky art galleries in Oamaru, and beach-front climbing in Dunedin (plus a an epic side trip to Wanaka).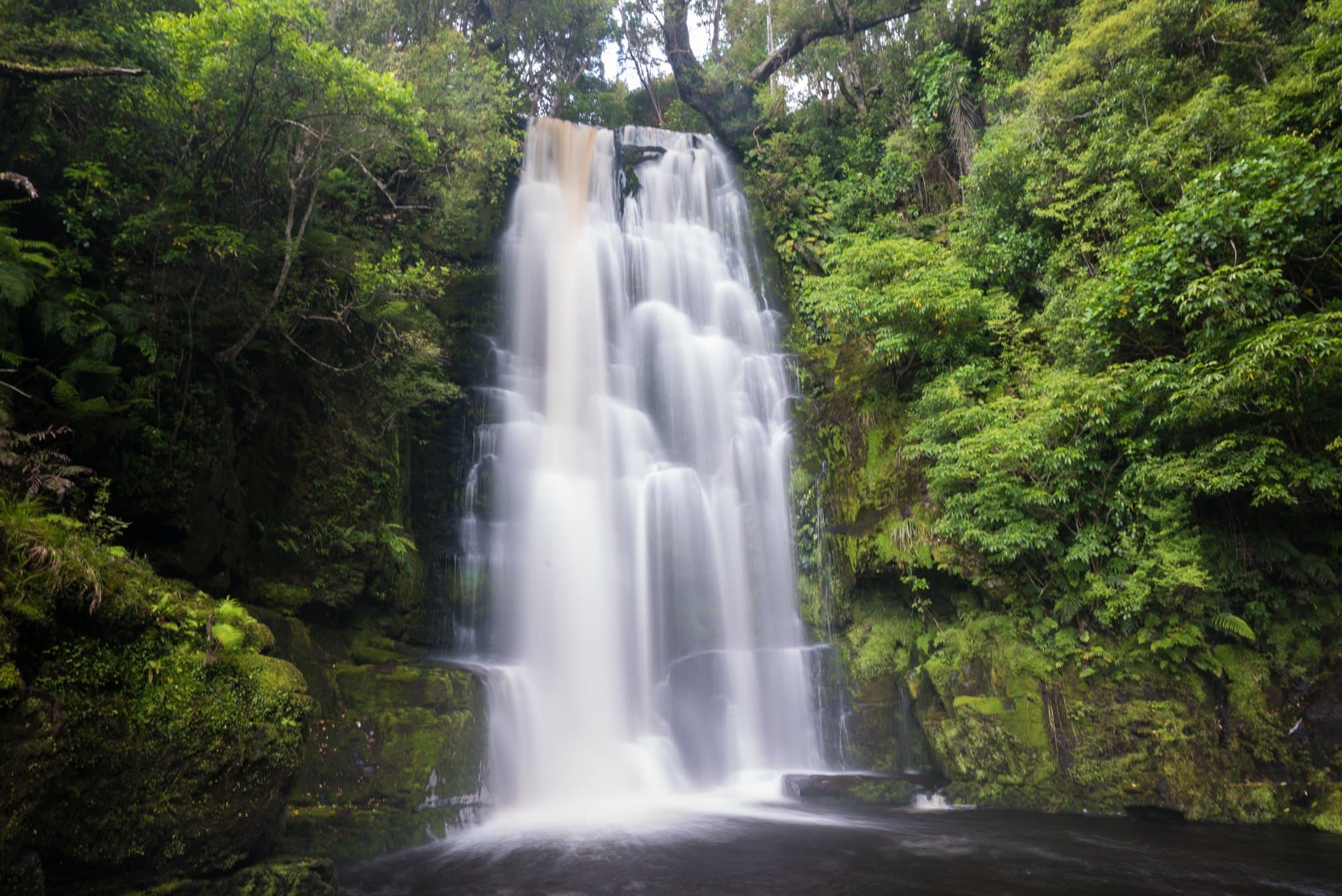 New Zealand Road Trip Week 6
The Catlins, Dunedin & Back to Wanaka
After spending a bit (a lot) of time in Queenstown, I decided it was time to hit the road again in the Vanette. But this time, I had a compadre…a Queenstown-based Slovakian named Lubos that I had climbed with the weekend before in Wanaka.
I had heard nice things about the Catlins, but they are a bit out of the way and it's not too mountainous, so I wasn't sure it was going to be a stop on my solo road trip. With a sidekick, however, I was a bit more keen (picking up some Kiwi tongue) to visit this area of the Southland.
Playing catch up? You can check out my previous posts from my New Zealand road trip here.
Driving through the Catlins (Day 39)
We set off for the Catlins, a remote coastal forest on the southern tip of the southern Island, and after the hustle and bustle of Queenstown I was looking forward to a change of pace.
The drive down from Queenstown was pretty uneventful (mostly farmland) after leaving the shore of Lake Wakatipu. Eventually we reached the coast and the western edge of the Catlins and began the drive along the Southern Scenic Route. The road weaved in and out of the forest with the occasional glimpse of the shore. The beaches that we saw were big and gorgeous, but the main road didn't hug the coast as much as I would have expected. Normally, I would've driven down some of the backroads to get to some more secluded spots in the Catlins…but it was crazy windy out making it difficult to actually sit at the beach and enjoy it.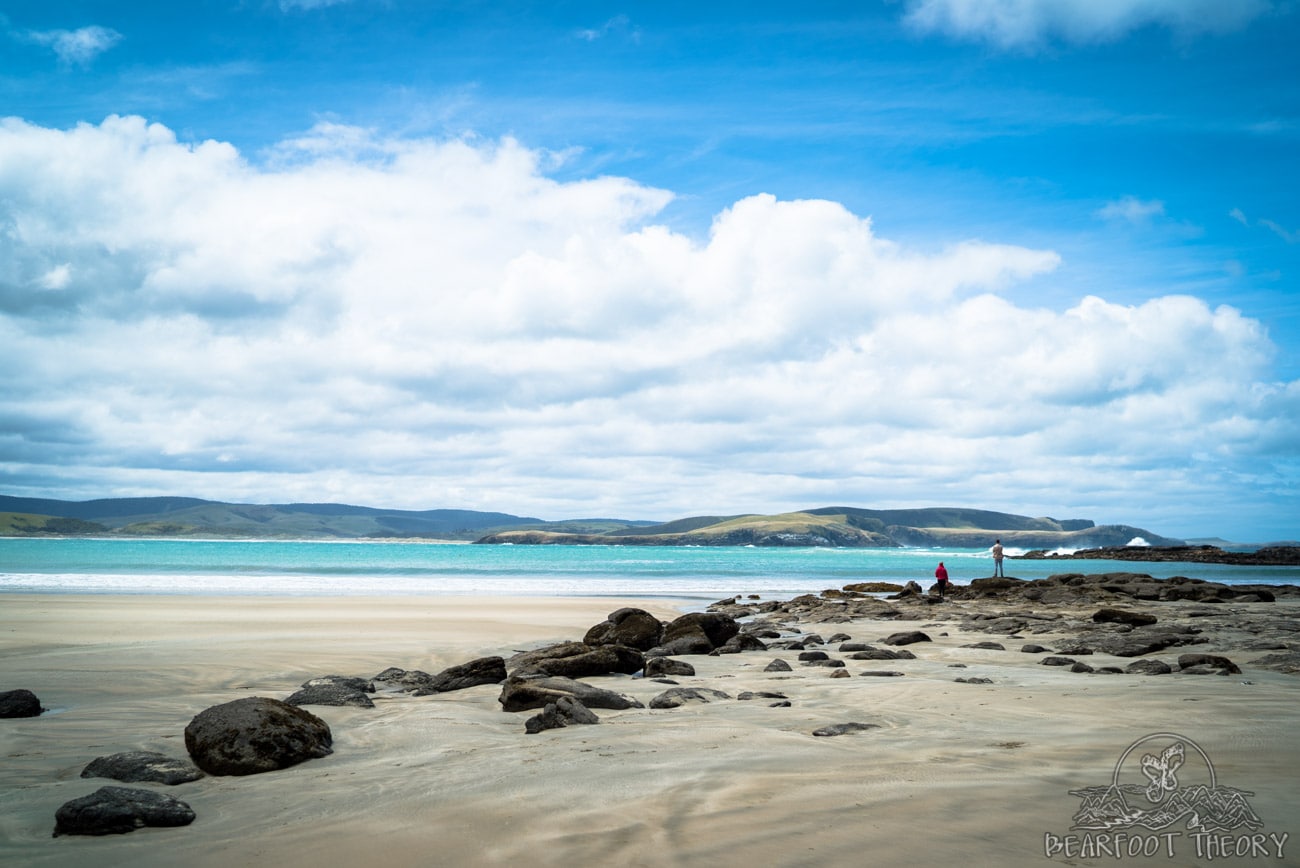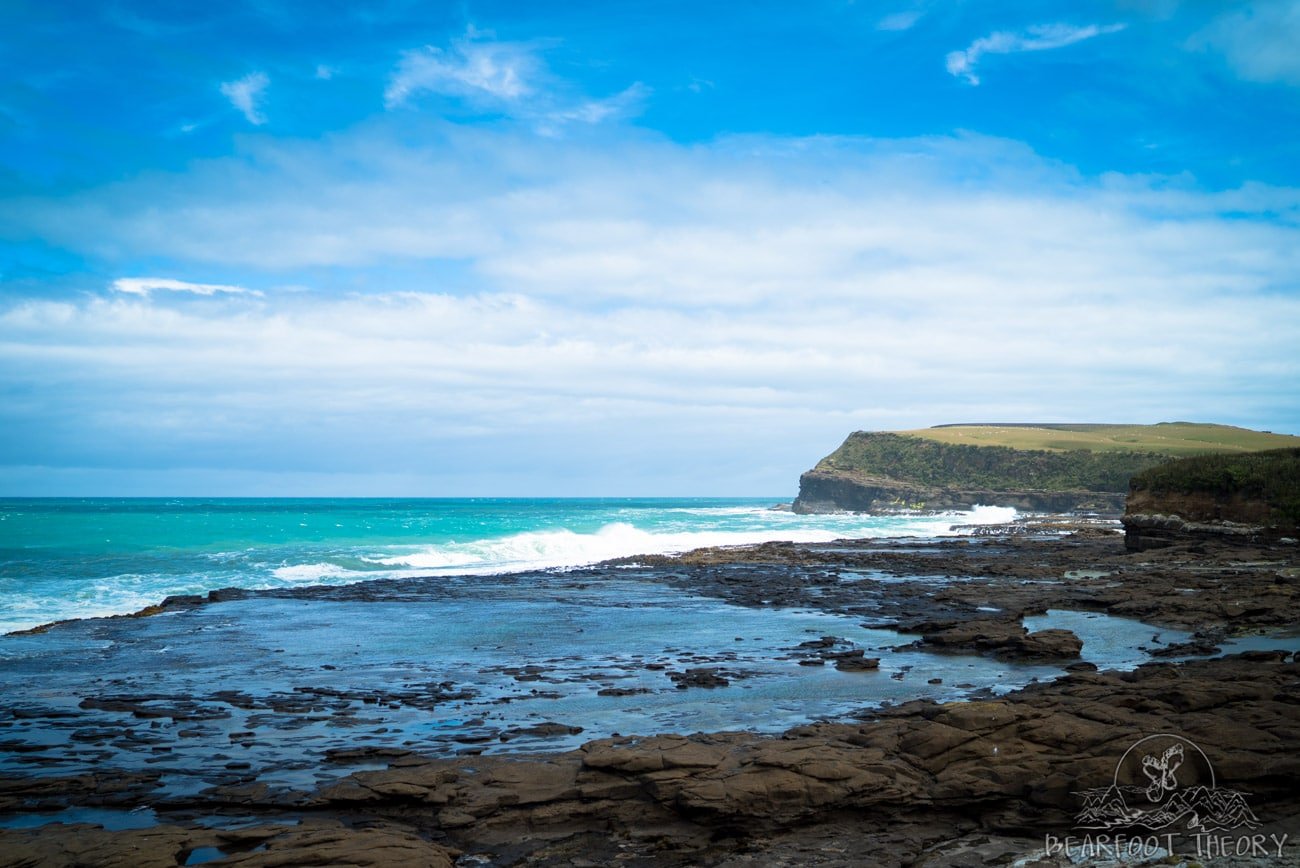 We stopped for lunch at the Red Frog cafe which is right at the turn-off to McLean Falls, one of the more scenic waterfalls in the Catlins according to my NZ Frenzy Guidebook. We both got the lamb burger which came with some of the best golden crunchy waffle fries I've had in the all of New Zealand.
The trailhead to McLean Falls is 3 kilometers further down the road. We desperately needed to work off our lunch so the quick 40 minute round trip walk to the falls was our next move. It was a nice hike through the forest, and the falls were pretty. Not quite as impressive as some of the others I've seen, but if you are in the area, it's definitely worth doing especially with the low effort required.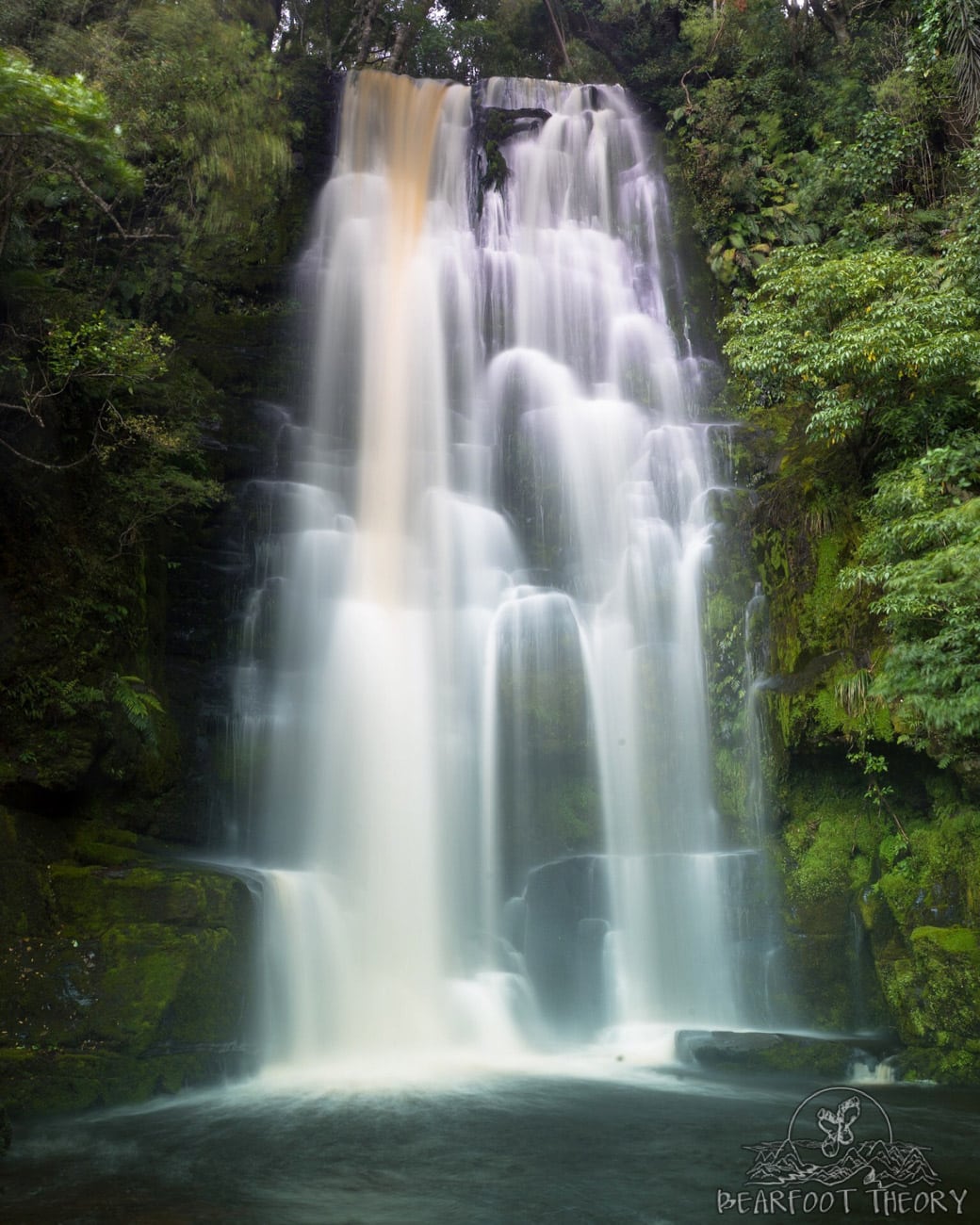 One place you must add to your list in the Catlins is the outdoor Lost Gypsy Gallery, which features the quirky and interactive work of artist Blair Sommerville. All of the pieces at the entrance (as well as the cute little coffee stand) were very Burning-Man-esqe. I would have loved to explore more, but sadly we got there right as it was closing at 5pm….so plan ahead! It's located right on the highway near Papatowai. Look for a big purple bus.
You should also plan ahead and bring all of your food with you, as there is no where along the Southern Scenic Route to buy groceries until you get to Owaka. Since we were food and beer-less, we had to drive to Owaka to stock up before driving out to the beach near Jack's Blowhole. We didn't actually do the trek out to the blowhole because it wasn't high tide (when the blowhole is most impressive). Instead, we found a cool rock to perch up on at the very end of the beach away from the other folks who had the same idea. You can also camp at Jack's Blowhole, but the beach is lined with little homes and we wanted something that felt a little more wild and secluded.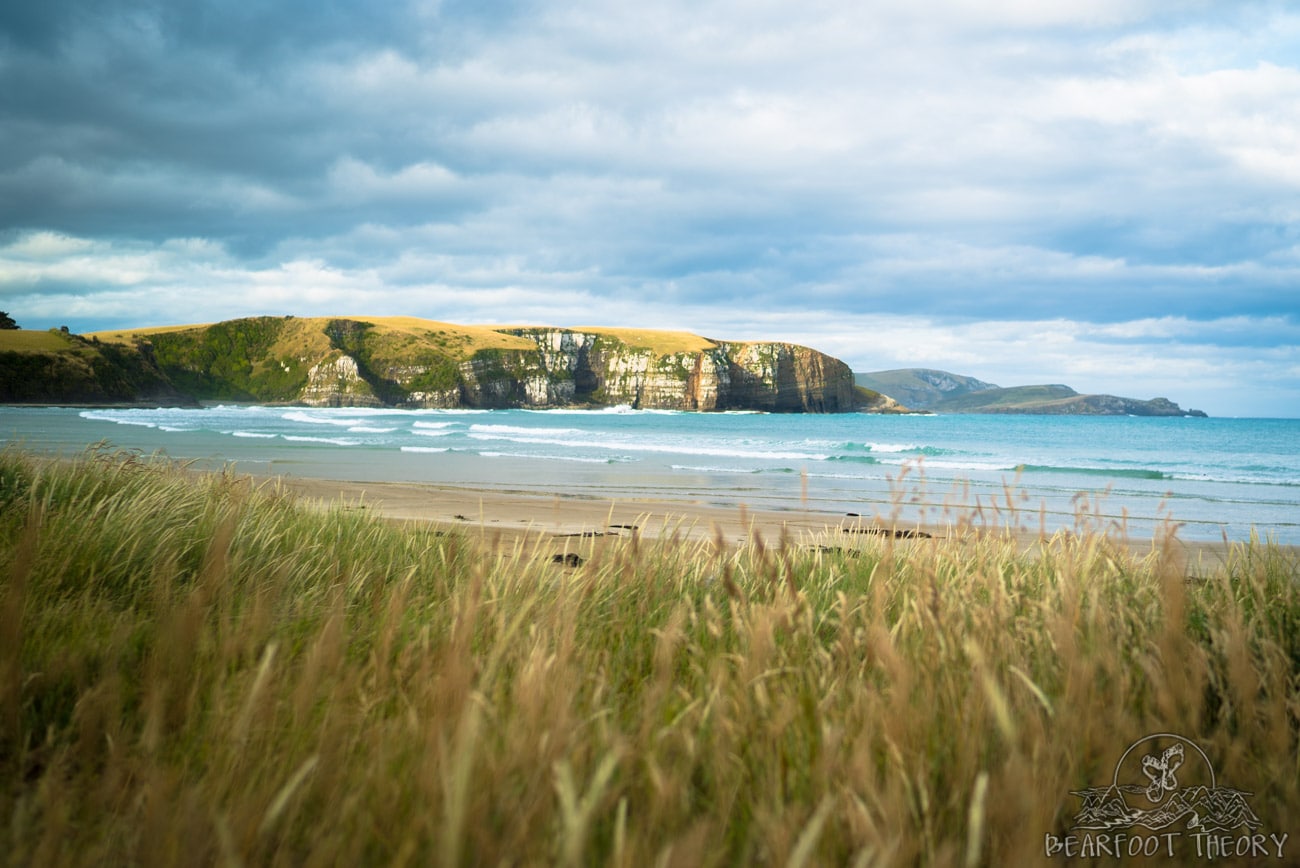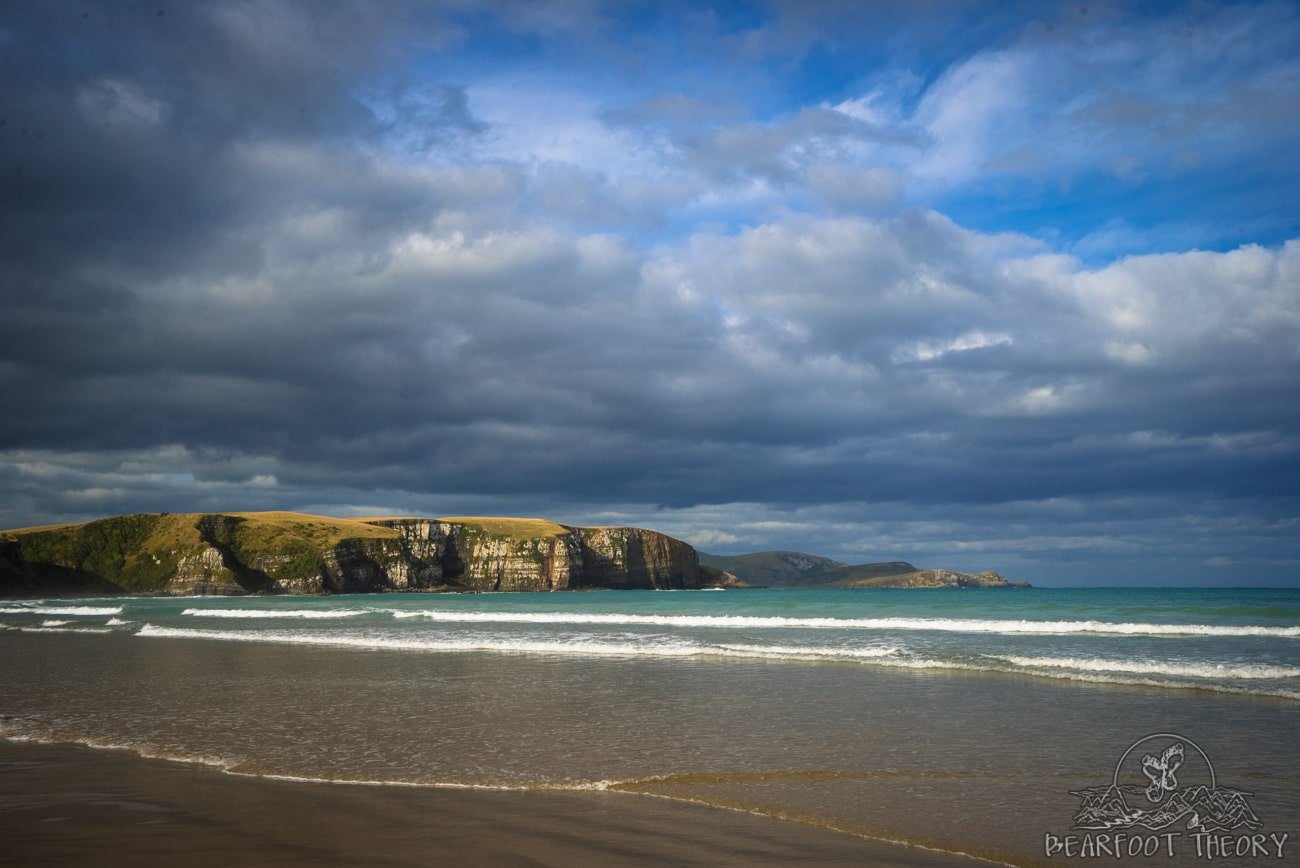 Using my NZ Rankers App, I found the Department of Conservation's Tawanui Campground located right on the Catlins River. When we got there, we were sooooo stoked to find we had the entire campground to ourselves. This was a first for me in New Zealand.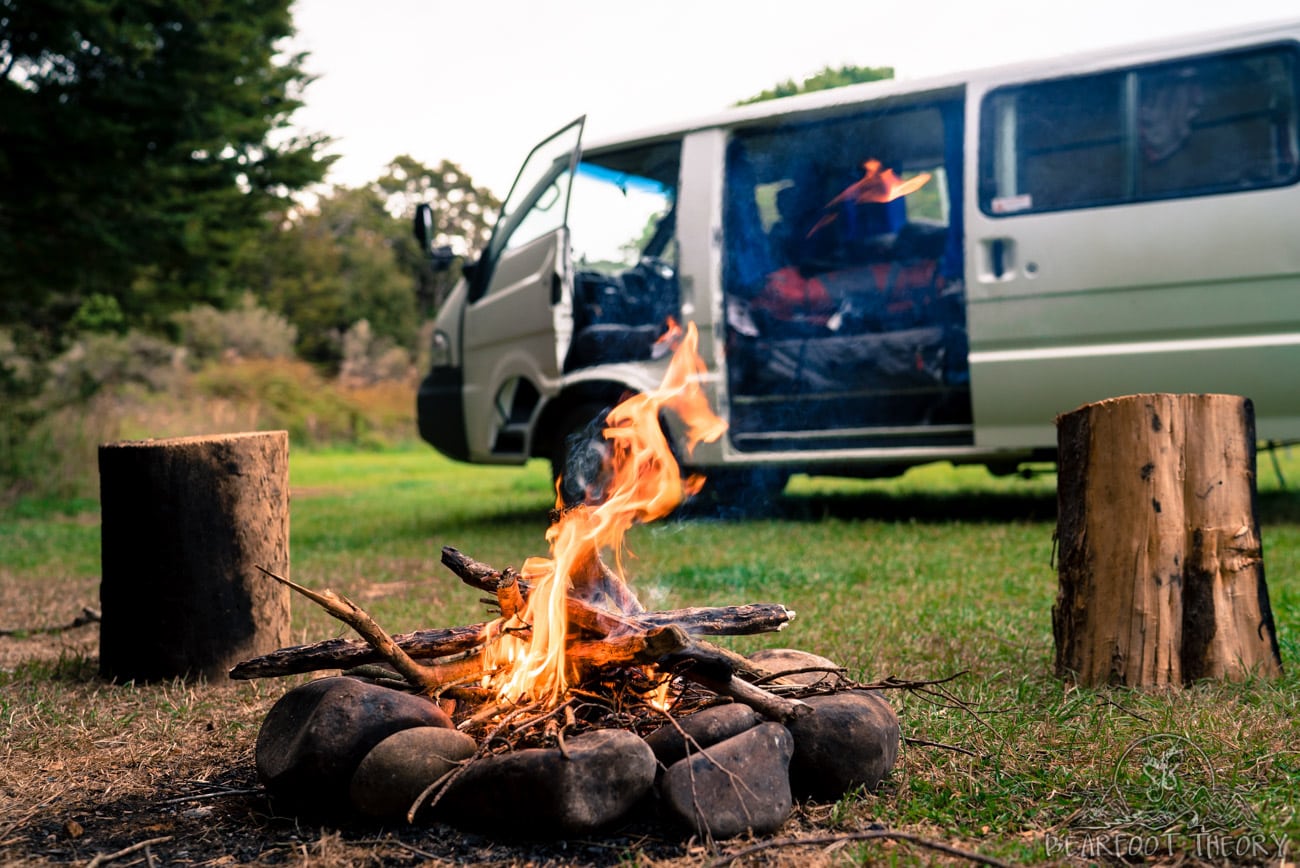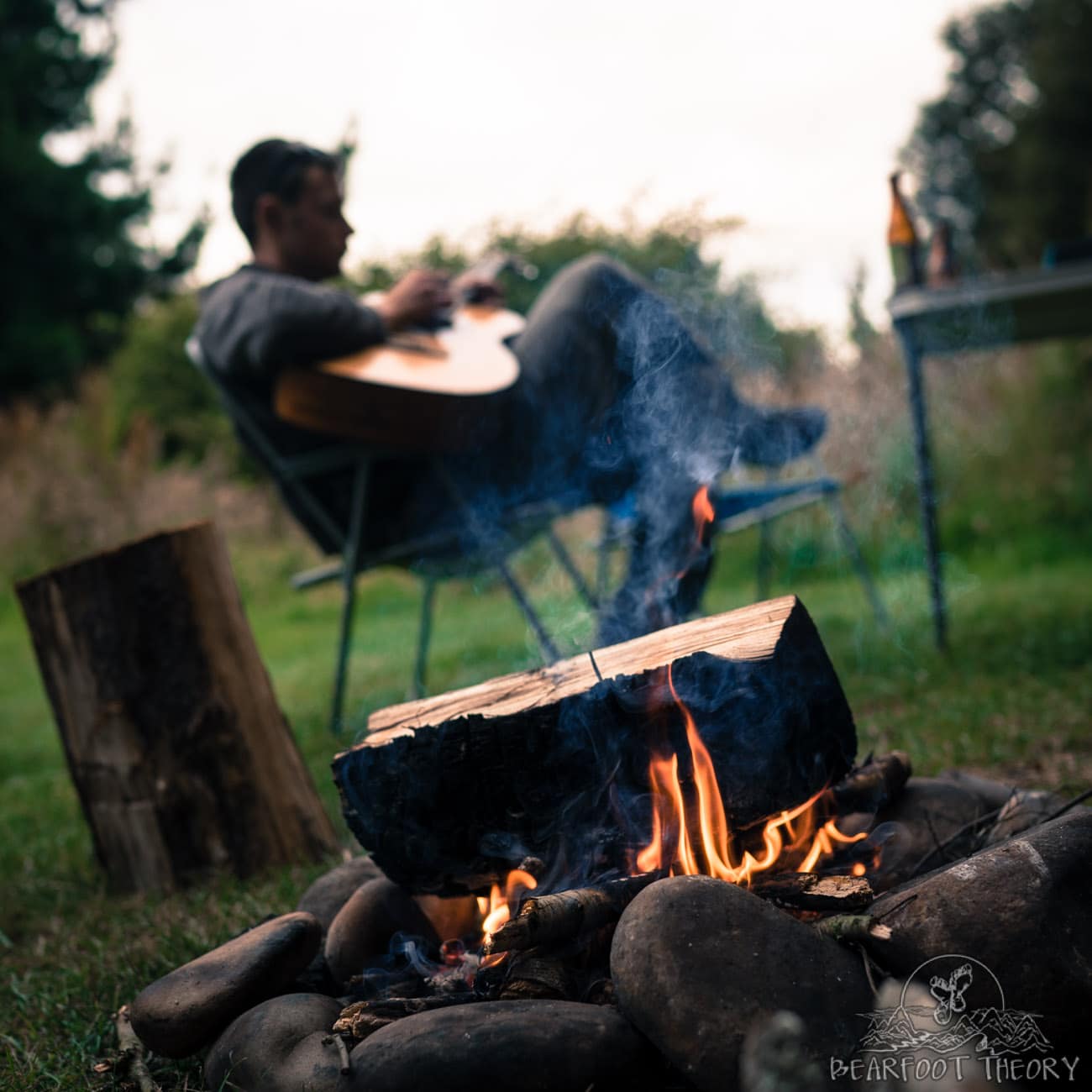 On that note, I think there's a lot of misconceptions about camping here in New Zealand. You are not allowed to just pull your van up wherever you want. You have to park in established sites (and that's mostly true even for vans with self-contained toilets). And with it being the busy season, every site I've stayed at has had plenty of other campers to keep me company.
Anyways, we put some Neil Young on the stereo, strummed a little guitar, had a small fire, ate cheese and crackers, drank beer, and enjoyed the solitude. To me, this is what true van life is about, getting off the beaten path, and it felt gooooood.
The Catlins to Dunedin (Day 40)
The Catlins were nice but since we were already at the end of the Southern Scenic Route (due to our grocery store run), we didn't feel like backtracking. I also don't think you really need more than a day or two (unless you are visiting Stewart Island which I would have loved to do). We decided to continue on to Dunedin to do some climbing, explore some beaches, and check out the town. Dunedin is considered the college town of the South Island. It's liberal, hip, and often rainy with a good live music scene on the weekends, some cool coffee shops and bars, and a young local vibe.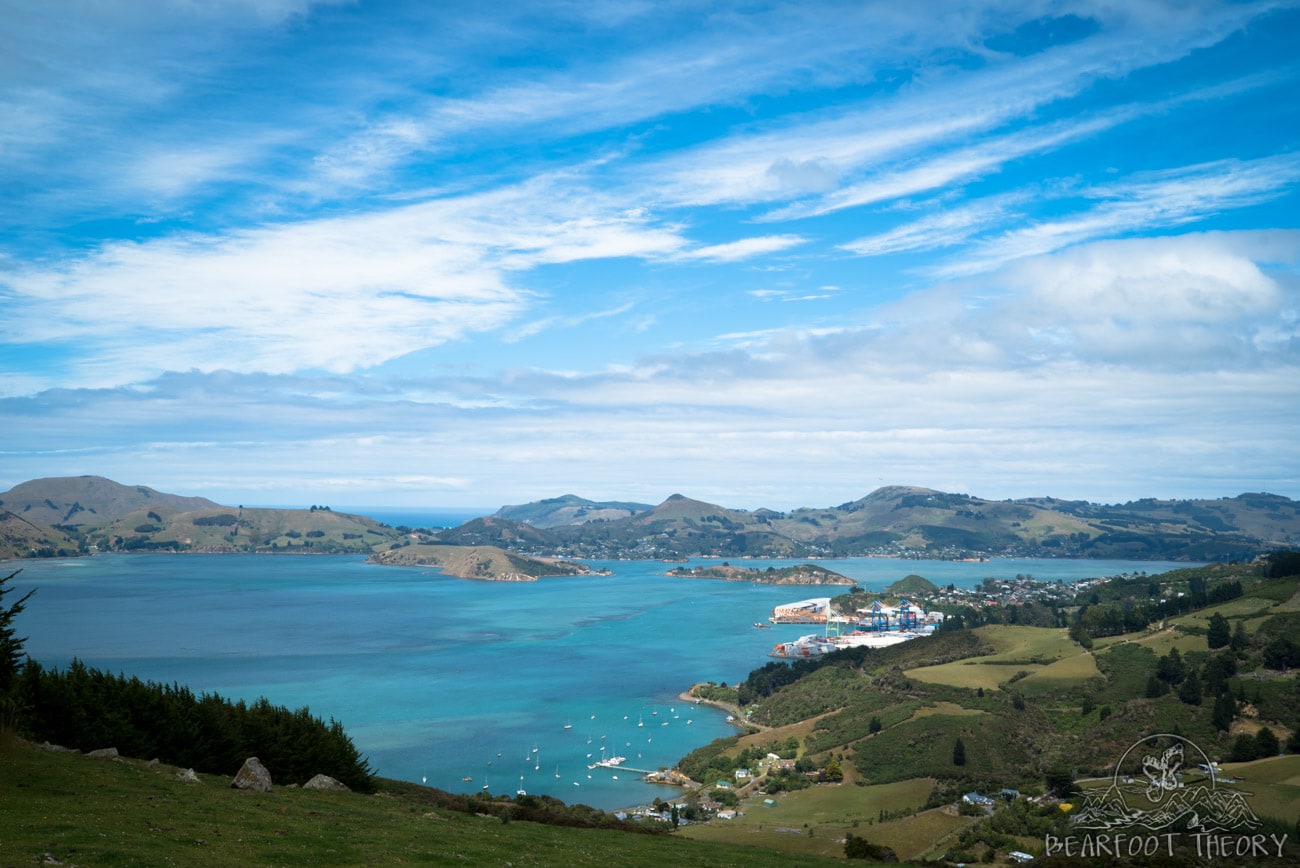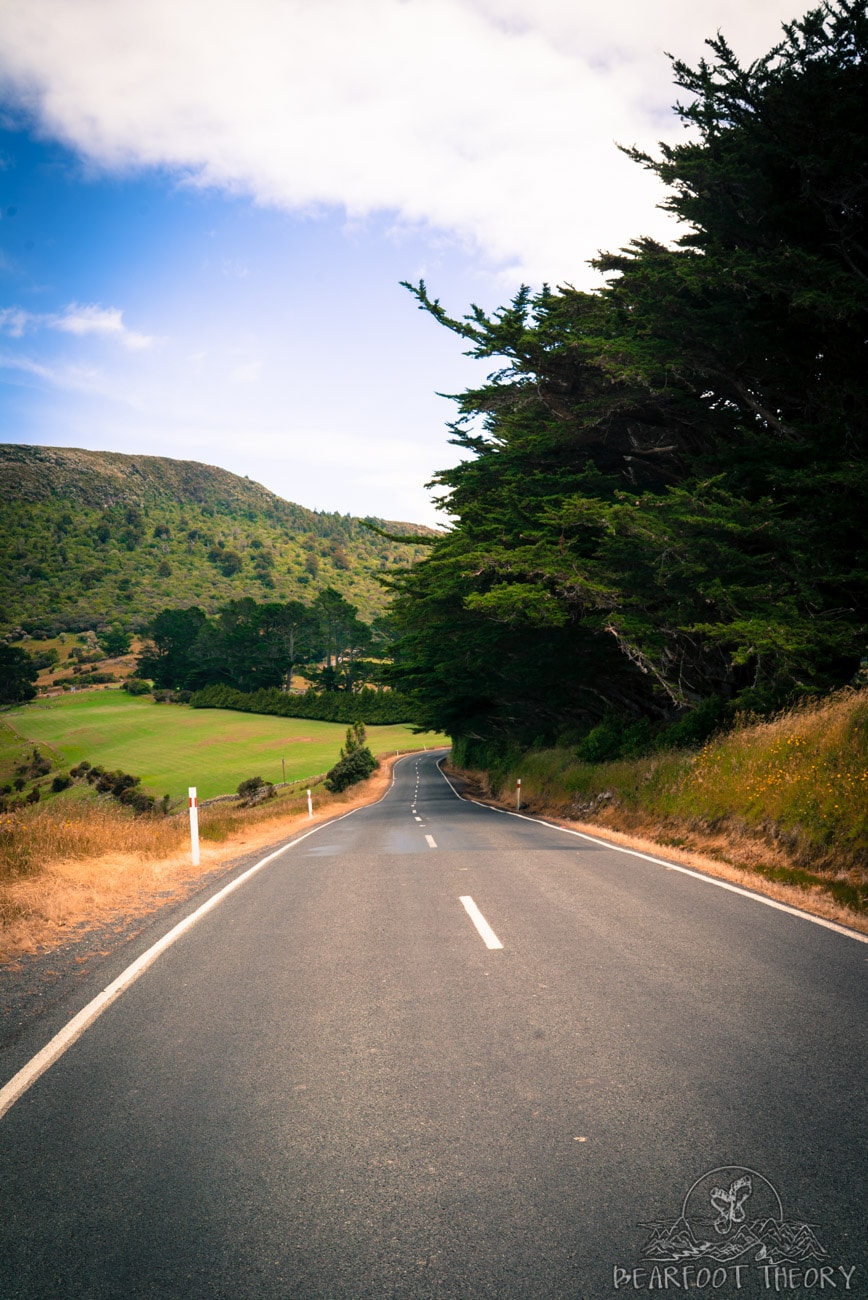 First we stopped at Modaks Espresso for a couple of long blacks (NZ's version of a strong Americano). This place had vintage decor, wacky poster art, good jams playing over the stereo, and no wi-fi (which means you actually have to talk to each other rather than staring at your phones). I give it two solid thumbs up.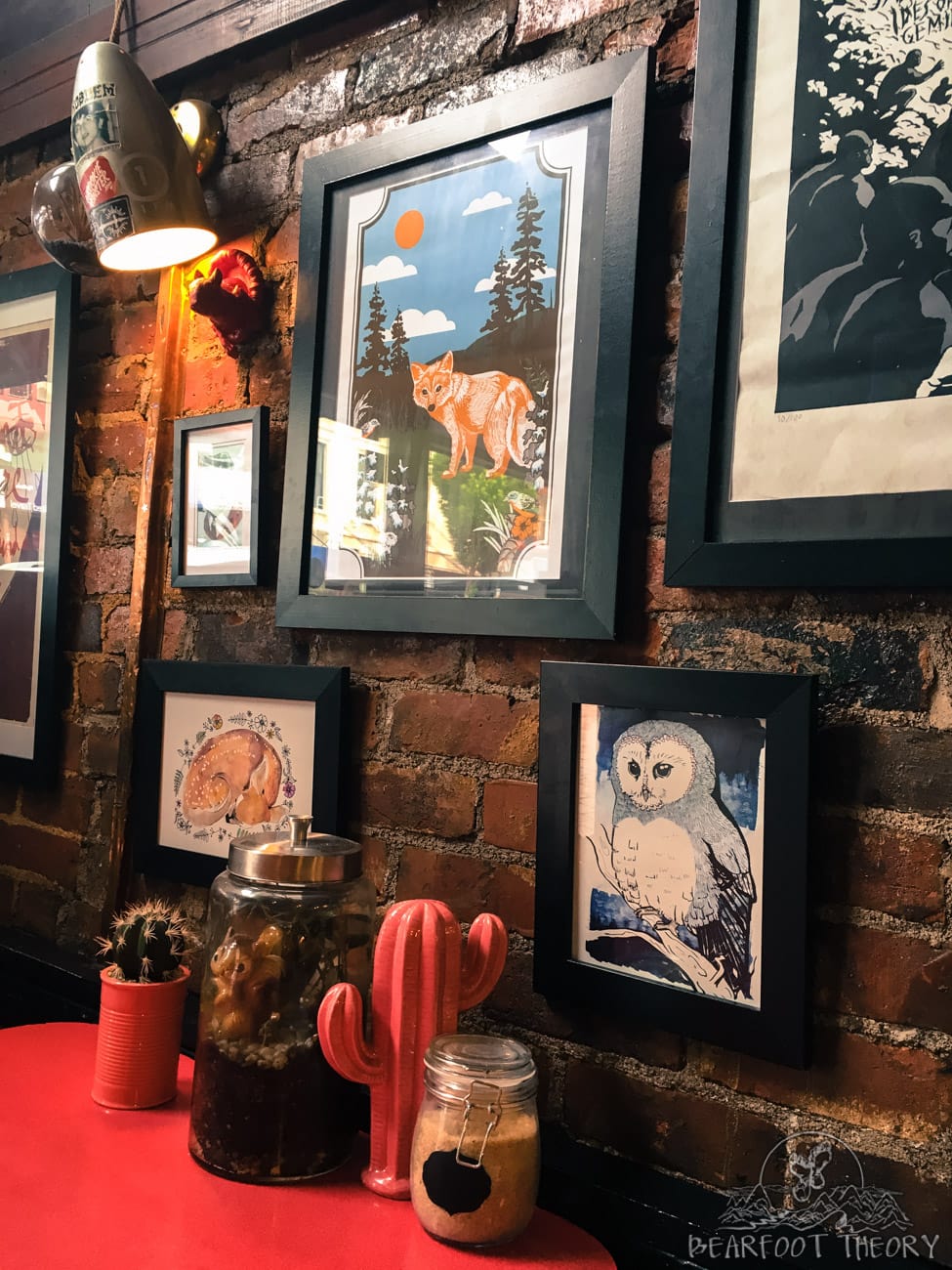 Lubos had lived in Dunedin for a short stint and suggested we go down to Long Beach, a long stretch of white sand with good rock climbing that really isn't on the tourist radar. When we got there, the beach was pretty much empty except for a few folks walking their pups.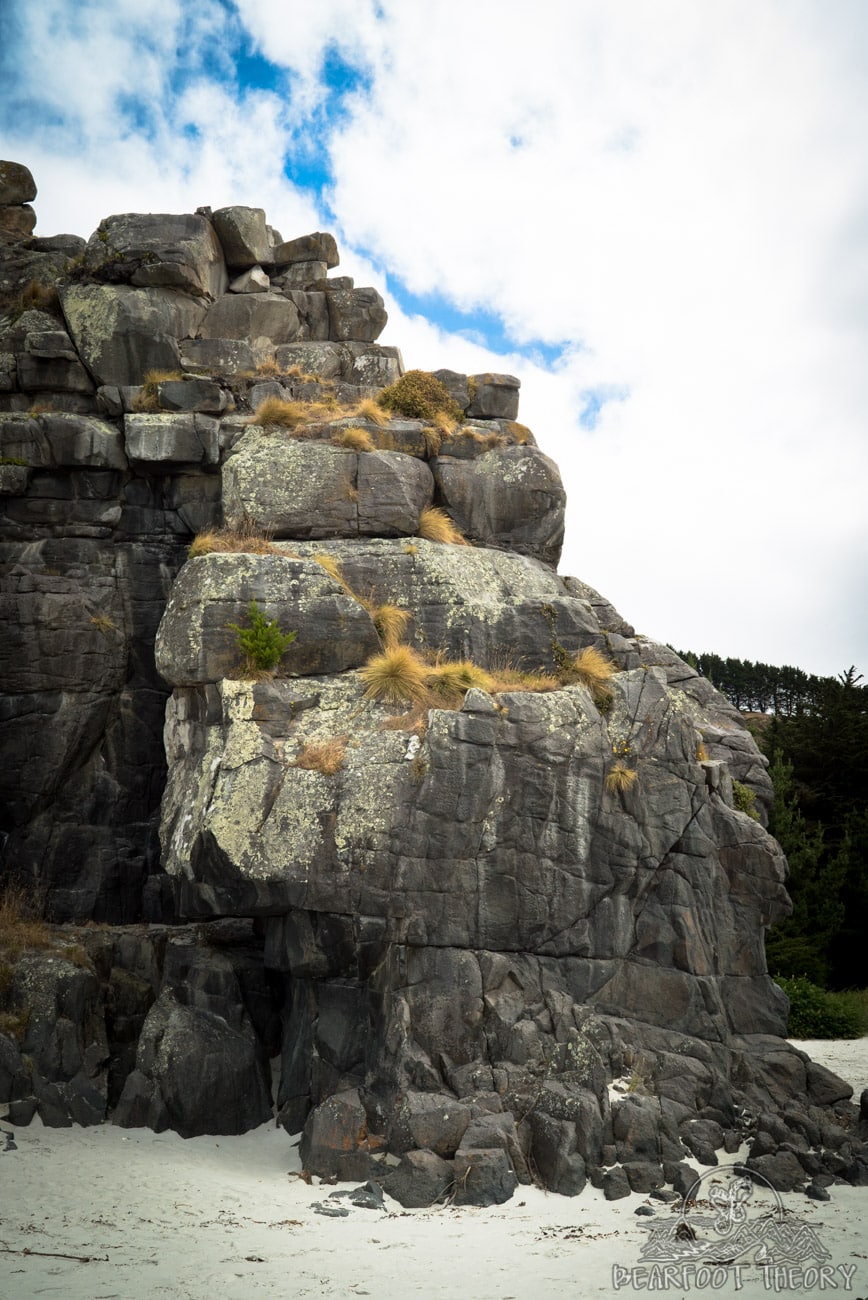 The beach was lined with all kinds of cool rock formations, perfect for a beginner climber like myself. I'd never really done much climbing outside of a gym (besides the weekend before in Wanaka), and it was the first time I really got what climbing is about. I really loved the slow movements, the team work, and the problem solving it required. Then when we got to the top, it was nothing but fresh air and gorgeous views that no one else got to enjoy but us. Finally, there were the post-climbing beach beers, and I'm pretty sure beer never tasted so good.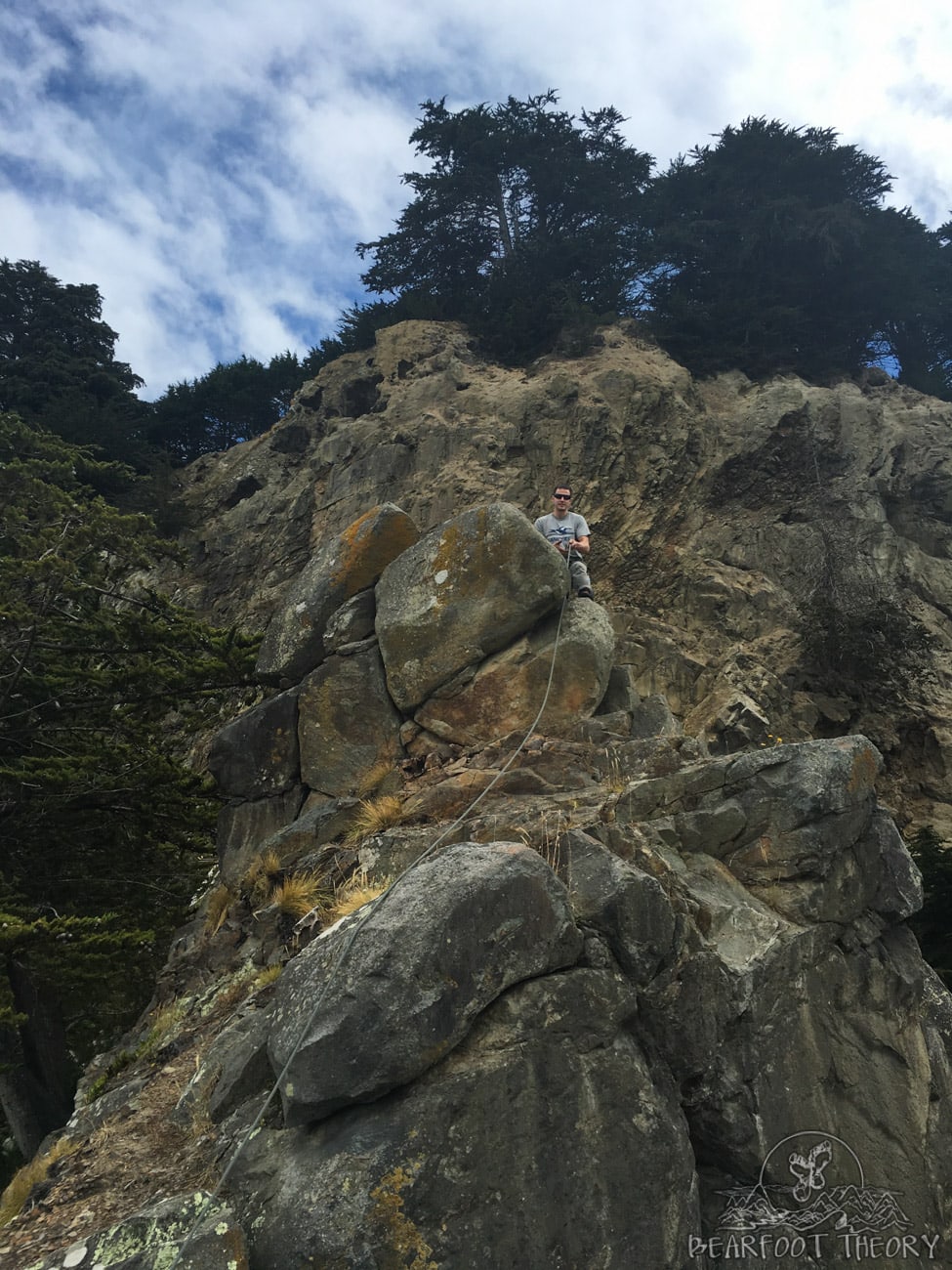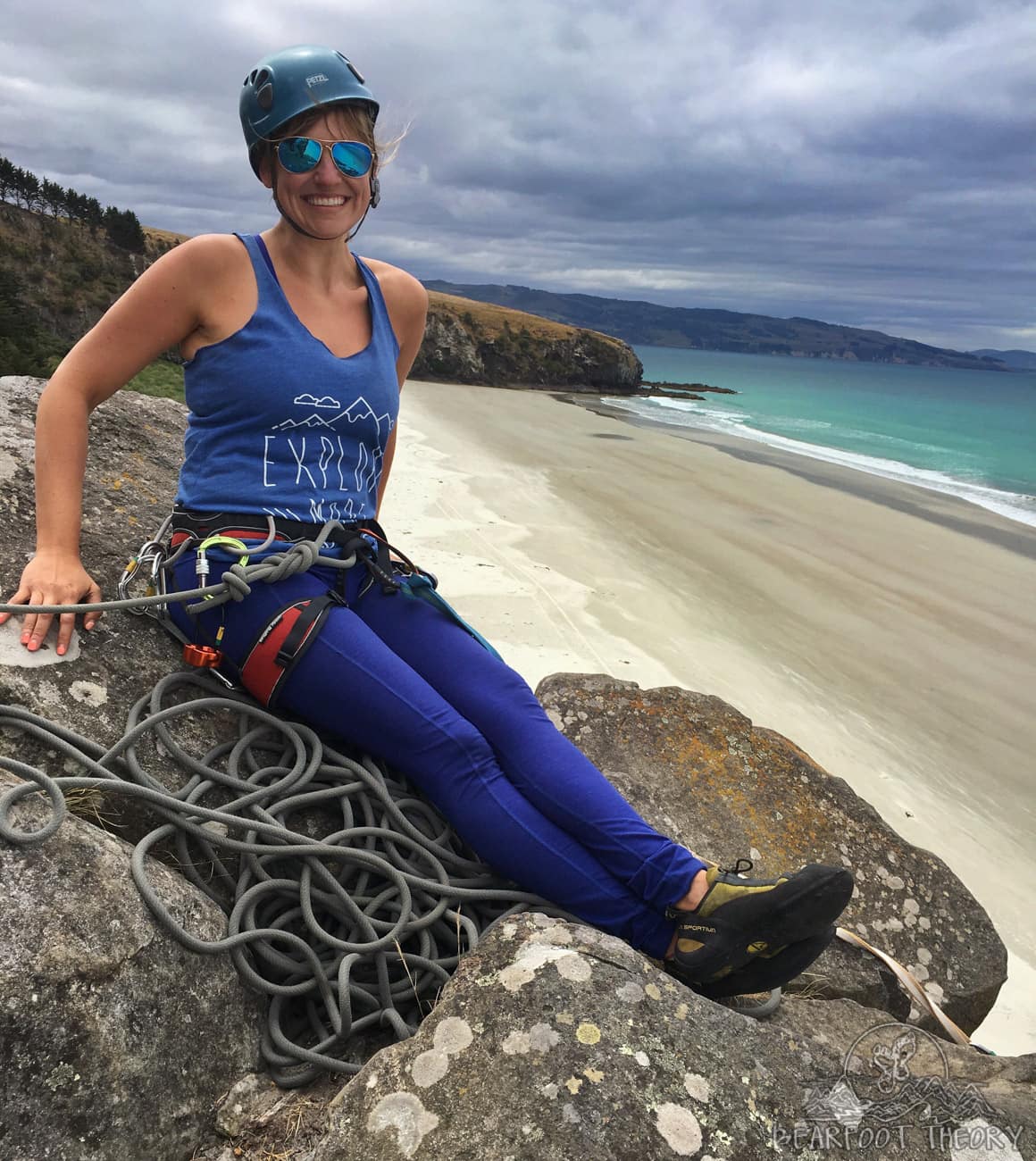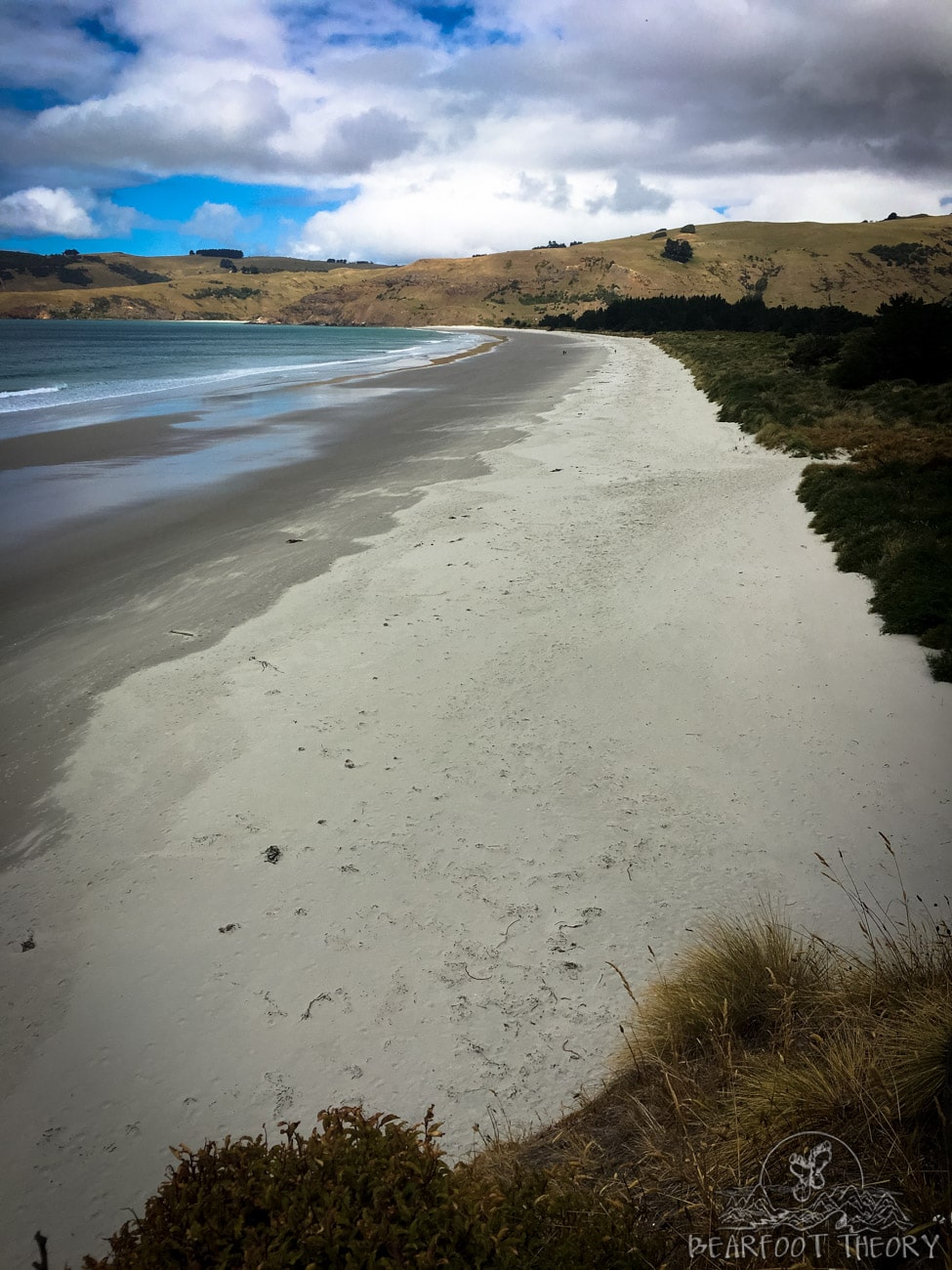 That night we stayed at the Leith Valley Touring Park in Dunedin. We weren't too thrilled about paying $38 to sleep in the Vanette, but we wanted a shower and there really aren't any DOC campgrounds that are close to town. So be prepared to pay if you want to be near town.
Dunedin to Oamaru & Wanaka (Day 41)
It was sideways raining out, so outdoor activities were pretty much out of the question for the day. We decided to head up the coast about an hour and a half to Oamaru.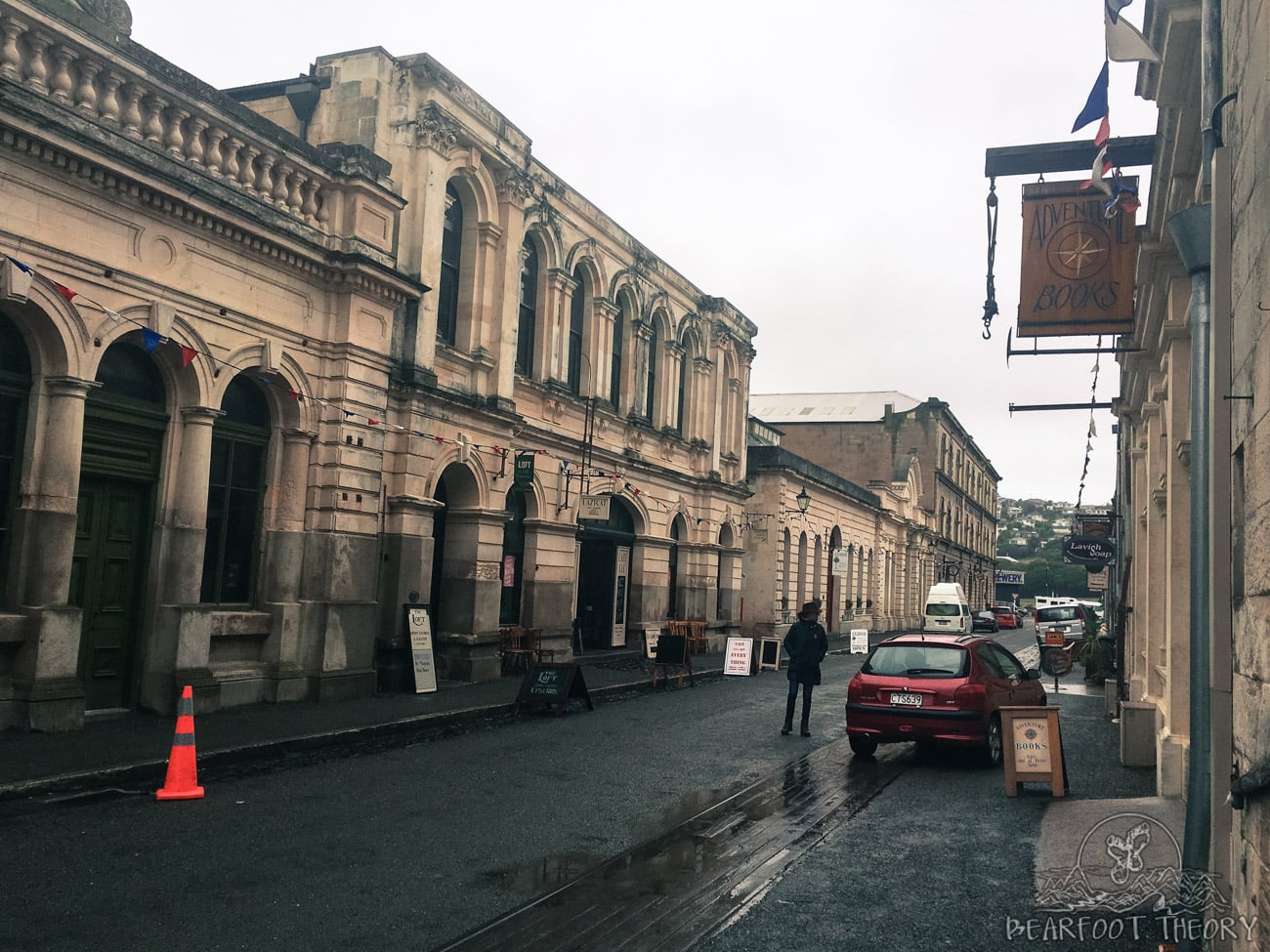 Oamaru was small, but definitely worth a stop on a rainy day. I would maybe even call it a little weird, but in a good way. The main drag consists of old buildings, a couple of (strange) art galleries, and an adventure bookstore where you can find all kinds of antique books written by famous explorers.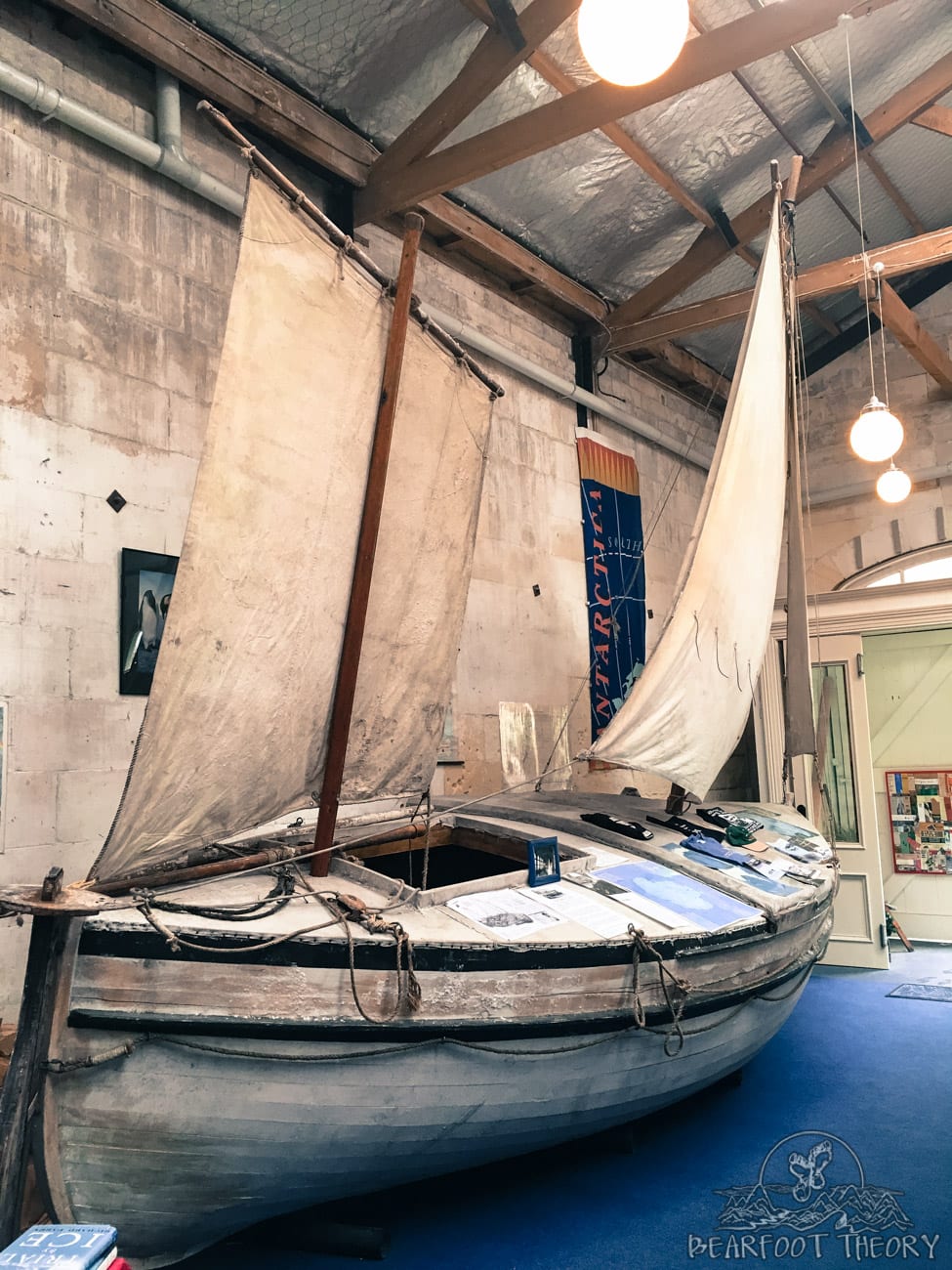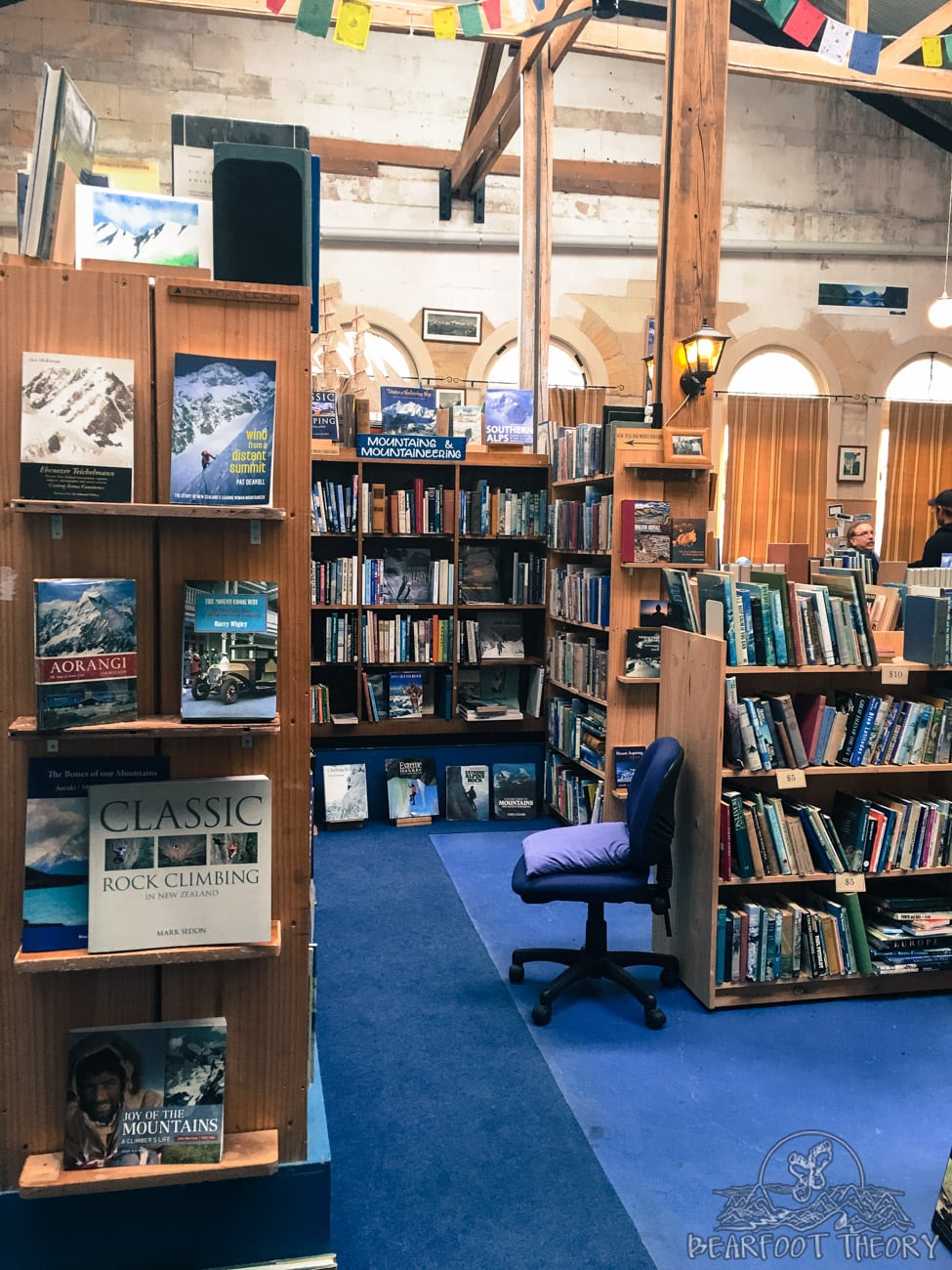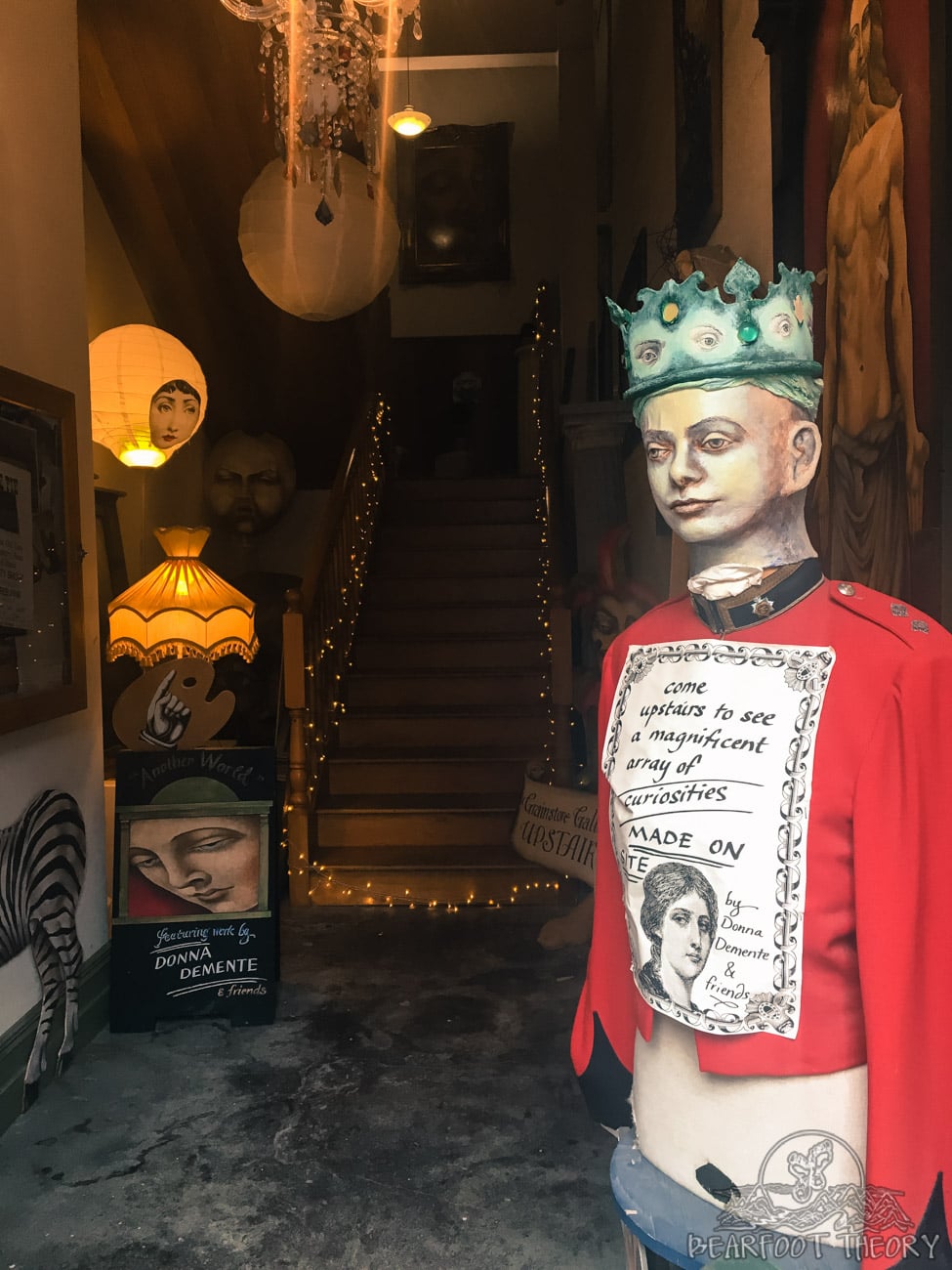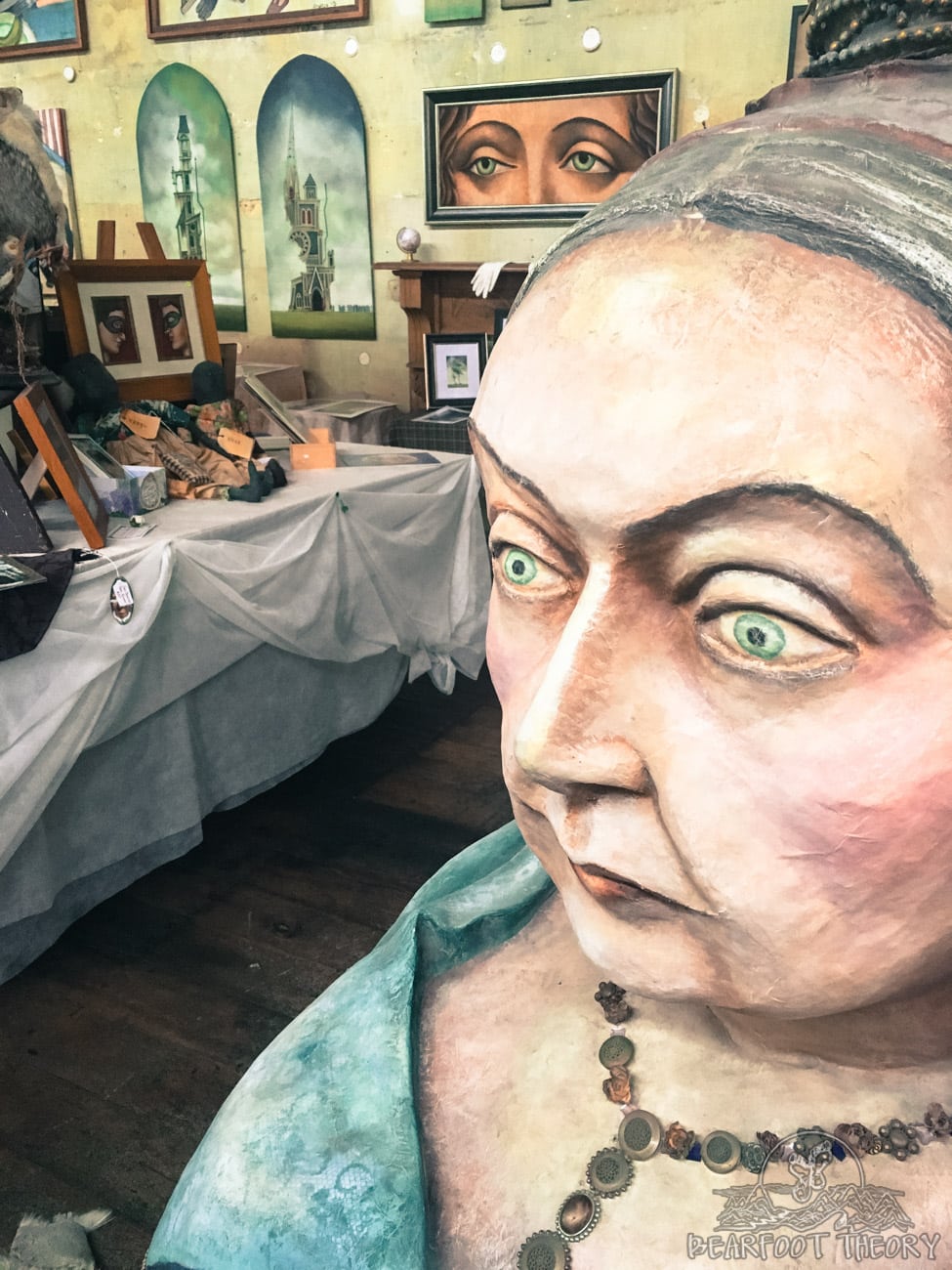 My favorite pitstop here was the tasting room at the New Zealand Whiskey Company where we shared a tasting flight of NZ's finest followed by lunch at the nearby waterfront restaurant called the Galley.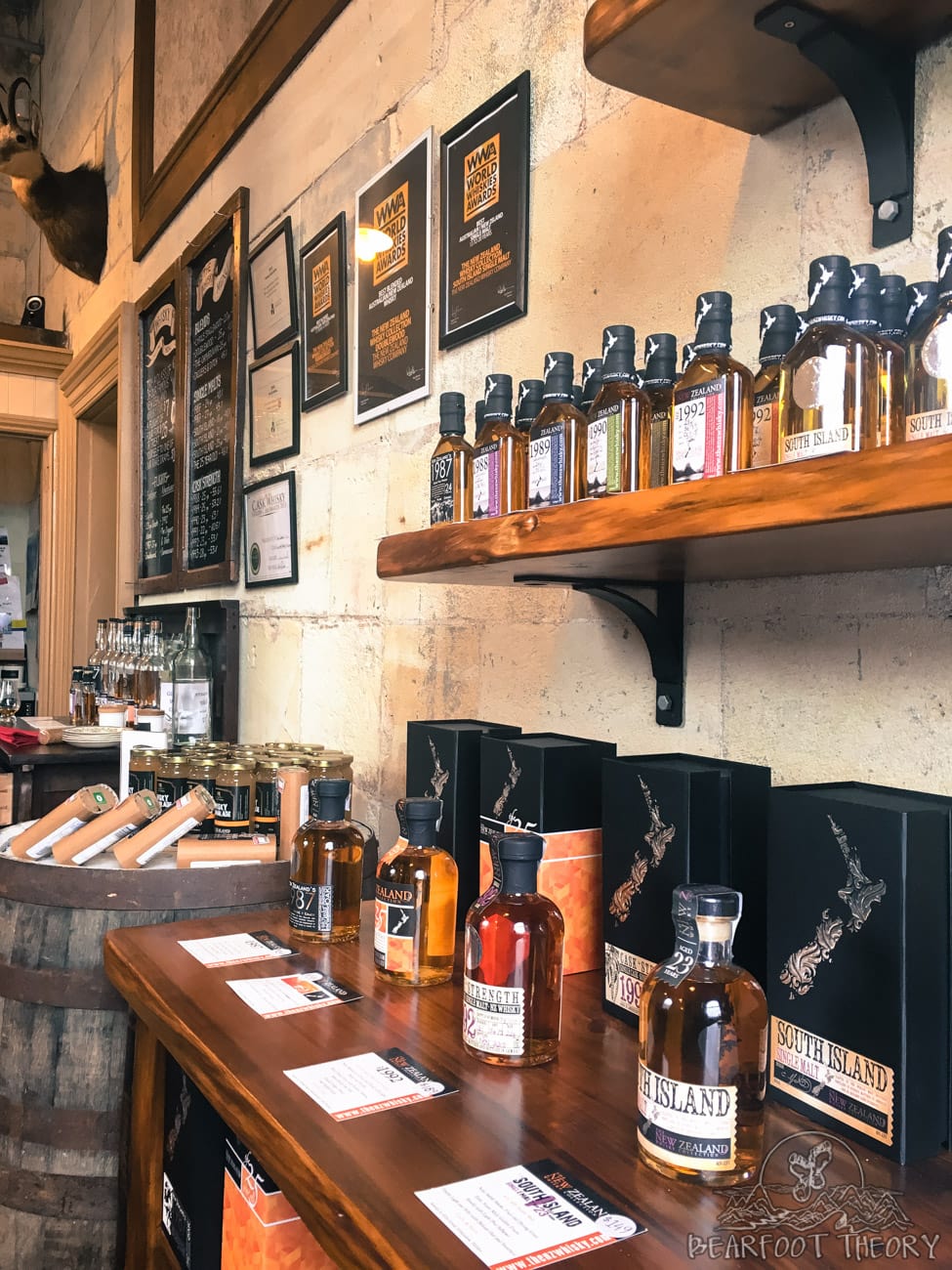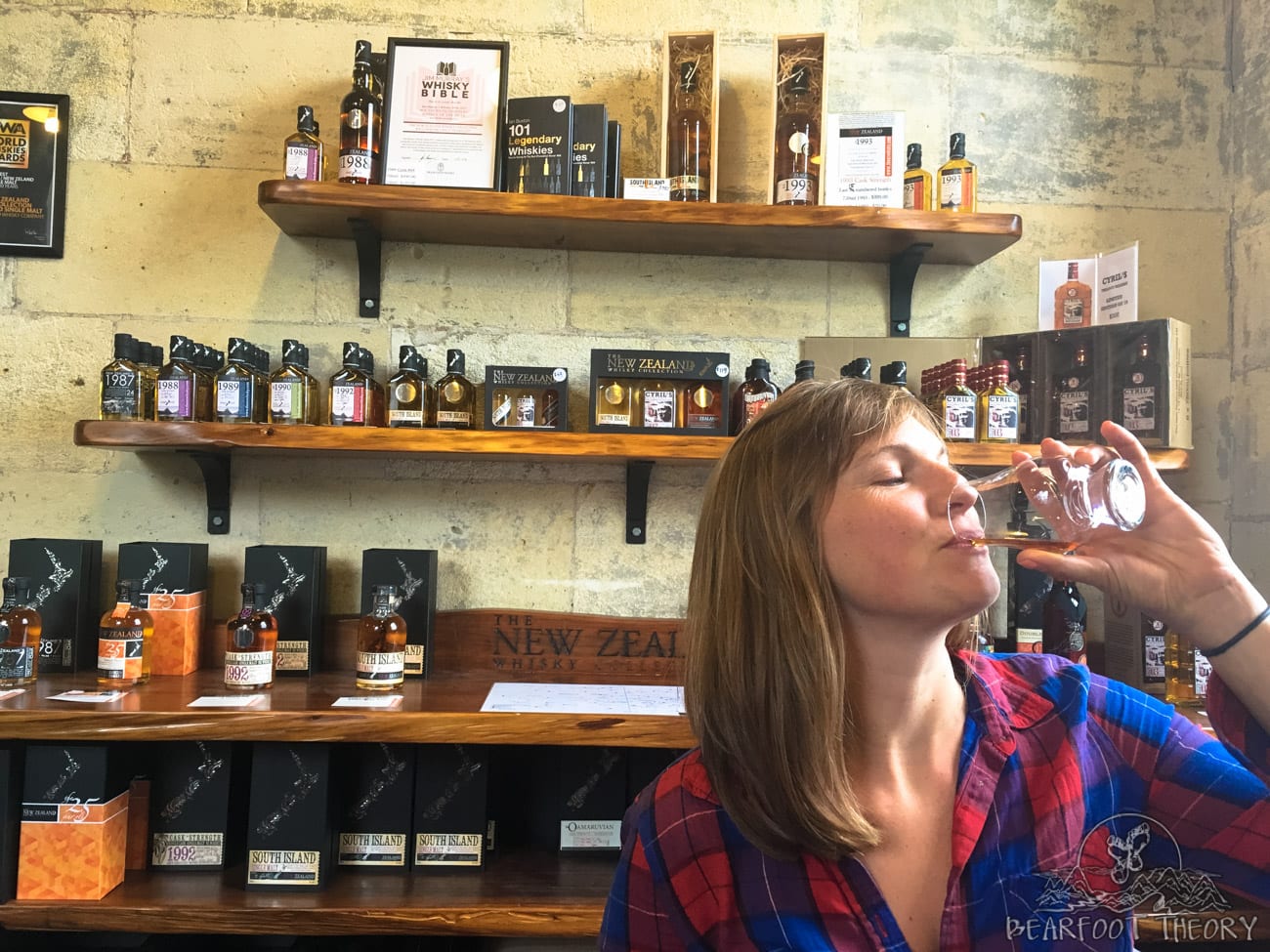 With the weather report looking grim for the next day and our desire to get back outside, we headed back west towards Wanaka.
Back in Wanaka, we went for a beer at Kai Bakery on the waterfront, followed by dinner at the Korean joint called Shinaburo. We split the bibimbap and the bulgogi. Both were quite flavorful, but the portions were small for the price.
Then we spent the night at the Albert Town campground on the bank of the Clutha River where there is tons of grassy real estate for $7 per person.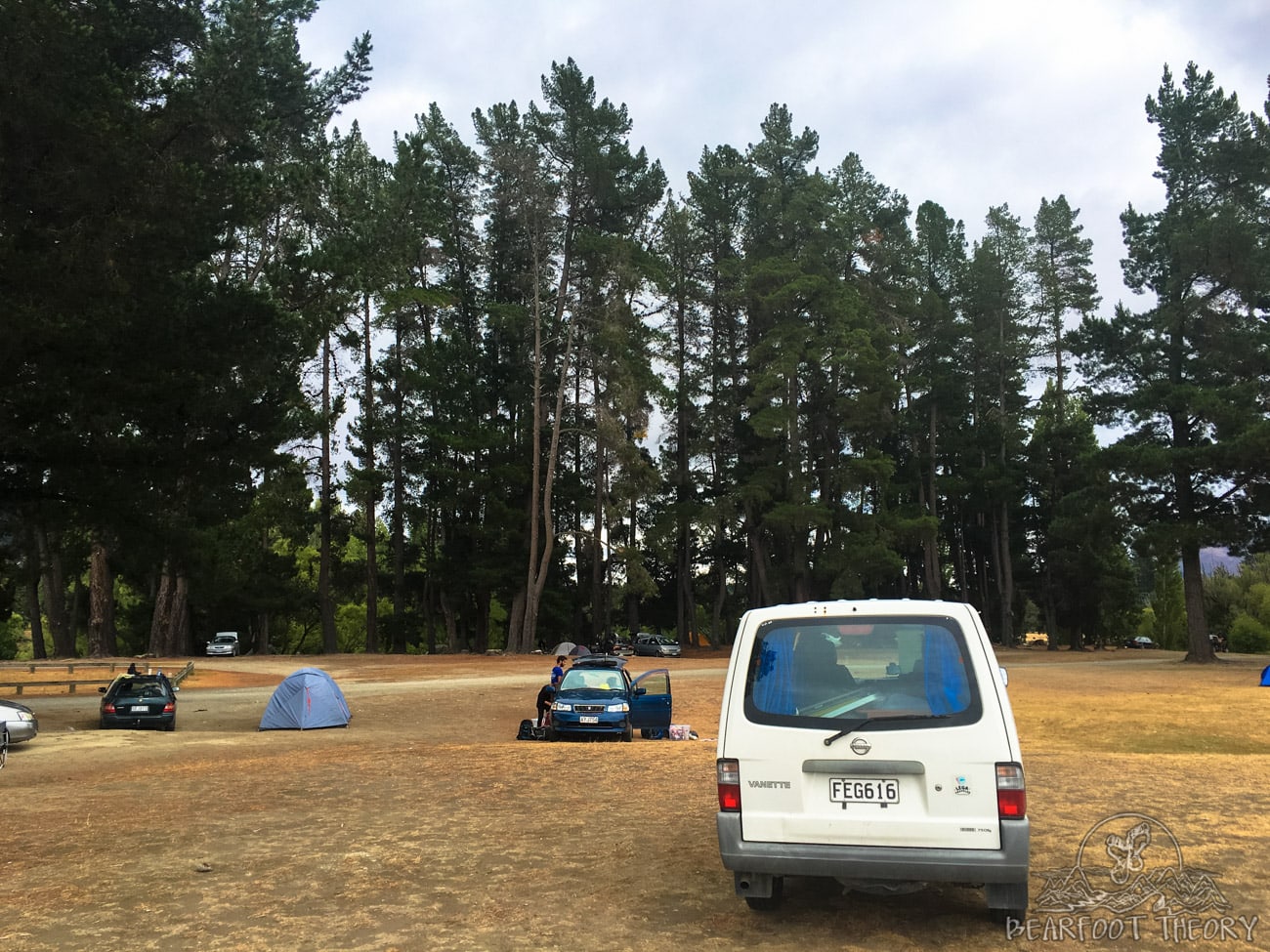 Climbing in Wanaka (Day 42)
You know these climbers….they don't like to hike much. But that's ok. Even though there was a hike I really wanted to do in Wanaka, the clouds meant that my pictures probably wouldn't turn out that great anyways. I was also totally up for taking advantage of having an experienced climbing partner (Lubos) to get me on the ropes again.
After a tasty egg breakfast at camp, we drove out to an area where we would be doing my first real three pitch climb. For the non-climbers out there, that basically means that there were three different ledges, and at each ledge we would reset the rope for the next section. Lubos told me that it was a challenging climb, I would probably be scared, and maybe even cry….but we would get through it together. NOT INTIMIDATING AT ALL. Oh and the name of the cliff? Hospital Flats. So reassuring.
So he goes up the first section with no problems. Makes it look easy in fact. Then it's my turn, and he's belaying me from the ledge above. Well I get about 10 feet off the ground, and I'm already stuck. My forearm muscles look and feel like they are literally going to bulge through my skin and the more I tried to hold on, the more tired I got. Eventually I asked him to lower me down so I could start over, but my arms already felt worked, and my chances of making it up to the first ledge were quickly dwindling.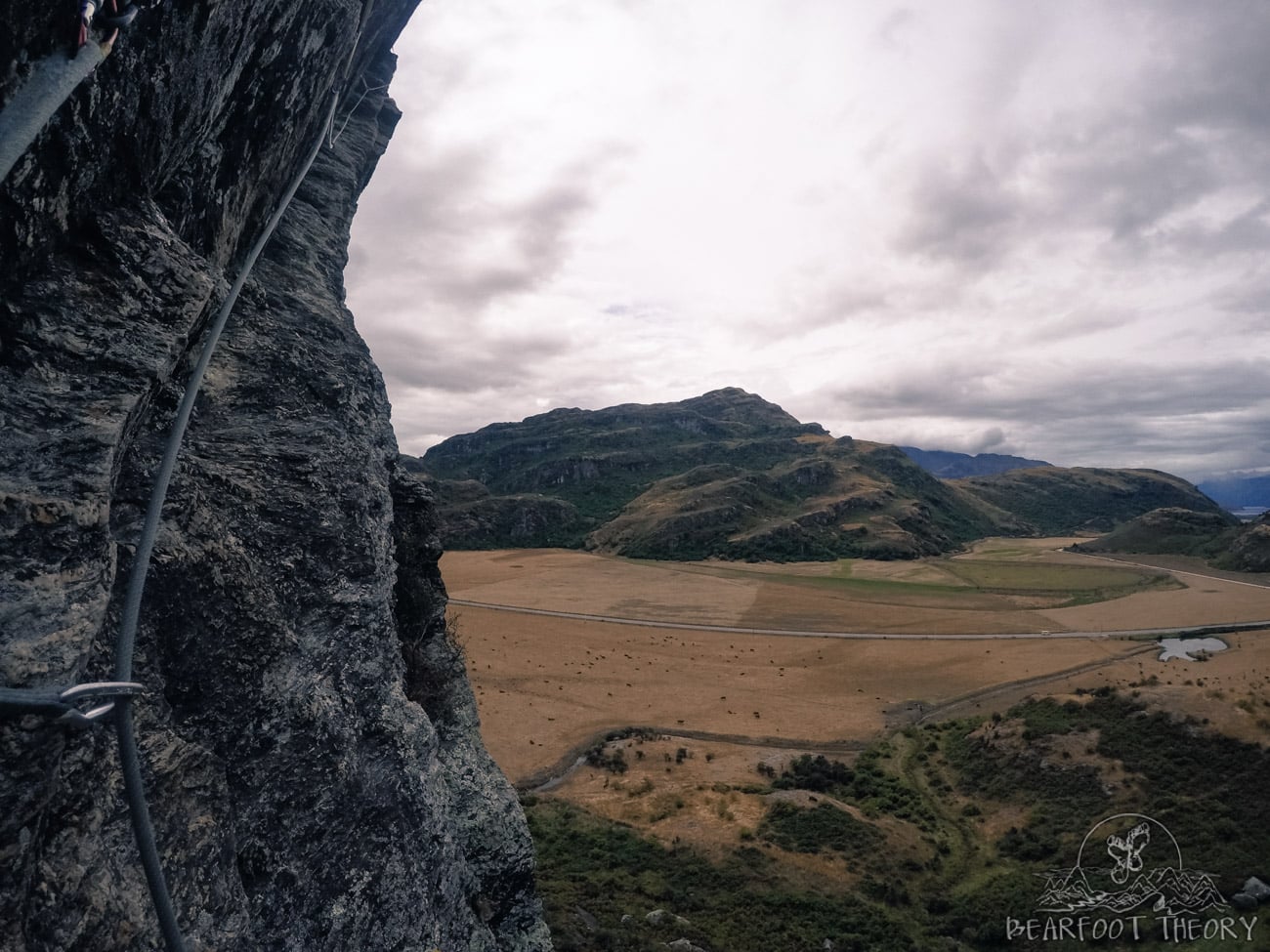 Then a couple of guys, including a climbing guide, came around the corner and gave me some pointers about where to put my feet as I tried to make my way over the slight overhang. I think the guide even gave me a welcome boost on the bum, and during what was going to be my last attempt, I barely squirmed my way up and over the obstacle, eventually making my way up to Lubos. I was proud that I at least made it up to the second ledge, even if that was as far as I got.
The second pitch had another difficult section, and I probably wouldn't have made it had Lubos not been hoisting me up using his belay. I was just thankful for his patience and encouragement. He never made me feel embarrassed about how much I was struggling or that I wasn't going to make it.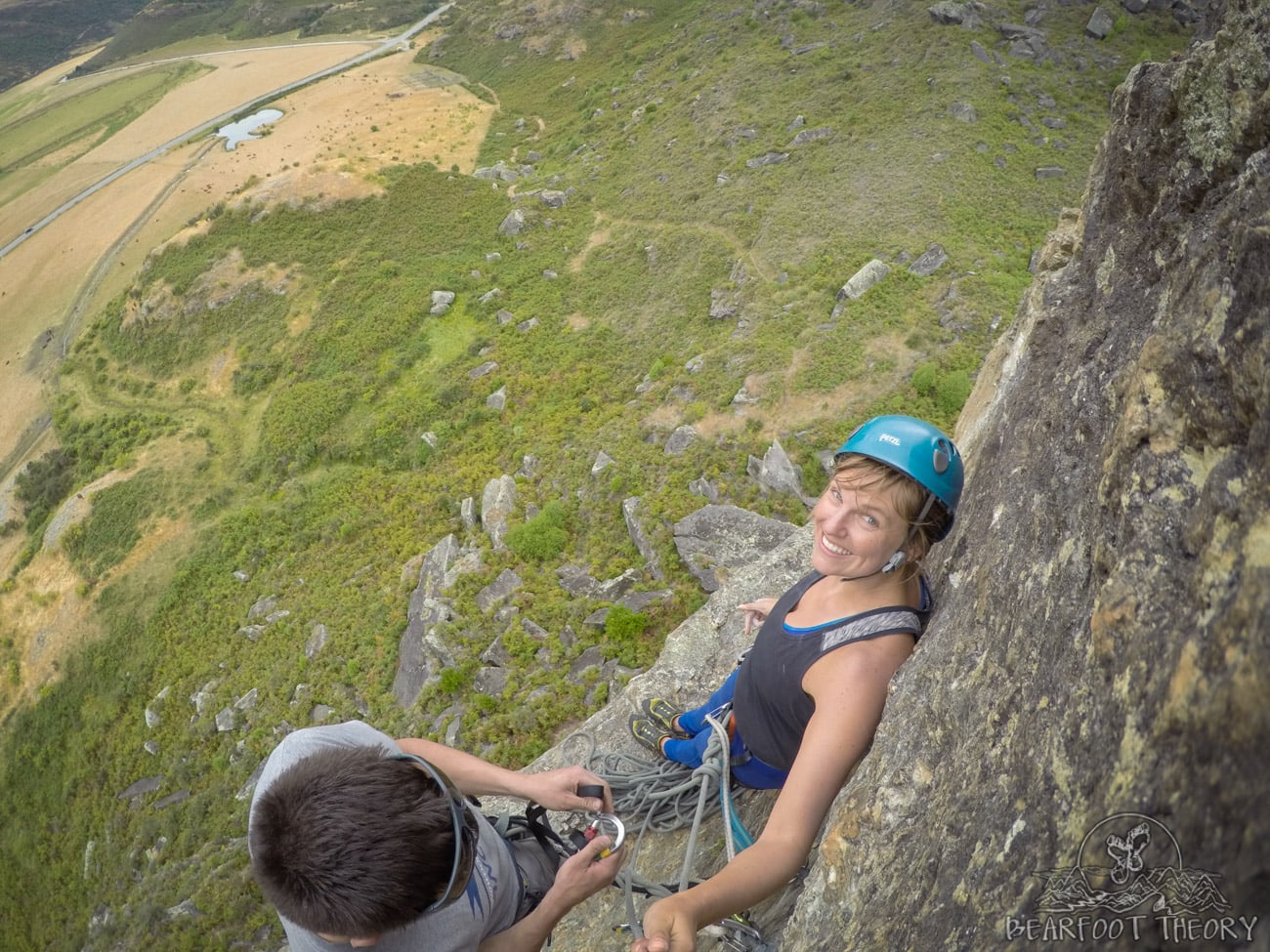 The third and final pitch didn't require as much physical strength but it was awkward, exposed, and scary (even though I was confident in my safety). As I took a deep breath and made the last little push to the top I felt a rush of excitement. It was a true test of my mental strength, in a way I'm not sure I've experienced in my other outdoor pursuits. The climb finished with a 200 foot free rappel from the top ledge which was a fun way to end the challenge.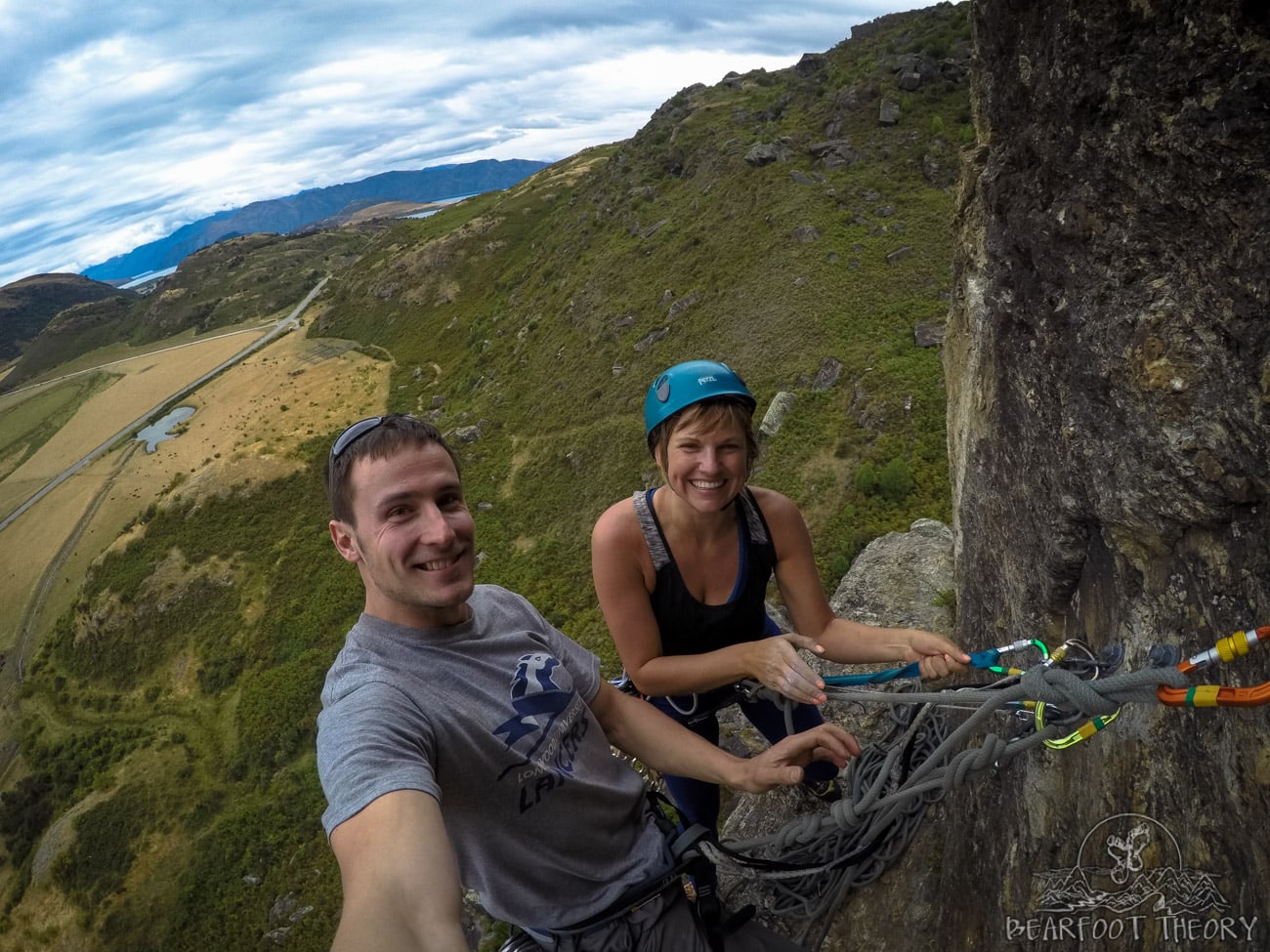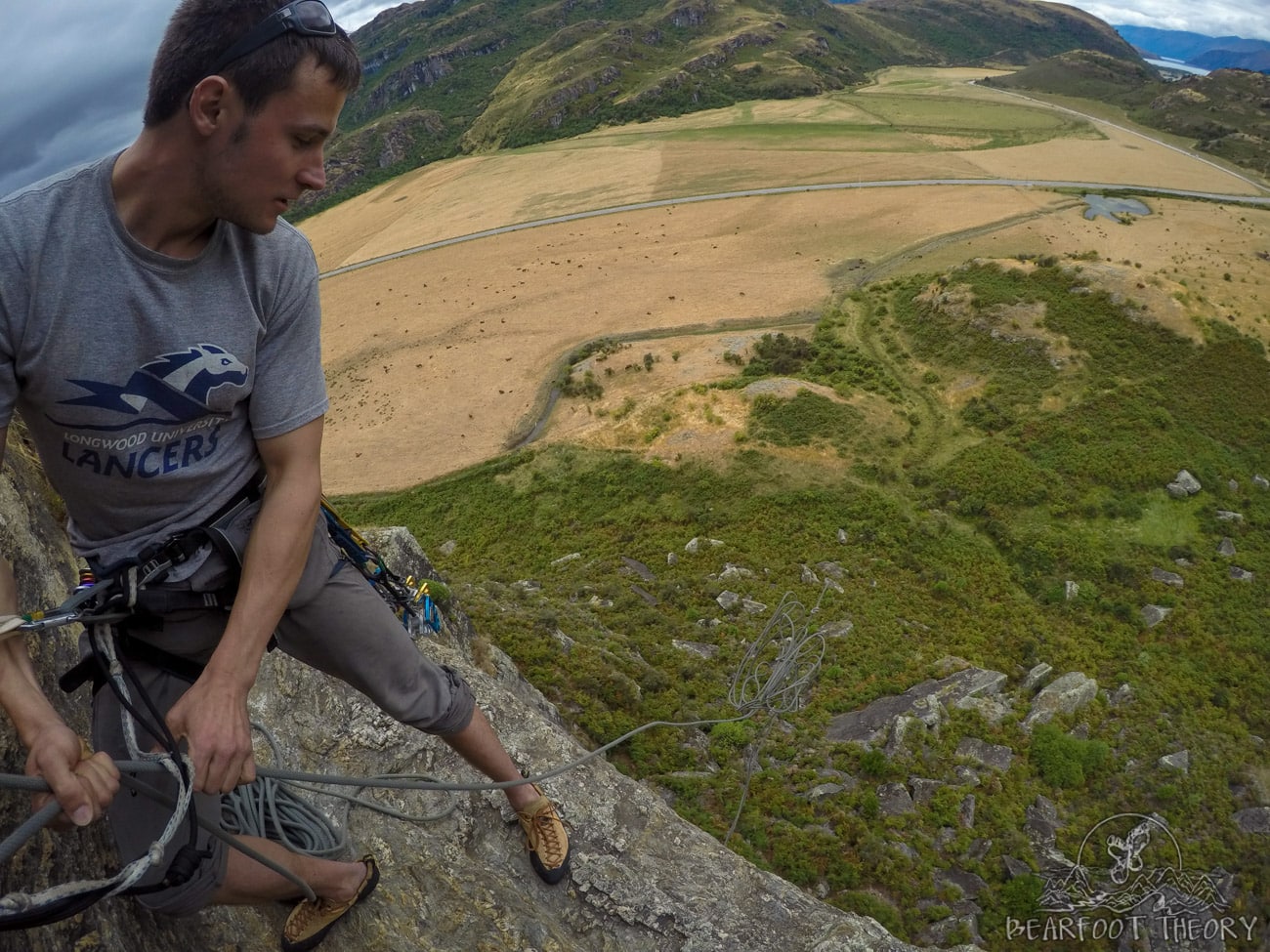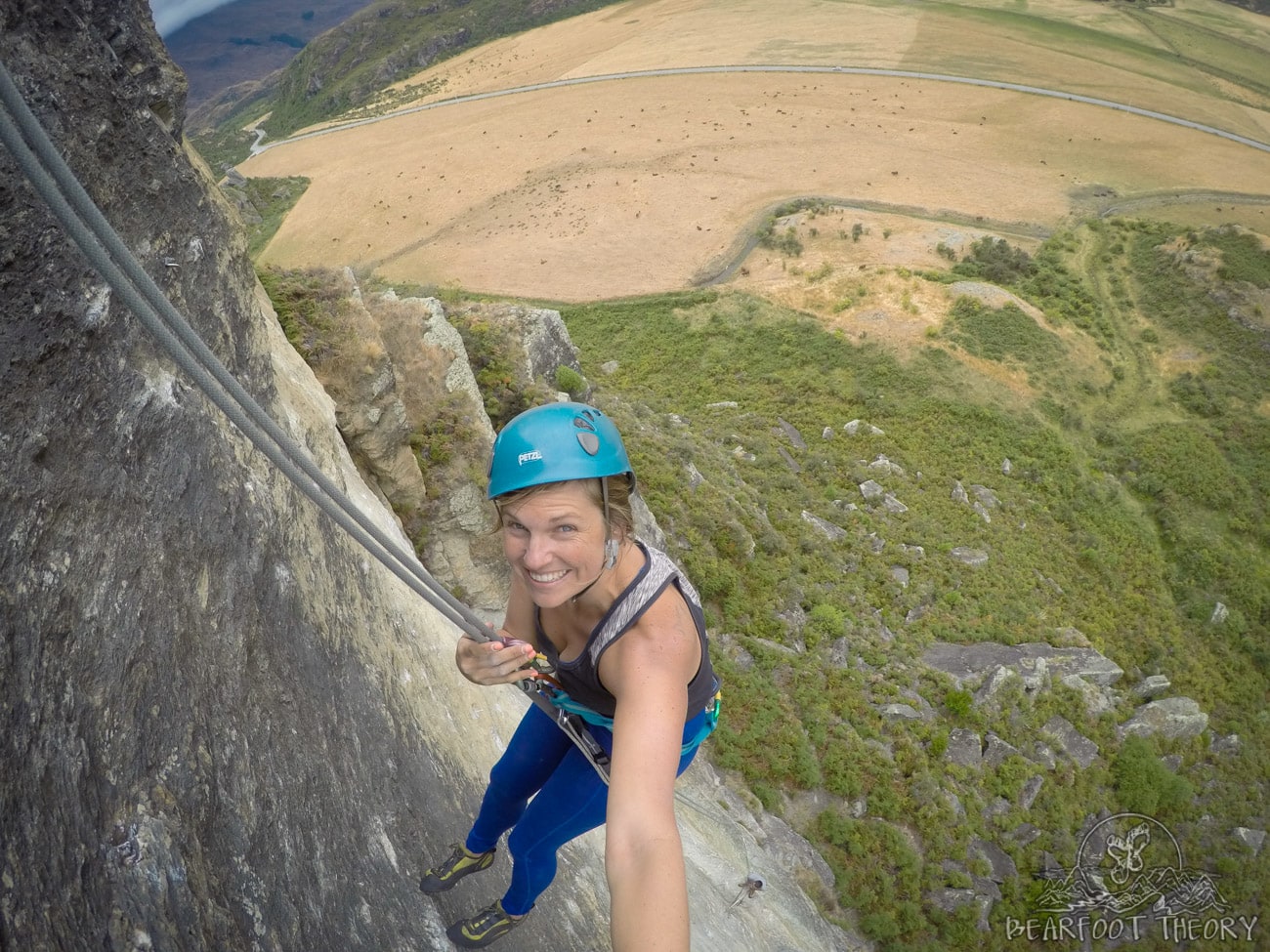 It was beer o'clock when we finished so we decided to treat ourselves once again at Kai followed by a second night at Albert Town.
Day 43 – 44 – Back to Queenstown
Didn't I just escape here a week ago? Yeah, that's what I thought. I reunited with my friend Jake back at my favorite 12-mile campground, ran some errands, did some work, and checked out the yoga retreat/hotel called the Sherwood.
I also went up Alta Lake at the Remarkables Ski Resort. The 45 minute drive up there was worth the time alone, especially for the drive down at sunset.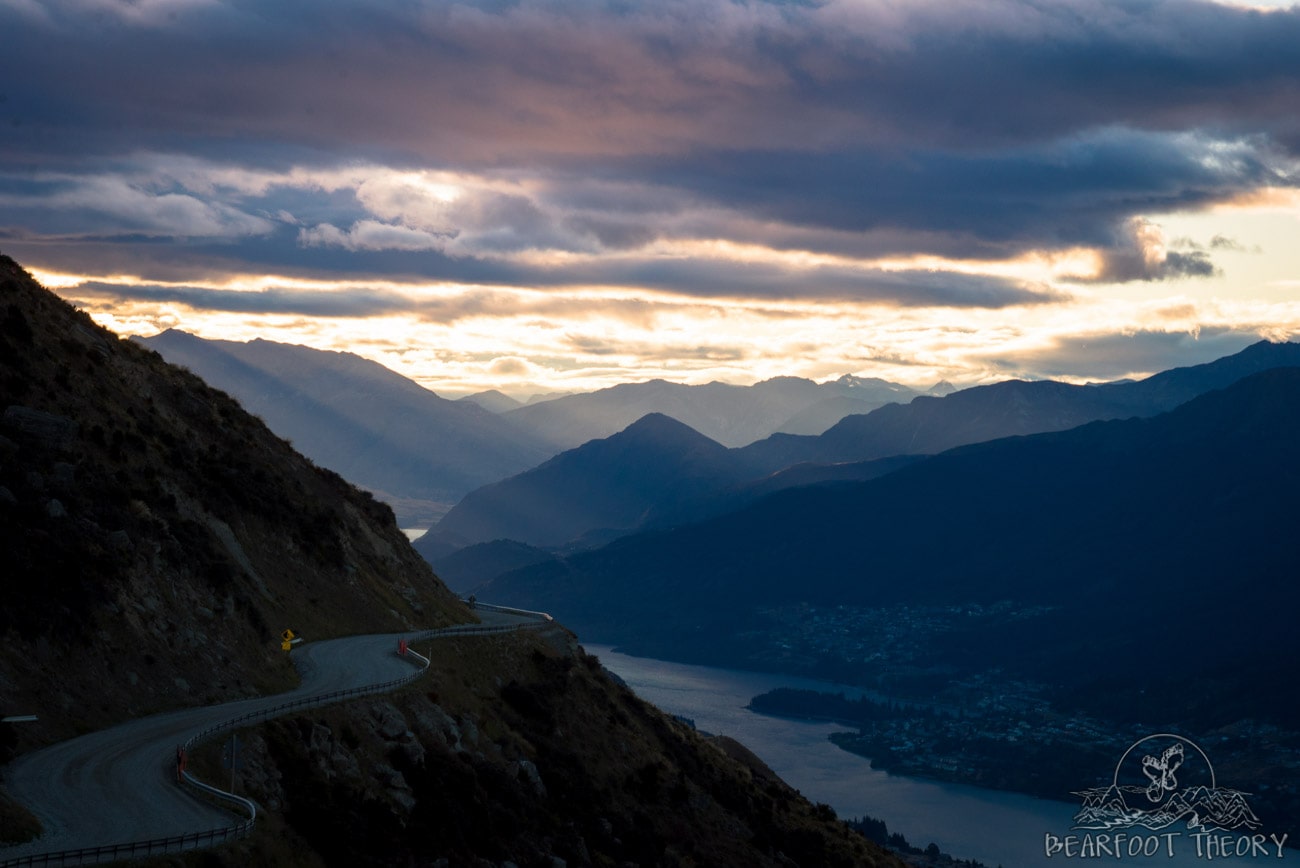 The hike up to rocky bowl surrounding Alta Lake leaves from the main ski lodge and takes about 30 minutes each way.  The lake was very pretty (minus the blood sucking mosquitos), but I wish I had gotten there just a bit earlier before the sun went behind the clouds.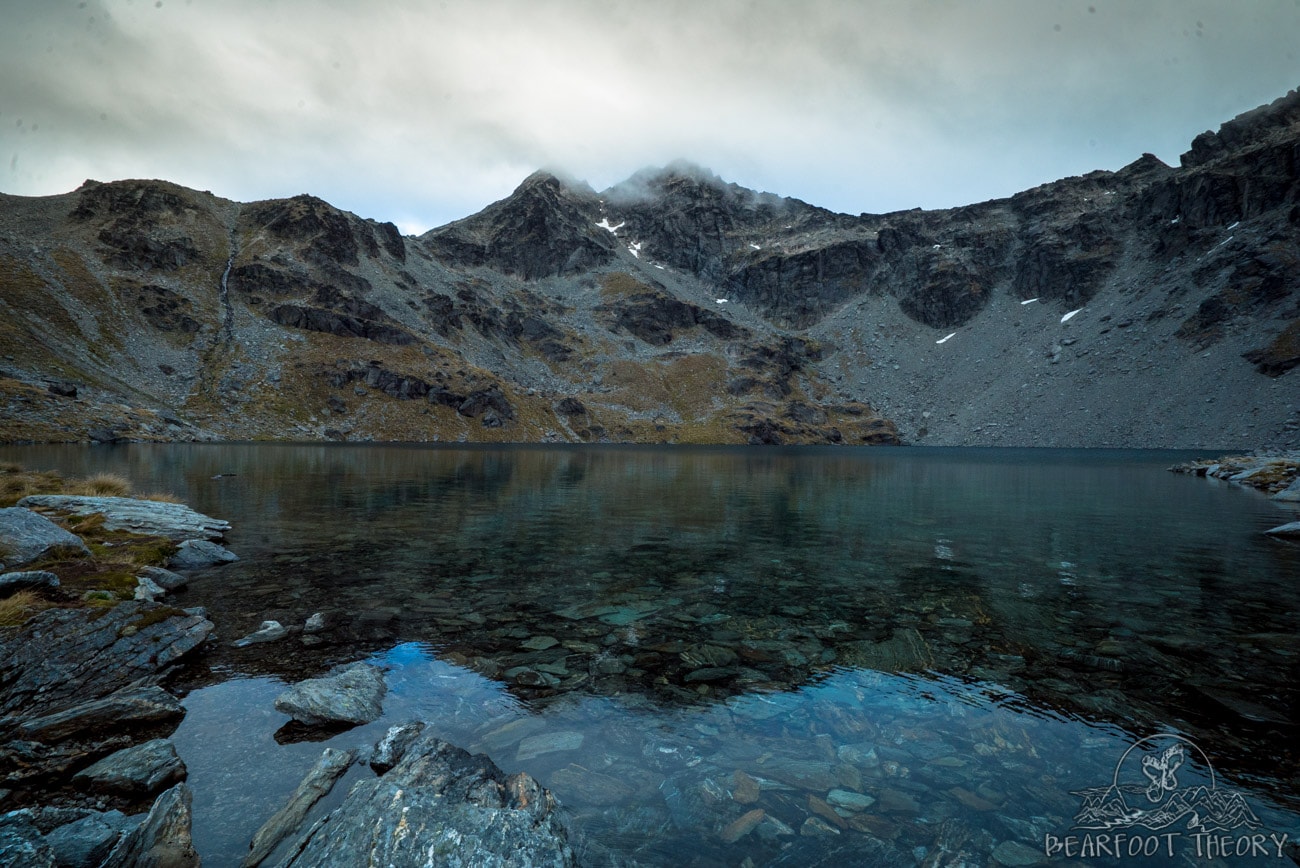 – Read More on New Zealand –
What's up next? I'm currently up in Mt. Cook National Park getting ready for a 4 day climbing course up at the Ball Pass Glacier with Alpine Recreation.
I'm also about to change my return ticket for a second time (thanks to Alaska Air for being so accommodating!).
And finally, I should note that the itinerary I've followed has been pretty ass backwards (aka not efficient). These recaps are intended to get you excited about New Zealand, put some destinations and ideas on your radar, and are an opportunity for me to share my solo adventures on the road.
Once I get home, in order to help you plan your own trip to New Zealand, I'm going to put together a couple different succinct itineraries for you to follow so you don't waste your time backtracking like me.
WHERE IN NEW ZEALAND WOULD YOU LIKE TO GO?
LEAVE A COMMENT, TWEET ME, OR WRITE ME A POST ON FACEBOOK.