New Zealand Road Trip Highlights Week 2
Welcome to the second week of my New Zealand road trip! If you missed the first week, you can check it out here.
During week two of my New Zealand road trip, I traveled from the Nelson region on the northern coast of the South Island to the Abel Tasman coast and then down to Nelson Lakes National Park. My road trip route and the major points of interest are shown on the map below.
**To keep up with me while I'm on the road, be sure to follow me on Instagram and Snapchat (name: bearfoottheory).**
New Zealand Road Trip: Week 2 Map
New Zealand Road Trip: Mapua (Day 7)
Day 7 of my New Zealand road trip was the first day I started to feel a little bummed out when things didn't meet my expectations…
I was driving around in the rain, and all the places I thought about staying at ended up being not that awesome. I was regretting leaving Queen Charlotte Sound so quickly, but then I sauntered into a local pub…and things took a surprising turn.
I arrived in Nelson in the late afternoon – the hub for the Great Taste Trail. Here I thought I could rent a bike and take a booze cruise to a bunch of the area's local breweries and wineries. Well, during a quick stop at Nelson's i-Site office (basically a welcome center for tourists where you can get info, book tours, etc) I learned that all of these points of interest on the Great Taste Trail were actually quite spread out, and most people take several days to bike it. That was not something I wanted to do nor an option since I had a kayak trip planned in just a couple of days.
While driving around Nelson, dark clouds rolled in, and it started to hail. Then seeing that the only option for camping in Nelson was the downtown carpark, I decided to leave town and hit my first New Zealand traffic jam. Then I got to the coastal town of Mapua and the entire wharf looked like a dark, deserted construction zone. I sat in my car wondering what to do. Should I go back to Nelson? Then I noticed a sign for Golden Bear Brewing Company, and I figured I might as well think about it over a beer.
I walked in to find about 10 locals shooting the shit. I ended up chatting with a park ranger who gave me tips on places to check out, a local librarian named Bridgette who gave me some great business advice for my blog, and the owner Jim who moved to New Zealand from Los Angeles in the early 2000s to start this brewery. Towards the end of the night, a local fishermen who was my dad's age came in with some snapper that was still warm out of the smoker. When the bar finally shut down, all of the restaurants were closed, so the fishermen sent me back to the Vanette with three big pieces of smoked fish that I totally devoured. In the Van. In the dark.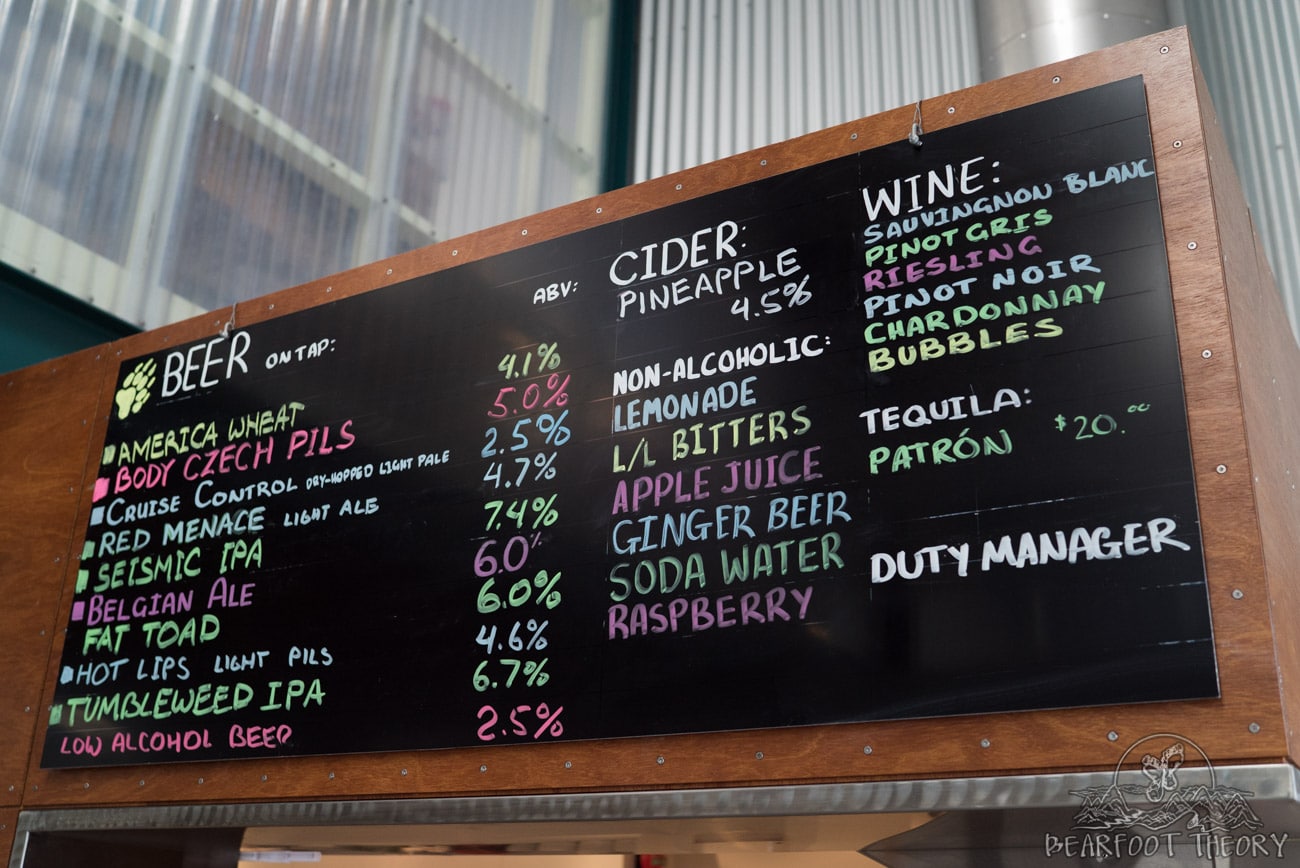 I woke up the next day to sunny skies with bits of smoked fish stuck to my smelly fingers along with a big happy heart. Never in the states would I feel comfortable strolling into a bar, all alone, without automatically putting up a guard. While it's hard to describe, there's just something about the people here. It's like they know that New Zealand has a reputation for being so friendly and everyone wants to contribute to make sure it stays that way and travelers feel welcome.
New Zealand Road Trip: Mapua and Kaiteriteri (Day 8)
I came to the Nelson region to ride bikes, so that I would do. Luckily the weather had improved, so I strolled down to the Wheelie Fantastic bike shop in the Wharf and rented some sick wheels.
I took off on a 20 kilometer (12 mile) round trip route that went by the ocean and up and over a big hill, dropping down into the town of Tasman and its surrounding orchards. There were no wineries or breweries directly on the route, and I also got lost walking my bike up the wrong giant hill….but there was a quirky little cafe called Jesters where I stopped for lunch. I had a proper plate of fried fish, and overall the ride was a great way to kill some time (and my thighs) on the way to the Abel Tasman coast.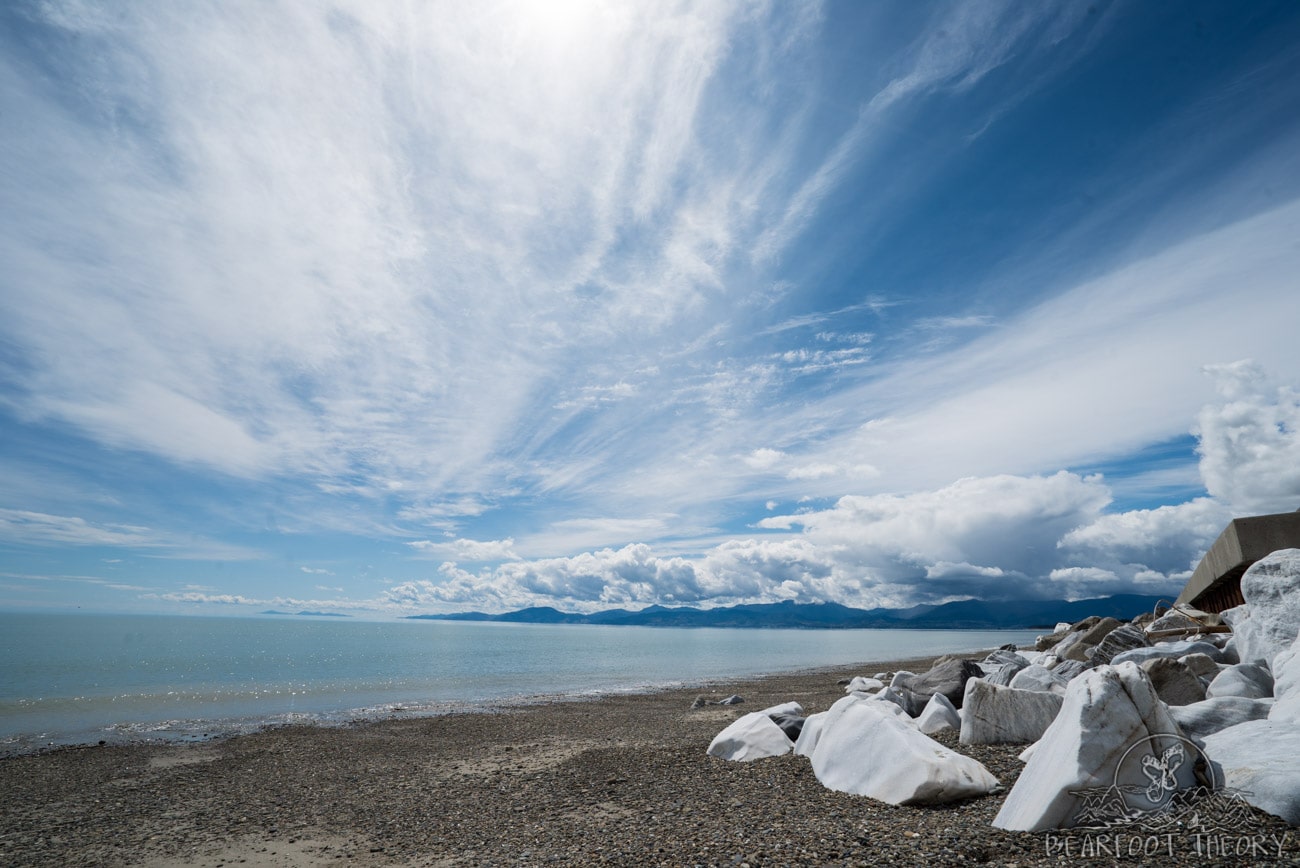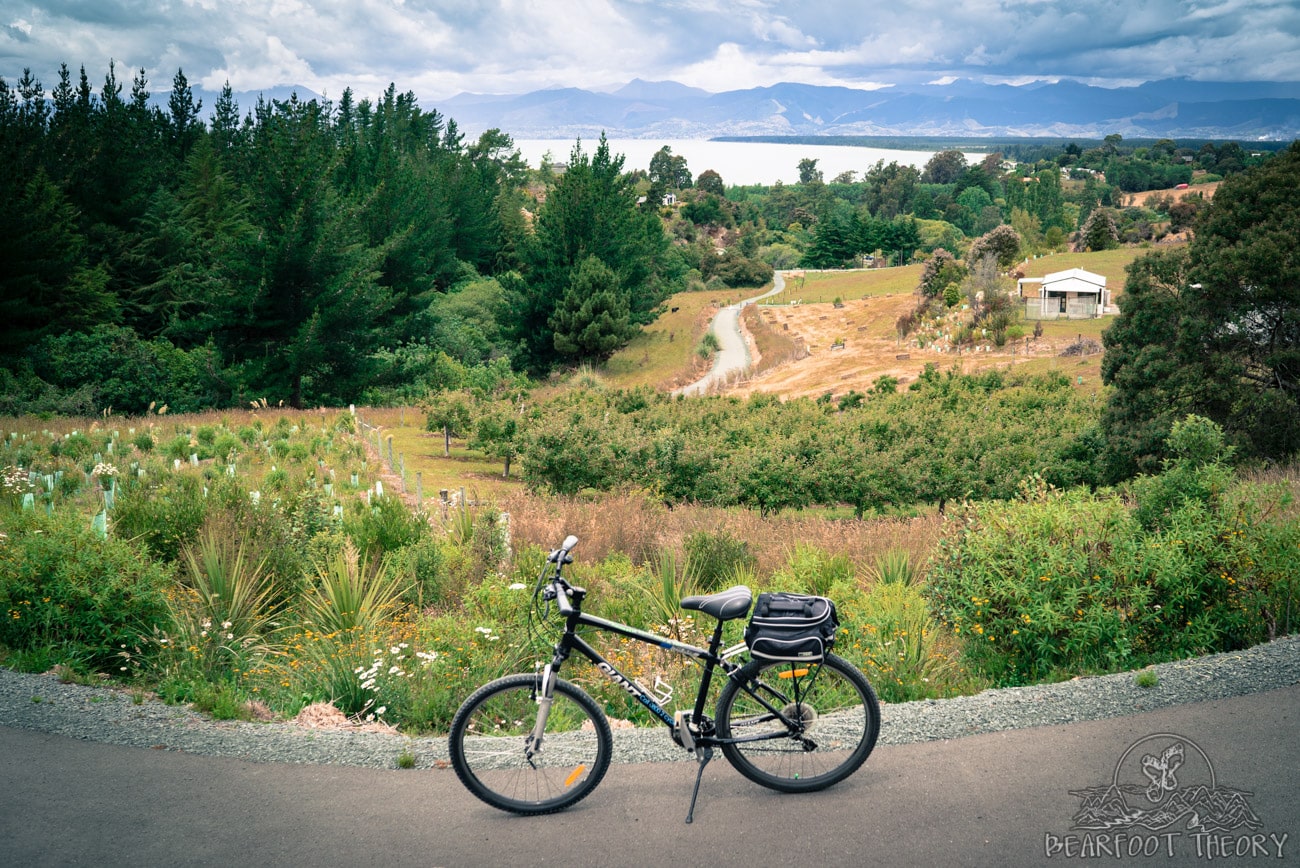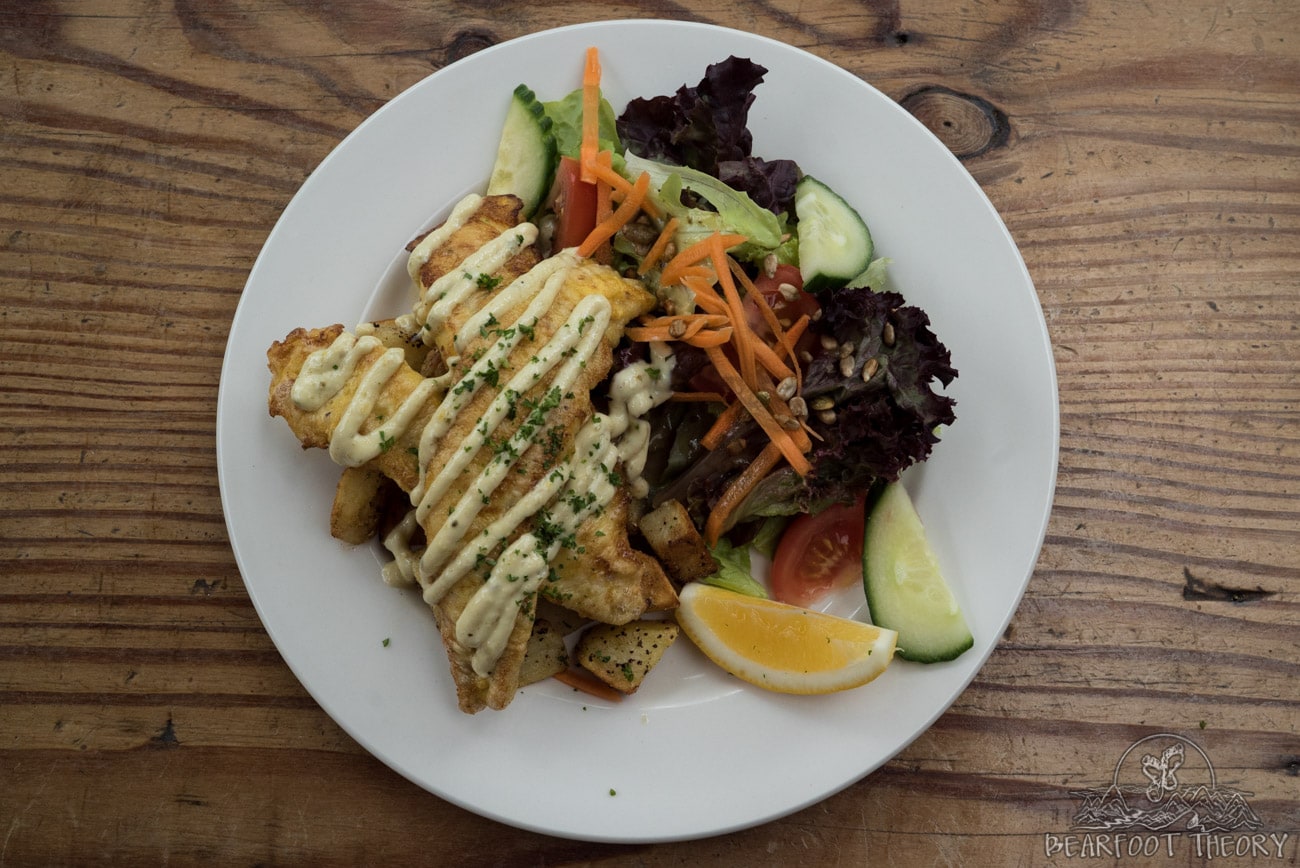 Next I drove to Kaiteriteri, a beach town that is swarmed with tourists in summer. I ran into a Spaniard on the beach, and we decided to grab a drink and some fresh calamari at a waterfront cafe. Everything was going good…until I got shat on by a vicious seagull. (If you are new to my blog, you will learn that I have a history with birds. I was once attacked by a flock of seagulls and ever since that incident I'm sure that they can sense my fear.
That evening I arrived in Marahua, my launching point for my three-day classic kayak trip with Abel Tasman Kayaks. I camped next to a group of lively guys from Christchurch at a place called the Barn, had a deliciously warm shower, and got packed for the next day.
New Zealand Road Trip: Abel Tasman Kayaking Trip (Days 9-11)
I'm going to write up a full post on my kayak trip on the Abel Tasman coast, so I won't go into too much detail here.
Abel Tasman National Park is a coastal park on the north coast of the South Island known for golden beaches and turquoise water. And after doing the 3-day classic tour with Abel Tasman Kayaks, I can say that the pictures I saw before the trip were no exaggeration.
We launched from the northwest tip of the Park at Totaranui, camping right on the beach each night, exploring secret lagoons, and kayaking with dozens of seals.
Here's a few pictures, and stay tuned for more details. In the meantime, I'll just say that I'm so glad I decided to kayak and see it from the water it as opposed to hiking, which a majority of people choose to do. It also ended up being one of the best guided tours I've ever been on. My tour guide Kyle, known here in New Zealand as @bare_kiwi struck a fine balance between super fun and helping the group relax, while also taking his role very seriously.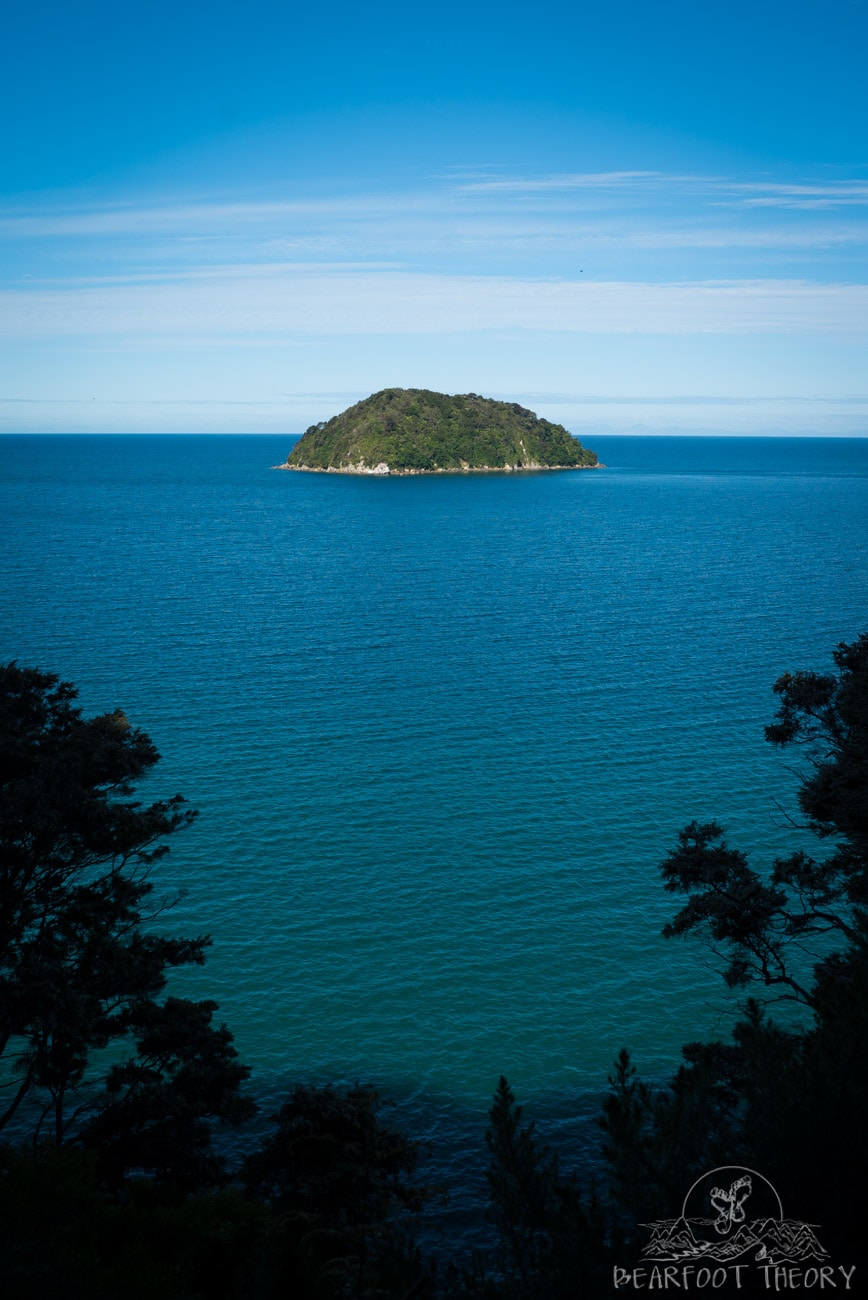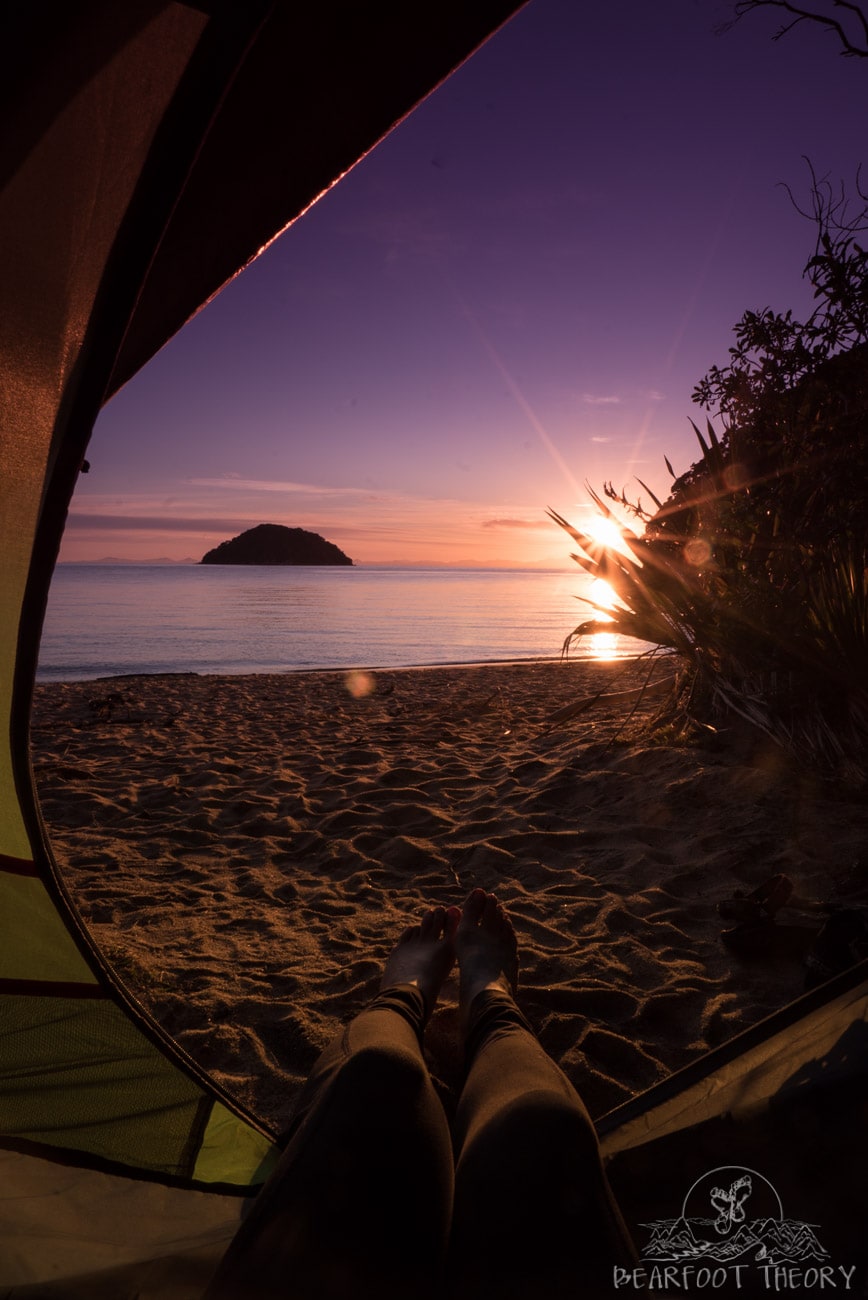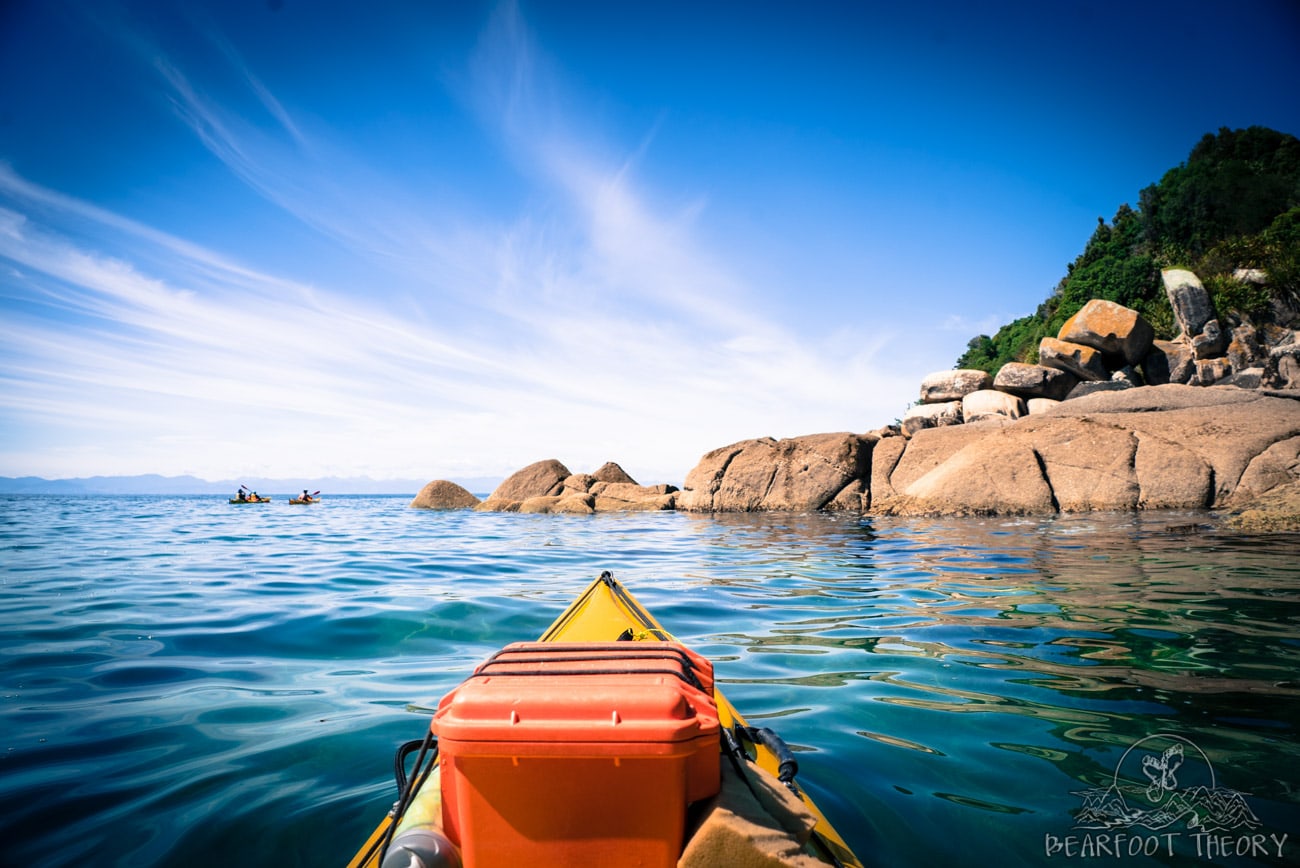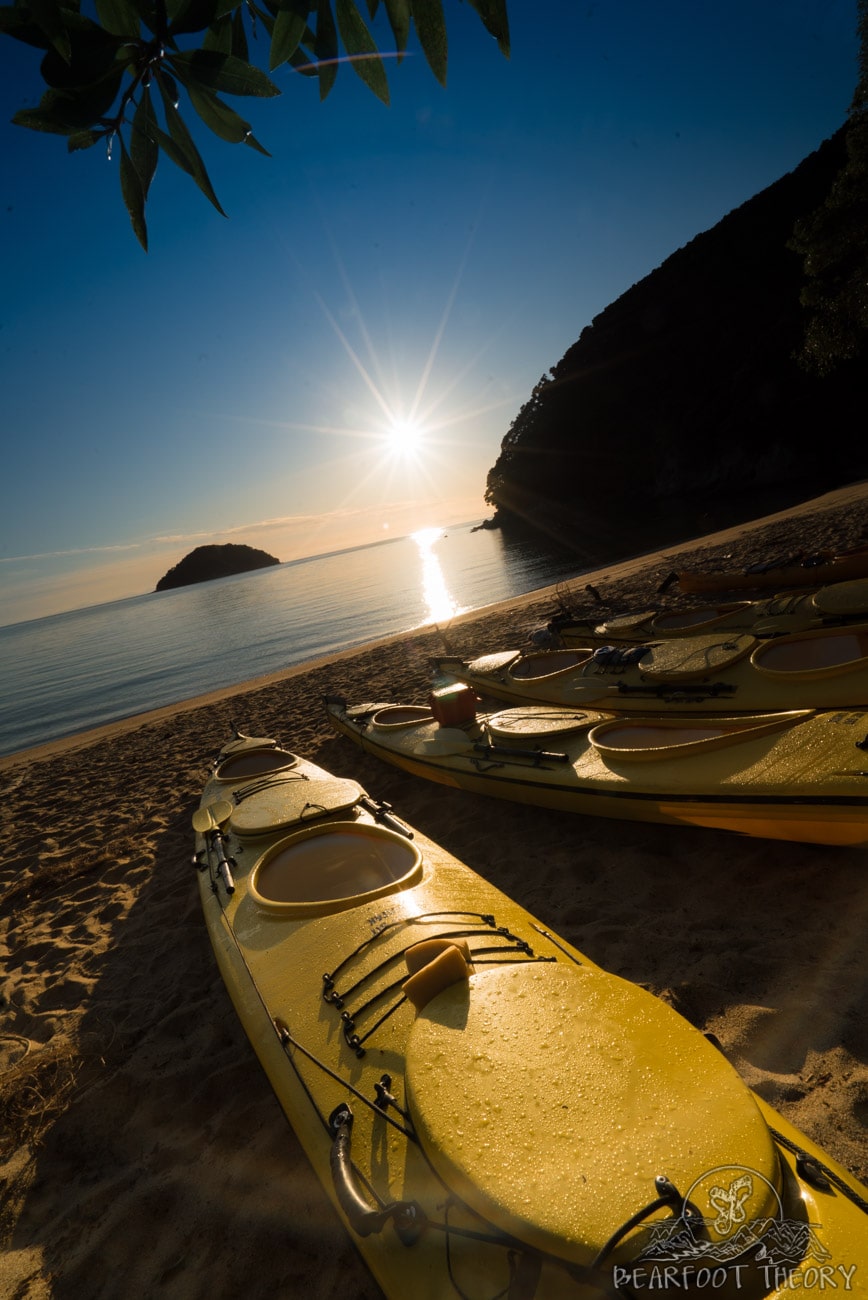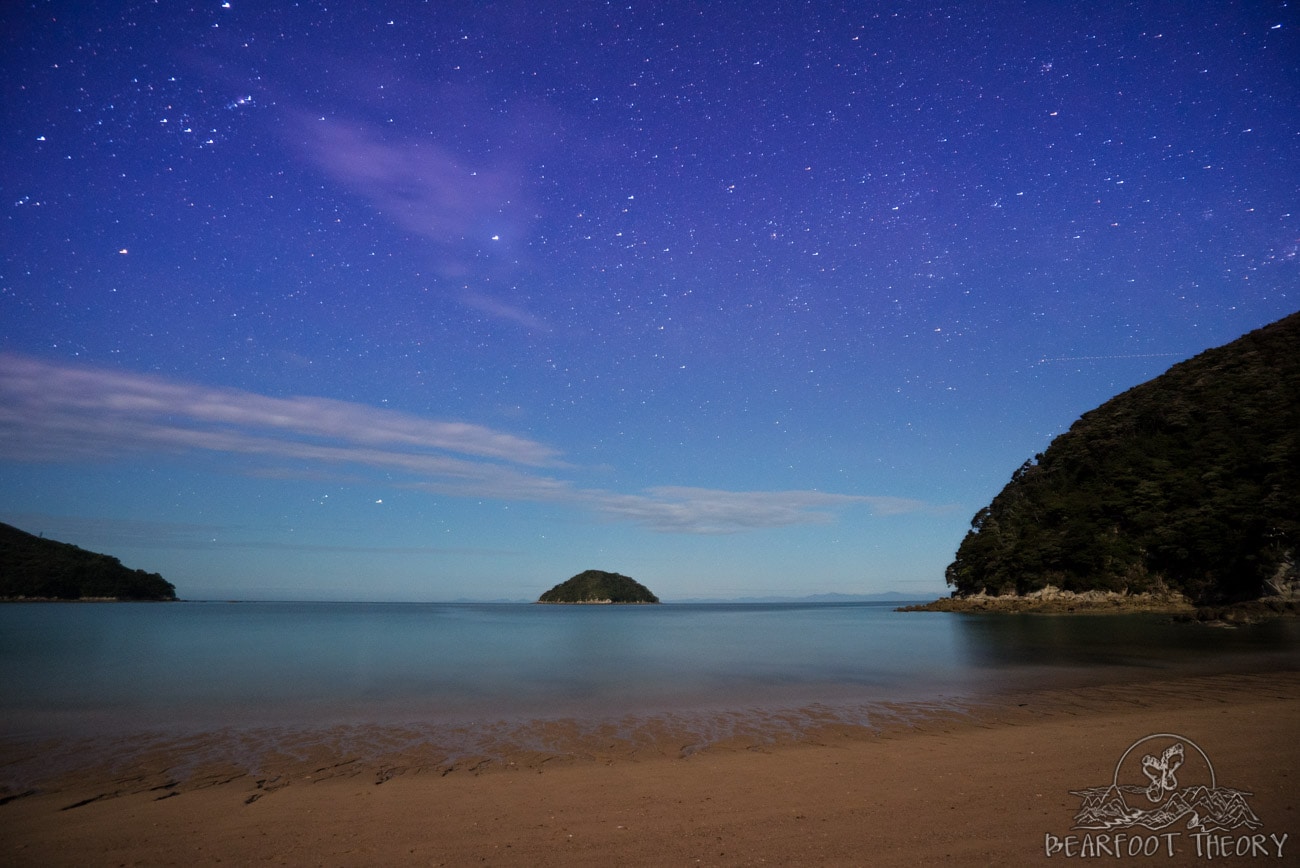 Post kayaking trip, I drove back towards Mapua and camped for $6 at the McKee Memorial Beach Reserve which was a nice little spot right on the bay.
New Zealand Road Trip: Nelson Lakes National Park (Days 12-13)
I managed to kink my neck somehow before the kayak trip when I was tossing my bags around in the Vanette (otherwise known as the Black Hole) looking for my camera batteries. When sitting up every morning, my neck felt like it was going to snap in half, so Grandma Bor decided to pay a little visit to the doctor. The doctor guessed I was suffering from a bit of muscle inflammation and possibly a pinched nerve, but with some Advil I'm now on the up and up.
Ok, enough about my feebleness. Now that I got the beach out of my system, I was ready for the mountains. Nelson Lakes National Park sits at the northern end of the Alps, and was just two hours away.
The Department of Conservation (DOC) operates two lakeside campsites in the Park for $6, and I snagged a spot at the West Bay next to a 23 year old Israeli named Daniel. The campground was quite nice with clean bathrooms, cold showers, and a kitchen. The only downside was the sandflies came out in force at sunset.
I joined Daniel and a couple of Israeli guys for a beer down by the lake and also put together my kayak and let everyone take it for a spin. I learned that the three of them just got out of the Israel army which is compulsory for all young Israeli men, and it is common to go travel when you are released before deciding on your next step. After the beers, they made me some very thick Israeli-style coffee and a tasty pasta dinner.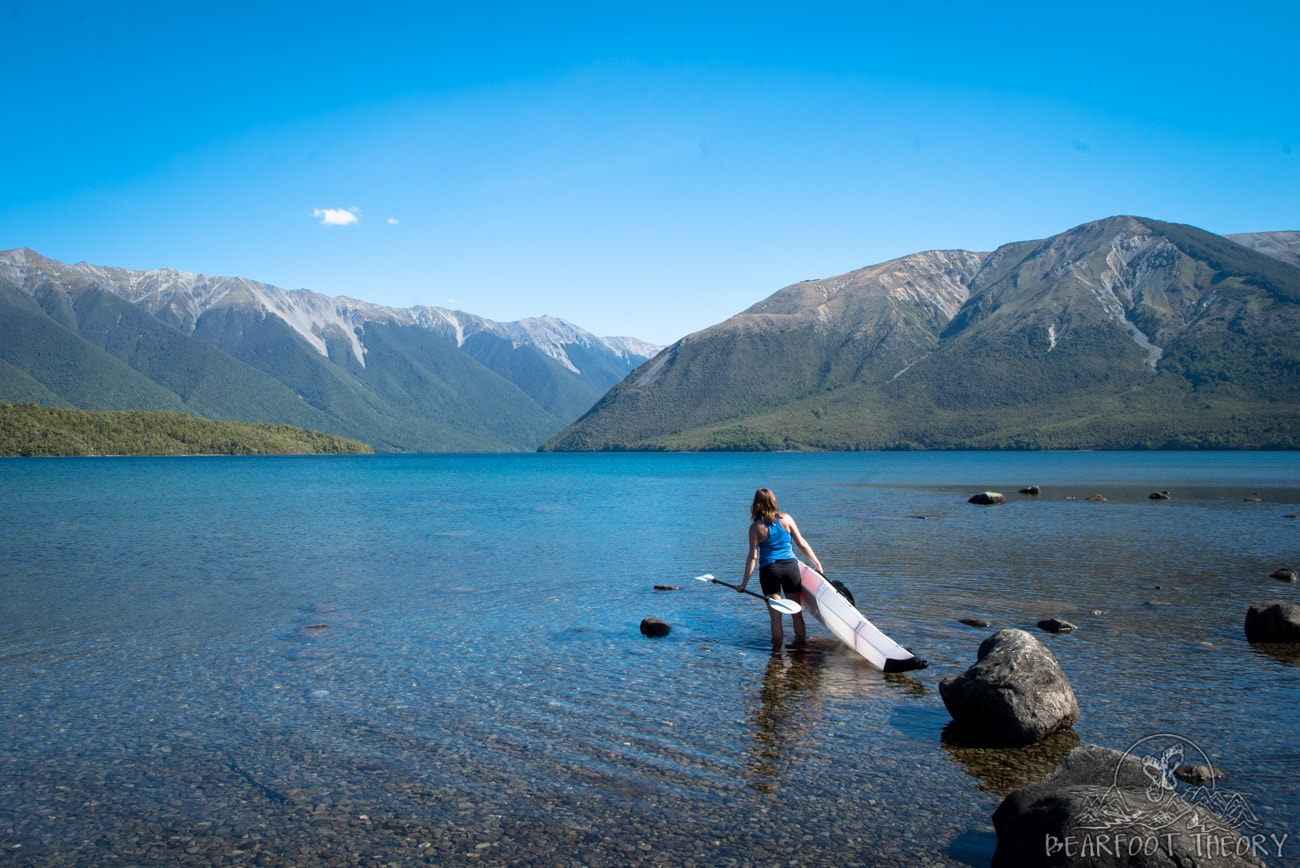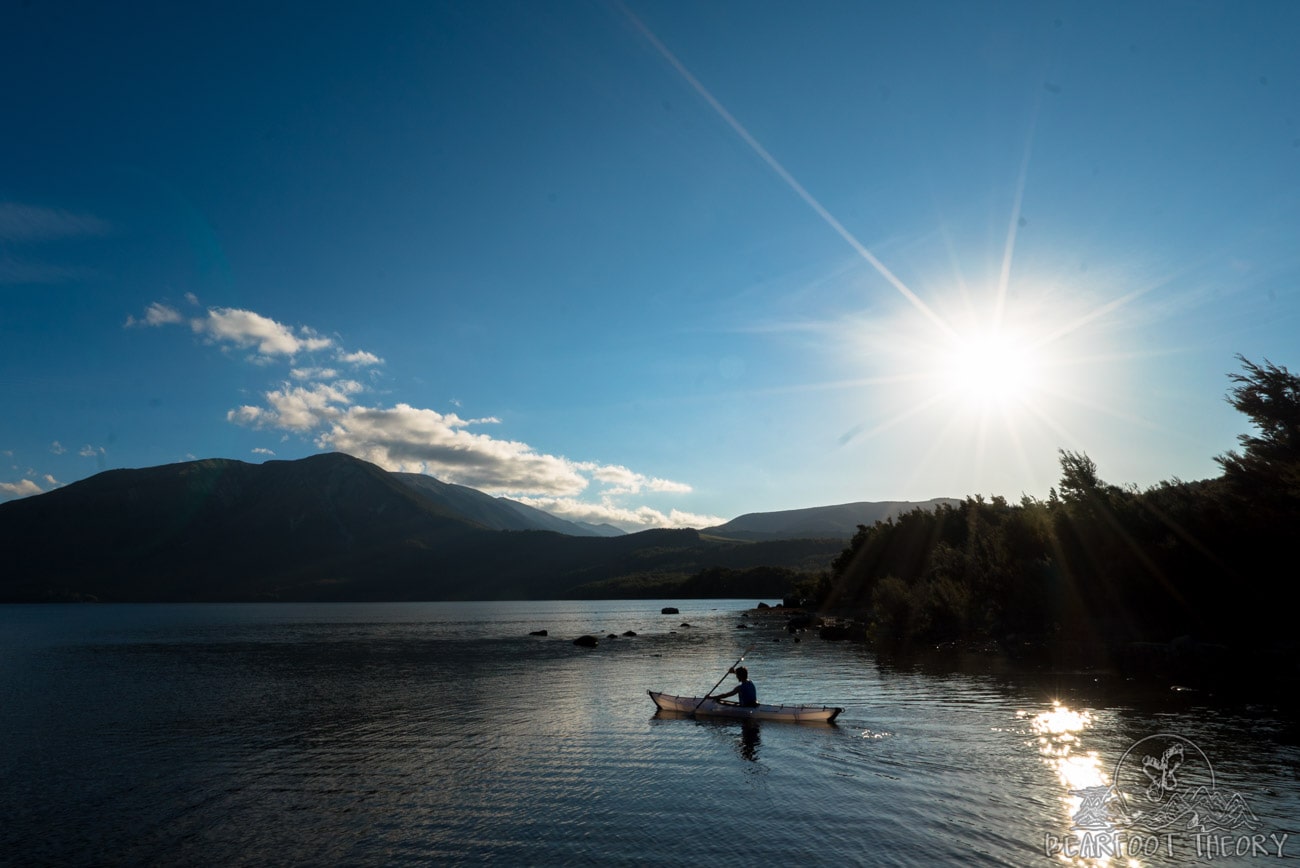 Daniel had plans to hike up to one of the backcountry huts in the Park, and I decided I would join him. But when we woke up in the morning, the mountains were engulfed in clouds, so we decided to hold off a day.
I had a very productive rest day shacked up in the gas station cafe, hacking the wi-fi and getting some work done.
New Zealand Road Trip: Backpacking in Nelson Lakes National Park (Day 14-15)
The DOC ranger told us that car break-ins have been common in the trailhead parking lot, so we decided to park in town and hitchhike to the trailhead. Hitchhiking is something I would probably never do in the states, but it's super common here, even for solo females.
Out destination was the Angeles Hut – a 11.5 km hike. Most of the year, it's first come first serve, but during the busy season, you must reserve a bed in advance from the DOC for $20.
We set off on the trail about noon and within 5 minutes, we were looking down on Lake Rotoiti where we had camped the previous two nights. The trail zigzagged it's way steeply up Mt. Roberts taking an hour to reach the summit. Then for the next 4 hours, we followed the very top of the ridgeline with wide open views in ever direction.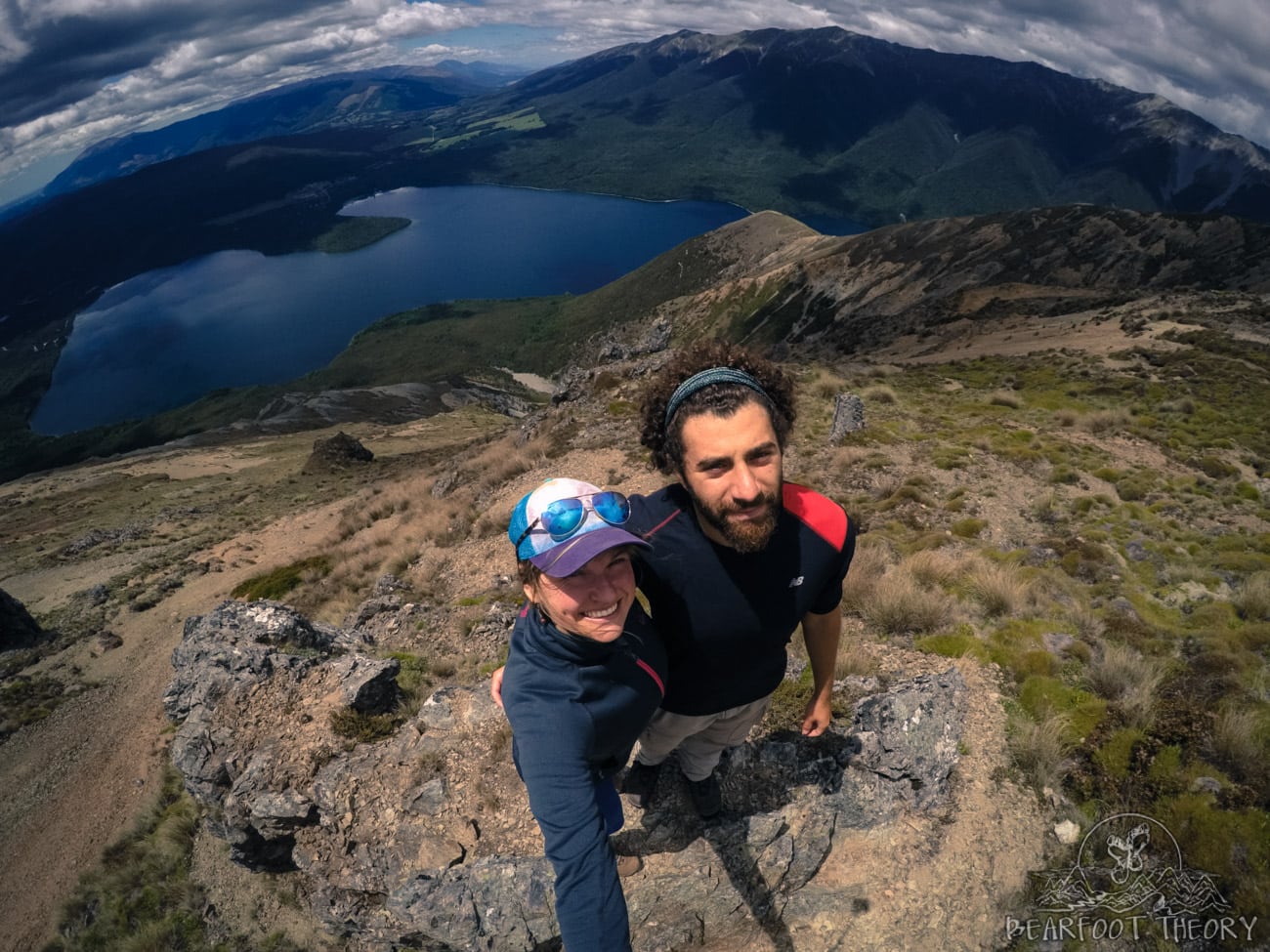 The trail was pretty rocky in places, so it took us longer to reach the hut than we expected.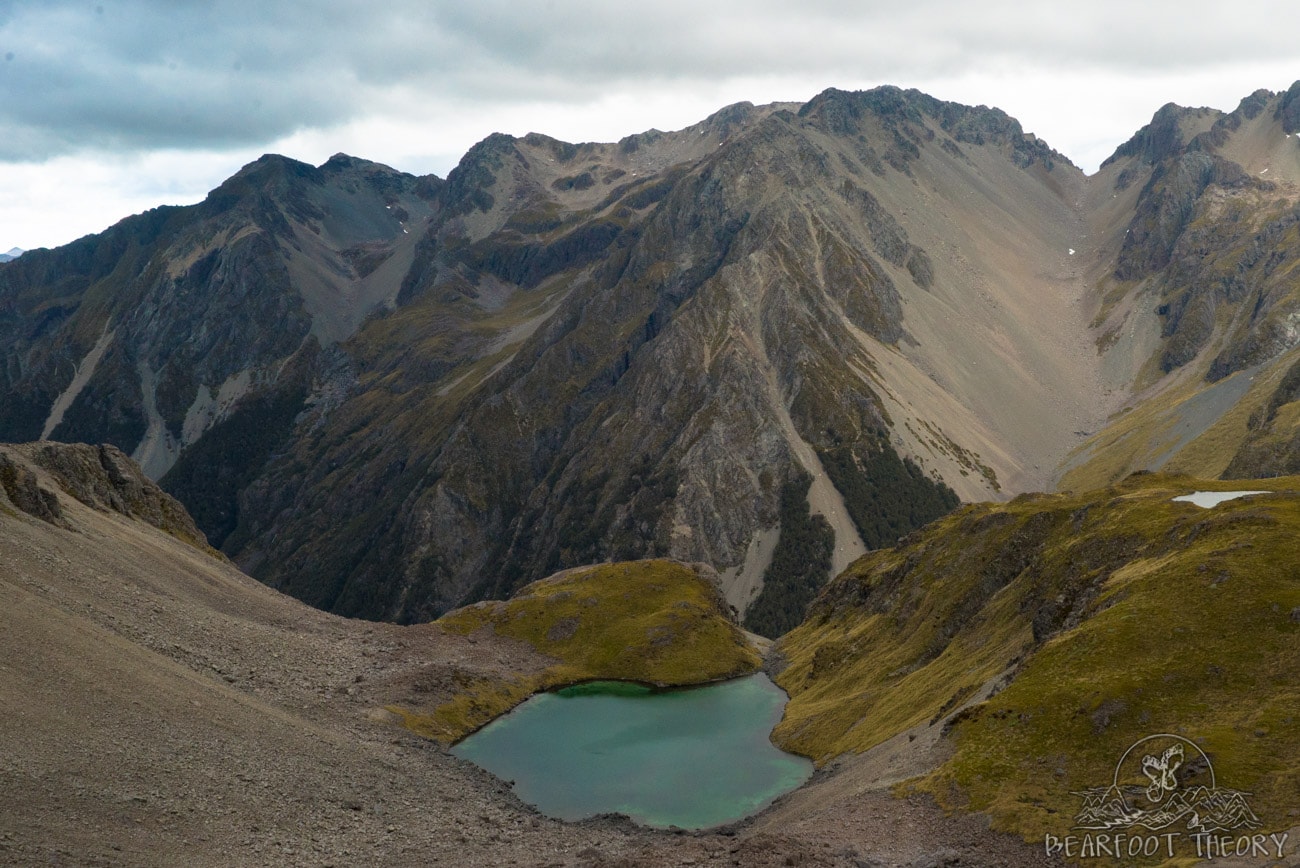 The Angelus Hut is located on a gorgeous alpine lake in a bowl surrounded by steep treeless slopes. Within a few minutes of our arrival, we were completely socked in clouds and by nighttime you couldn't see 5 feet in front of you.
The hut slept 28, and it was at capacity. Dinner time was bustling, and you could hear several languages at any given time. It was cool to be part of this international community, and the ranger also had some great tips for stuff to do on the south island.
What I didn't like about the hut was the sleeping arrangements. There were 14 of us packed into a room, the women next to me was snoring loudly all night, and kept rolling over onto me. Plus, everyone went to bed at 8:45…it was literally still light out. I couldn't believe it. Then at 5am, a family of 6 was aggressively packing their bags for an early departure.
At the same time, it was pretty cold outside, so I'm not sure I would have slept much better in my tent….but next time I think I'll take my chances, especially since tent campers are still allowed to use the bathroom and kitchen facilities. For those of you who are interested in doing a hut trip, I'll be writing up a full post on tips for a New Zealand hut trip – like how the system works and what to bring, etc.
Luckily in the morning when I woke up, the clouds had parted, and the we had a short period of clear blue skies.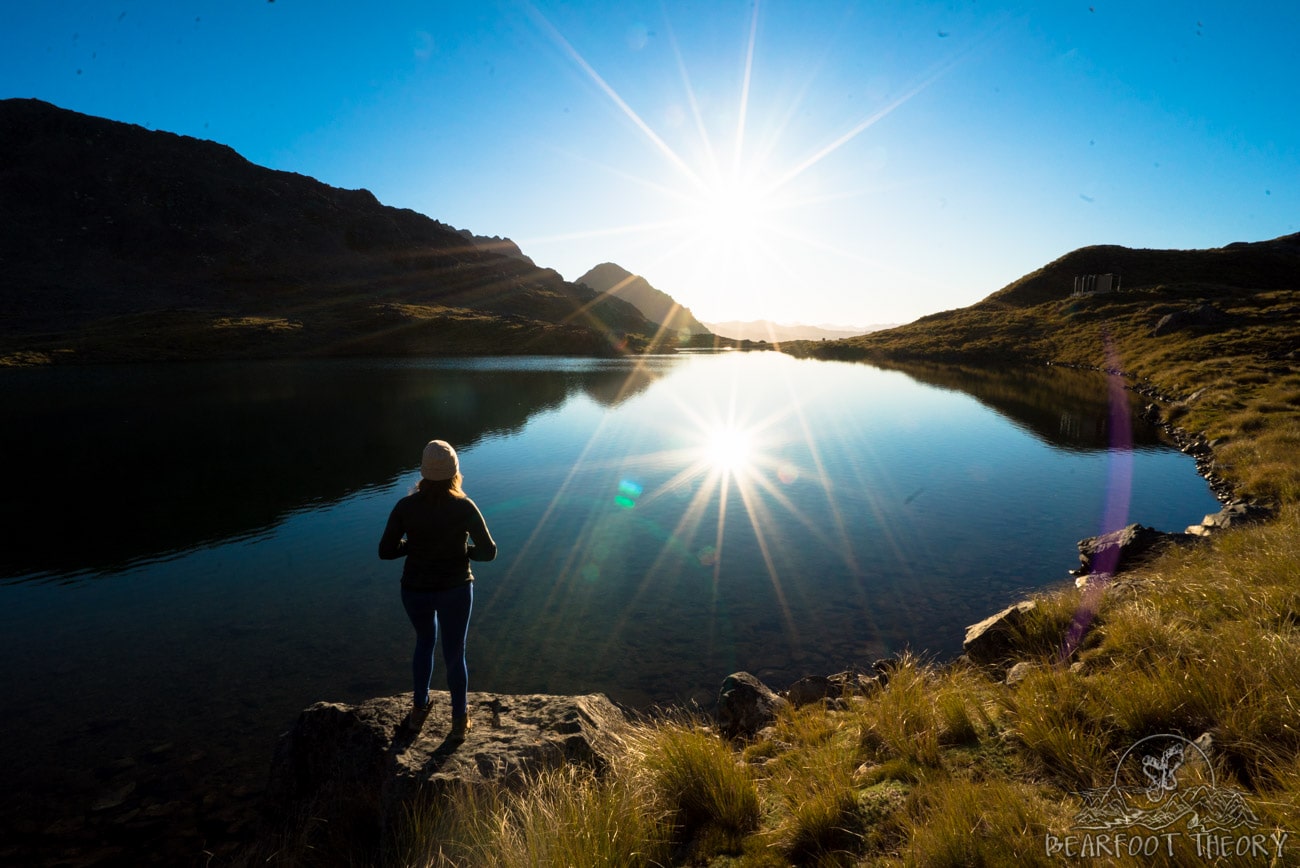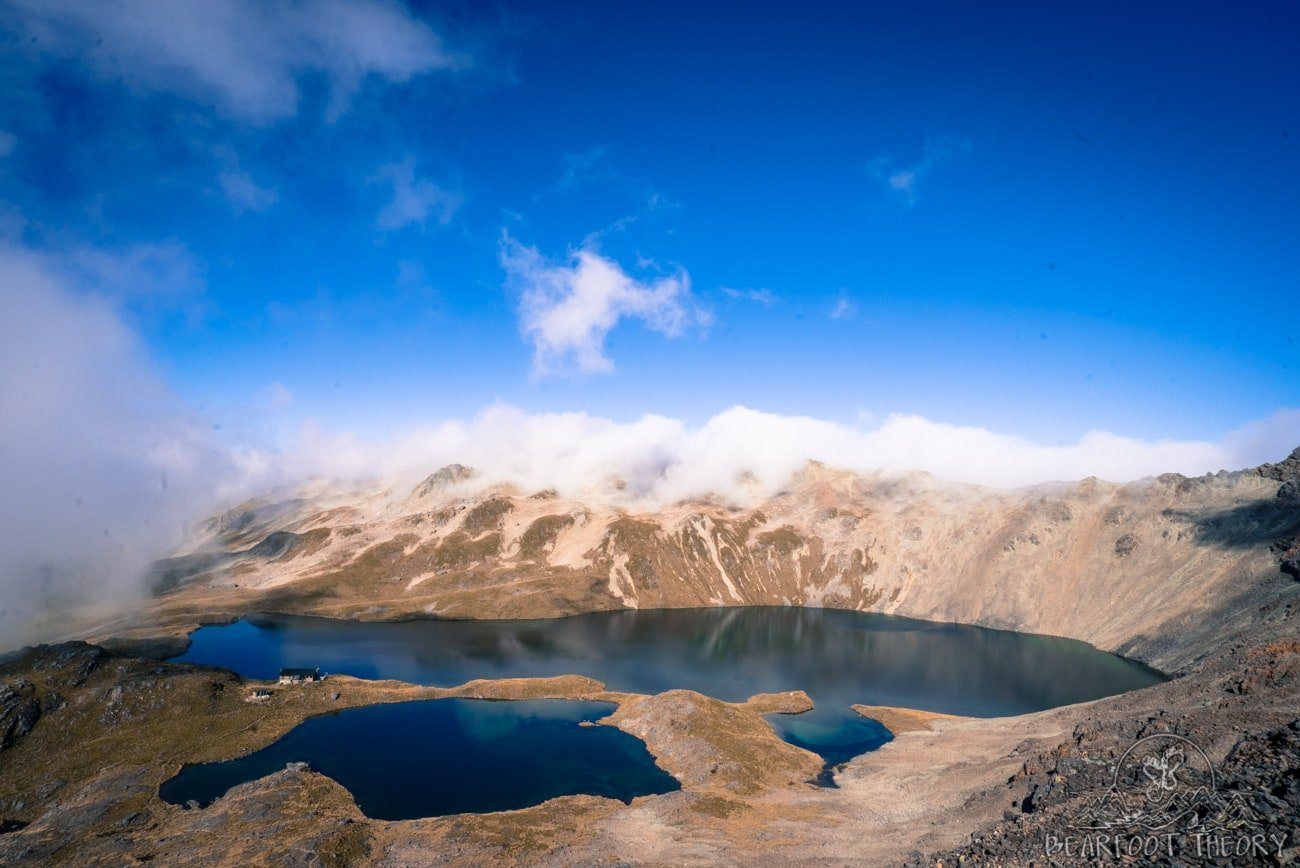 Daniel was continuing on, so I linked up with a couple of girls from South America….one who had just finished 5 months in Sudan as a photojournalist. We took a different route down through the valley which ended up being quite difficult with at least 10 river crossings, some bushwhacking, and a lot of up and down. I also ended up slipping in the river and walking in soggy boots for the last 2 hours. Whoops.
Getting back to the Vanette, I desperately needed a shower and to do some laundry, so I drove an hour south and found cute riverside camp called the Murchison Motorhome Park for Christmas Eve with all the frills (a washing machine).
Now I'm in week 3, and so far, it has been KICK ASS.  I spent Christmas with people from all over the world, climbed a major peak on Arthur's Pass, rode in a helicopter for the first time ever, and visited the big glaciers of the west coast. Stay tuned for a full recap!
And don't forget to check out the New Zealand week 1 highlights and my New Zealand bucketlist. Oh and for in the moment updates, make sure to follow me on SnapChat (name: bearfoottheory).
WHERE WOULD YOU LIKE TO TRAVEL IN THE UPCOMING YEAR? LEAVE A COMMENT BELOW, TWEET ME, OR WRITE ME A POST ON FACEBOOK.