New Zealand Road Trip: Wanaka & Mt. Aspiring National Park (Week 4)
After three weeks traveling from Auckland down to the South Island, I finally made it to Wanaka and the Southern Alps just in time to ring in the New Year. Since getting down here, I've slowed down a bit, and I've really enjoyed not spending so much of my day on the road. Some of this week's highlights include shakin' it at the Rhythm and Alps music festival, hiking to waterfalls at the Rob Roy Glacier, and going on my first solo backpacking trip in Mt. Aspiring National Park.
*** If you missed the first few weeks, start with these posts ***
New Zealand Road Trip Week 1: The North Island
New Zealand Road Trip Week 2: Queen Charlotte Sound, Abel Tasman & Nelson Lakes National Park
New Zealand Road Trip Week 3: The South Island's West Coast & Arthur's Pass National Park
I should also note that these journal entries are intended to get you excited about New Zealand, put some destinations and ideas on your radar, and are an opportunity for me to share my solo adventures on the road. That said, my route hasn't been the most efficient. So once I get home, in order to help you plan your own trip to New Zealand, I'm going to put together a couple different succinct itineraries for you to follow so you don't waste your time backtracking like me.
New Zealand Road Trip – Rhythm and Alps Festival in Wanaka (Day 22)
One of the things on my New Zealand Bucketlist was to see some local live music. So what better way to ring in the New Year than shaking my booty at Wanaka's Rhythm and Alps Festival.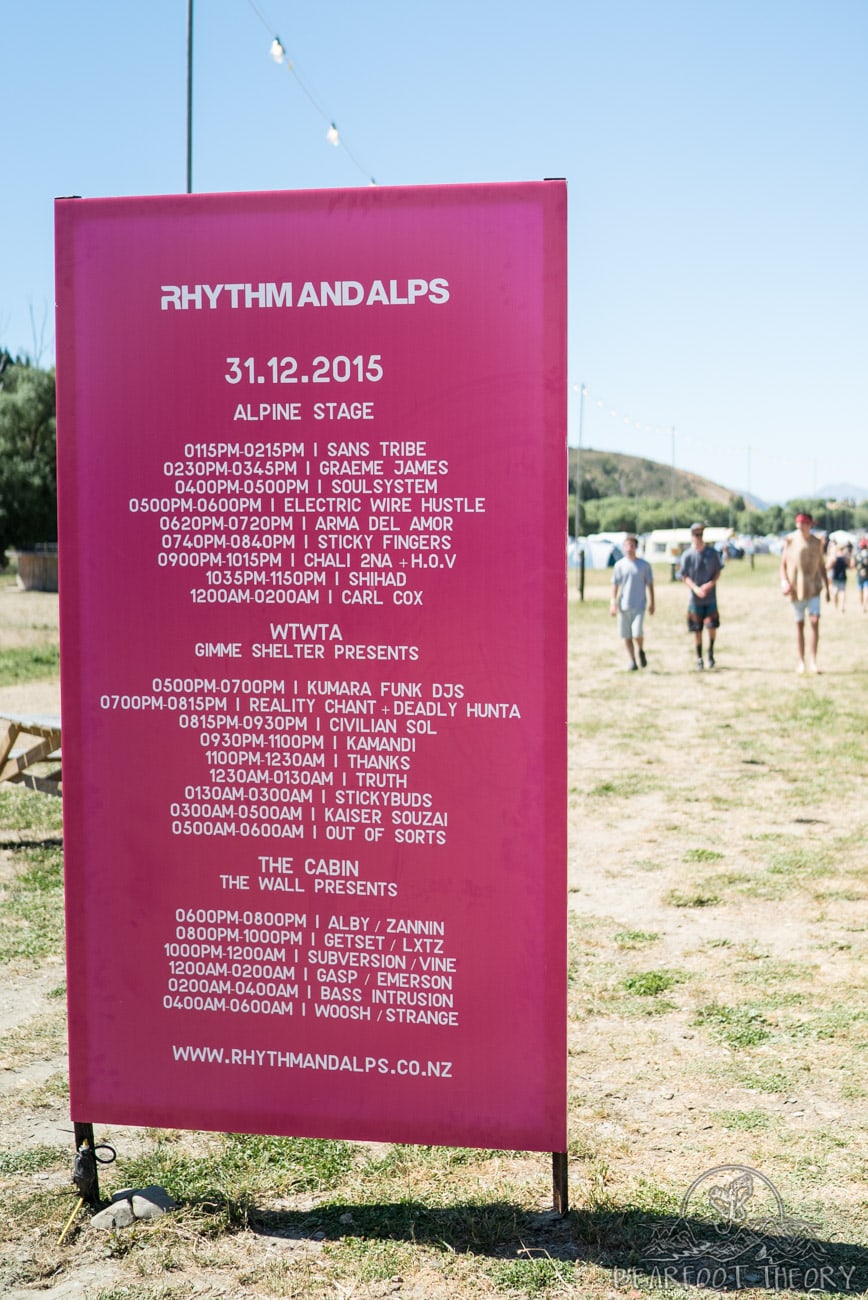 Located about 20 km south of Wanaka in the Cadrona River Valley, it was nothing but blue skies when I rolled in with the Vanette. I went to get my wristband and was stoked when the festival team hooked me up with a VIP pass which meant access to some nicer toilets and a private bar. Sweeeeeet!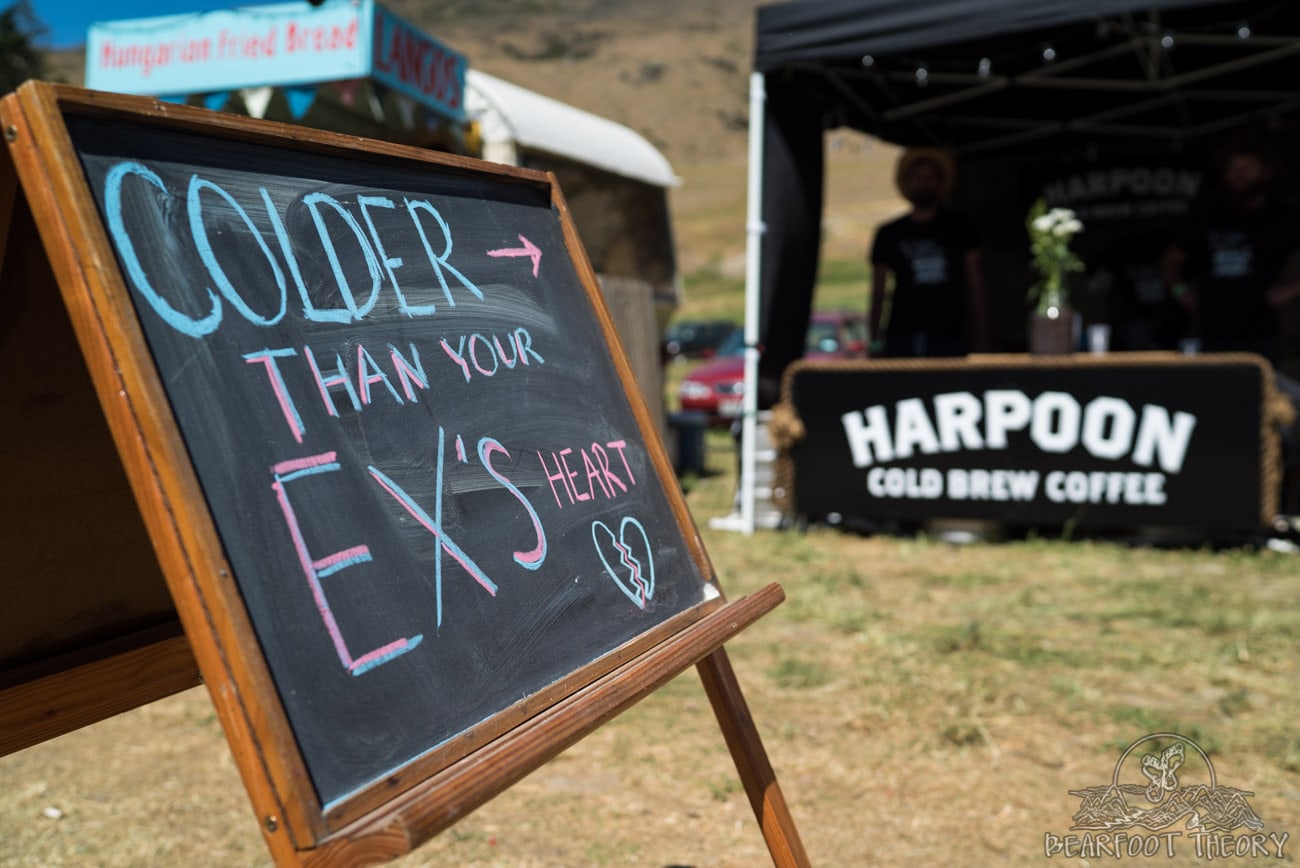 I was a little hesitant to hit up this festival by myself. It could either be a total flop or a total blast depending on whether I was able to link up with a fun group of people. But if I've learned anything on this trip so far it's that if you want to make new friends, you can't be shy.
I was returning to camp after checking out Wellington musician and master looper Graeme James (who totally killed it) when I saw four dudes hanging outside of their Sprinter Van. With my growing interest in Sprinters, I figured I'd ask to check out their wheels. That turned into a vodka cocktail and then some Makers Mark, and before I knew it I was headed with John, Jared, Mark, and Matt to the main stage to boogie.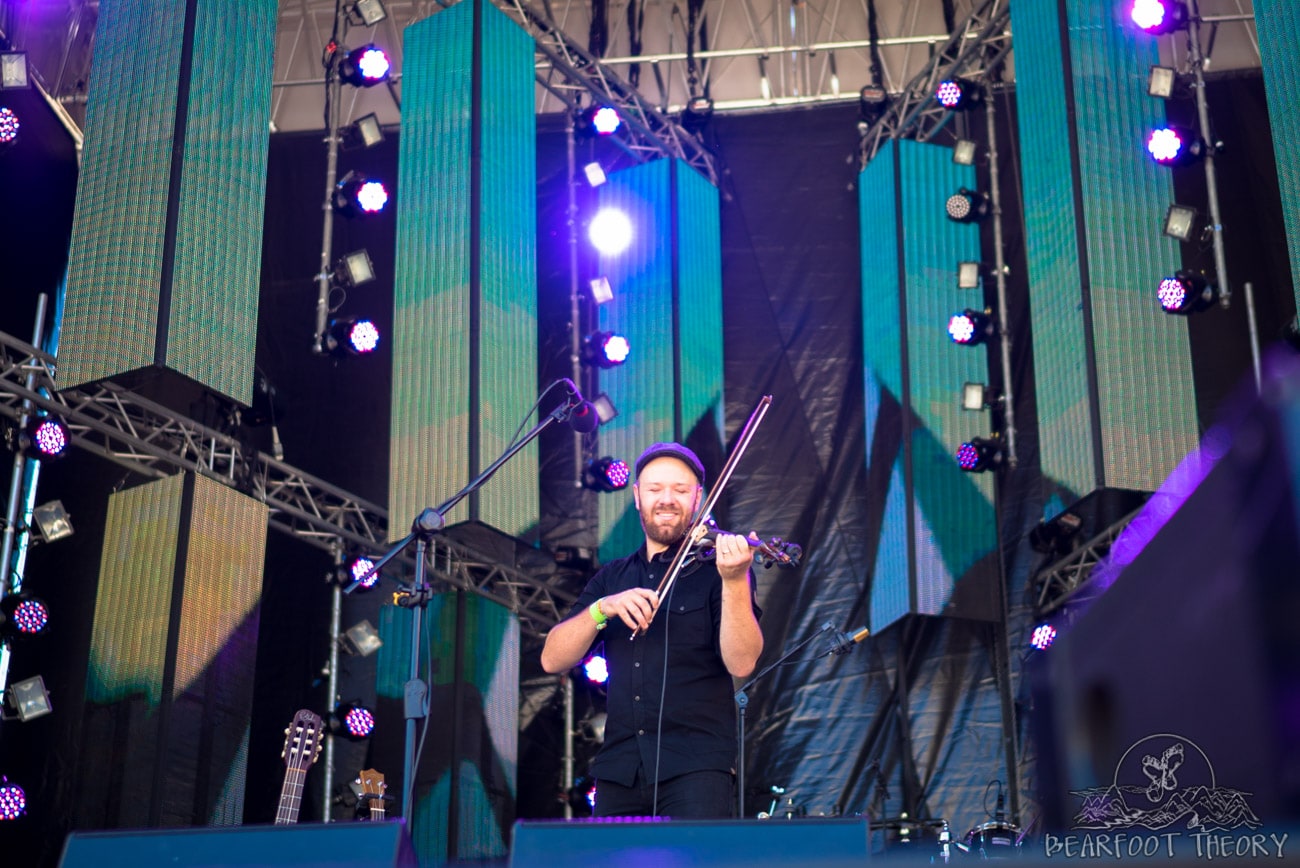 I ended up hanging with them all night, the highlight being the post midnight set by Carl Cox who is one of the biggest house/techno DJs in the world. That more than any other music from the day blew my expectations outta the water.
For the safety of my camera, I put it away well before then…so no late night pictures for you (which is probably better for everyone involved 🙂 )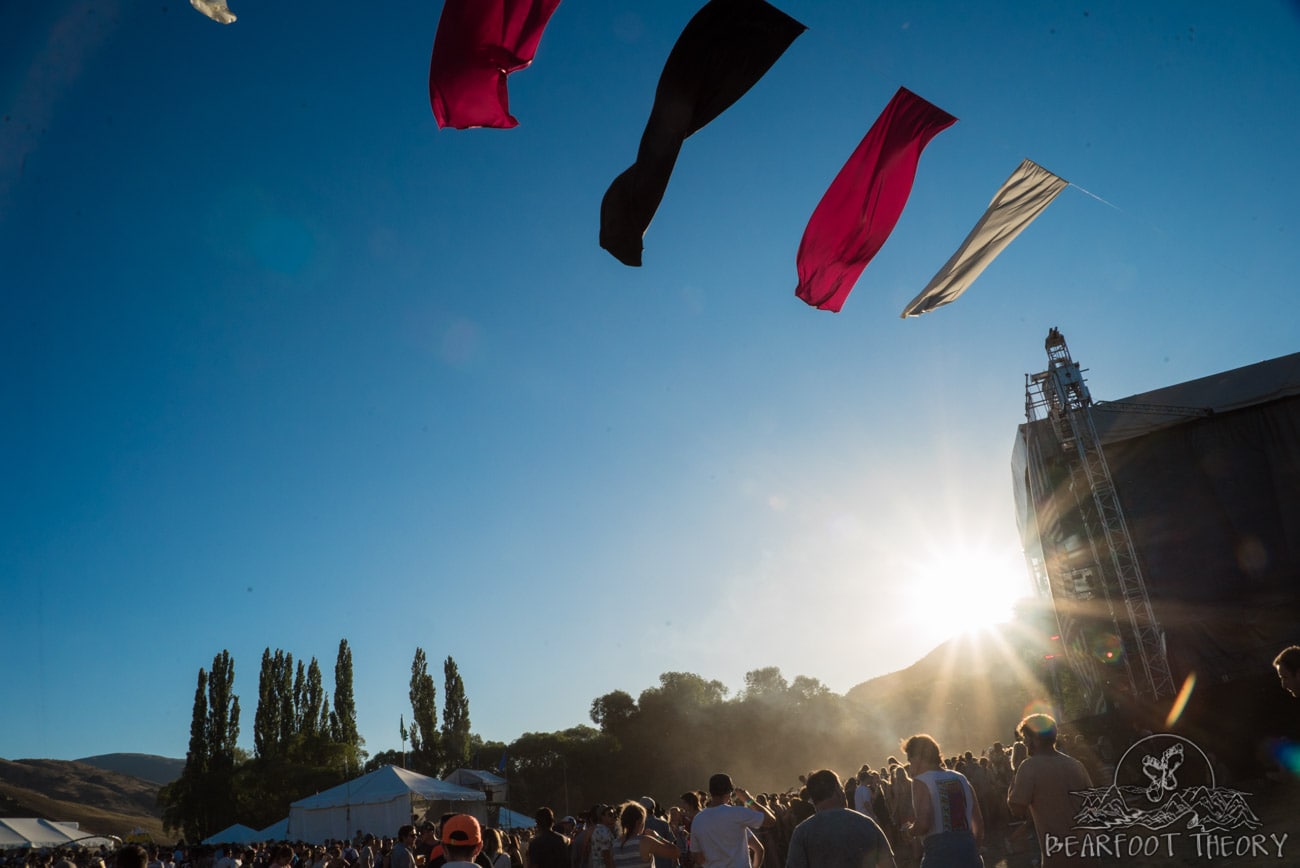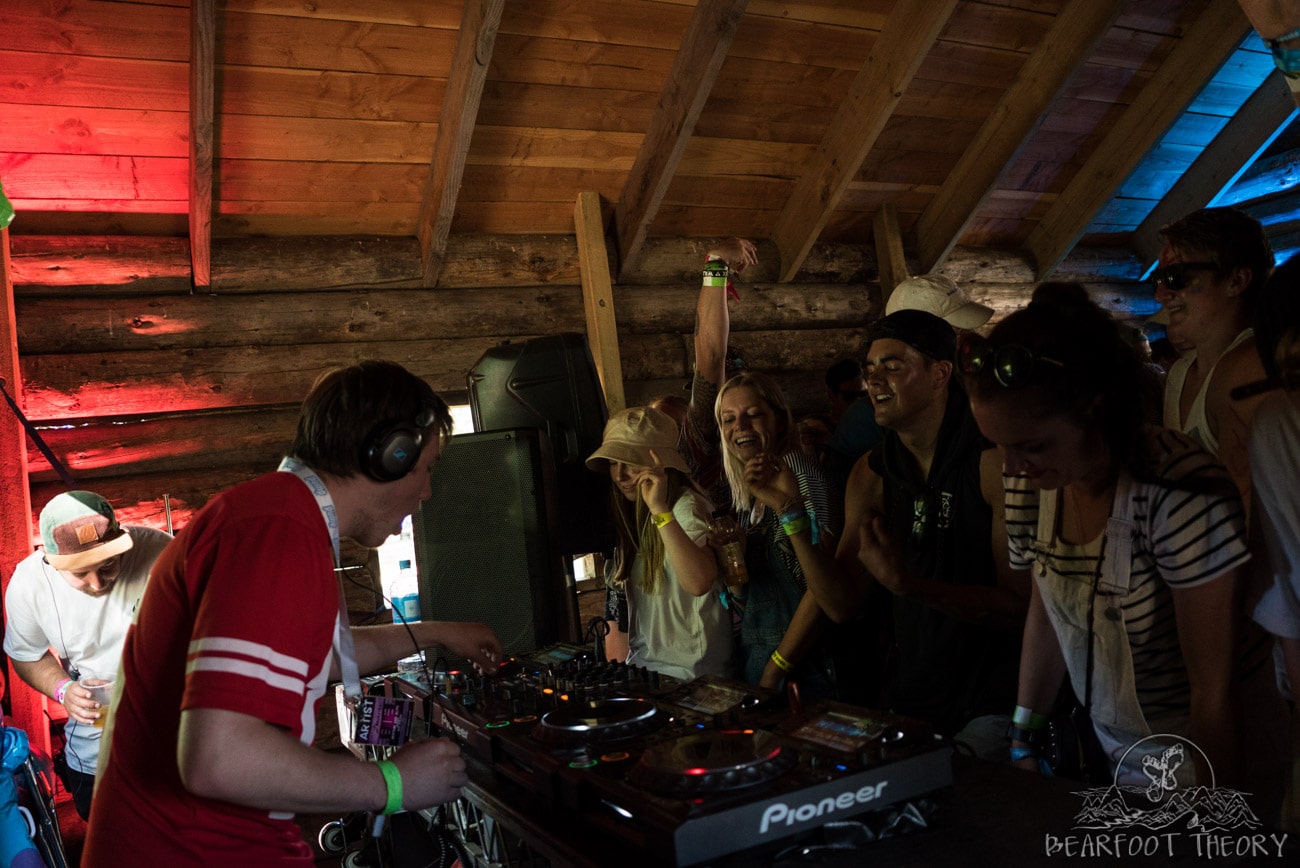 New Zealand Road Trip – Hanging out in Wanaka (Day 23)
New Years Day got off to a slow start, as to be expected. The Kiwi boys and I decided a big hearty breakfast at Wanaka's Federal Diner was the best course of action. One thing the Kiwis do REALLY well is bread, and the bread on my roasted chicken and brie sandwich at this spot was grilled buttery goodness.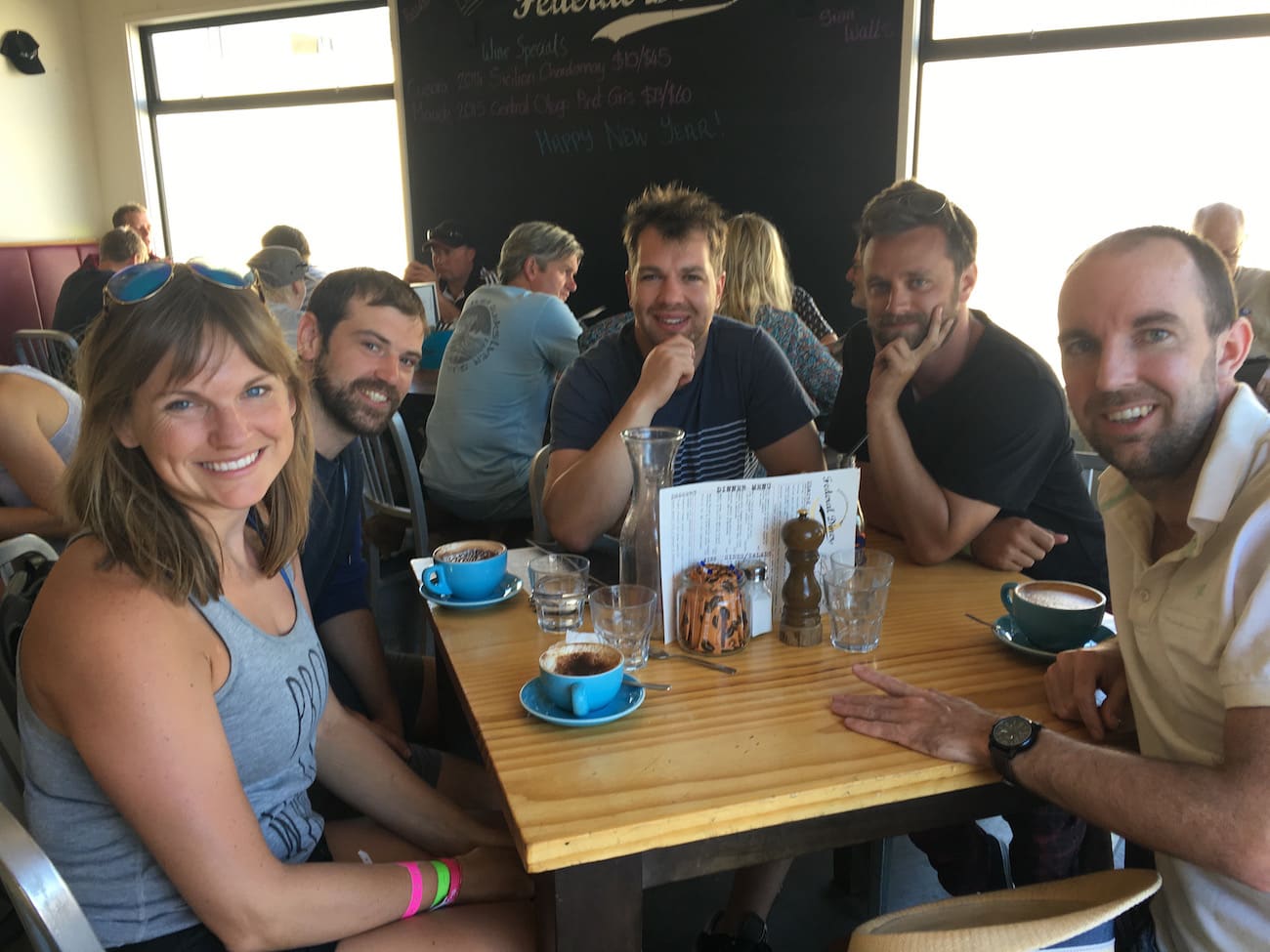 After eating, I still needed about 12 more cups of coffee (the coffee is amazing here, but there's no such thing as free refills). I also thought a swim in Lake Wanaka would do me good, so we said our goodbyes, and I drove around the shoreline to find a place to swim. The water was freeeeeezing so I didn't last long in there, but it woke me right up.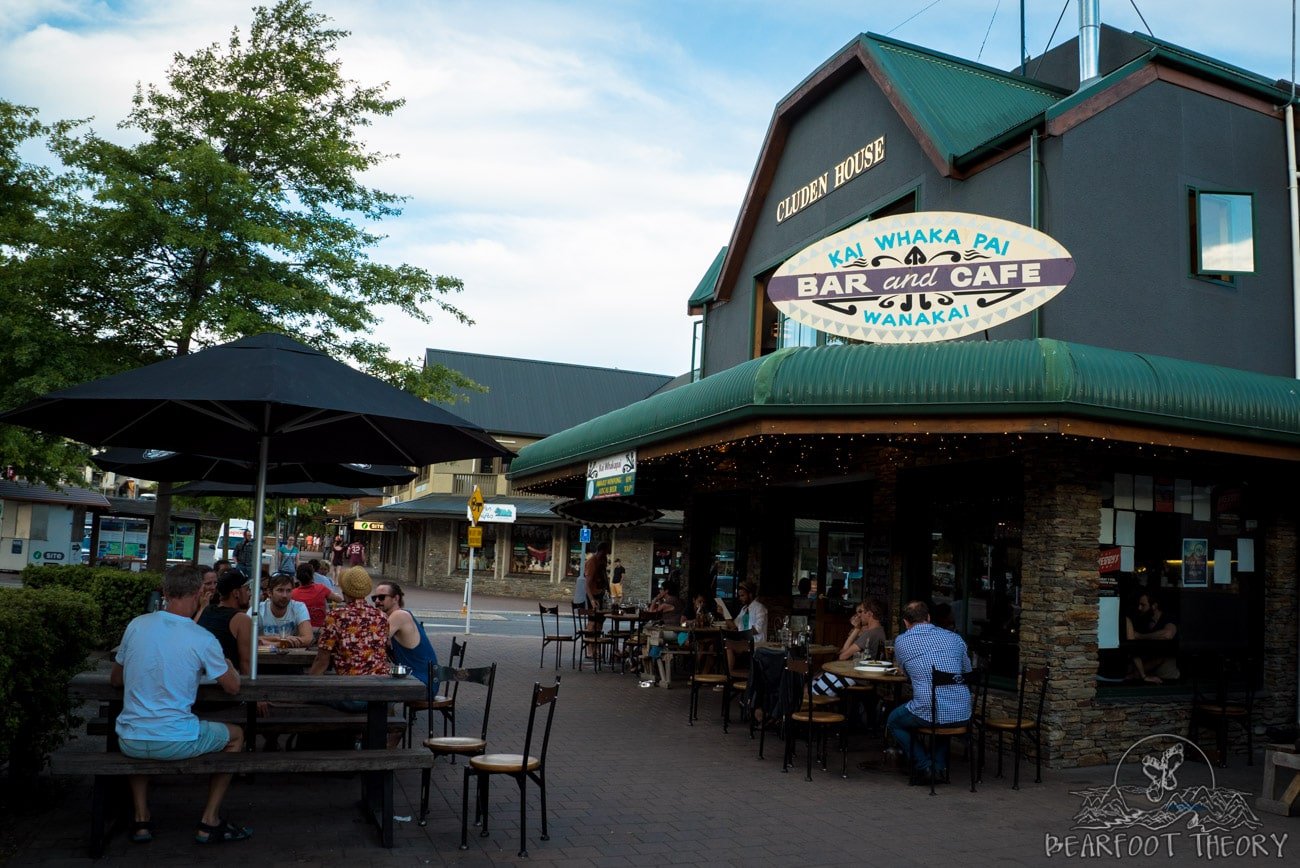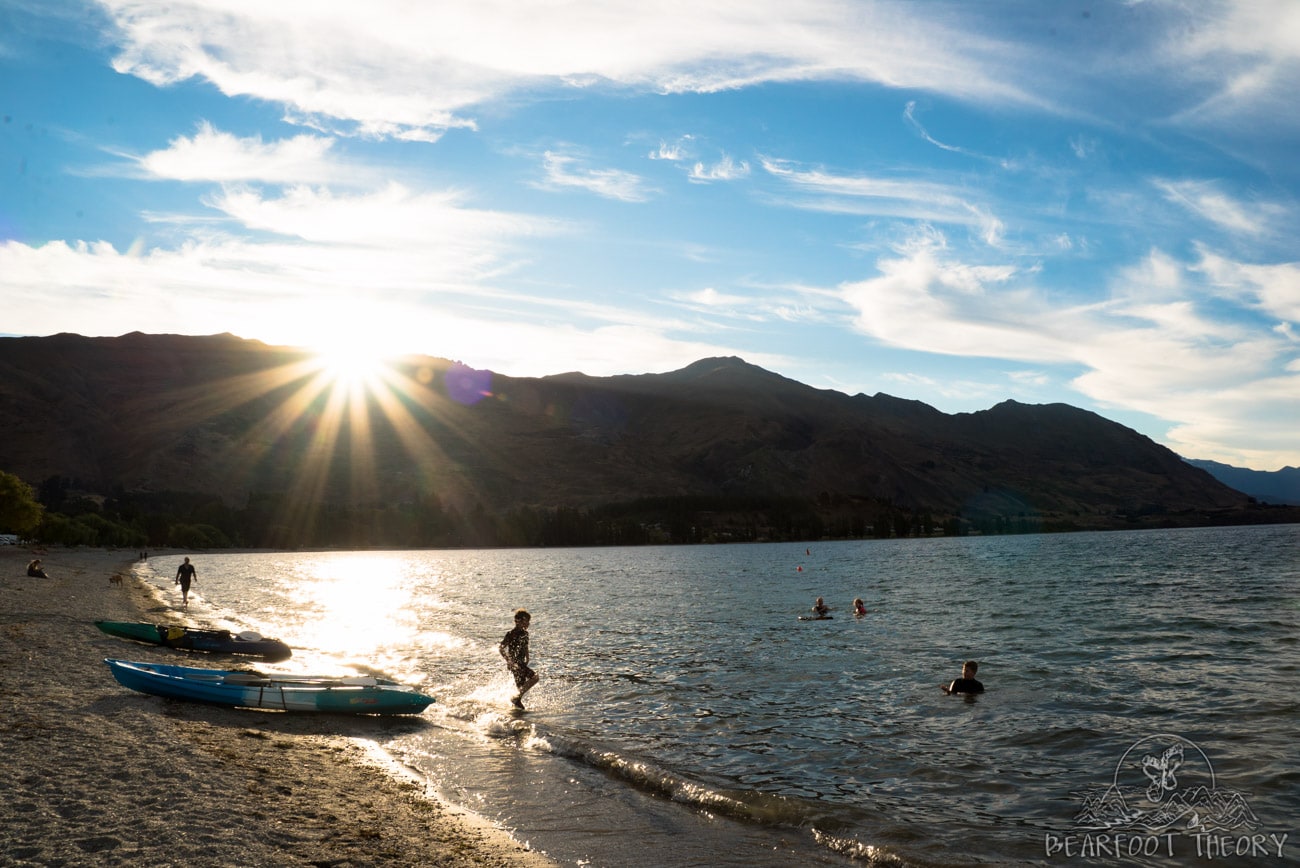 After being out in the boonies for a few weeks, I was digging the livelier vibe in Wanaka, so I decided to head back to the Holiday 10 Park where I had stayed my first night in town. It is the cheapest option that is still a few minutes drive (or a slightly long walk) to the main area of town where the bars and restaurants are.
I spent the day catching up on work, drinking a few more cups of coffee at a local cafe called Alchemy, and meeting up with a local photographer named Mickey Ross for drinks at Gin and Raspberry, a live music and cocktail bar with a nice balcony overlooking the lake.
New Zealand Road Trip – Hiking to the Rob Roy Glacier (Day 23)
After a my full day of recovery on New Years, I was ready to hit the trail and explore. Mickey offered to take me hiking to the Rob Roy Glacier in Mt. Aspiring National Park. And even better, he offered to drive, which meant I could sit back and enjoy the scenery for the first time during my road trip.
The Rob Roy Trailhead is about 50 km from town, with about half of it on a gravel road. It took about an hour to get out there with lovely views of waterfalls, mountains, and tons (and I mean TONS) of sheep.
The 10 km (6.2 mile) trek begins at the Raspberry Creek car park in west Matukituki Valley by crossing a swing bridge over the Matukituki river.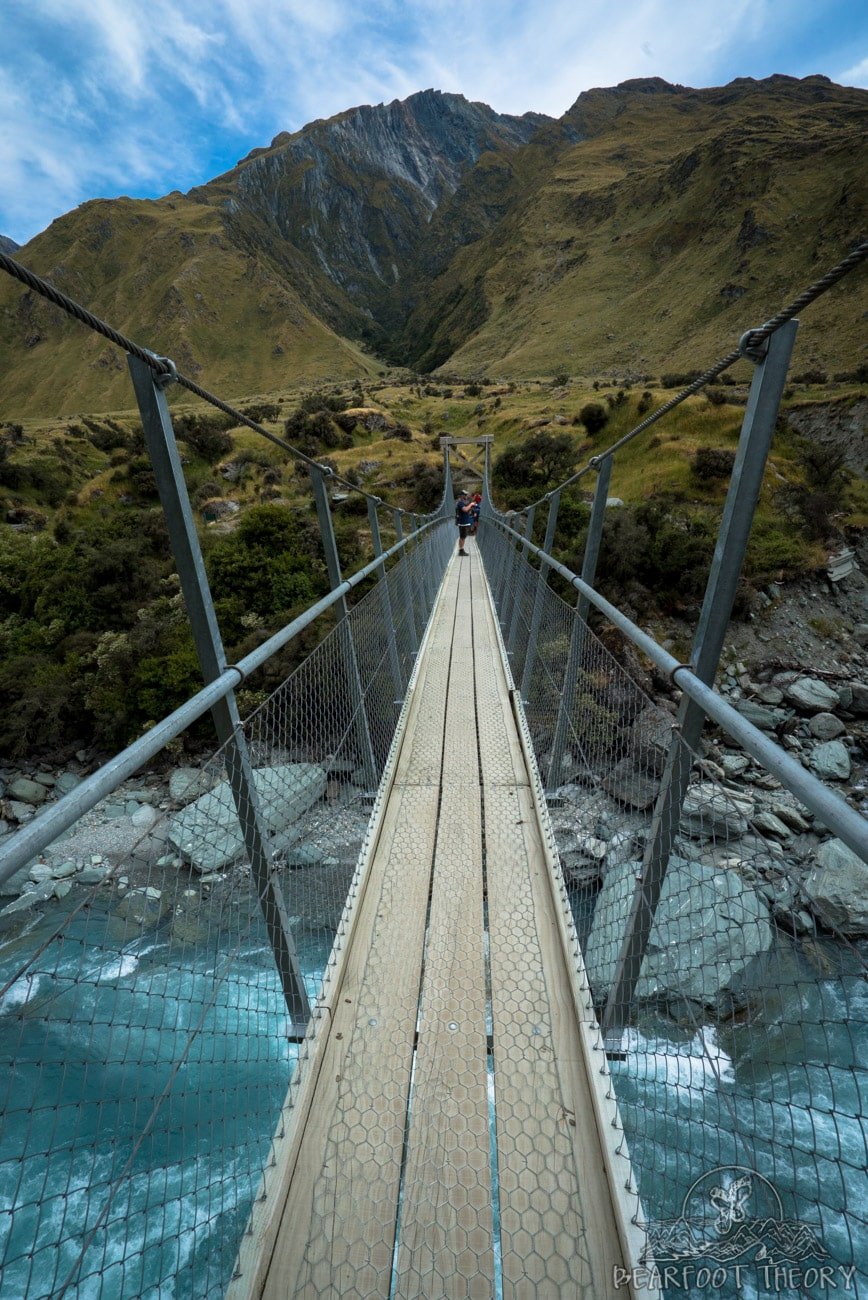 After about an hour and a half of pretty gradual uphill hiking, we emerged from the bush and boom. There she was. The Rob Roy Glacier is massive and, in my opinion, is so much more scenic than the glaciers I saw on the West Coast.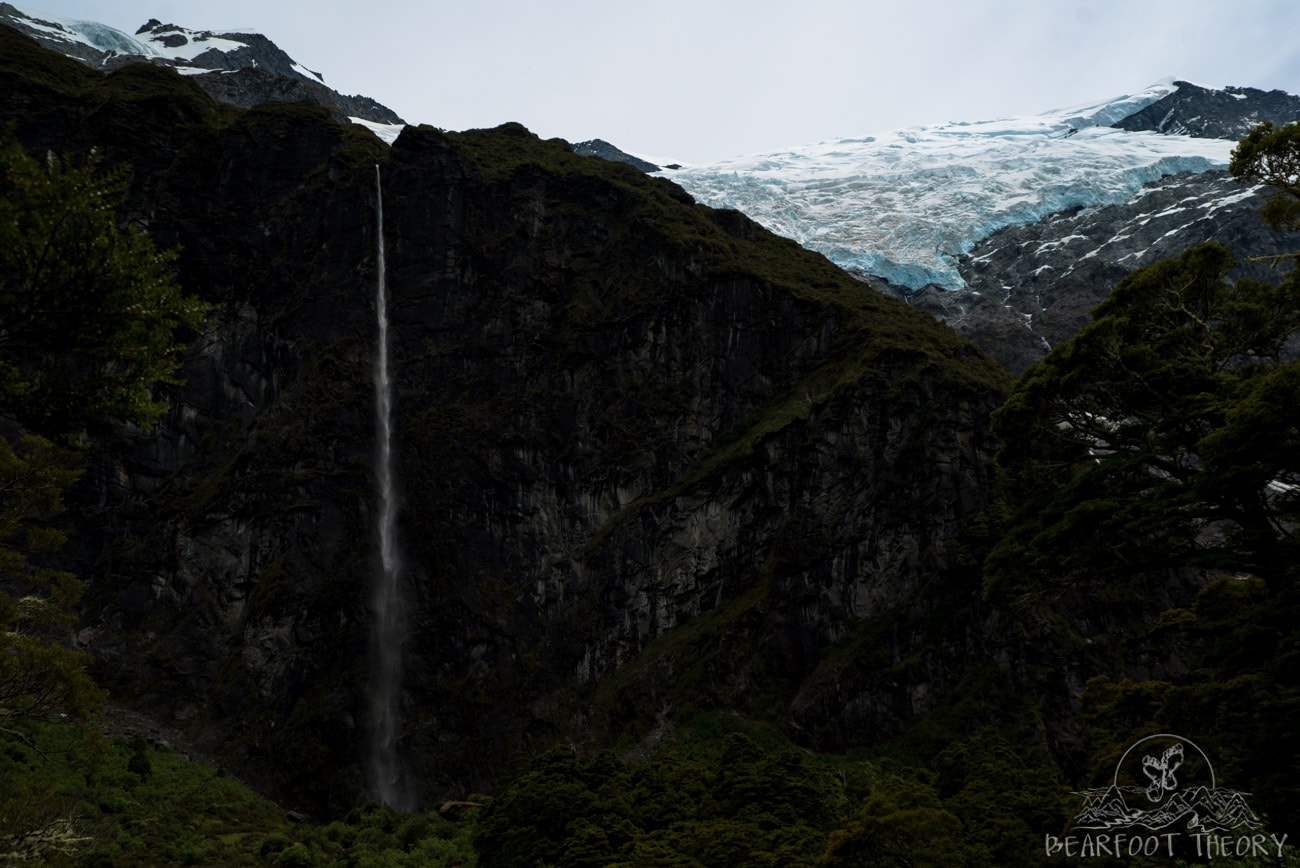 Most of the tourists stop at the main lookout point, but we decided to keep exploring to see how close we could get to some of the giant waterfalls in the distance. The trail got a little more rocky and narrow, but the added effort was totally worth it.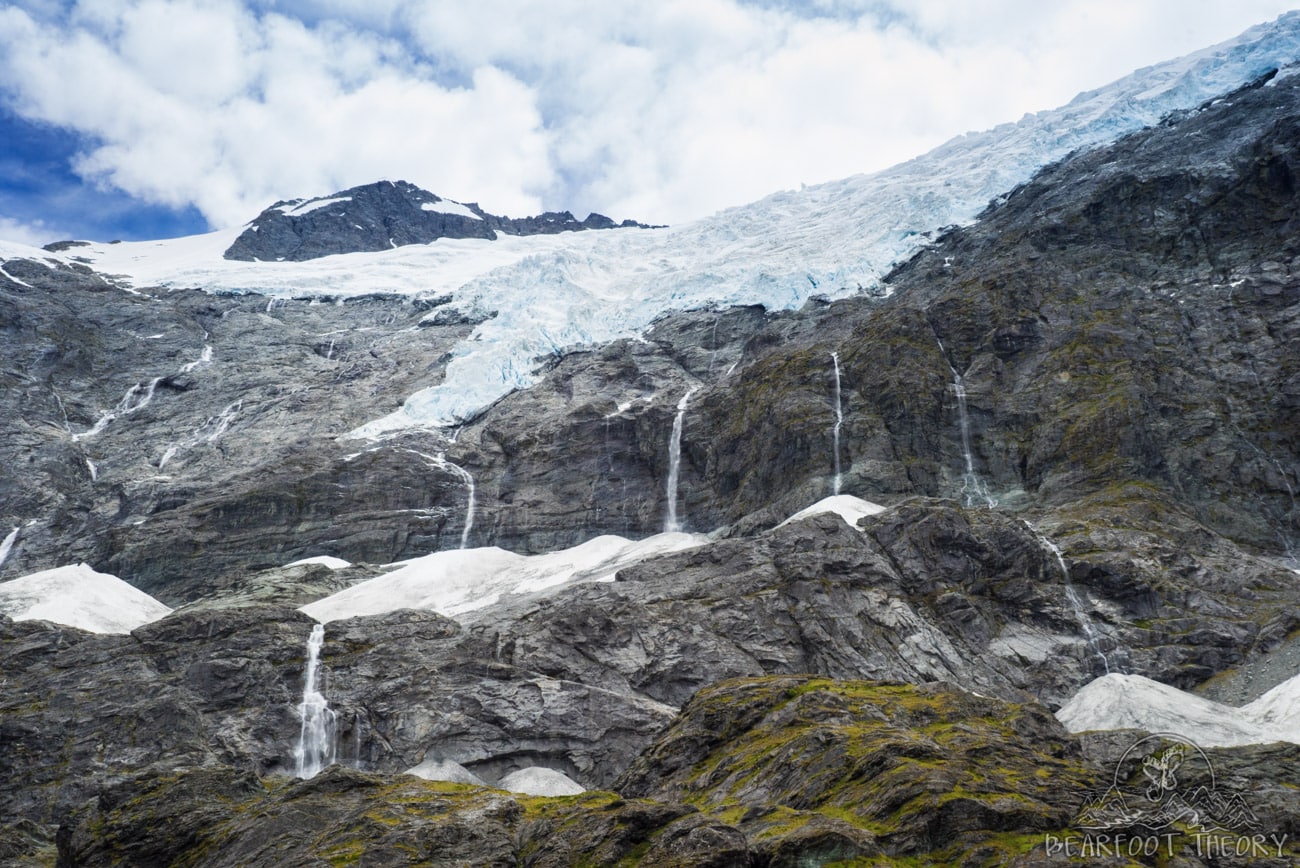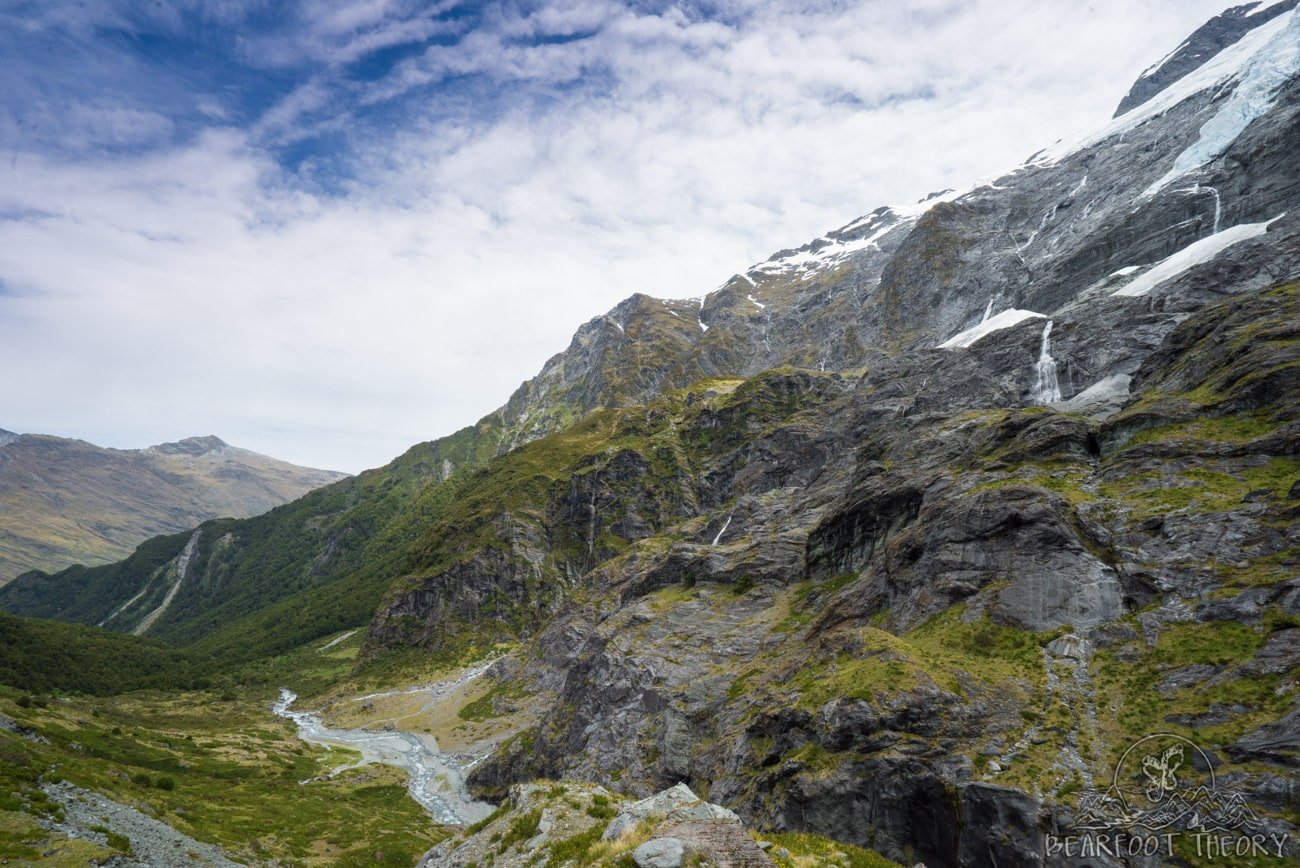 After getting back to town, Mickey invited me over his house for a BBQ with his roommates. We played a competitive round of ping-pong (guess who won), ate some delicious bbqed meats, and he even put me up in his guest room. And man, after sleeping in the Vanette for a few weeks, that pillow and bed sure were so cozy.
New Zealand Road Trip – Arriving in Queenstown (Day 24)
There was still a bunch of stuff I wanted to do in Wanaka, but the weather was looking a little gnarly when I woke up. I also had some errands to run. Having a plush pillow the night before convinced me that I needed to trade in my inflatable camp pillow for the real deal.
So off to Queenstown it was.
After pimping out the van with a plush $10 pillow from the Warehouse (NZ's equivalent of Walmart), I was off to town. My first impression was "holy shit, this place is CRAZY." People were literally everywhere – the remnants of the Christmas holiday – and I got stuck in a standstill traffic jam looking for parking. I was moving so slow, I was literally reading my guidebook while driving. I instantly wanted to go back to Wanaka. However, one of my friends who had lived in NZ before advised me to embrace the craziness. He told me to go out on the town and LIVE. IT. UP.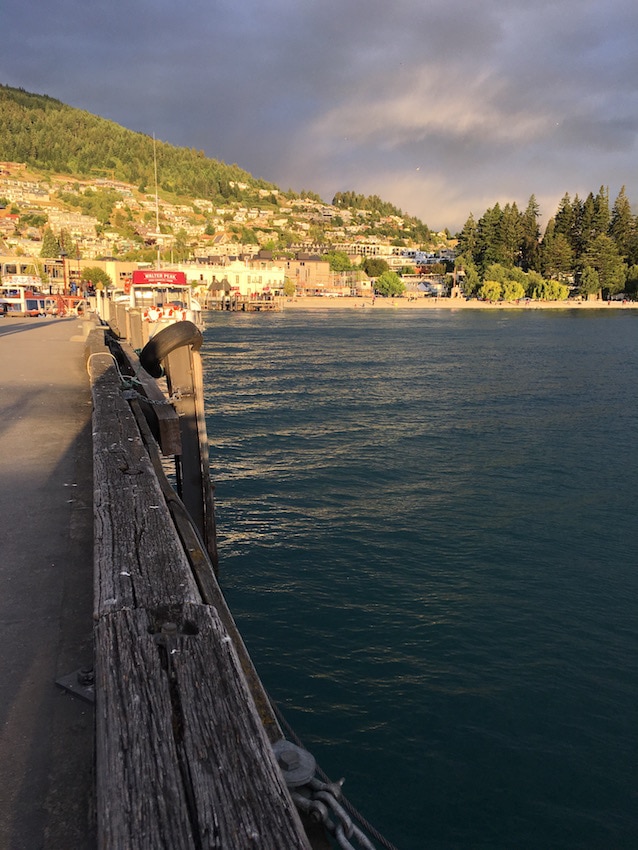 Shortly after, I found myself at the Atlas Pub, a cozy waterfront bar,  having a tasty local beer with an American who had hiked the PCT and a Slovakian who had been living in Queenstown for a few years working at the Hilton as a chef.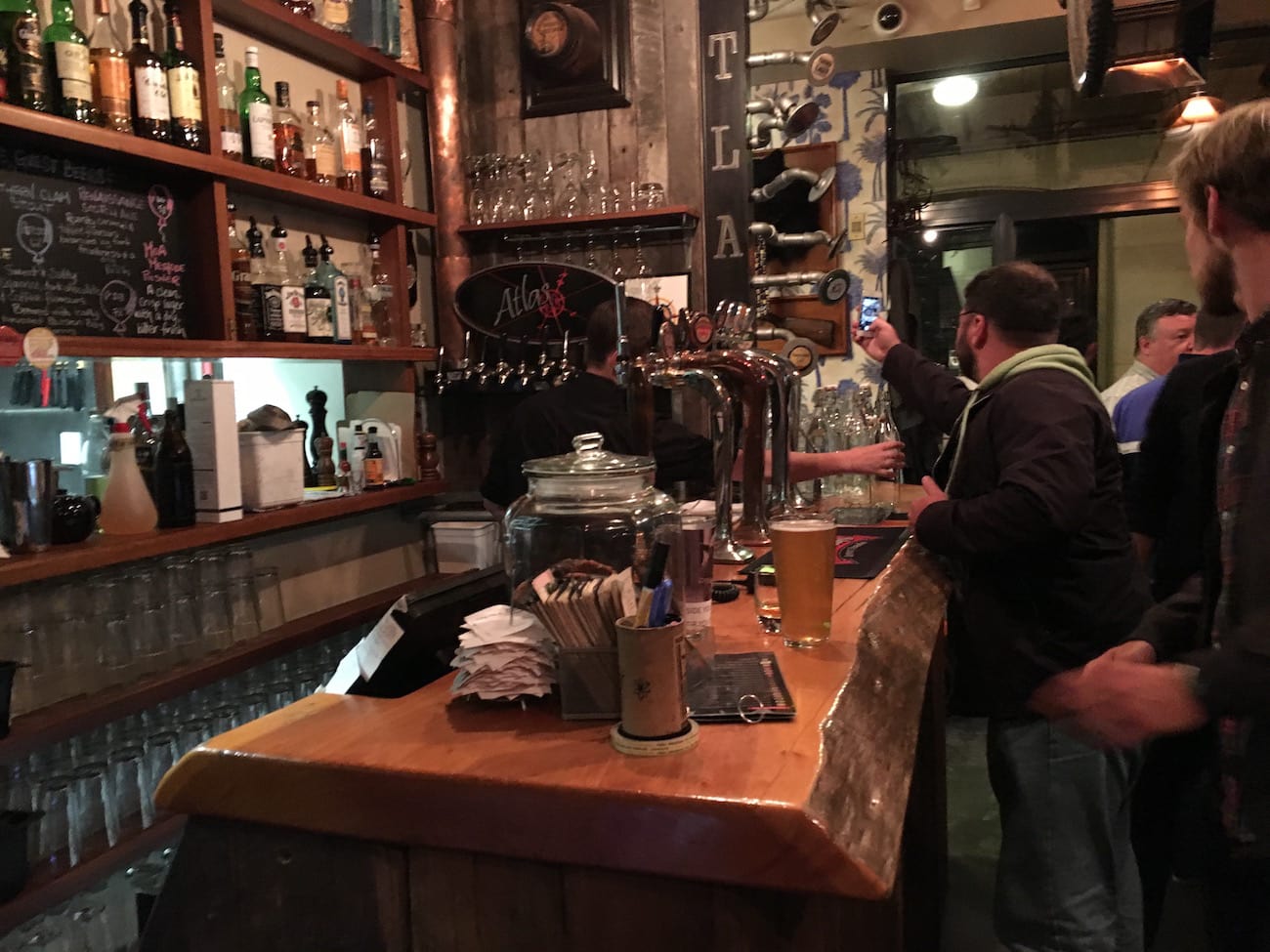 Before I knew it, it was 11pm and after a few beers, my stomach started to growl. So the Slovakian (whose name is Lubos) accompanied me to the world famous Fergburger.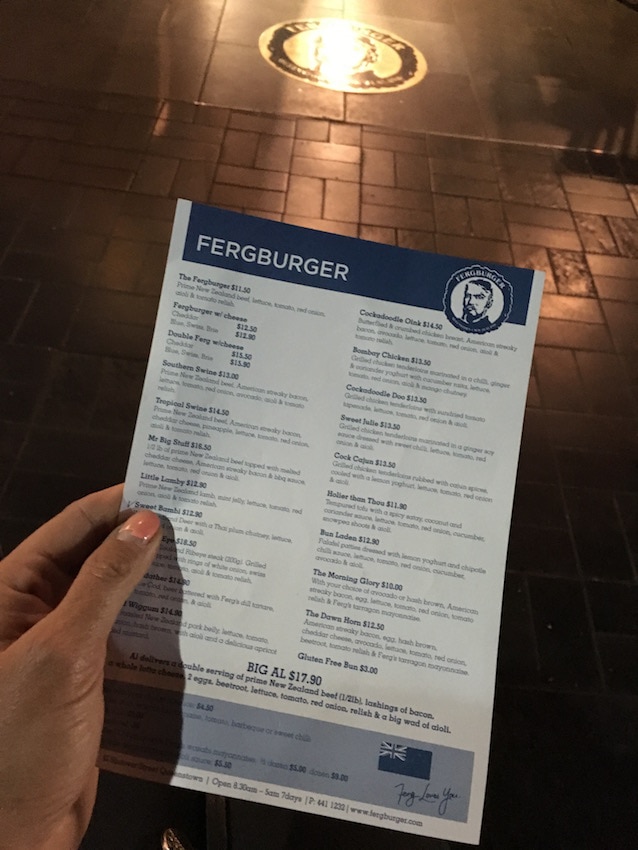 Earlier in the day I walked by this place and the line was completely insane. Like probably an hour and half wait….for a cheeseburger. But now  in the late evening, I was able to walk right in, order, and stuff my face in less than 10 minutes. Sweet as….as the Kiwis would say. Anyways, Fergburger was actually pretty delicious. But I suggest you do as I do. Go late, go hungry (and after several beers of course.)
New Zealand Road Trip – Solo Backpacking up Rees Valley (Day 25-27)
I went to the Department of Conservation (DOC) office and saw that there was a good weather window for the next couple of days. To take full advantage, I decided I'd head to Mt. Aspiring National Park to do some backpacking. I was told by the ranger that the Cascade Saddle was totally epic…so that was my goal. According to the DOC brochure, this is a 4-5 day hike up the Rees Valley departing from the Muddy Creek car park. I wasn't sure I'd be able to complete it before the next weather front arrived, but at the minimum I could be out there for a couple of days.
Now I've never been solo backpacking in my life. In fact, I just went on my first solo day hike last year, so this was a big move for me. Luckily New Zealand doesn't have any scary animals, and sketchy people seem few and far between. Thus, it seemed like a good place for this new first.
I'm going to write a whole separate post on my experience – which included highs (the views & new friends), the lows (my stupid heavy bag & trudging through soppy cow poo), and a lot of in between. I'll also share the details for those of you who want to do some trekking in Mt. Aspiring.
But here's a quick summary – The drive out to Glenorchy near where the trek started is worth a trip in itself.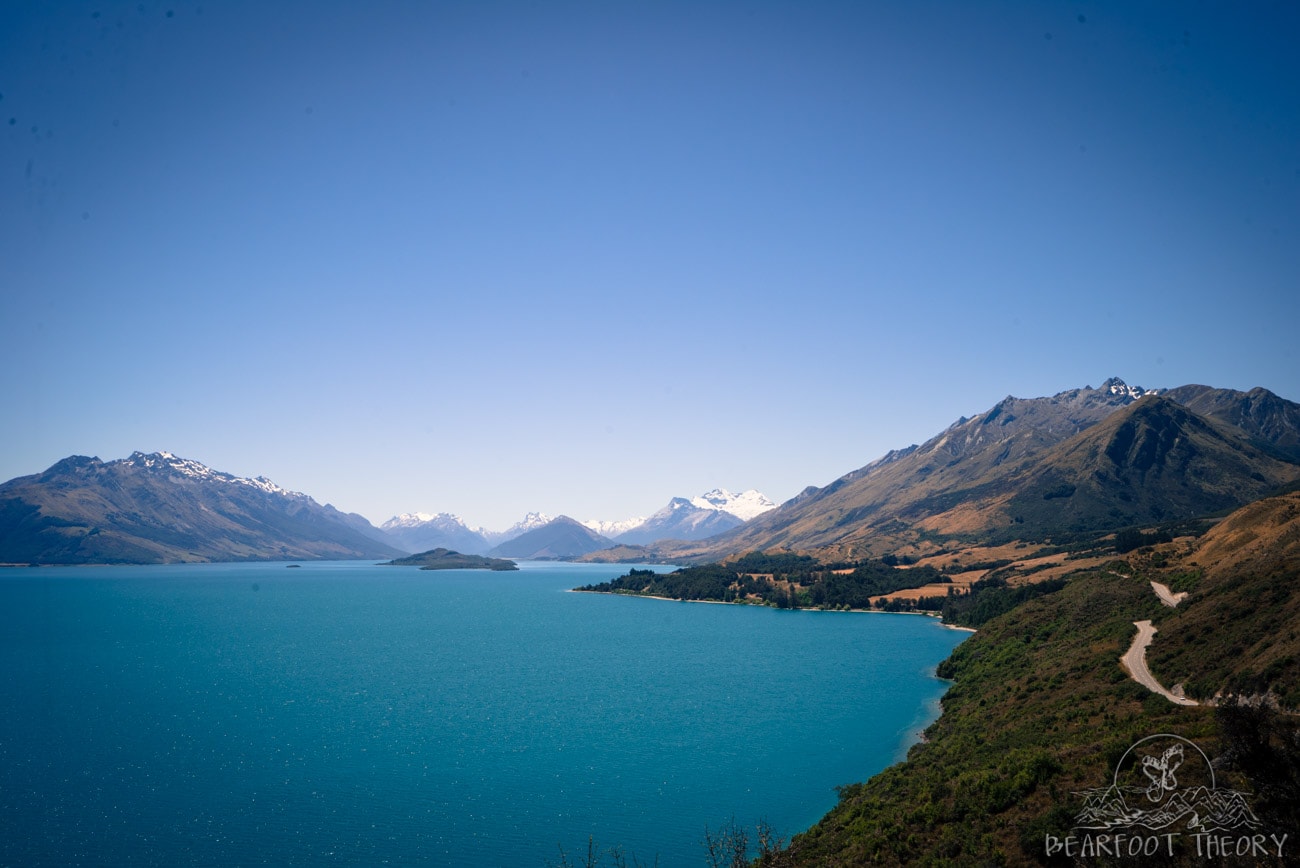 The first day was ok. It was a long trek through a valley. The scenery was nice, but didn't change much, and the trail was very boggy. Eventually right before dark, I found a nice spot on a bluff with a beautiful view of two glaciers. There was no one else in sight, and I was pretty proud of myself for not getting creeped out.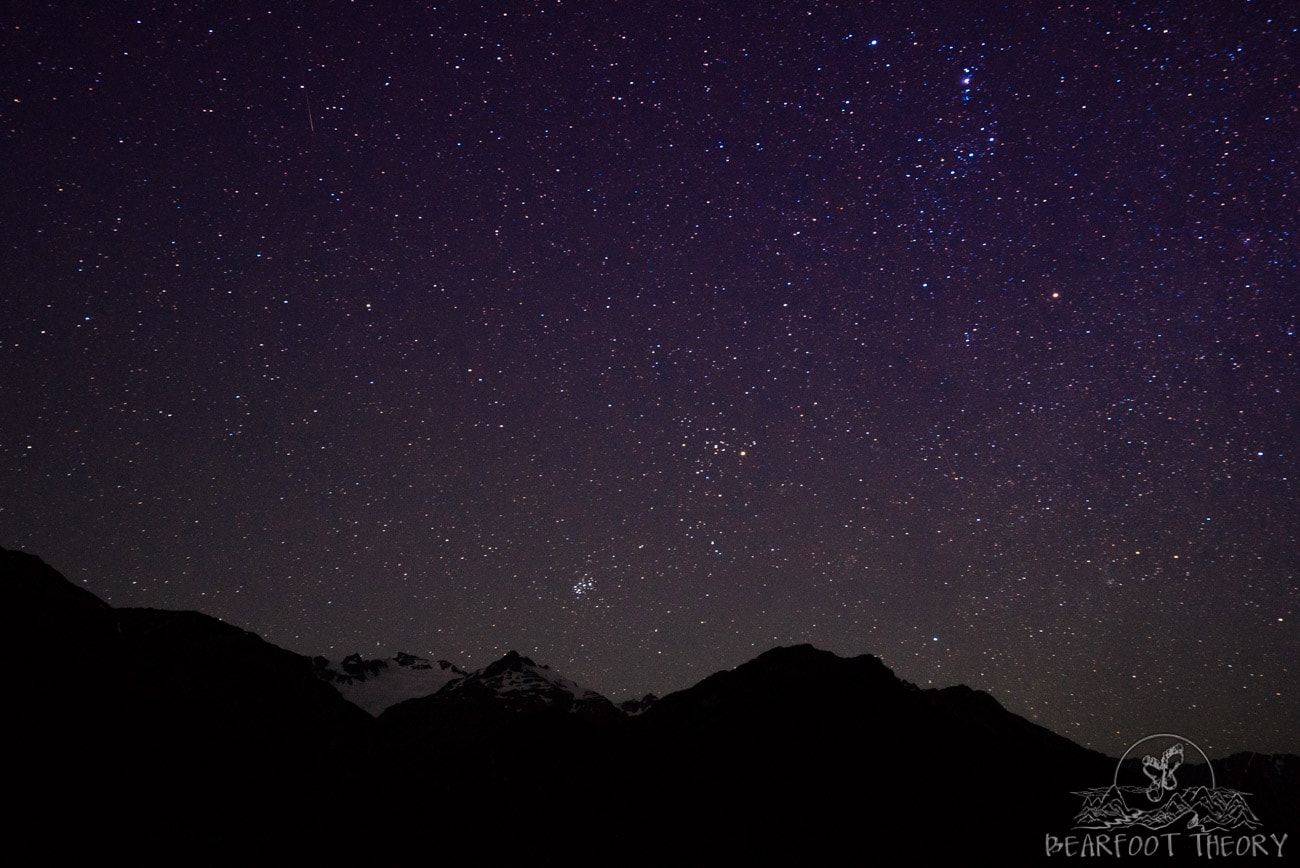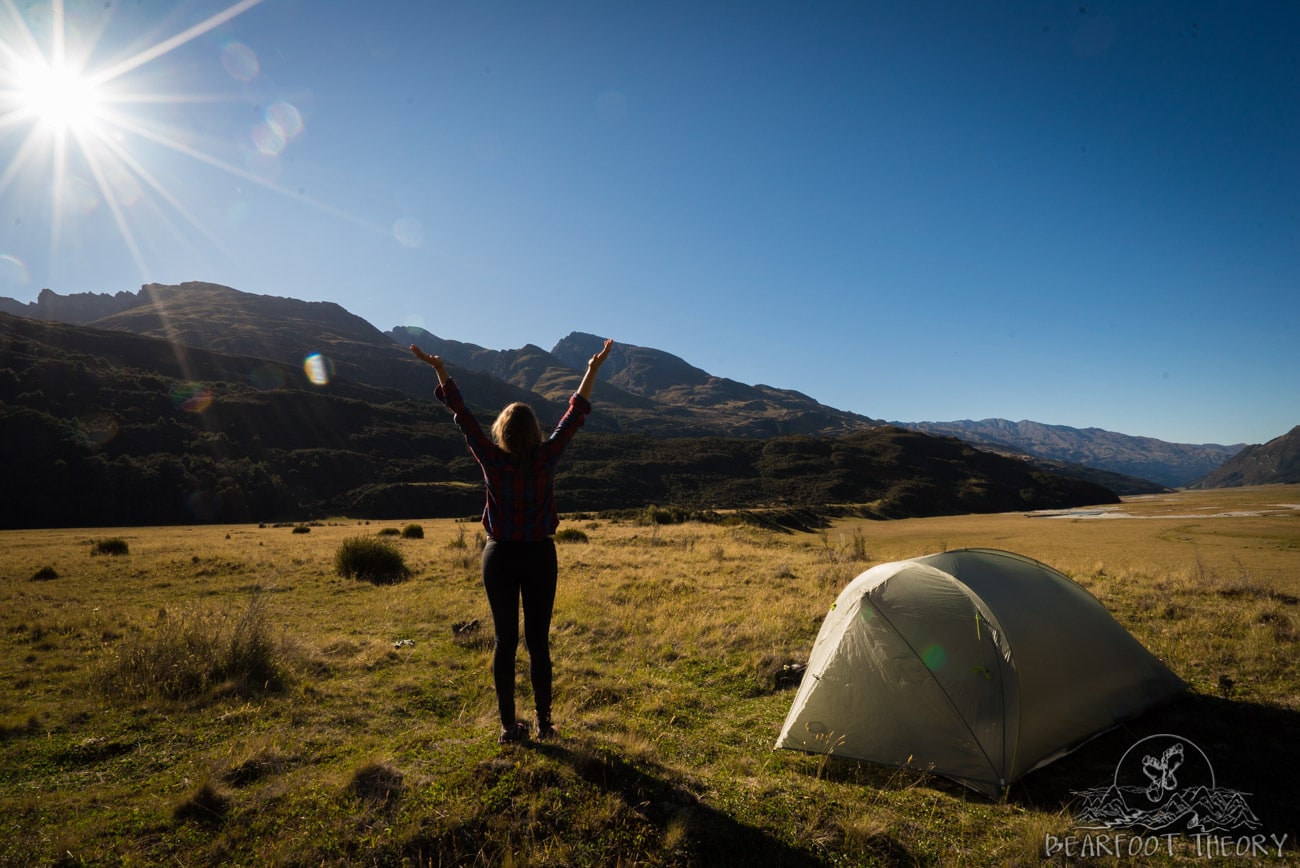 Then day 2 rolled around, and mentally I was struggling a bit. I have a pinched nerve in my shoulder that was bothering me, it was hot, and without anyone to distract me, those were the only two things I could focus on. While I appreciate a good challenge, I was really out there to have fun, and there wasn't much fun being had. Then when I reached the Shelter Hut, the weather report was starting to look a bit more dubious for my hike out.
As I continued on, I felt pretty defeated (and to be honest, kind of bored). Then, right as I was about to call it quits, a 75 year old American man named Miles came cruising around the corner. He convinced me to stash my bag in the bushes and join him in hiking to the top of Rees Saddle. Seeing this man was completely crushing it, I couldn't really refuse.
An hour and a half later, we were standing on top of the Rees Saddle taking in some truly epic views. I couldn't believe I almost missed out and was so grateful that Miles had crossed my path.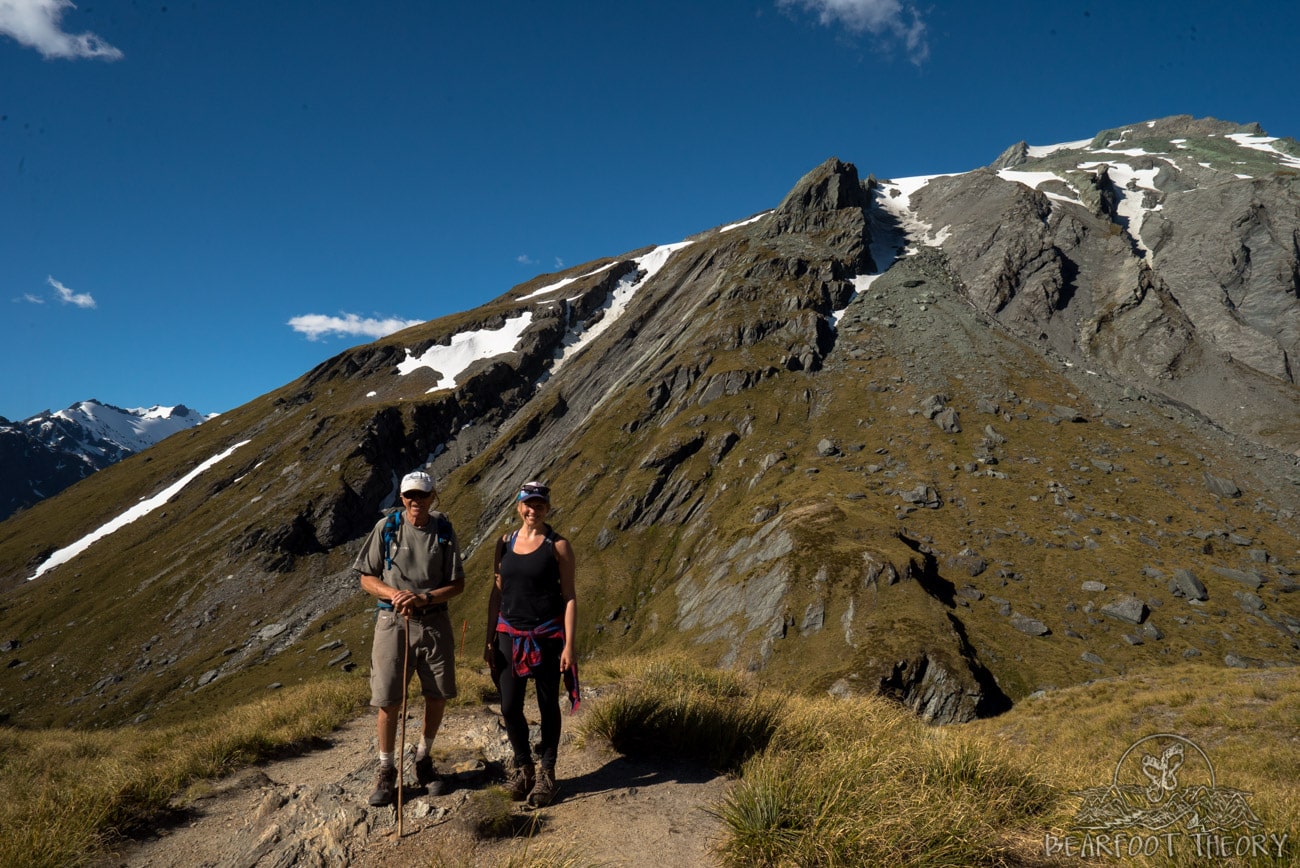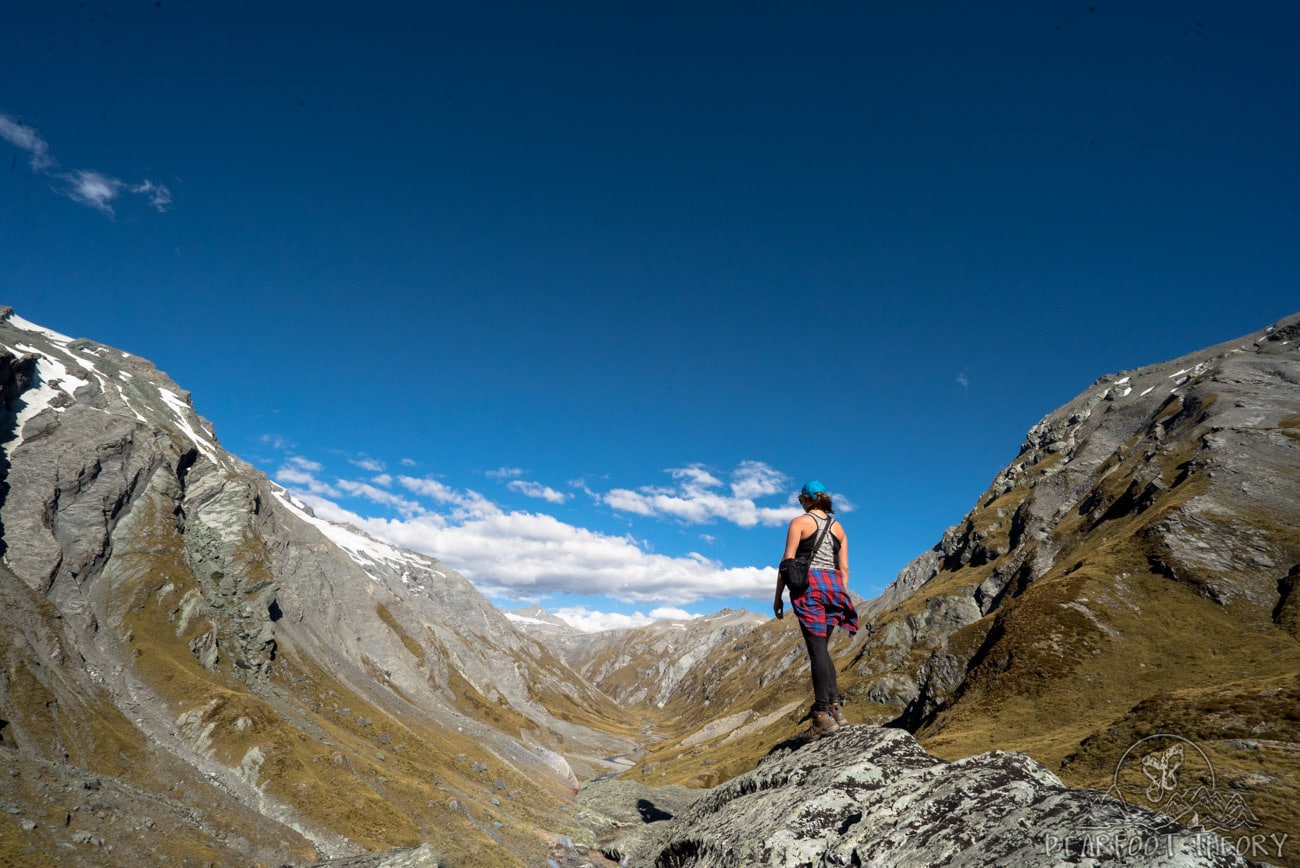 About an hour later we were on the way down when two young guns – named Michael and Jake – caught up to us. I start chatting with Jake, and he tells me he's spent 5 winters in Salt Lake City. Small world, right? Well it got even smaller when Jake and Miles looked at each other and realized that they knew each other. Miles was old buddies with Jake's dad when they used to hit the ski slopes together in the 70s. It was so crazy!
That night I slept in my tent right outside Shelter Hut so we could all hang out and cook dinner together. Then the next day we all hiked out as a group. With the company, the long slog through the valley flew by compared to my hike in on day 1.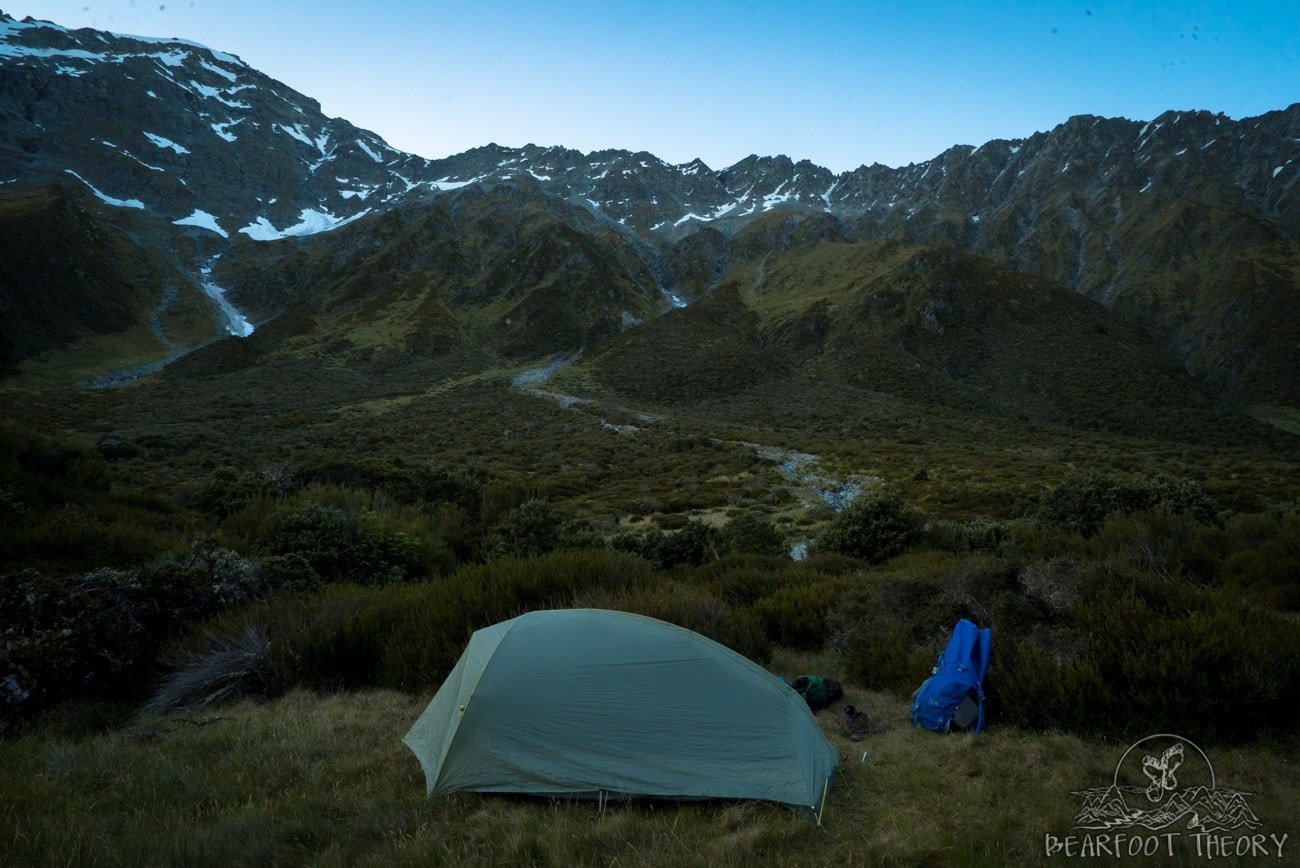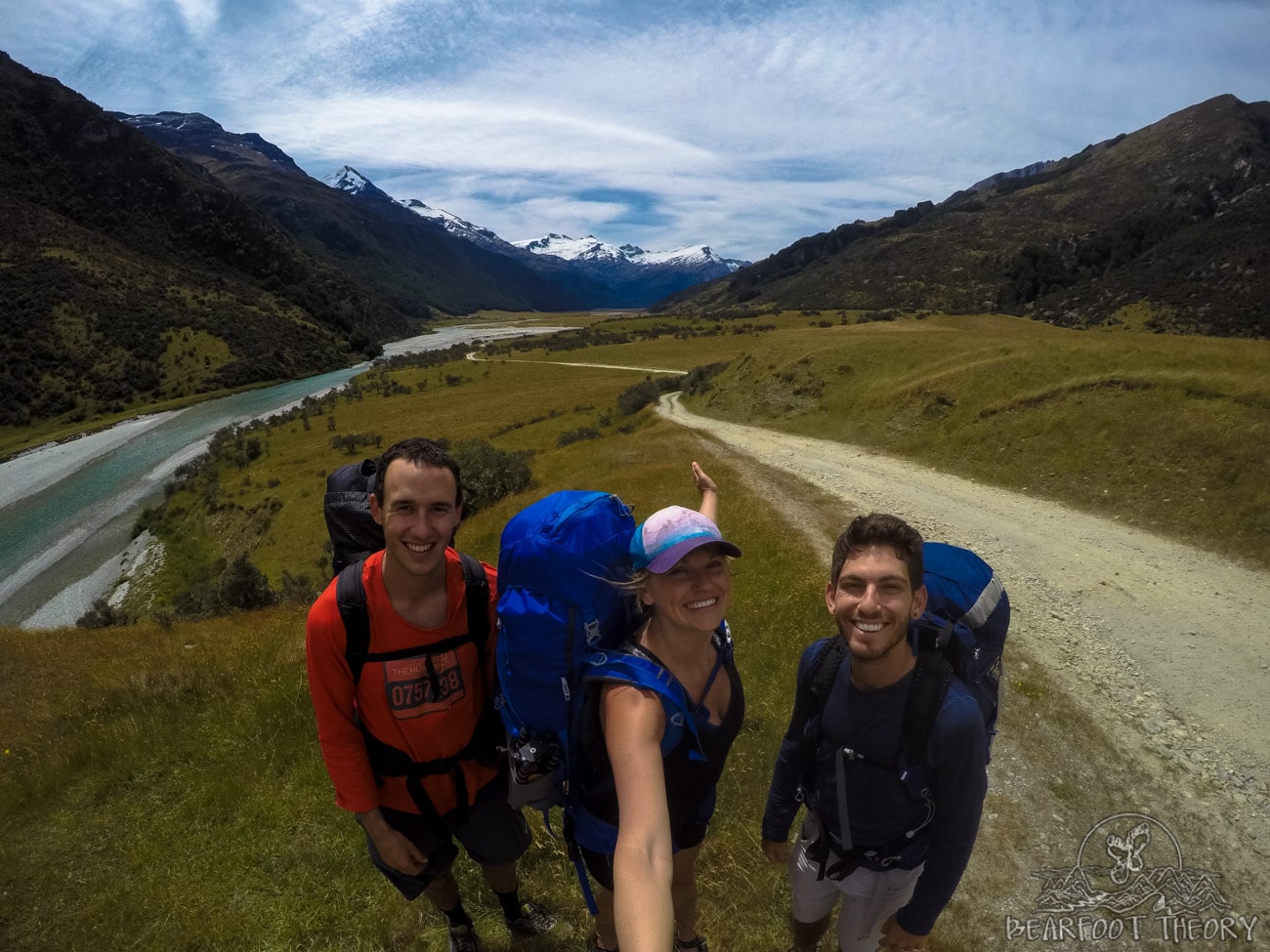 Even though the solo backpacking thing was a mixed bag for me, I'm glad I gave it a go. It gave me time to think about some things I want to accomplish this year and to face some fears about sleeping alone in the wilderness. Stay tuned for more lessons learned and tips for solo backpacking!
Well that wraps up my 4th week of my New Zealand road trip. Week 5 was spent bumming around Queenstown, doing a little climbing in Wanaka, and delving into some of the adventure activities that Queenstown is so well known for.
WHERE IN NEW ZEALAND WOULD YOU LIKE TO GO?
LEAVE A COMMENT, TWEET ME, OR WRITE ME A POST ON FACEBOOK.