New Zealand Road Trip: Mount Cook
A recap of my week at Mount Cook, home to the tallest mountain in New Zealand, raging rivers, waterfalls, glaciers, and fantastic high alpine hiking, as well as a 4-day Intro to Mountaineering Course taught by Alpine Recreation where I learned the basics of glacier travel.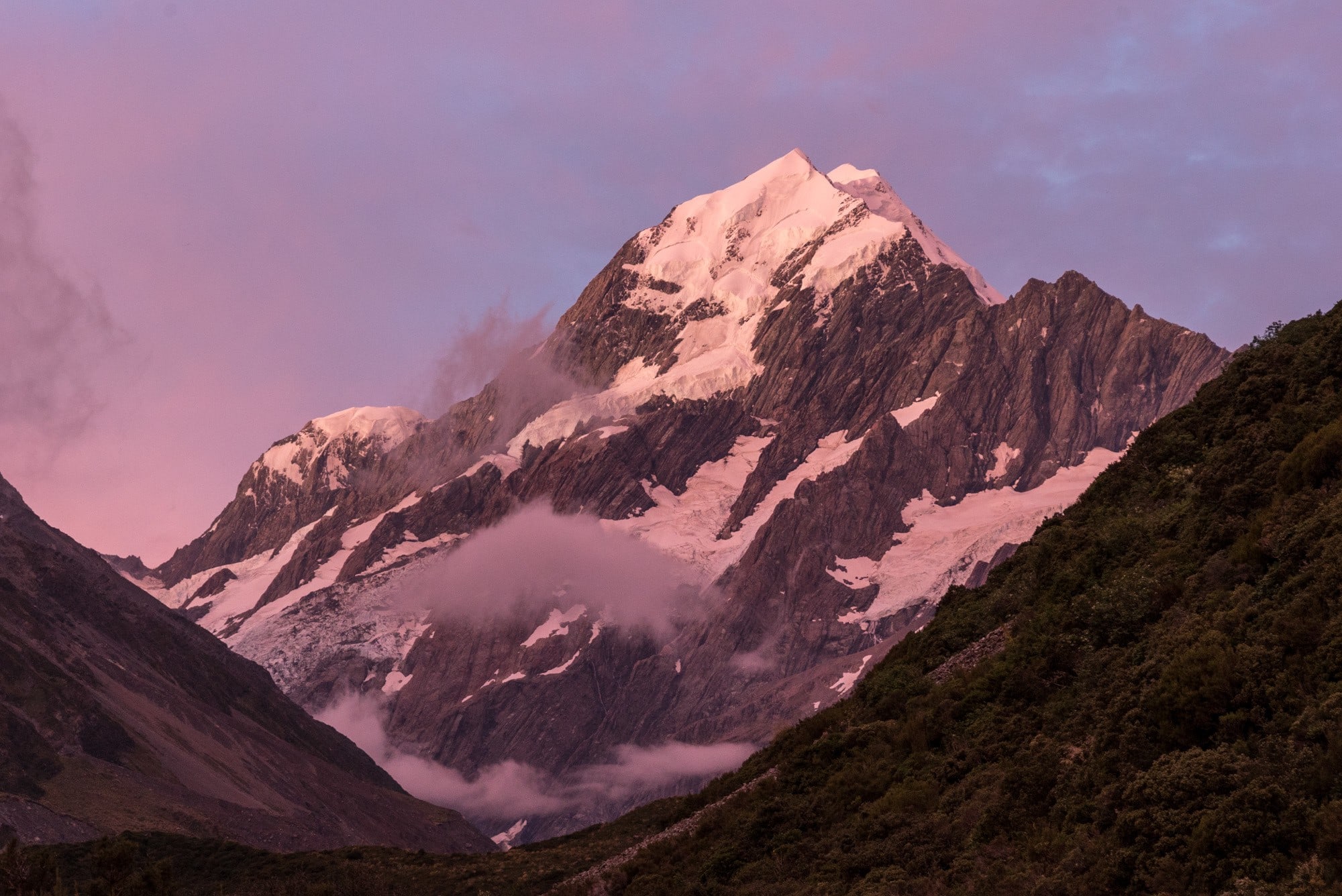 New Zealand Road Trip Journal: Mount Cook (Week 7)
Over the last few weeks, I've been in and out of Queenstown. It's been a central location to base myself with summer-like weather, amazing sunsets, and one of the best lakeside Department of Conservation Campgrounds (12-mile) that I've found on my trip.
But I still have quite a bit of ground to cover, so week 7 took me up to Mount Cook National Park, home to the tallest mountain in the country (Mount Cook), a bunch of glaciers, and some fantastic high alpine hiking. Hence I was eager to get up there and explore.
The weather report leading up to my trip was looking pretty dire, but I decided to take a chance. Weather reporters are wrong all the time, right? Well in this case, they were spot on.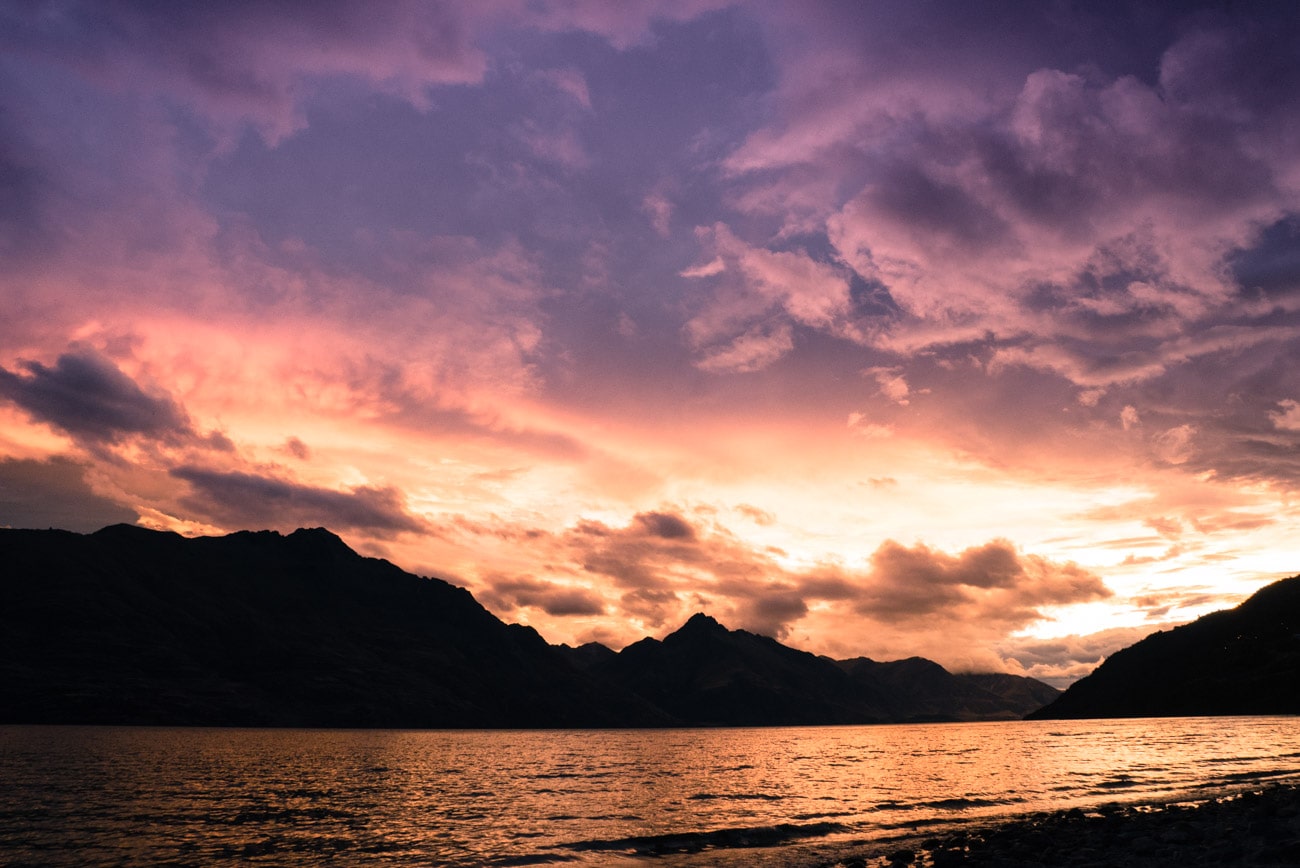 Mount Cook is about a three-hour drive from Queenstown with the last 50 miles along the shore of Lake Pukaki. I pulled out at the main viewpoint and snapped a few shots. Good thing because shortly after this, the clouds rolled in and this was the last time I'd see the mountains for the next couple of days.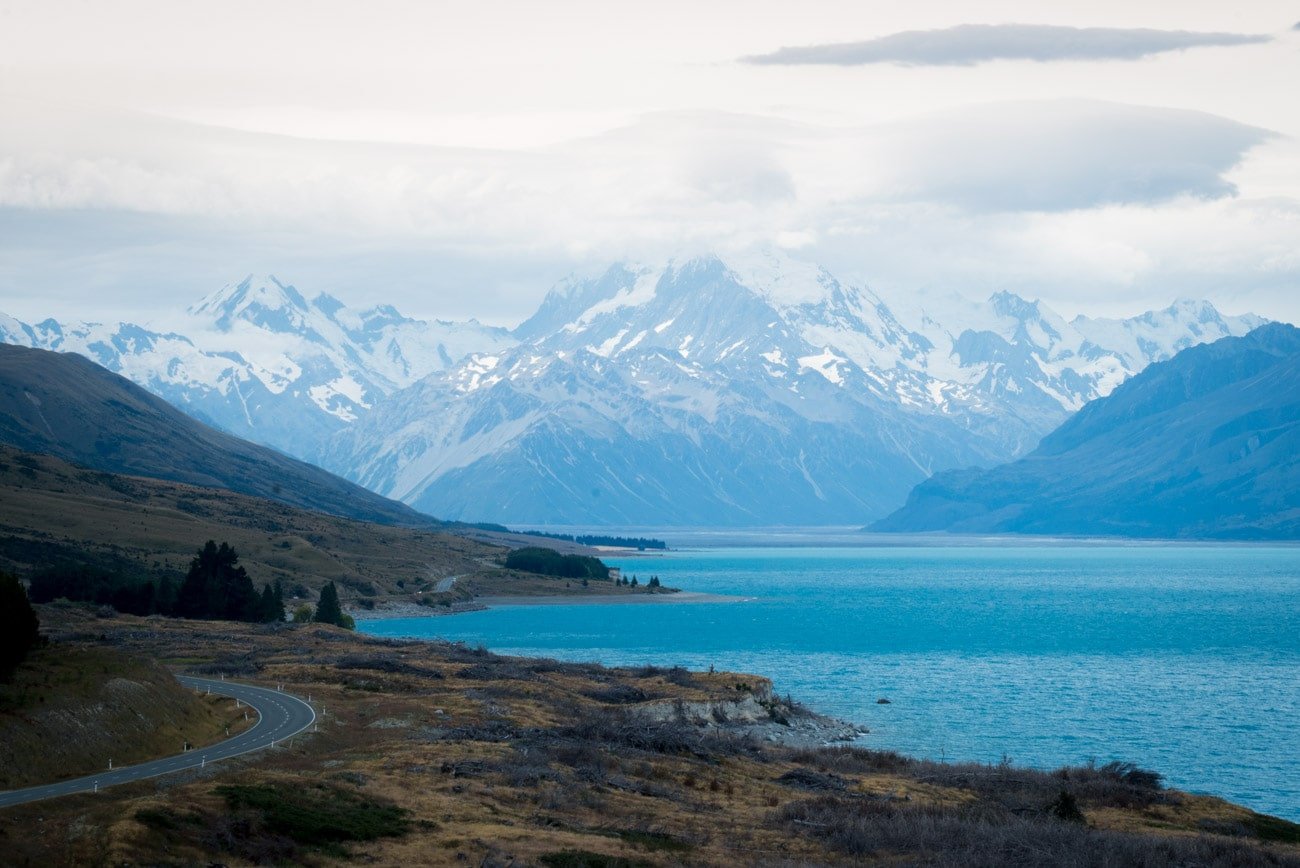 [separator style_type="icon" top_margin="20″ bottom_margin="40″ /]
Waiting out the Weather in Mount Cook (Days 45-48)
I arrived to the Park in the early evening and found a campsite at the Park's only campground located at the Hooker Valley Trailhead. As I was getting situated, a long-haired German man in his 40s (I'm guessing) named Juergen introduced himself and told me to pull up a chair. We cracked open a bottle of cheap red wine and started talking about our travels. I learned that Jeurgen was an astrophotography hobbyist who spent his free nights taking pictures of nebulas and galaxies that are over 300 million light years away. Whaaaa? Yea, mind blown. He showed me a bunch of his work and made his best case for other life forms way out there in space.
The next three days were doom and gloom. Rain, wind, yuck, yuck, yuck.  If possible, I'd suggest timing your trip to Mount Cook around the weather because with rain and low clouds, you really can't see much. I contemplated leaving, but I was scheduled to start a mountaineering course at Mount Cook in a few days time. So I found comfy bar stool at the Chamois Hotel with $4 unlimited wi-fi and got a bunch of work done.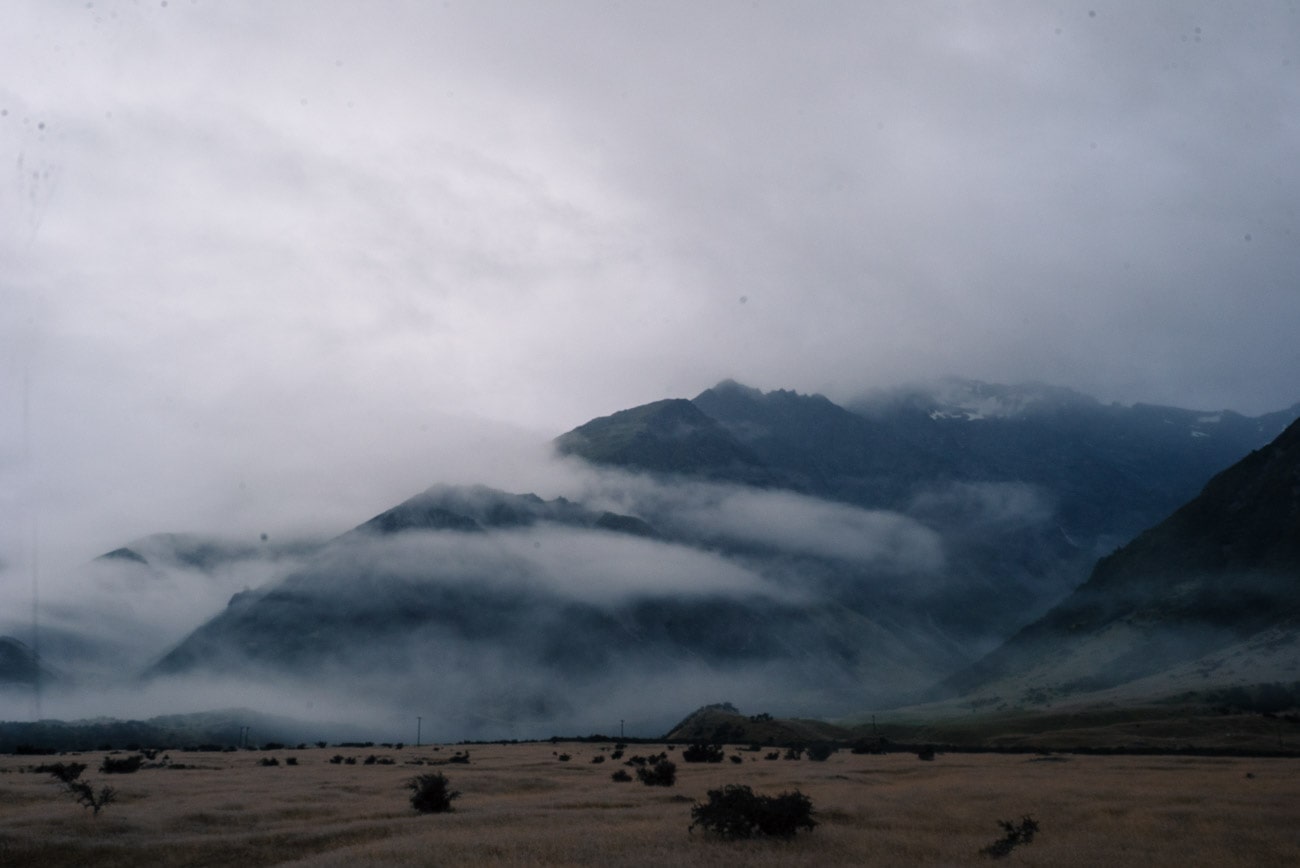 The sun only came out for a few hours on my third day there. As soon as the clouds parted, I closed down my computer, got out my checklist of things to do, and hit the trail.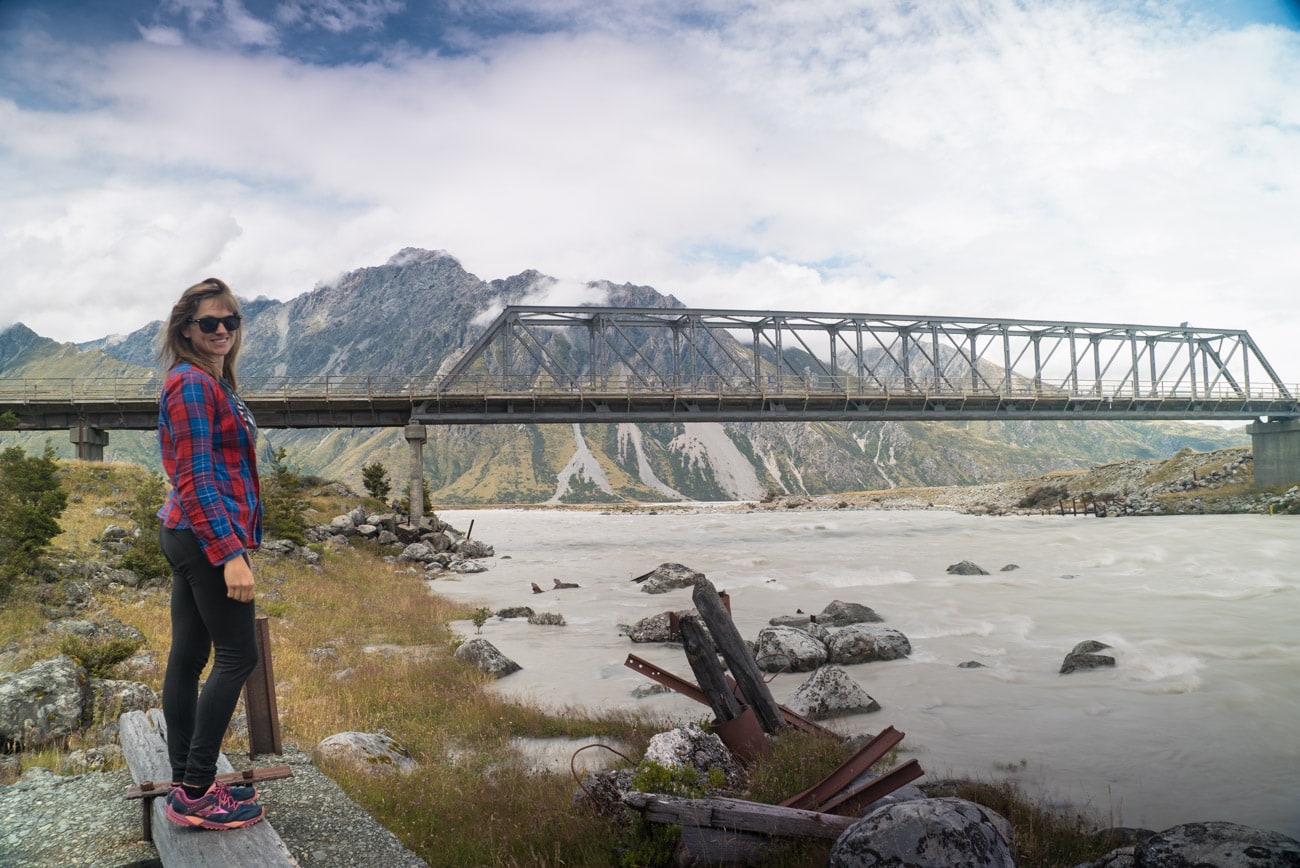 First up was Tasman Lake where evidence of climate change is right in your face. In 1976, this lake didn't exist. But as temperatures have gotten warmer, the 27km long Tasman Glacier that sits above this lake has started to rapidly melt. Today, the glacier is retreating at some 500m a year, and scientists predict that within 10 years, this lake will have tripled in size. Now I don't know about you, but I find this to be frightening.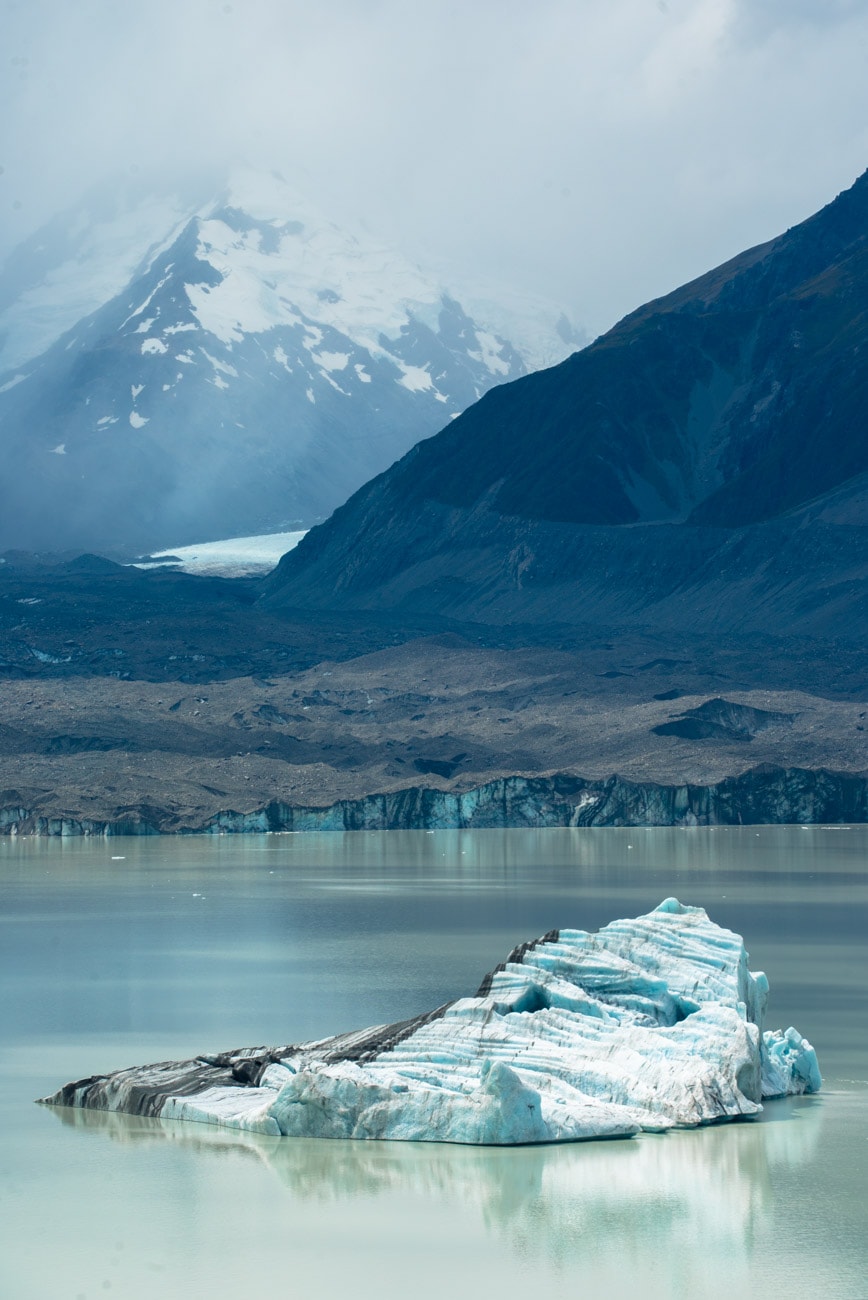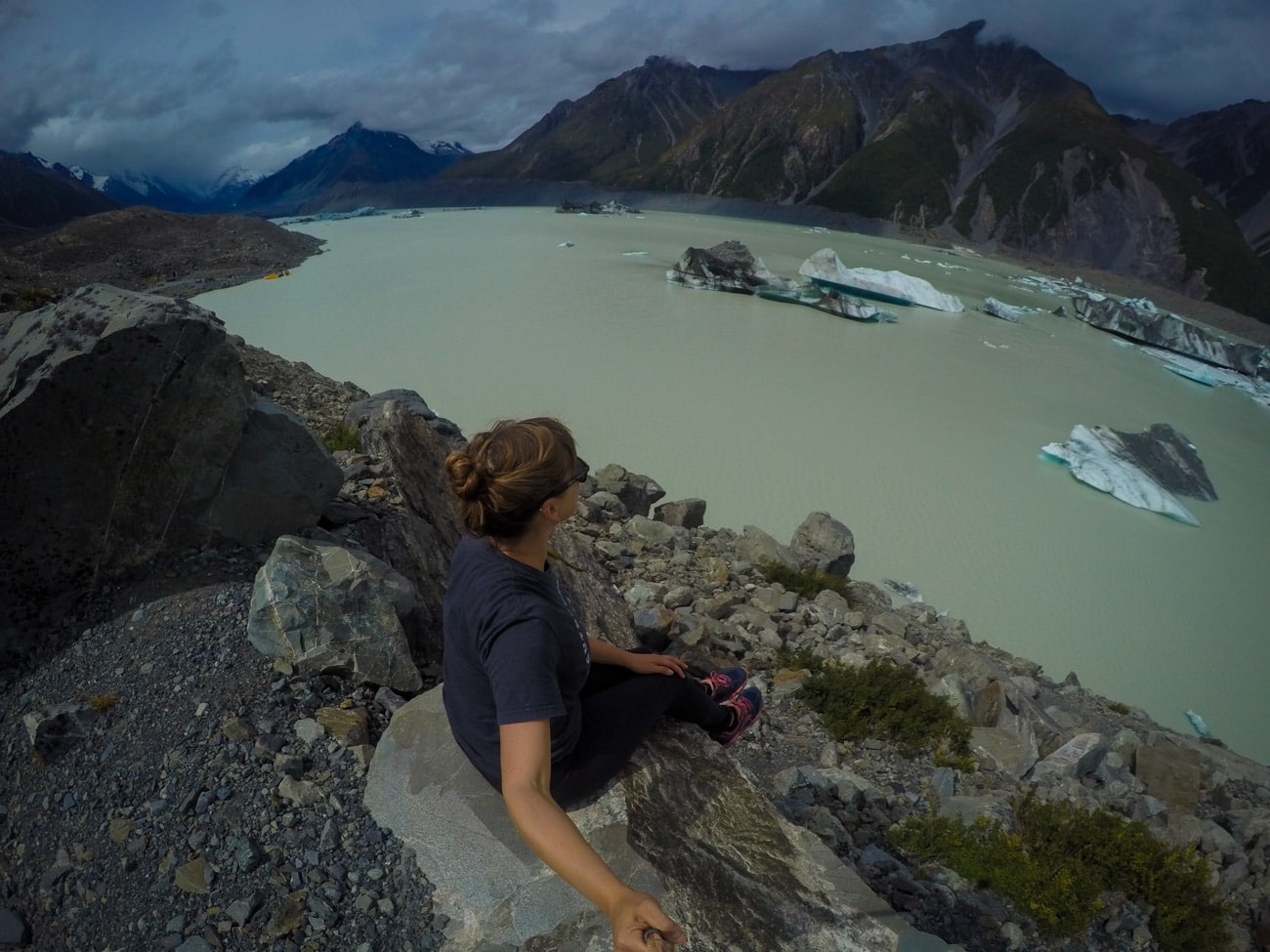 After Tasman Lake, I headed up Hooker Valley to Hooker Lake that sits at the western base of Mount Cook. Every morning at the campsite, this trail had busloads of people. And that's no exaggeration. This is a popular spot for a reason. This had to be one of the best short day hikes I've ever done. Raging rivers, glaciers, waterfalls, and views of Mount Cook – all in a 5km round trip package. Luckily starting the 2.5 hour hike at 7pm meant I had the trail and the final destination all to myself. Plus the sunset was absolutely killer. Nothing like alpenglow on those icy slopes. I spent a bit of time at the lake and messed around with my tripod and my Syrp ND filter to get some silky water shots.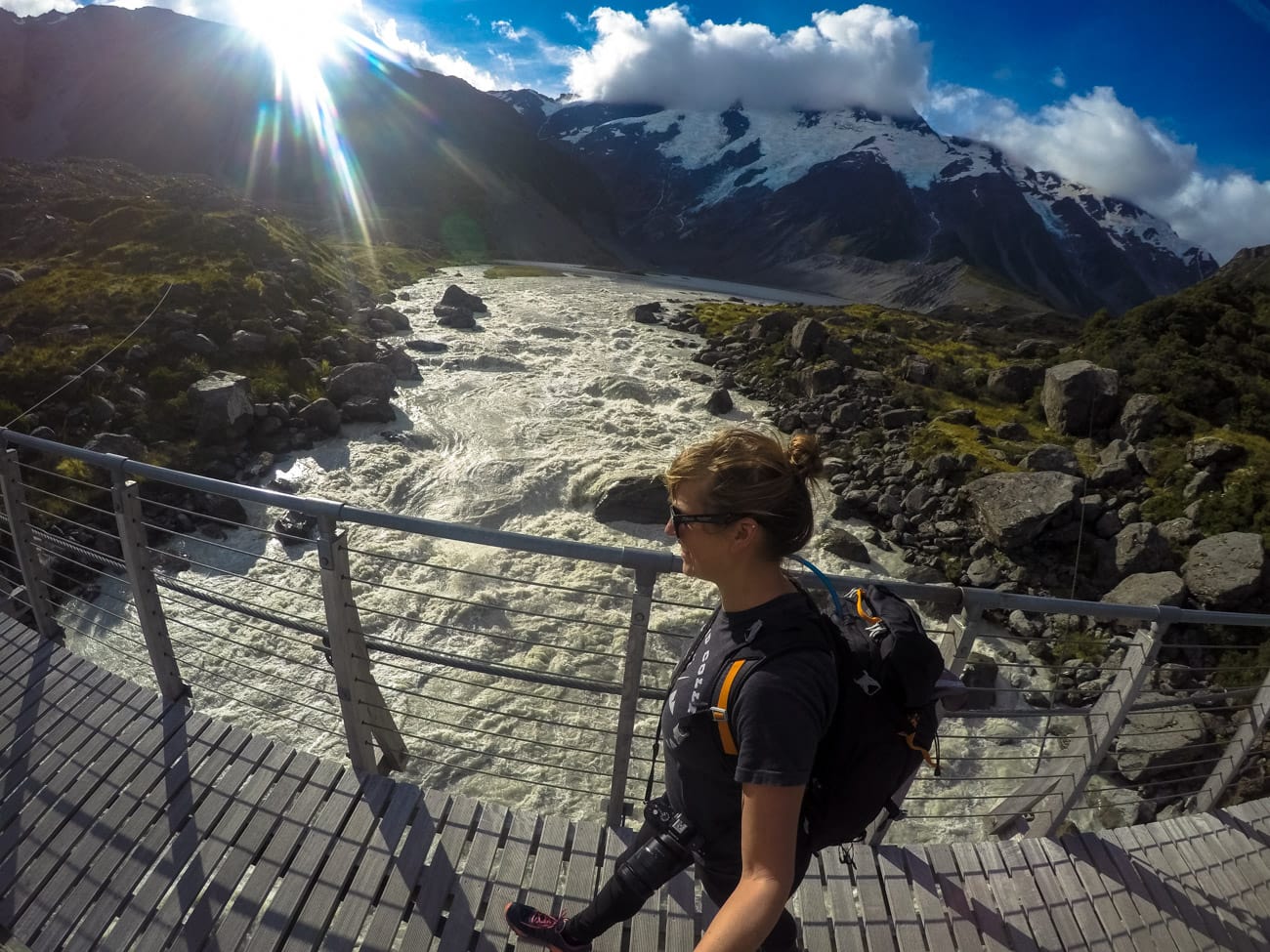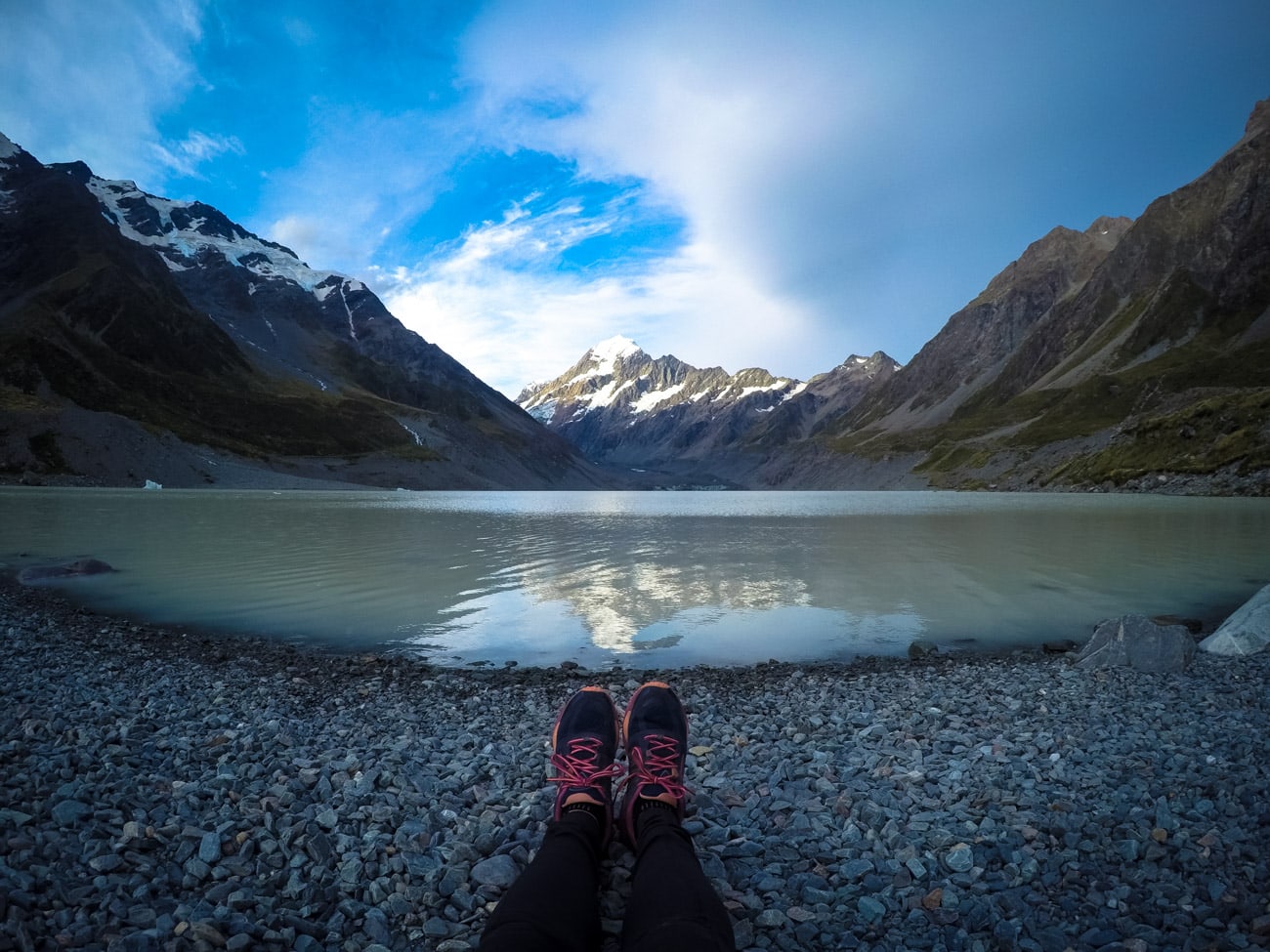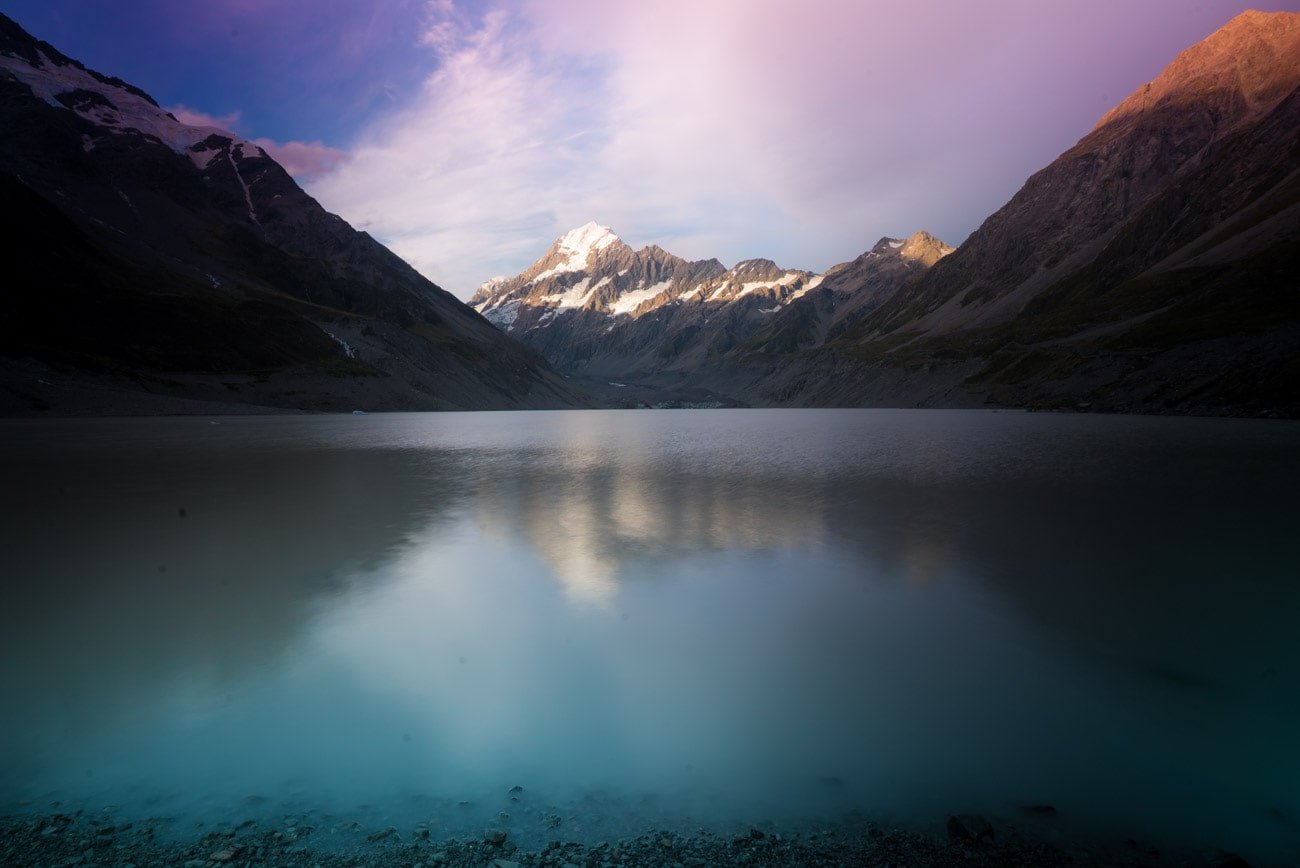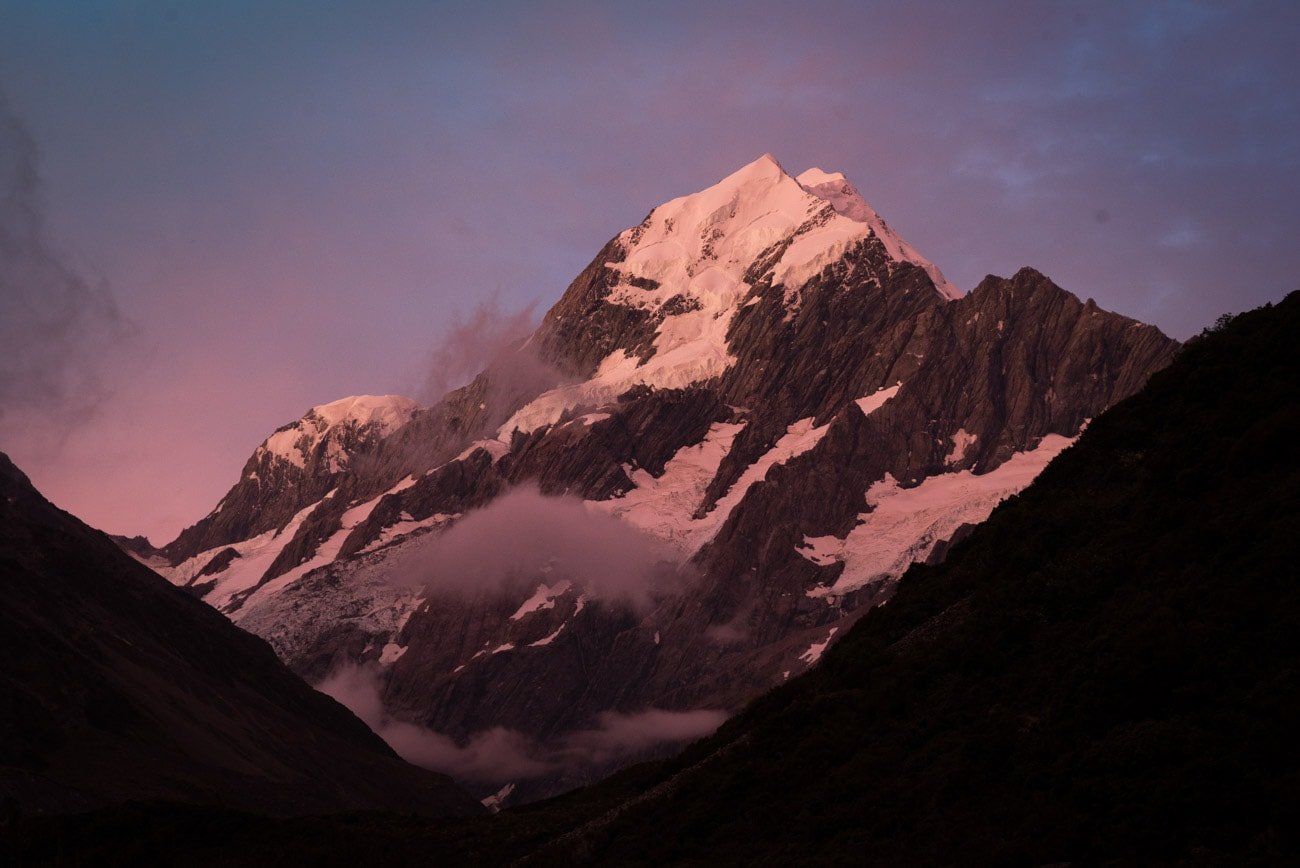 I was hoping the the clouds parting meant that the next day would be clear…but too no avail. I woke up the next morning to clouds, wind, and rain. One more day at the Chamois proved productive, and then I was off to Lake Tekapo to meet my guide for my 4 day mountaineering course at Mount Cook's Caroline Hut.
[separator style_type="double|dotted" top_margin="20″ bottom_margin="40″]
Mountaineering Course with Alpine Recreation (Days 49-52)
A while back I signed up for a trip called the Ball Pass Crossing with Alpine Recreation where I'd get a chance to travel across a big glacier on Mount Cook. However, since getting a bit more into climbing since I've been here in New Zealand, I decided to swap over to Alpine Recreation's 4 day introductory mountaineering course. I'd still get to travel to the same areas of the Park and stay at the privately owned Caroline Hut, but instead of the guide doing everything and just telling me what to do, I'd come home learning a bunch of new skills that I could use in my future outdoor endeavors.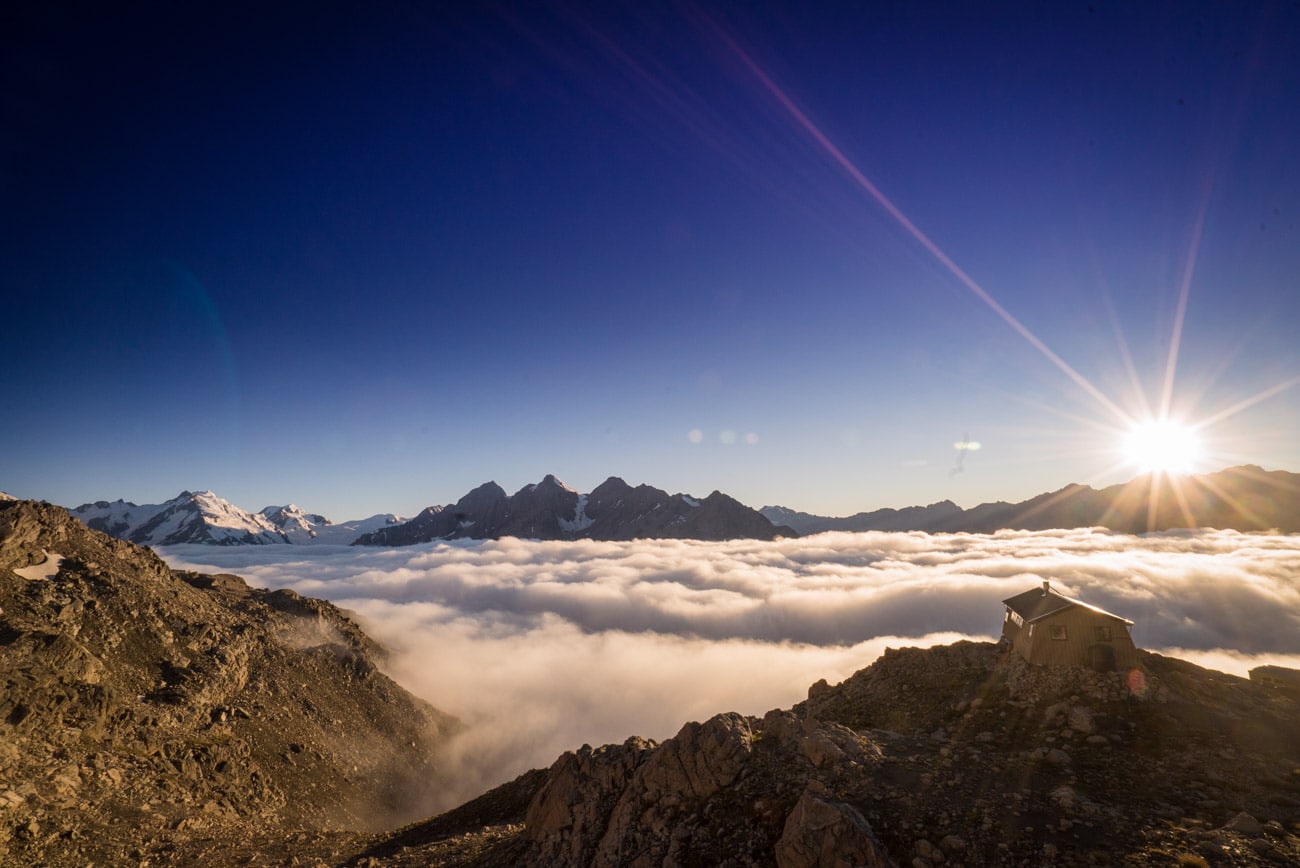 I'm going to write up a full post on the Alpine Recreation course, so I'll save most of the details for later. But I'll quickly mention that it was a great experience that I shared with two other awesome ladies. And luckily the weather took a turn for the better and we had nothing but blue skies for a 95% of the trip.
Our basecamp – the Caroline Hut – was located right below the Caroline Face of Mount Cook. I can't imagine a better venue for such a course, and it gave us the opportunity to explore an area of Mount Cook that isn't all that accessible to the general public since there are no other huts on this side of the mountain.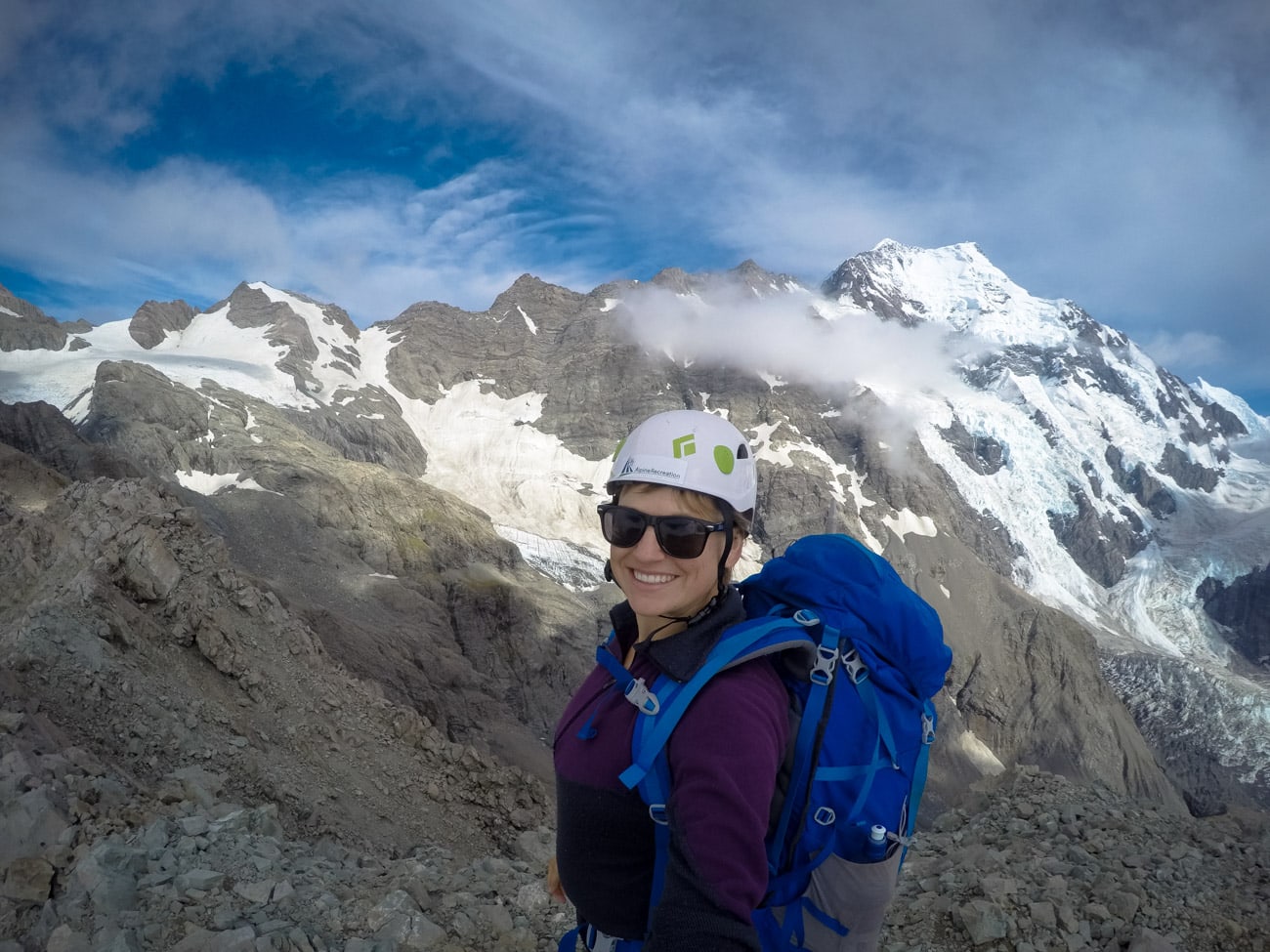 Our guide Paul had over 30 years of experience and taught us how to wear crampons and walk safely across a glacier, and we got to practice abseiling, self-arrest, and how to use ice screws.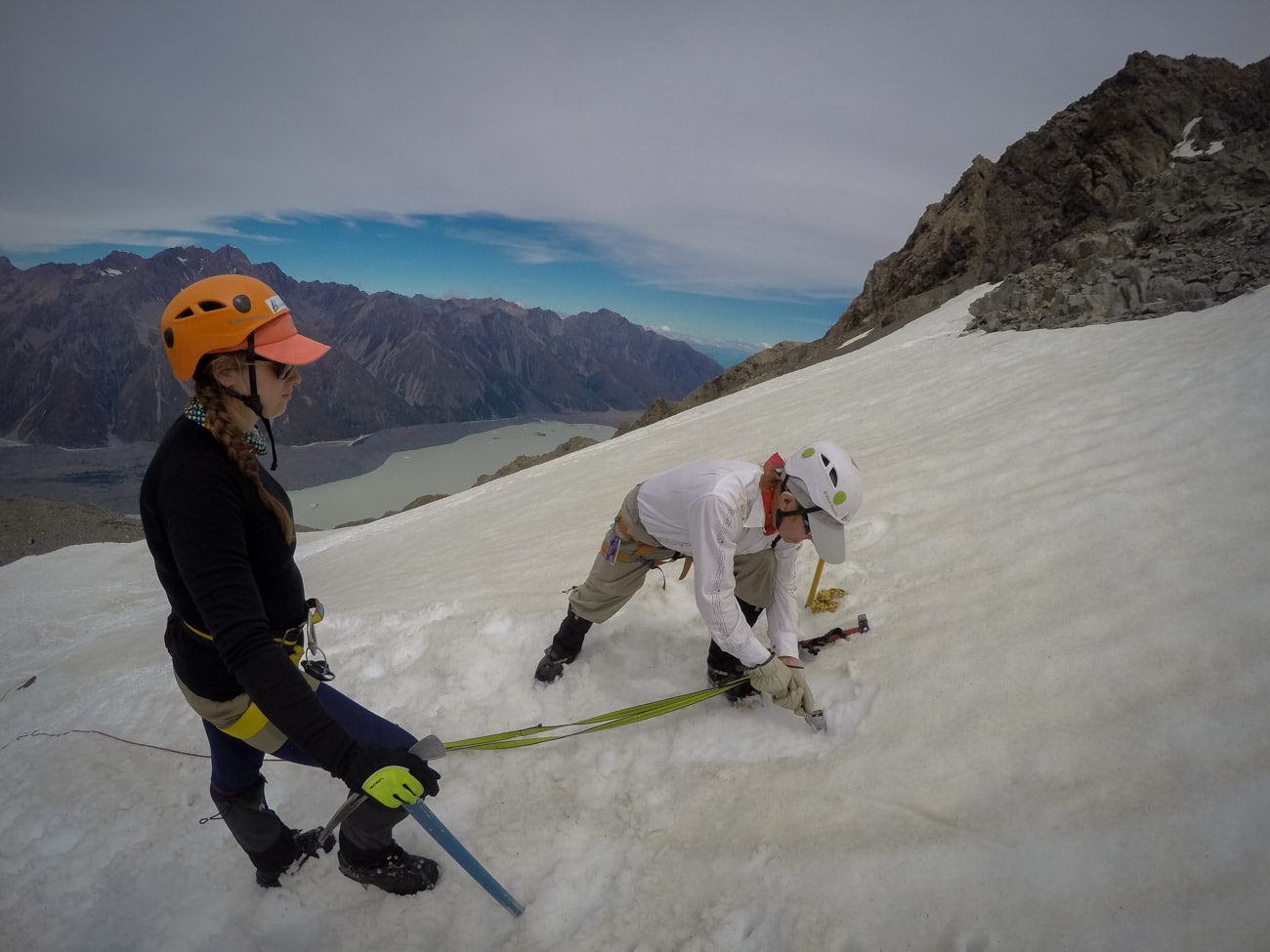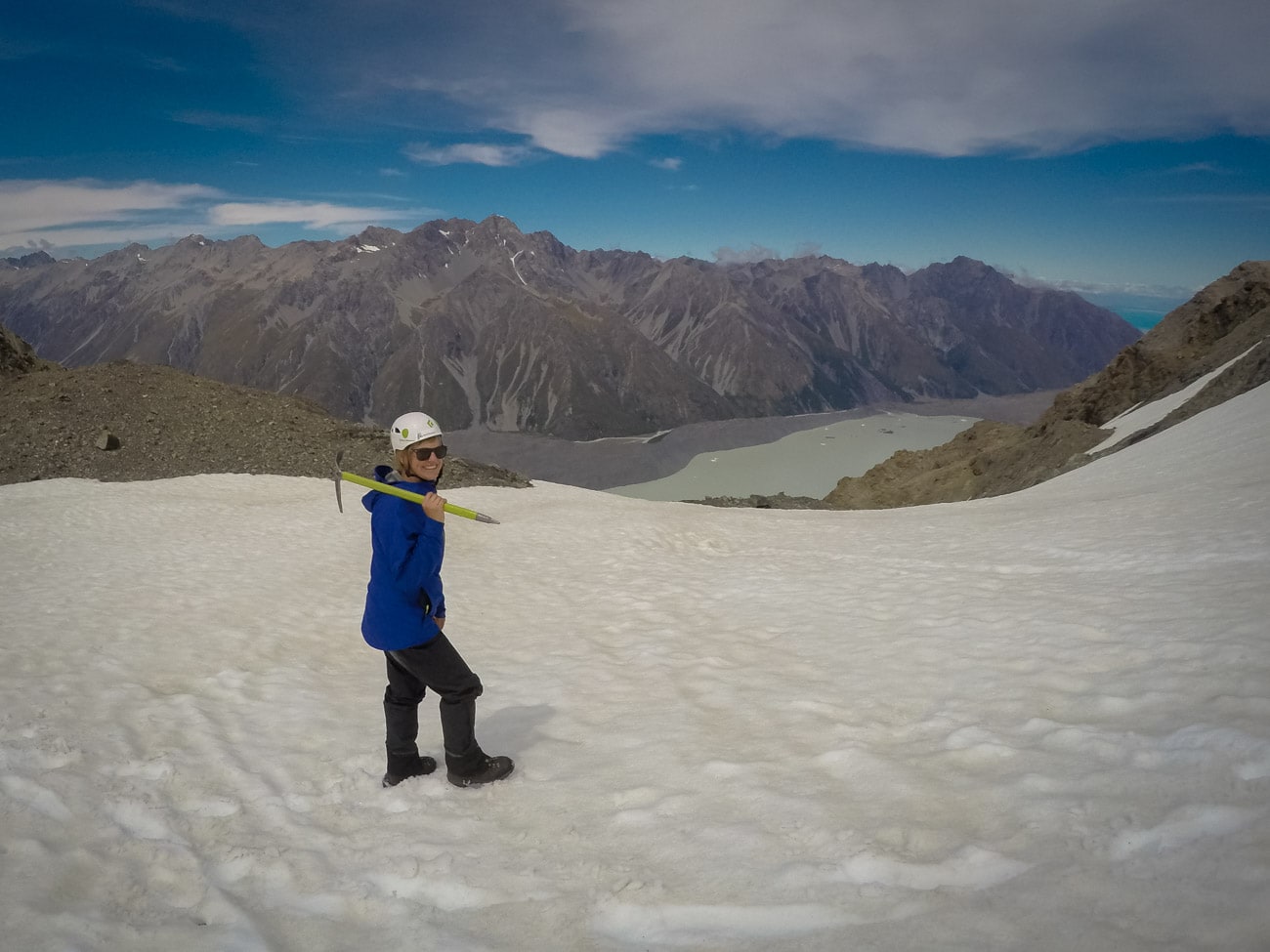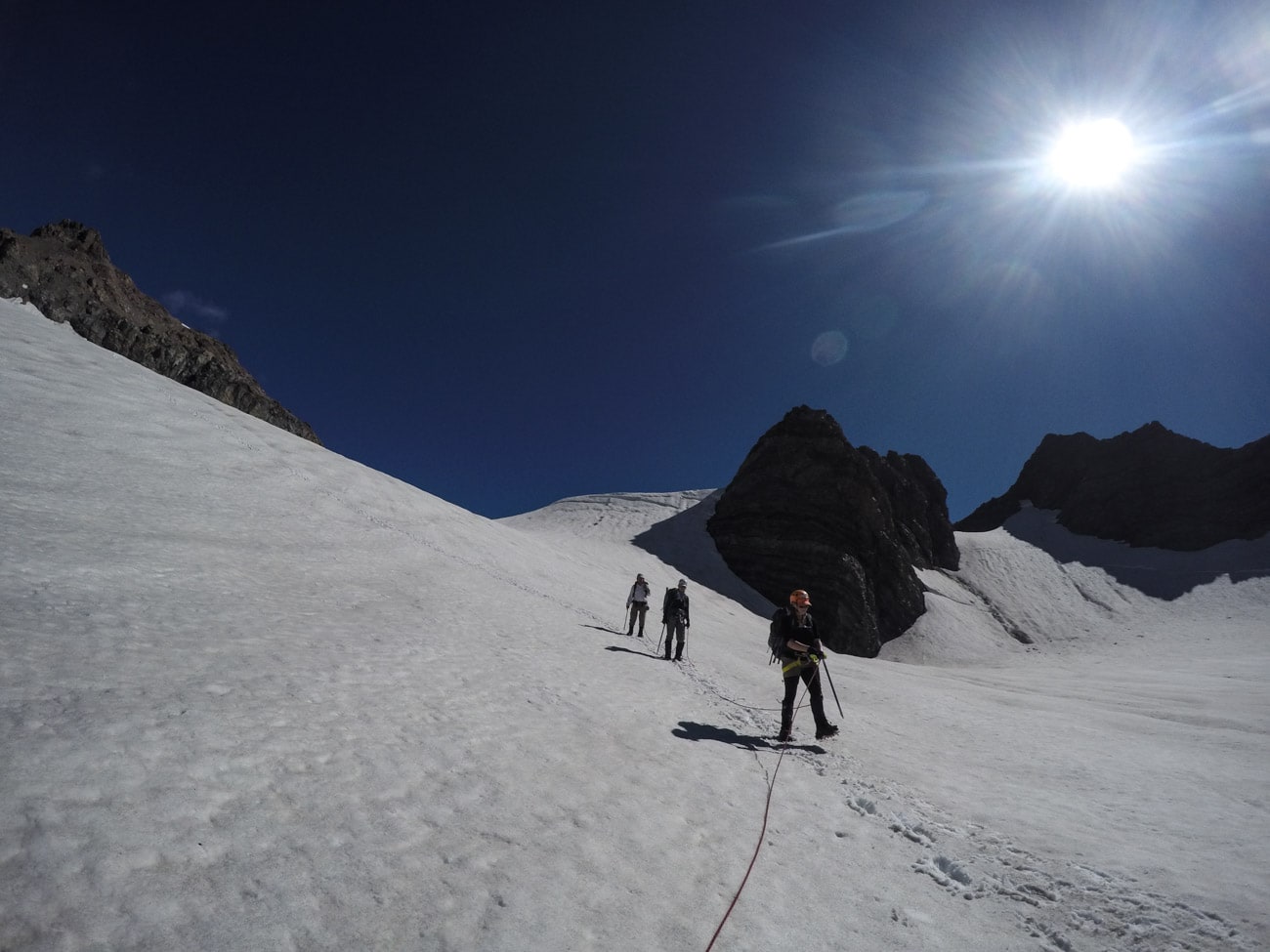 We also got to summit Kaitiaki Peak where we had views of Tasman and Lake Pukakai, Mount Cook, and the Hooker Valley.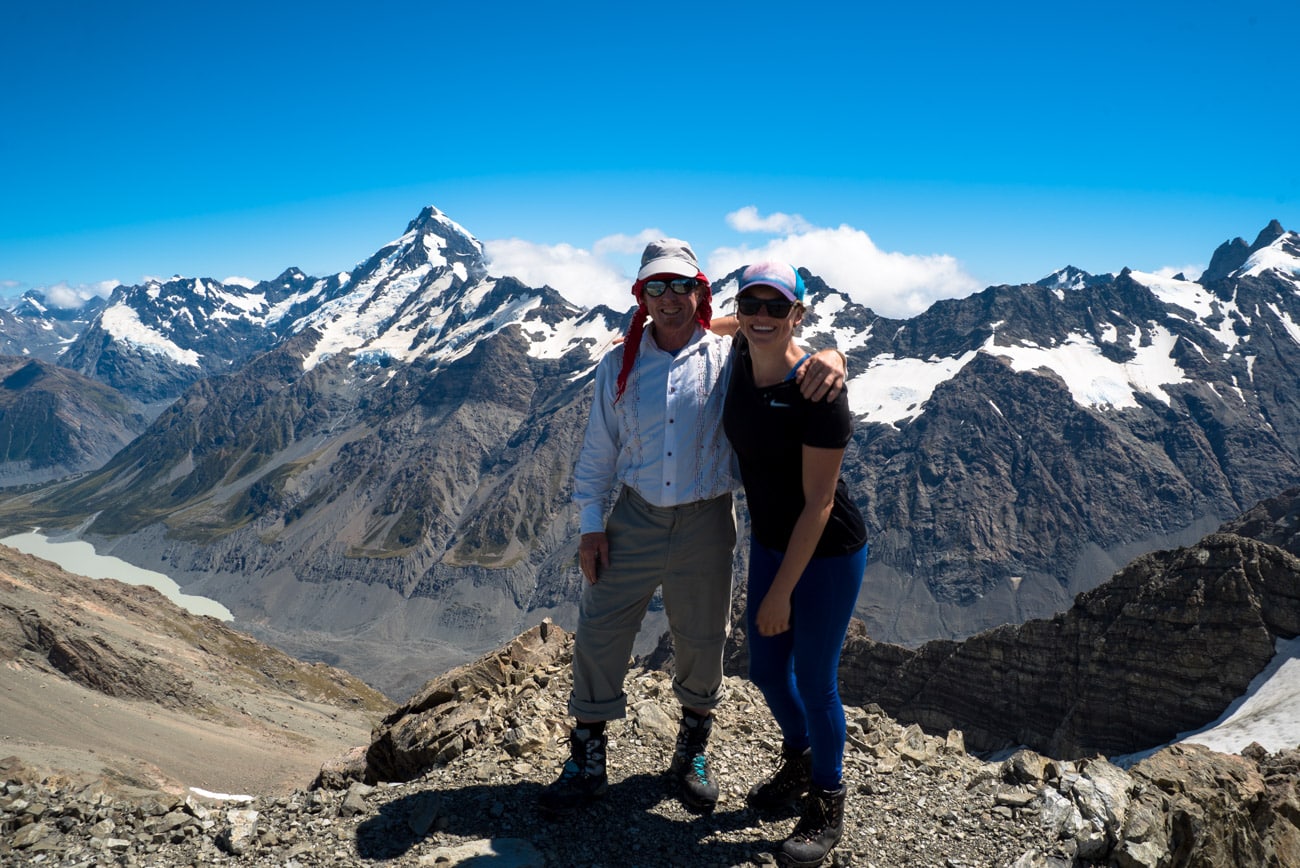 The course was physically challenging (but not so difficult that it wasn't fun) and I came home to the Vanette feeling more confident in my skills and abilities. Tackling a mountain like Rainier – which has been on my Bucketlist for some time (with a guide of course) now seems a lot more plausible.
Stay tuned for more details on the course as well as more travel tips for Mount Cook.
[separator style_type="double|dotted" top_margin="20″ bottom_margin="40″]
— Enjoyed this post? Read more in my New Zealand Road Trip Journal —
[separator style_type="double|dotted" top_margin="20″ bottom_margin="40″]
** Side note: I should also mention that the overall itinerary I've followed is not necessarily the order I recommend you do things in. These recaps are intended to get you excited about New Zealand, put some destinations and ideas on your radar, and are an opportunity for me to share my solo adventures on the road.
Once I get home, in order to help you plan your own trip to New Zealand, I'm going to put together a couple different succinct itineraries for you to follow so you don't waste your time backtracking like me.
[separator style_type="double|dotted" top_margin="20″ bottom_margin="40″]
WHERE IN NEW ZEALAND WOULD YOU LIKE TO GO?
LEAVE A COMMENT, TWEET ME, OR WRITE ME A POST ON FACEBOOK.