New Zealand Road Trip – Wanaka, Queenstown & the Copeland Track
Weeks 8-9 of my solo New Zealand road trip included camping on the summit of Isthmus Peak, soaking in hot springs at the Welcome Flat Hut, kayaking Queenstown, and hiking Mount Roy. Follow along on my adventures in my road trip journal.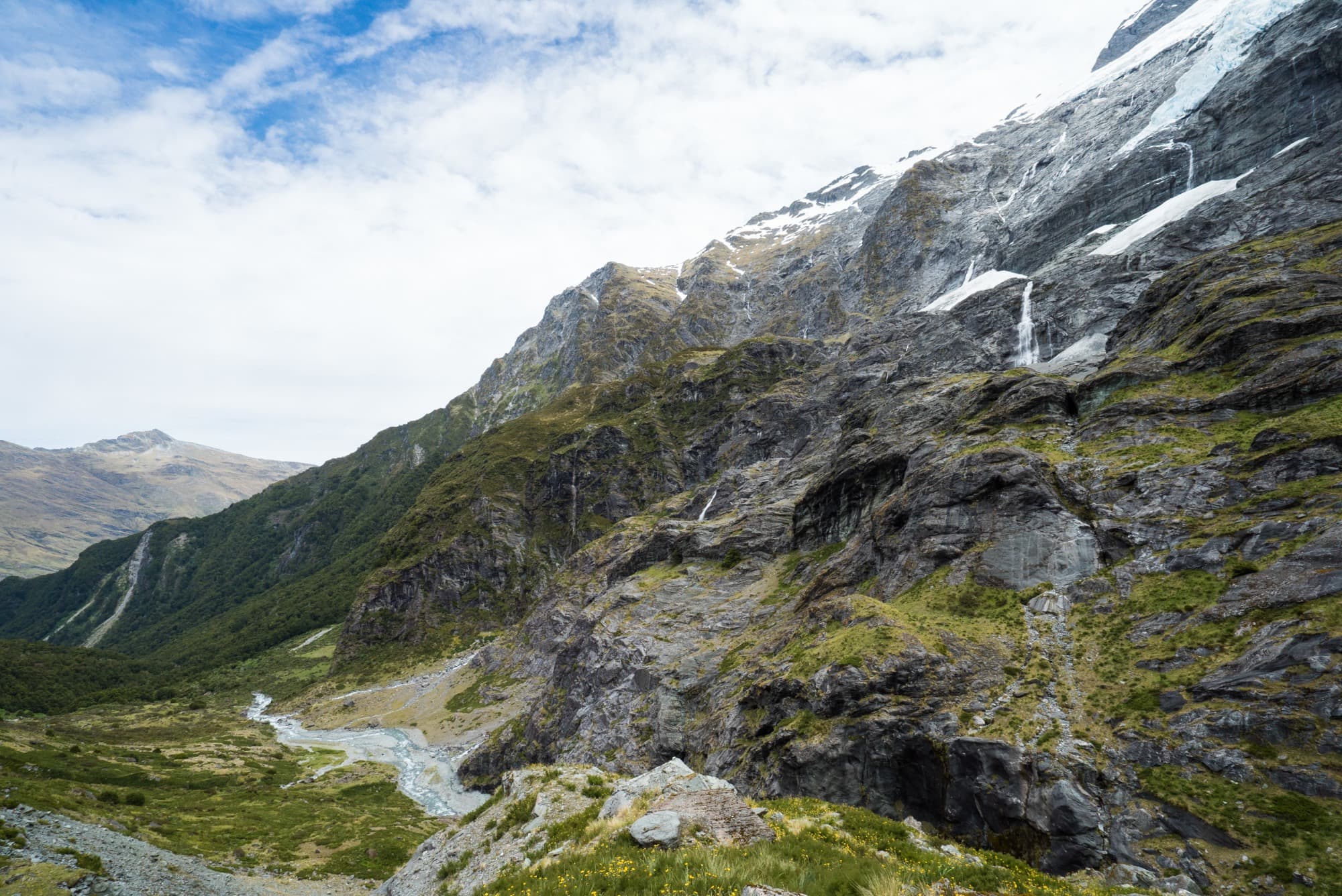 I'm two months down in my New Zealand road trip, and weeks 8 and 9 handed me some new adventures in Queenstown and Wanaka, a night of booty-shaking to live music at Peregrine Winery, and an epic overnight backpacking trip to Welcome Flat Hot Springs on the West Coast.
** If you're playing catch-up, you can check out the rest of my week-by-week road trip recaps here**
[separator style_type="icon" top_margin="20″ bottom_margin="40″ /]
Kayaking, Hiking, and Dancing in Queenstown (Days 54 – 57)
After my Mountaineering Course at Mount Cook, I headed back to Queenstown for a few days to finish up some things that I still wanted to do in the area.
[separator style_type="single|dotted" top_margin="20″ bottom_margin="40″]
— Kayaking on Lake Wakatipu —
It has been a breeeeezy summer in Queenstown, but the gusts finally died down and there were a few days when the water was like glass. I seized the opportunity to put my portable Oru Kayak together and took it for a spin on the lake. To learn more about how this kayak works, see my full Oru Kayak review and timelapse video.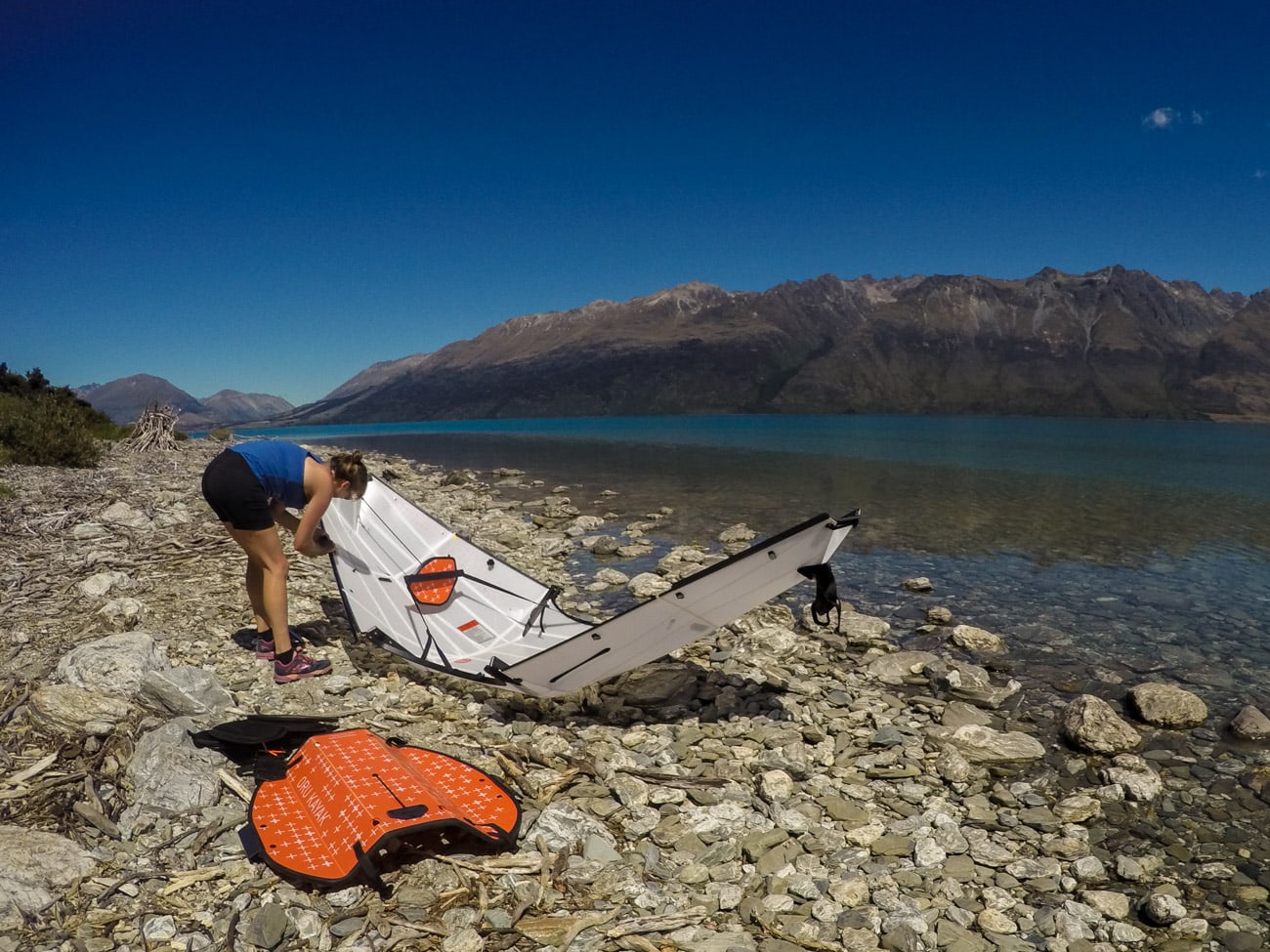 The lack of wind also meant that it was hot hot hot, so I spent a couple of afternoons at Sunshine Bay just a few km out of town and did a little swimming and sunbathing (although mostly in the shade since there's no ozone layer here).
[separator style_type="single|dotted" top_margin="20″ bottom_margin="40″]
— Hiking to Lake Sylvan —
I spent a couple of days hiking out near Glenorchy. It's a bit of a drive from Queenstown, but a beautiful one….so no big deal.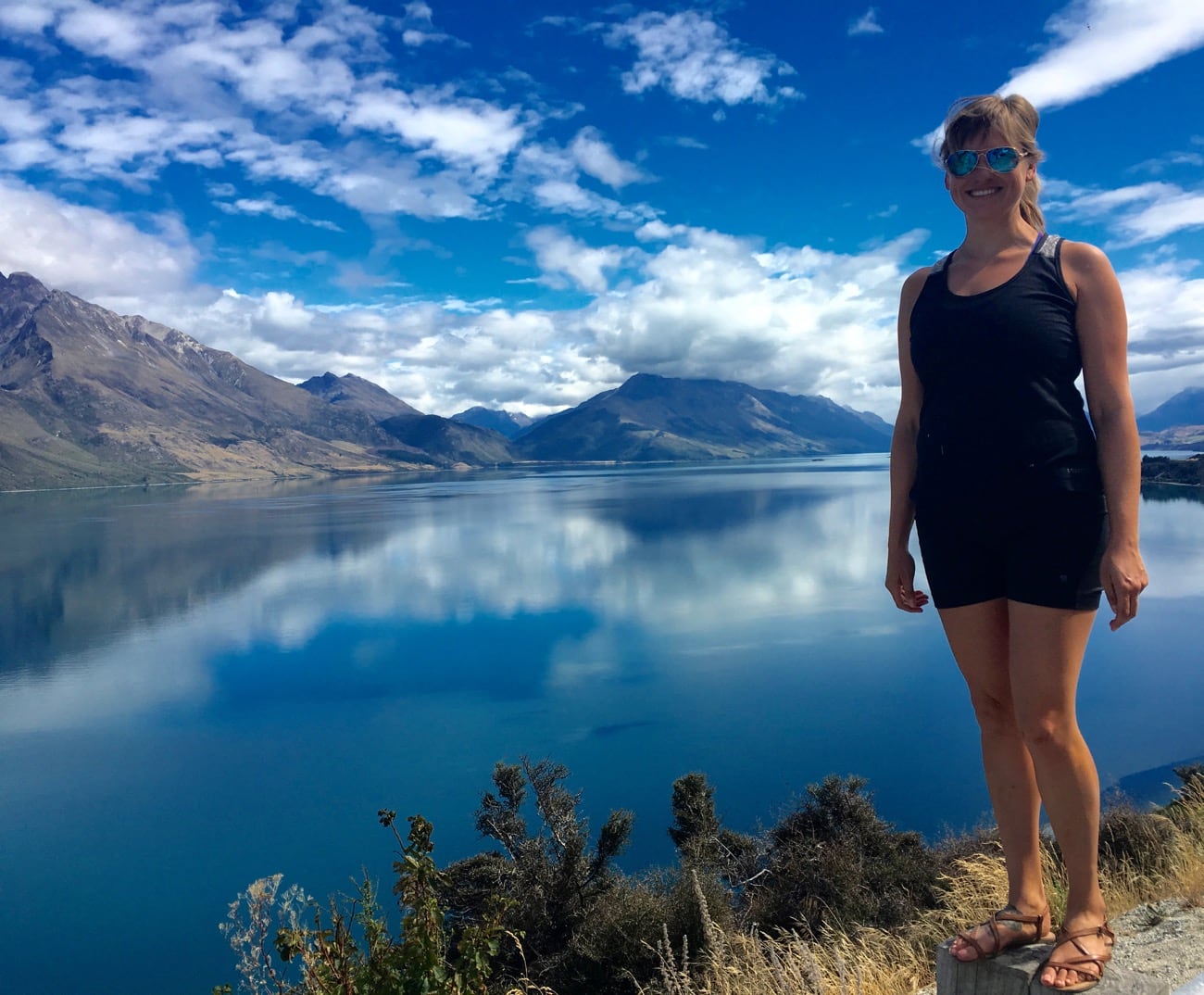 The first day, I was driving out of Queenstown and saw a couple of backpackers on the side of the road with a sign that said "Glenorchy." My van was a disaster and they looked a little…well…ragged. So I drove by them, but then the guilt immediately set in since I was going exactly where they were trying to hitch a ride to. I also didn't have an exact trail in mind, so I wasn't in a hurry to get anywhere. The next opportunity, I flipped a bitch and pulled over. By the time I made room, they had caught up to me and I offered them a ride.
The gal's name was Sabrina, and she was a Physicians Assistant from Ashland, Oregon. I can't remember the French gentleman's name, but their story was so cool. Four months prior, they met while they were both camping on the Napali coast on Kauai. They immediately hit it off, spent a couple of days together, and had kept in touch after that trip despite being an ocean apart. They reunited the day before in Queenstown, and they were on their way to hike the Routeburn Trail together, one of New Zealand's Great Walks.
I was stoked to spend a little time with them and ended up driving them all the way to the trailhead despite being a bit out of the way. In doing that, I stumbled across another trail to Lake Sylvan. Hiking to a lake sounded nice, so I drove down the short dirt road, parked, and set off on foot.
It only took about 40 minutes of easy forest hiking to reach the lake, and once I got there I found a secluded pebble beach to relax on.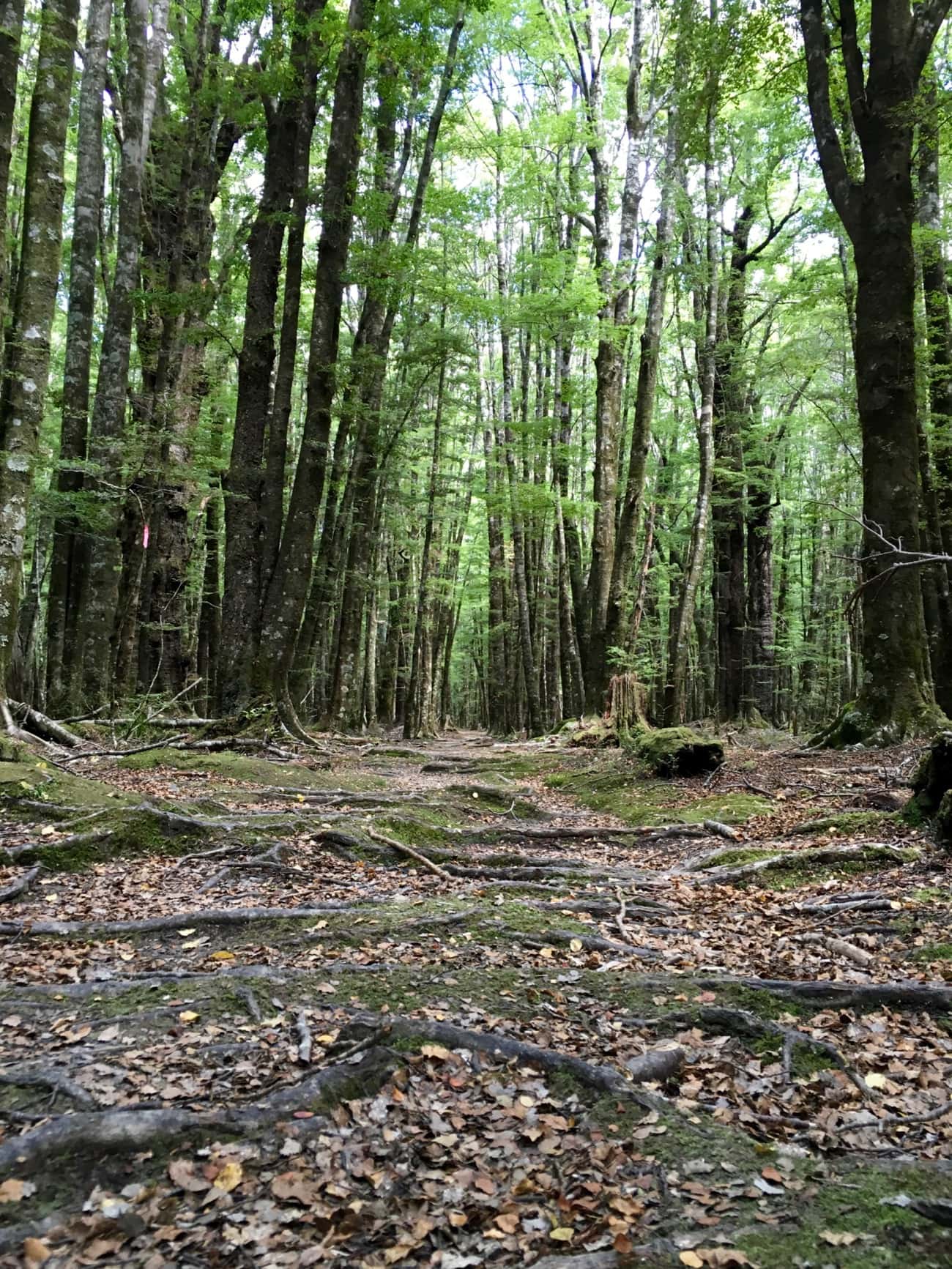 This hike seemed to be fairly off-the-beaten-path, and was a nice way to spend an afternoon. The trailhead was also the site of a nice DOC riverside campground that would be a good place to spend a night before or after the Routeburn if you don't want to drive all the way to Queenstown.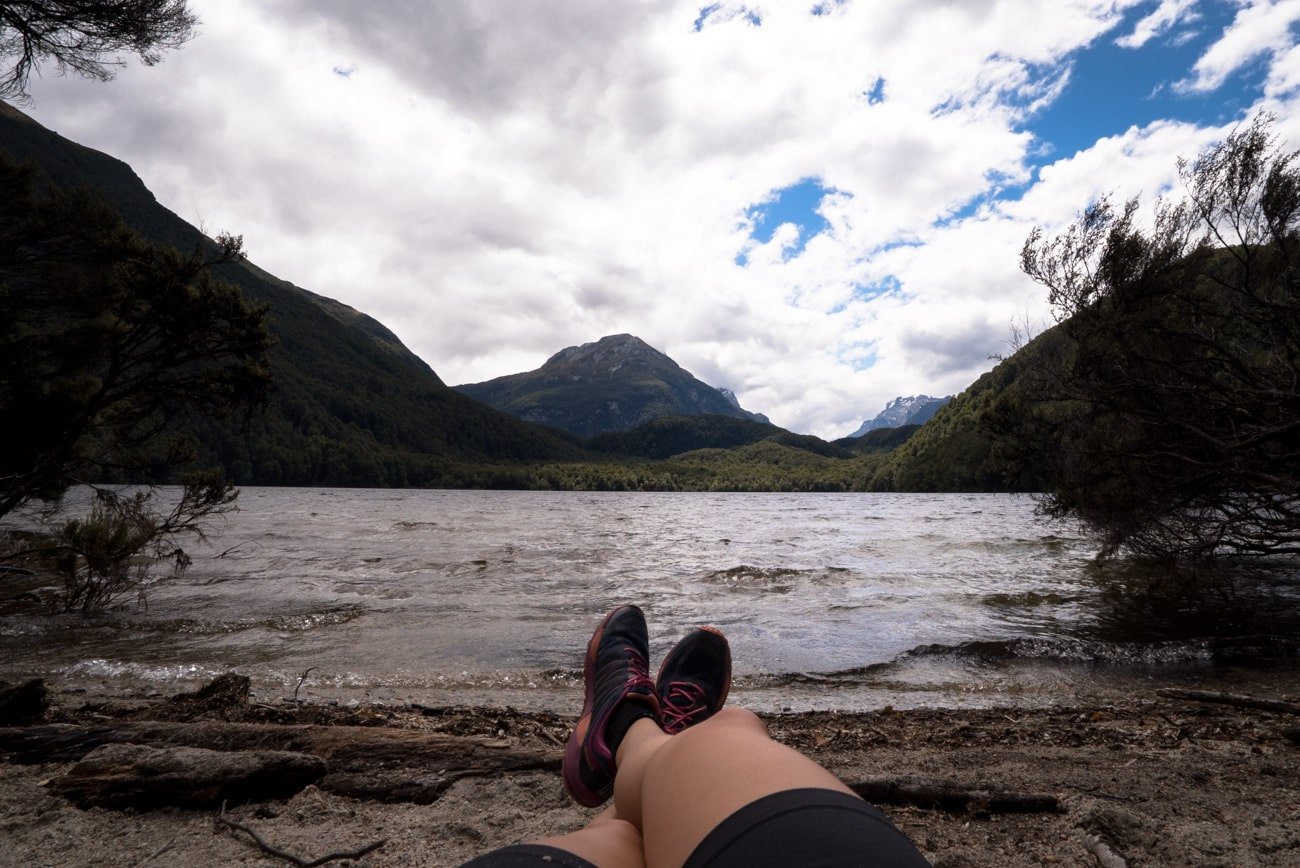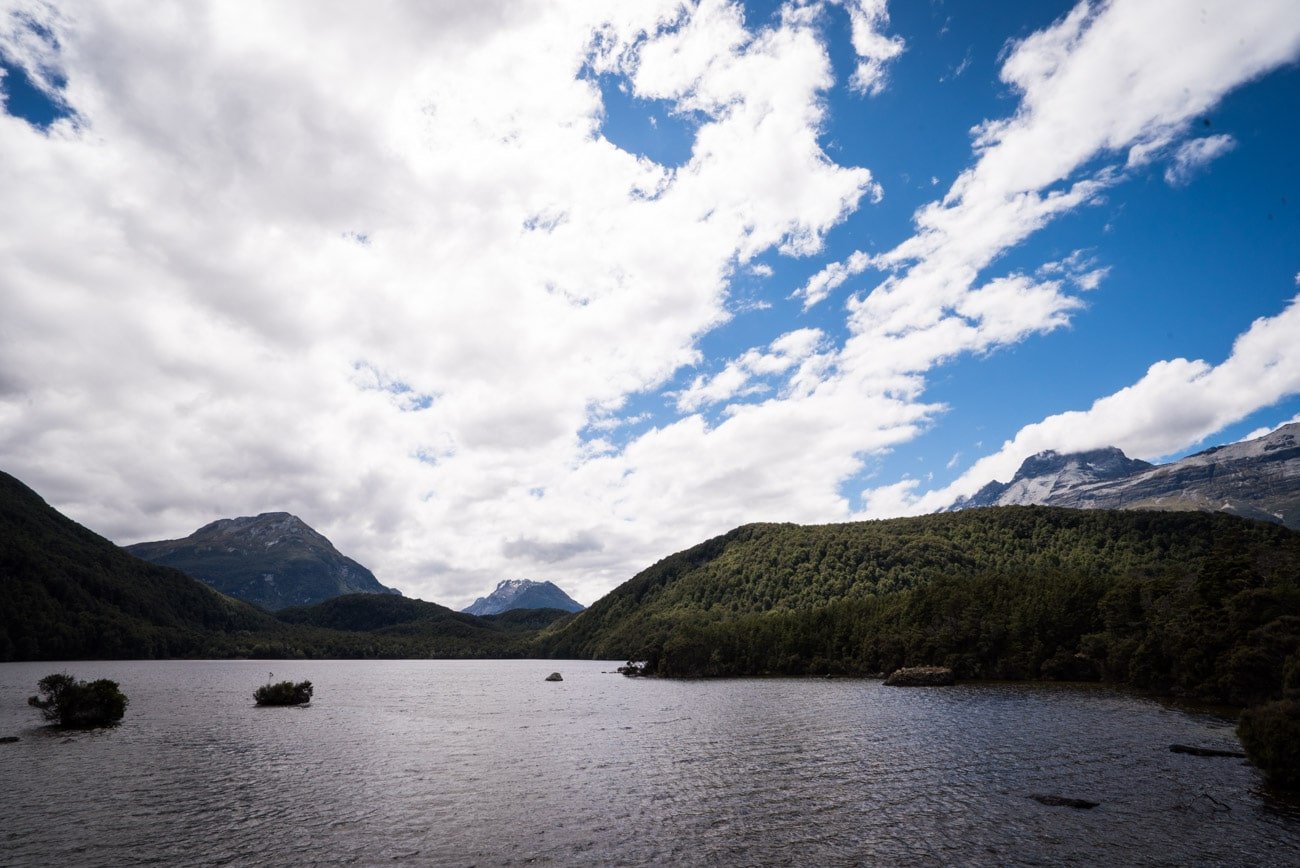 [separator style_type="single|dotted" top_margin="20″ bottom_margin="40″]
— Hiking Mount Alfred —
When I got back to Queenstown earlier in the week, I connected with a fellow Utah Instagrammer named Cassidy (@cassidyexplores), and we made plans to meet up and hike to the top of Mount Alfred (thanks to a recommendation from a Bearfoot Theory reader!). So I picked him up at his hostel, and we caravaned with two of his other friends out to the trail, once again past Glenorchy.
From the moment we started, the trail was steep and didn't really let up until the summit. Unfortunately trail info here is pretty limited….usually the DOC guides just say how long they expect the hike to take, and in this case it was 6-8 hours. I did find another site that said the hike up Mount Arthur covers about 3,000 feet of elevation gain in 4.1 miles round trip, but I can't confirm that's true.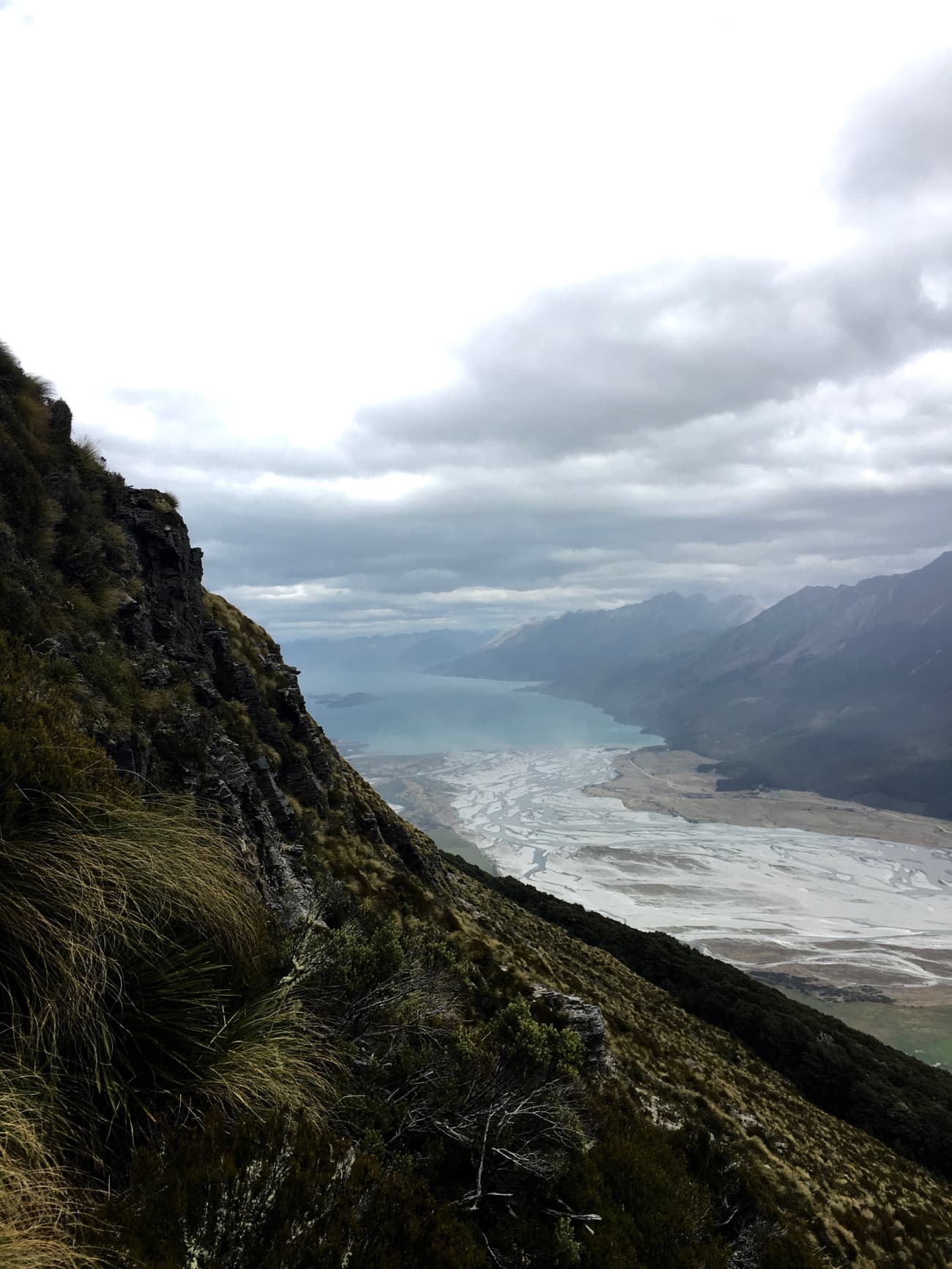 The hike ended up taking us about 5 hours round trip, but it was windy and kinda rainy at the top, so we didn't really hang out. We also lost the trail coming down, so if you do this hike, make sure to pay attention to where the trail descends from the ridge.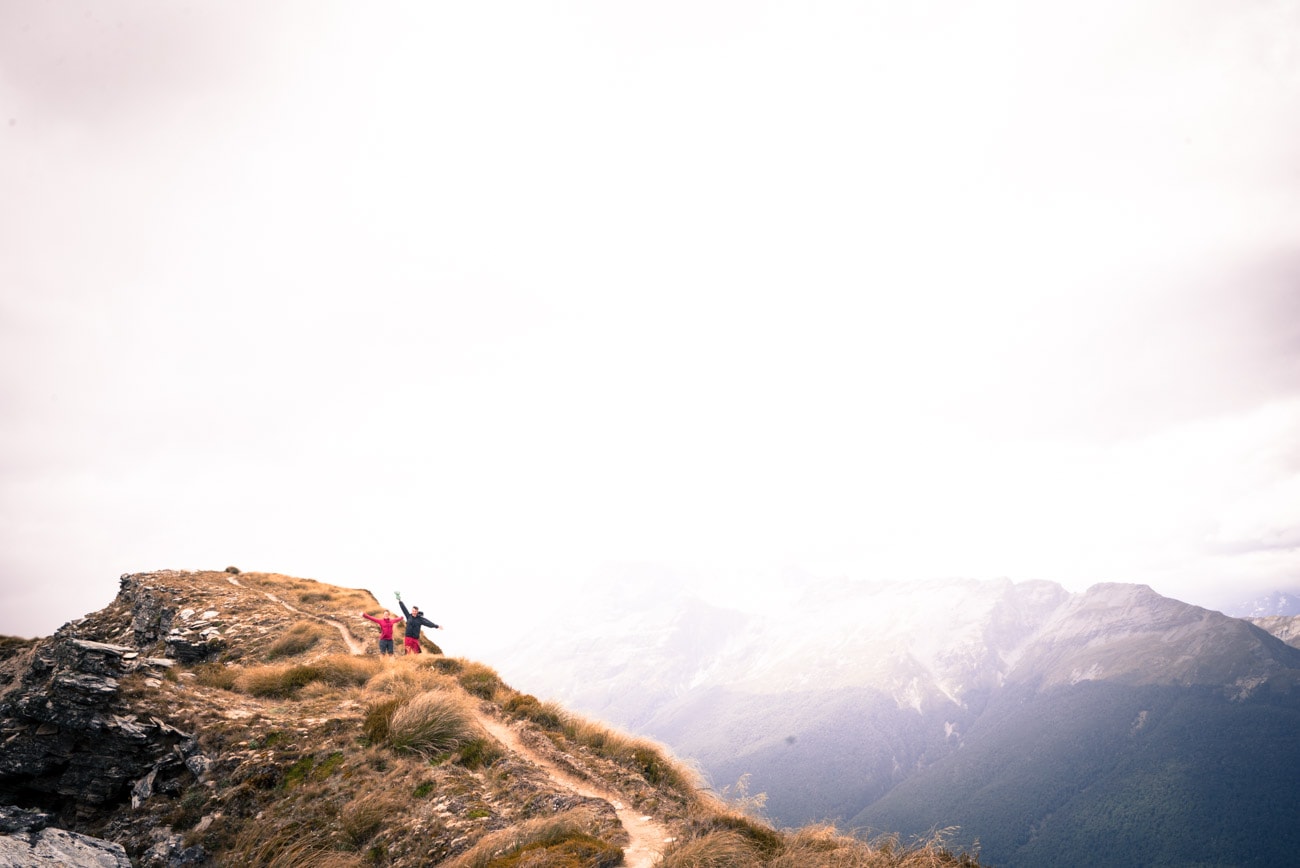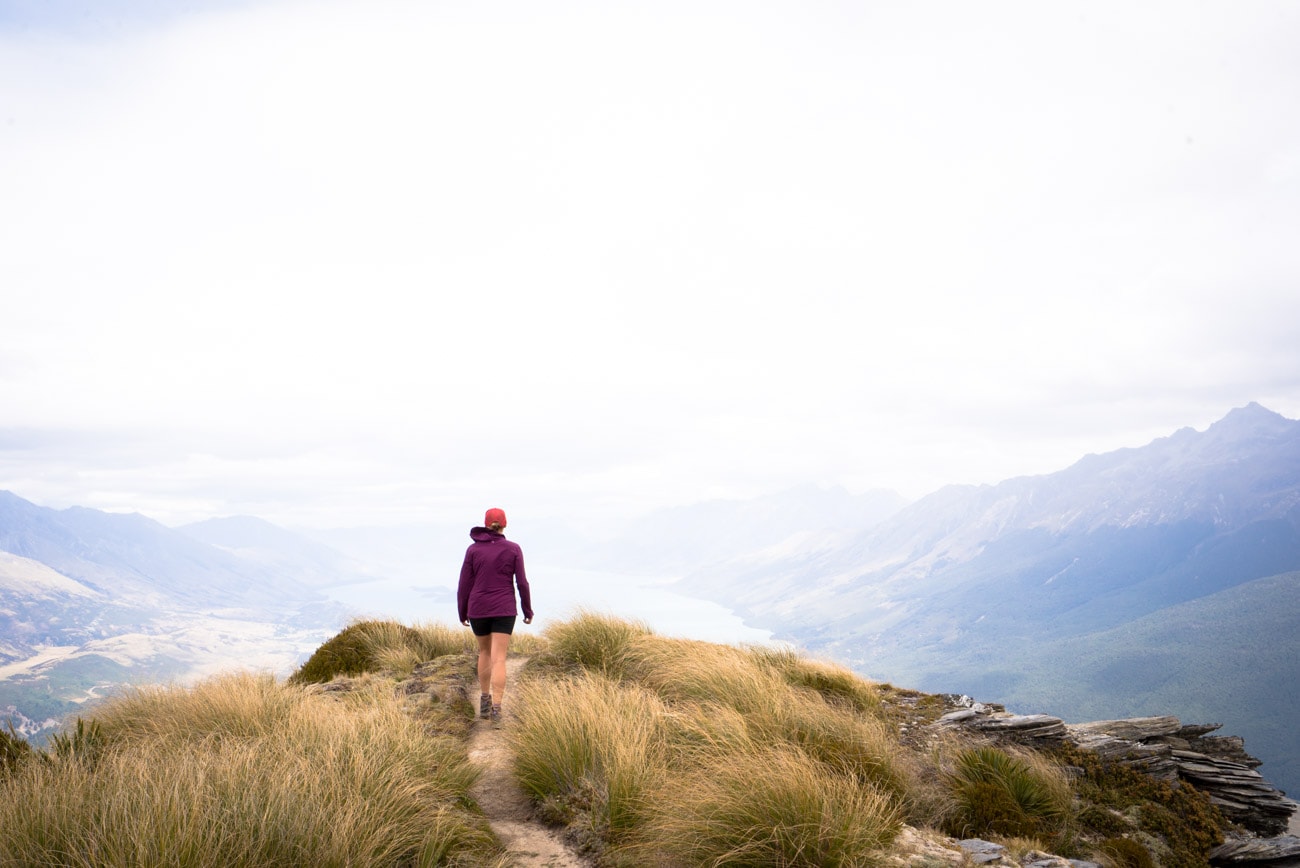 I didn't get too many pics because of the weather, but I think on a clear day you can see all the way down to Fjordlands National Park. It was a slight bummer that we didn't get the views, but hey…this is New Zealand where the weather can change in the blink of an eye, and I still had a blast meeting up with other inspiring travelers who are making life work outside of the conventional 9-5 grind.
[separator style_type="single|dotted" top_margin="20″ bottom_margin="40″]
— Glass Making Class with Queenstown Hot Glass —
Another really cool thing I got to do this week was to link up with local glass artist Rex Charlesworth, the man behind Queenstown Hot Glass. He owns a small glass making studio near Bob's Cove where he makes jewelry and teaches workshops where students get to play with fire and learn how to make glass beads. I got to spend an hour one-on-one with Rex where he taught me all about the glass making process and let me get behind the torch. Not only was a perfect way to give my legs a rest and explore my creative side, in a town where most of the work force consists of foreign tourists on temporary work visas, it was super cool to connect with a Kiwi resident and get the inside scoop.
I got hooked up with Rex using LocalEyez, a new company who is working to connect tourists with local guides and creatives for a one-of-a-kind Kiwi experience that you won't find in the guidebooks. You can poke around their website which is adding new experiences every day, or you can contact them directly and tell them what kinds of experiences you are into, and they can set you up with something that fits the bill.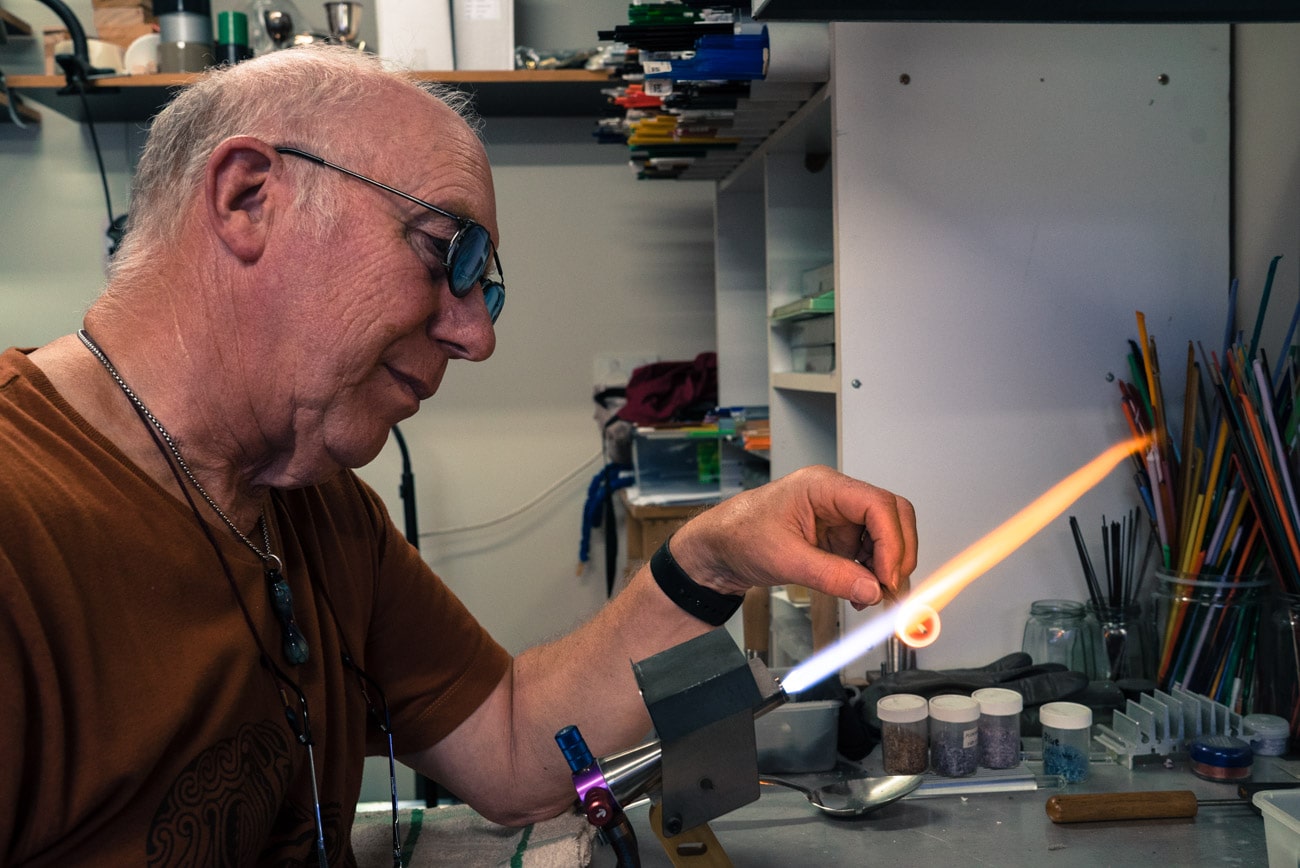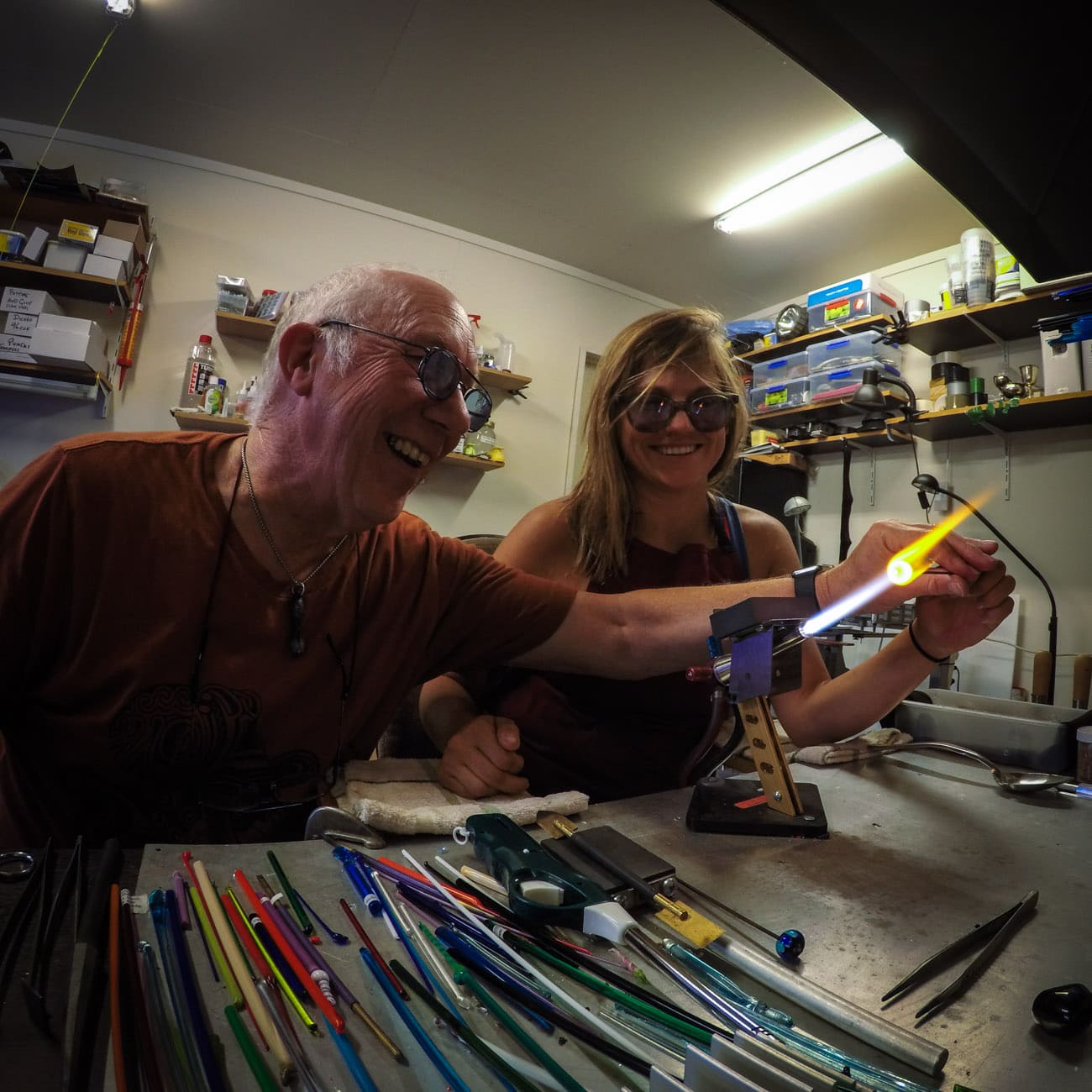 [separator style_type="single|dotted" top_margin="20″ bottom_margin="40″]
— Fat Freddy's Drop concert at Peregrine Winery —
One of the things on my New Zealand Bucketlist was seeing some local live music. I went to the Rhythm and Alps Festival near Wanaka for New Years, but I really wanted to catch Fat Freddy's Drop while I was here. Their music covers a bunch of different genres – reggae, electronic, funk, soul. I love their horns section, and the singer has such a smooth voice. I've seen them twice in the states, and both times were a major dance party. So when I found out that they were playing at a winery near Queenstown, I couldn't pass it up.
Peregrine Winery is located between Queenstown and Cromwell along the beautiful Kawarau River. I was accompanied by one of my new friends from Queenstown, and we got there with plenty of time to grab some wine before the show. They were selling wine by the bottle for $27 (a steal for this type of venue!), and the dry Pinot Gris hit the spot on that hot sunny evening.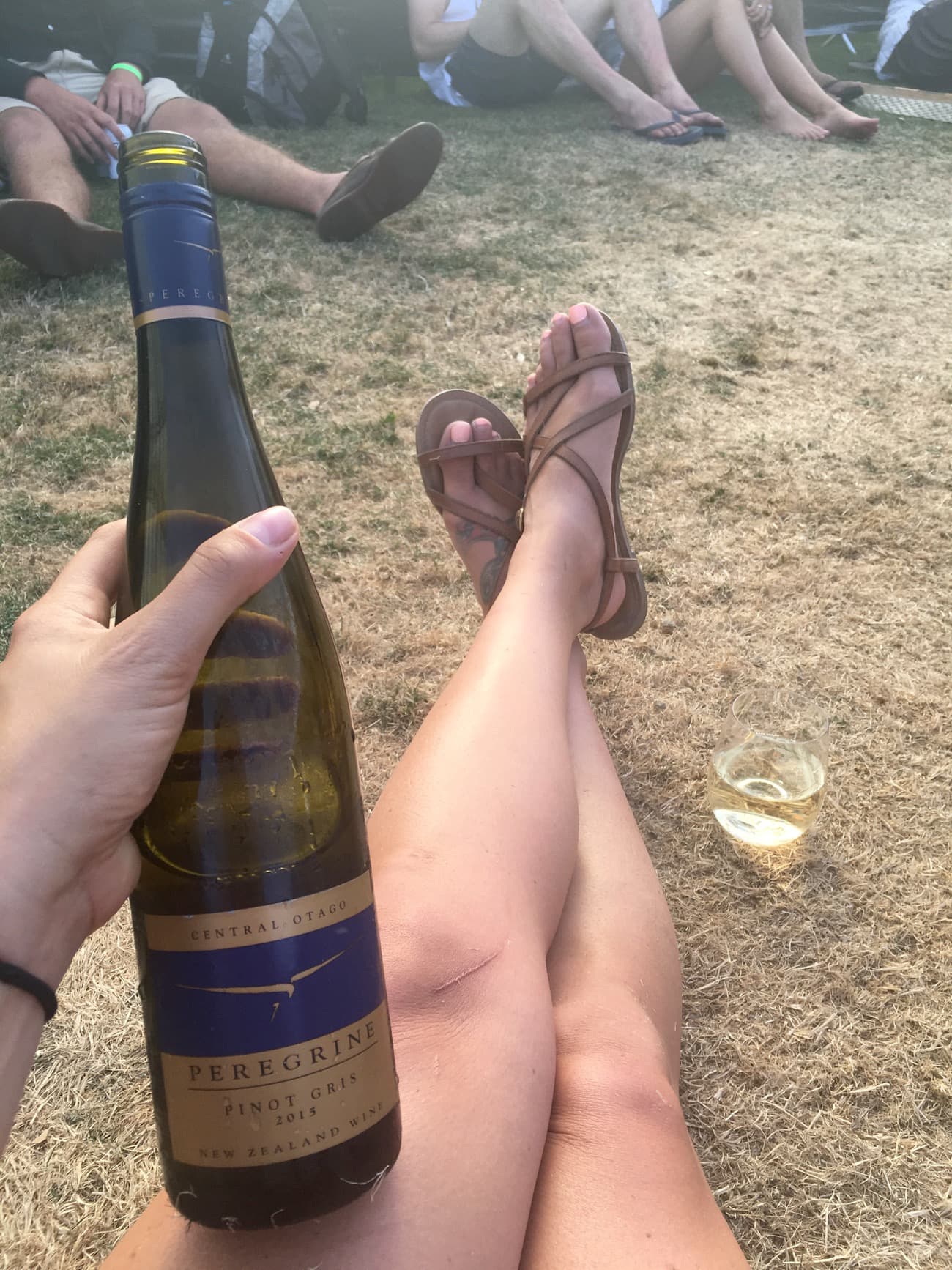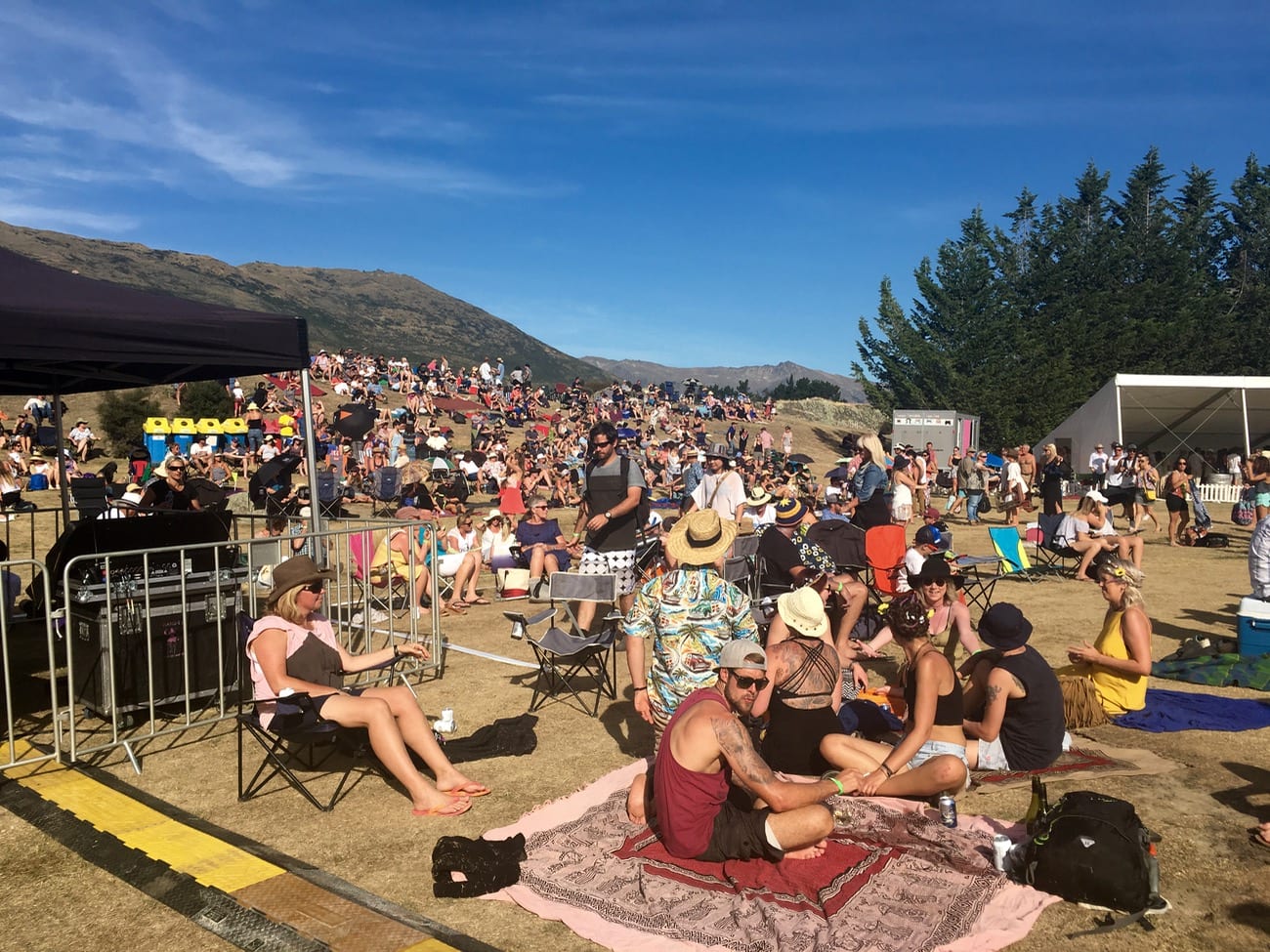 I wasn't really sure what to expect in terms of the crowd, but it ended up being a pretty wild party with a ton of locals. I also met up with a couple of Bearfoot Theory readers named Julie and Ben who were traveling through the area and connected with me on Facebook. We had a blast dancing in the crowd and singing along to some of my favorite tunes. If you haven't heard of Fat Freddy's Drop, make sure to check out their music.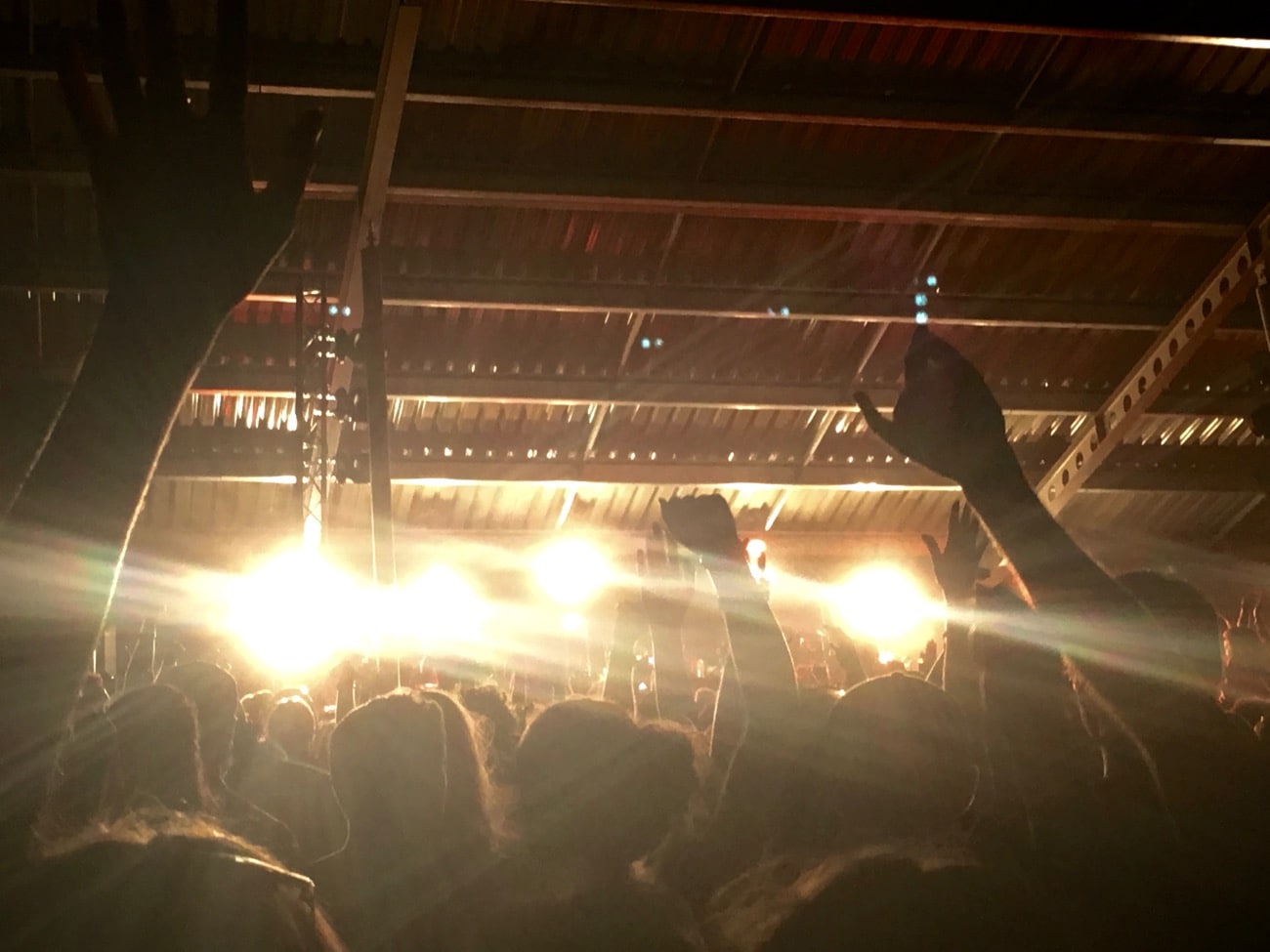 I decided driving was not a good idea after the show, and luckily the Vanette provides a comfy home wherever I need one. And that night, home was the grassy parking lot at the winery.
[separator style_type="double|dotted" top_margin="20″ bottom_margin="40″]
Beachin' it on Lake Wanaka & Camping on Isthmus Peak (Day 58 – 59)
The morning after the Fat Freddy's show, my friend and I woke up early and drove 45 minutes to Wanaka where there were a few things I still wanted to cross off my list.
[separator style_type="single|dotted" top_margin="20″ bottom_margin="40″]
— That Wanaka Tree –
First, we went to check out That Wanaka Tree. If you are on Instagram and follow any New Zealand people, you've probably seen pictures of this tree. This lone tree that lives about 50 feet offshore in the lake is famous. I took a couple of pics and then whipped up a beach-front egg breakfast.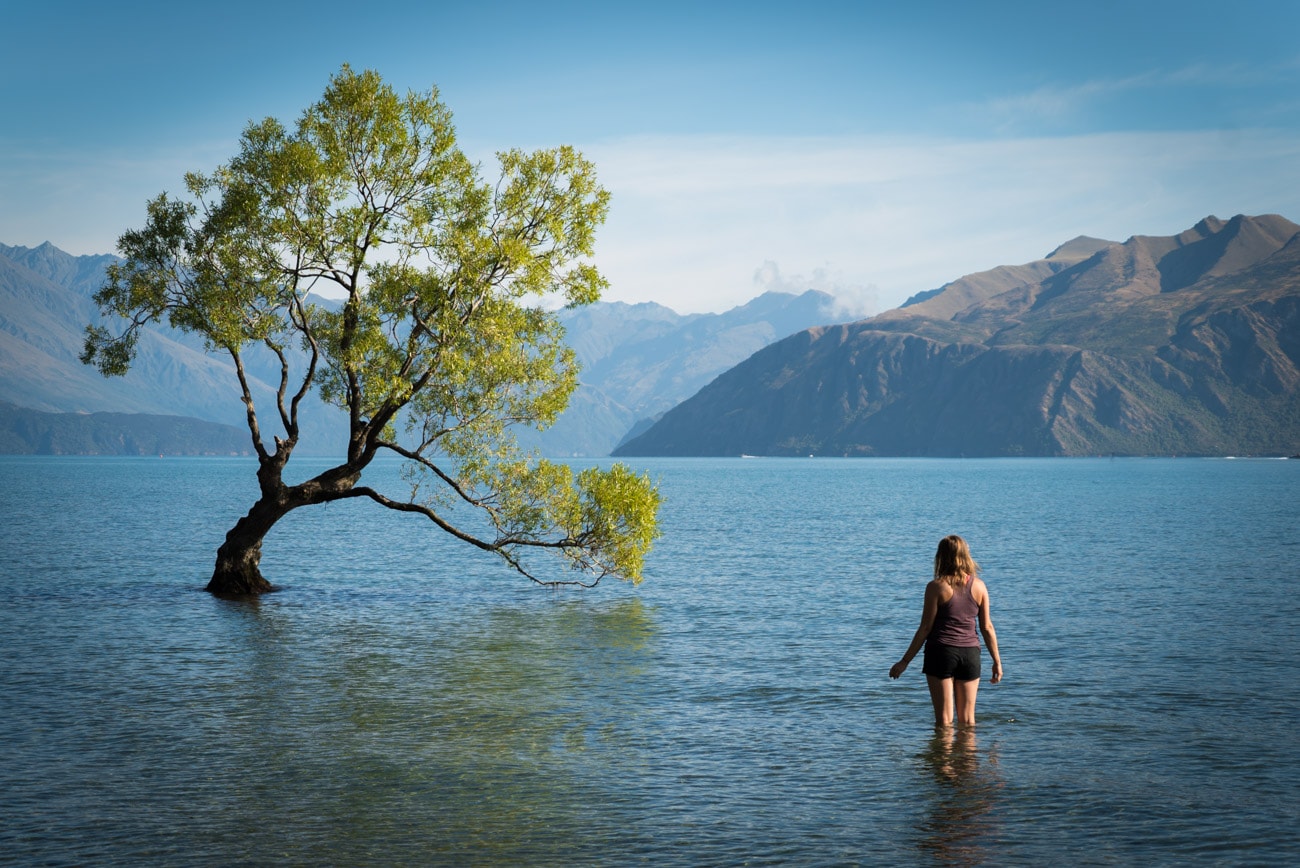 [separator style_type="single|dotted" top_margin="20″ bottom_margin="40″]
— Kayaking off Beacon Point Road —
Next we wanted to take a dip. Wanaka has a ton of plans to swim and hang on the beach, but if you are looking to get off the main drag, there is a nice cove off of Beacon Point Road. The water here is shallow, meaning it stays a little warmer than other areas I've swam. We found a place in the shade (which there isn't too much of at this spot), made lunch, drank a couple of beers, put together my ORU Kayak, listened to some tunes on my bluetooth speaker, and swam. Like actually swam….not just a quick jump in, jump out. New Zealand has been a little on the chilly side for "summer" so far, but this day really felt like that warm summer day that I had been craving.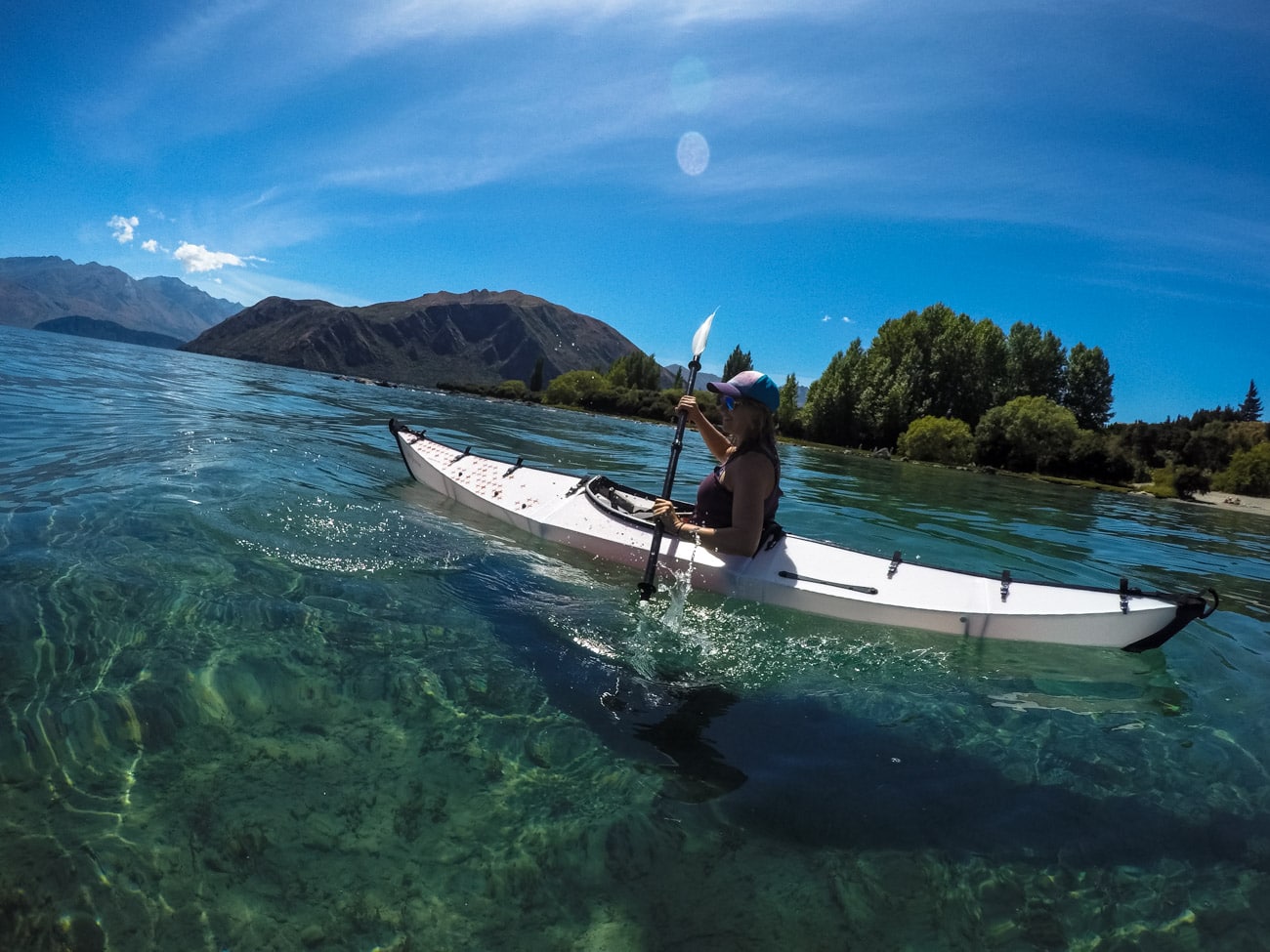 [separator style_type="single|dotted" top_margin="20″ bottom_margin="40″]
— Camping on Isthmus Peak —
After recovering by the water, we had plans to go hiking. The van has made me very lazy when it comes to camping out. It's just so warm, (relatively) comfortable, and quiet. But I brought my tent with me to New Zealand, and I thought it was about time to spend a night under the stars. There's a couple of good peaks you can camp on near Wanaka, and a local photographer I met a month prior recommended Isthmus Peak. So we decided to hike up there for sunset, camp, and then catch the sunrise from the summit.
We started the trail around 5pm, and it was still blistering hot. We had just over 3,000 vertical feet (1,000 meters) and 5 miles (8 km) to the summit. The trail was steep but well-graded with gorgeous views of Lake Hawea the entire time.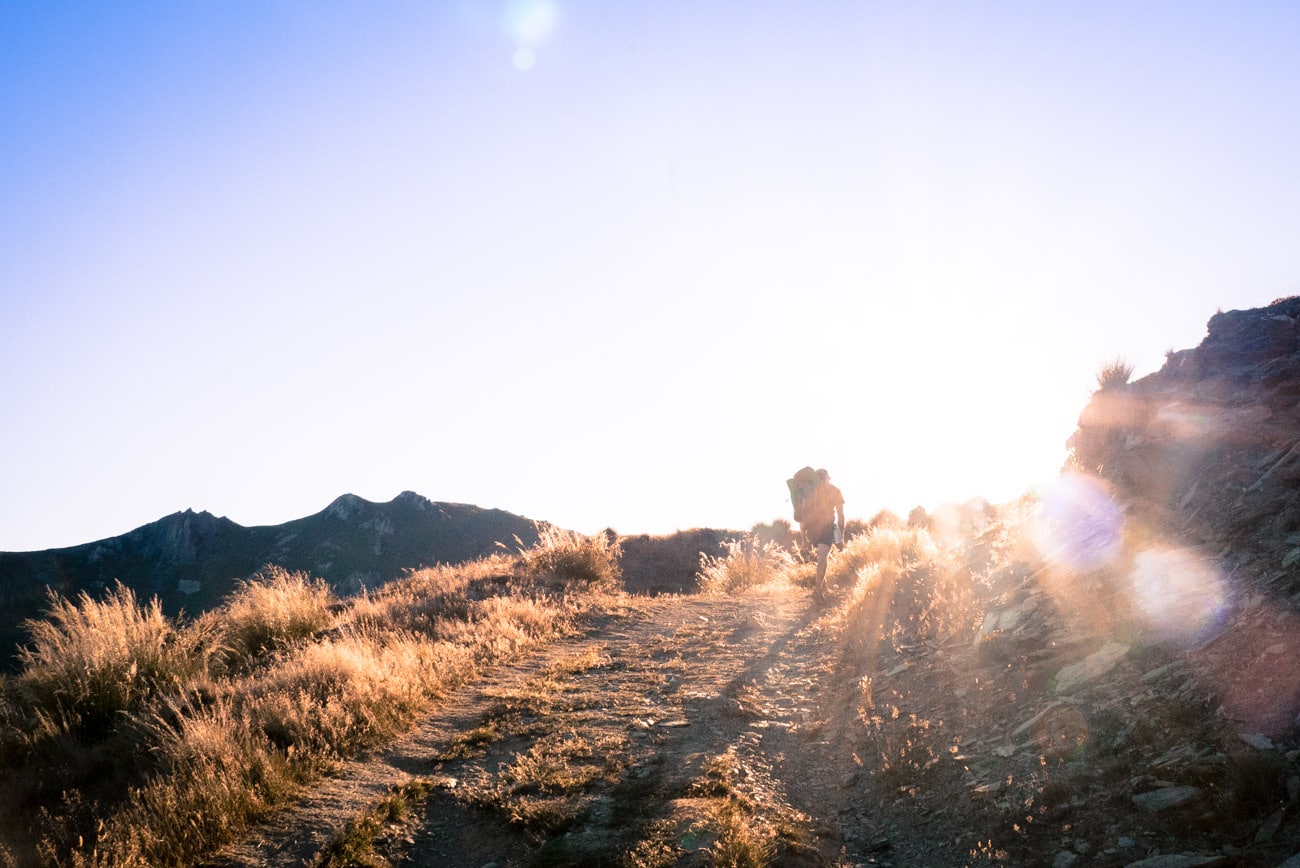 We arrived at the windy summit which straddled Lake Hawea and Lake Wanaka just in time for sunset. We cracked open some wine and enjoyed the evening light before setting up the tent and cooking up a couple of delicious (and way too filling) backpacker meals.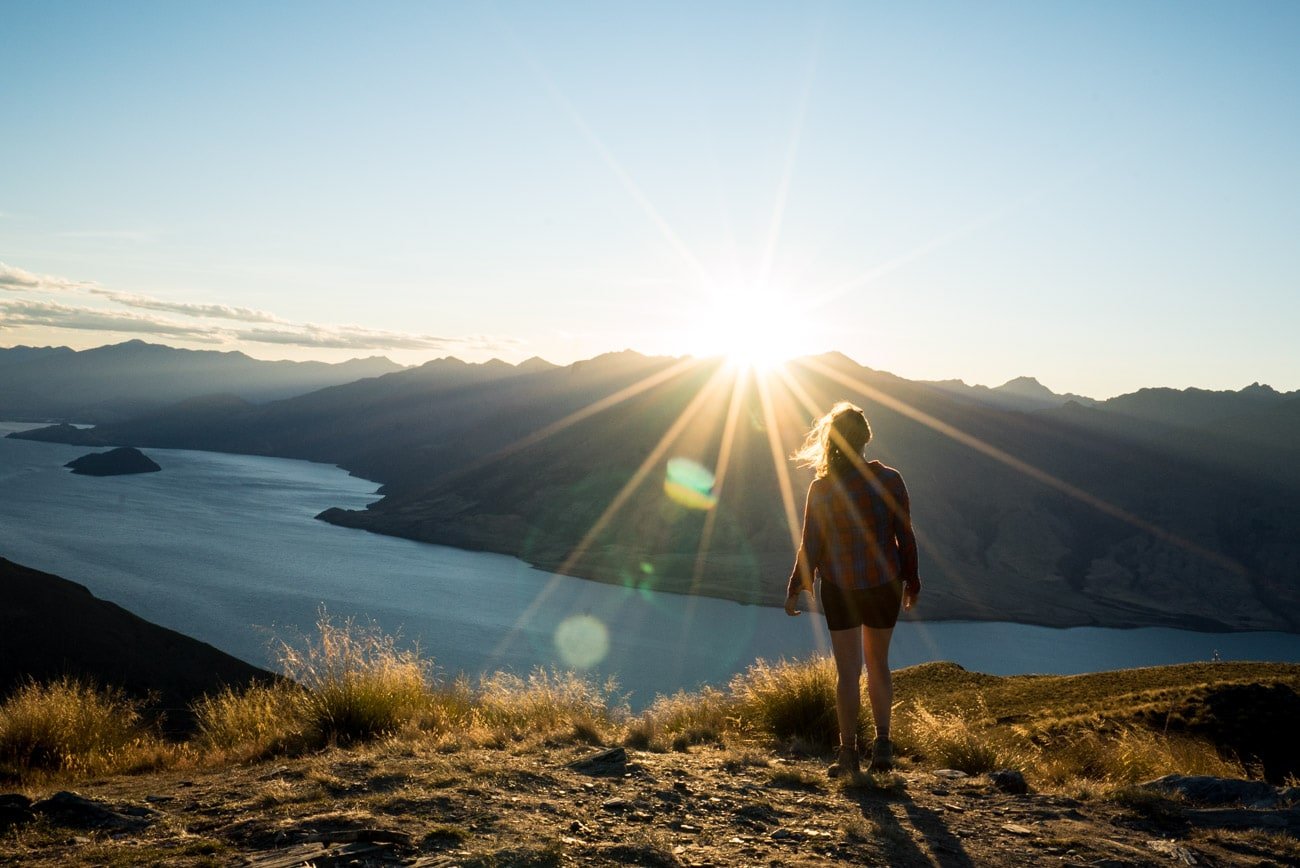 I had hoped to get some photos of the stars, which ended up being epic, but it was so damn windy that my tripod wouldn't have been still enough for the long exposure. I'm blaming it on my tripod, but I also didn't feel like standing out in the cold, roaring wind in the middle of the night.
Then sunrise rolled around. I managed to roll out of bed to take a few pictures, but the wind was still howling. I didn't last too long out there before I decided to crawl back in my sleeping bag and watch the rest of the sunrise half asleep from the tent.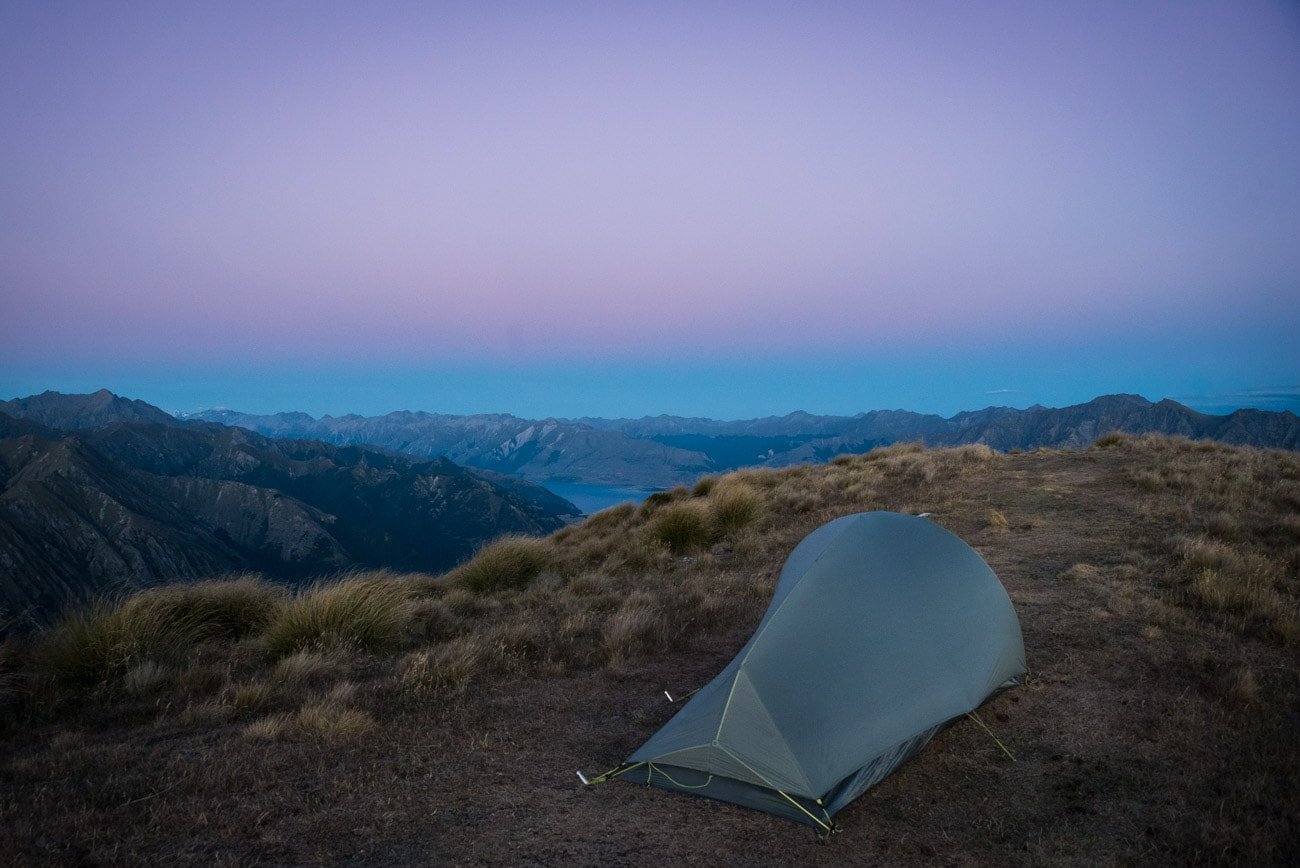 Once we finally got up, we cruised down the hill a lot faster than it took us to get up (stay tuned for a full trail guide that's coming soon on the blog!).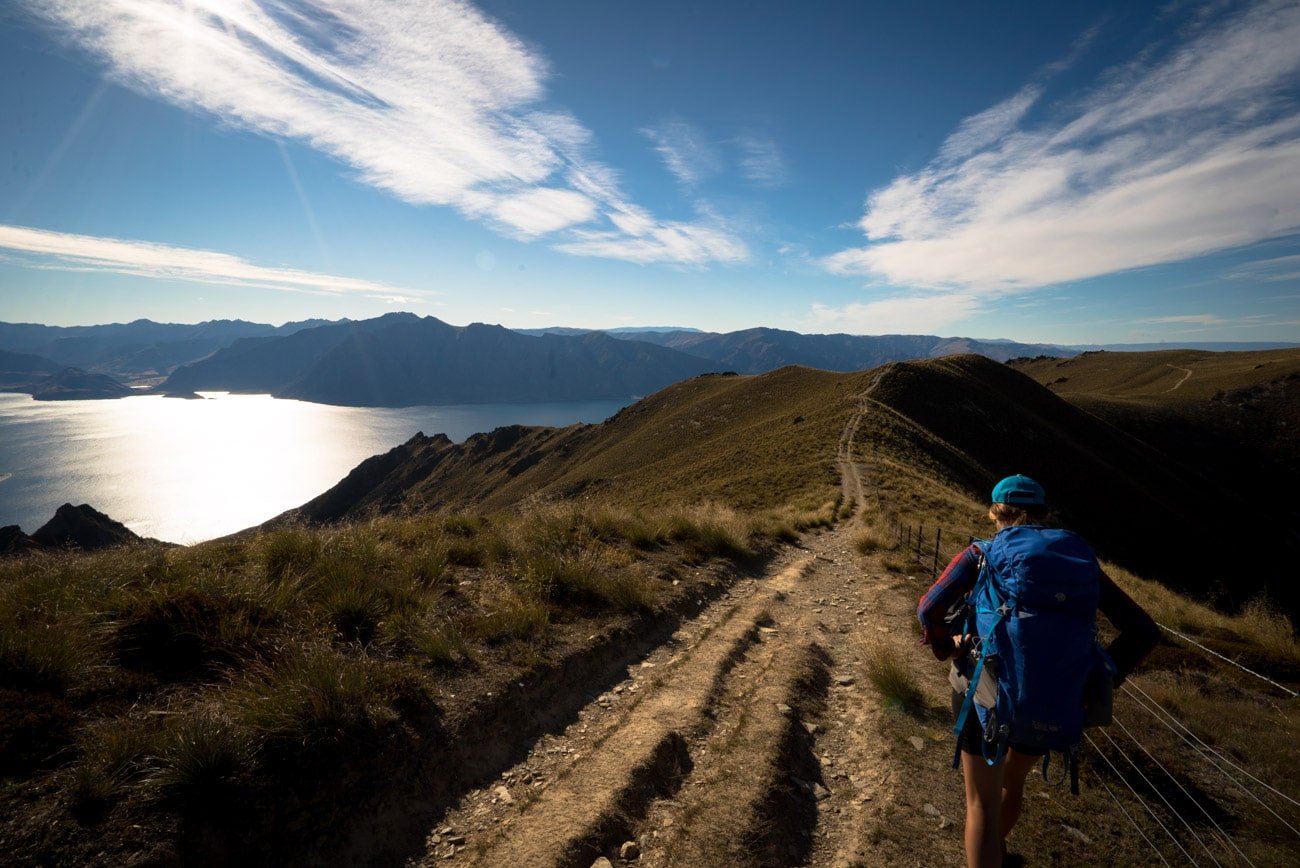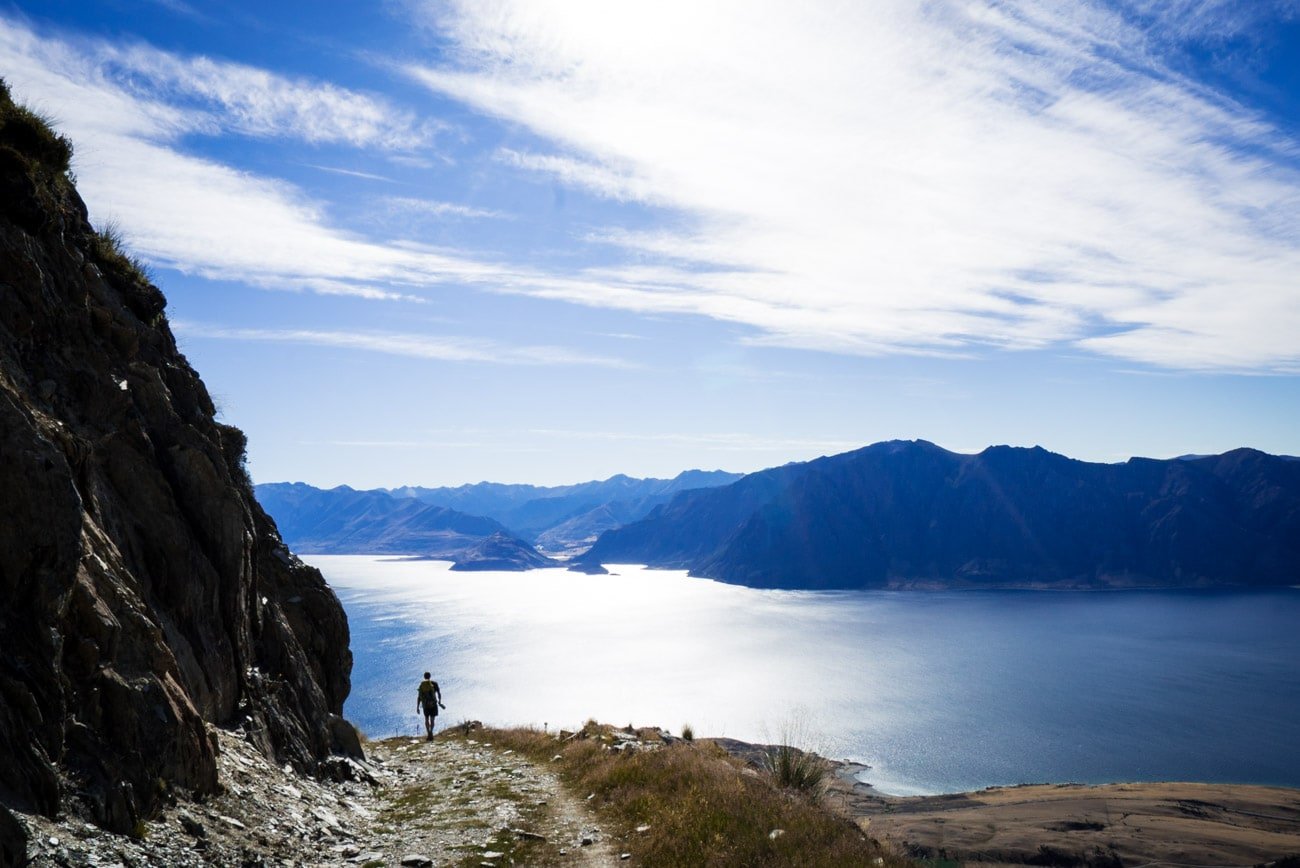 Once back at the Van, we drove into Wanaka for breakfast and coffee and then decided to squeeze in a little climbing out at Hospital Flats. I tackled what was a pretty challenging route (for me), and then we were ready for another swim. My friend remembered a spot up on the Motatapu River that was about 15 minutes from the main road near Glendhu Bay. We found a pretty little canyon, cold swimming, and some fun cliffs to jump off of.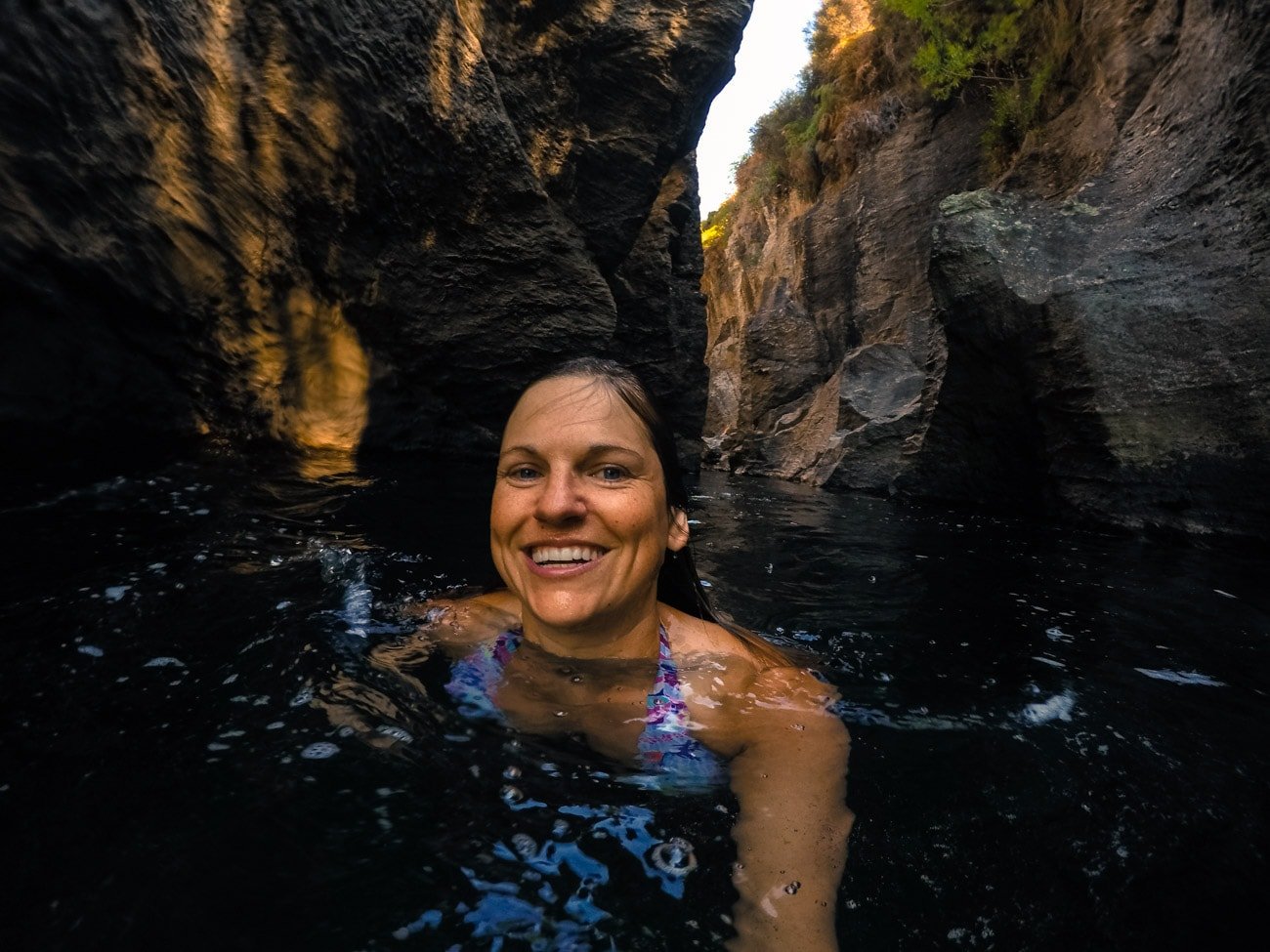 [separator style_type="double|dotted" top_margin="20″ bottom_margin="40″]
Hiking the Copeland Track & Welcome Flat Hot Springs (Day 60-63)
— Driving Haast Pass —
While in Wanaka, I got a text from a guy named Michael, who I met while solo backpacking in Mount Aspiring in early January. He said he wanted to hike the Copeland Track up to Welcome Flat Hot Springs. I had heard from a friend in Utah that this was a cool trail, but I was in a bit of a hurry when I was driving down the West Coast so I passed it up.  But now with a hiking buddy and some extra time on my hands, I thought this would be a cool thing to do.
Michael had been working in Milford Sound and after our hike was going to embark on an epic bicycle tour around New Zealand. Michael is a total biking badass by the way. He's biked across America and toured Washington and Oregon, and when he's not biking, he picks up seasonal work in places like the Sierras and Glacier National Park. He is totally hilarious and has so many fun stories.
Anyways, I picked him up in Queenstown, threw his bike in the back of my Van and jetted up towards Haast Pass back to the West Coast. We got a late start, so that night we spent camping at Pleasant Flat Campground, a DOC site just below Haast Pass. There were lots of sandflies, but the site had lovely view of Mount Hooker and the surrounding mountains.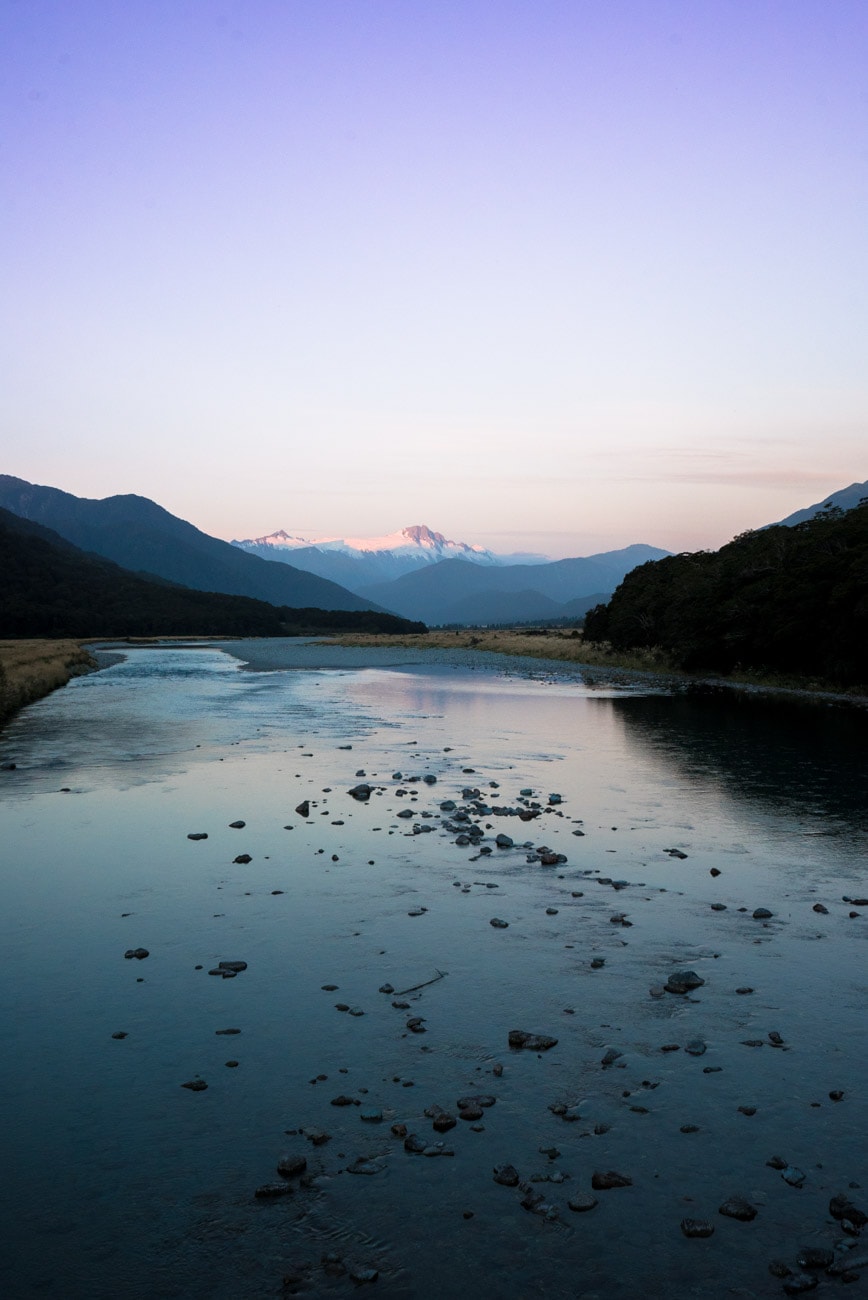 [separator style_type="single|dotted" top_margin="20″ bottom_margin="40″]
— Hiking the Copeland Track —
The next day we continued on to the trailhead which was located about 25 minutes south of Fox Glacier on the West Coast. I'm going to write up a full post on the trail with all of my photos, so I'll just share a few basic details here.
The hike is 24 miles (36 km) out and back with a bit of gradual elevation gain through West Coast rain forest. A good chunk of the hike follows the icy blue (and icy cold) Copeland River with the final destination being the Welcome Flat Hut, a newly remodeled and spacious hut at the base of the southern Alps.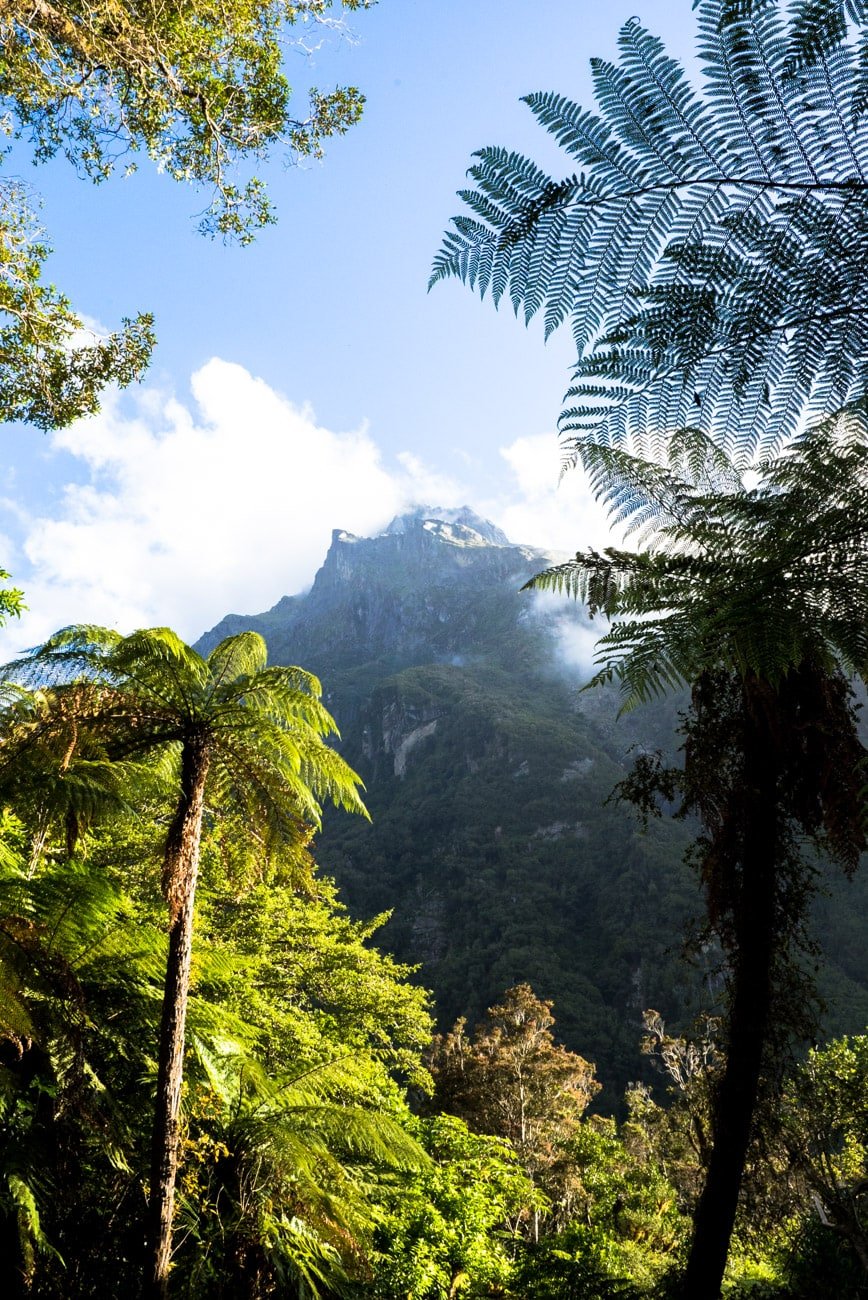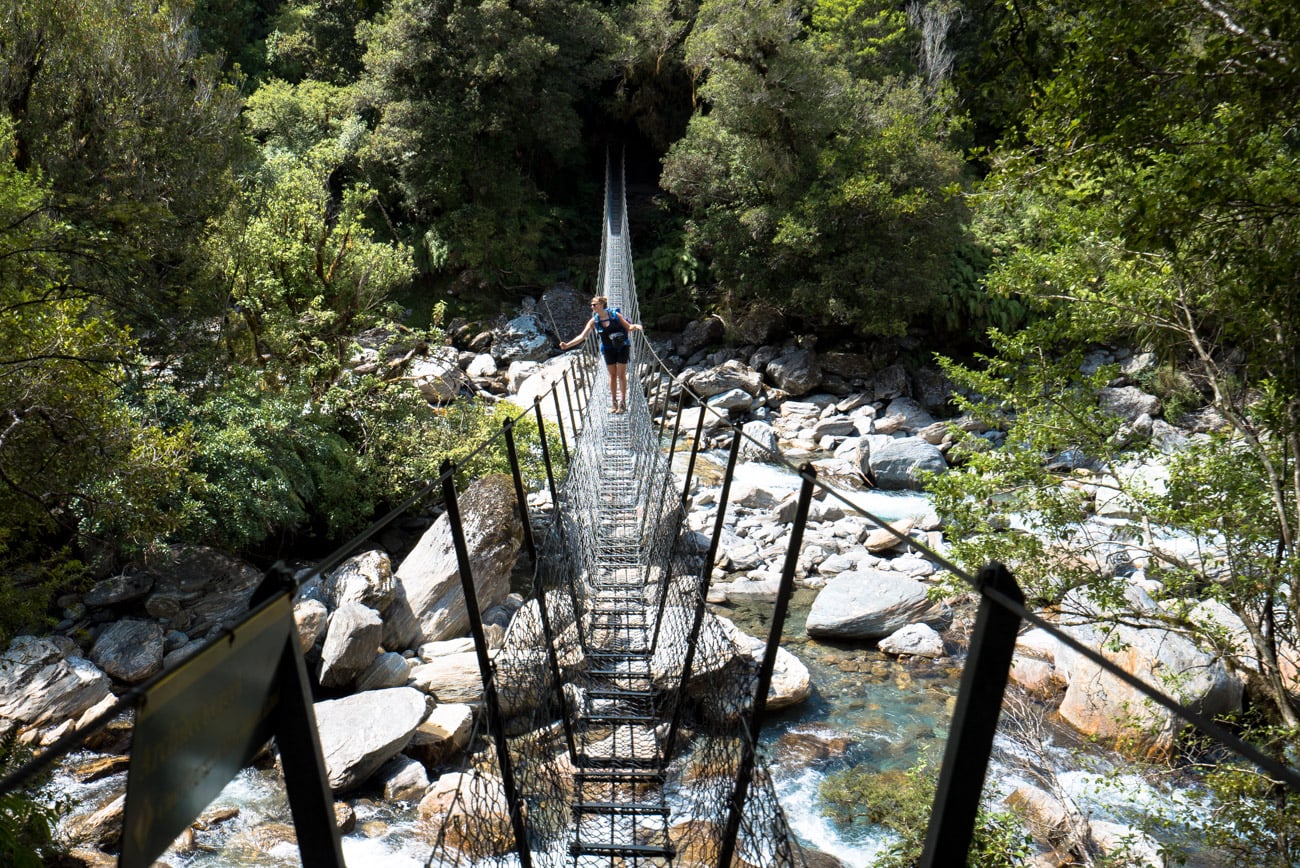 It took us about 6 hours of solid hiking to get there, so when we finally arrived we were pumped to throw down our bags and jump into the hot springs. To be frank, I had pretty low expectations for the hot springs. Where I grew up in Idaho has some of the best secluded hot springs around, so I thought "how good can these be?"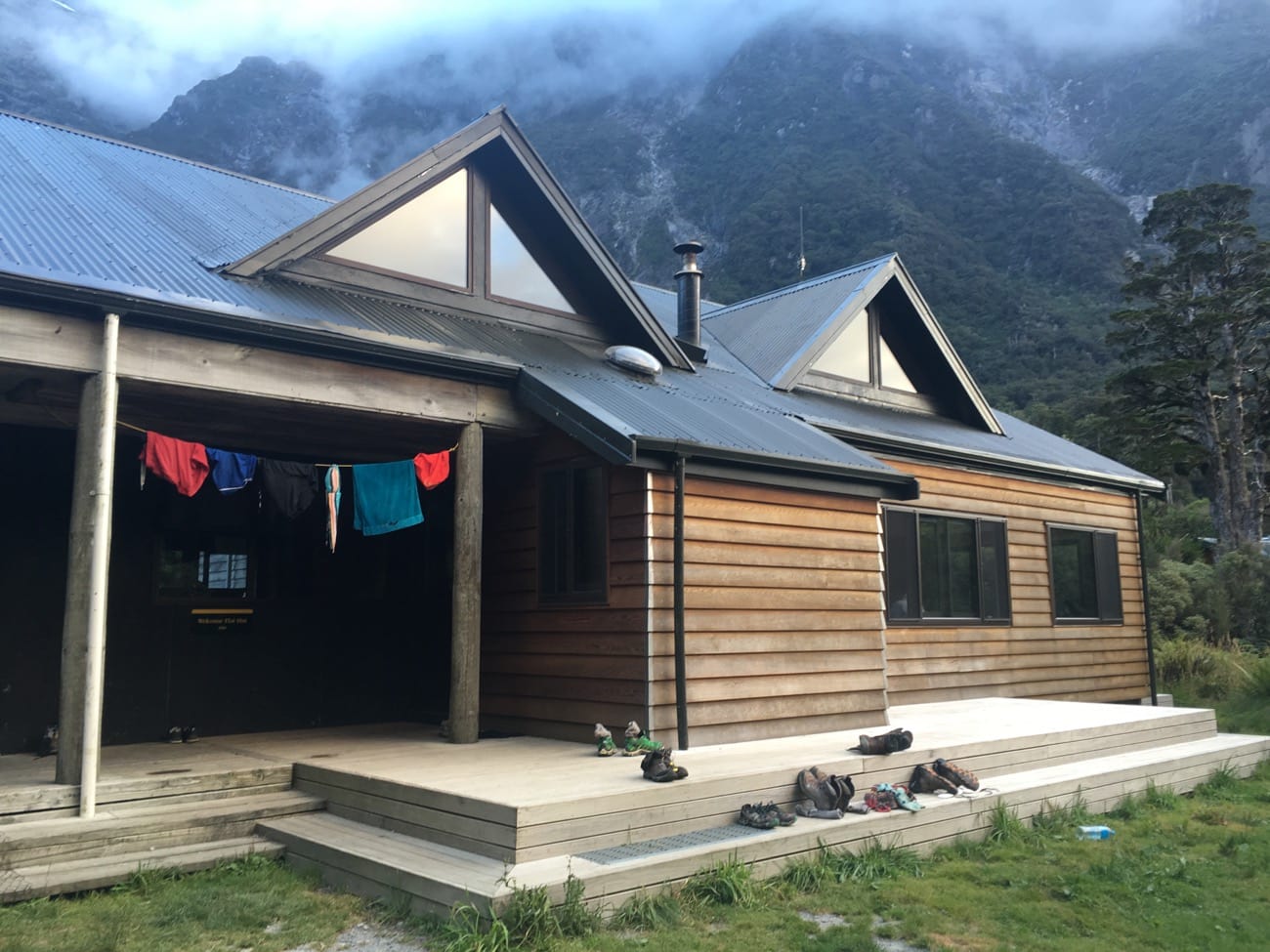 Well the springs ended up being pretty awesome and the perfect temperature (maybe even a little hot) with the cool evening air. We quickly busted out our 3 liter (ridiculous, I know) bag of red wine and shared it with the other hikers in the hot springs who were from all over the world (Spain, Germany, Brazil, Israel) and also put on some tunes on my bluetooth speaker that everyone enjoyed.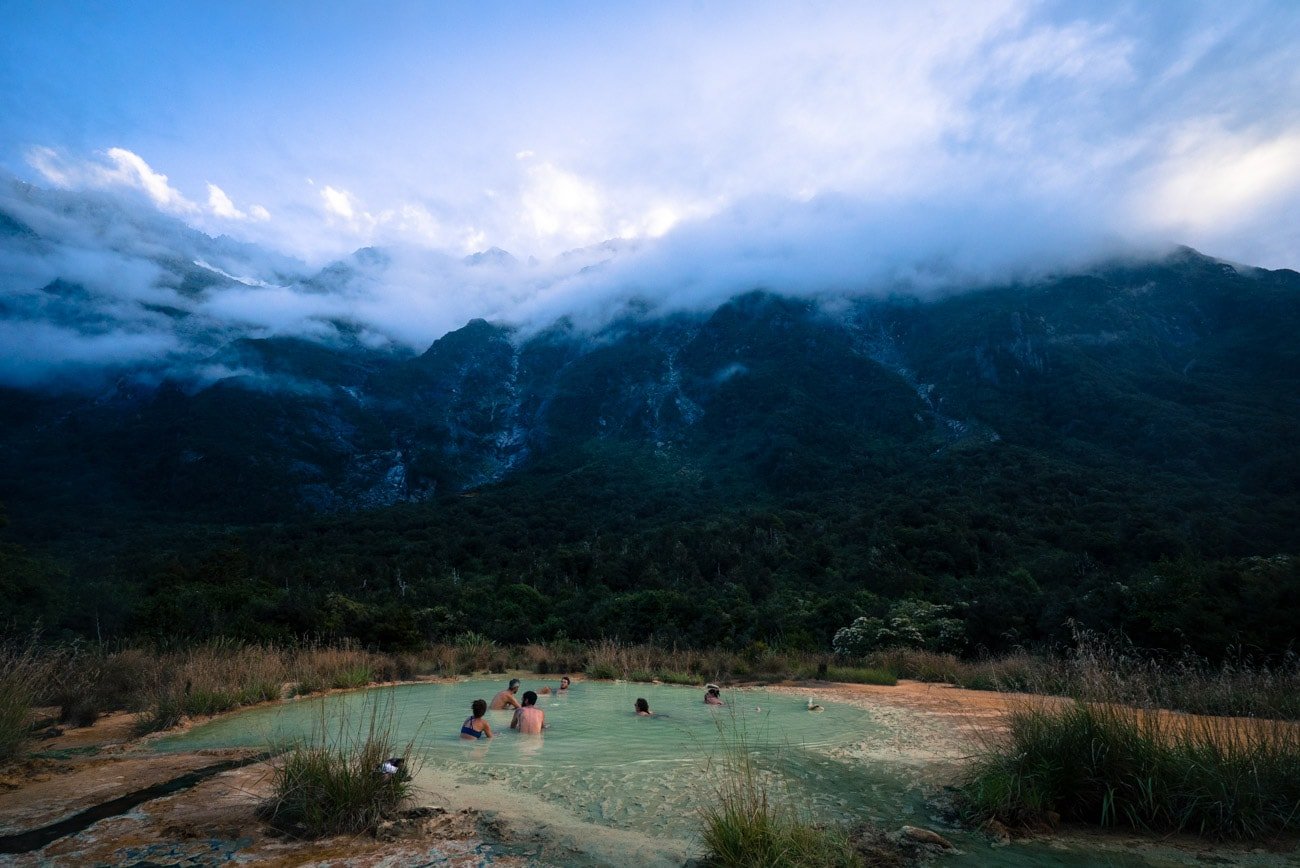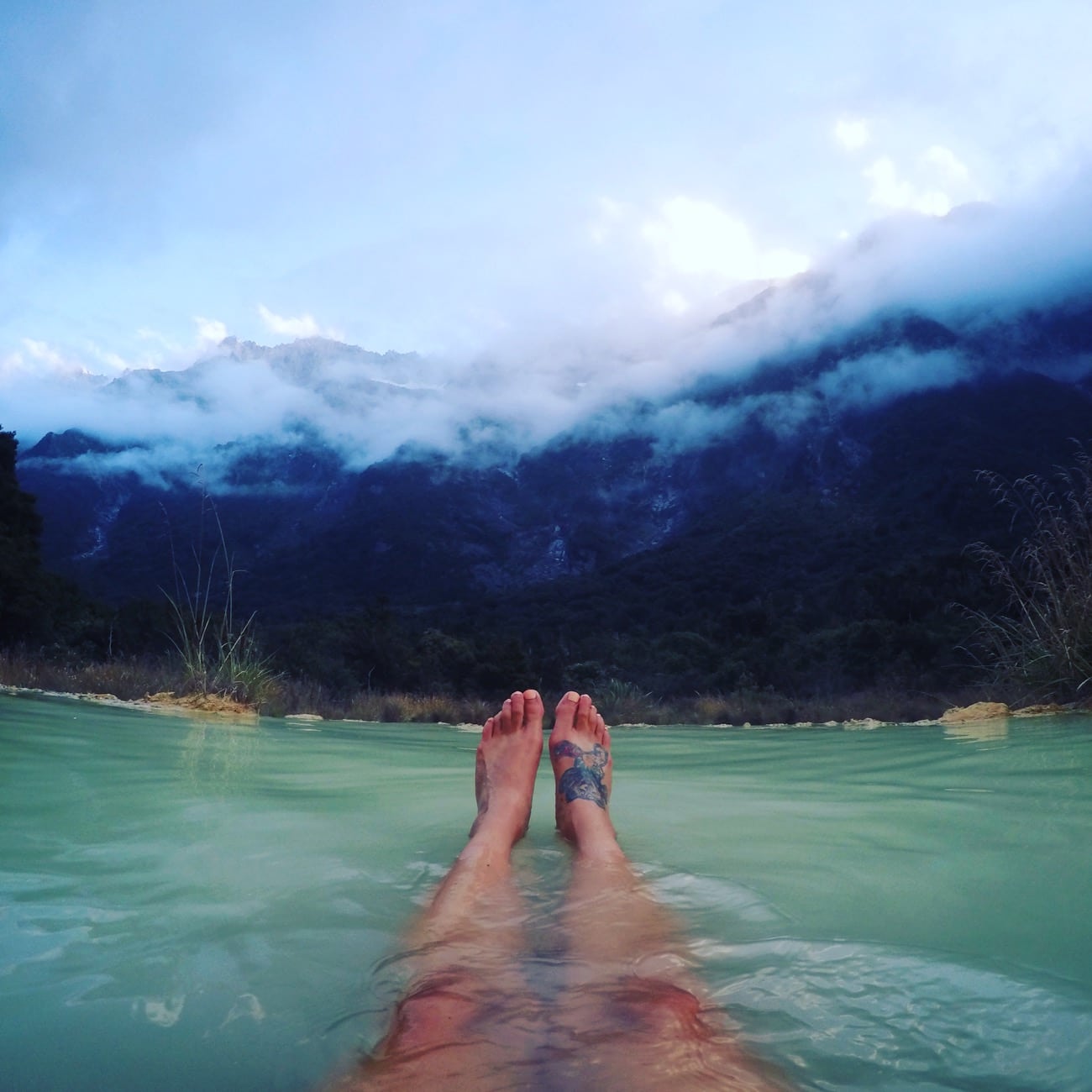 Then Michael and I devoured two savory backpacker dinners and some Nutella for desert, we went back for a second late night soak after everyone else went to bed.
Michael and I shared a ton of laughs and were both so stoked that we reconnected and took this trip together.
[separator style_type="single|dotted" top_margin="20″ bottom_margin="40″]
— Camping at Gillespie's Beach —
After getting back to civilization, we drove up to the village of Fox Glacier and refueled with pizza and some deep fried wedges (reversing any sort of good we did for our bodies). Then we drove 20 km out to Gillespie's Beach for a night of camping.
The beach there was really awesome. The campground itself, not so much. The parking lot was super small, totally overcrowded, and only had one toilet for the entire place. We ended up having to park the Vanette on the dirt road since there was no room when we showed up, but it was fine since it was late in the day and we were only staying one night.
Back to the beach. We got there just in time for sunset, so we grabbed the beers from the car and went down to the pebble-strewn beach where you can see Mount Cook and the Southern Alps from the shore on a clear day. We stayed down there for hours, waiting for the stars and the giant Milky Way to come out.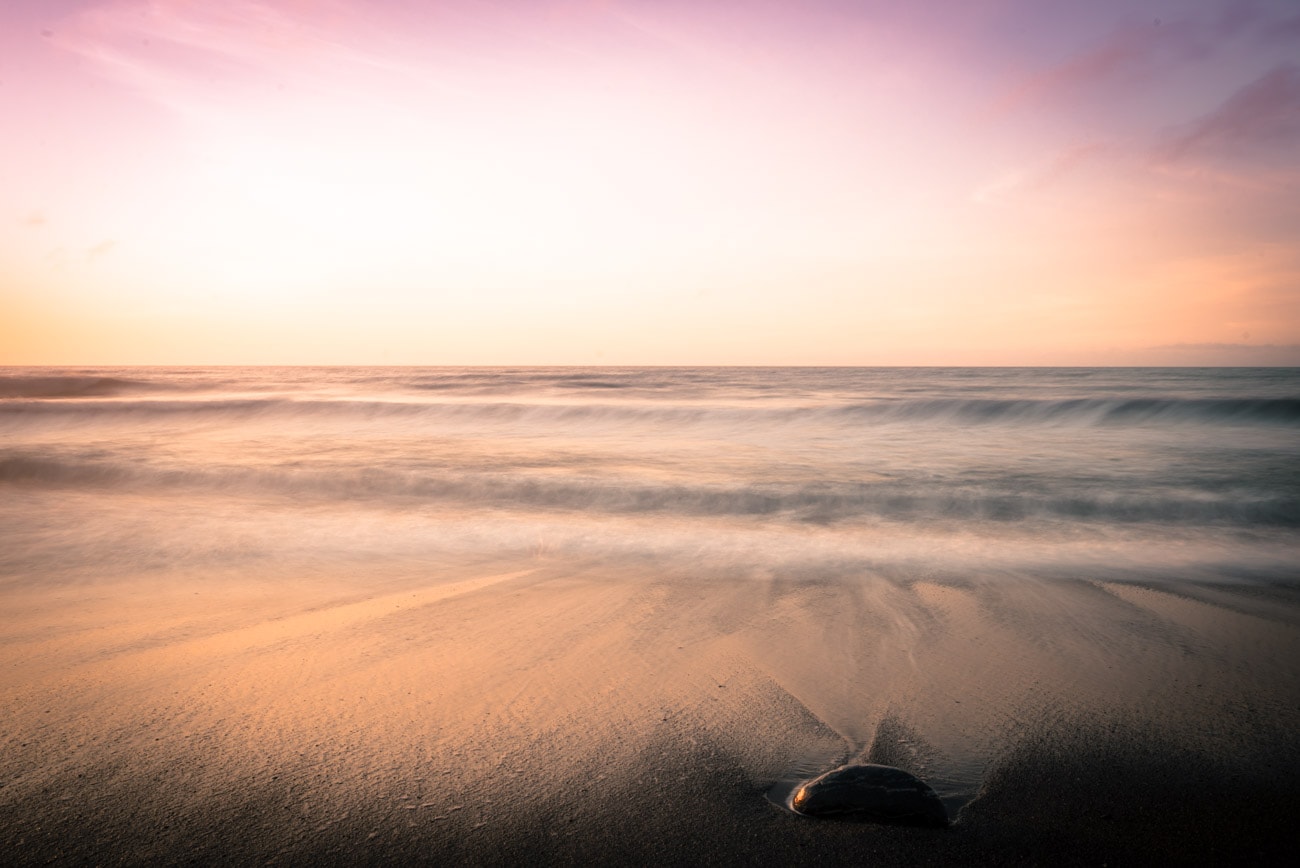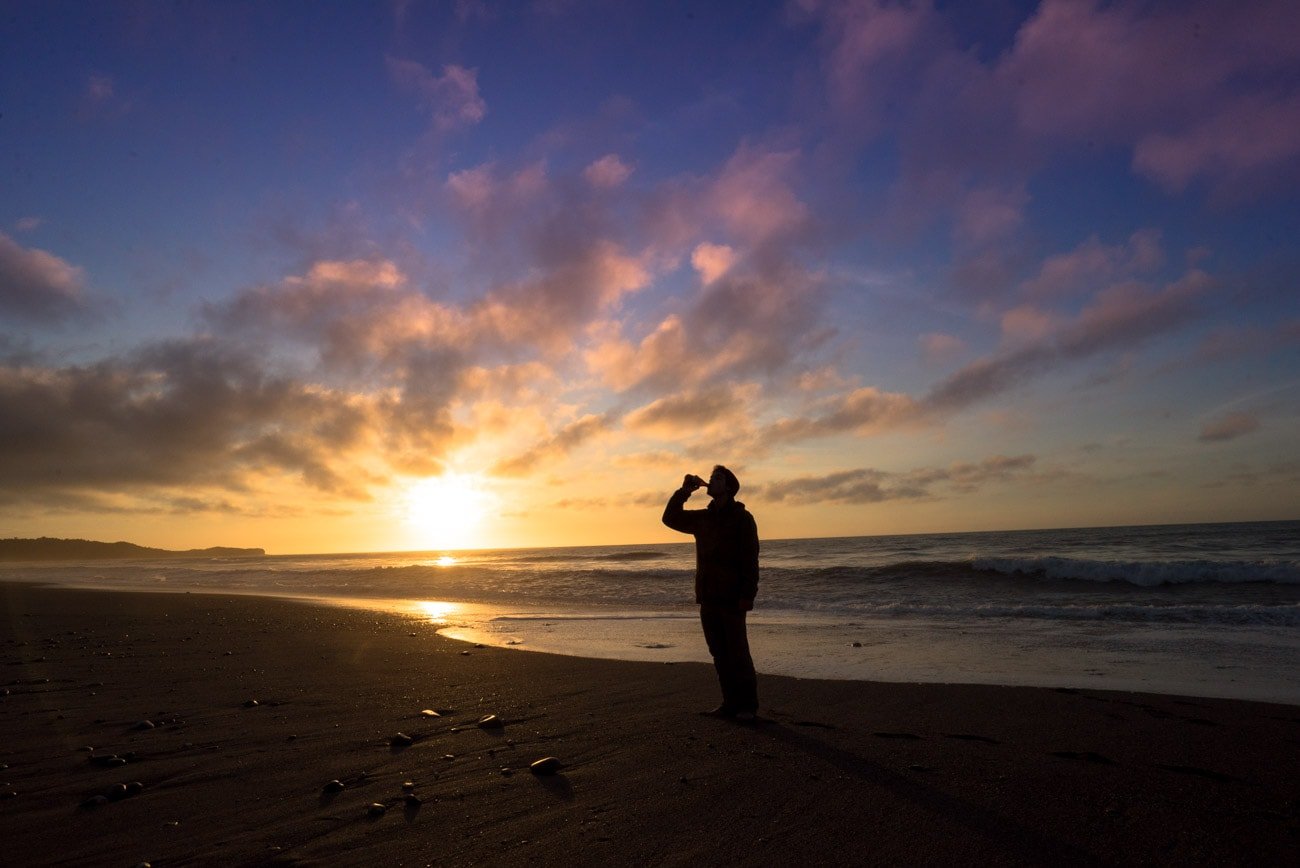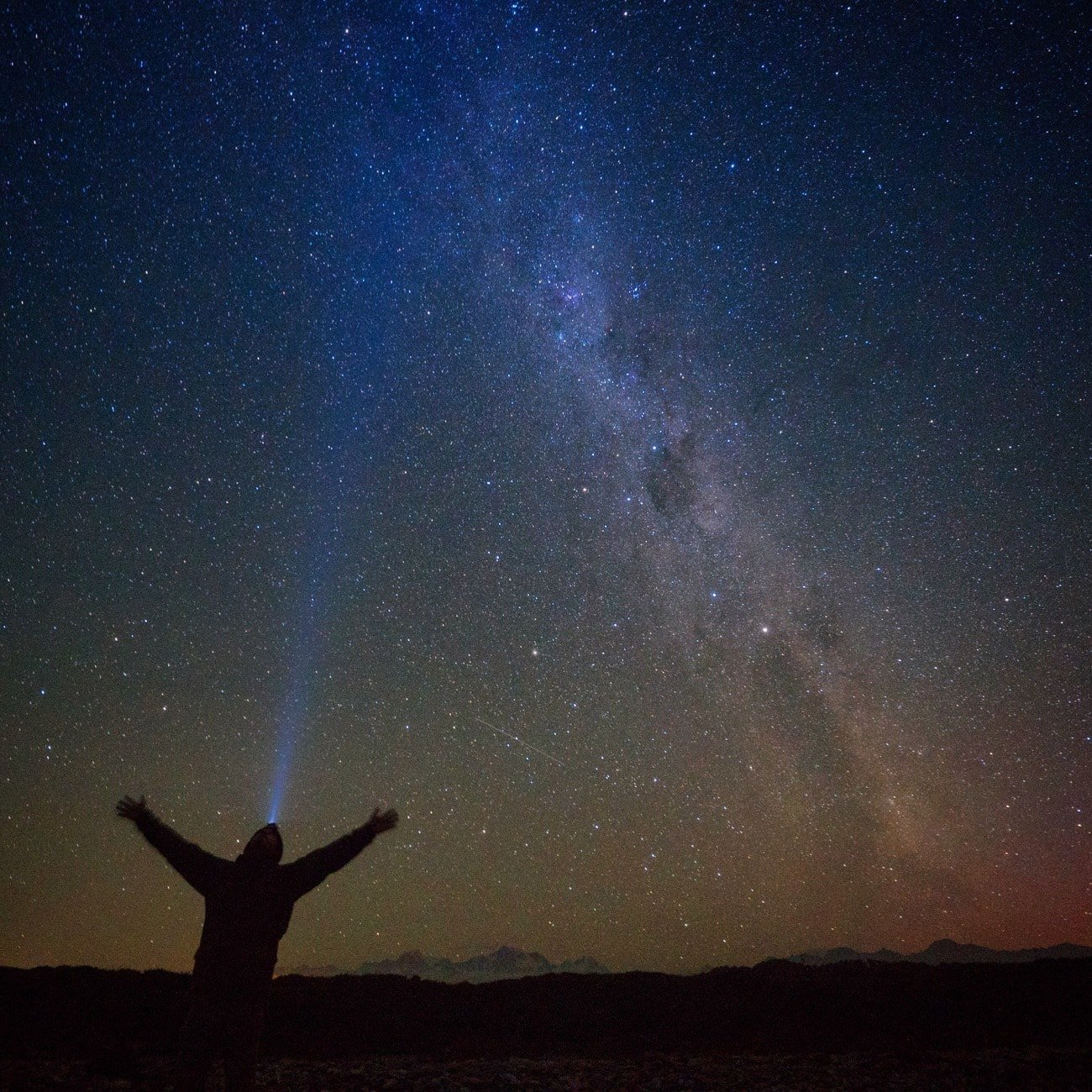 [separator style_type="double|dotted" top_margin="20″ bottom_margin="40″]
Back to Wanaka & Hiking Mount Roy (Day 64-65)
The next morning Michael and I said goodbye as he grabbed his bike and rode north. Right as I started up my car a hitchhiker named Callum knocked on my window and asked if this was the road to Wanaka. Since I was Wanaka-bound, I told him to hop in. Callum, a 24-year old Canadian from Nova Scotia, was a former sound technician who is now on a round the world trip with no end in sight. I've learned that hitchhikers often make for good company on the road, and Callum was no exception.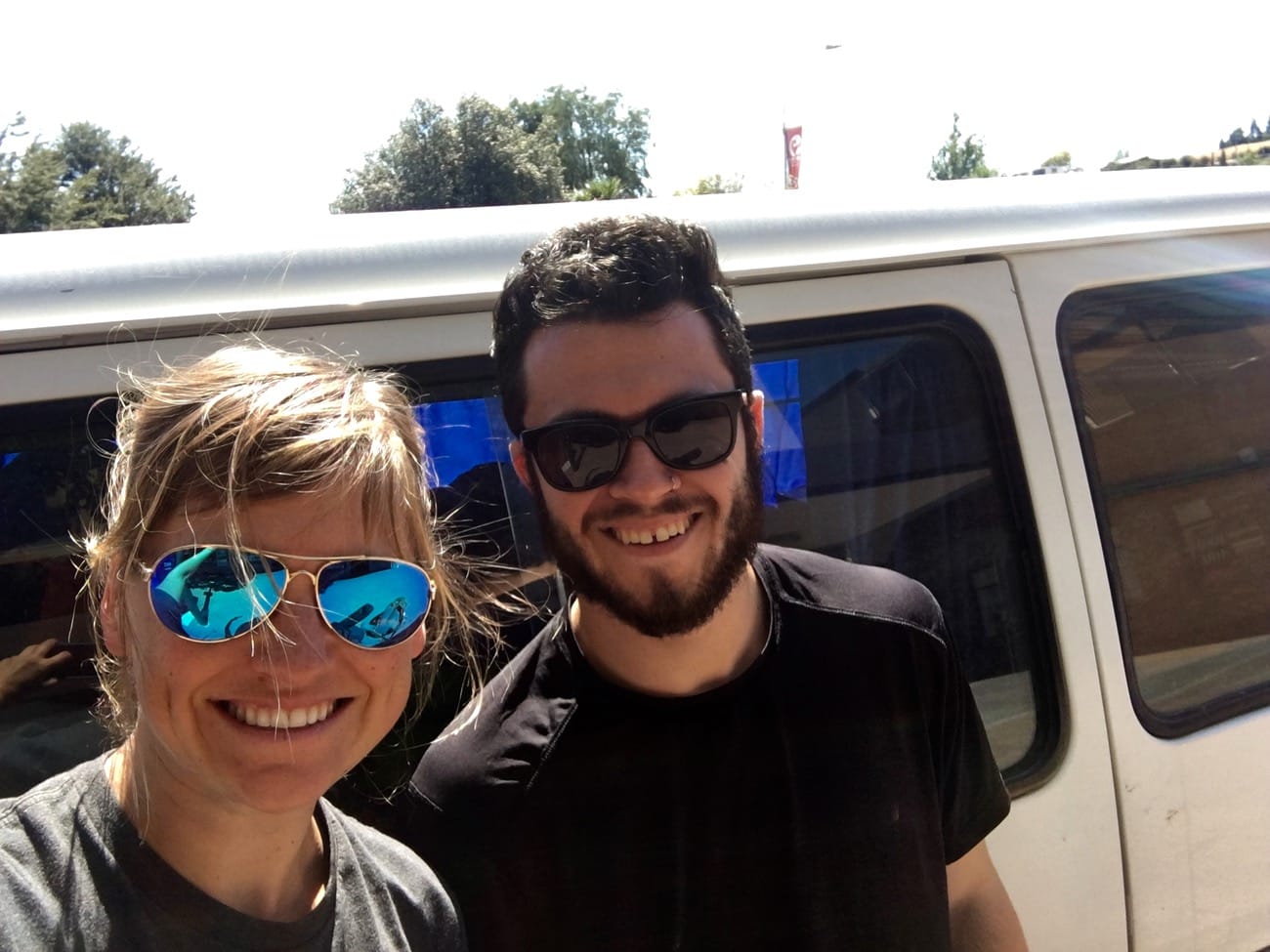 Once back in Wanaka, I found myself a shower, did some work, bought groceries, and drove out to the DOC campground at Albert Town.
The next morning, I woke up bright and early at 6am in order to hit the trail to Mount Roy just before sunrise. The Mount Roy trailhead is just a few minutes out of Wanaka on the way to Mount Aspiring. Most days when I've driven by there has been dozens of cars in the parking lot (part of the reason I hadn't done this trail yet). Even at 6:30am, there were already a few cars. I got on the trail shortly before the sun came up over the mountains, and made my way to the summit over the next 4 hours. I was also super glad I got there early, because it helped me avoid both the crowds and the hot midday sun.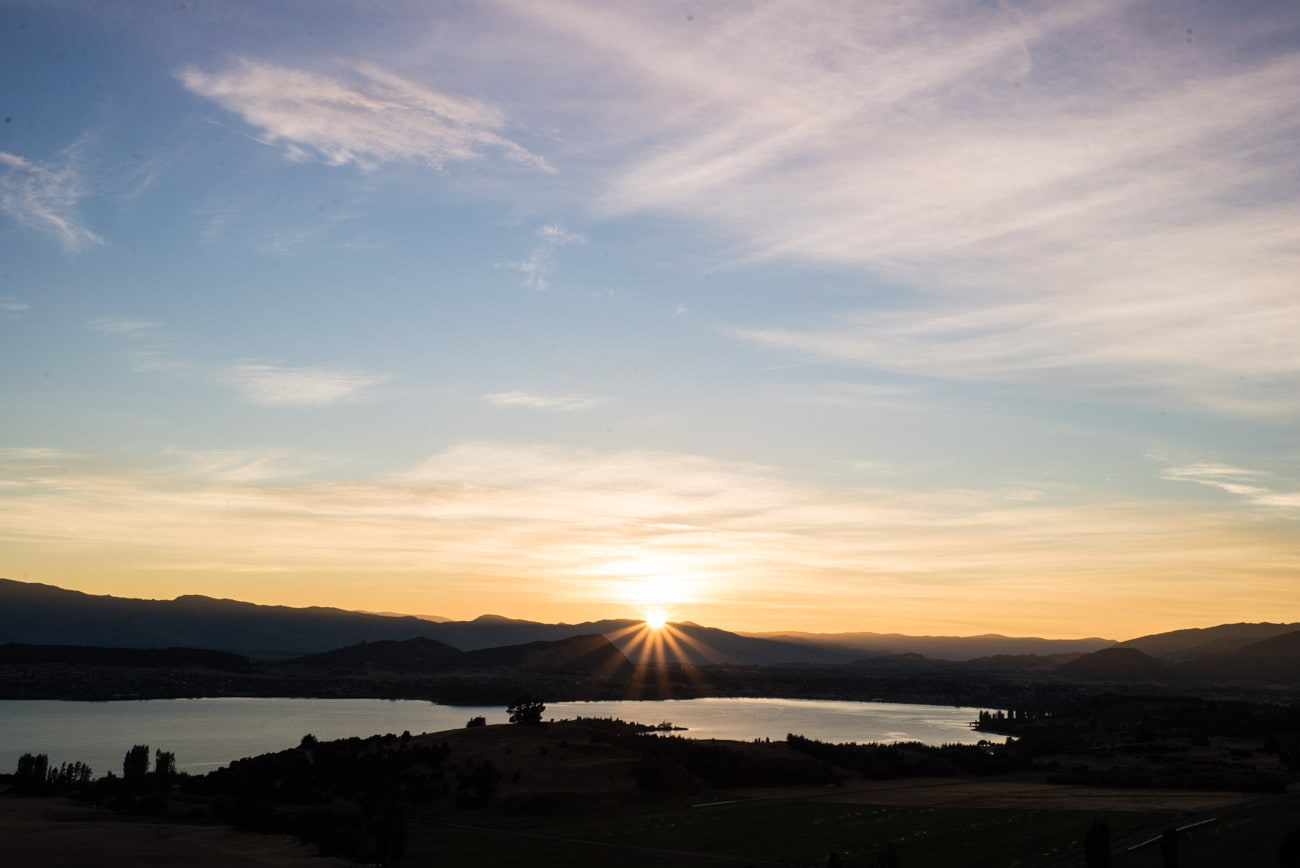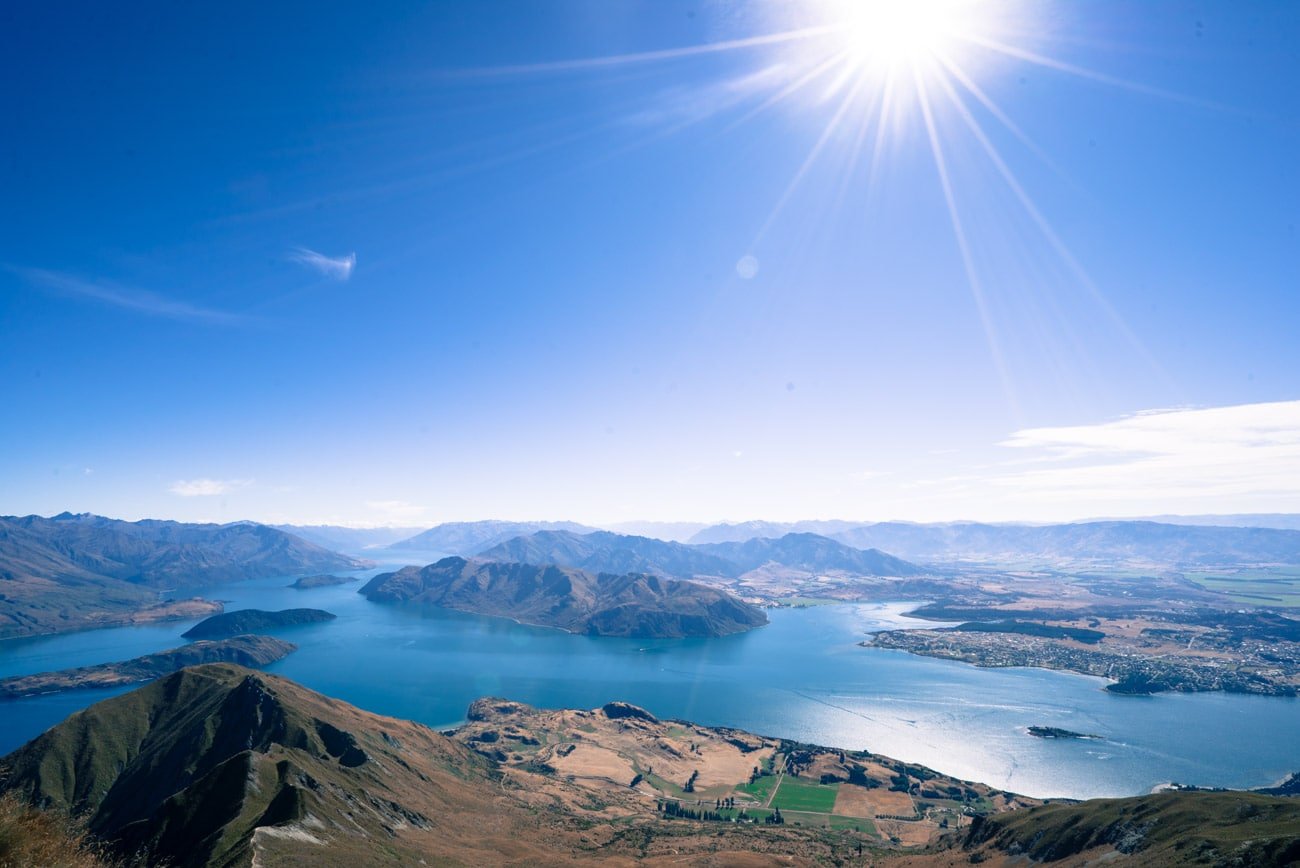 I didn't think the views from Mount Roy were quite as good as Isthmus Peak, but it was still enjoyable, especially for how accessible the trailhead was from town. Someone also took this shot of me from one of the lookout points which I thought was pretty cool.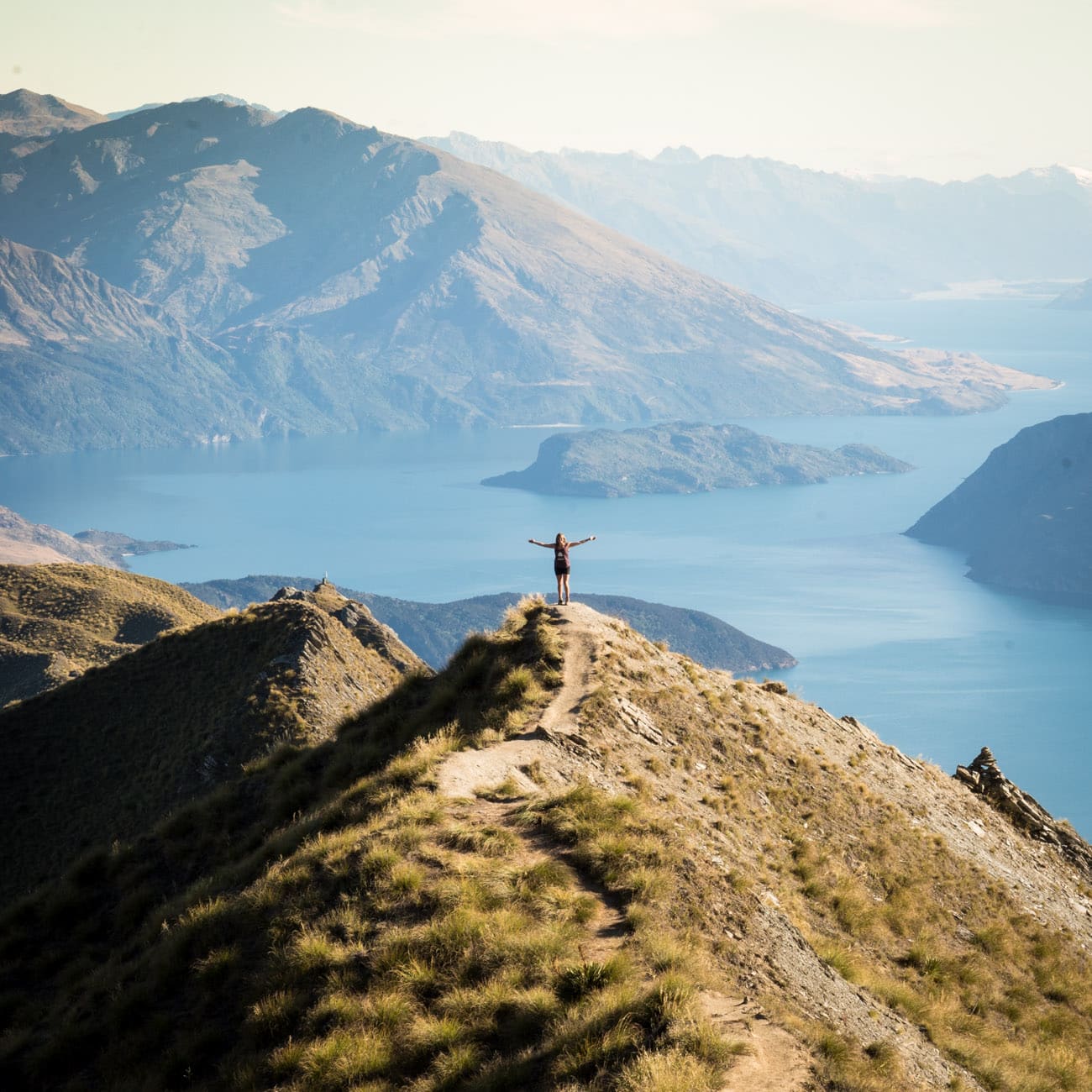 [separator style_type="double|dotted" top_margin="20″ bottom_margin="40″]
— Enjoyed this post? Read more in my New Zealand Road Trip Journal —
[separator style_type="double|dotted" top_margin="20″ bottom_margin="40″]
** Side note: I should also mention that the overall itinerary I've followed is not necessarily the order I recommend you do things in. These recaps are intended to get you excited about New Zealand, put some destinations and ideas on your radar, and are an opportunity for me to share my solo adventures on the road.
Once I get home, in order to help you plan your own trip to New Zealand, I'm going to put together a couple different succinct itineraries for you to follow so you don't waste your time backtracking like me.
[separator style_type="double|dotted" top_margin="20″ bottom_margin="40″]
WHERE IN NEW ZEALAND WOULD YOU LIKE TO GO?
LEAVE A COMMENT, TWEET ME, OR WRITE ME A POST ON FACEBOOK.