New Zealand Road Trip: Raglan, Waitomo & Wellington
Waterfalls, pigging out in Wellington, glow worms, and more – Here's a full recap with lots of photos from my first week of solo road tripping through New Zealand.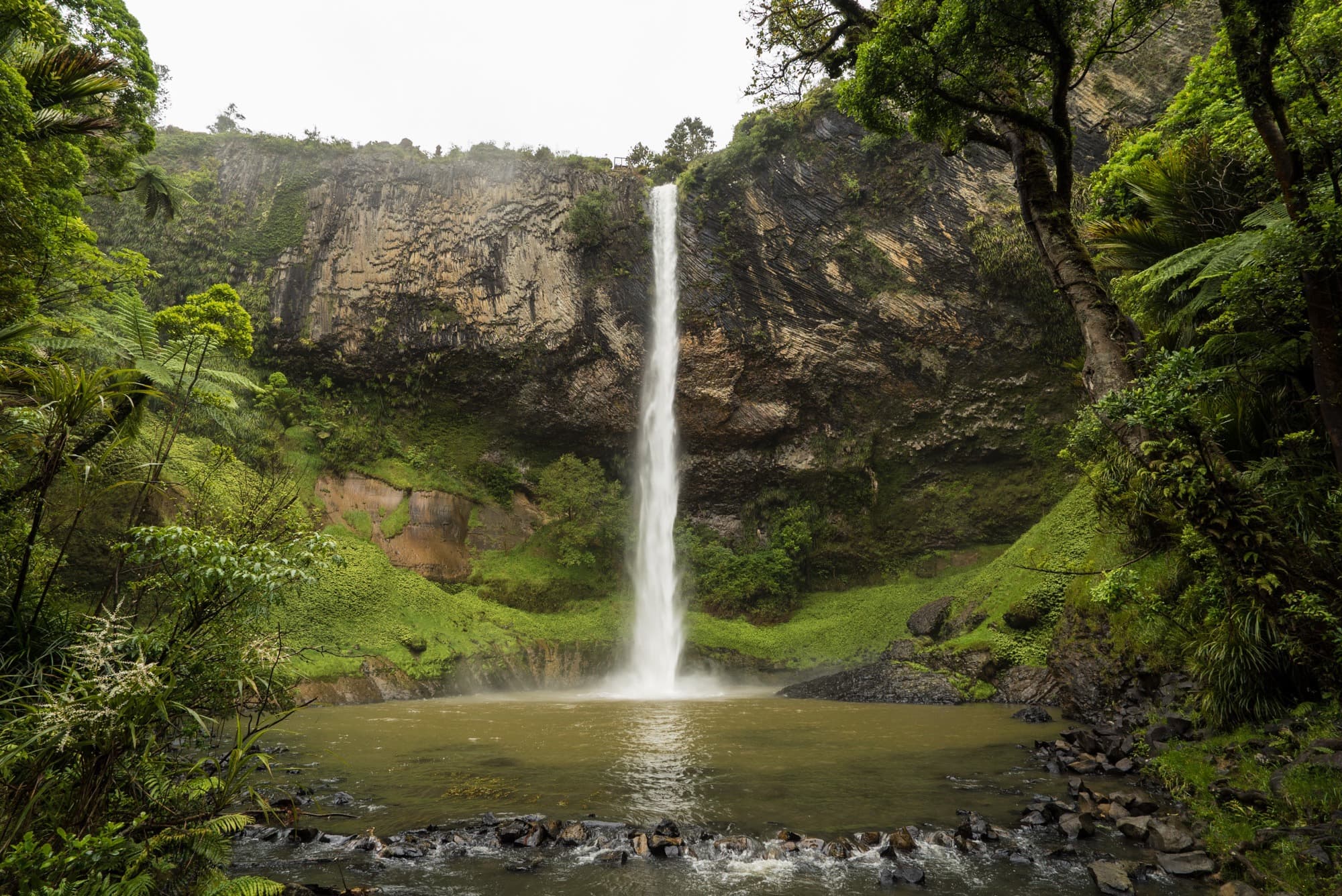 New Zealand Road Trip Itinerary Week 1
(The North Island)
My first week of solo travel on my New Zealand road trip has been pretty incredible. I'm quickly realizing that there's nothing like the freedom of traveling alone. I get to do what I want whenever I want. I have no one to blame for bad decisions…and the good decisions I get to take ALL of the credit for. If I'm hungry, I eat. Tired? I sleep. Not feeling a campsite…I keep on driving…with those windows down and the music blasting, of course. It's also the first time I've traveled by van, and as I should've expected, I foresee myself getting hooked on the whole van life thing.
You'll see from the map that I sort of powered through the North Island. There were many places I missed like the hot springs of Rotorua, which I chose not to go to because I didn't think they would compare to what we have back home in Idaho. I was also eager to get the mountains of the South Island.
[separator style_type="icon" /]
Being alone also has opened me up to meeting new people. When I roll up to a new campsite, you never know who you are going to run into. Like the Israeli guy named Daniel I met last night here in Tasman Lakes National Park who I'm getting ready to do an overnight hut trip with. Or Christian, the cute 24 year-old Oregonian who I jammed out with to Led Zeppelin while driving to check out some waterfalls in Waitomo.
Other things I love about New Zealand so far…public restrooms are far cleaner than home, every cappuccino is dusted with chocolate powder, the Kiwis are the friendliest people on the planet, there is no traffic, and everyday the landscape changes. I love it so much here that I've already changed my return ticket to give me a couple of extra weeks here, and I'm having to reassure my folks that – no – I'm not going to move here.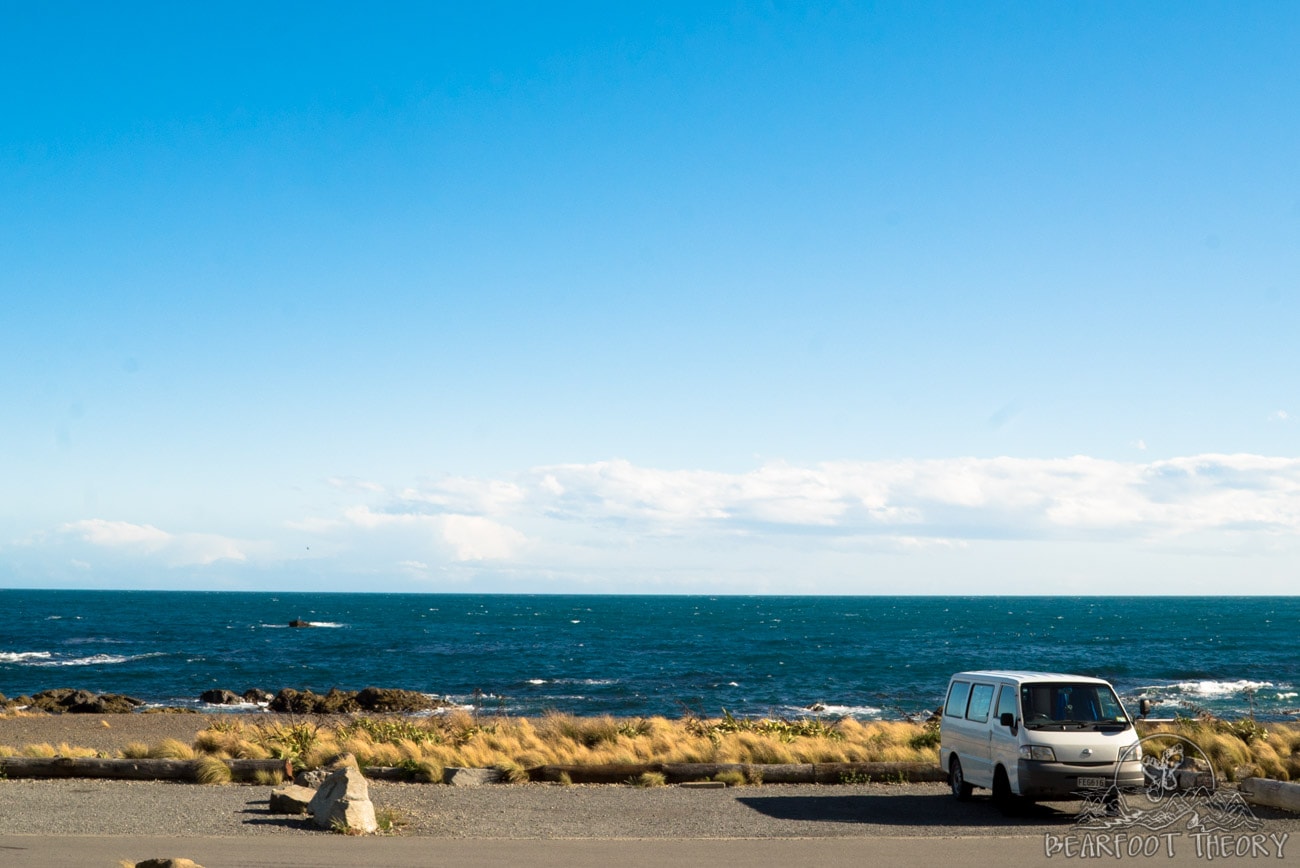 The only thing (besides the sandflies) that's not so good here is the wi-fi, but I'm going to do my best to give you my week by week New Zealand road trip itinerary with the highlights and some of my favorite photos and stories.  Then when I get home, I'll post more details about the best tours, places, and travel tips to help you plan your own New Zealand road trip itinerary.
[separator style_type="double|dotted" top_margin="20″ bottom_margin="40″]
*** To fast forward to the South Island of New Zealand, start here ***
New Zealand Road Trip: West Coast, Arthur's Pass, and Wanaka
New Zealand Road Trip: Abel Tasman, Nelson Lakes, Queen Charlotte Sound
[separator style_type="double|dotted" top_margin="20″ bottom_margin="40″]
New Zealand Day 1: Auckland, Raglan & Ruapuke Beach
Phew. I made it. The plane ride was uneventful, the food was blah (but at least they fed us), and I was sitting in the very back row of the plane which meant there weren't any fidgeting rugrats kicking the back of my seat. Fiji Air did charge me $120 though for my CARRY-ON which really irked me
Once I landed, I shuttled it to a hotel, got set up on my phone, and feasted on a giant bowl of savory laska soup at a Malaysian Restaurant, and crashed at 7pm.
Twelve hours later I was bright-eyed and ready to pick up my Van.
I scored a pretty good deal on my van rental from a place called Village Car Rental. Their vans are no frill, just big enough for two (or one-person with a lot of stuff – me), and don't have any markings on the outside like many of the rental companies. I've already seen quite a few vans from other companies with wildly offensive slogans – so I'm glad I don't have one of those.
The Vanette came with a fridge, pots and pans, and I also elected to get the GPS, which in hindsight, was an excellent decision. I can't imagine fumbling around with my phone trying to figure out my way around, all while driving on the opposite side of the road. The only thing that hasn't been working is the fridge since it only cools the food when the van is running. So I'm trying to stick to mostly vegetables, and hopefully I don't end up with salmonella.
It was a crazy feeling pulling out of the lot with no real plan and all the freedom in the world. The guy at the rental shop suggested I head to Raglan, a small hippie surf town on the west coast. So off I went.
Raglan was cute but not much was going on. So I did some grocery shopping and continued on. I've been using the New Zealand Frenzy Guides to find cool, free, off-the-beaten path spots, and the author said that the drive from Raglan to Ruapuke Beach was one of his favorites.
This scenic route was a dirt road set up on a coastal cliff that alternated between forest and farmland, and I was pretty stoked about getting the Vanette nice and dusty on the very first day.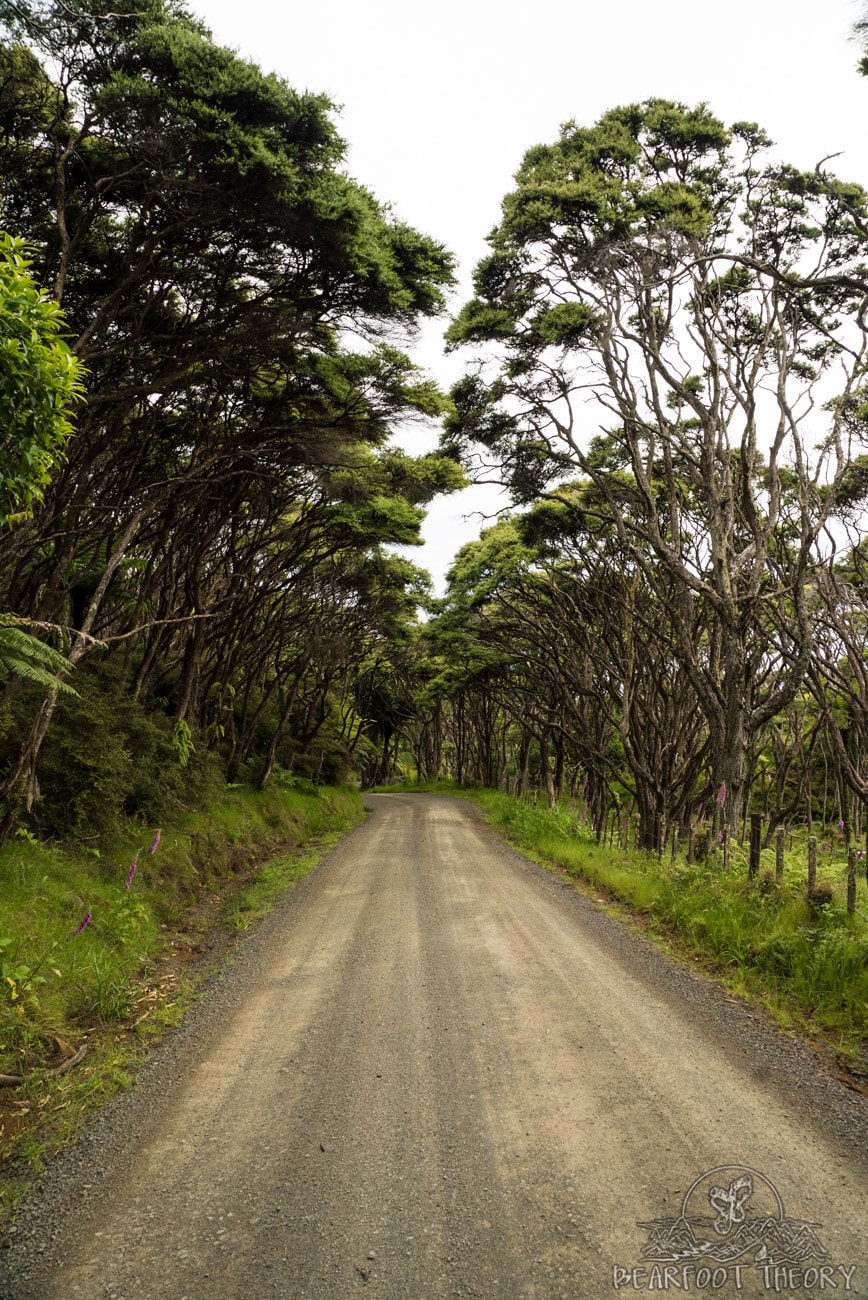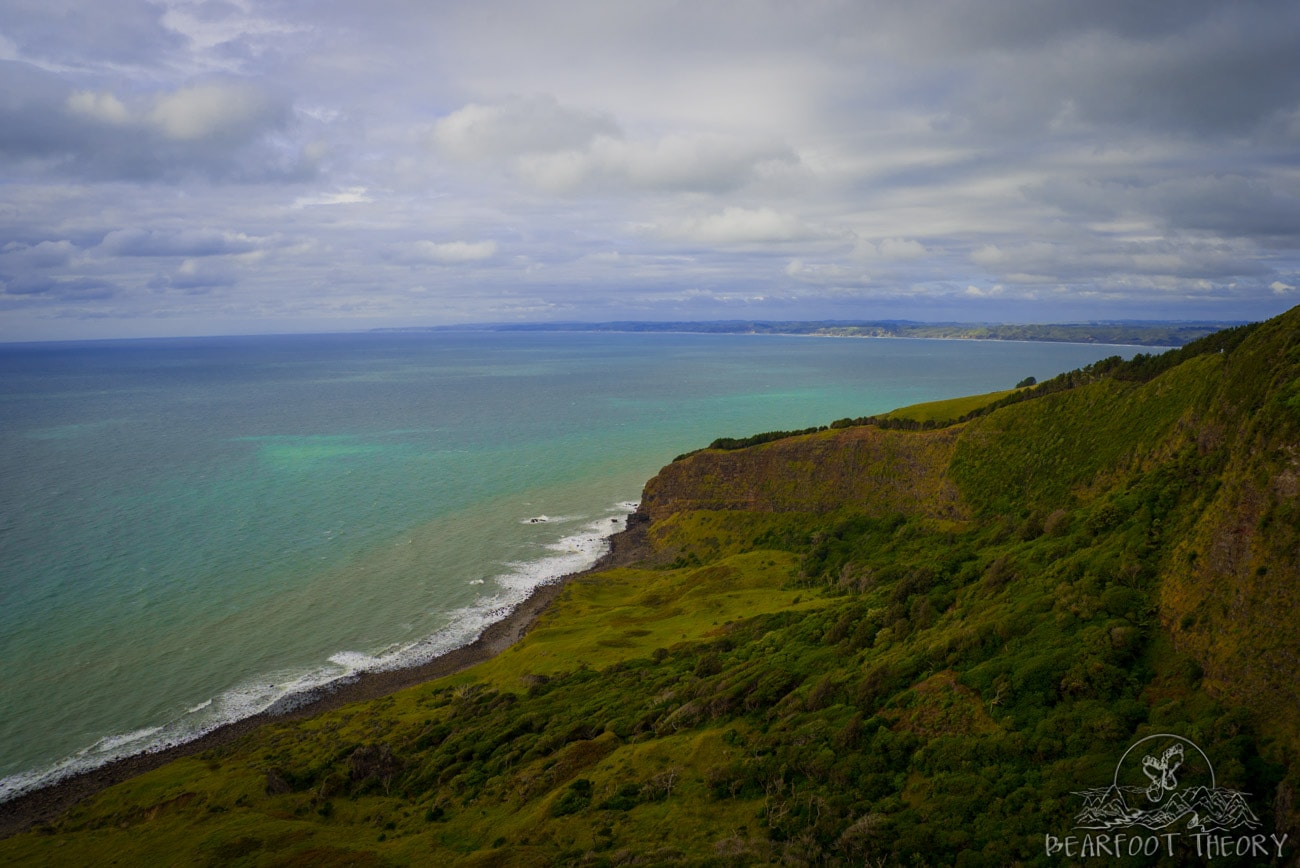 A few km past the turnoff to Ruapuke Beach, I arrived at Ruapuke Motor Park, a very small homestead run by a friendly gent who greeted me.
The Ruapuke Motor Park had bathrooms, a clean kitchen and fridge to store food and well manicured grass spots to park. But the best part was the easy 15 minute trail that led over the hill and down to the black sand beach. The sand went for miles and there wasn't a soul in sight. It was almost a bit creepy…I can't remember the last time I was on a beach like this completely alone.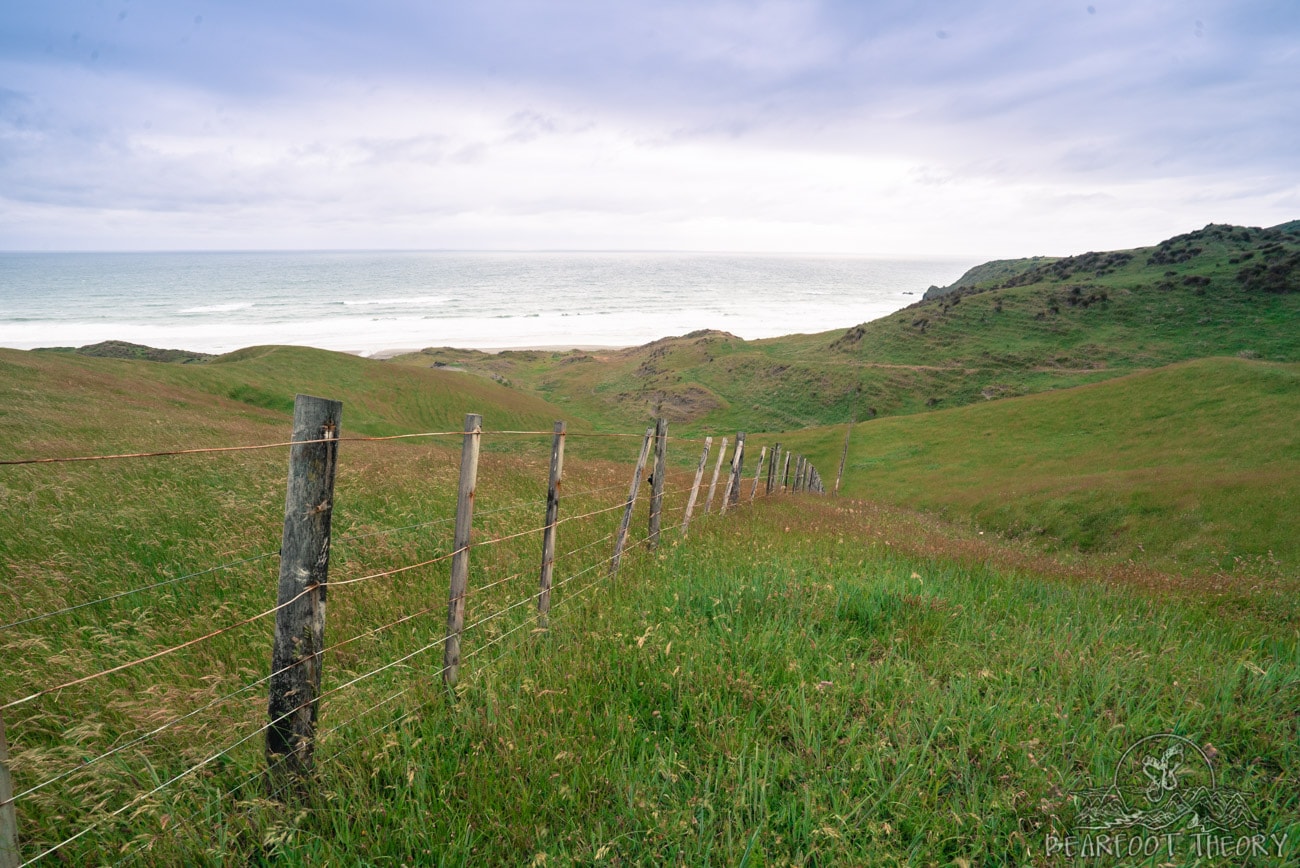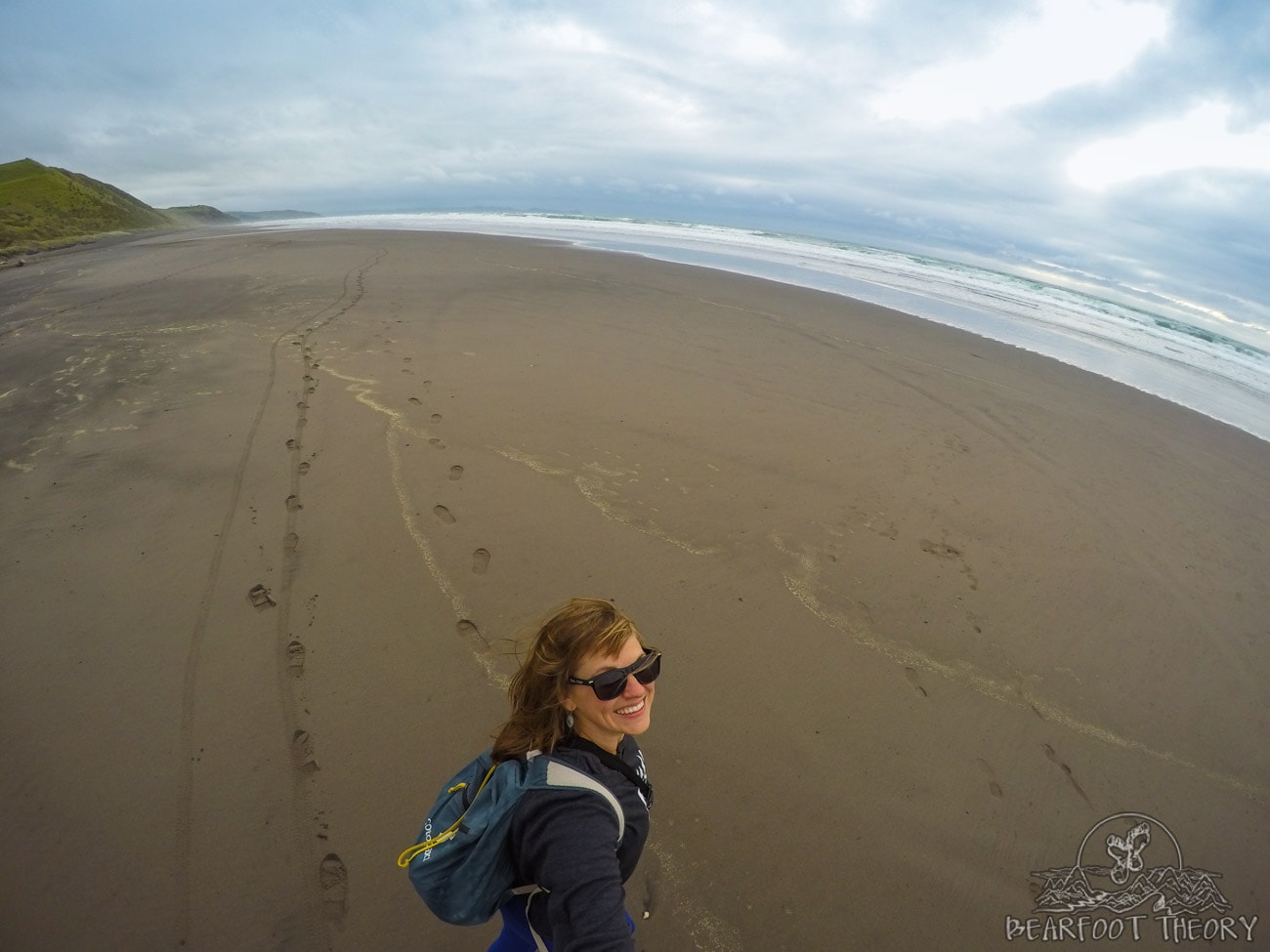 When I got back to camp a guy named Richie from New York was parked next to me. I was happy to have the company and learned that he was a food photographer and videographer for Zagat guides.
I spent the evening organizing my van, drinking a bit of wine, whipping up a tofu veggie stirfry, and learning about my fellow traveler.
[separator style_type="double|dotted" top_margin="20″ bottom_margin="40″]
New Zealand Day 2: Bridal Falls to Waitomo
Bridal Falls was the first thing on my agenda for day 2…and I'm slowly adjusting to not having an agenda. It was a rainy, foggy morning, and I think that worked to my advantage. When I arrived there were no other cars in the car park. A quick 10 minute walk led to the upper platform and another 10 minutes I was at the base of the falls. The jungle here is strange. One minute its full of palm trees and feels like Hawaii, and the next minute you're in a thick grove of deciduous trees that look like they are straight out of the Pacific Northwest.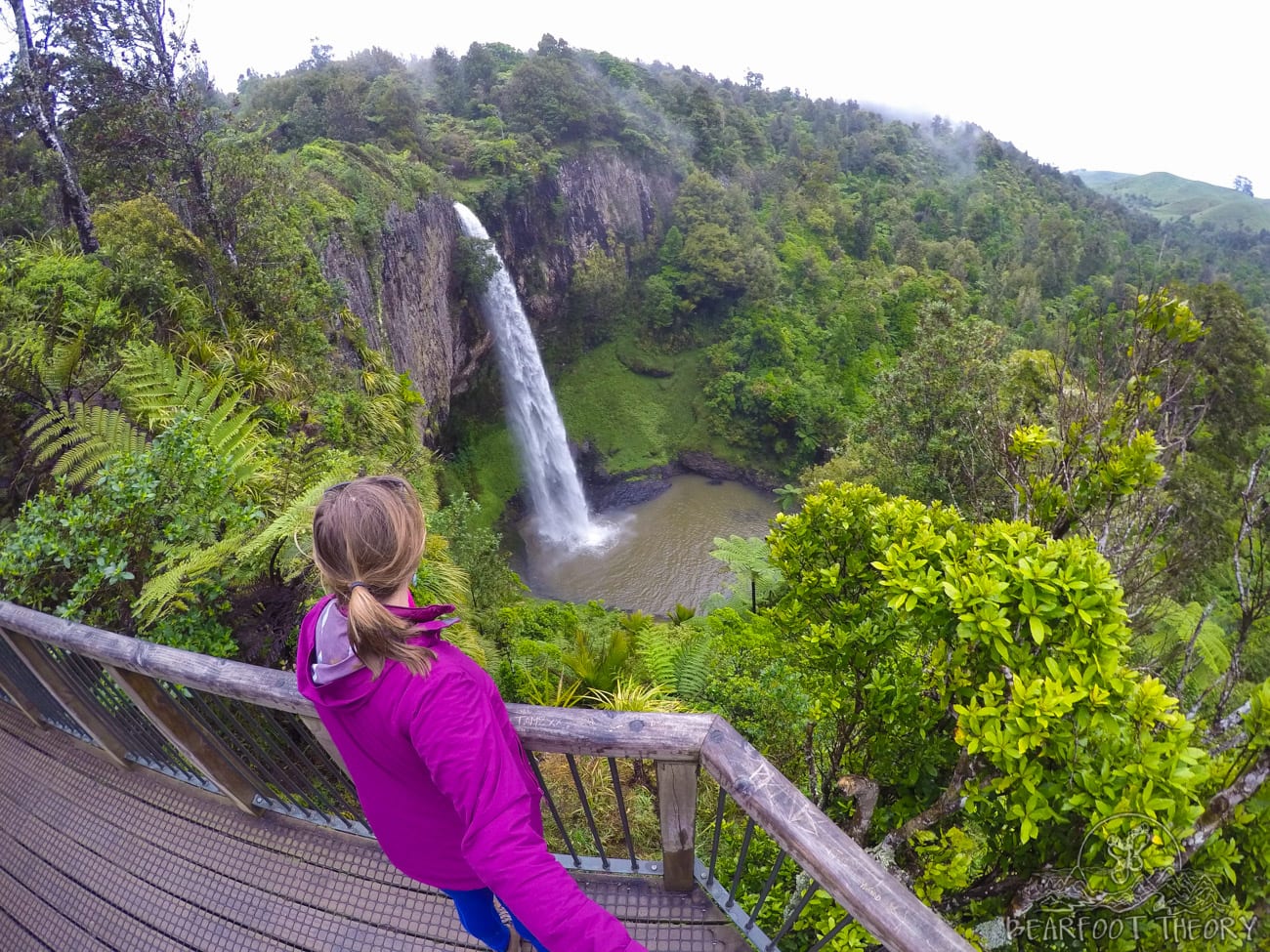 As I was headed down the path to the base of the falls, I noticed a bike locked up on one of the signs, and as I peered down to the bottom I saw a teeny person taking some pictures.  150 or so steps later, I arrived at the bottom and met a young Muslim girl from Singapore. She was here on holiday by herself and rode 2 hours from Raglan on that bike to check out the falls. And here I was feeling adventurous in my van.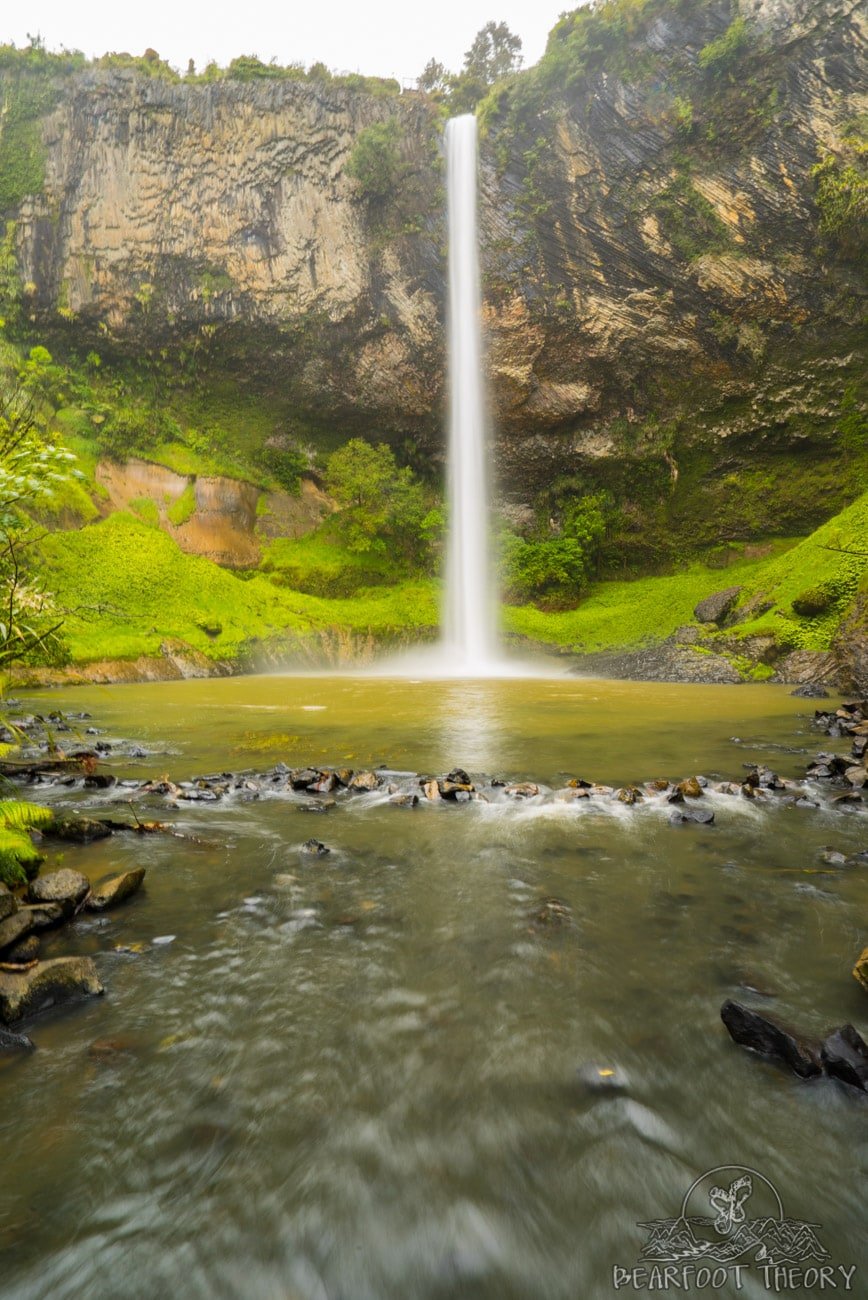 Next I decided to drive to Waitomo to check out the glow worms which I first learned about years ago on the BBC show Life. The Kiwi Rafting Company had room the next day, so I signed up, and then I went to the cafe next to the Glow Worm museum to do a bit of work while sipping on a couple of local hard ciders.
That evening, I checked in at Juno Backpacker's Hostel which had a nice lawn to park the Vanette, a lively atmosphere, and hot showers.
All of the campsites I've been staying at, I've found using the NZ Rankers Campermate App. If you are coming here, you absolutely need to download this. It shows all of the campsites on a map, their price, and amenities. Campsites range from freedom campsites operated by the New Zealand Department of Conservation with nothing but drop toilets to full blow RV parks with steamy showers, swimming pools, and laundry.
[separator style_type="double|dotted" top_margin="20″ bottom_margin="40″]
New Zealand Day 3: Waitomo to the Whanagnui River
Over coffee and breakfast, I chatted with a Danish guy named Rune who was hiking the entire country from north to south on the new Te Araroa Trail. It's like the Pacific Crest Trail, but way more rugged.
After eating, I hopped in the Vanette with a guy I met the previous night named Christian from Oregon (one of the few Americans I've met so far) and drove west for 45 minutes to Maracopa Falls. We wanted to go to the base of the falls, but the trail basically consisted of 8 inches of slippery mud, so we opted to stay at the viewing platform.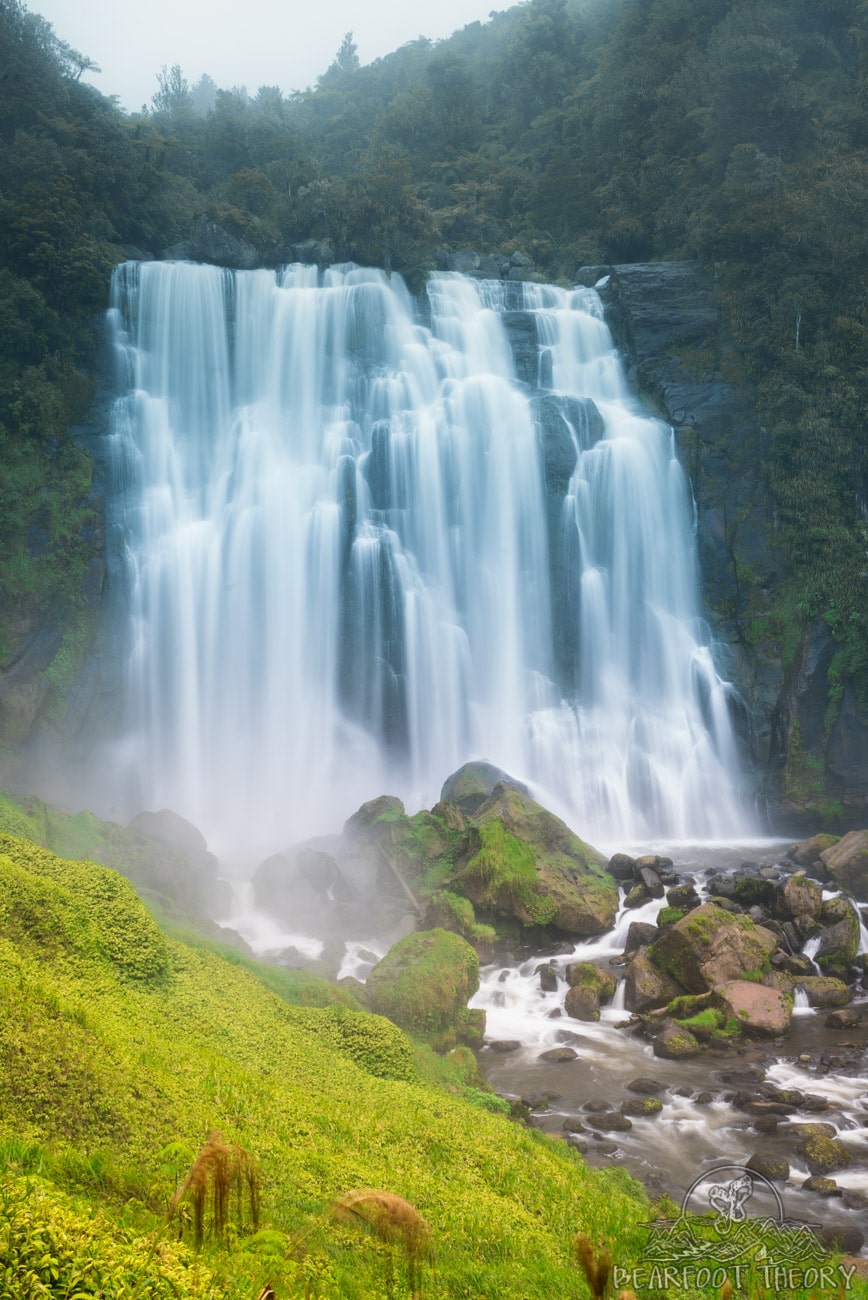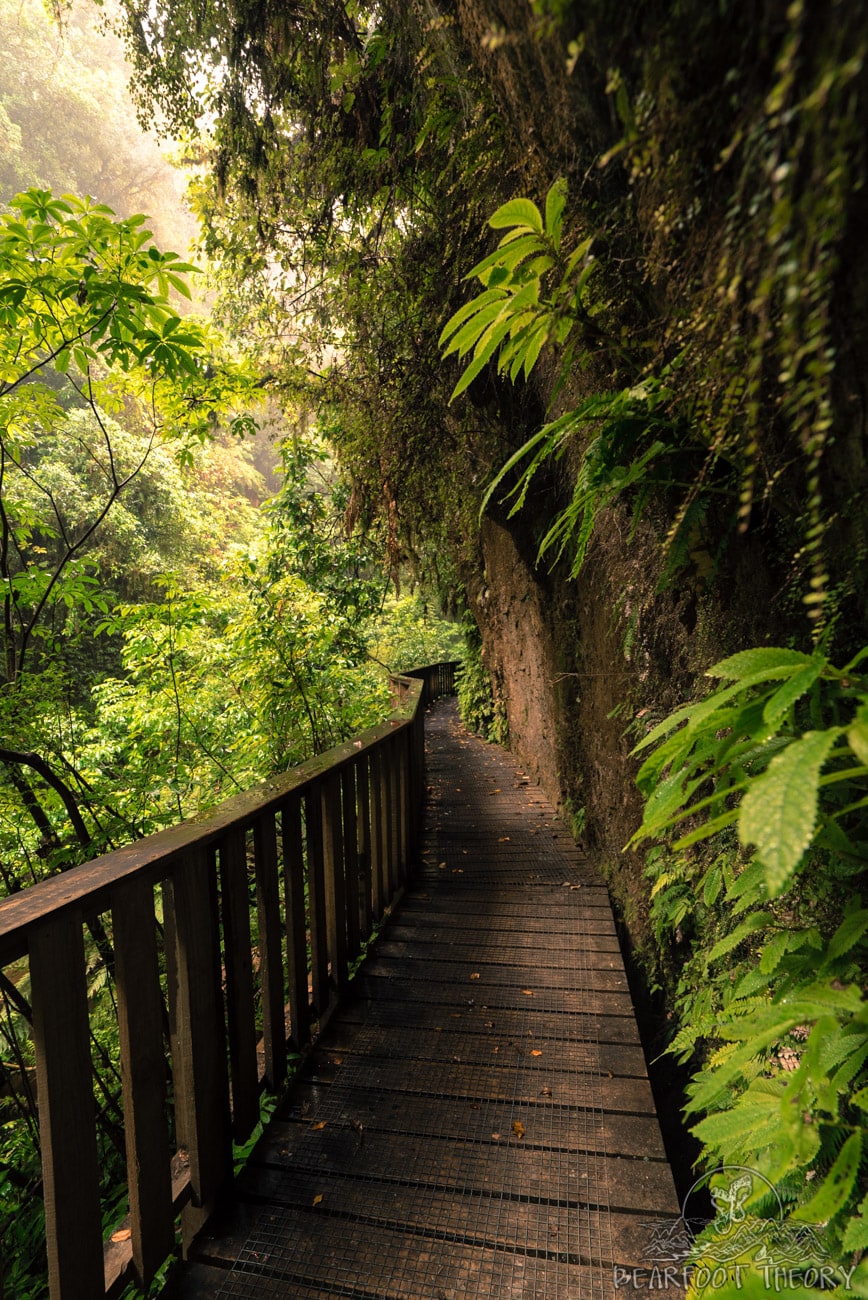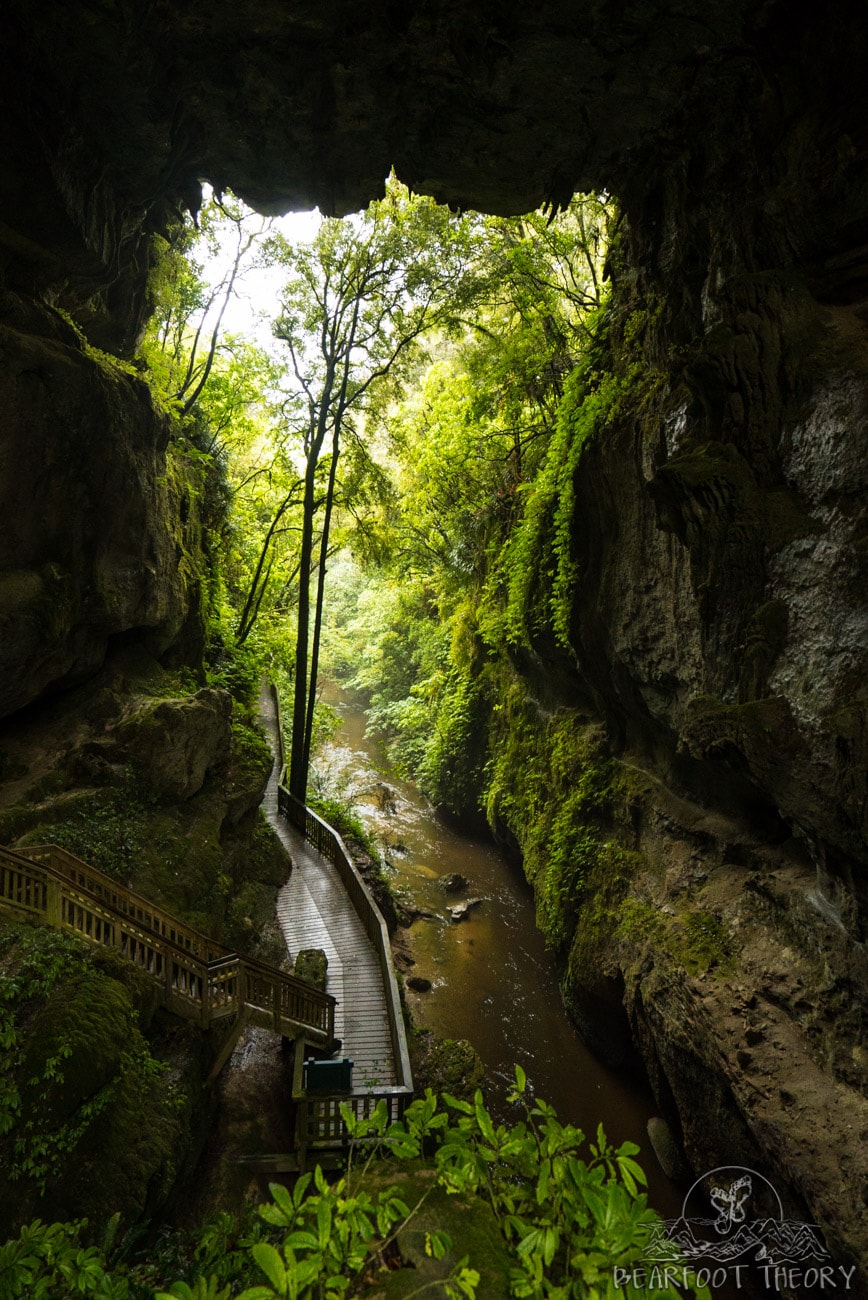 Next we went to a cave and a gorge that were right off the road. Both were very cool and totally worth the quick morning excursion. After exploring, we returned to the hostel, I dropped Christian off, and I went to Kiwi Cave Rafting for my glow worm tour.
The tour started with a 75 foot free rappel down into the cave. Once we were all down, we hiked up the stream and found a sandy patch to lay down on. We turned off our headlamps and the glowworms slowly started to light up on the ceiling above us. It felt like sitting under the starriest sky but only a few feet from the stars, rather than a whole galaxy away. After sitting there for a bit, we hopped on our inner tubes and slowly tubed down the cave in the dark under  sky of glow worms. At the end of the tour, we got back in our harnesses and climbed out of the cave.
Next, I headed south on the highway eventually finding a freedom campsite on the Whanganui River. I was a little nervous about going to this remote campsite by myself, but when I arrived, there were plenty of other campers.
One thing to note is that you probably aren't going to find much solitude if you are car camping here in New Zealand, especially around the holidays. That said, it's a very different vibe than you'd find at a car camping spot such as a beach in southern California that's packed with large motorhomes. Here, it's a younger, international crowd, and everyone I've camped next to so far has been very respectful.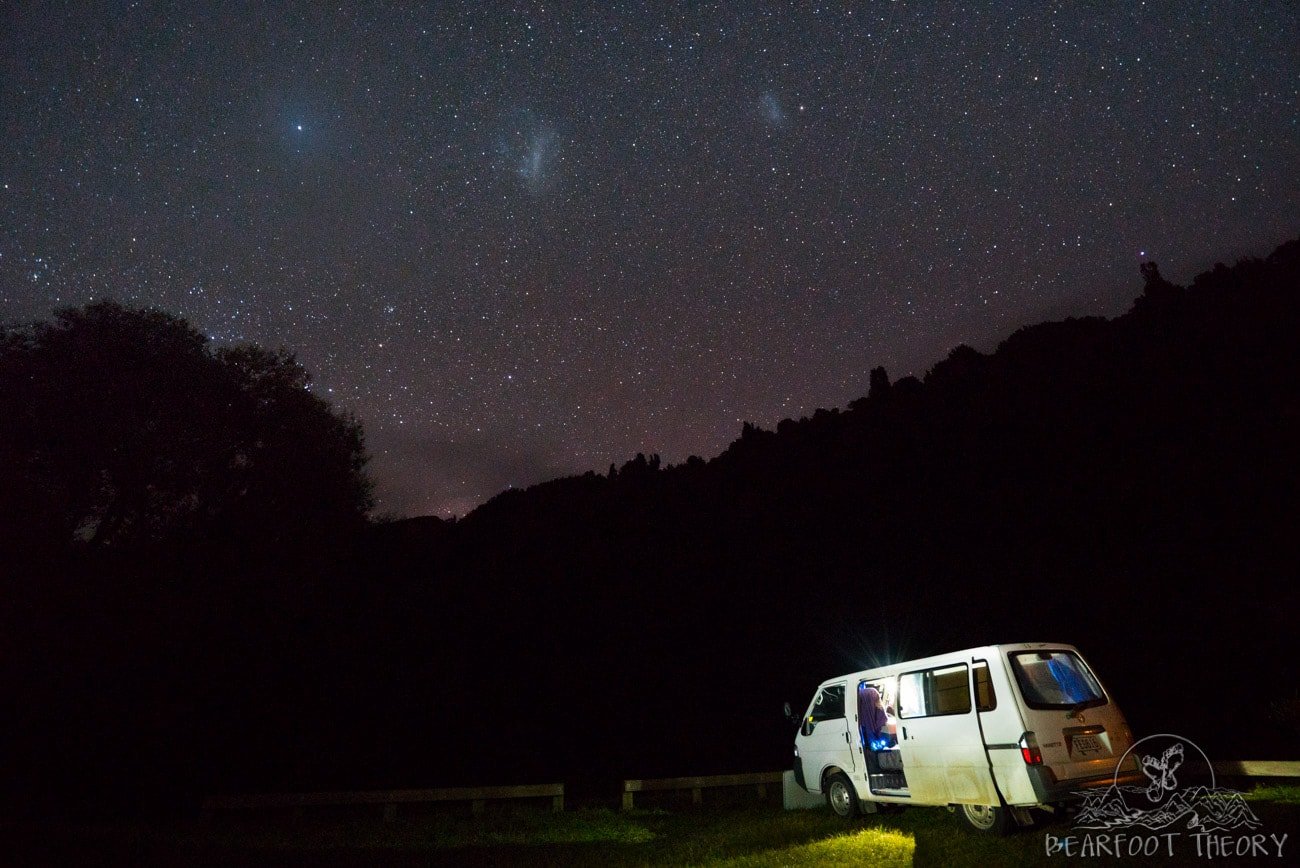 [separator style_type="double|dotted" top_margin="20″ bottom_margin="40″]
 New Zealand Day 4: Whanagnui River to Wellington
I woke up to pouring rain, so I skipped  breakfast and hit the road towards Tongiriro National Park. I was hoping to do the Tongiriro Alpine Crossing the next day, so I drove up to the information center. If it's cloudy or rainy, I've heard the 12 mile hike isn't worth doing since you won't be able to see any of the colorful crater lakes. After talking with the rangers, I decided to hold off in hopes of doing it on my way back up to Auckland (which now is definitely not happening because I've changed my ticket to fly home from Christchurch and won't be passing through that area again. I'm bummed to have missed Tongiriro, but I'm sure the South Island will make up for it).
I was lucky enough to score a media pass from the New Zealand tourism agency which gives me a discount on the ferry to the South Island, and with the holidays coming, I heard that the ferries get full. So I figured it was a good idea to make my reservation before getting back on the road. When I called to book my ticket, I was informed that there were blackout dates starting Dec 15, so if I wanted the discount, I would have to get on the ferry the next day. I booked at 8:45pm ferry, and then jumped in the car to drive the 330 km to Wellington.
The drive from Tongiriro to Whanganui was very pretty. Rolling green hills, a pretty river gorge, and tons of sheep.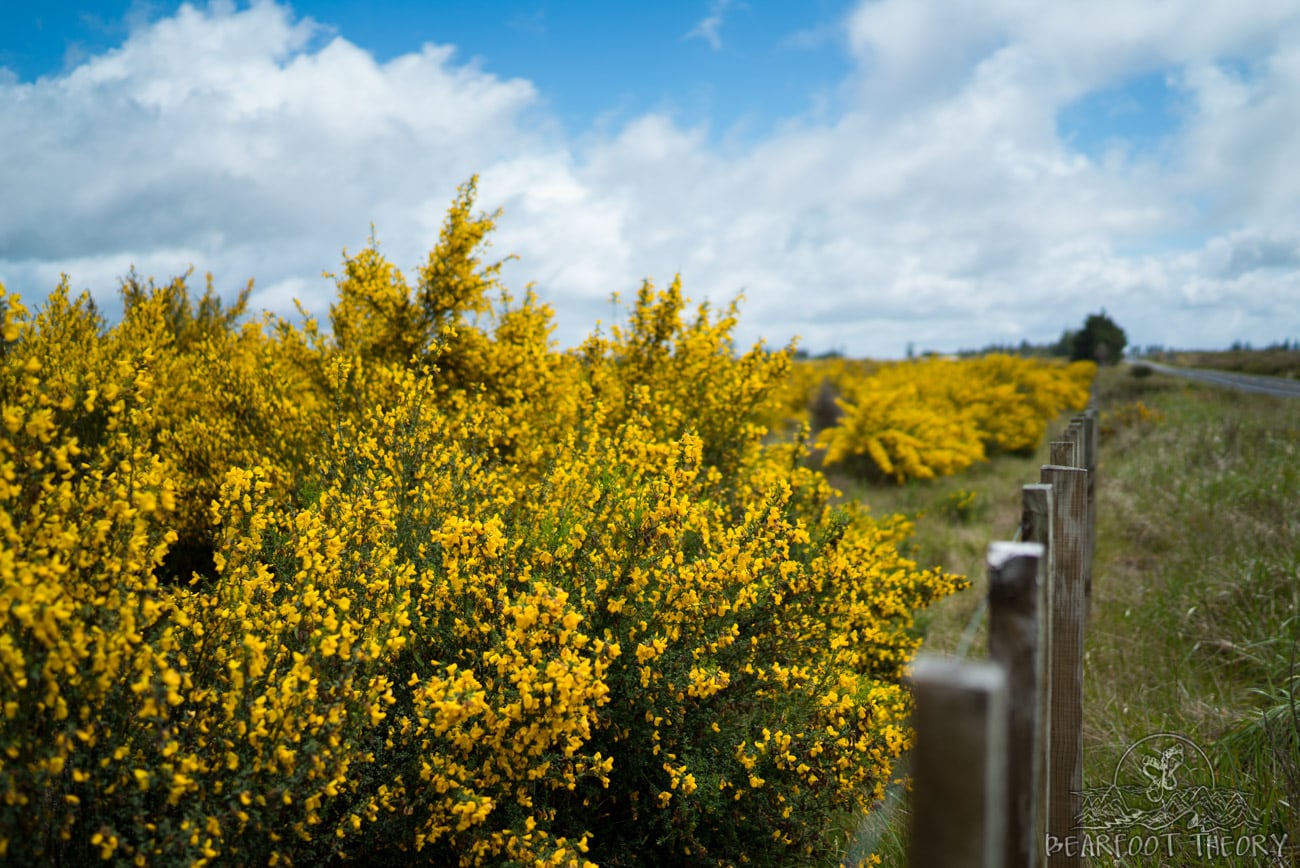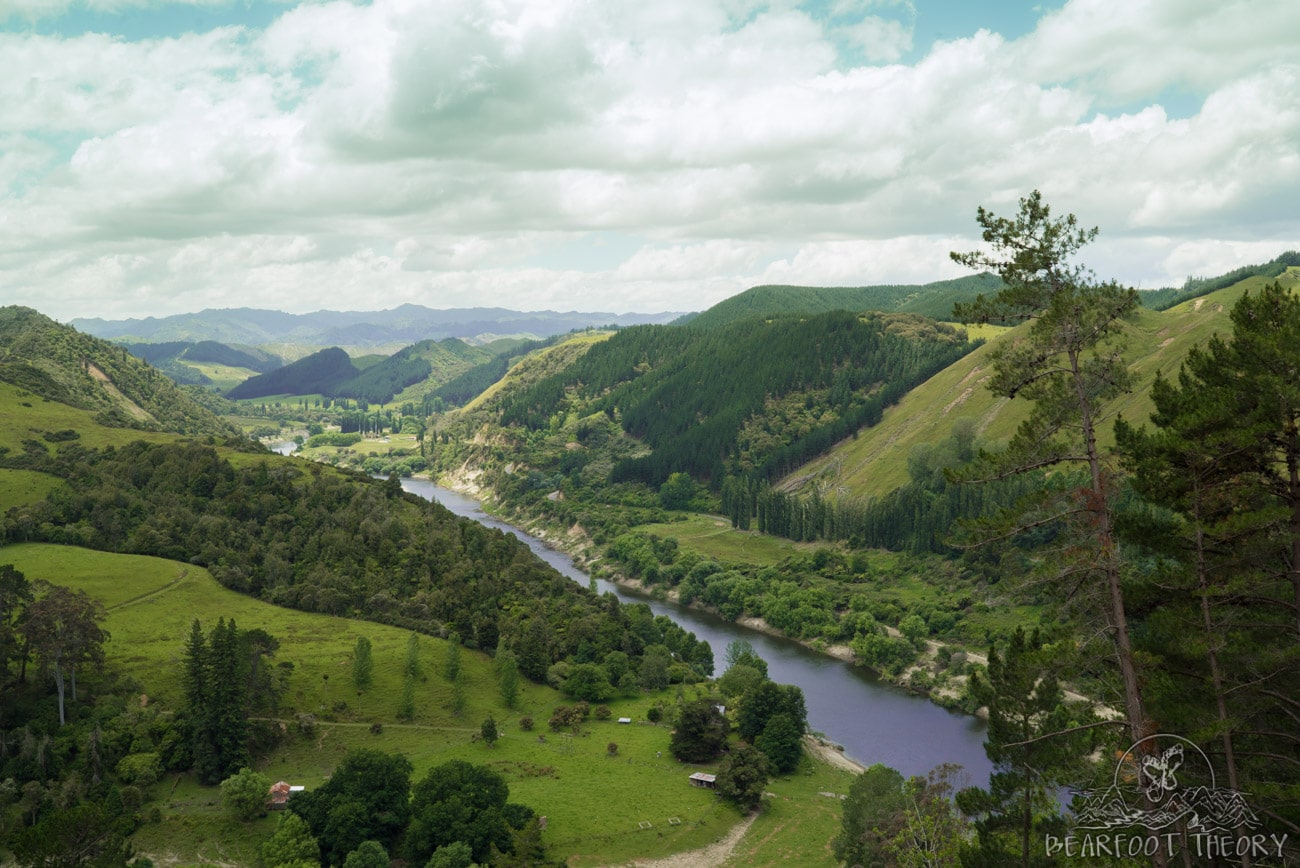 Another thing – driving here is wicked slow. The roads are just two lanes (there are literally no freeways), and all of them seem to be curvy. Everywhere you drive seems to take twice as long as you expect. After a couple of hours, I decided to stretch my legs in Whanganui and fight the gail force winds with a quick walk up to the lookout tower.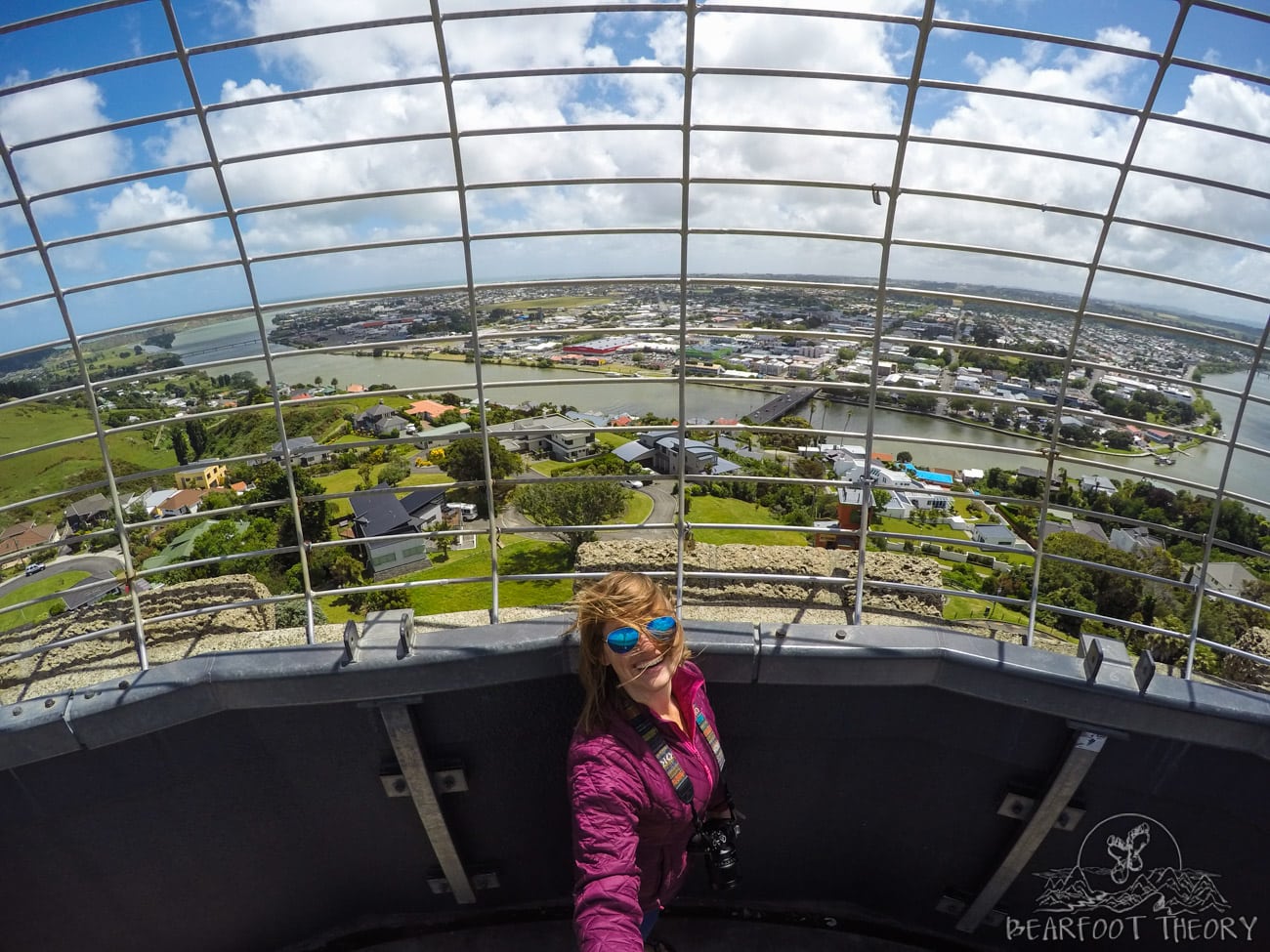 I finally arrived in Wellington around 5pm. It's a gorgeous, green, hilly beach town with a few tall buildings around downtown and the ferry terminal. The beaches on the edge of town were bustling with young New Zealanders kicking off summer. I didn't stop in town since I wanted to make sure I got a free DOC campsite at Onihowa Bay. Luckily there was room for me and I quickly made friends with my three Swiss neighbors who were also traveling by camper van. We took a stroll down the black sand beach and got an epic sunset.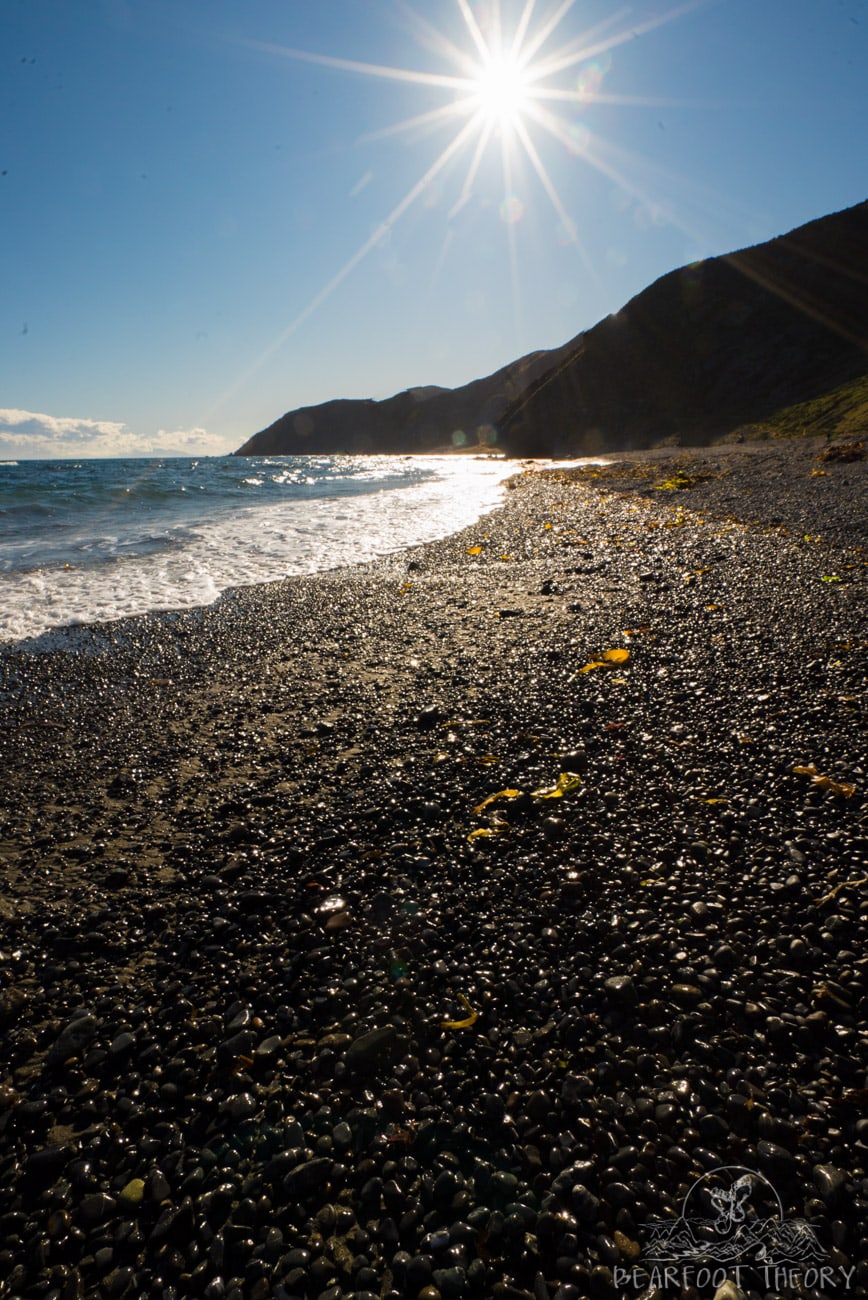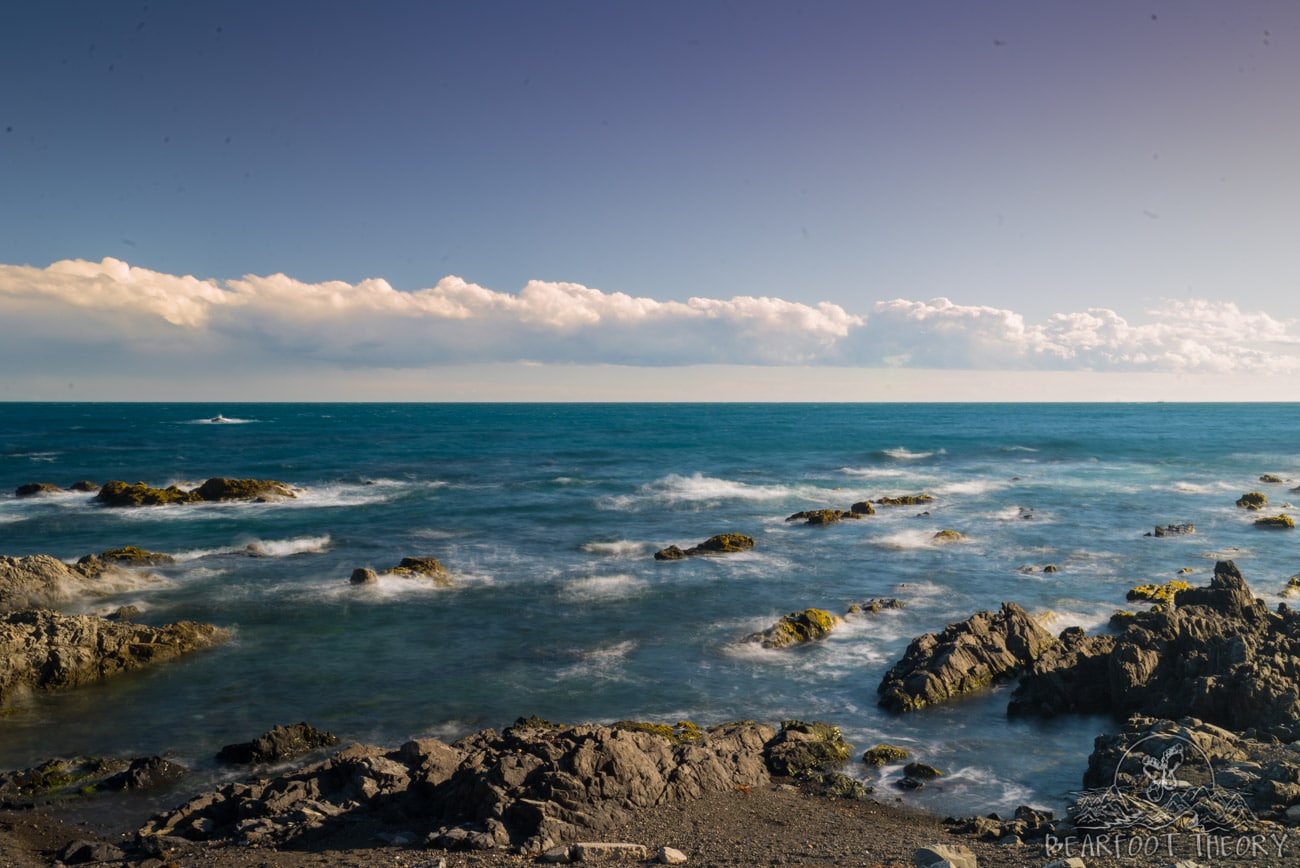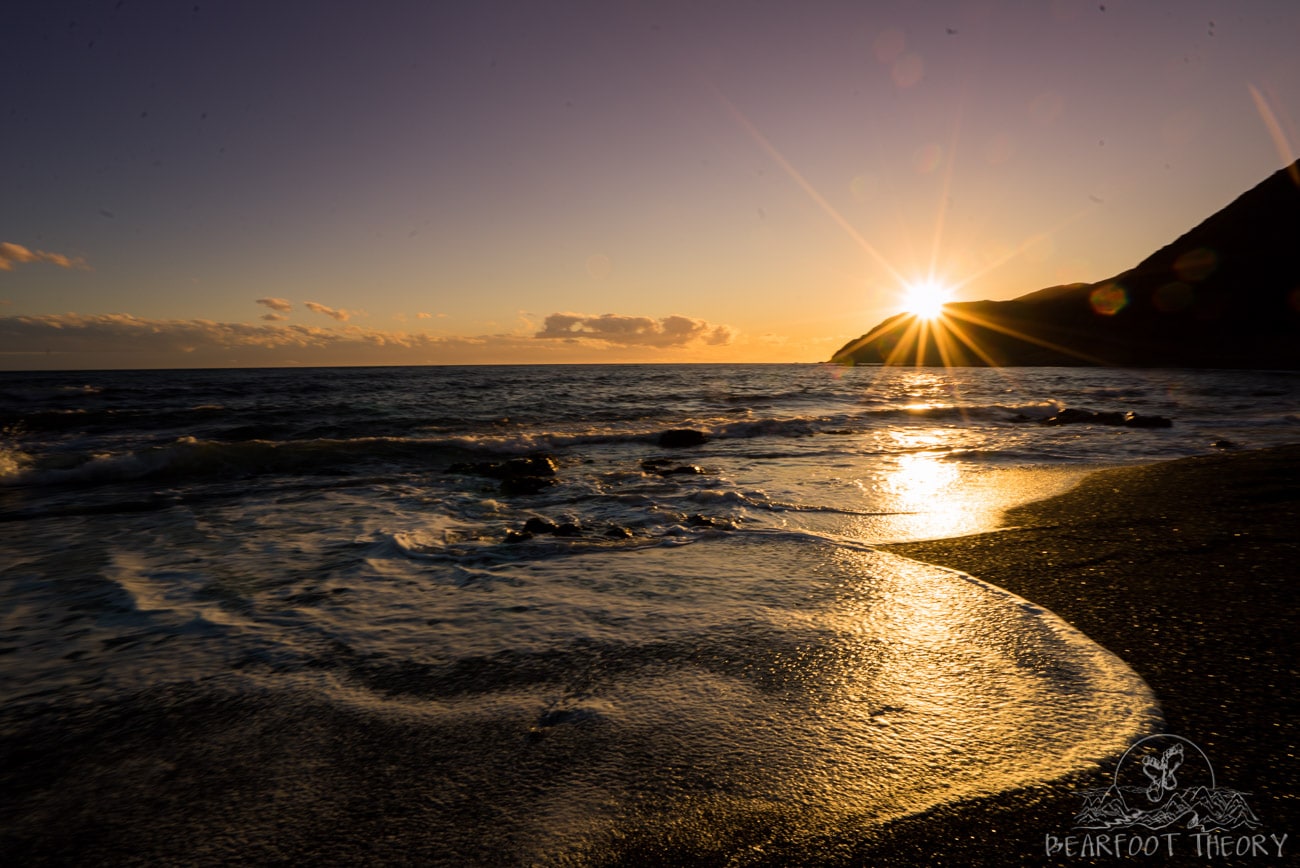 [separator style_type="double|dotted" top_margin="20″ bottom_margin="40″]
New Zealand Day 5: Wellington to the South Island
The sun rises at 6am sharp here and I've been waking up very early. I spent a couple of hours writing and editing photos, and then chilled with my Swiss friends over coffee at the beach. In general, I can be a little ADD and sometimes I have a hard time just sitting back and relaxing. But now almost a week in, I'm finally starting to realize that I don't need to be doing something all of the time.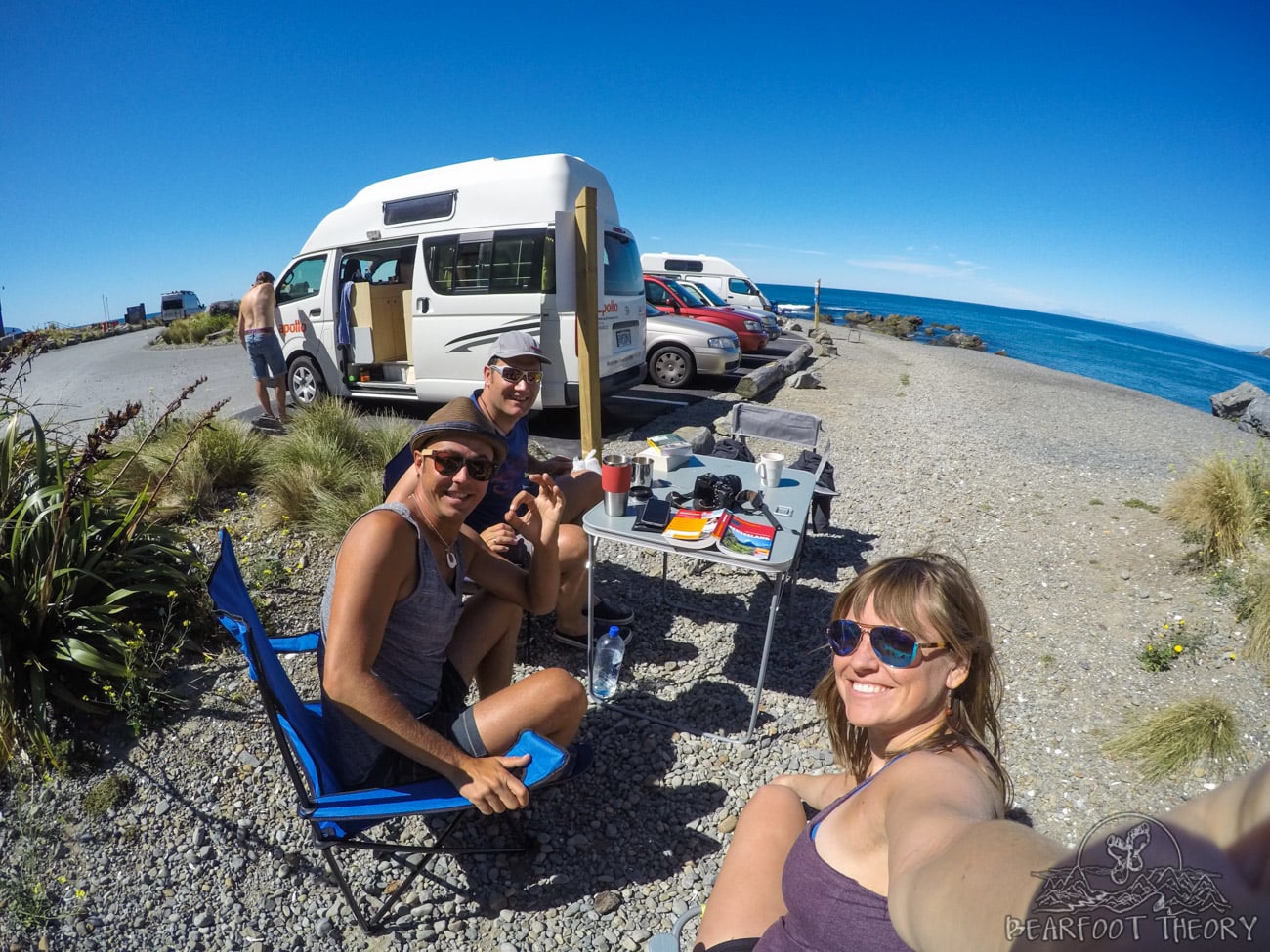 Today my plan was to drive into Wellington and put my left-side-of-the-road driving skills to the test. I got honked at quite a few times, and normally I'm a decent parallel parker…but here I'm like a total joke.
After going in a camera store and paying almost twice as much for a camera bag that I would've paid at home, I parked near Cuba Street – a hip area of downtown full of record stores, bars, and cafes. Wellington actually reminds me of a smaller, sunnier, and cleaner San Francisco. It's even surrounded by water on three sides.
For lunch I hit up a burger food truck called Ekim and ate a falafel burger as big as my face.
Next I decided to work off my lunch by hiking to the top of Mt. Victoria. Once at the top, I was greeted with 360 views of Wellington as well as a couple dozen lazier folks who drove to the top. I enjoyed the views for about an hour while I proceeded to get sunburned, lobster burned. Whoops. Apparently there is no ozone layer here, so sunscreen  is a must.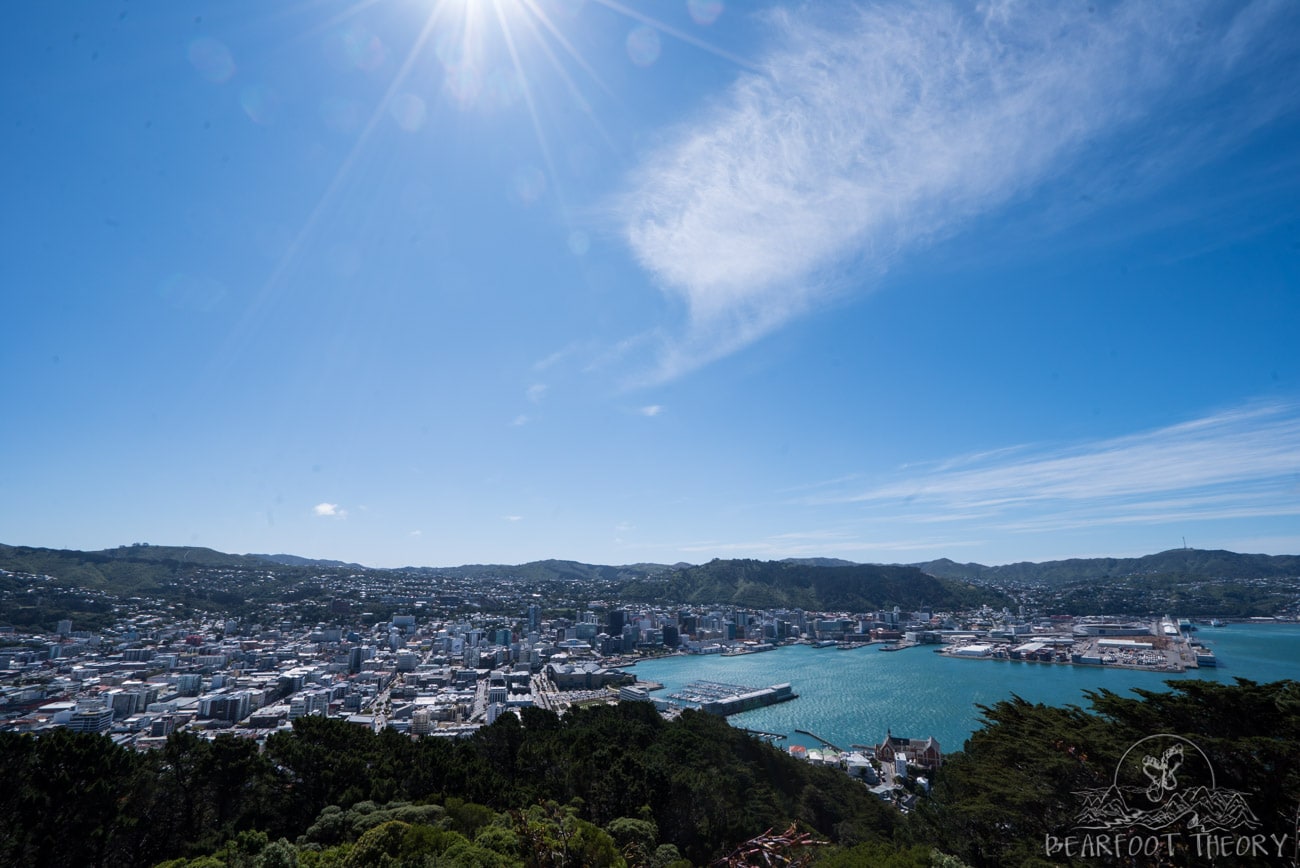 I got a bit off track as I headed back to my car. All of a sudden things didn't look familiar, and my phone was almost dead. A wave of panic almost ensued thinking I had lost the van. Luckily I had just enough phone juice to look at the map, and I figured out that I was about 5 blocks away from where I parked.  Lesson learned. Always drop a pin on a map or at least make better mental note when leaving my car in a foreign land.
Wellington is known for its food scene, and I had just enough time to squeeze in another meal before going to the ferry. The guy at the camera store suggested a place called Little Penang. I went there, stuffed my face with the best mie goring of my life. If you are ever in Wellington, go there and feast away.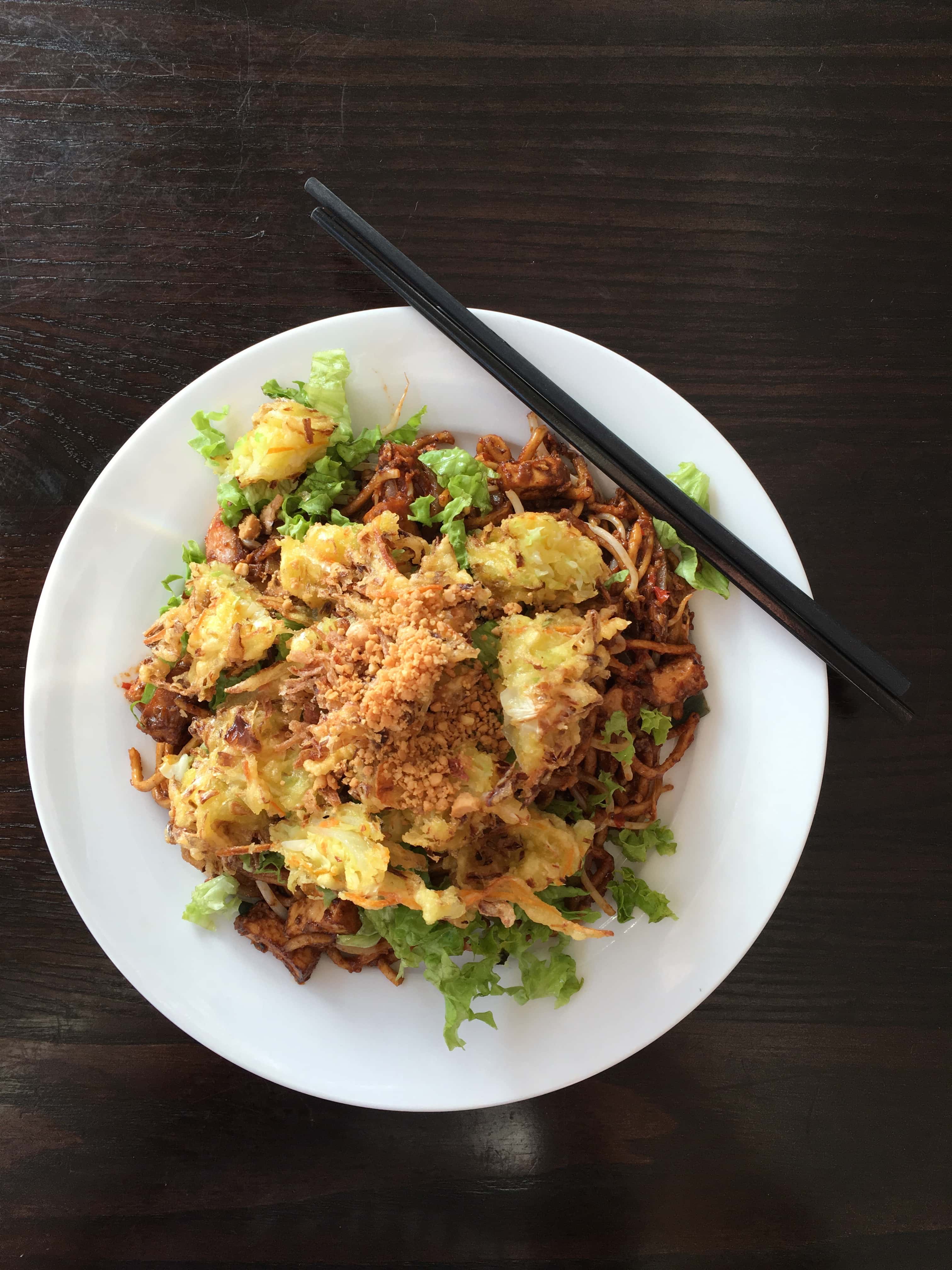 My ferry ended up leaving an hour late after the sun had set and it was pitch black. I was a little bummed to not be able to see anything, especially the landing on the south island, as I'm pretty sure it was gorgeous. Oh well.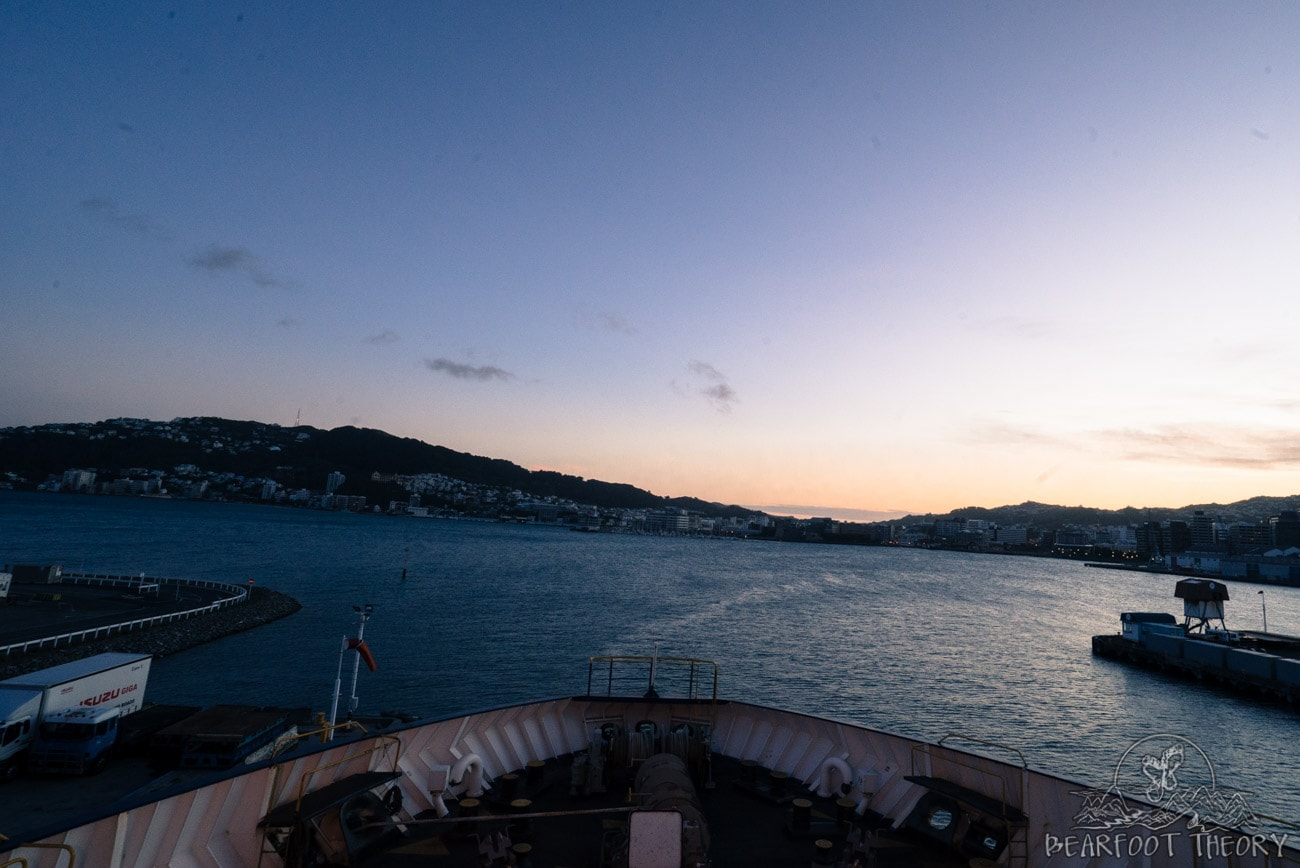 [separator style_type="double|dotted" top_margin="20″ bottom_margin="40″]
 New Zealand Day 6: Picton to Queen Charlotte Sound
I woke up early in a parking lot (where I wasn't really supposed to be), and sped off so I wouldn't get busted, and caught a hot second of the sunrise at the Picton harbor. Then found a cafe in town where I could do some work.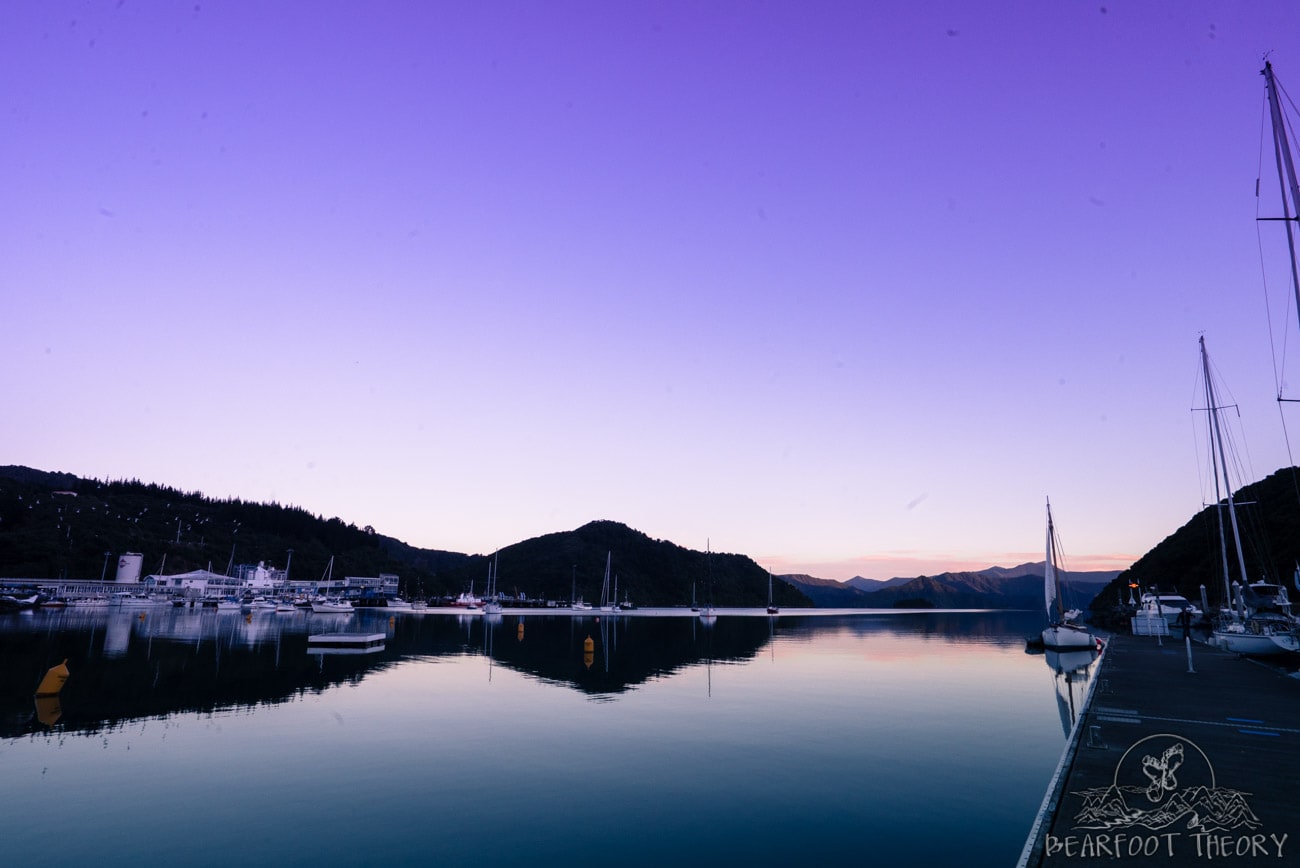 Next I hit the windy road that follows the Queen Charlotte Sound. Wowzers. I was not prepared for how beautiful this area was going to be. I wasn't even planning on spending any time here, but it ended up being completely amazing.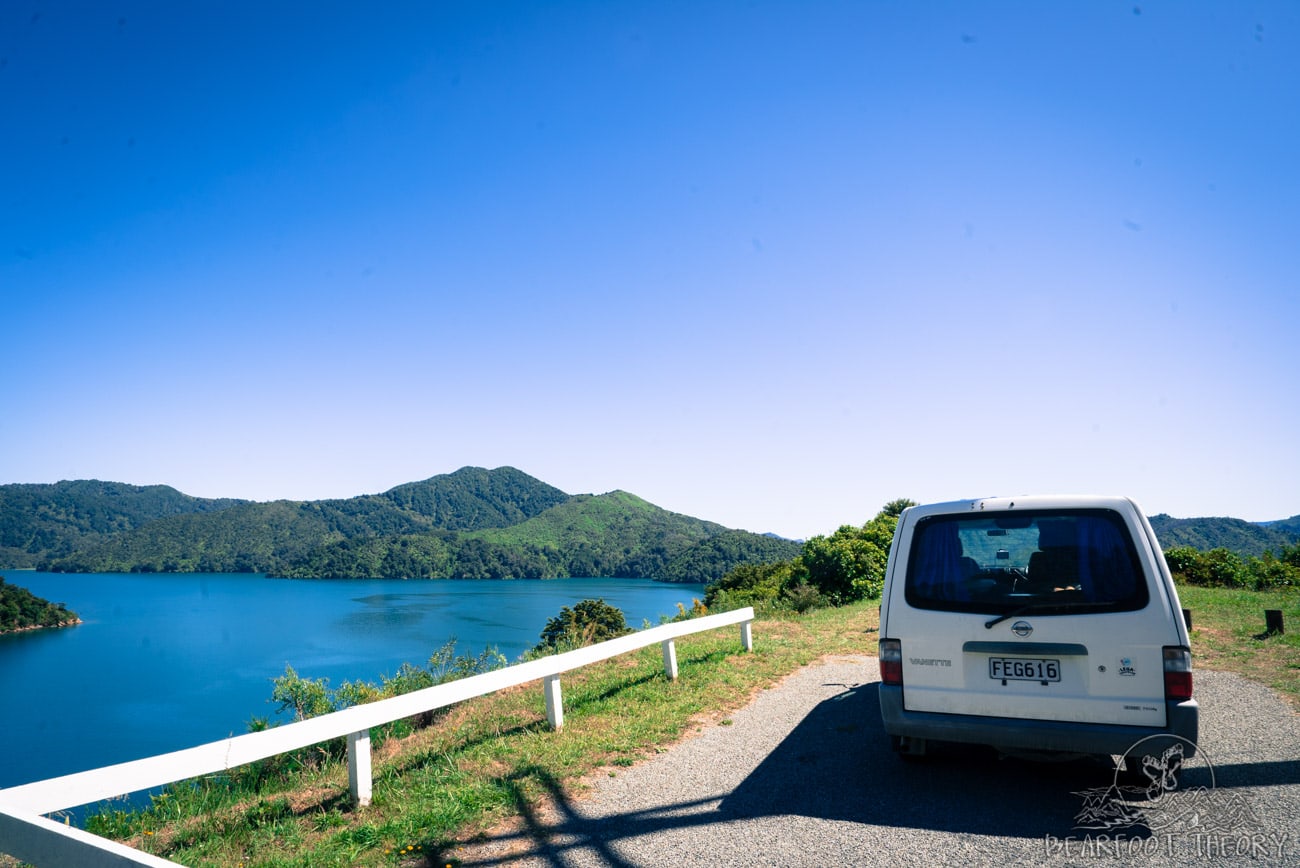 I decided to head down the Peninsula towards the Queen Charlotte Sound trek. I didn't have enough time to do any overnight hikes since I had to be on the Abel Tasman coast for a kayak trip in a few days. But the drive alone was worth it. Every corner was new views of the sound and the green hills surrounding it.
I read in the New Zealand Frenzy South Island Book that Mistletoe Bay was a nice place to camp. I found that Mistletoe Bay is a great little eco-camp right on the water with friendly people, a big grassy lawn, and a protected bay perfect for kayaking. And I really needed a shower…so I was willing to pay to camp for the night.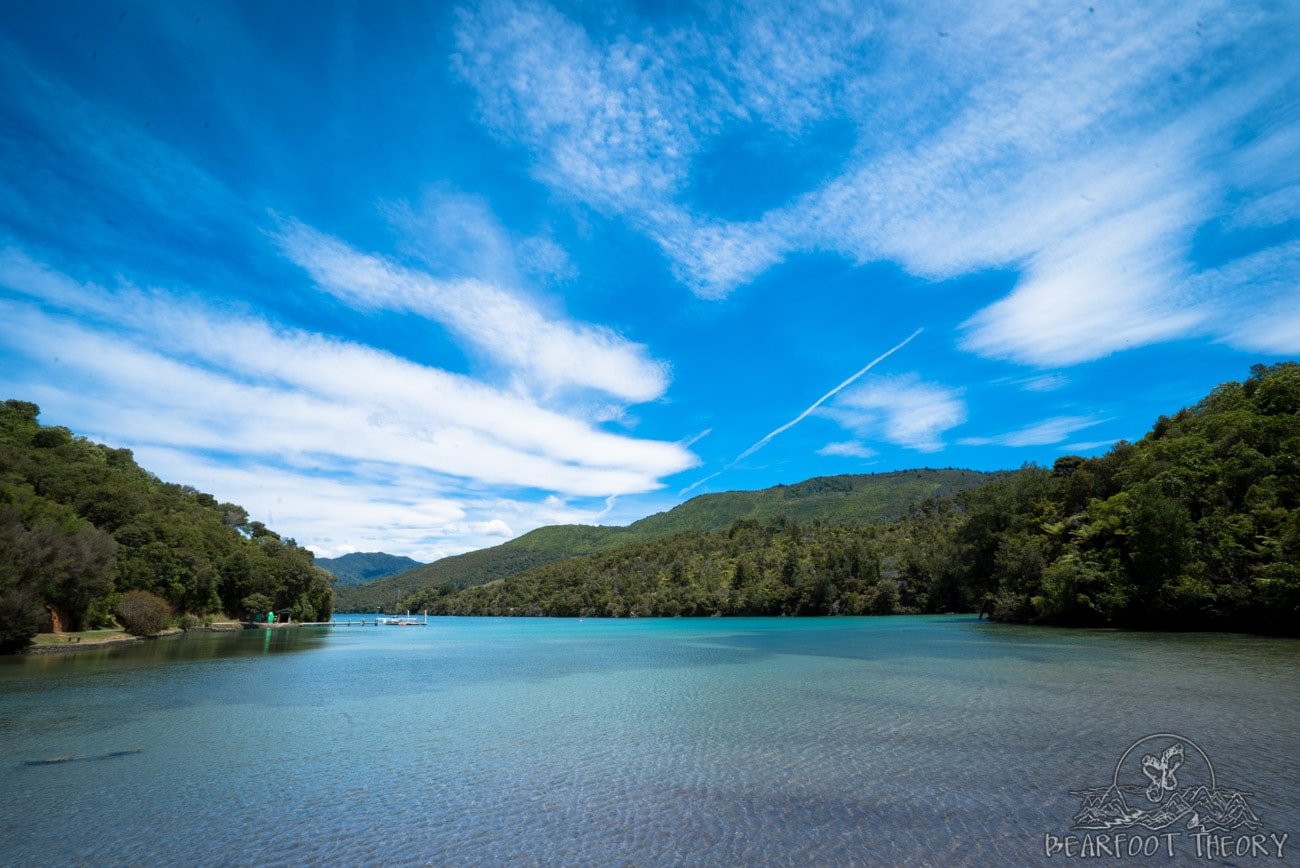 It seemed like the perfect spot to take my Oru Kayak for its first spin. It took me about 10 minutes to put it together and then I was on the water.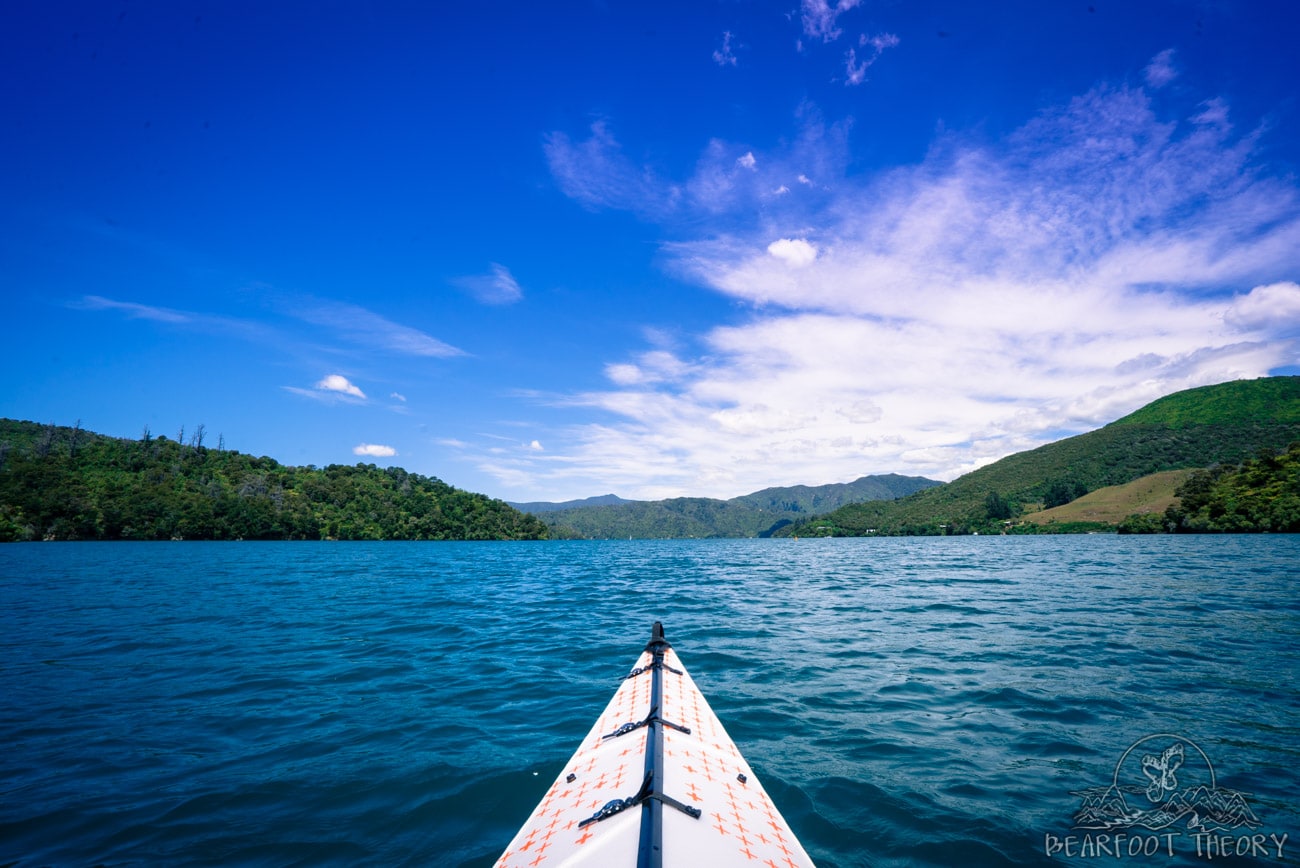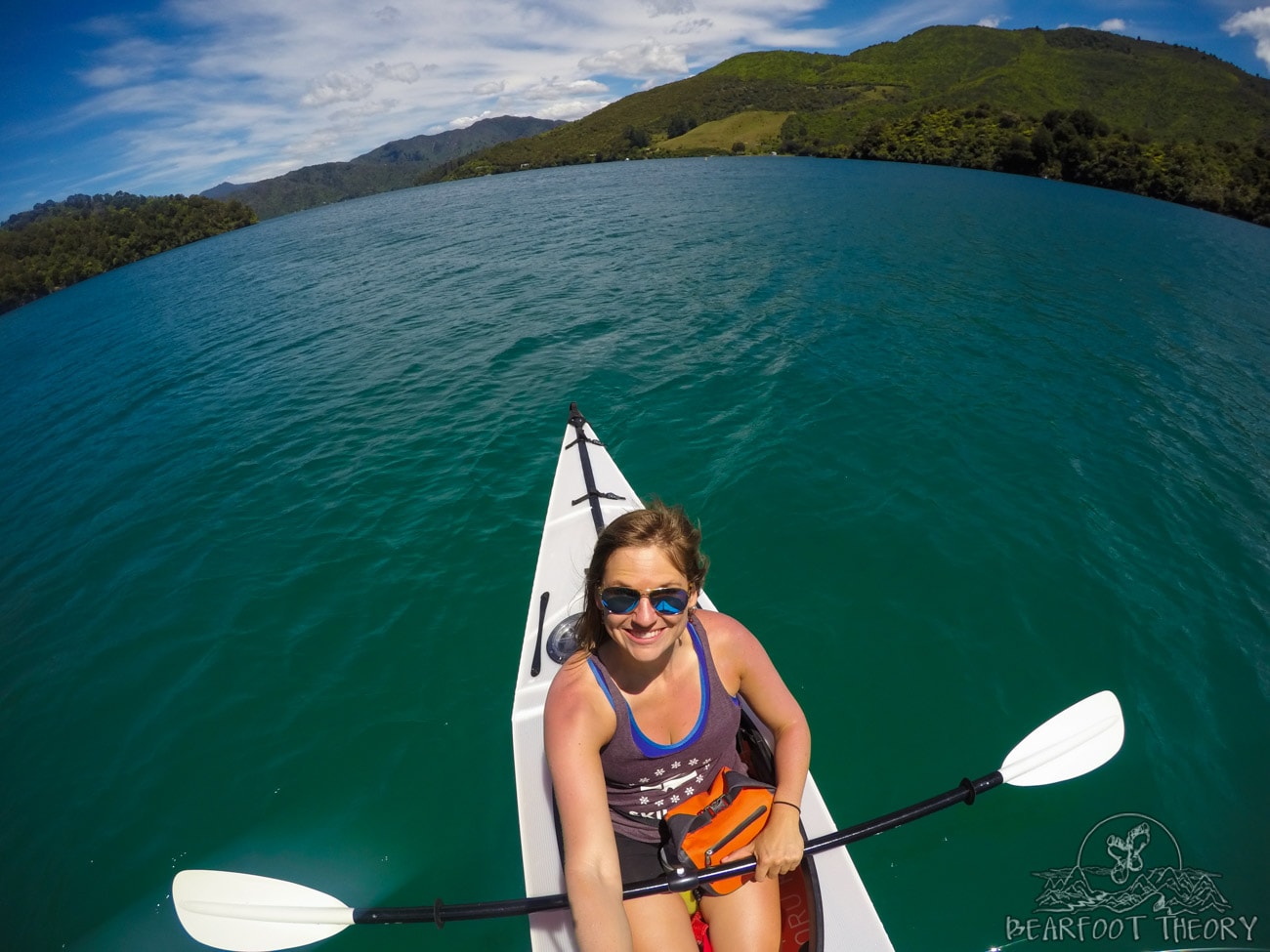 After my kayak, I chilled at camp, read a bad mystery novel that I stole from a hostel (I forgot a book, an essential item for van travel). Then I read a nearby trail to the Onahua Point Lookout was worth doing, so I decided to do it for sunset. I had the trail all to myself except once I was at the summit an older British man joined me. He told me he was in town visiting his daughter who was pregnant and expecting to go into labor at any moment…he also told me he had been walking all day and his phone was dead so he was crossing his fingers that it hadn't happened already. Too funny.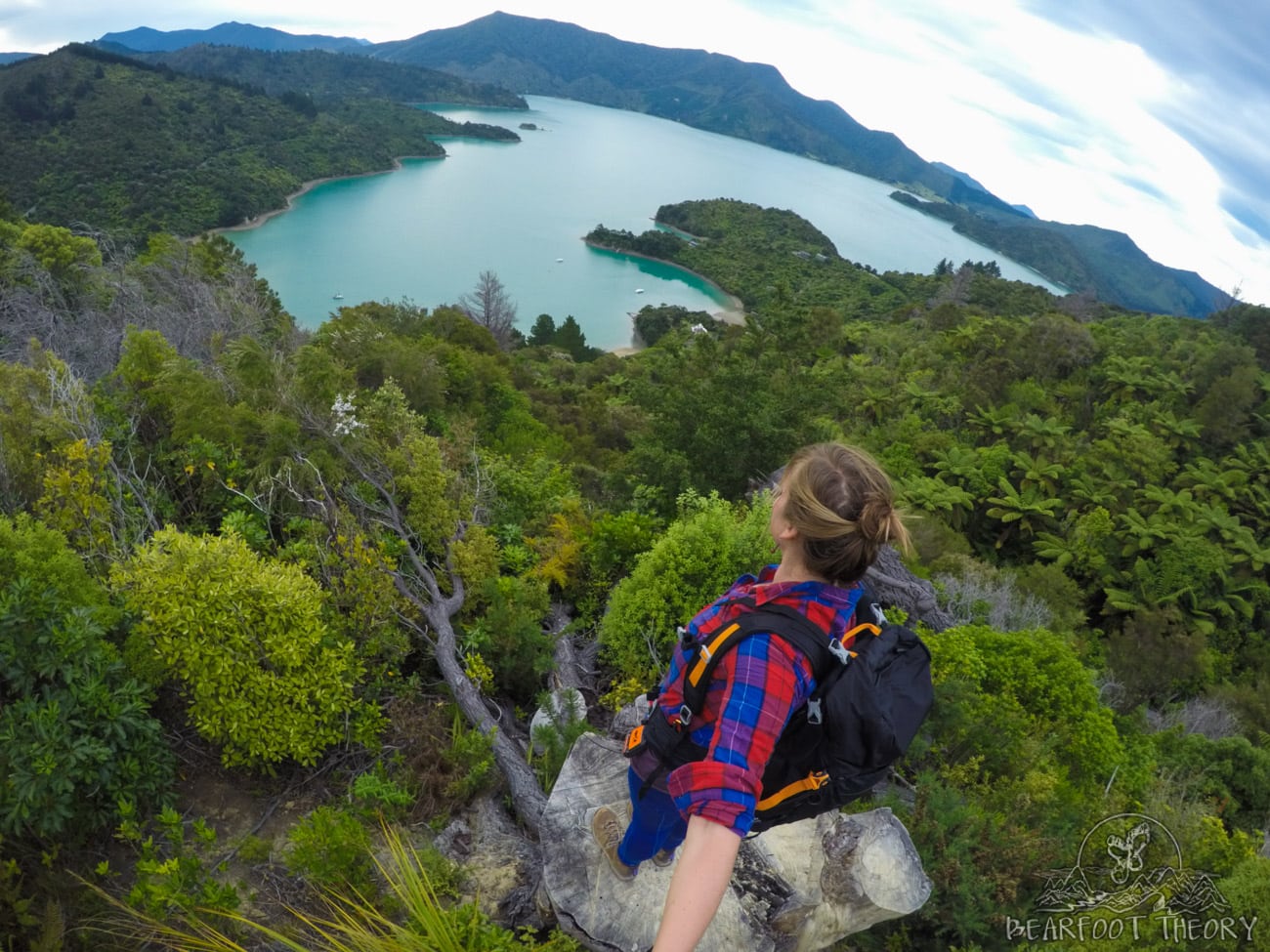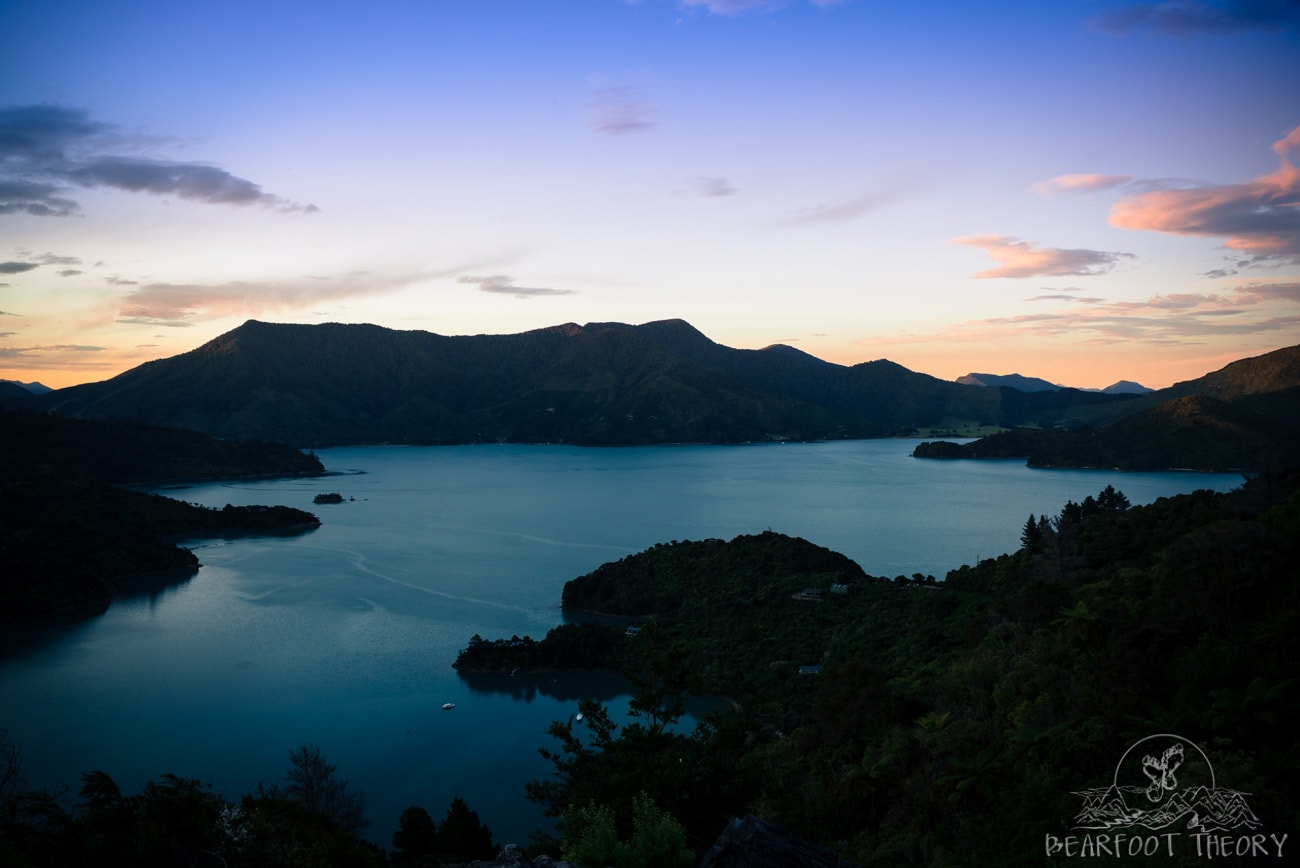 Well that sums up my first week. Hope it was at least mildly entertaining. Stay tuned for more New Zealand road trip itinerary tips and more stories from the road.  And check out my New Zealand Bucketlist to see what else I have planned.
[content_box title="Read Next"]
[/content_box]
HAVE YOU TRAVELED IN NEW ZEALAND? WHAT SPOTS SHOULD I HIT UP ON THE SOUTH ISLAND?  LEAVE A COMMENT BELOW, TWEET ME, OR WRITE ME A POST ON FACEBOOK.