Queenstown Travel Tips: Where to Eat, Stay & Things to Do
Got 2 or 3 days in Queenstown? Learn how to maximize your time with these travel tips that include the best places to stay and eat and awesome things to do in the adventure capital of New Zealand.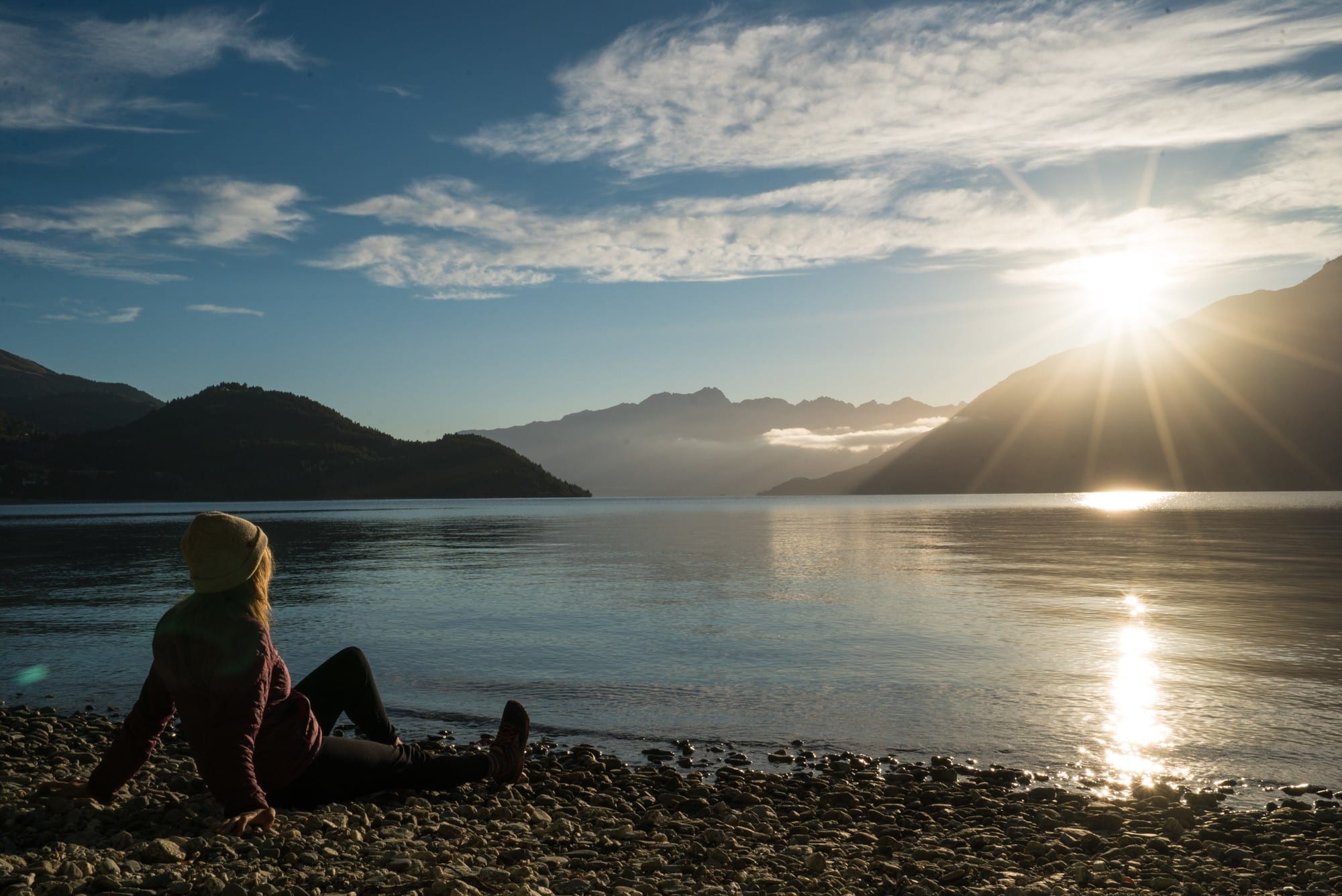 Queenstown Travel Tips
Queenstown is one of the liveliest cities for travelers in all of New Zealand. It's got great food, amazing scenery and sunsets, tons of hikes, nearby wineries, and plenty of activities to give your adrenaline a good jolt. If you dig the vibe, you'll want a minimum of 2-3 days to get a good feel for Queenstown, and don't be surprised if you end up staying a longer than you originally planned (like I did).  With these Queenstown travel tips, you'll know exactly where to go and how to spend your time to make the most out of your stay.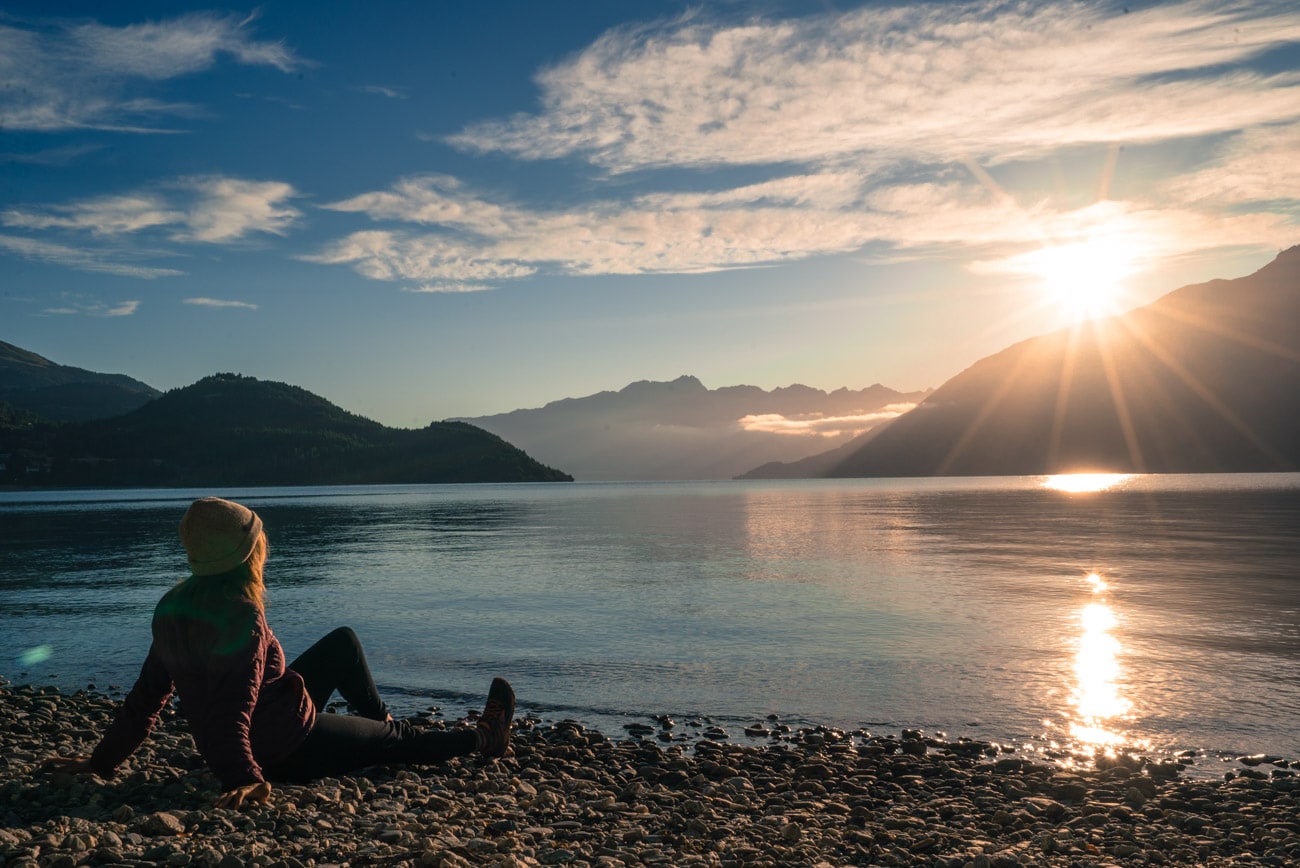 Here in my Queenstown travel guide, learn about all the hot spots, from the best restaurants, unique places to stay, and the best things to do in Queenstown.
— About Queenstown —
Getting There: Queenstown is located at the Southwestern end of New Zealand's South Island. Most international flights to Queenstown connect through Auckland, Christchurch, or Sydney. Flying to and renting a car in Queenstown can be more more expensive than other airports in New Zealand. When shopping for flights and a van or car hire, I'd recommended comparing prices with other big airports. Depending on how much time you have, it might be worth it to start in Christchurch and then drive south to Queenstown, hitting some of the other spots (like Mount Cook) along the way.
Budget: Queenstown is also one of the most expensive towns on the South Island. In restaurants, main dishes range from $15-30 NZ and beers cost around $7 NZ. Tipping is not customary. Hostels and private campgrounds start at $30 NZ per night per person, while more luxurious hotels can be upwards of $500 NZ per night.  Credit cards are excepted almost everywhere. **The good news is the exchange rate for the US dollar is really good right now, which helps bring costs down for US travelers.
Weather: Queenstown is in the Southern Hemisphere. Summer runs December through February when you can expect long and warm, sunny days with sunset around 10pm (which is awesome if you are camping). Winter is June through August. Bring a down jacket and be prepared for frosty mornings and snowy mountains. That said, no matter when you visit, New Zealand is a small island which means unpredictable weather that can change very quickly.
— Where to Stay in Queenstown? —
Queenstown has more services for travelers than any other town on the South Island. This means that there are plenty of options for accommodations, but many places fill up, especially during the busy season. In the height of summer (December through February) and prime ski season (July through September), you should definitely book ahead – and that's whether you are staying in nice hotel or a budget hostel.
Hotels
Hilton Queenstown Resort and Spa ($$$): One of the closest hotels to the Remarkables Ski Resort, the Hilton is located right on the shores of Lake Wakatipu on the outskirts of town (a 15 minute drive to the town center). This quiet, luxury hotel offers three onsite restaurants, a water taxi to town, and some rooms even have their own private outdoor hot tub.
Absoloot Value Accommodation ($$): Recently renovated, Absoloot Value Accommodation is a great fit for travelers that don't want to spend a fortune but are over the whole dorm room thing. For less than $115 NZ per night, you can have two twin beds or a queen bed with a mini-fridge, a microwave, and your own private bathroom right on the waterfront.
Sir Cedrics Tahuna Pod Hostel ($): If you are on a tight budget or are traveling solo, you might want to consider a hostel. The new Tahuna Pod Hostel has all the perks of a normal hostel, but rather than typical bunks, you have your own "private" pod that comes with a charging station, free unlimited wifi (not that common in Queenstown), and free breakfast. You're not going to find a better deal located within a 3 minute walk from all of Queenstown's restaurants, bars, and shops.
Campgrounds
12 Mile Campground: This is a huge no-frills Department of Conservation Campground ($10 per person per night) on the shore of Lake Wakatipu about 15 minutes from Queenstown. And by no frills, I mean, there are no showers, no potable water, and no trash disposal. With that said, I stayed here off and on for nearly three weeks and really loved it. Depending on where you choose to park, there's way more space here than most New Zealand campgrounds, and the camp host was incredibly friendly. For the quietest area, go straight past the gate rather than turning down towards the lake.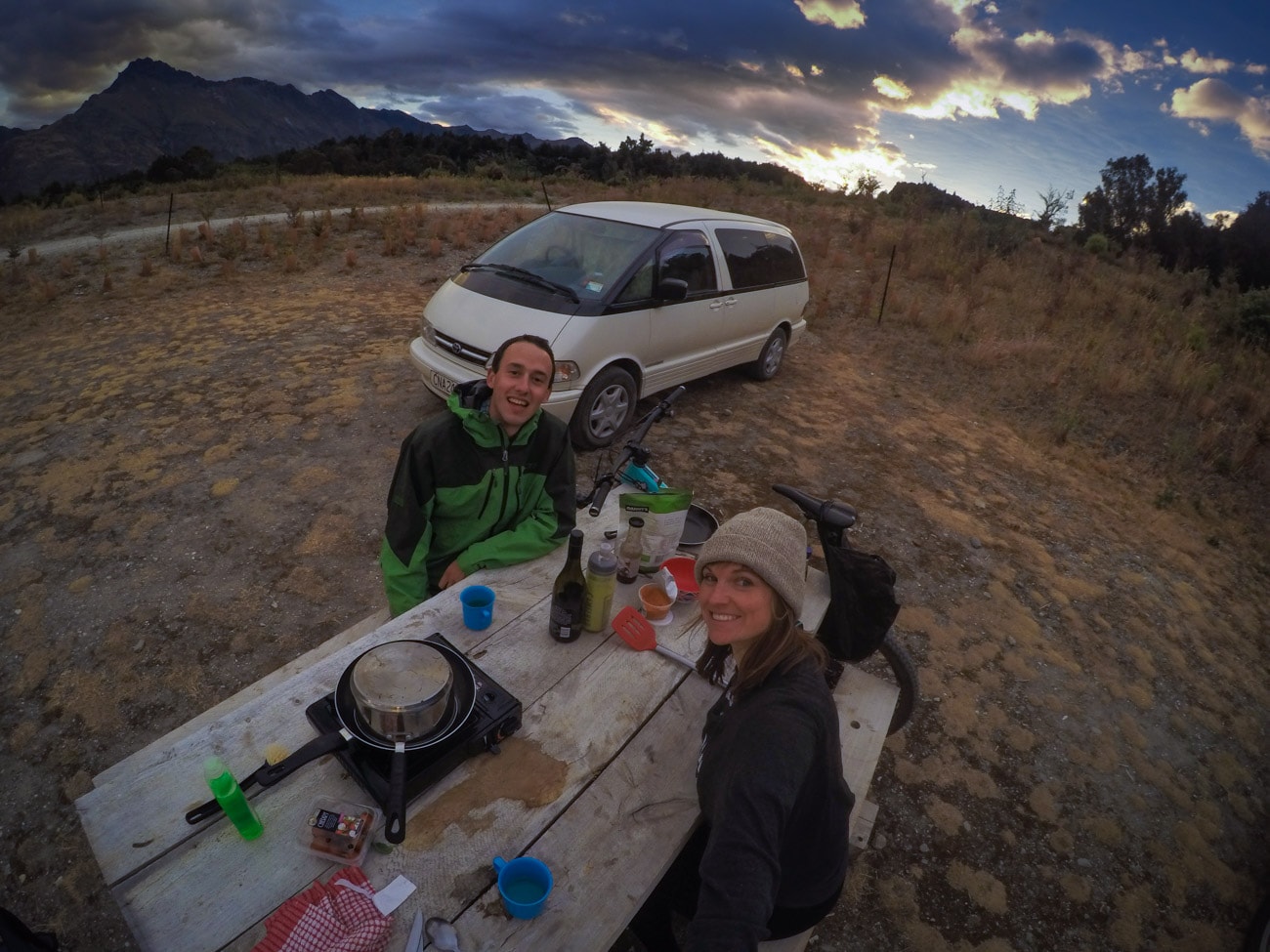 Q Box Motorhome Park: This is the cheapest camper van park that is within walking distance to the town center (and it still runs about $30 per night). The sites themselves are nothing more than a gravel parking space, many of them uneven, but they have coin laundry, hot (and unlimited showers), and clean kitchen facility. The only real reason to stay here is if you are staying in a camper van and want to have a good night out on the town without having to worry about driving at to 12 Mile Campground at the end of the night.
— Where to eat in Queenstown —
 The Sherwood: I ate at the Sherwood 3 times. It's one of the few places in Queenstown that puts a big emphasis on local food, with many of the ingredients grown right there on site. My first meal there was at lunch time, when I had the best homemade veggie burger of my life (and that's no joke!). The second time I went there for dinner with a friend. Some of the food was awesome (like the beet salad), but our server seemed a little off and some of the dishes didn't live up to their potential. I emailed the manager about my experience, and he offered to host me at the chef's table to show me what they were capable of. I gotta say, that third and final Sherwood Meal was something special. Every single dish was inventive, full of flavor, and cooked perfectly. From the grilled lamb to the twice fried potatoes to the incredible chocolate vegan (I know) desert – it was all amazing.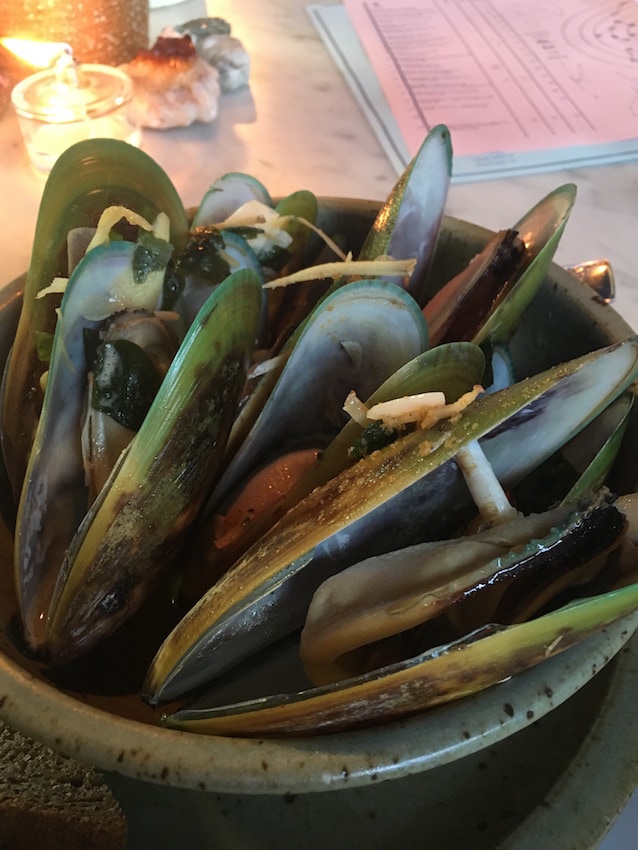 Atlas: Steak, salad, and frites for $20 NZ. Plus a killer beer list right on the waterfront. Nuff said.
Tacos Medic: Craving a quick taco fix? Taco Medic is order-at-the-window-taco-shop located down one of the main alleys in town. The fish tacos rivaled those in San Diego, and make sure to sample the sauces.
Fergburger: When you arrive in Queenstown, one of the first things you'll notice is the hoards of people lined up on Shotover Street, and you'll be very confused. Then you'll realize they are all in line at the fast food joint called Fergburger. I thought these people were 100% certified insane….but then again, there's very few things I'm willing to waste my time waiting in line for. My advice? Get a burger. For sure. They are famous for a reason. The patty, the bun. It was all delicious. But should you wait in an hour long line? No way. Instead, go around 10pm after you've got a beer or two in ya. There will be no line, and the burger will probably taste even better. (Oh and if someone tells you that Devil Burger is just as good, don't believe them. I did a taste test and Ferg won hands down).
Fergbakery: Right next door to the burger joint is the sister bakery, where you'll find the best pies in New Zealand (at least out of all the pies I had). The portobello venison pie was so good, I think I ate at least 6 of them during my Queenstown tenure.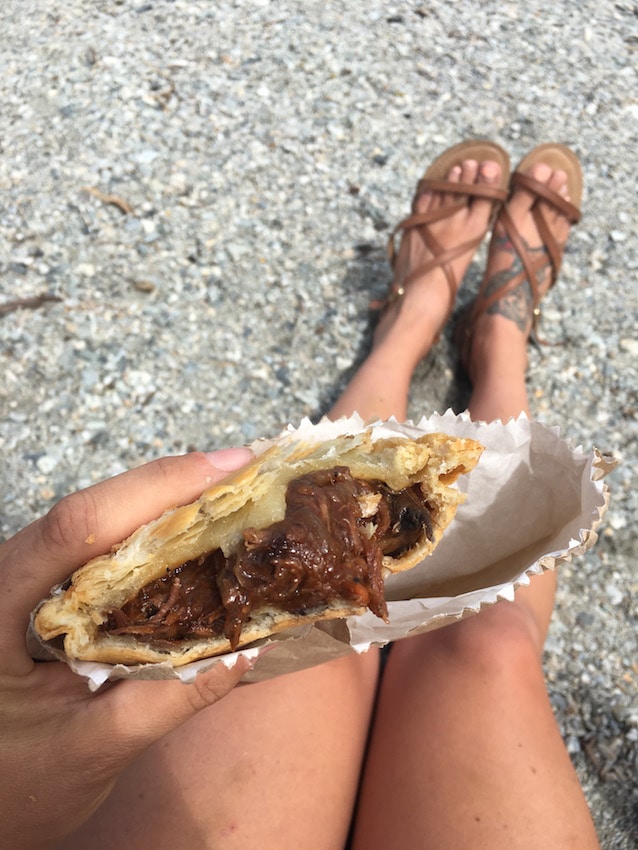 Halo: A good salad is hard to find in New Zealand. Every restaurant had the same few salads with the same ingredients, and they all seemed overpriced. Halo was one of the few places that had a good salad menu. While they weren't too big, both the lamb and the quinoa salad tasted awesome and satisfied that fresh veggie fix. Halo also has free wifi, has some of the best coffee in town, and I always dug the music playing on the stereo.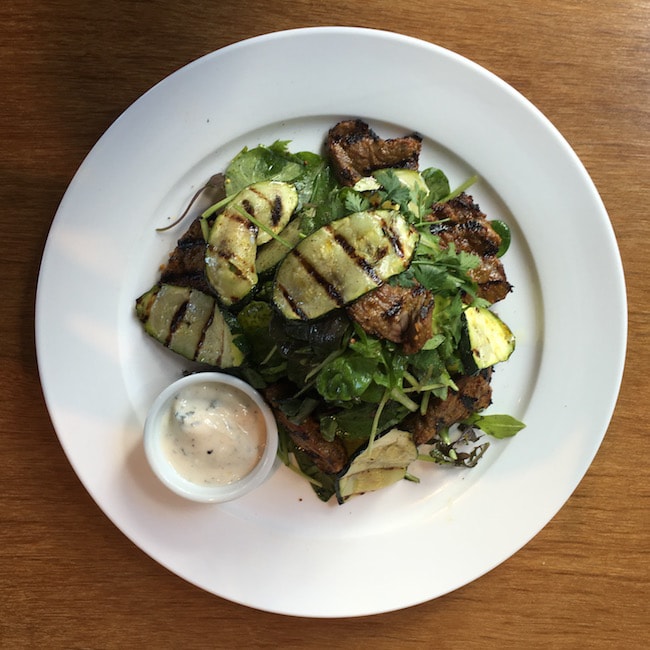 Bespoke Kitchen: Now I'm not much of a benedict girl, but the eggs benedict at Bespoke Kitchen were crazy good. Perfectly poached eggs drizzled a homemade hollandaise with a touch of apple cider vinegar. Drooling as I type this.
— Things to Do in Queenstown —
Hike: There are so many options for hiking in Queenstown. If you only have one day to hike and have the energy to make it a good one, Ben Lomond is your best option. Give yourself between 5-8 hours and expect a pretty hefty climb, but the views from the saddle and the summit are totally worth it. To shave off a bit of the time and elevation gain, you can also take the gondola up and start your hike from there. For something short and sweet, drive up to the Remarkables and hike one hour up to Lake Alta.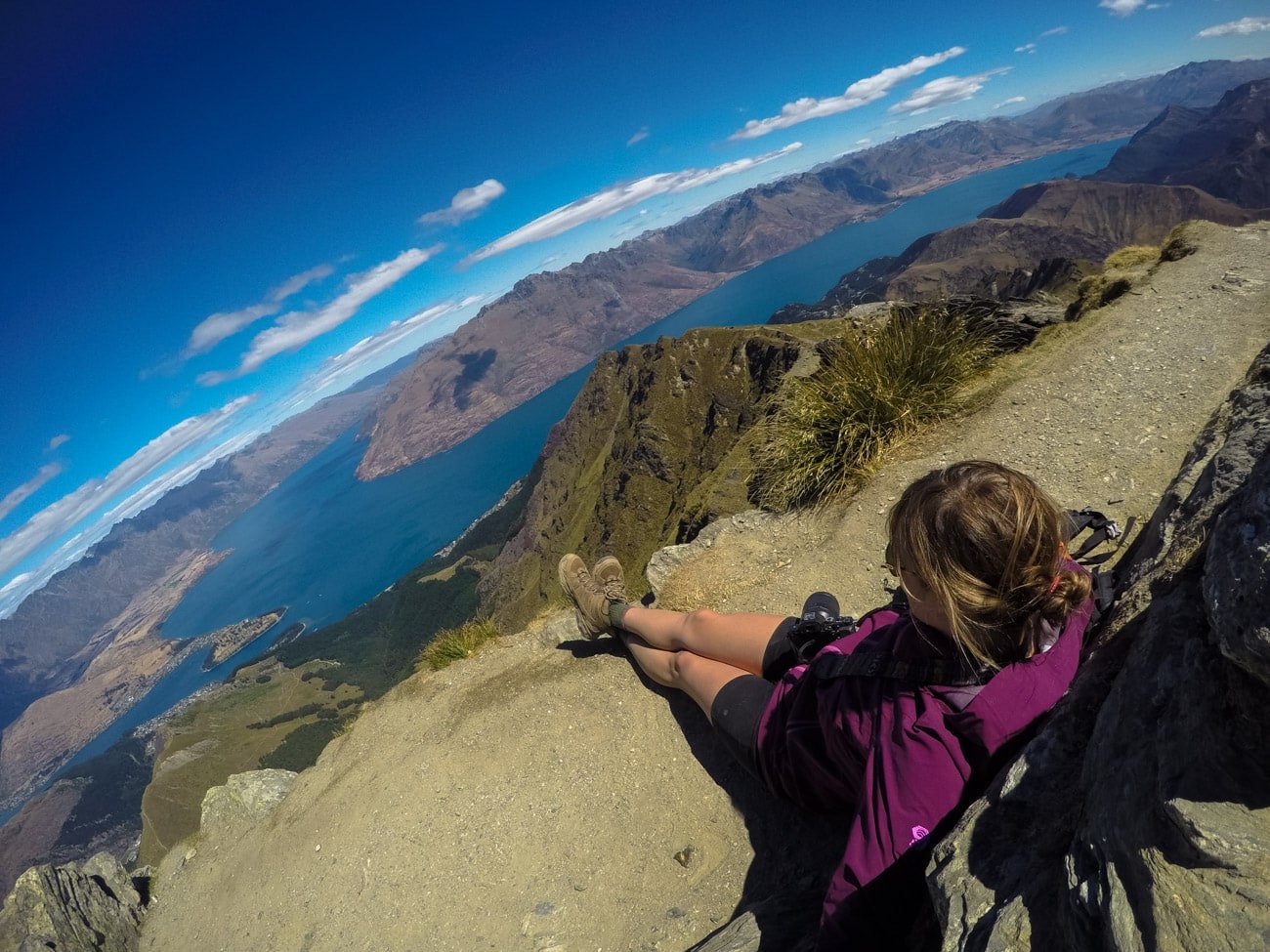 Bike: Rent a bike and ride all the way from the main drag in Queenstown to the end of the Frankton Arm (where the Queenstown Golf Course is located) for a round trip total of 18 miles. It's mostly flat with gorgeous lake views the entire time, and you won't have to feel so guilty eating that Fergburger when you get back to town. Or for those of you who mountain bike, hit the Skyline Mountain Bike Park that has over 30 km of trails and plenty of jumps and vertical distance to get your heart racing.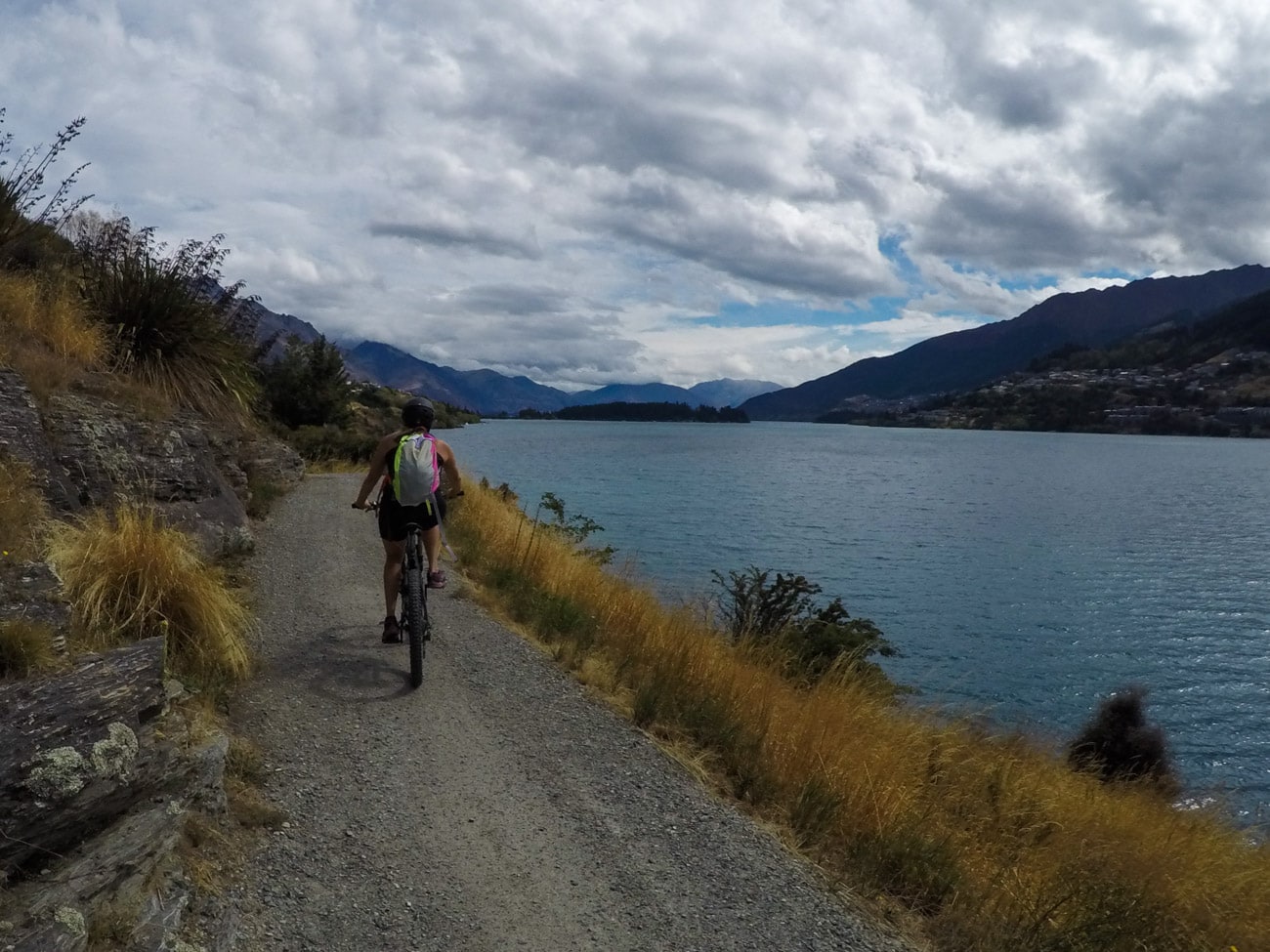 Day trip to Arrowtown: Arrowtown is a cute former gold mining town that reminded me of a smaller version of old-town Sacramento. Grab lunch, hike up the Tobin Track for great views, visit the museum, or take a riverside stroll with a big ice cream cone in hand. Then on your way back to Queenstown, make sure to stop at one of the region's many wineries (there are signs everywhere pointing you to the nearest one) and sample some local vino.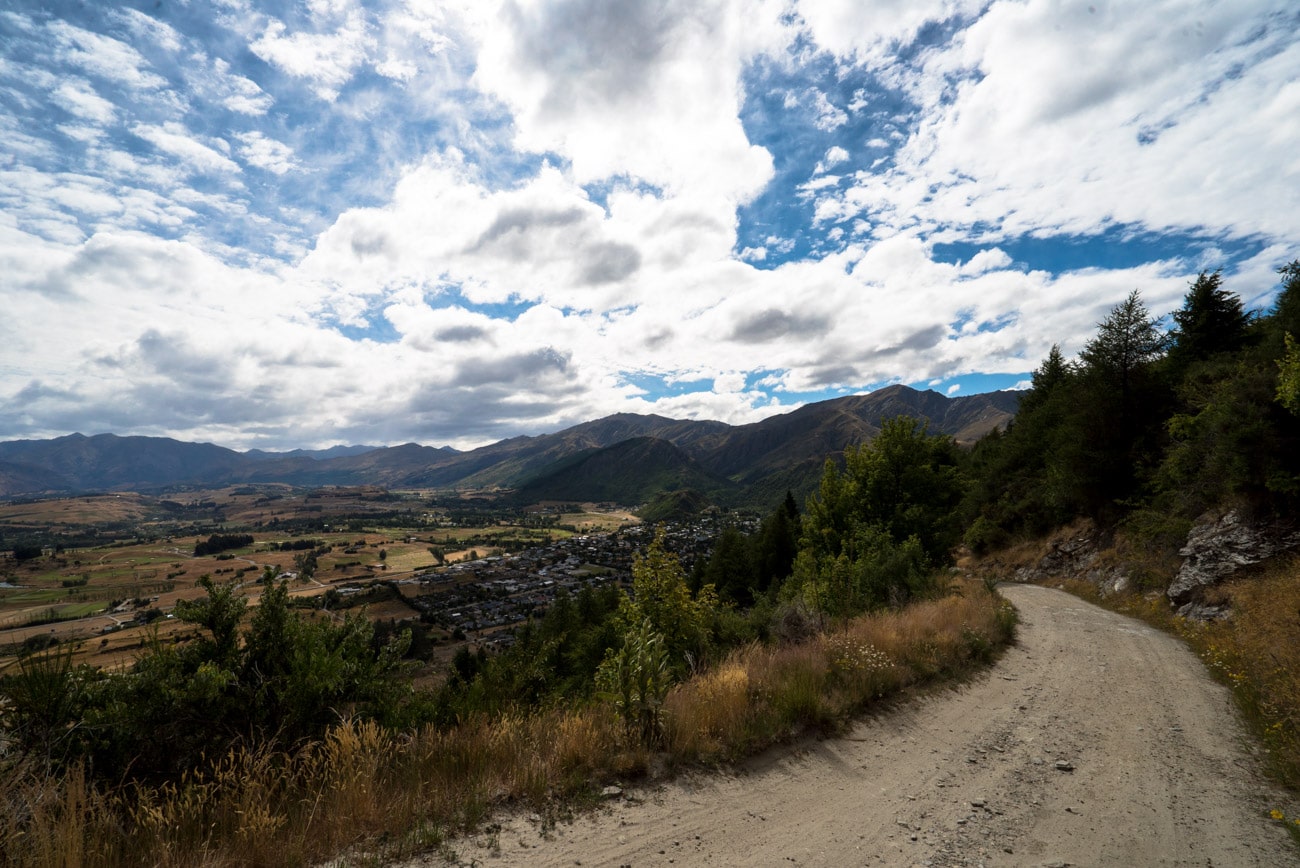 Drive to Glenorchy: The 45 minute drive to Glenorchy is one of the prettiest short drives in the country. Along the way, you can stop and take pictures and even take a chilly dip if you dare. From Glenorchy, you'll have views of Fiordland National Park and the mountains of Mount Aspiring National Park. If you want to spend more time exploring those areas, swing by the Department of Conservation Office in Queenstown for maps and more information on current trail conditions.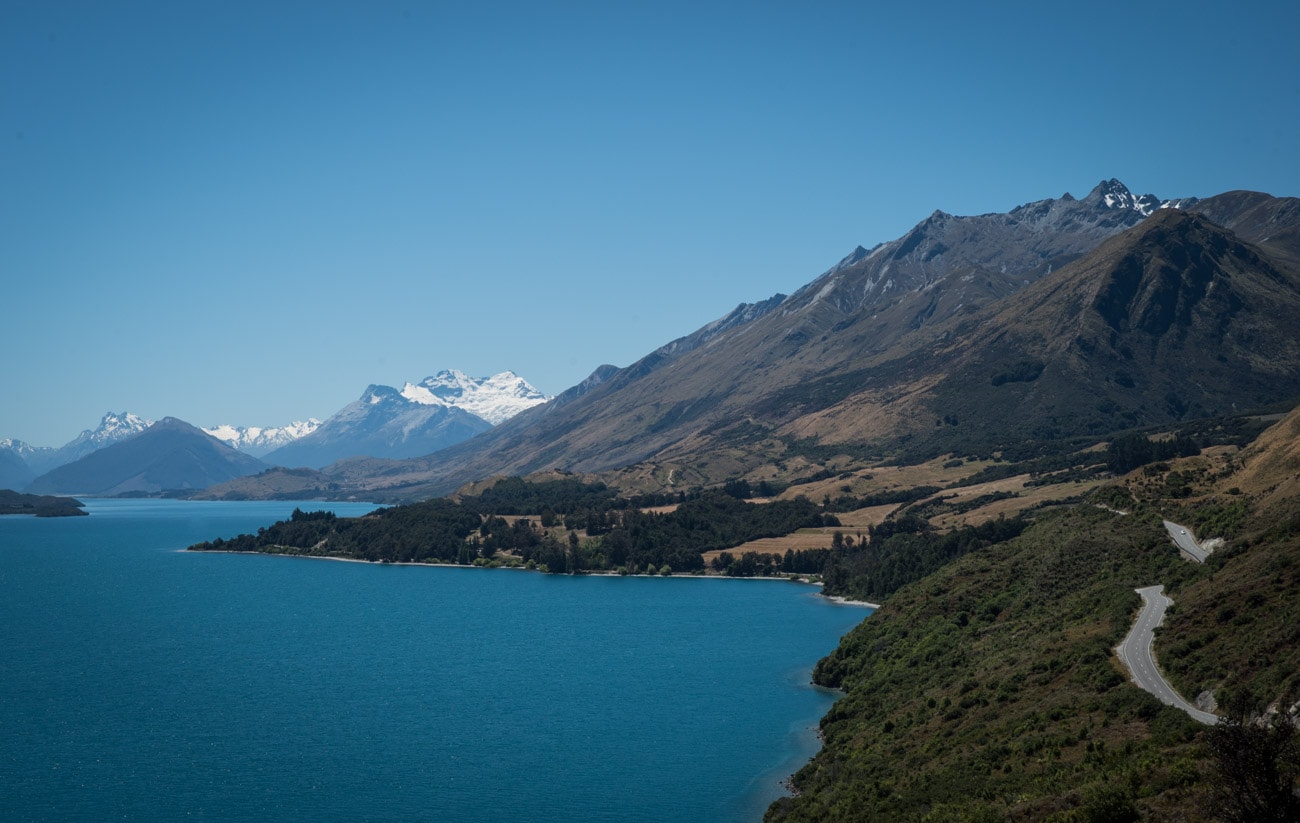 Get your Adrenaline Fix: From bungee jumping to super fast jet boat rides to launching yourself off a mountain with a parachute, there is no end to the adventure activities offered in Queenstown. And unless you are visiting right around Christmas and New Years, you can pretty much walk into the i-Site (the tourism services) office in Queenstown and book for the next day.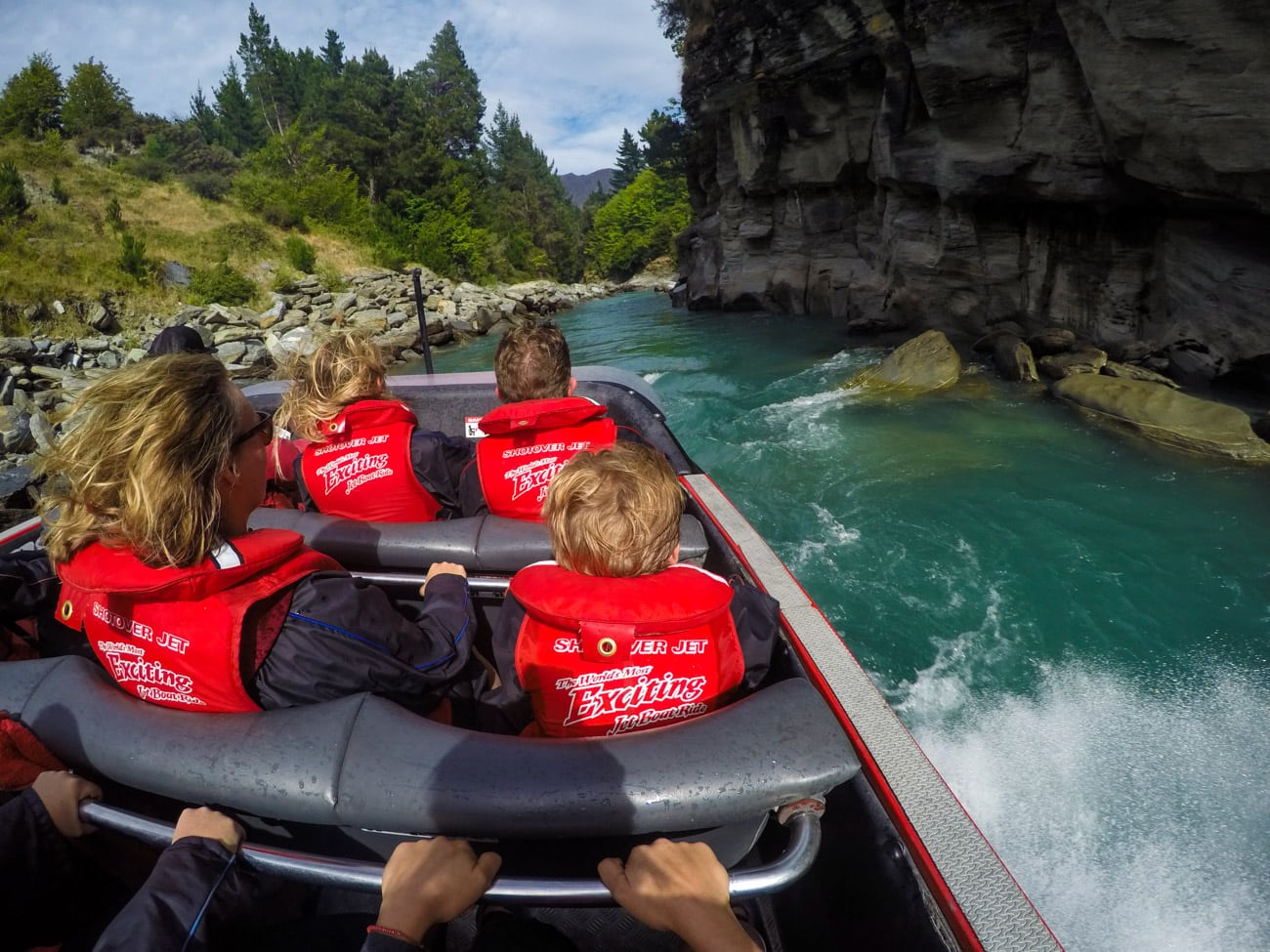 Check out the Saturday Market: Every Saturday during summer, there is a waterfront arts and crafts market that is worth browsing. Pick up a pair of lambswool slippers or some locally blown glass jewelry as an authentic souvenir from your travels.
Watch the Sunset (EVERY NIGHT): I swear the sunsets in Queenstown were some of the best I've seen in my life. And for those of you who enjoy a beer or glass of wine with your sunset, you can do that lawfully in public in Queenstown. So run to the liquor store, grab your favorite beverage, and head to the beach, and don't forget your camera!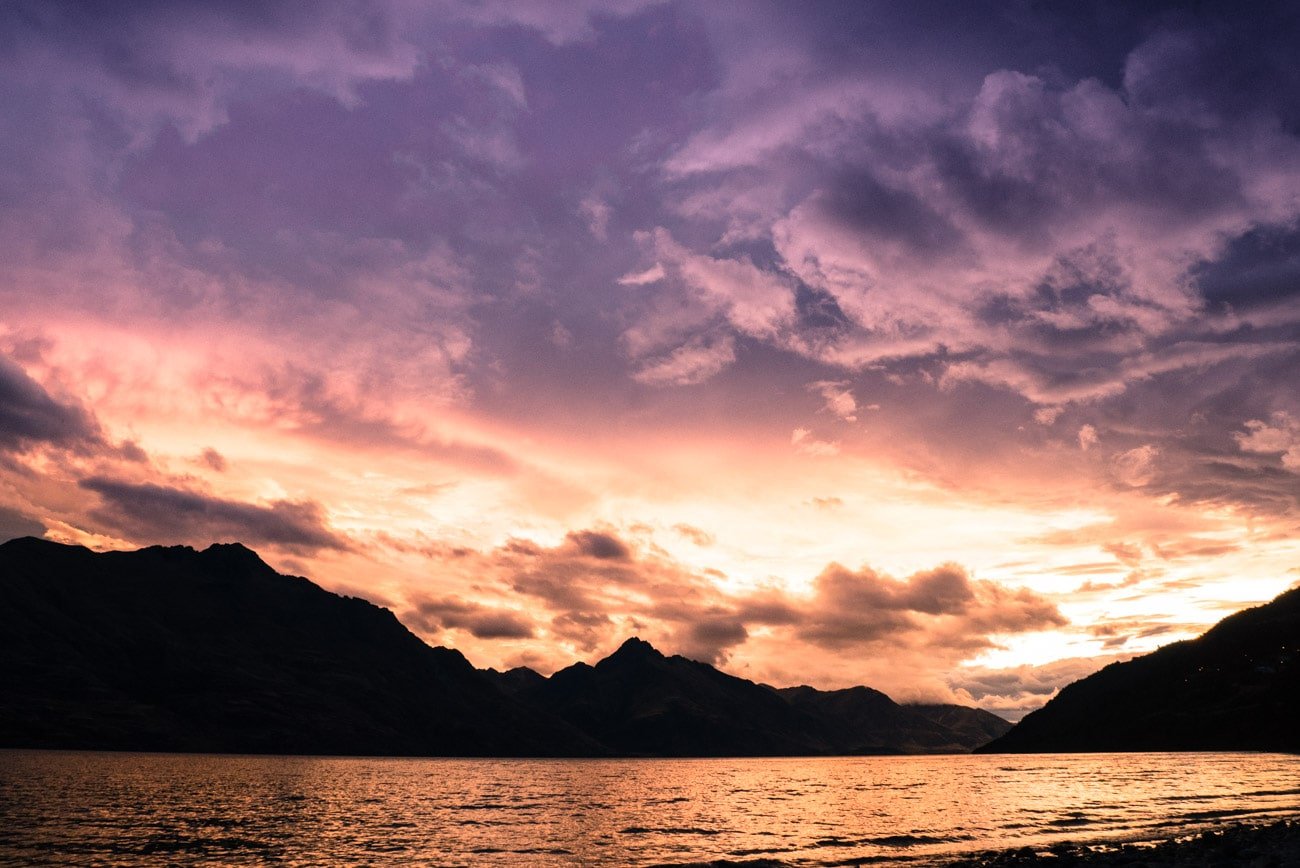 WHAT WOULD YOU LIKE TO DO IN QUEENSTOWN? LEAVE A COMMENT BELOW, TWEET ME, OR WRITE ME A POST ON FACEBOOK.