New Zealand Mountaineering Course with Alpine Recreation
While in New Zealand, I took a 4-day Intro to Mountaineering Course in Mount Cook National Park where I learned how to wear crampons, use an ice axe, and safely travel across a glacier for the first time. Get the full scoop on my class and see if this type of course might be a good fit for you!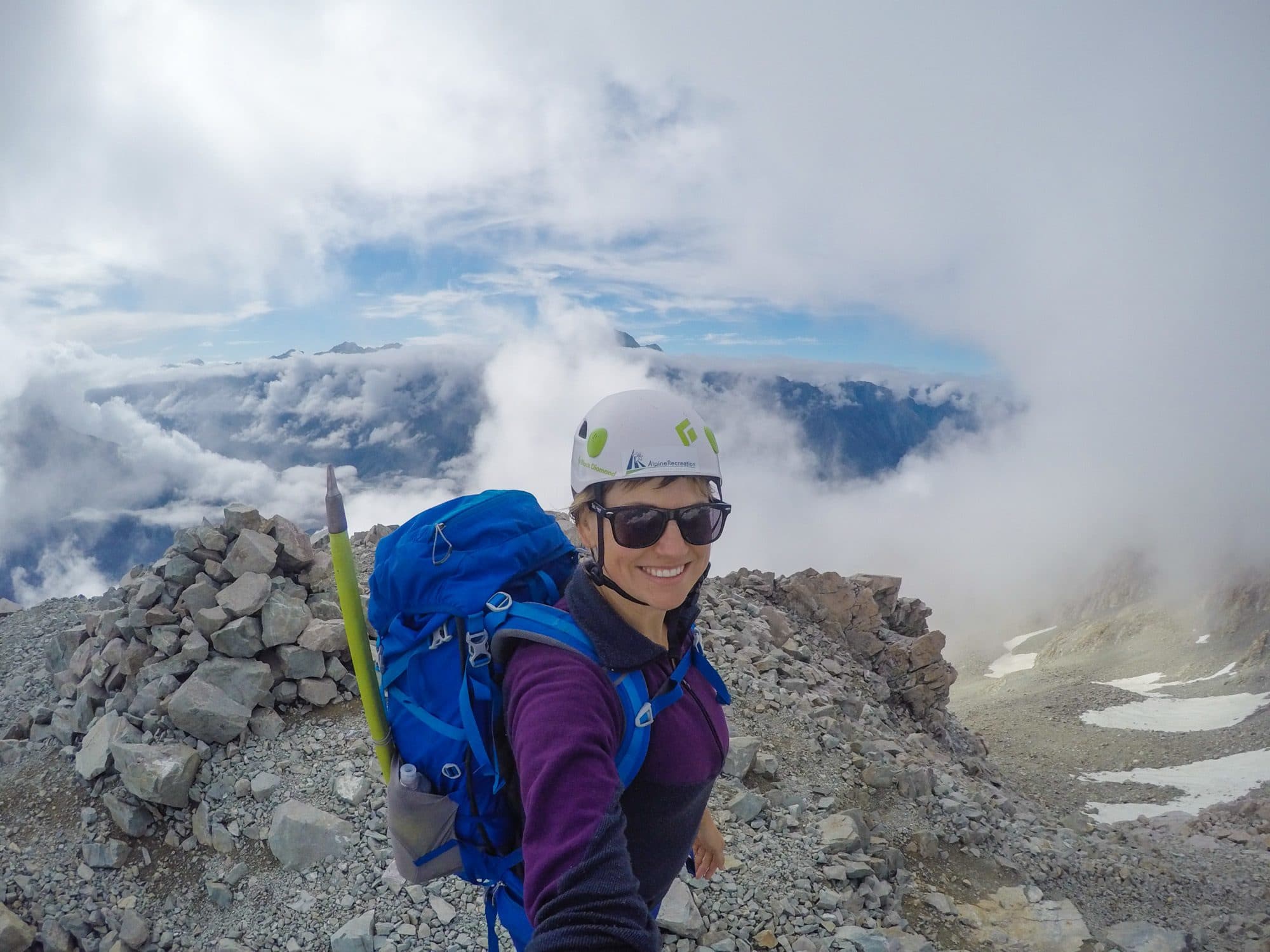 I knew I wanted to walk on a glacier while I was in New Zealand. And there's so many options. Fox and Franz Joseph Glaciers are saturated with helicopter companies who will fly you up to the ice, give you some crampons, and let you walk you around for a bit.
I definitely wanted to get those views, but I was hoping for something more. I thought, wouldn't it be nice to spend more than a few hours on the glacier and actually learn something….like skills that I could come home with while boosting my confidence for my next big mountain adventure.
In researching my options, I came across Alpine Recreation – a long-standing guiding company with trips in Mount Cook National Park, home to the tallest mountain in New Zealand. Their 4-day Intro to Mountaineering course that takes place at their privately owned Caroline Hut sounded like the perfect fit to expose me to basic mountaineering equipment and skills and get me comfortable traveling across the snow. I decided to give it a shot in hopes that it would prepare me for a bigger expedition at some point down the road.
Here's the full scoop on Alpine Recreation, my guide Paul, the Caroline Hut, and everything I learned in this 4 day New Zealand mountaineering class on Mount Cook…plus some pictures that prove just how amazing the scenery was throughout the course.
— The Location / The Caroline Hut —
The home base for my New Zealand Mountaineering Course was Alpine Recreation's privately owned Caroline Hut. This means the only way you can stay at this hut is on an Alpine Recreation trip. The Caroline Hut sits right opposite to the Caroline Face of Mount Cook, and I can't imagine a better setting for a course like this.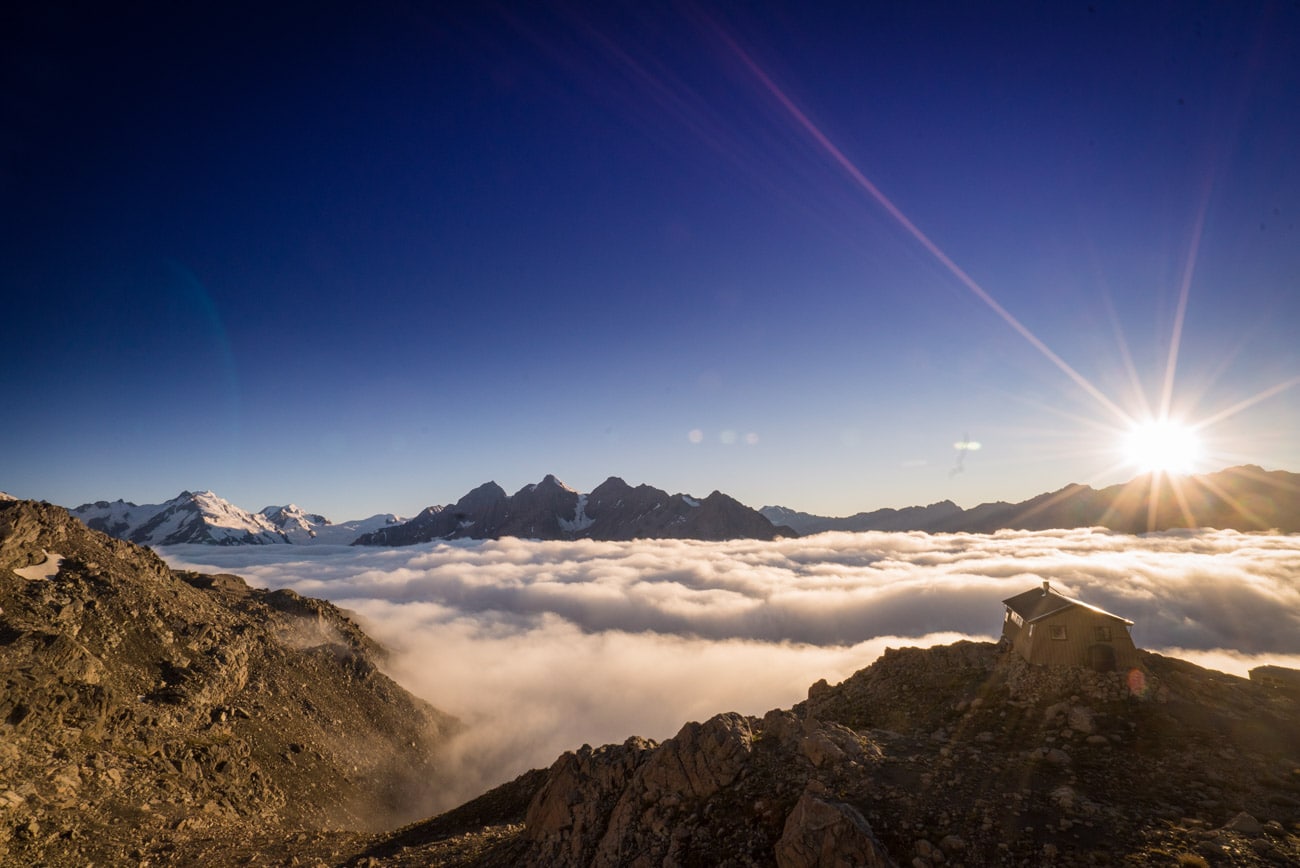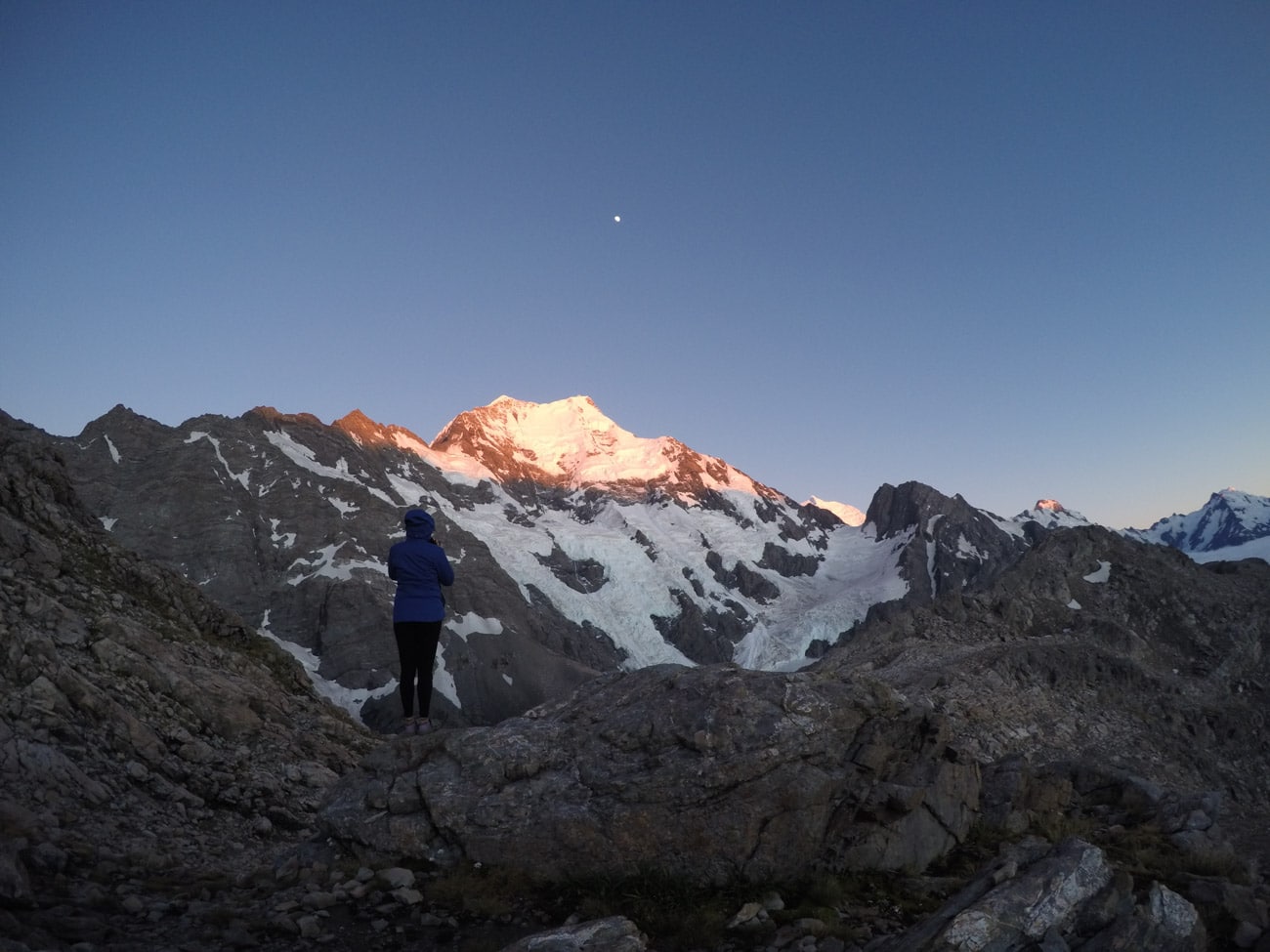 The Caroline Hut was fully stocked with sleeping bags, mattresses, a bluetooth speaker (of critical importance), books, maps, and other things to entertain yourself with in your downtime. This was great because it meant we didn't have to carry all that much on the hike up. The Hut also had a ton of food. The only food we had to bring was the fresh goods, like lunch meat, dinner protein, and bread.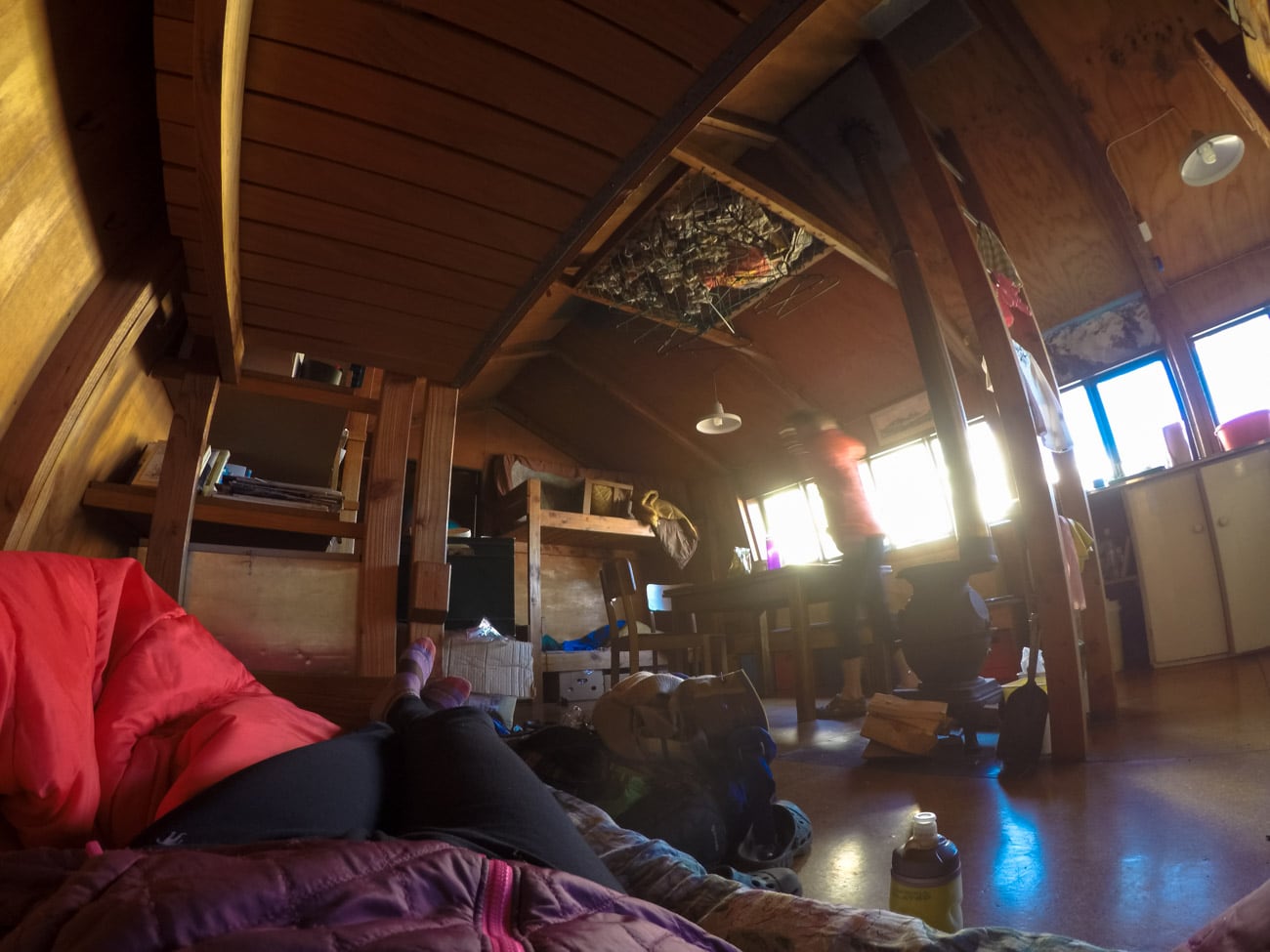 — The Itinerary —
Day 1
The course took place over 4 days. The first day we met at the Alpine Recreation office in the town of Lake Tekapo. I was greeted by my guide Paul, and when I showed up, I expected to be in a class with a bunch of dudes….So I was pretty stoked to find out that my companions for the class were two girls named Zara (right, a recent grad from Dunedin) and Abbey (left, a nurse from Auckland).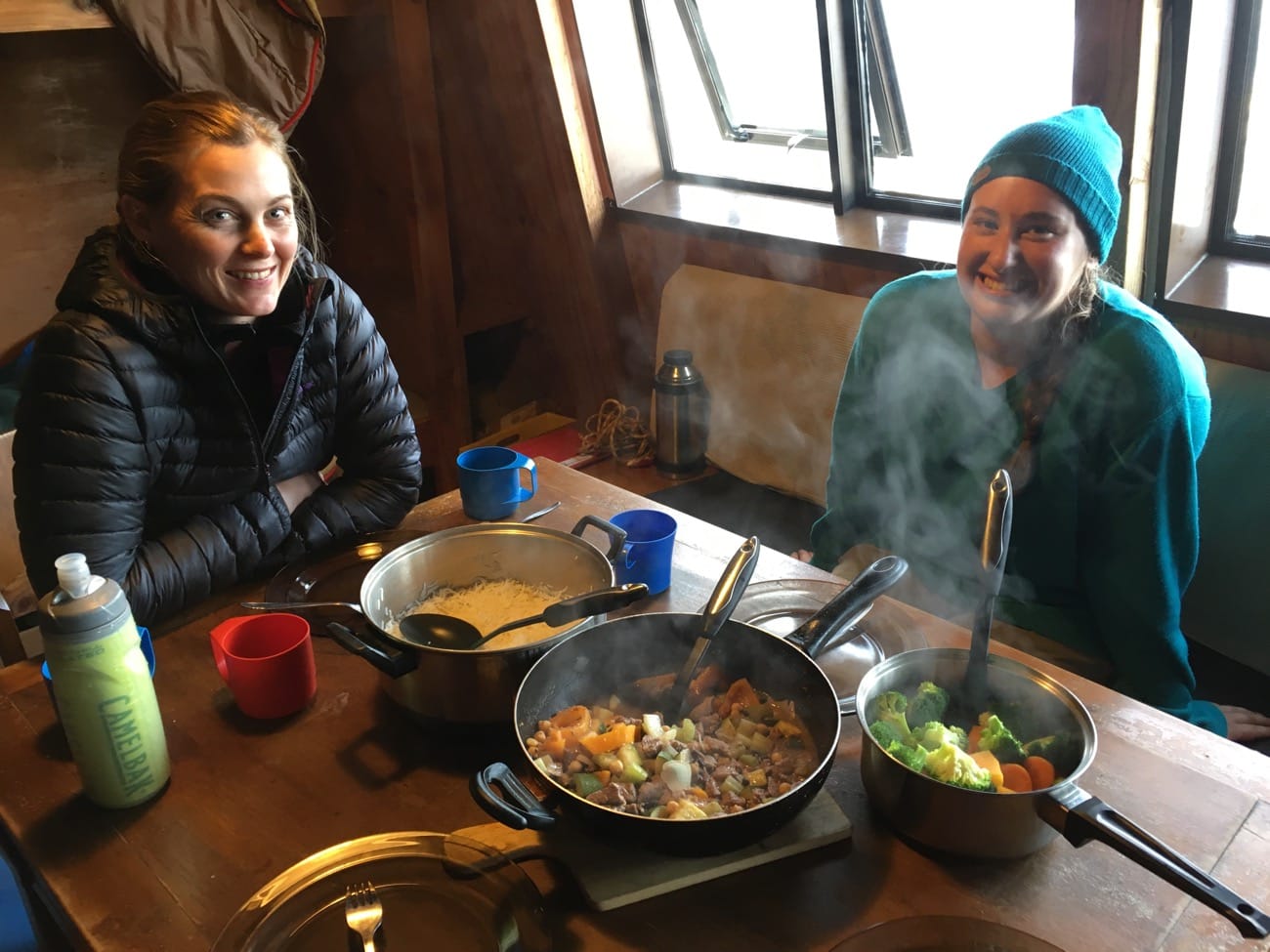 First things first. We got to know each other over coffee, and Paul went over the map and basics of what we would be doing. Paul was a very experienced guide who has been in the business for more than 30 years. He has guided up Denali, in Antarctica, and many other places in the world, so we knew we were in good hands.
Then we went out into the garage, Paul checked out our gear, and set us up with anything we needed – like gloves, waterproof pants, a trekking pole, gaiters, etc. The only things that we really needed to supply on our own were our clothing basics, underwear, sunscreen, and toiletries.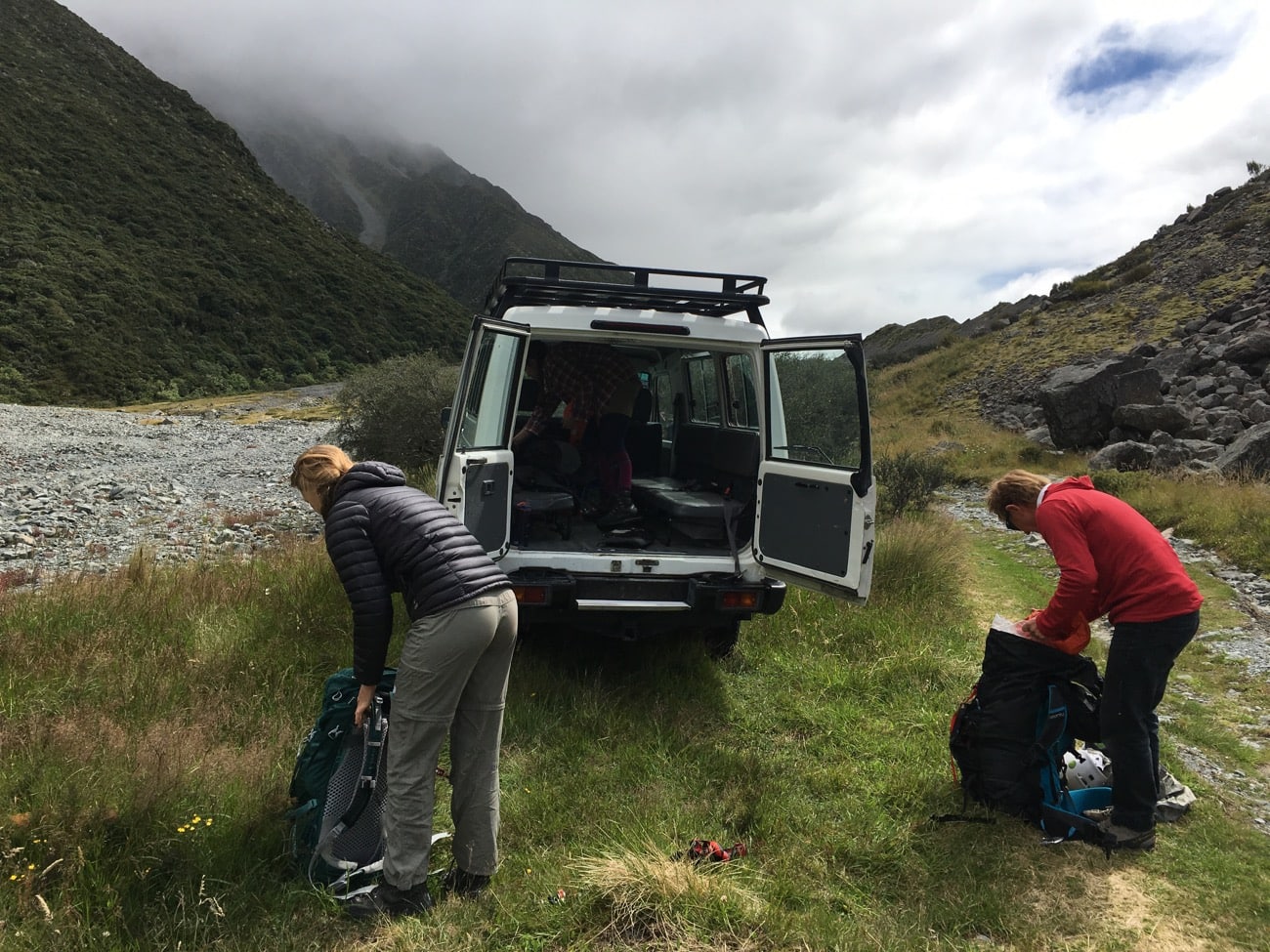 Once we were all set, we hopped in the van and drove the hour and a half to Mount Cook village where we transferred to a 4×4 jeep.
Paul drove us in the 4×4 as far as he could and once the road got to rough, that's where our hike began.
It took us just over an hour to reach the Ball Hut where we had lunch, and then about 3+ hours of uphill hiking to reach the Caroline Hut. The trail was steep but non-technical, and it was a good (but reasonable) challenge to get our legs ready for the next day.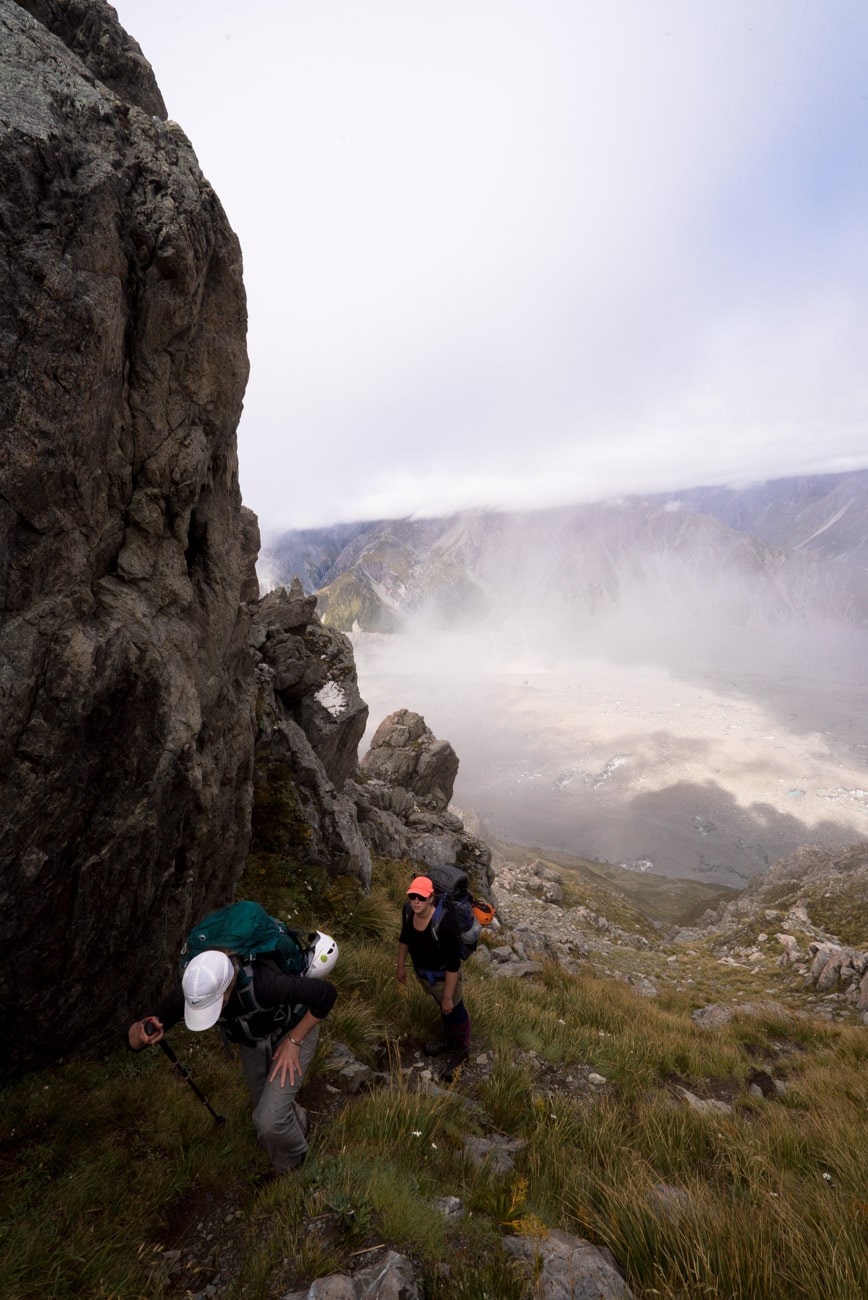 The view from the ridgeline of the Tasman Glacier was pretty amazing and every once in a while, the Caroline Face of Mount Cook would peek through the clouds.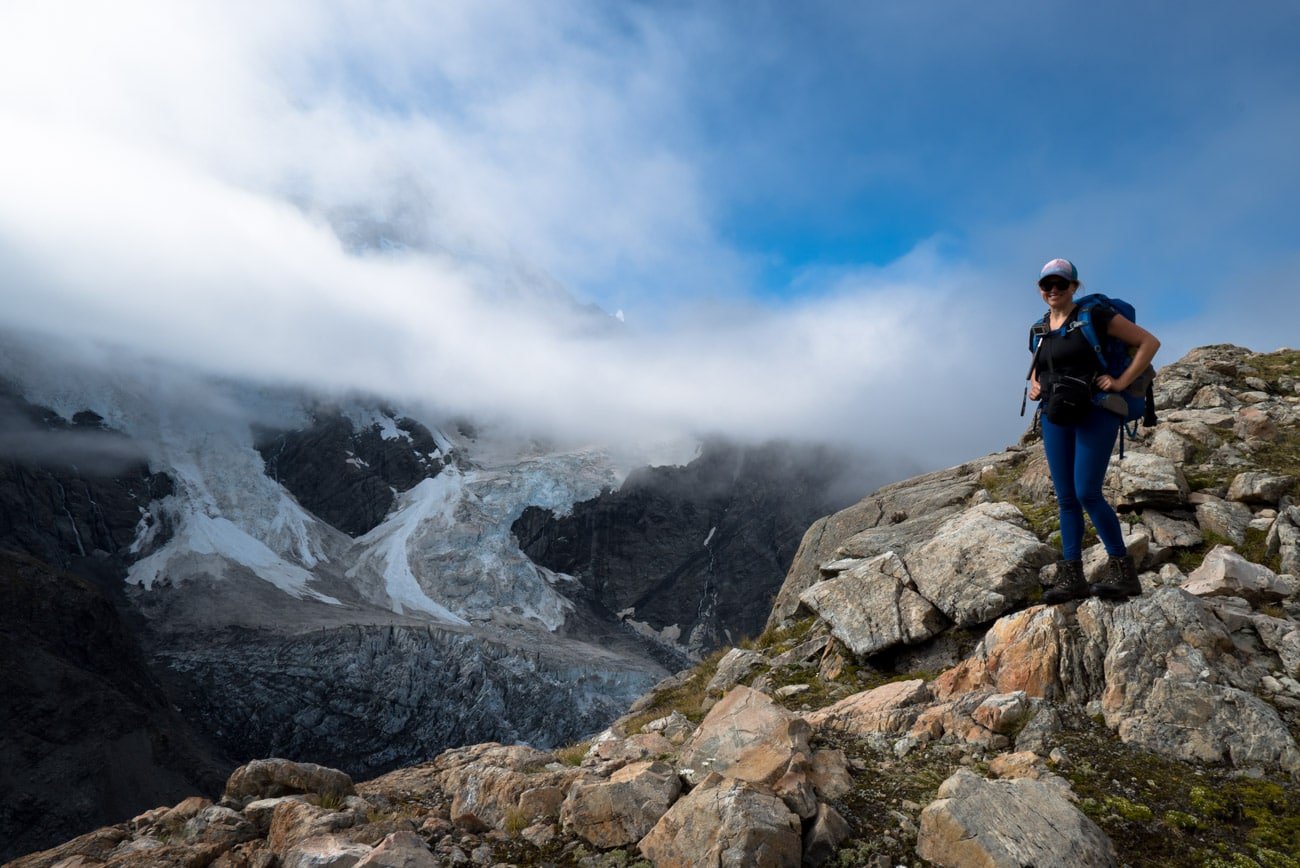 We arrived at the Caroline Hut around 5pm, and Paul boiled water for hot drinks, busted out some snacks, and we got settled at our home base. Paul got out the stereo, I played DJ (of course) while he cooked dinner, and then we all hung out until the sun went down.
Day 2
Paul woke me up in the middle of the night urging me to check out the view. Was I annoyed??… um kinda. But I begrudgingly got up anyways, and then I saw what he woke me up for. The moon was shining so bright, the clouds had parted, and Mount Cook was looking so so grand under the stars. BEAUTIFUL! I spent an hour or so messing around with my camera and got a couple of good shots before heading back into the hut and getting a few more hours of shuteye before sunrise.
And yea, that's the moon in the picture below!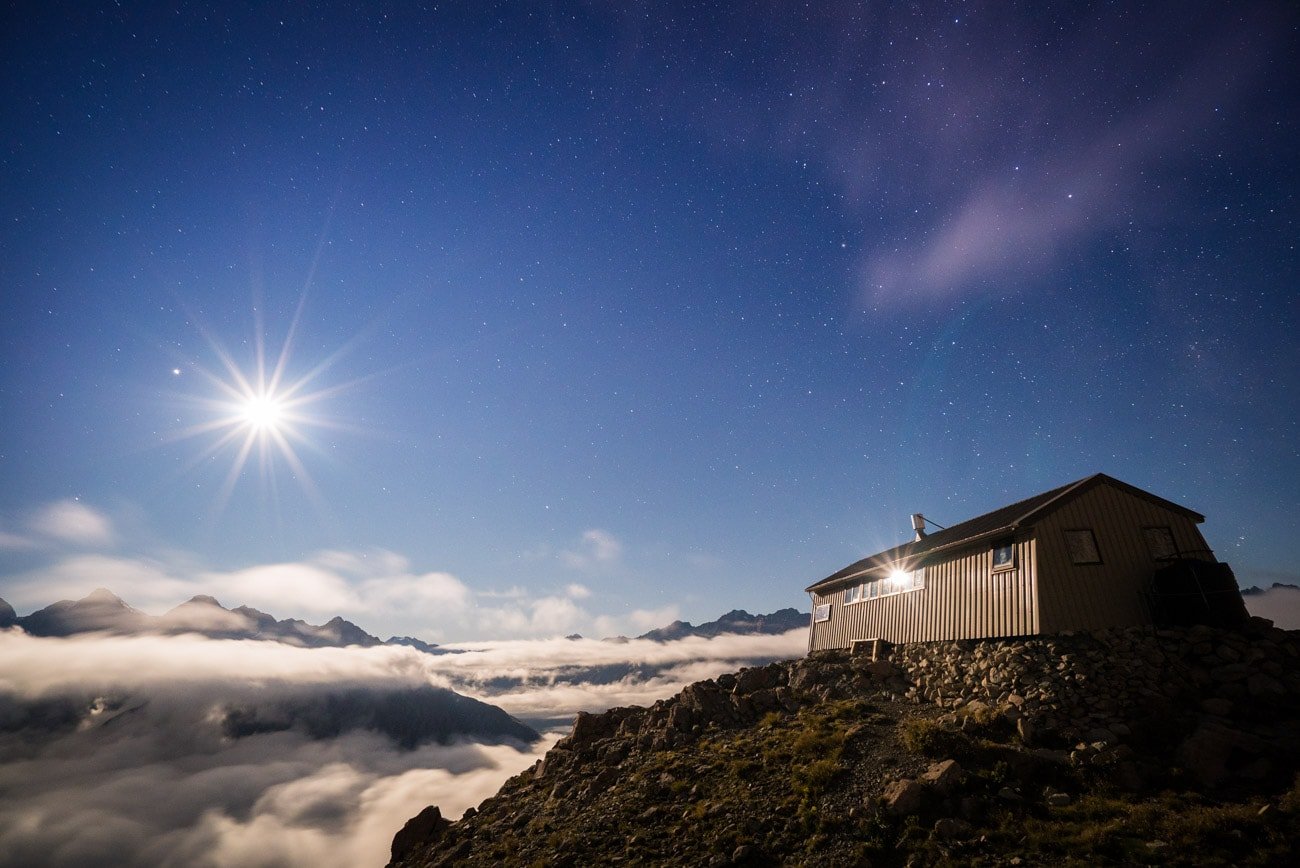 In the morning, we woke up and it was clear skies, and it looked like we were in for a bluebird day in the mountains. After our breakfast, Paul set us up with our crampons, ice axes, climbing harnesses, and belay devices, and we made our way up to the Ball ridge towards the snow.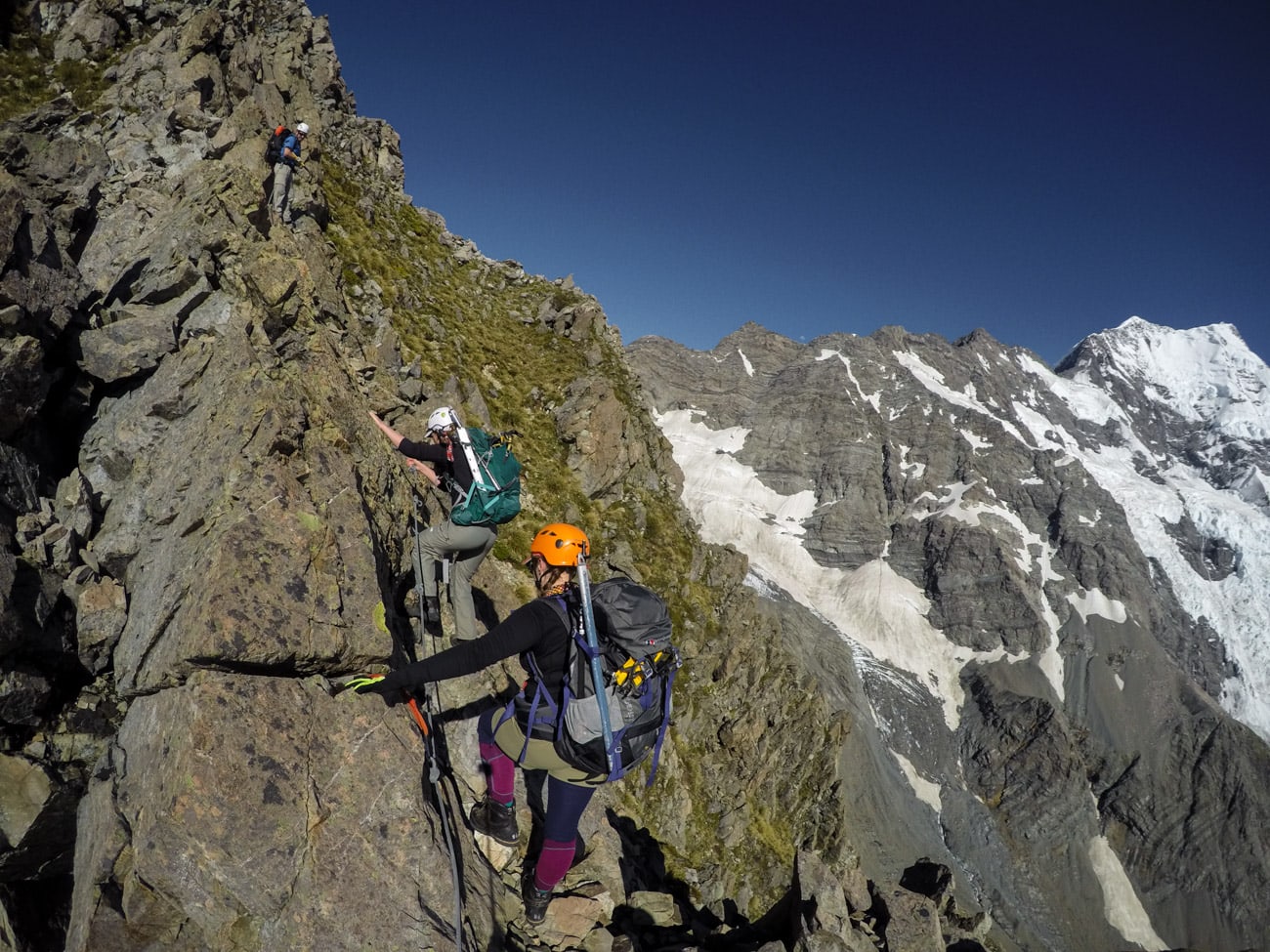 Depending on what time of year you do the class, there may be snow all the way down at the hut, or you may have to hike quite a ways to do some of your training. In late January, it took us over an hour of hiking up to and along a ridge to reach the snowy slopes near the Ball Glacier.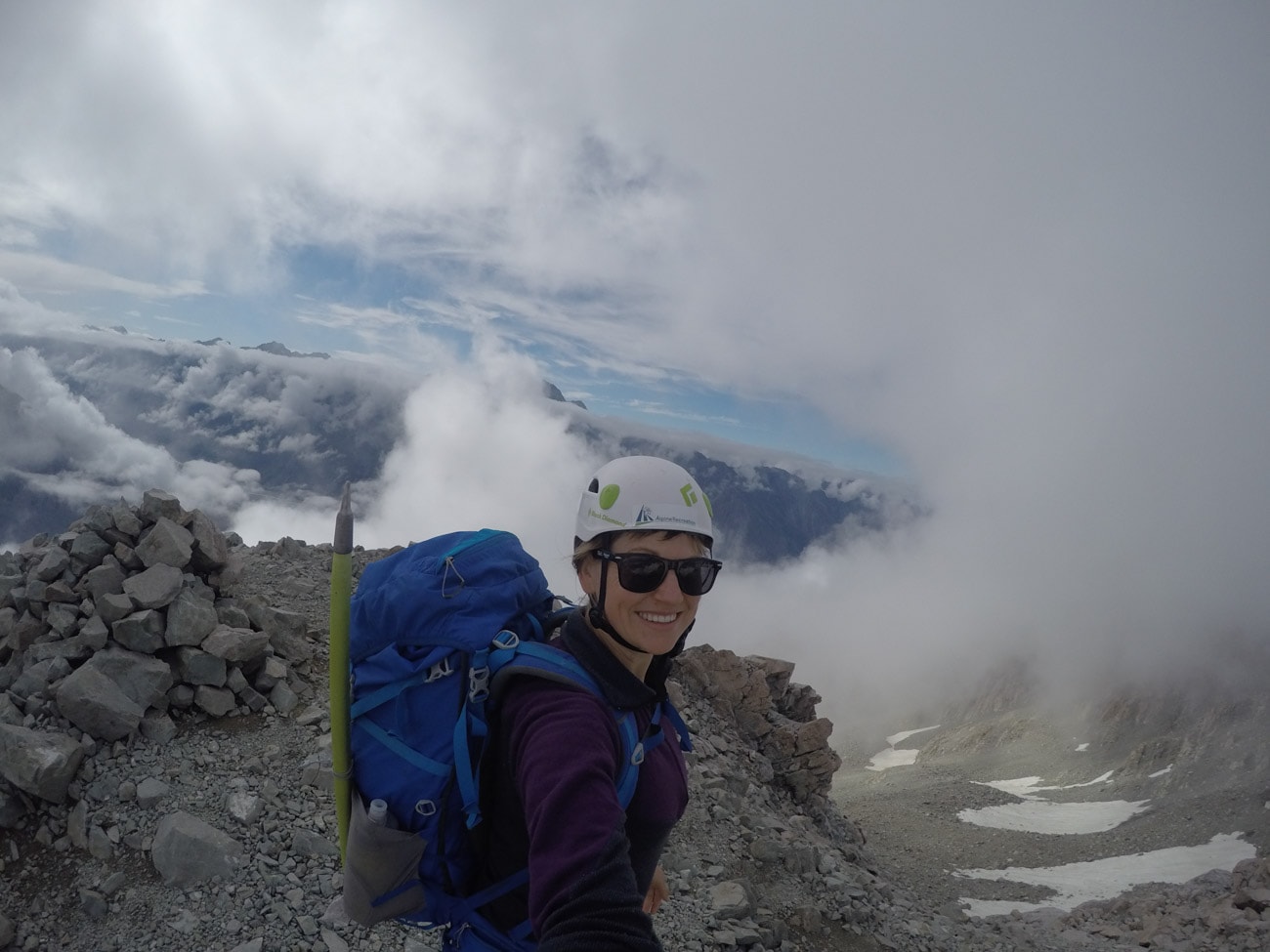 Once we reached the snowline, we strapped on our crampons and walked around awkwardly for a bit until we all got used to having spikes on the bottom of our shoes. We also learned how to hold and use an ice axe as a stabilizer on the snow.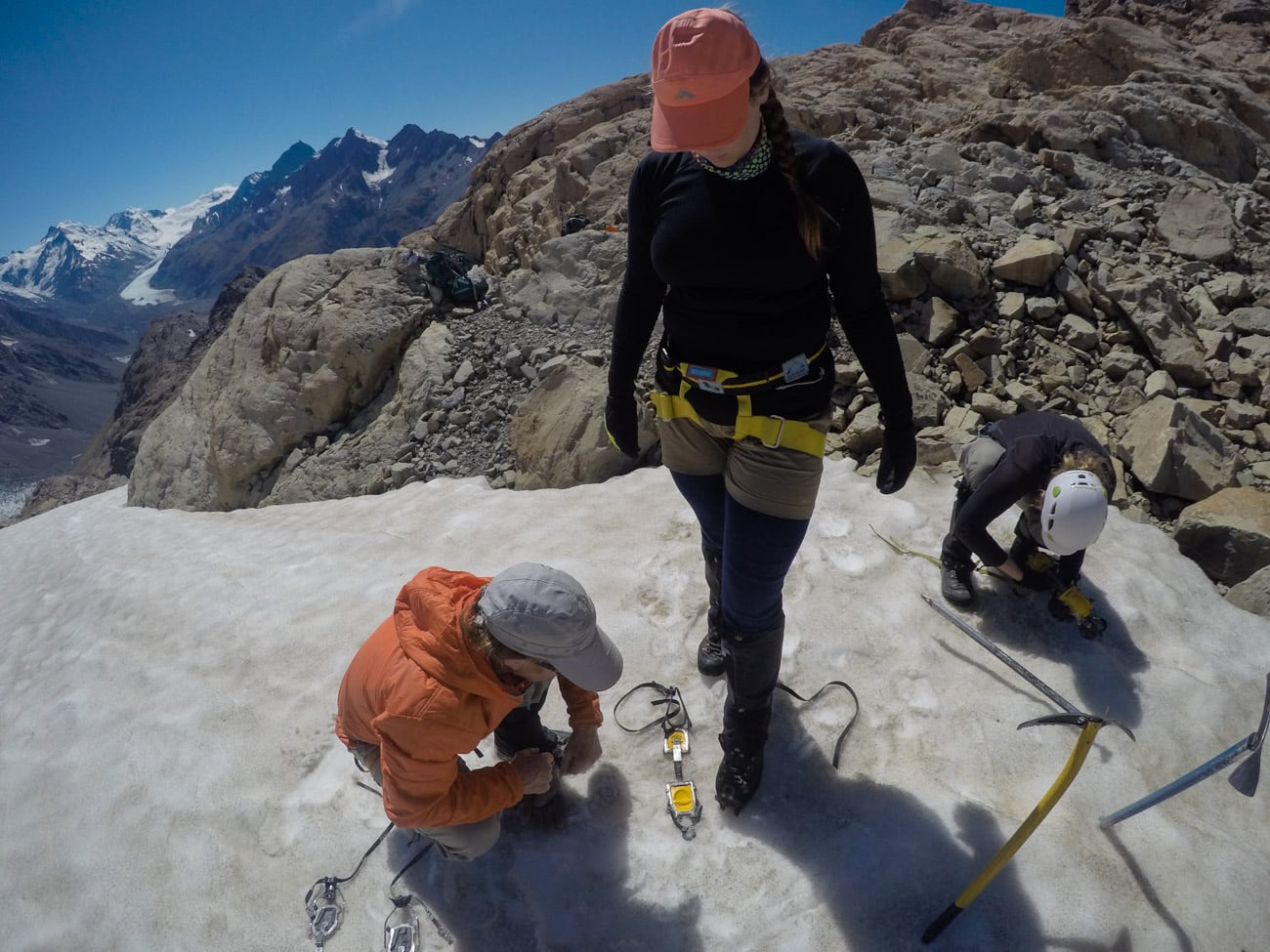 After lunch, we went further up to a steeper hill where we learned how to self-arrest – which is what you would do if you were to accidentally slip and start sliding uncontrollably down a snowy slope.
We also practiced abseiling (rappelling) and knot-tying and learned how to set snow anchors.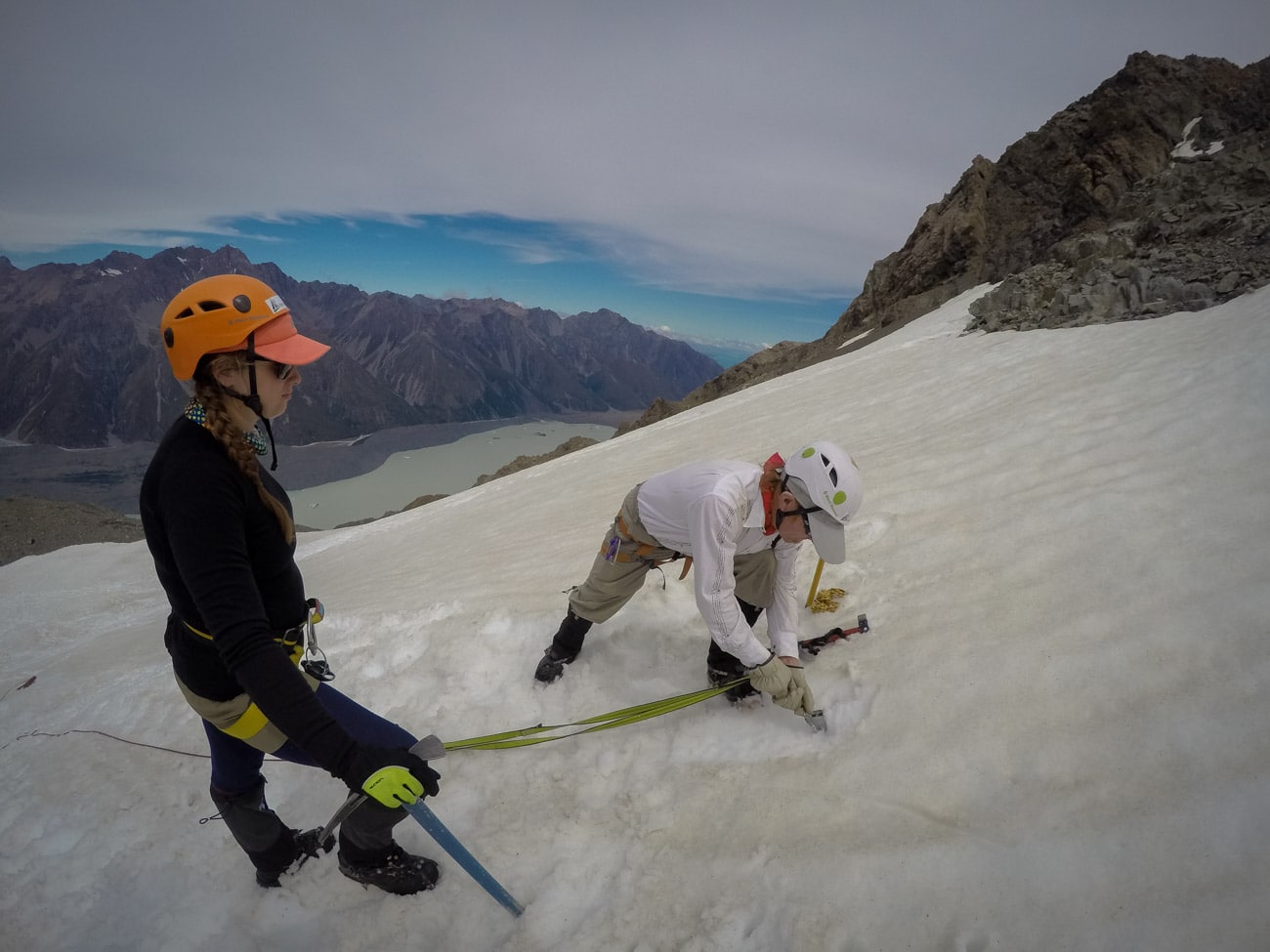 Day 3
This was the big day. We woke up to clouds, but luckily by the time we finished breakfast, they had rolled on and the sun was shining. We headed back up towards the previous day's location, but today we'd actually be traveling up the massive Ball Glacier up to Ball Pass.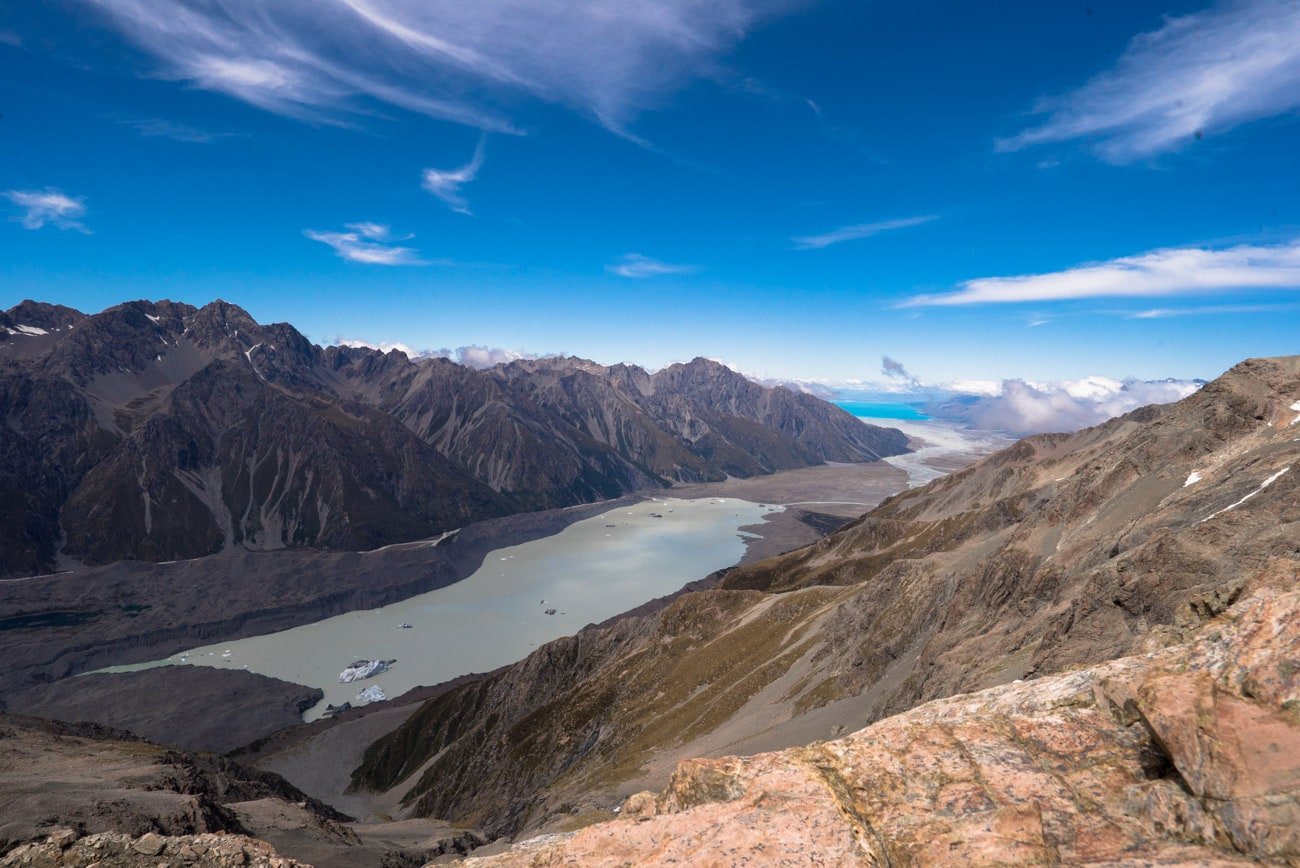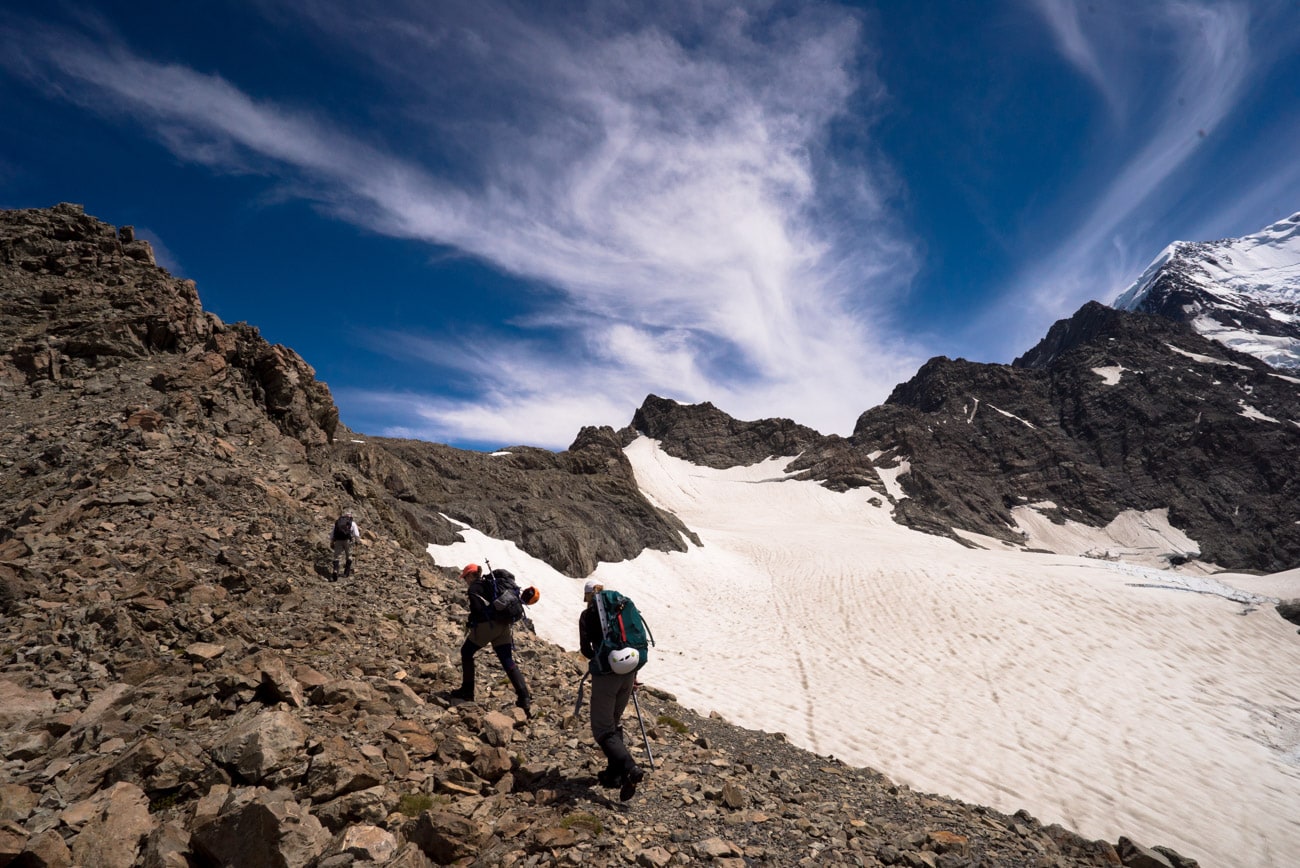 Once at the glacier, we strapped on our crampons and headed out onto the ice with Paul. He taught us how to identify and avoid crevasses (crevasse rescue is a topic in the intermediate course) as well as how to travel across a glacier roped up to each other.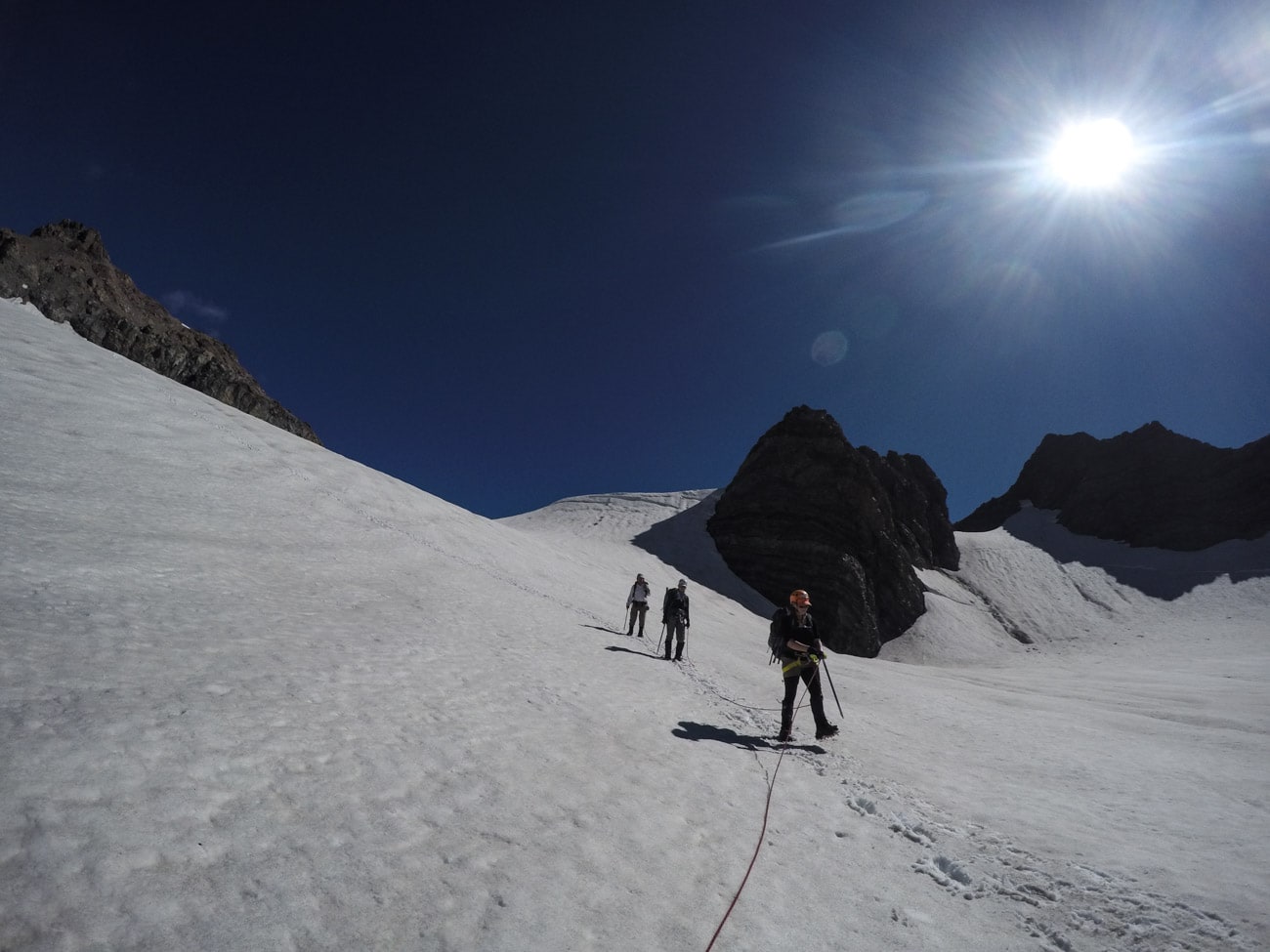 Then at lunch we each got practice setting up ice anchors using ice screws, and then we tested their strength.
After a short break, the real fun began. With our crampons, ice axes, and ropes in place, we started slowly making our way up the the Ball Glacier. It was really cool to see that we were all totally capable of putting these skills we learned to practice. Eventually we made it to the top of Ball Pass and had views down of Tasman Lake and Hooker Valley where I had been just a few days prior before the start of the course.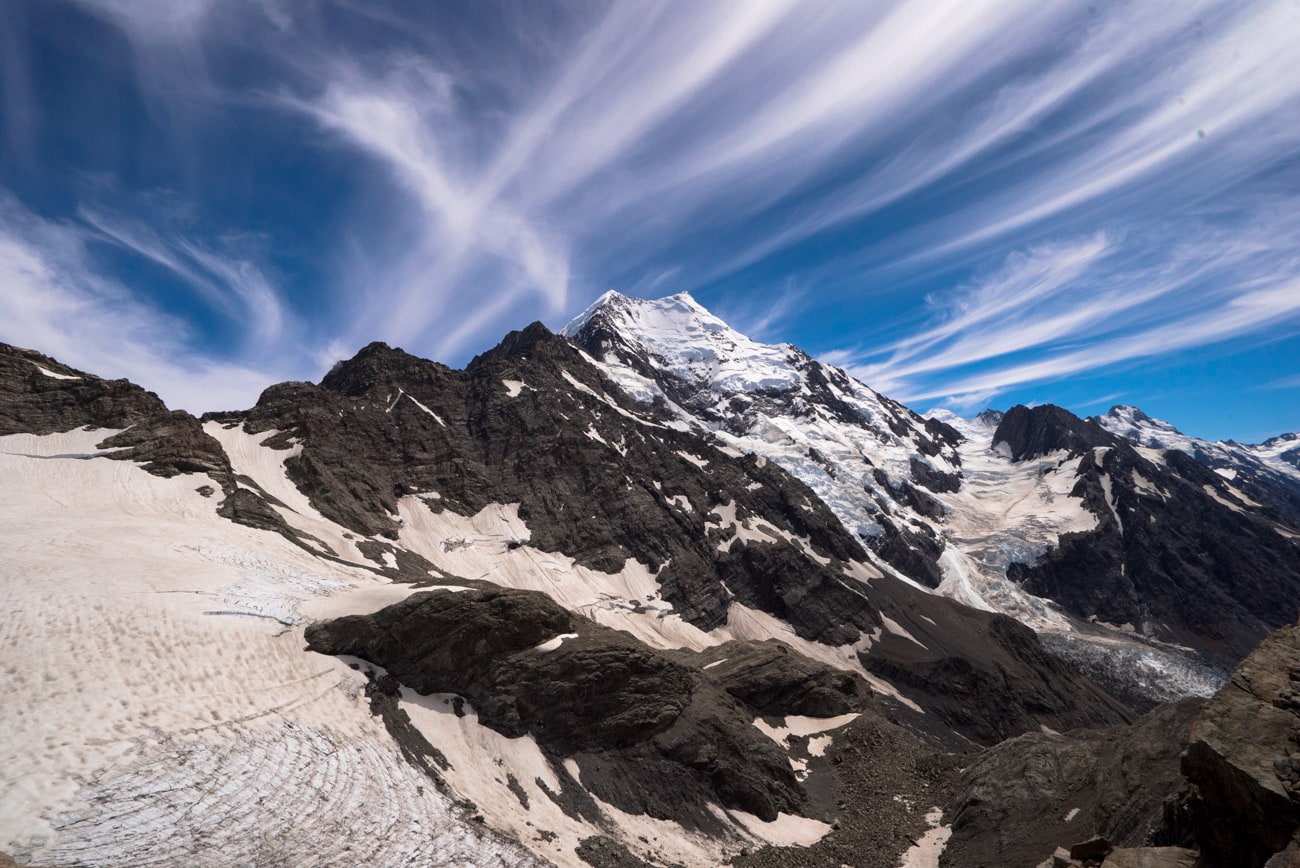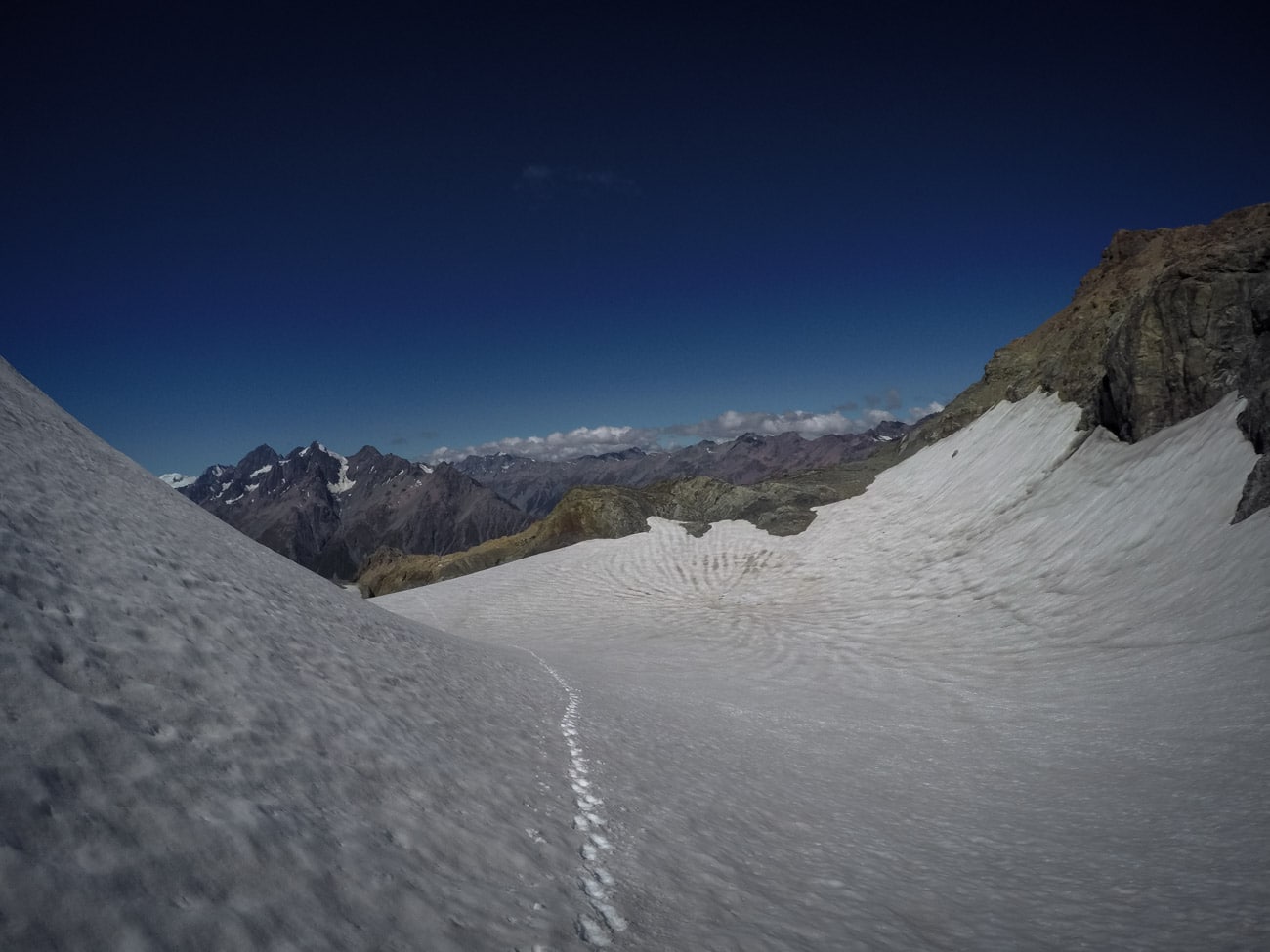 At this point, we had the option to take off the crampons and continue hiking up the rock to the summit of Kaitiaki Peak. There was a short exposed section of scrambling and a lot of loose scree, but the views were too good to be detoured.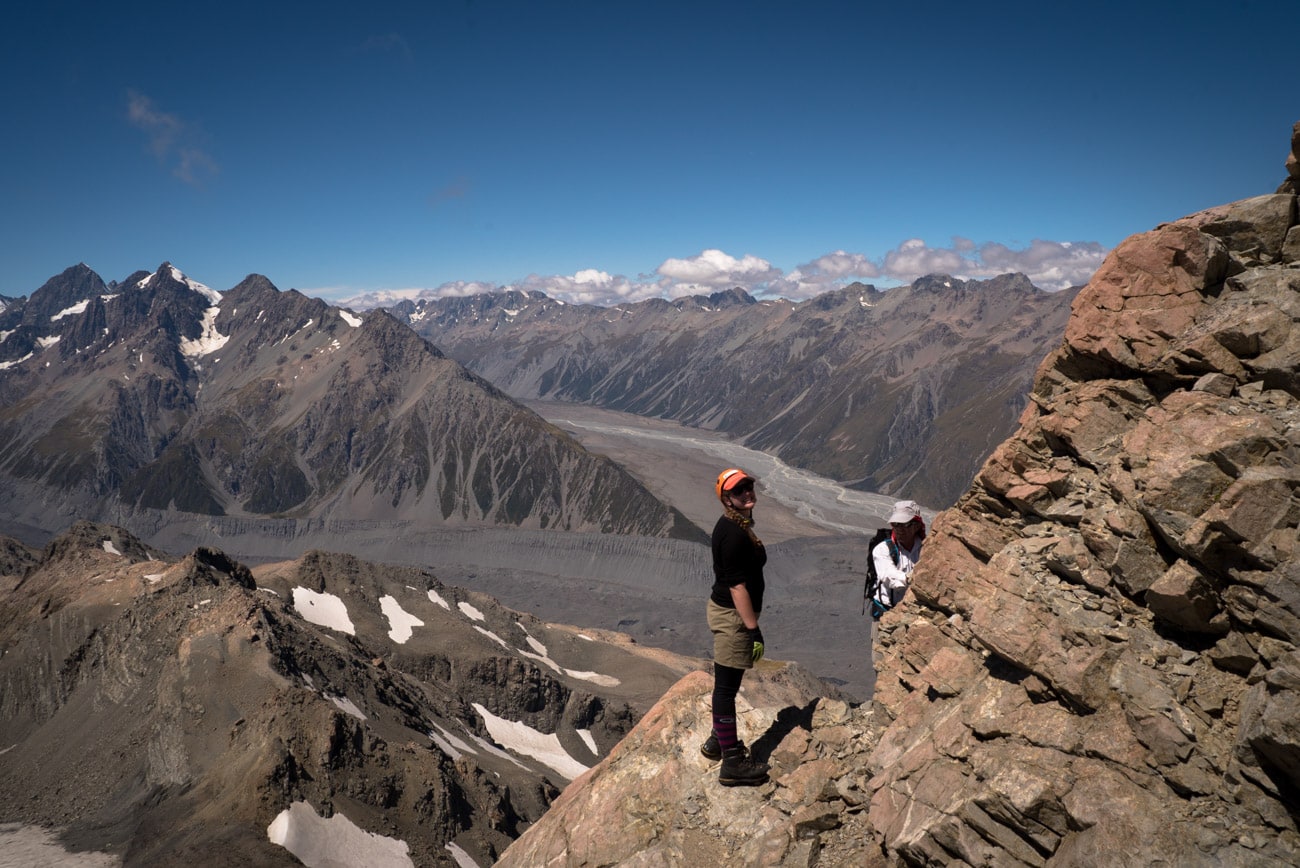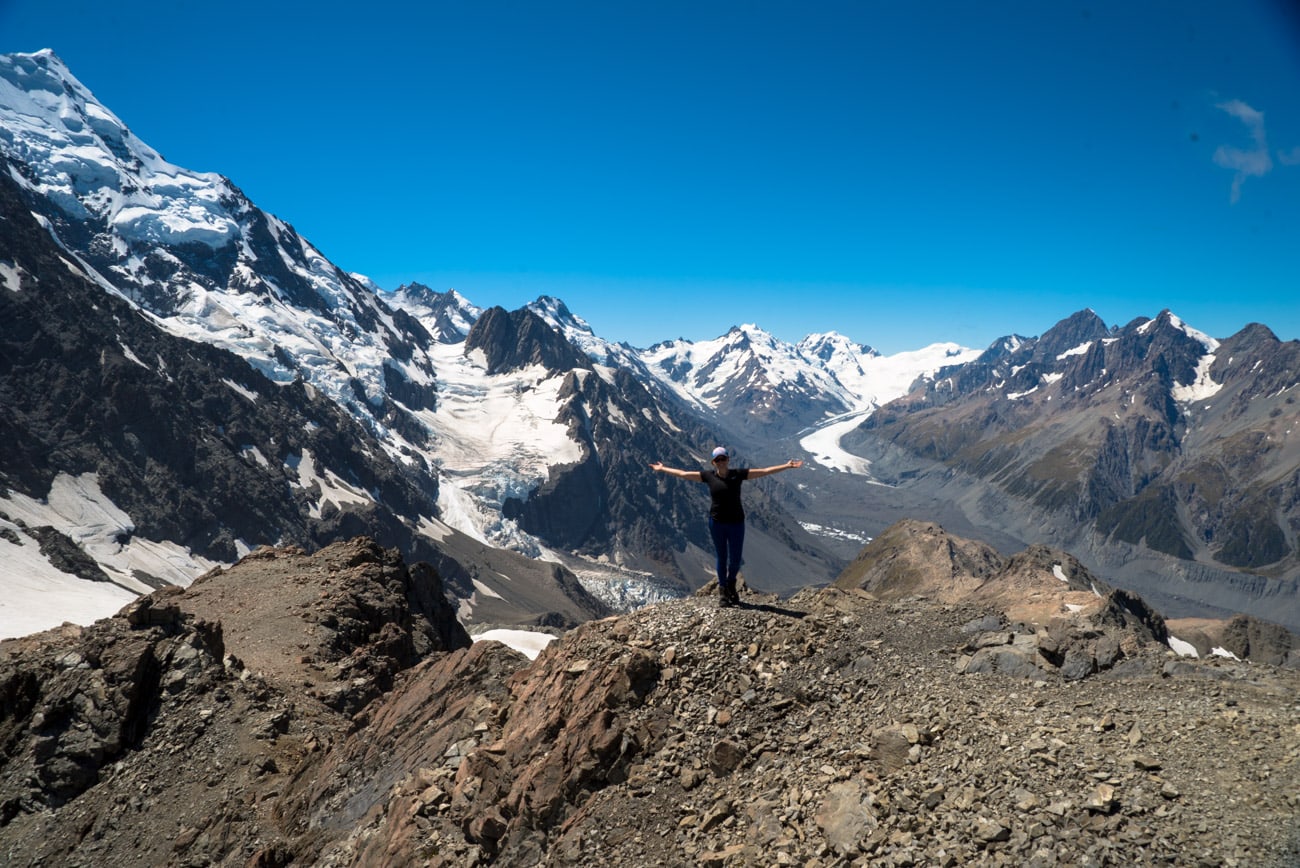 When we finally made it to the summit, it felt amazing to think about how far I've come in challenging myself outside and overcoming some of my fears.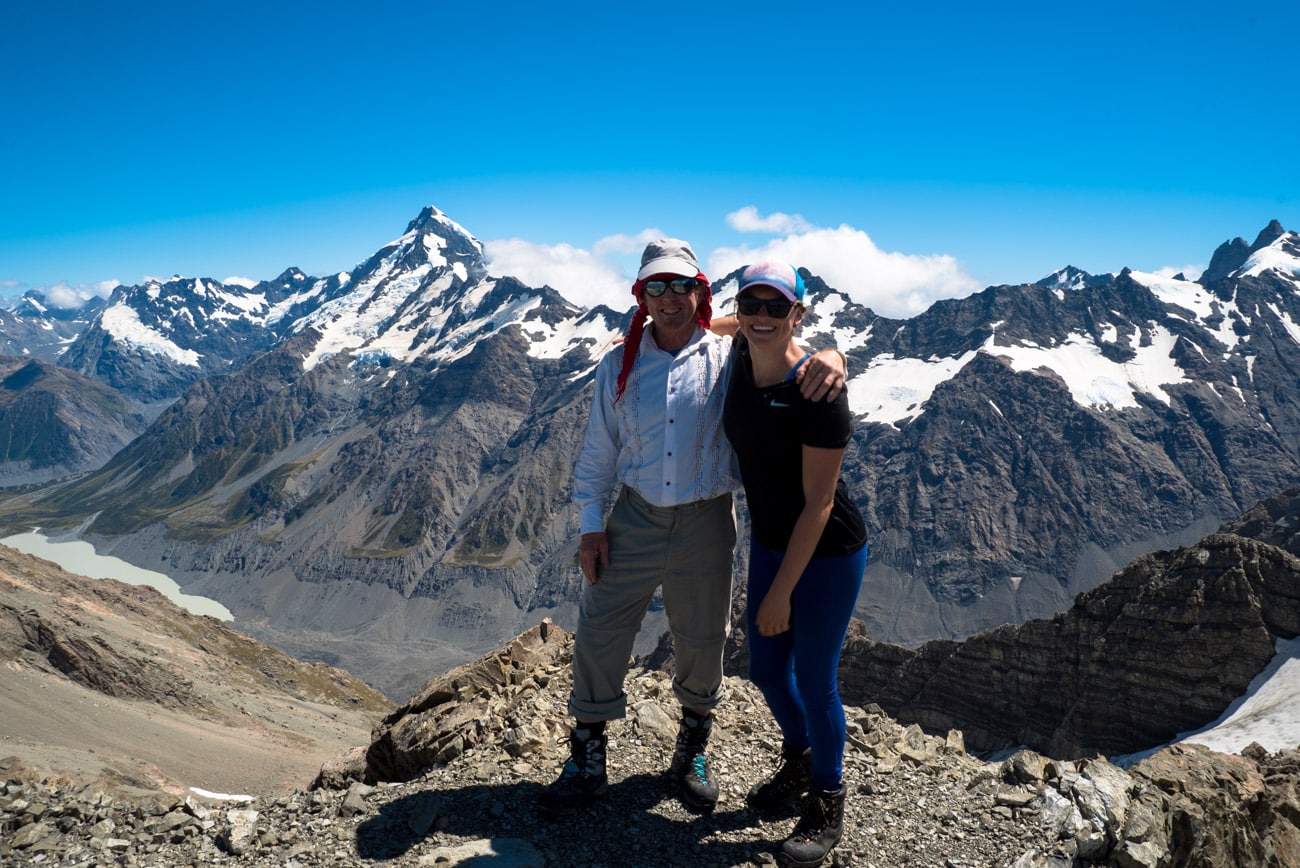 After some time taking in the views, we made our way back down to the hut in time for tea and cookies, a hearty dinner, and a gorgeous sunset.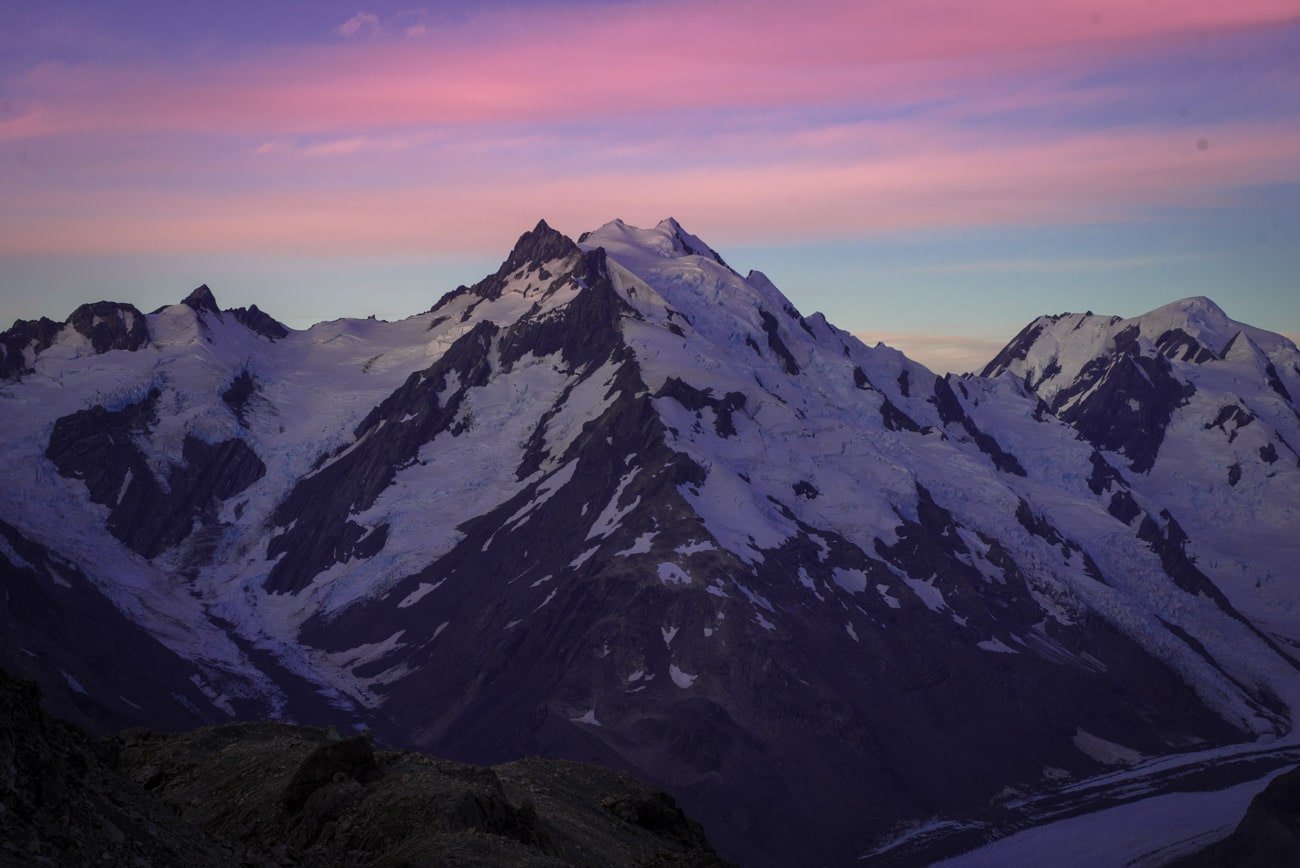 Day 4
Our fourth and final morning was pretty relaxed. After breakfast and packing up our stuff, we went outside to learn about trad climbing gear which is what you use when climbing where there are no set anchors. I had only really seen trad gear once before (the previous week in Wanaka), so it reinforced what I saw there.  Paul also gave us a chance to practice setting anchors in the nooks and crannies of some rocks outside the hut.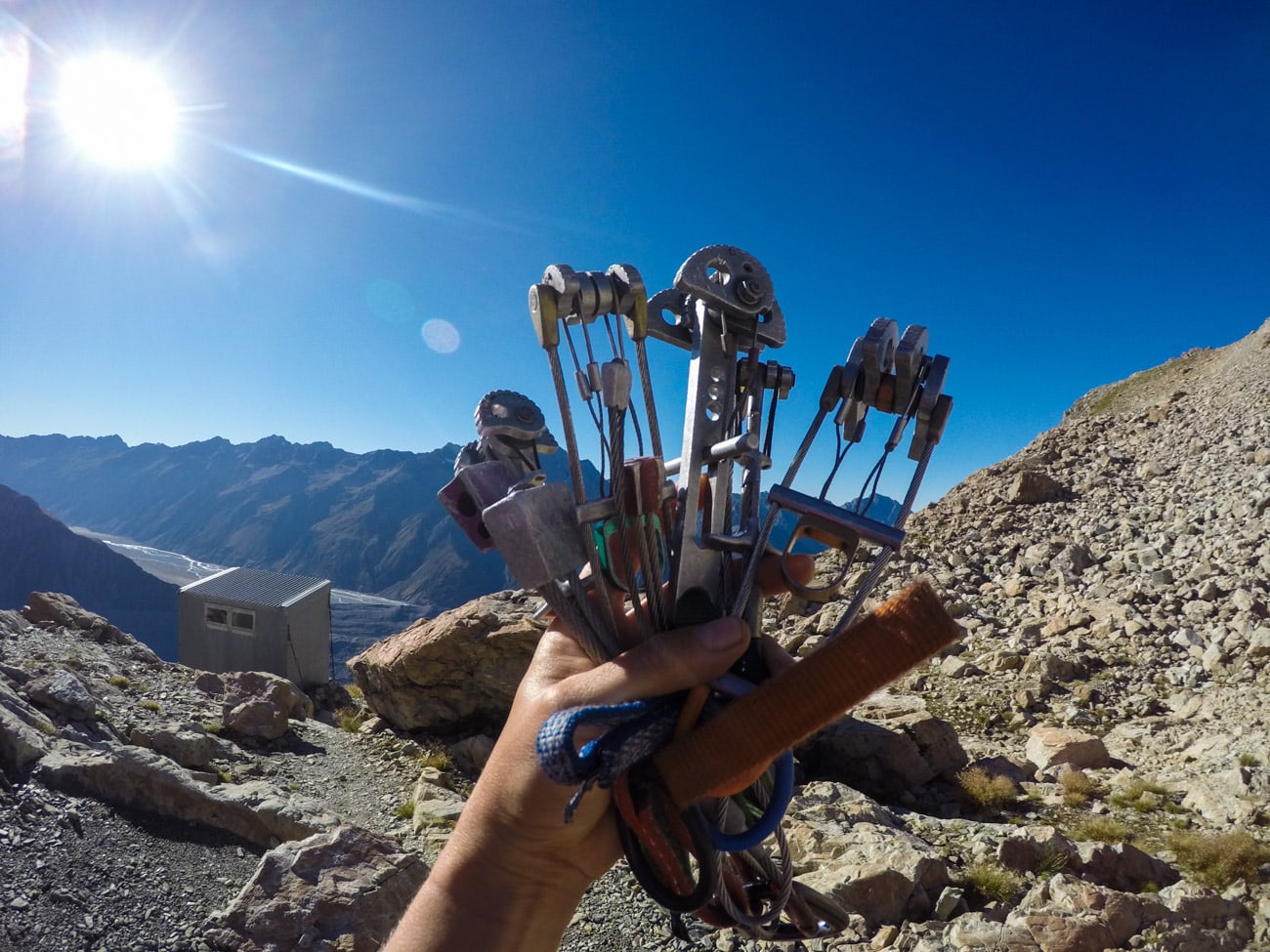 My only suggestion about this section of the course would be to move this tutorial to the first or second afternoon after we were settled at the hut. That way in our down time in the early evenings while it was still light we could have been out there messing around, and perhaps on the final morning we could show Paul our progress with setting the anchors.
After the trad session, we began our hike down and took a different, shorter route than we came up. The trail down was steep with a lot of loose rock, and wasn't all that pleasant (but it wasn't horrible either). I think if our legs hadn't been worked from the previous days, it probably would've been a little easier. We broke the descent down into three different sections with a short break in between and made it all the way to the car in less than 3 hours (which is much less than it would've taken us going down the other way).
— Final Thoughts —
Three years ago, there is no way I would've done the things I did in this course. I struggle a lot with fear, and in the past, it has proven to be a very strong mental barrier, even when physically I knew I was capable. A little loose scree or an exposed slope would have been enough to turn me around. It's something I've been working on overcoming, and putting it out there on the table here on my website has pushed me to work through it.
I've also found that taking courses with trained professionals, like Paul, can make a huge difference. Guides like him have seen it all, and fear is something that deal with all the time. In addition to teaching you technical skills, a good instructor knows how to be patient and has the experience to guide you through both the mental and physical challenges, which in turn can help you build confidence.
As far as my thoughts on Paul, I thought he did an excellent job. He had a friendly demeanor, a good sense of humor, and helped us through the tough parts. At the same time, by the end of the course, he set expectation that for us pulling our own weight which is really important on a mountaineering expeditions where the group's safety depends on the choices of each individual.
Now there were a few minor things I would have changed. Some of it is splitting hairs, but I think it's worth mentioning:
1) Toilets were pit toilets about 100 feet from the Hut, and honestly they stunk pretty bad. There's not much you can do about this given the logistics for dealing with a pit toilet located on a ridge that's really only accessible by helicopter. Besides the stench, they were fairly clean.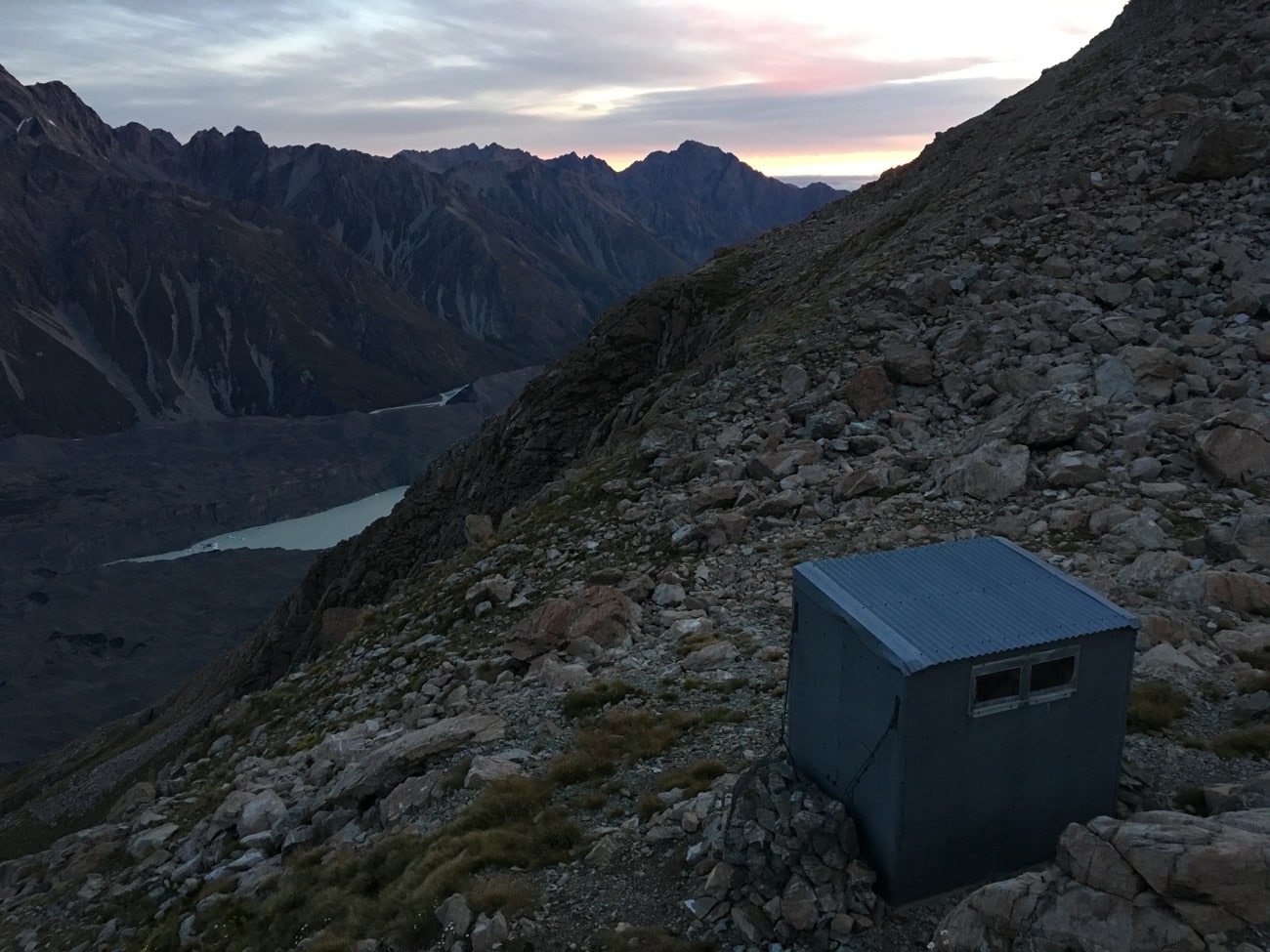 2) For being in a remote location, the food met the mark, but I still think there was some room for improvement. Take our lunches for instance….every morning we were given all of the stuff to make lunches, and Paul advised us to make two sandwiches each since we would be out in the field for the entire day and burning a lot of calories.  Between four of us, there was plenty of cheese but only 1 small pack of lunch meat which definitely wasn't enough for each of us, including Paul, to make 2 sandwiches. The food was tasty enough, and it's not like we went hungry by any means, but some of the meal planning seemed a little loosey goosey to me. I think a little more organization could have made a big difference, and I'd also recommend that if you have any dietary restrictions, you discuss that with them in advance.
All in all, my New Zealand Mountaineering Course at Mount Cook with Alpine Recreation exposed me to the foundations of high alpine climbing, and I'm so happy I chose to do a course so I can go home smarter, safer, and more prepared for my time in the mountains. It also made my bucketlist goal of climbing a big mountain like Rainier seem a lot more attainable.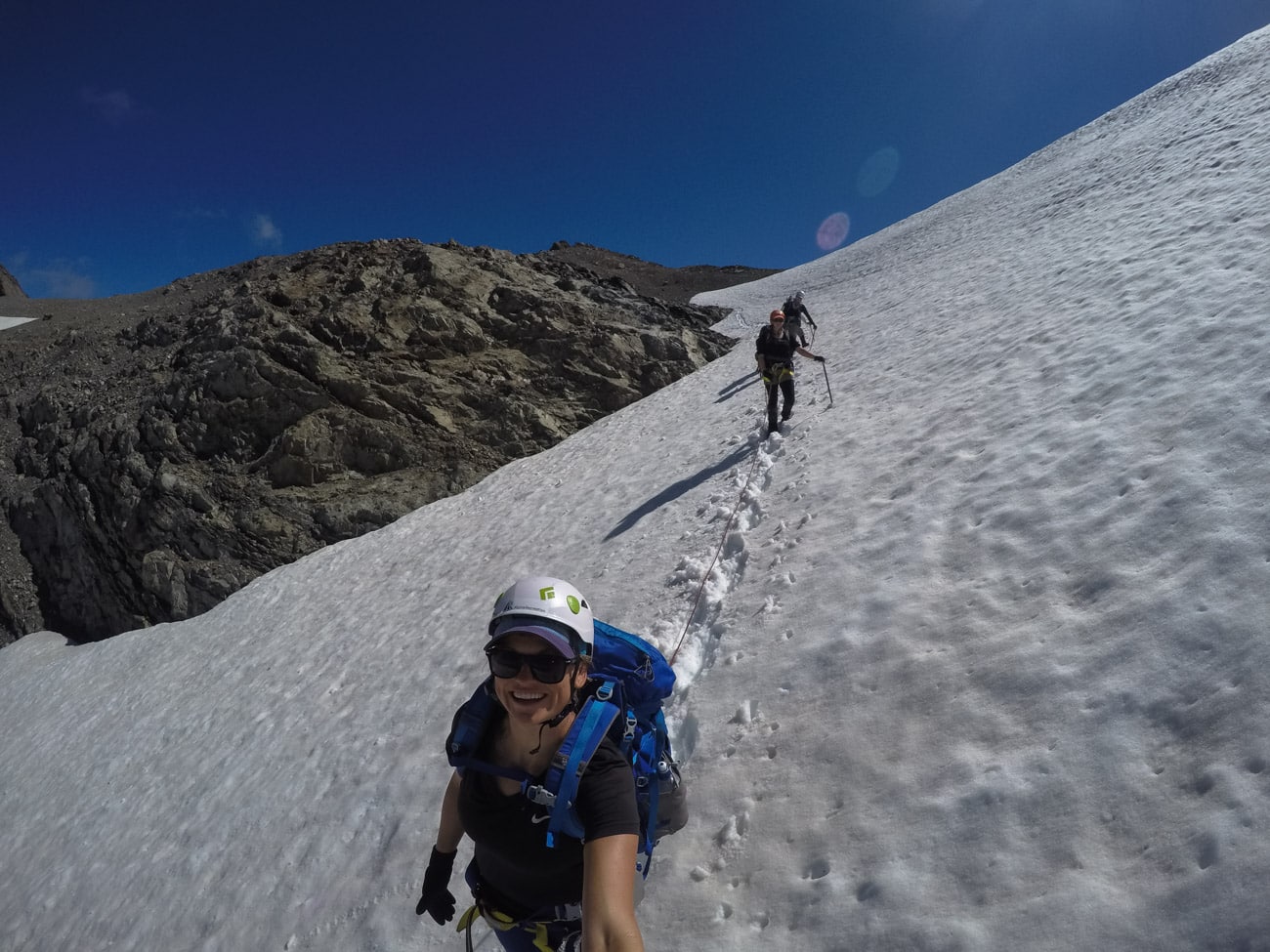 — For More Information —
The Intro to Mountaineering Course at Mount Cook is most appropriate for fit hikers who want to learn how to safety travel on glaciers and the basic concepts of mountaineering. Having been exposed to some climbing concepts is helpful but definitely not necessary. I should also note that even though it is called a "climbing" course on the Alpine Recreation website, it's not a rock climbing course, like you might assume from the title. The course costs $1670 NZ (which with current exchange rates is about $1120 US) and includes everything for four days.
If you have experience with glacier travel already or are a very experienced rock climber, the intermediate course may be more appropriate. I would suggest calling them and discussing your experience and getting their advice as to which course would be most appropriate.
If you are less interested in learning the skills but are very fit and want some time on the snow, you might also consider the Ball Pass Crossing Guided Trek which is also based out of the Caroline Hut.
Course and guided trek dates are listed on their website, and they are also able to do custom tours if existing trips don't fit into your schedule.
Overall, this was an awesome experience, and I can't with to get home and put my new skills to use. Thanks to Paul for being such a great instructor and to the other gals on the course who I had a blast meeting and learning with. 
— Read Next —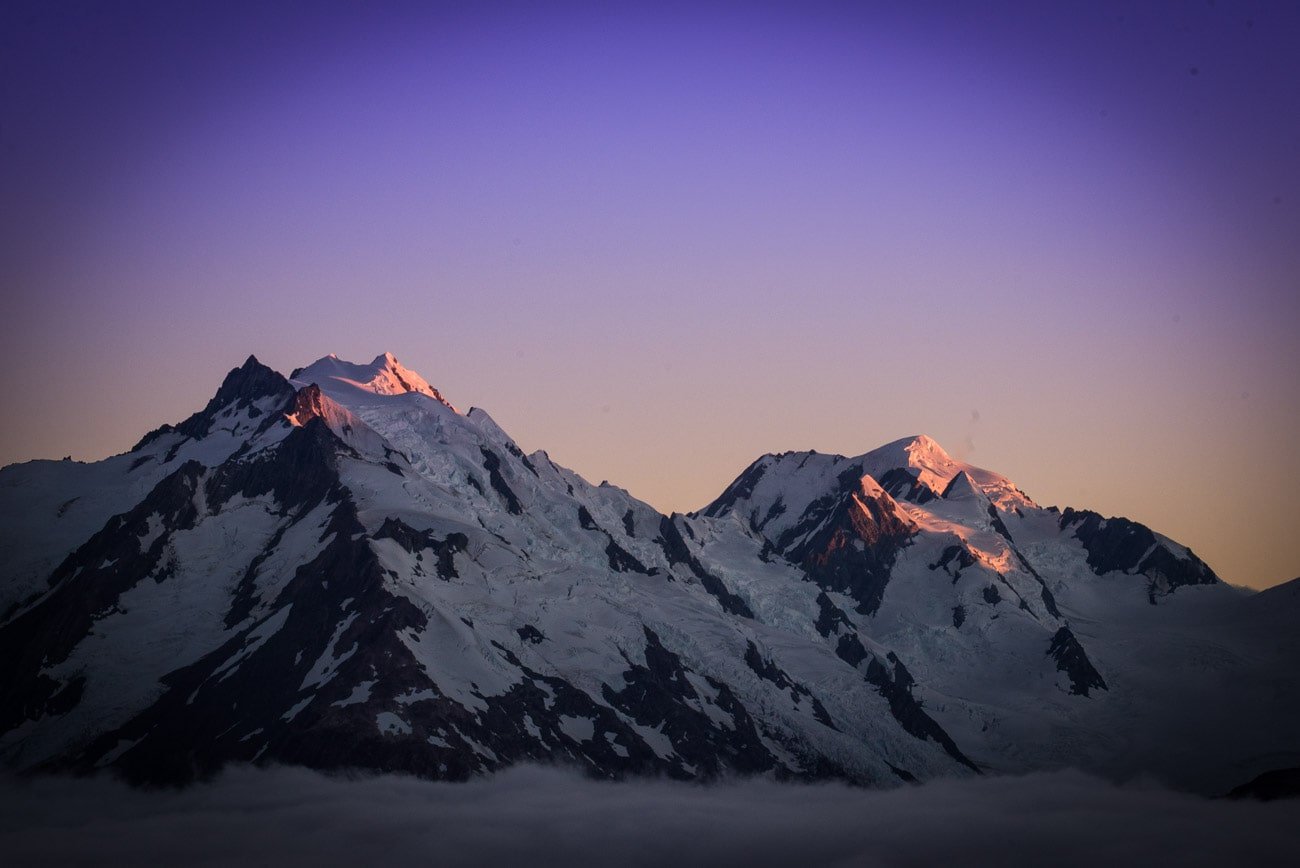 WOULD YOU LIKE TO EXPAND YOUR MOUNTAINEERING SKILLS? LEAVE A COMMENT BELOW, TWEET ME, OR WRITE ME A POST ON FACEBOOK. 

** Thanks to Alpine Recreation for hosting me. All words and opinions are my own **