Milford Sound Helicopter Flight above New Zealand's Fiordland National Park
If you want to see the best of New Zealand, you really need to get above it all! Check out my video, photos, and full recap of my helicopter flight above Milford Sound.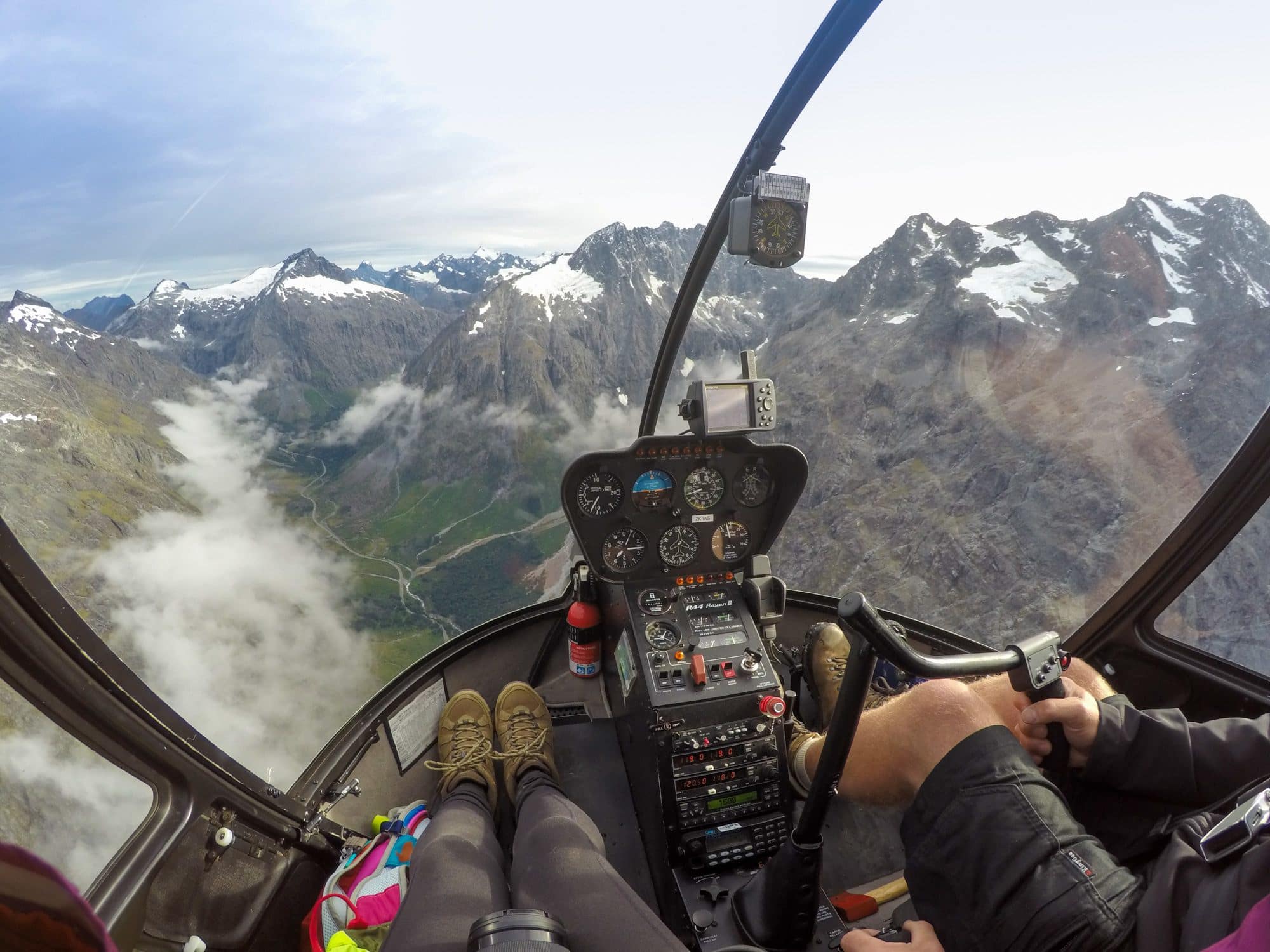 Before coming to New Zealand, I had never ridden in a helicopter before. I'm used to slogging my way up the hill, rather than taking the easy route.
But down in New Zealand, the terrain is so rugged that much of the best mountain landscapes can't be reached on foot. And in fact, from the main National Park hubs of Queenstown, Te Anau, and Wanaka, you can't even tell how big and vast the Southern Alps really are. For this reason, scenic flights are one of the most popular ways to experience New Zealand's mountains.
My first day in Te Anau, the launching point for Fiordlands National Park and New Zealand's Milford Sound, I decided to check out the 30 minute flick called "Ata Whenua – Shadowland" playing at the Fiordlands Cinema. It's an incredible film that showcases some of the South Island's most dramatic scenery, all shot from a helicopter. After picking my jaw up on the floor during the credits, I decided that I needed to get up in a helicopter and see Milford Sound for myself.
Southern Lakes Helicopters is located right on the shore of Lake Te Anau and offers a variety of flights above Fiordlands National Park, including their most popular scenic flights over Milford and Doubtful Sounds.  Since I already had a good dose of Doubtful Sound on an overnight kayak trip, I opted for the Milford Sound helicopter flight. The Milford Sound Flight is a total of 1 hour and 45 minutes, with two separate landings.
Milford Sound Helicopter Flight Video
For a quick birds-eye view of Milford Sound's incredible landscapes, check out the video from my flight.
** Thanks to Nate Fillow, the video editor at The Daily Pow, for putting this together **
I shot this video with my GoPro Hero4 Black and the GoPro Headstrap. For more tips on how to get the most out of your GoPro when traveling, check out this post: 
Milford Sound Helicopter Flight Details and Photos
We boarded the helicopter right on the landing pad behind the Southern Lakes Helicopters office. The helicopter sat 4 people, including the pilot, which meant everyone had a window seat.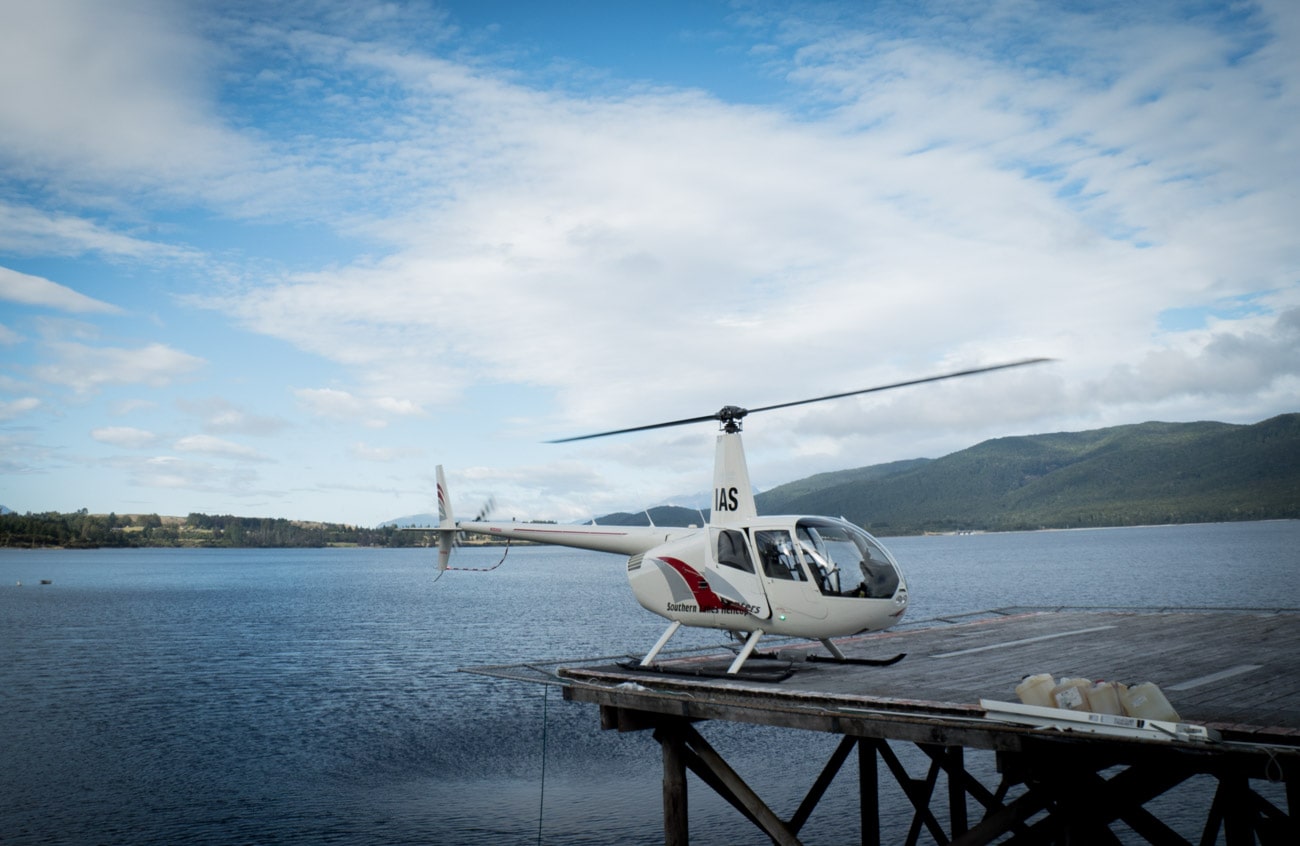 Departing town, you fly the entire length of Lake Te Anau and get to watch the scenery change as it goes from low farmland to sheer granite cliffs draped in dense rainforest, waterfalls, and alpine lakes – the stuff that can only be seen from above.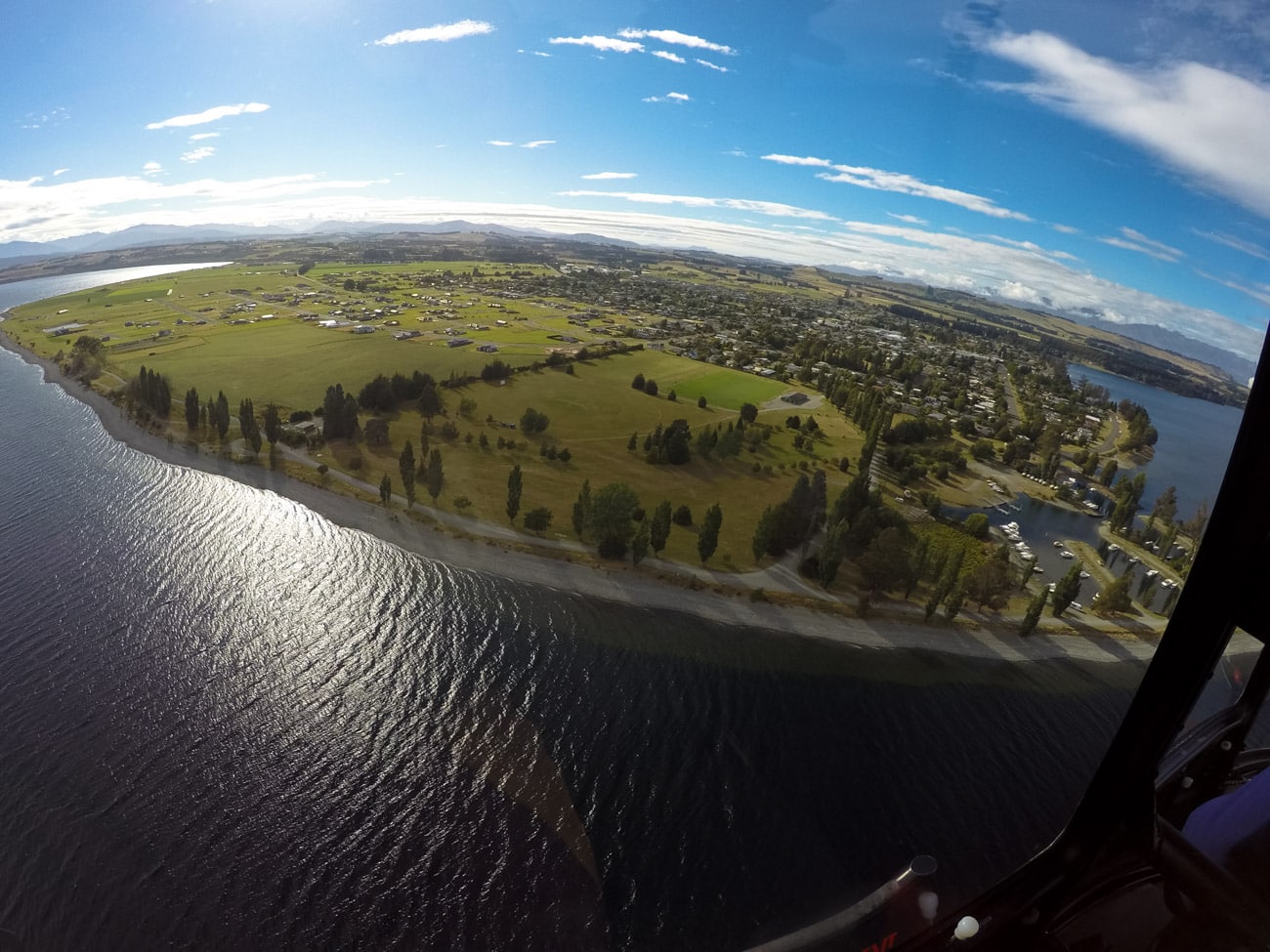 The first landing you'll make is on a permanent glacier way up near Mount Skelmorlie where you'll have a chance to hop out, walk around on the ice, and take some gorgeous photos of the landscape.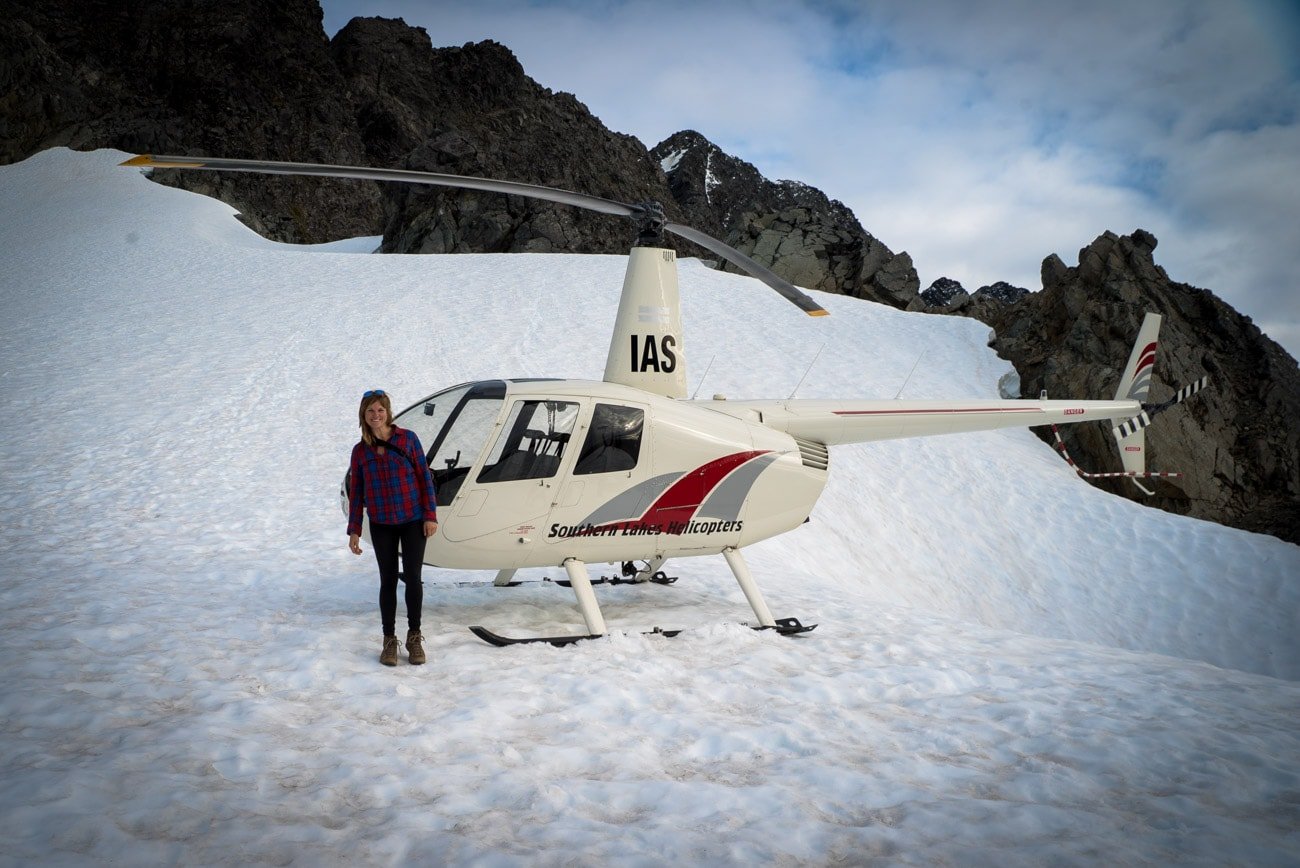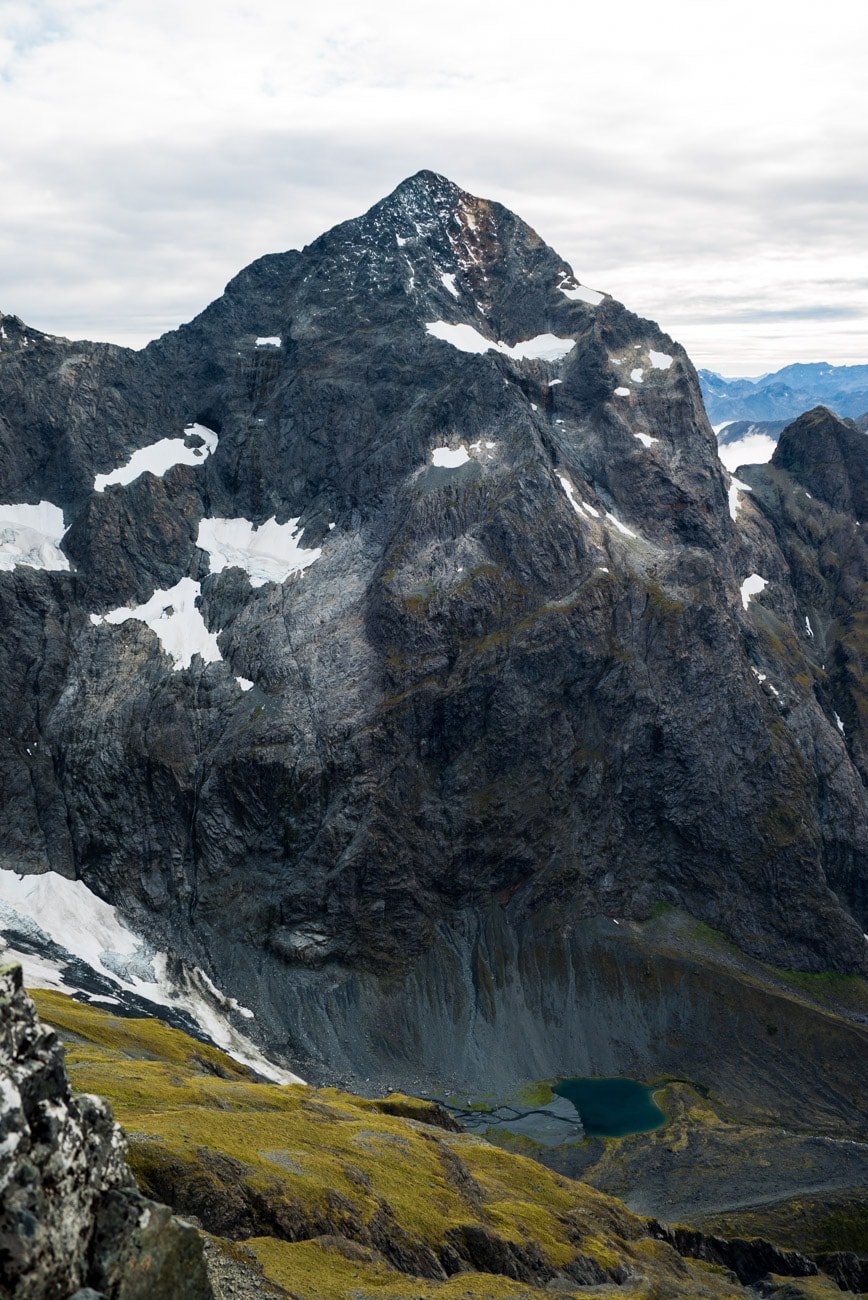 After getting back in the helicopter, you make your way over Gertrude Saddle (which is supposed to be an amazing hike) and down into Milford Sound where you get epic views of the Mitre Peak – the mountain that is pretty much on every postcard of Milford Sound.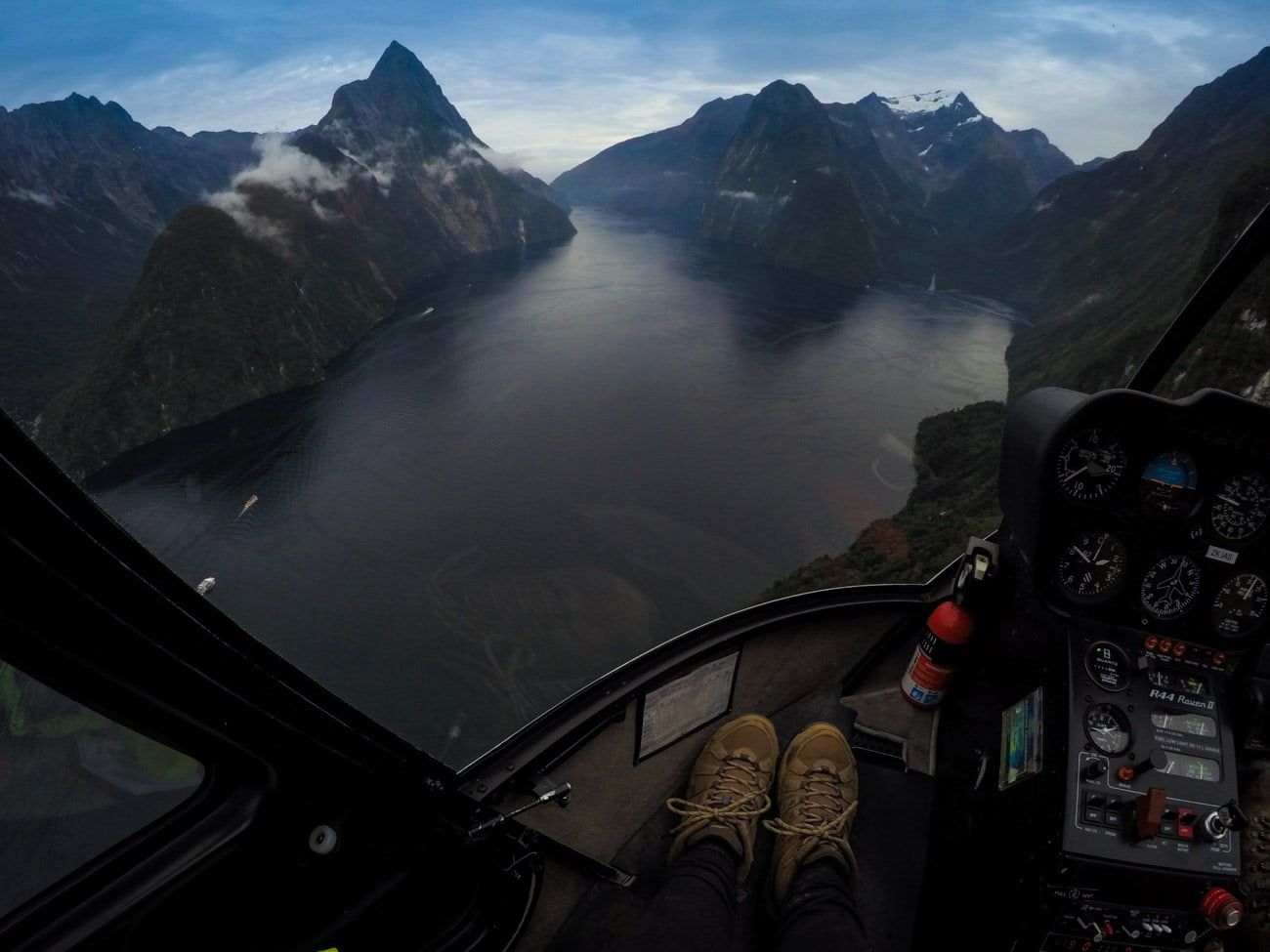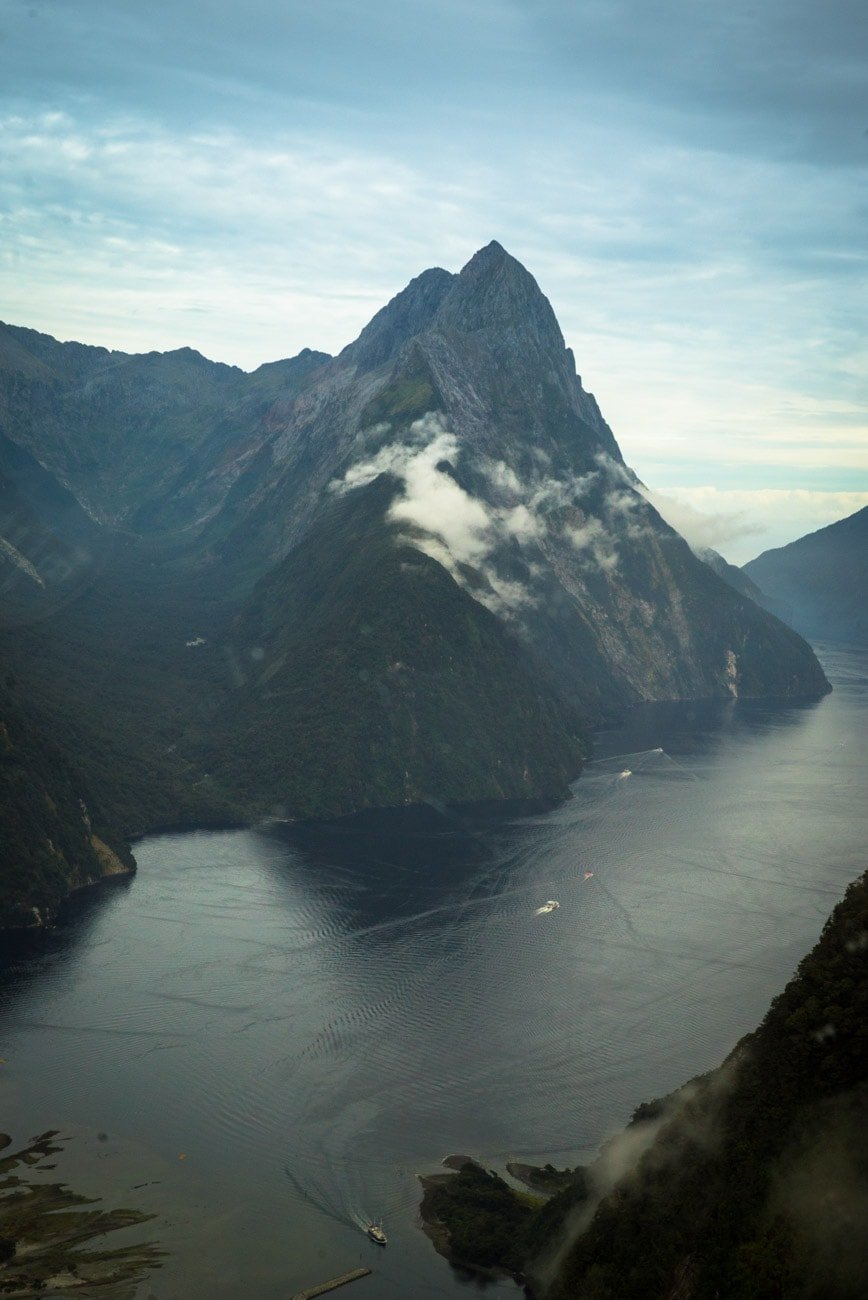 Next you jet over the valley that is home to the Milford Track, the most popular Great Walk in New Zealand. Planning a hike on the Milford Track must be done like 9 months in advance (seriously…permits get snatched up that early). For folks that get shut out due to delayed planning, a helicopter flight lets you see all of the terrain so you can decide if the Milford Track is something you'd like to come back and hike one day….I know it made me want to.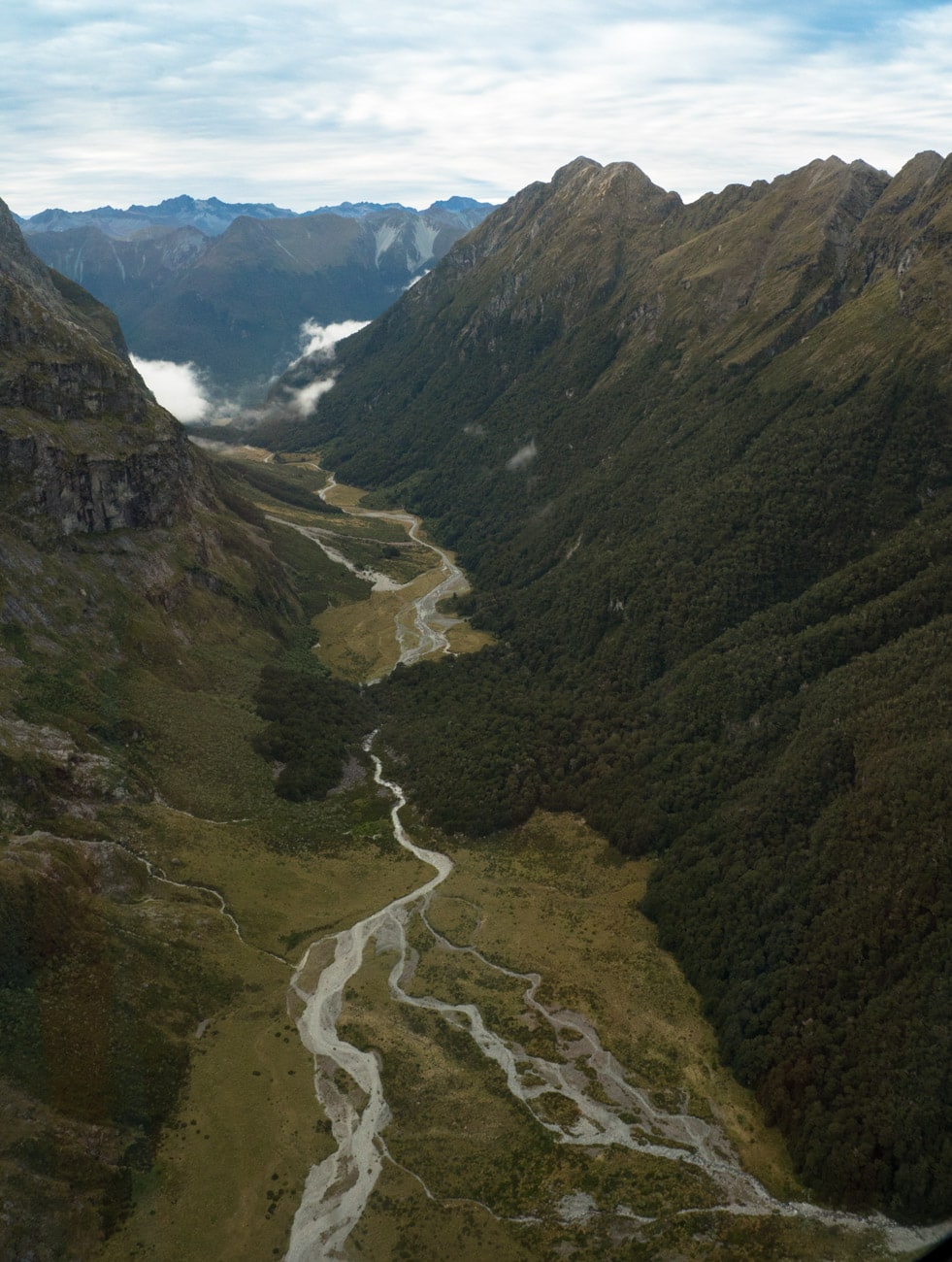 At the end of the valley, you fly over McKinnon Pass and the 3-tiered Sutherland Falls. At 580 meters, it is considered the tallest waterfall in New Zealand. Coming up and over the Sutherland and landing at Lake Quill, which feeds the falls, was an absolute highlight of the flight.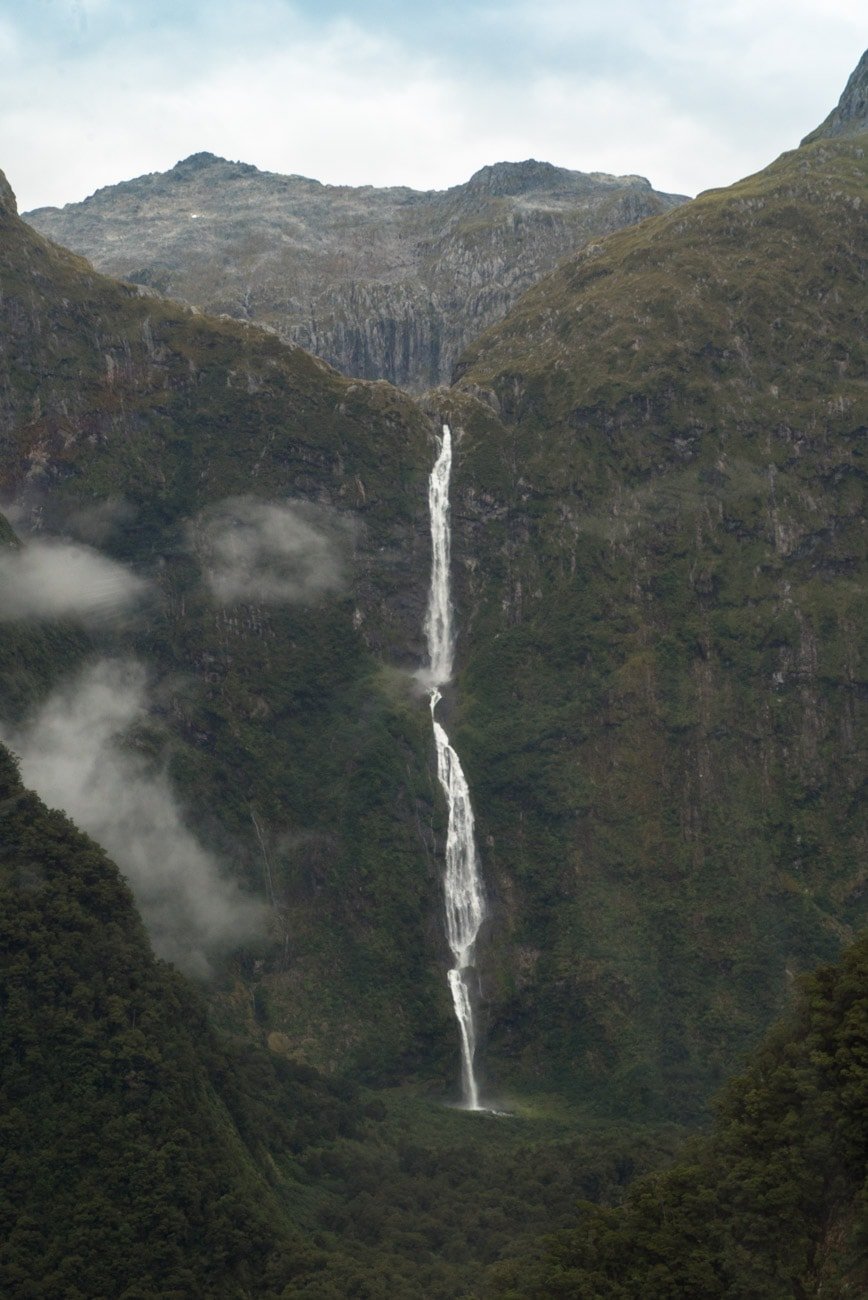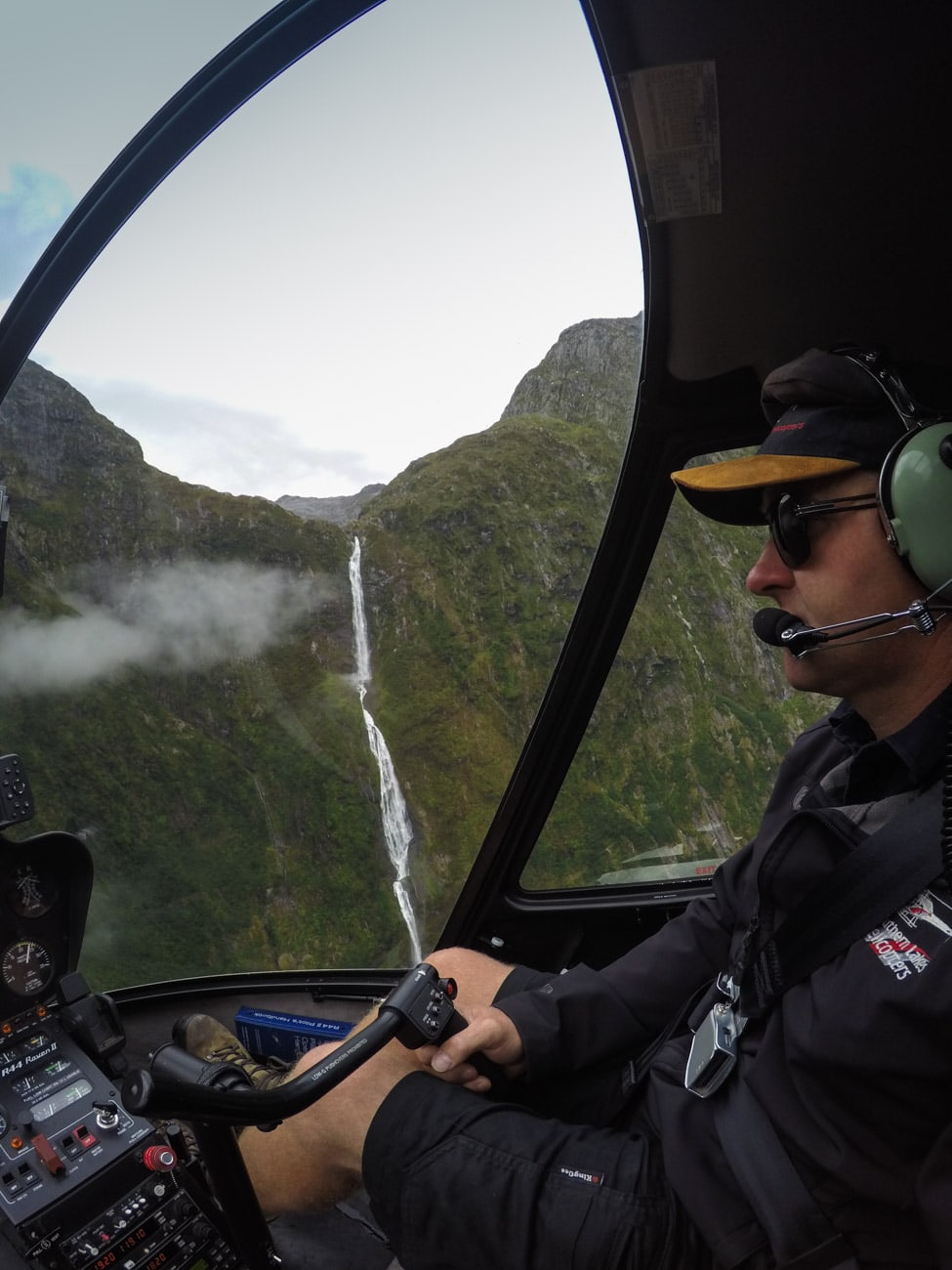 Our pilot gave us a good chunk of time to get out, explore, and take pictures of Lake Quill. There was also a cheeky kea, the world's only alpine parrot that is both indigenous and endangered in New Zealand, right at our landing spot.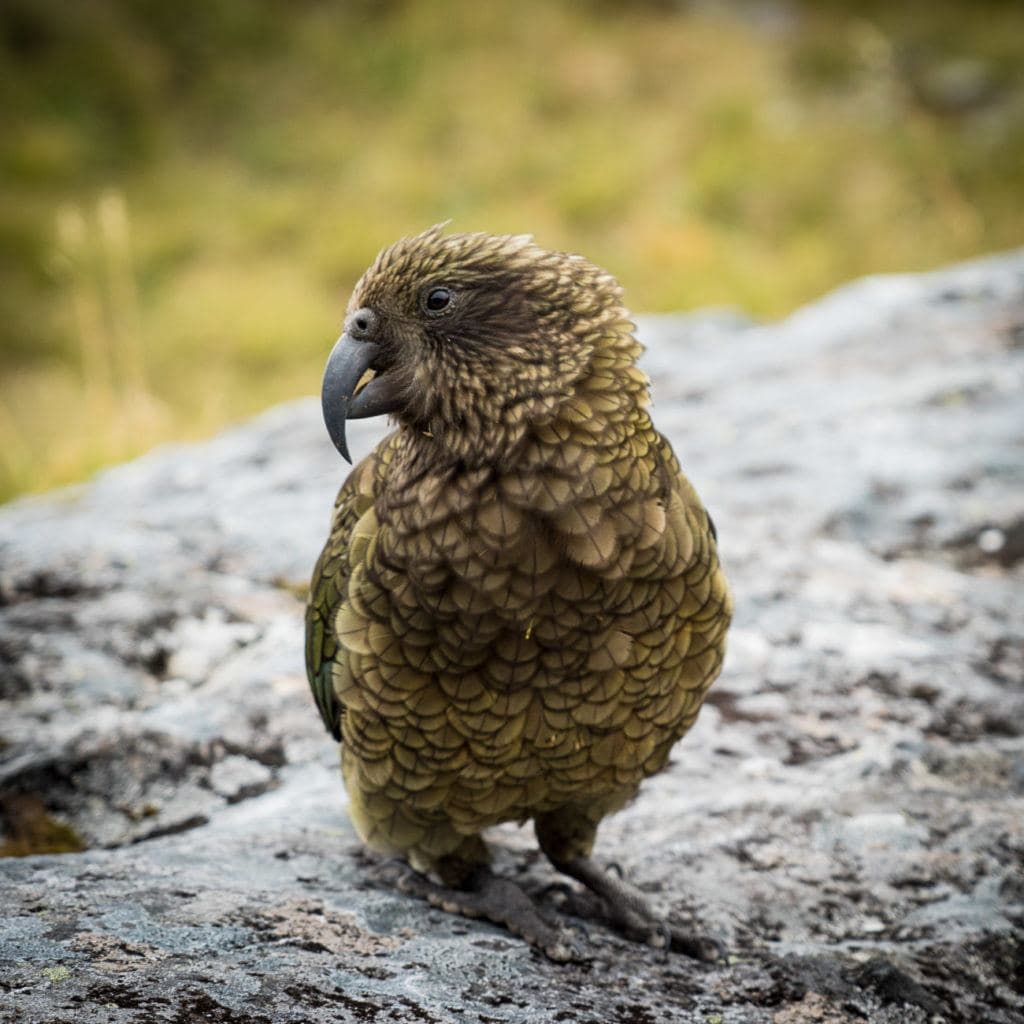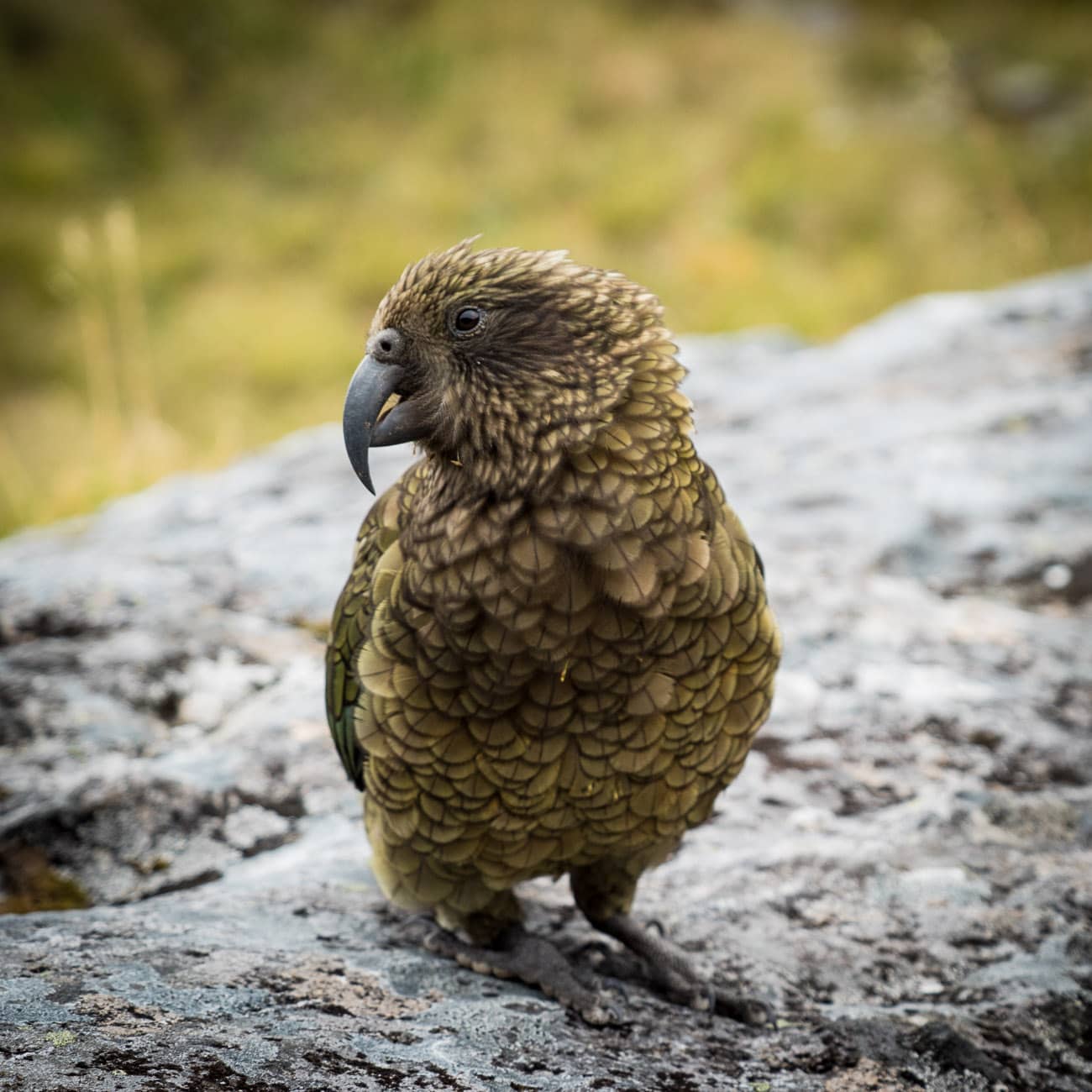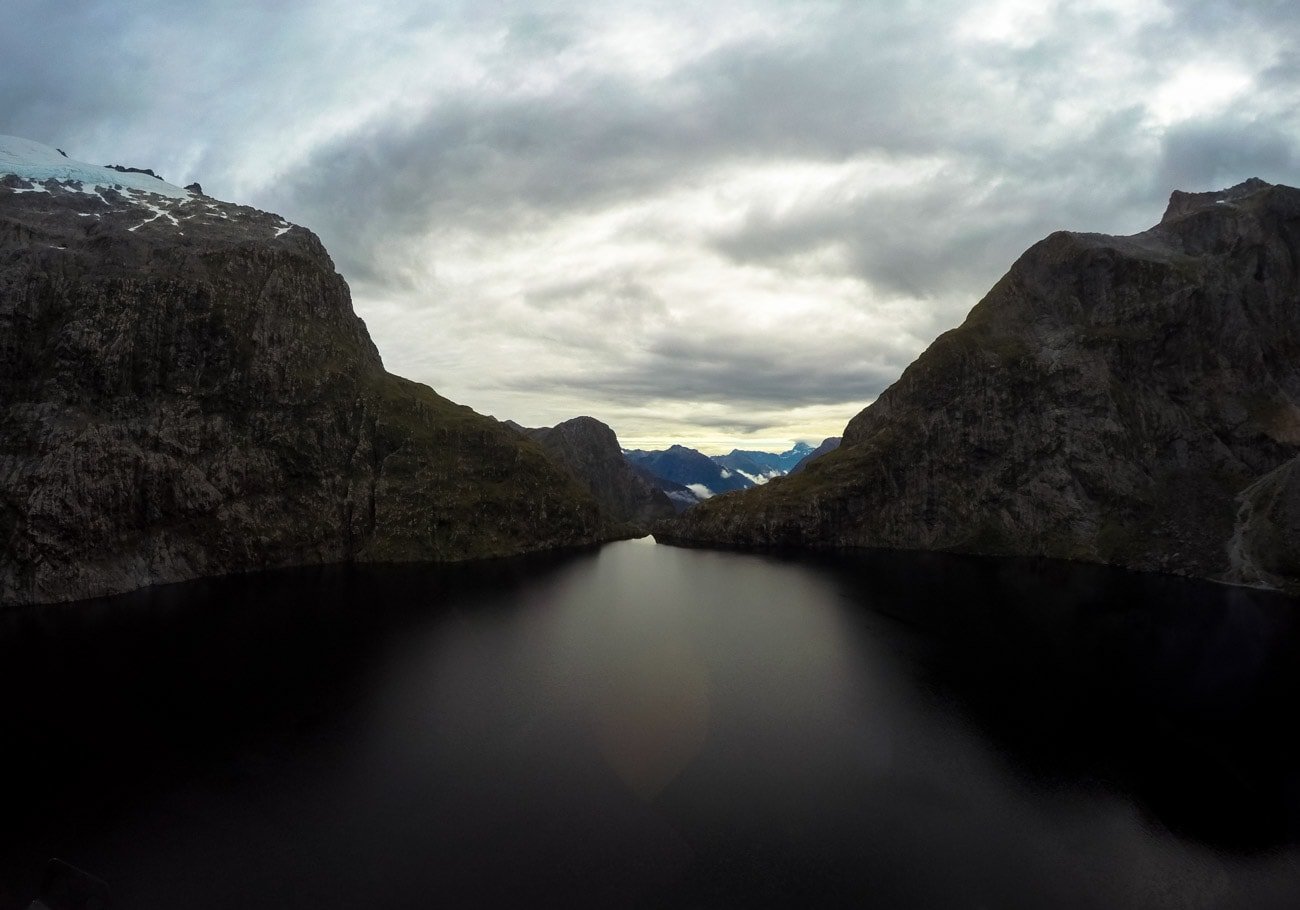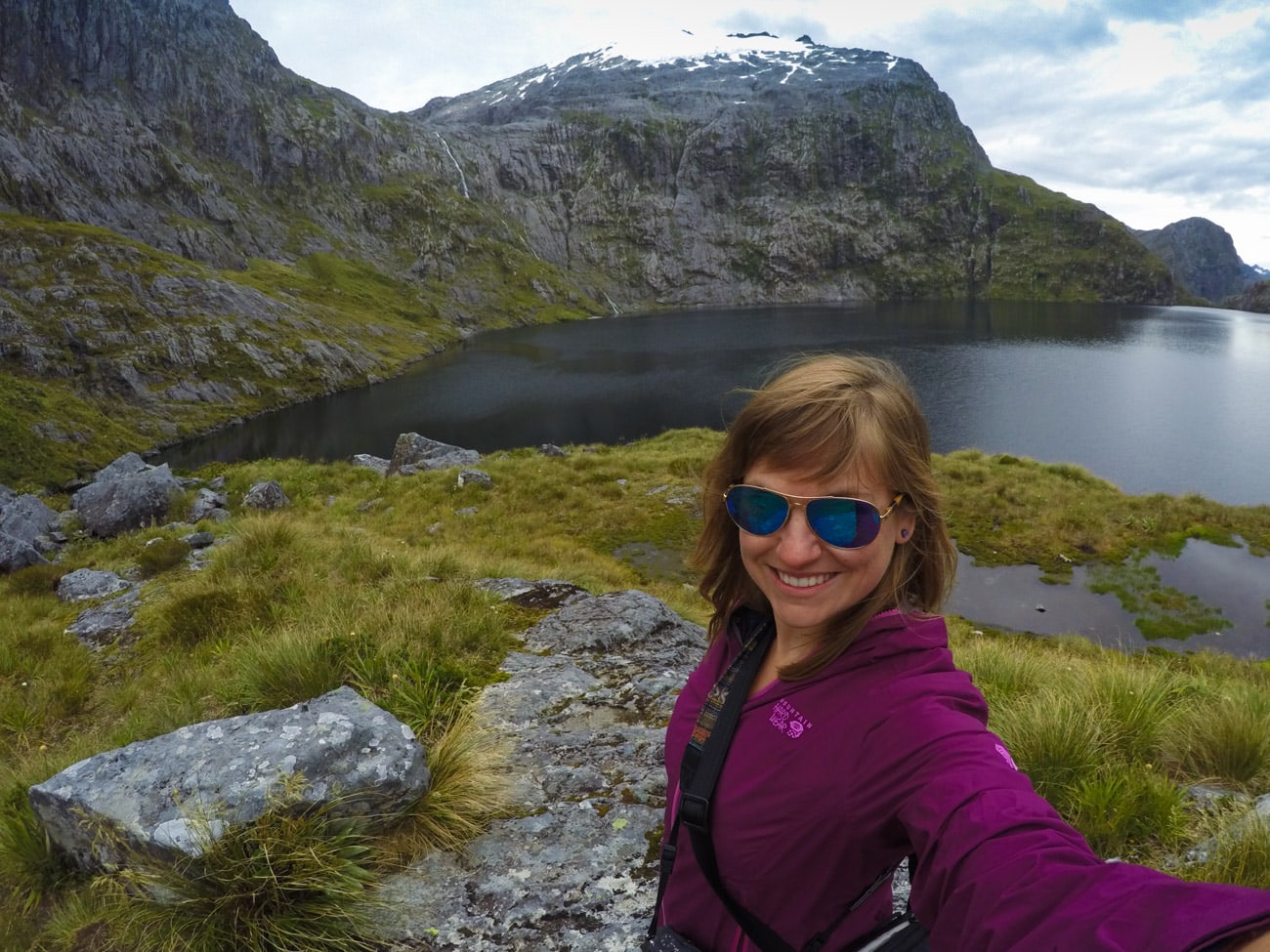 After Lake Quill, we continued our loop back to Te Anau, flying over the North Fiord of Lake Te Anau before arriving back at the landing pad.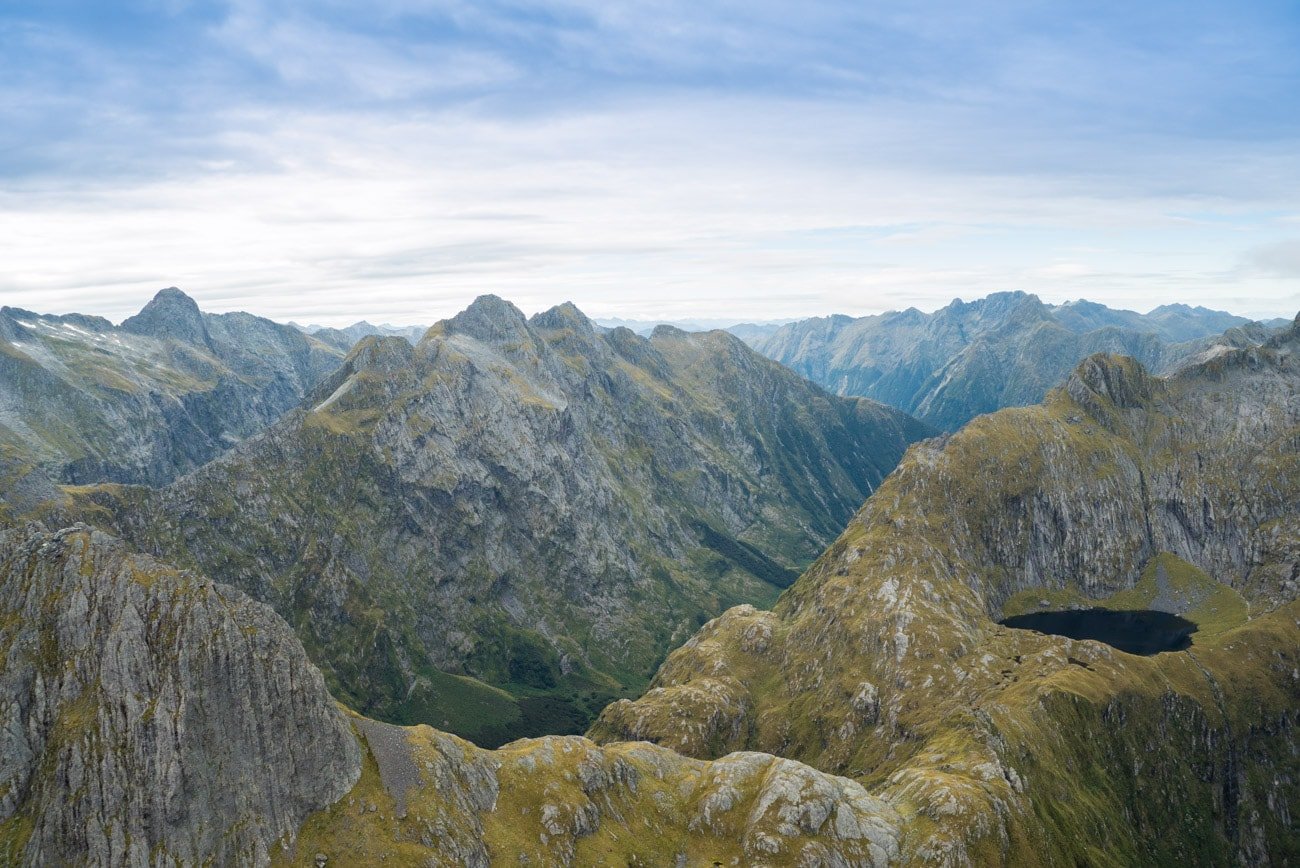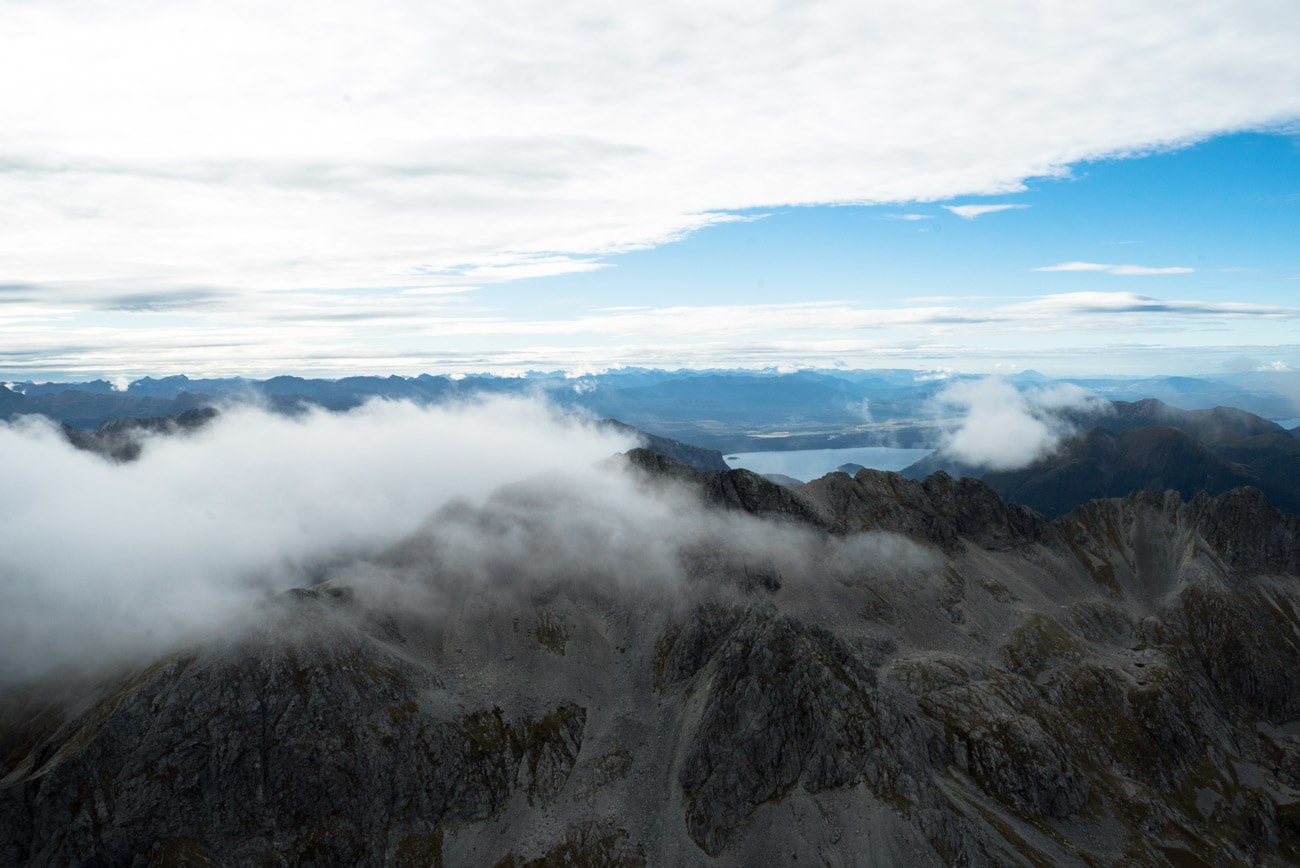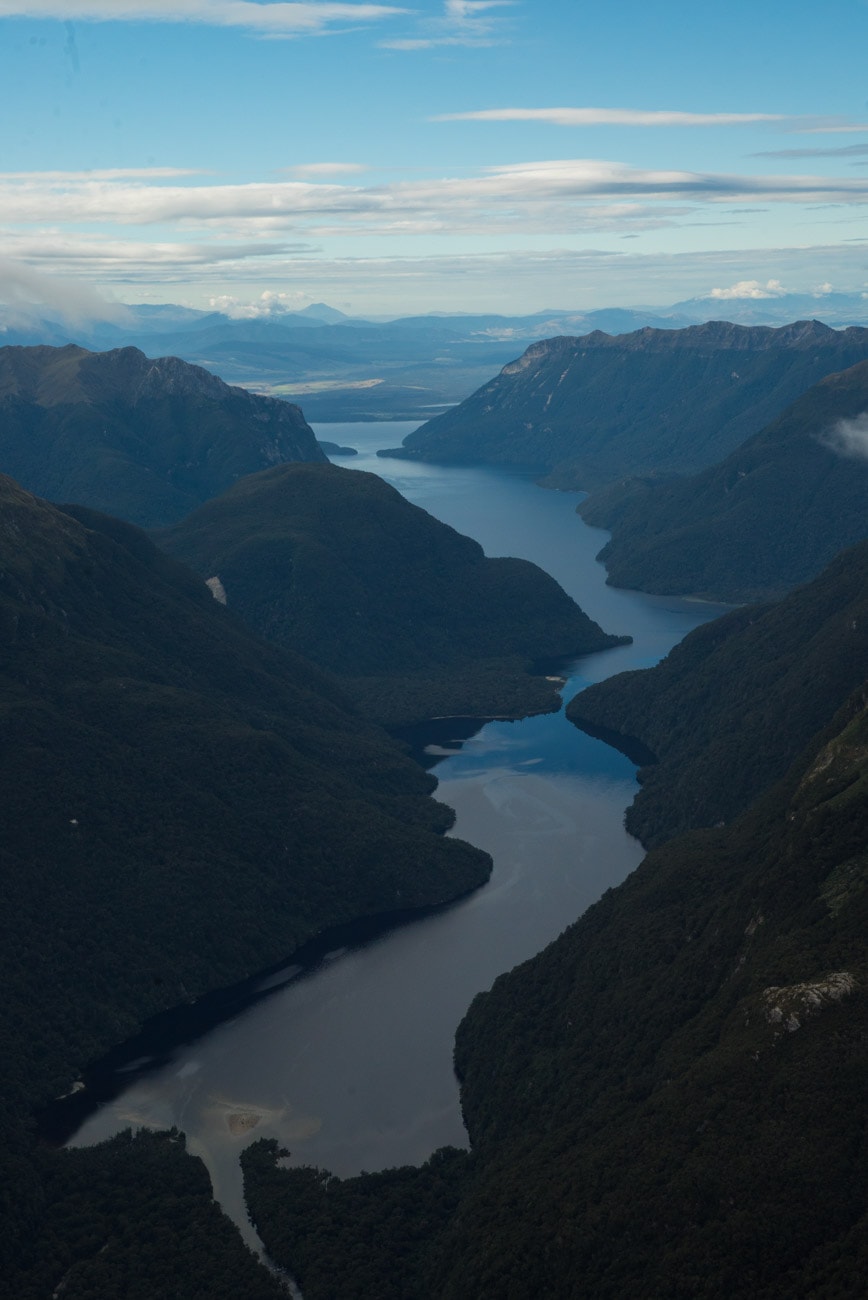 — Tips for your Milford Sound Helicopter Flight with Southern Lakes Helicopters —
Make sure to bring a jacket and close toed shoes. The two spots that you land are much higher than Te Anau and hence, much colder.
Check the weather report for the week and pick a day to fly when the skies are predicted to be clear(ish).
Swap seats after each landing, so everyone has a chance to sit in the front. For the Milford flight, I thought the most dramatic leg was the second segment between the two landings…so if you are a photographer, that's when you should try to be in shotgun.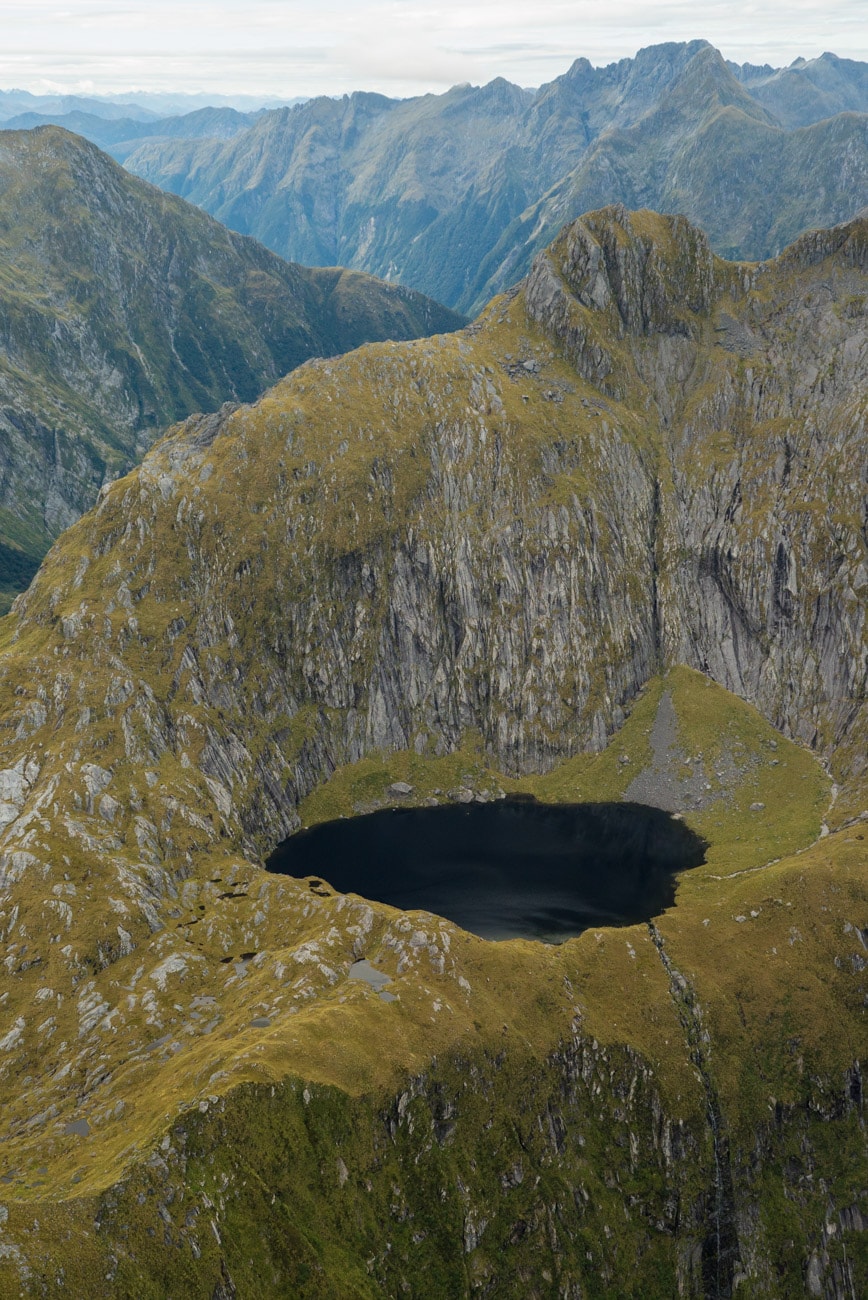 To Book a Flight with Southern Lakes Helicopters
Two hours of flight time, the spectacular scenery, and getting up close with New Zealand's largest waterfall made this flight one to remember. To book a flight with Te Anau's Southern Lakes Helicopters, call +64 3 249 7167 or email info@southernlakeshelicopters.co.nz.
HAVE YOU EVER FLOWN IN A HELICOPTER? LEAVE A COMMENT BELOW OR WRITE ME A POST ON FACEBOOK. 

** Thanks to Southern Lakes Helicopter for hosting me as their guest. As always, all content and opinions are my own. **