MANAGING STRESS AND ANXIETY OVER THE CORONAVIRUS
Unless you've been roaming around off the grid for the last month, you know that we are facing a global health pandemic, a virus known as the Coronavirus or COVID-19. This virus has caused loss of human life, created enormous public health and economic challenges, and has also disrupted the entire travel and tourism industry.
I recently shared on Instagram that my partner Ryan and I canceled our trip to Hawaii earlier this month due to Coronavirus concerns. Ryan is Type 1 Diabetic which puts him the "immunocompromised" category, so it simply wasn't worth the risk. We also didn't want to end up quarantined or stuck somewhere unexpectedly. Since then we've been at our home in Salt Lake City, closely following what's been going on, and we're trying to decide if we want to take off in our camper van to hide out in the desert for a bit.
While I normally write about outdoor travel, my goal with Bearfoot Theory is to be a helpful resource, not just on your adventures, but also in your everyday life. So far, I've seen so many Coronavirus articles about washing your hands, not touching your face, and social distancing – and I do think we should all be doing those things. However, I haven't come across any helpful advice on maintaining positive mental health during the Coronavirus pandemic.
If you're like me, you may be suffering from anxiety and stress over the Coronavirus. While stress in the face of all of this uncertainty is completely normal, chronic, long-lasting stress releases high amounts of the hormone cortisol in our bodies, which can bring with it a host of health issues, putting your immune system at risk. Since doctors and scientists have said a healthy immune system is one of your best defenses against the Coronavirus, it's really important to manage your stress levels properly.
I'll start by saying, I've been struggling with this myself and had a bit of a breakdown this week. I came in from outside and the news was on tv, and I felt all of my anxiety and fear bubbling to the surface. I went into my room, broke into tears, and then snuggled my dog until the feeling passed. I'm not so worried about getting sick. I'm healthy, I take good care of my body, and I believe my immune system is strong. I know I can overcome this virus.
Instead, I'm thinking about people my parents' age and the immunocompromised who are most vulnerable. I'm thinking about our doctors and nurses and the stress they must be under. I'm thinking about my friends who work in the service industry and those who are forced to live paycheck to paycheck and how they are already feeling the impacts. I think about the root of this problem being our massive imbalance with the planet and its animals, and it all just feels so heavy.
The fact is we are in for a couple of difficult months, and we are going to experience changes in our daily lives.  I believe if everybody puts their best foot forward and acts with society's collective good in mind, we can rise above and beat this thing. But in the meantime, how do we deal with the stress we may be feeling as we prepare for the unknown?
Assuming I'm not alone, I wanted to share what I'm doing to manage my anxiety over the Coronavirus.
Try Meditating
About two months ago, I started a daily meditation practice. It only takes about 15 minutes a day, and I'm finding that it's making an enormous difference in my mental well-being. I've tried a number of different apps and so far, my favorite is Insight Timer. They have a ton of free meditations, a wide variety of styles and voices, and all of the meditations are reviewed by the users to help you narrow down your choices. Insight Timer also has some cool sound bath and nature meditations, which makes me feel at ease and connected to the earth. I try to meditate first thing in the morning before my day gets going, and I find that it sets me off on a good foot for the day. There are also some really nice sleep meditations if you find your self having trouble falling asleep at night.
Additional Resources:
Limit How Much News You Watch
While many people are knocking the media saying they are overhyping the coronavirus, I actually think they are doing a good job reporting the facts and have been giving a lot of air time to health professionals and scientists, who we need to be listening to. At the same time, the news is highly addictive. When the situation is changing so rapidly, it feels like if you turn off the news, you're going to miss something. I've fallen into this pattern, but after my breakdown, I've realized I have to put my foot down and say no. I think it's important that we all be well informed, but we can accomplish that in 30 minutes a day, by either watching a daily recap or reading through the evening headlines. Any more than that, and I find myself falling into a vicious cycle of fear. So from now on I'm committing to setting and sticking to clear boundaries with the news, so I do not let the news control my emotions.

Get outside for some fresh air
ThSpending time exercising outdoors is proven to reduce stress and increase happiness by releasing your body's feel-good endorphins. Further, hiking improves your heart health and reduces the risk of certain respiratory problems, and if there is ever a time we needed that, it's now. If you find yourself feeling overwhelmed, go take a hike (as long as you aren't showing symptoms). But first, some really important caveats!
Right now, many small towns (like Moab, McCall, and Mammoth) are asking visitors to stay away. Their small rural hospitals simply don't have the capacity to deal with a large outbreak, so the best thing we can do to protect those small communities that we love to travel to is to not go right now.
Instead, walk around your neighborhood or hike on a nearby trail. The most responsible thing to do is to stay local within a few miles of your house. When you're on the trail, keep a 6 foot minimum radius from other hikers. That means stepping aside to allow other hikers to pass so you maintain the social distancing guidelines recommended by the CDC.
Also know that many visitors centers and facilities are closed. Be prepared to go to the bathroom outside, as directed by Leave No Trace guidelines.
Finally, remember that medical and emergency personel are fully tapped out, so be careful! If you get hurt or need assistance in any way, you are placing a burden on our medical system that frankly can't handle any additional pressure. So please be smart.
If you're new to hiking and the outdoors, check out all of our Outdoor 101 posts for advice. Obviously you'll want to choose a trail that isn't heavily trafficked and keep a reasonable distance (6 feet) from other hikers you might encounter.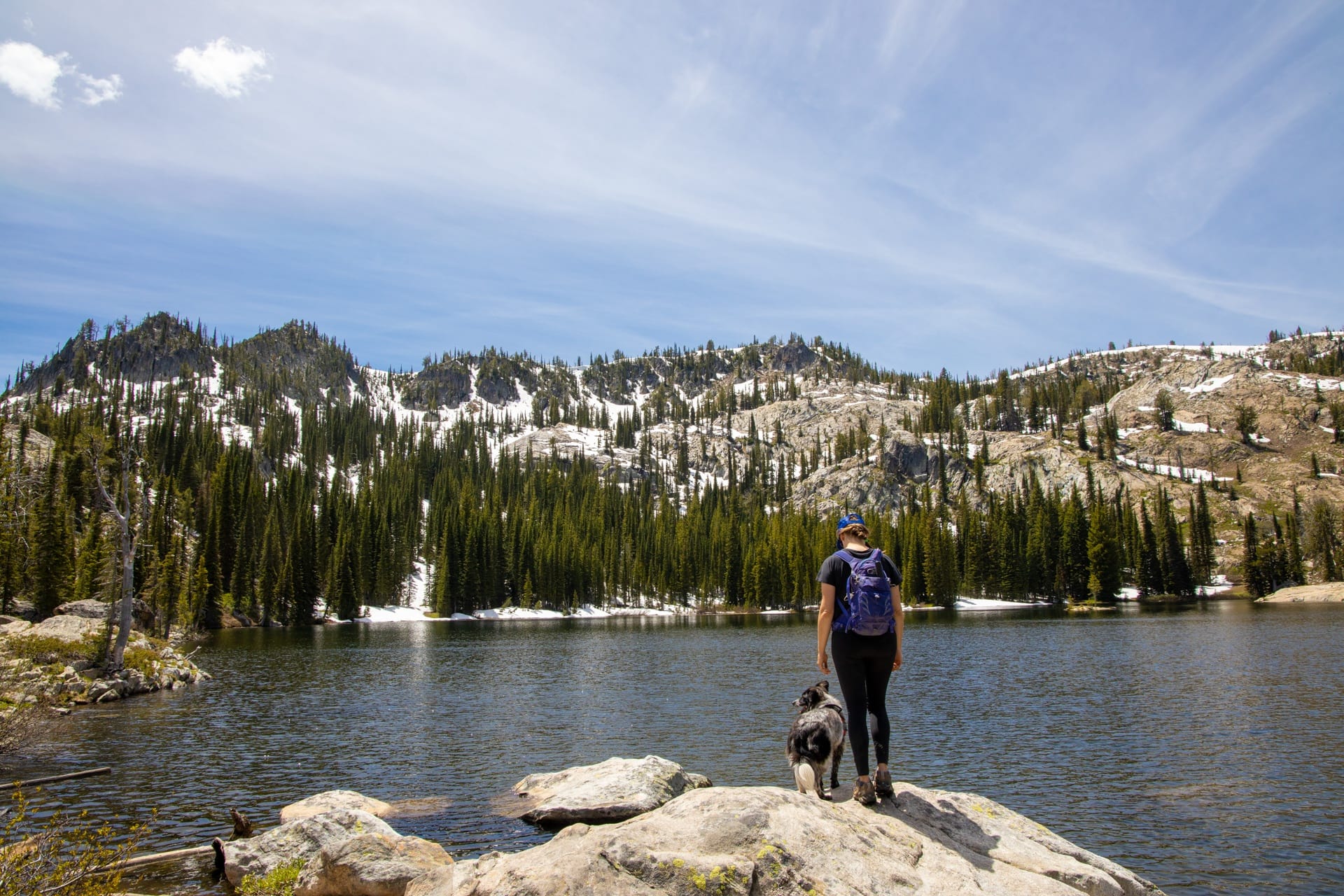 Adopt Healthier Dietary Habits
The scientists say the strongest thing we have to fight off the coronavirus is a healthy immune system, which is heavily impacted by what we choose to put in our bodies. Back in November I adopted a plant-based diet and am working my way to vegan. Since giving up meat and other animal products, I've felt so much healthier and more energized. It's also been good for my mental health, as I know I'm making good choices for my body and the planet.
Alcohol also takes a toll on our immune systems. According to the National Institute for Biotechnology Information, "Clinicians have long observed an association between excessive alcohol consumption and adverse immune-related health effects such as susceptibility to pneumonia."  In times of stress, you may find yourself wanting to drinking more to cope, but based on the science, you're not doing your body a favor. I used to be a heavy drinker and only in the last year got my drinking under control, and in January of this year, I gave up booze altogether. That combined with my dietary choices has left me feeling stronger, lighter and better than ever.
While I'm not a scientist or a doctor, my choice to only put healthy things in my body is helping me have a more positive mindset about how I might be personally affected by the Coronavirus. I'm not saying you have to become a vegetarian or give up drinking, but I encourage you to be mindful of what you are consuming.

Take up a New Hobby you can do at Home
It may be the case where we are forced to spend more time at home. Maybe that means it's time to take up a new hobby you can do at home, like playing an instrument, learning a new language, or starting yoga (I use the Down Dog App). Maybe you're considering building out a van to travel in? That's a lengthy process, so spend this time researching and getting excited over that next chapter. Or you can use the time to accomplish some house projects that have been on the back burner. Having something that you are excited about that provides positive mental stimulation can help keep the anxiety at bay.
---
Get your Nature Fix Inside
If the outdoors aren't accessible to you right now, there are plenty of ways to get your nature fix inside. And I don't just mean reading a book or watching a nature documentary. We rounded up 23 ways you can bring the outdoors indoors in this blog post.

Be Mindful of How you Communicate
If you live with a partner or roommates, be sensitive to how they might be feeling. We all respond differently to stress, and it's important to be supportive and compassionate, while also setting healthy conversational boundaries. For instance, if your partner is obsessing and can't stop talking about the Coronavirus, listen and show them you care, but after that, it's also ok to kindly ask to change the subject.

Talk to a Therapist
If anxiety is dominating your thoughts and you feel like your mind is spinning out of control, consider finding a therapist that you can talk to either online or over FaceTime. I've actually been seeing a therapist since the beginning of this year, and with her help, I've been working to better manage my anxiety and have also experienced a lot of personal growth in other areas in my life. If this sounds like something you'd be interested in, I suggest doing some research on the different online therapy services and try to find someone who can help you manage your fear more effectively.

Right now in the face of all of the uncertainty, it might feel scary like everything is spinning out of control. But remember, the one thing you do have control over, however, is how you react to the situation and those around you.
I hope these tips have been helpful, and I'd love to hear what you've been doing to manage your anxiety around the Coronavirus and to stay happy, healthy, and safe.