Hitting the Slopes at Las Vegas Ski and Snowboard Resort
 Las Vegas Ski and Snowboard Resort The last time I hit the ski slopes was about 10 years ago, and it was not…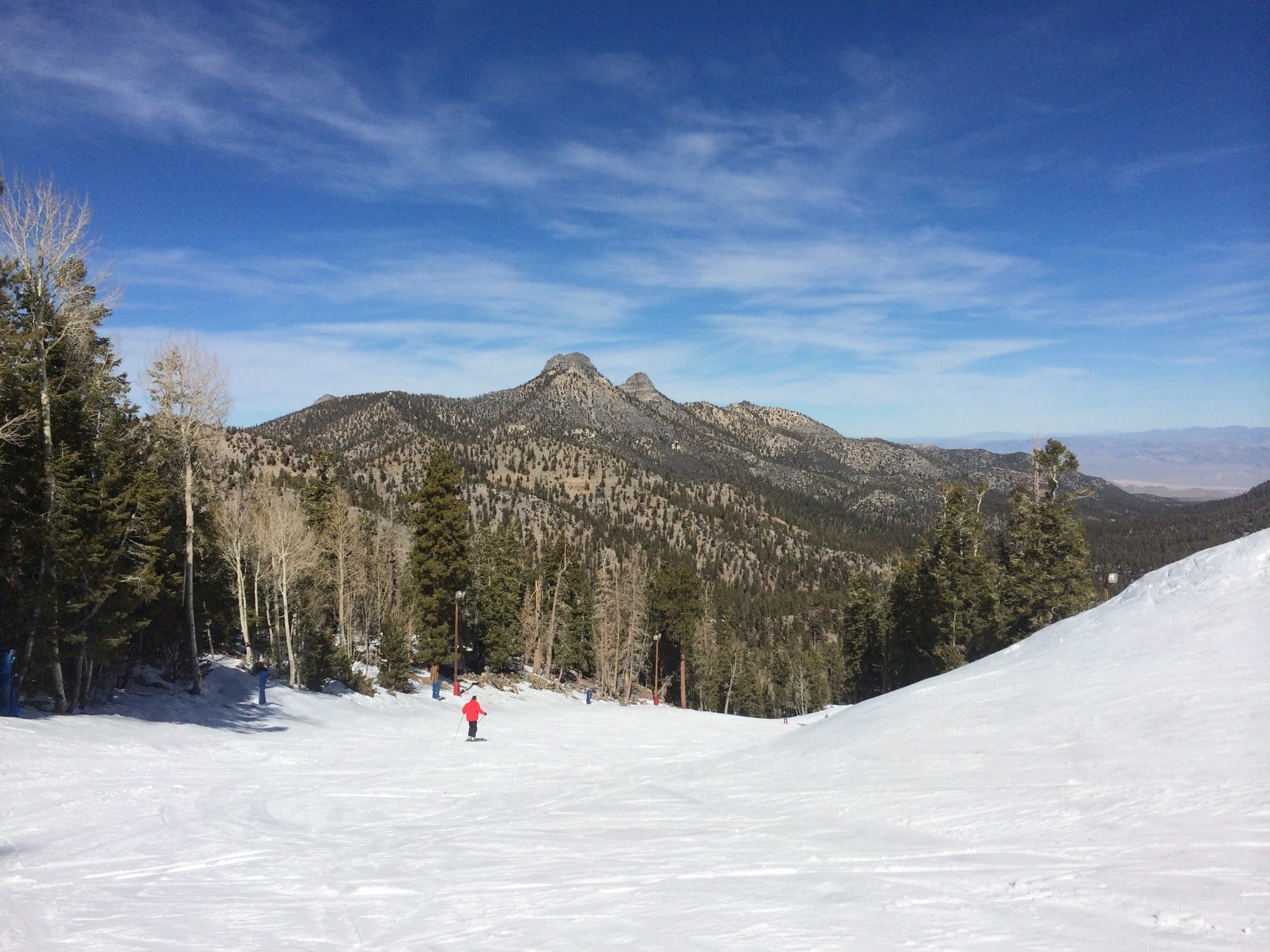 Las Vegas Ski and Snowboard Resort
The last time I hit the ski slopes was about 10 years ago, and it was not a good experience. My foggy goggles, sore feet, and the feeling of being utterly out of control led me to swear off skiing for life. Pizza wedging my way down the hill, I watched my friends lap me over and over again, and I barely lasted 2 hours out there before I called it quits. I really wanted to like skiing. With my love of the mountains, I was always jealous hearing my friends talk about those killer powder days. But I had resorted to the notion that I was the world's worst skier, and I would never be good enough to keep up…so why try. Then when 2015 rolled around, I decided it was going to be
my year to hit the slopes
one last time before giving it up for good. I figured maybe there was a slight chance I would surprise myself.
Snow…in Vegas?!?
When I learned that there was a ski mountain 40 minutes from my Las Vegas desert abode, I knew I could no longer make any excuses. So I gathered up my winter garb and made plans to head up to the
Las Vegas Ski and Snowboard Resort
, a small mountain located up Lee Canyon near Mt. Charleston.
Upon my arrival, I was surprised to find that it was in fact cold, at least by Vegas standards. My thermostat clocked in at a brisk 42 degrees at the mountain's 8,510 foot base with blue and sunny skies.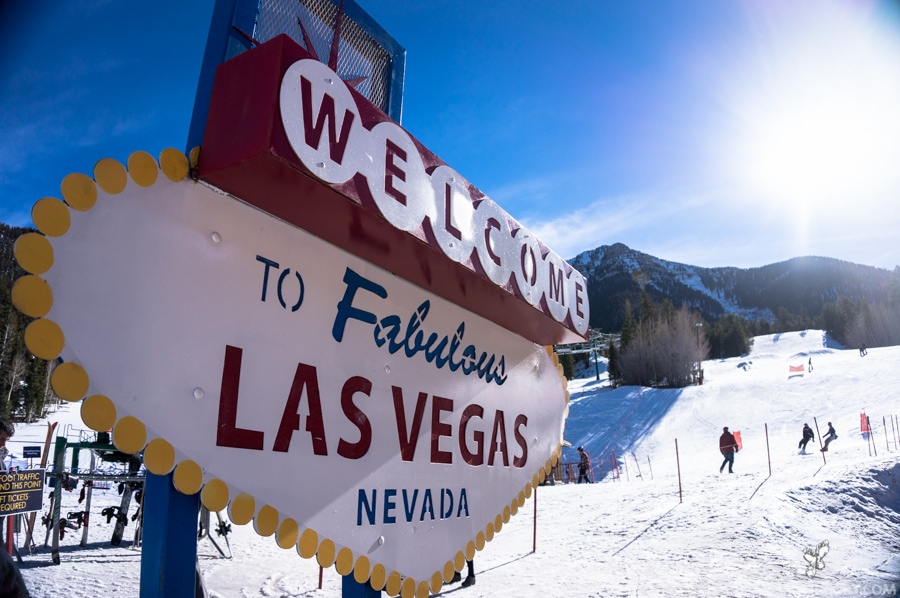 Like most places in the west, the snow pack this winter has been below average, limiting the number of runs that were open. But with three chair lifts, a couple of groomed runs, and a terrain park, the Las Vegas Ski and Snowboard Resort seemed plenty big for my first day. In heavier snow years, skiers and snowboarders have more options including some expert level runs and backcountry lines that can only be reached by hiking.
After getting set up with my lift ticket, I headed to the rental shop to get my gear. One of the things I was most concerned about was getting a good pair of ski boots. In the past, I've only had bad experiences with boots, and I knew that a properly fitted boot could be the difference between a good and bad day. After explaining my concerns to the folks in the rental shop, they decided to set me up with a pair of Rossignol Temptation Skis and Salomon X-Pro 70 Boots from their Performance Shop. The boots and skis looked brand new, and it was the first time in my life that I can honestly say that my ski boots were comfortable. Yes, they were still ski boots, but throughout the day I didn't have any of the aches and pains that I remember from my previous times skiing.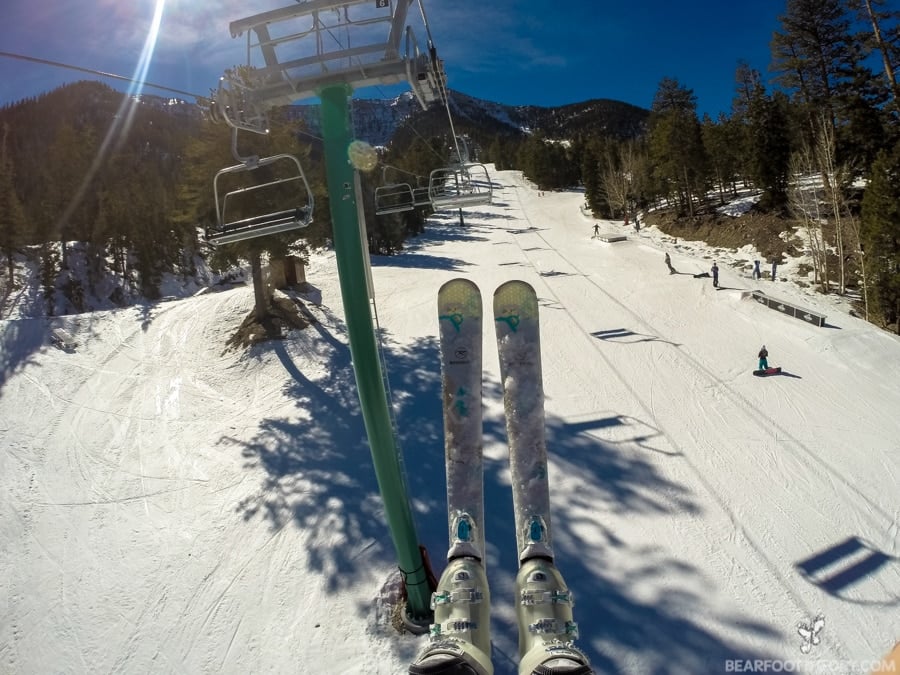 Once I got outfitted, I was led to the bunny hill where I met with the head of the ski school, Chris Lange. One of the things that drew me to the Las Vegas Ski and Snowboard Resort was the complimentary coaching program that they offer. For all new skiers and snowboarders, several instructors are available at the top of the bunny hill at all times. They are there to answer the most basic questions, like how to stop and how to turn, to more intermediate questions about how to improve your form. I saw people of all ages taking advantage of this free service, which made me feel more comfortable as an adult beginner.Chris and I took a couple of runs together on the bunny hill. He taught me things like how to shift my weight as I turned and when to plant my poles. Before I knew it, I was feeling pretty comfortable and was ready to take it up a notch.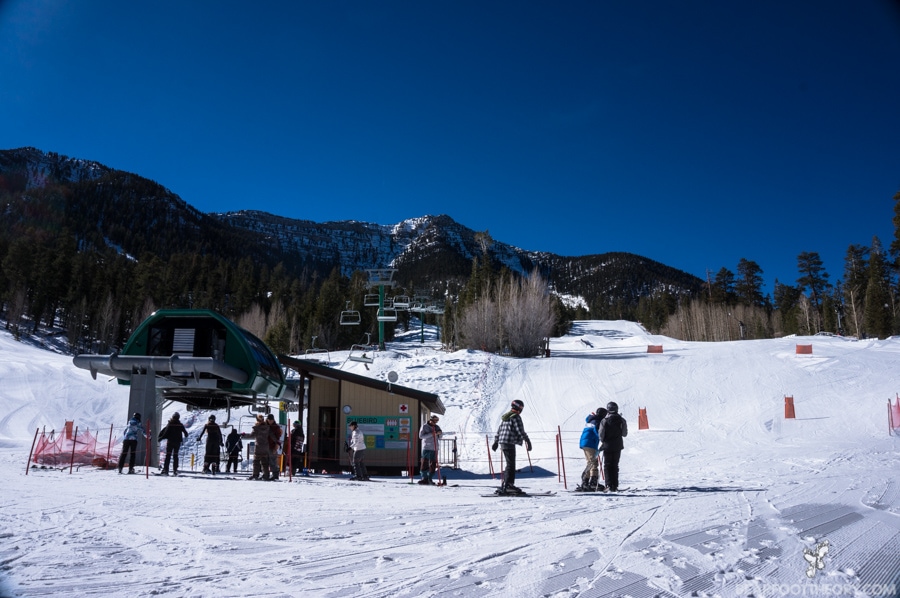 Chris offered to take me up the Bluebird Quad up to one of the mountain's main runs called "The Line." On the lift, Chris gave me some more pointers and told me all about the mountain's teaching philosophy. One of the resort's major goals is to be a welcoming environment for beginners. With skiing and snowboarding being expensive hobbies, the Resort wants to give people a chance to get stoked on the sport before asking them to invest a ton of money. So one very cost-effective program they offer to beginners is the "Get Started" Program. For $199, first time skiers and boarders get 4 days of lift tickets, coaching, and rentals. Then at the completion of the program, participants get a season pass for the remainder of the season, plus 1/2 off a pass for the following season. It sounds like a pretty sweet deal if you ask me.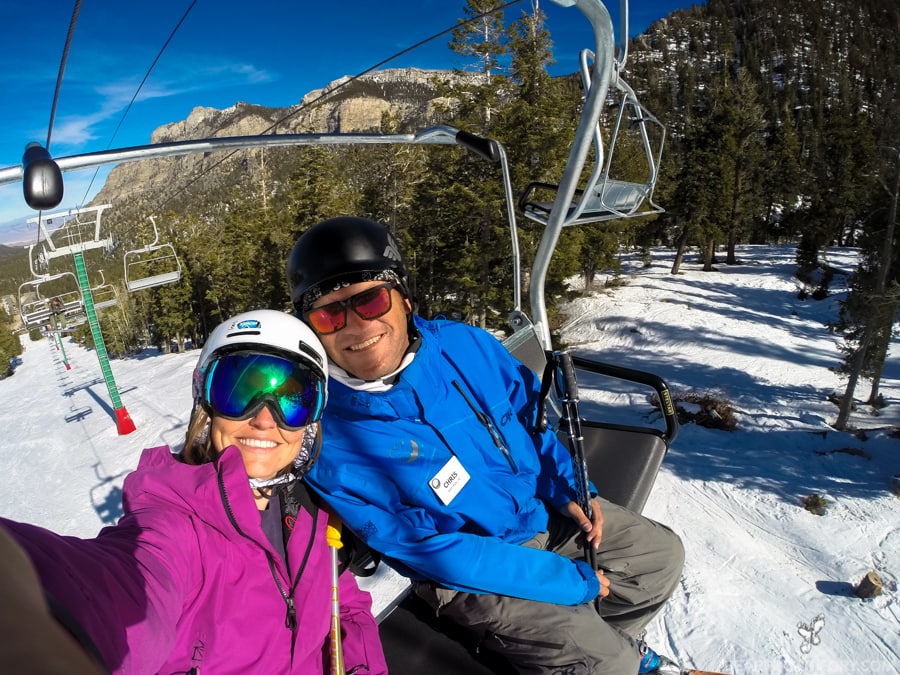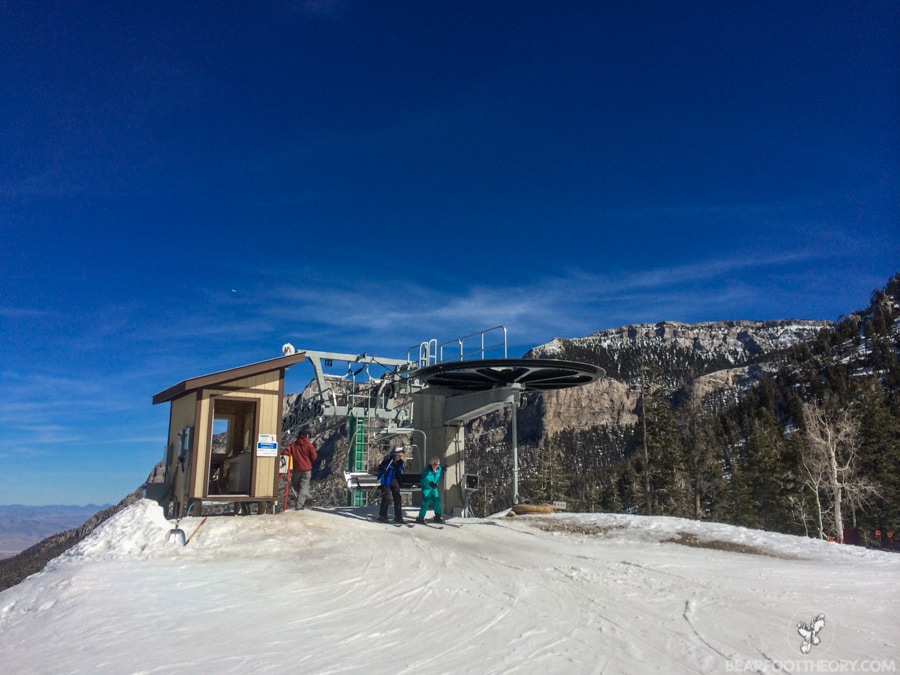 As I skied down The Line, I focused on putting Chris's tips to use and quickly saw my form improving with each run. I also enjoyed the beautiful views of Mt. Charleston and the jagged peaks of the Humboldt-Toiyabe Range. It felt nothing like the Vegas that I am used to.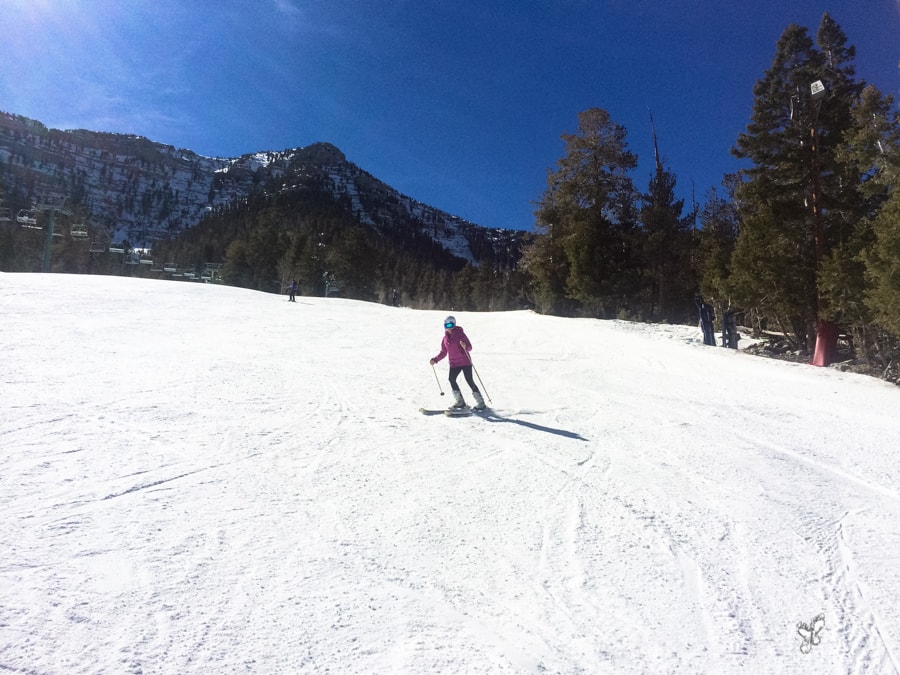 I finished the day cruising down "Jack's Run" off the Sherwood Lift. This is the steepest of the runs that are currently groomed. I couldn't believe the progress I was making. Thanks to Chris's instruction, I was confidently making turns and started to imagine myself transforming into a winter gal at heart.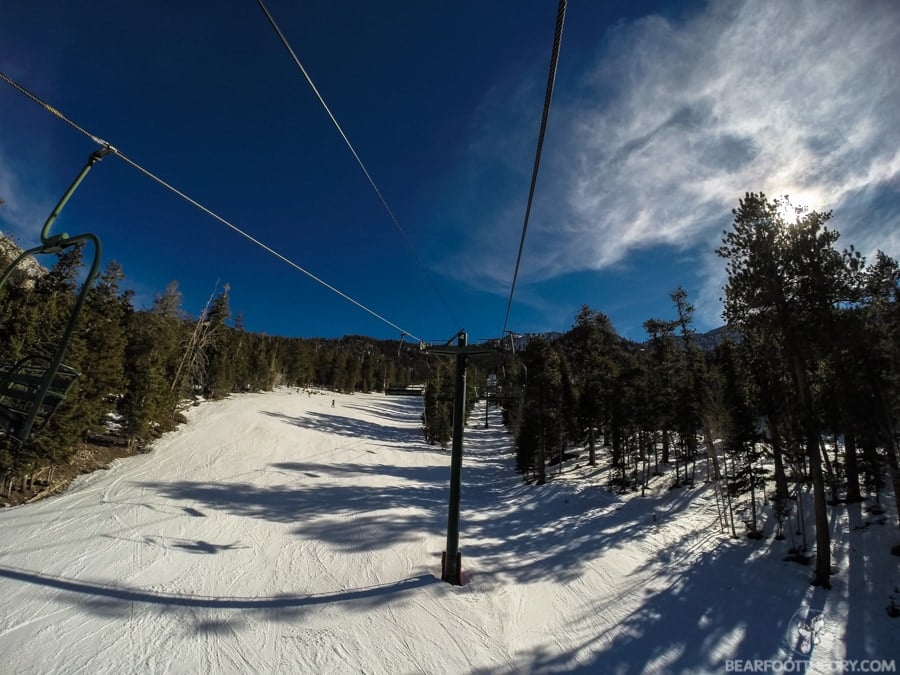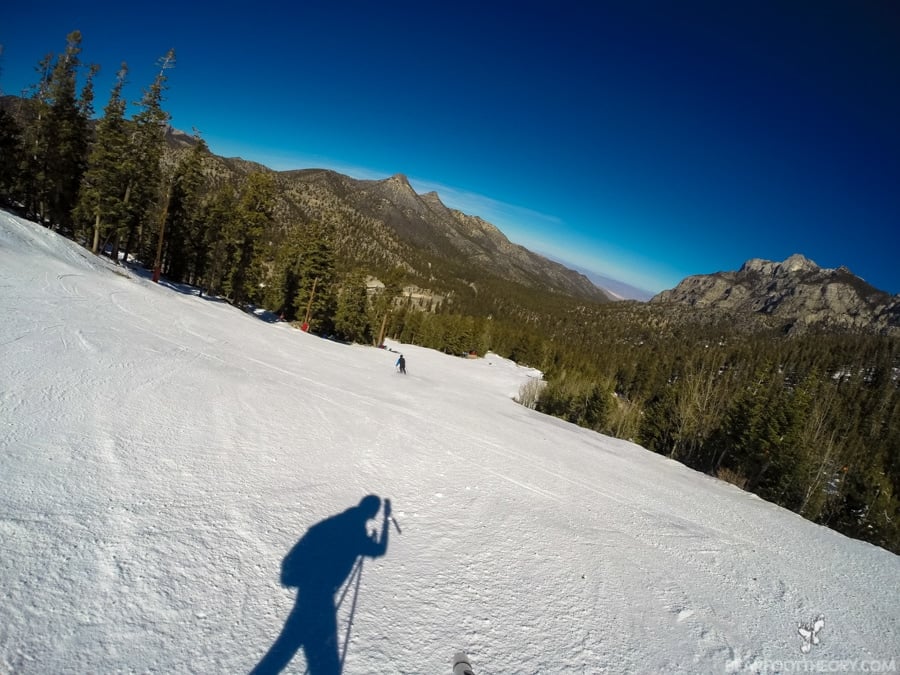 What makes the Las Vegas Ski and Snowboard Resort different?
Is it Vail? No. Does it have a fancy restaurant? No. But that's not what the Las Vegas Ski and Snowboard Resort is all about. This unassuming ski mountain is a genuinely welcoming place, from the instructors and lift operators, to the other guests, to the slopes themselves. It really has that mountain family vibe, where the community of snow lovers can get together and have a good time. It's not about who can ski the hardest lines or make it to the bottom first. Rather its a non-competitive environment where both beginners and experienced skiers and riders can practice their skills and maybe even make some new friends.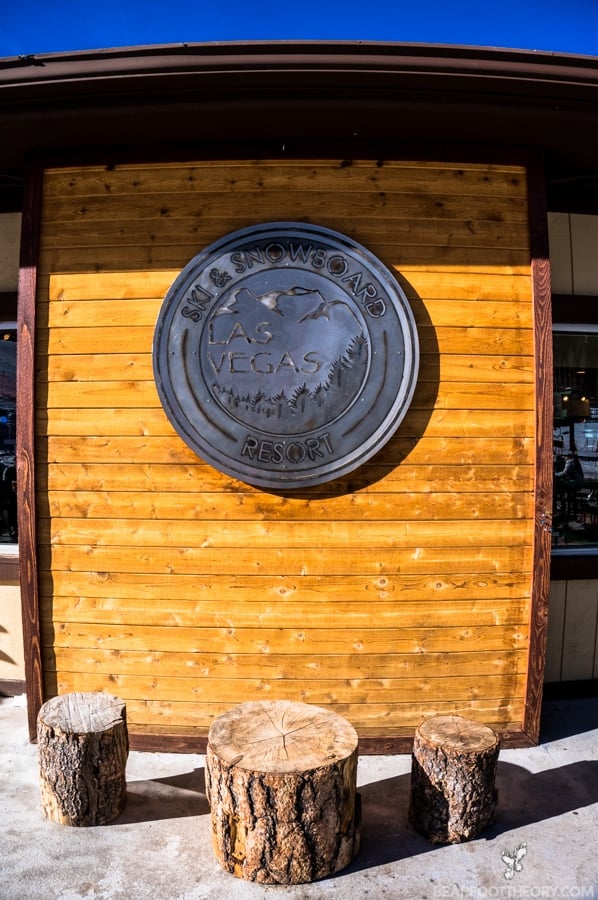 Special events also distinguish the resort from other mountains out West. Every Tuesday, for example, the Resort brings in a few local Vegas DJs that spin tracks on the deck of the lodge. In the afternoon in between runs, I had a blast listening to some live tunes and chatting with other skiers over beers from the laid back Bristlecone Bar.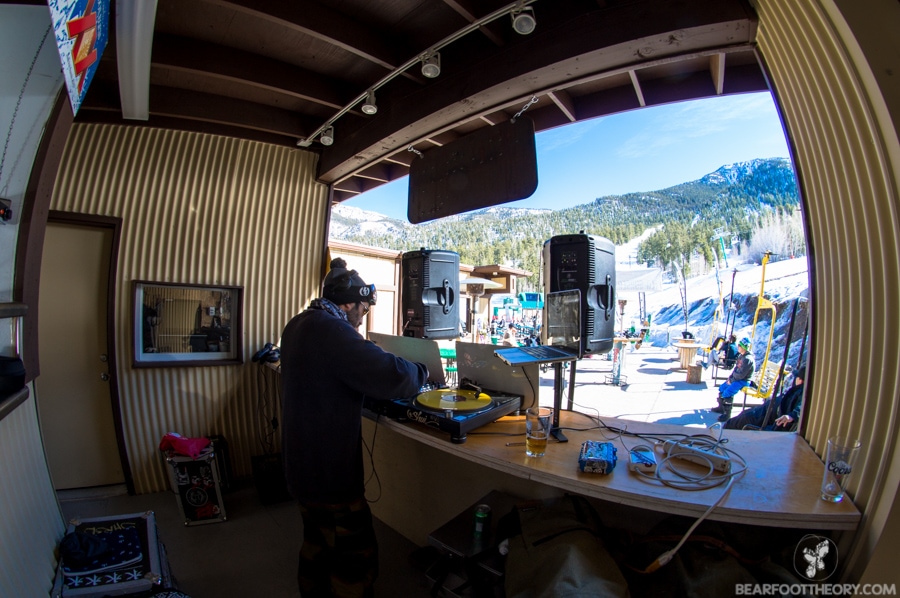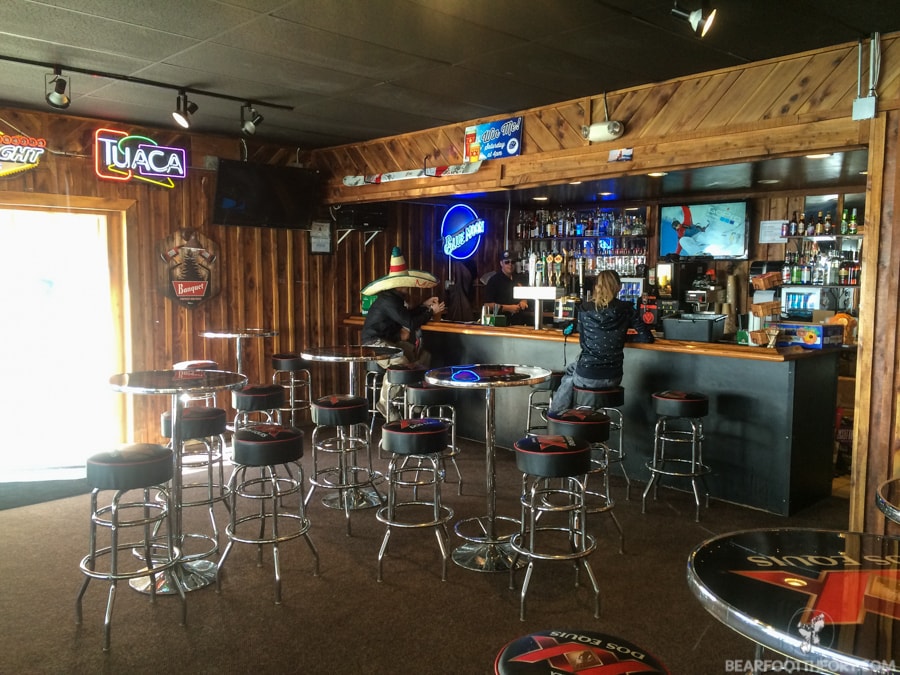 Should you go?
Hell yeah!  Whether you are a beginner like me or a serious slope shredder, next time you are in Vegas, mix things up and head up to the Las Vegas Ski and Snowboard Resort. And if the snow, music, and beers aren't enough to convince you, the desert sunsets on the way down from the mountain are some of the best around. I've already been back once since my first day and I'm looking forward to getting up there as much as I can throughout the remainder of the season. I'm so pumped to have a new hobby to spice up winter, and I have a feeling that I'll soon be keeping up with those friends of mine who once left me in the dust.
I've also learned from my two days there that there is so much more to skiing and boarding than going fast. In fact, going fast doesn't even matter. It's all about having fun, getting outside, and experiencing the vibes of mountain culture.
Lift tickets, which start around $40, are cheapest if
purchased in advance at this link
. The prices vary depending on the day of the week, with weekdays being slightly cheaper. Make sure to check out deals for locals and guests who want to ski for more than one day. The Resort also offers full rental packages and
group and private lessons
.
To get there, take U.S. Highway 95 North out of town until you reach Highway 156. Make a left and head up to Lee Canyon. The road ends after 17 miles at the Las Vegas Ski & Snowboard Resort parking lot.