JOHN MUIR TRAIL HIGHLIGHTS, SECTION 4
(PINCHOT PASS TO KEARSARGE PASS)
I can't believe we are at Day 16. Backpacking the John Muir Trail takes months of preparation, but once you are out on the trail, time really seems to fly.
In this post, we are in the heart of Kings Canyon National Park, where my desire to hike the John Muir Trail all began. Five years prior, I hiked the Rae Lakes Loop in Kings Canyon with a few friends, including my JMT hiking buddy bRad. One afternoon, we were hanging out at camp at Woods Creek, and we started talking with a group of JMT thru-hikers. From there, my interest sparked. At the time, I was kinda shocked to hear that they were spending three whole weeks on the trail. I thought our five day trip was long. But as we made our way up to the Rae Lakes Basin, I got it. It was some damn beautiful country, and I just knew that I had to return.
Fast forward to September of 2014, and bRad and I were sitting at that same exact campsite reminiscing. I'm not sure if it was fate that day or what. But I'm certainly grateful that I met that inspiring bunch of backpackers. Ok enough of the fluff.
Here's my John Muir Trail Highlights from Pinchot Pass (mile 161) to Kearsarge Pass (mile 179).
For more information on the John Muir Trail and permits, visit my JMT Archives and check out My Complete John Muir Trail Gear List.
And as it goes in all of the destinations we share, please practice good trail etiquette and remember to Leave No Trace. This means packing out all of your garbage, being respectful to others on busy trails, and following the established rules. 
DAY 16 – PINCHOT PASS (MILE 161) TO WOODS CREEK JUNCTION (MILE 168.4)
Our day started with an immediate climb to the top of Pinchot Pass. The 1,000 foot ascent was one of the easier passes on the trail, consisting of some mild switchbacks and really nice views of Lake Marjorie below. The geology also became noticeably different as we ascended, with vivid red hues becoming more dominant in the rock faces.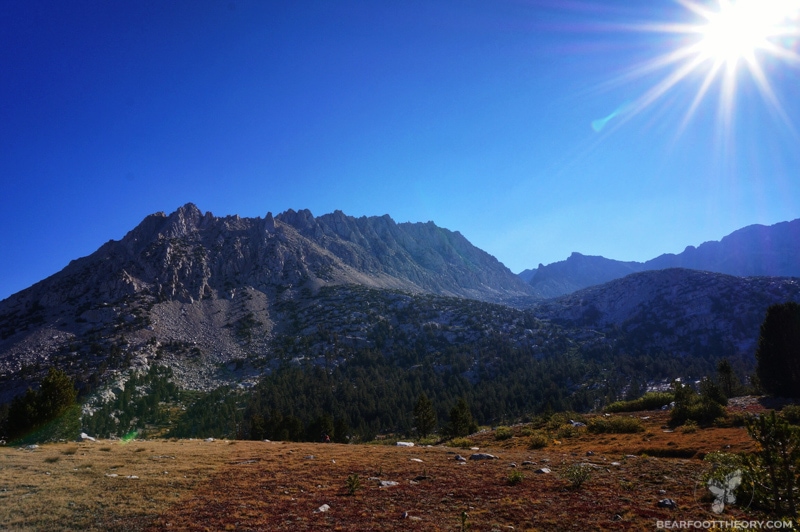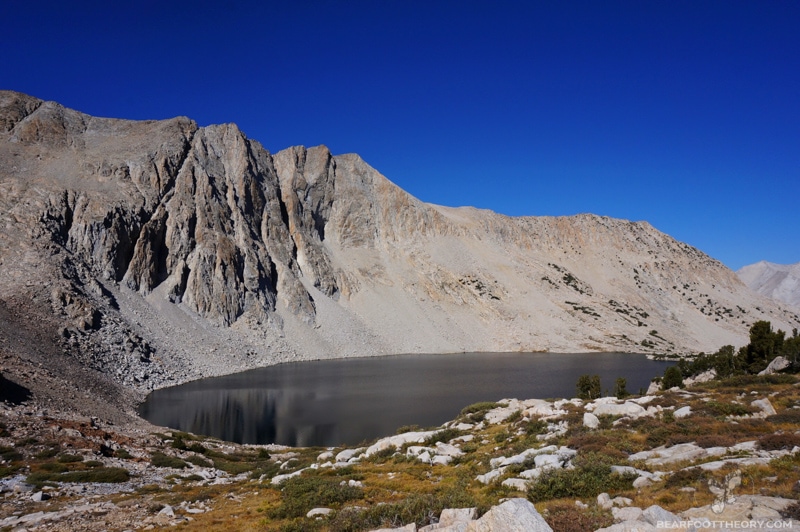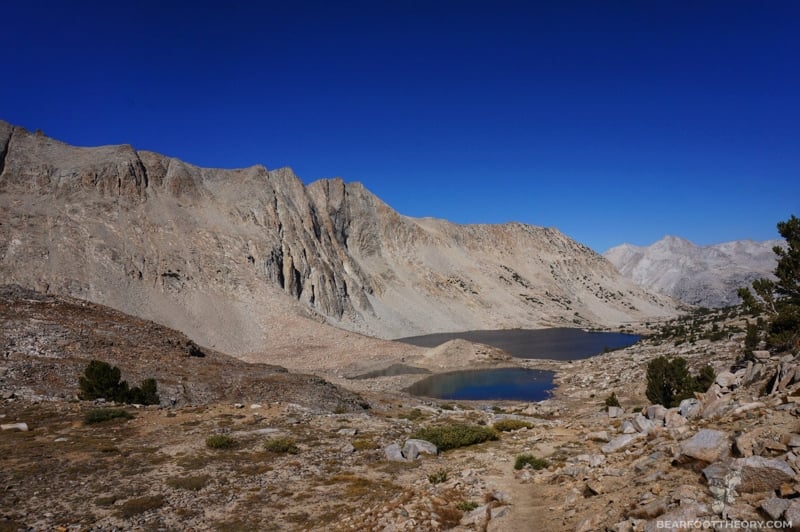 The view from the top of Pinchot Pass revealed an exposed and barren landscape speckled with several shallow lakes. From here, the rest of the day was all downhill. We would be losing about 3,500 feet in elevation between here and the day's destination.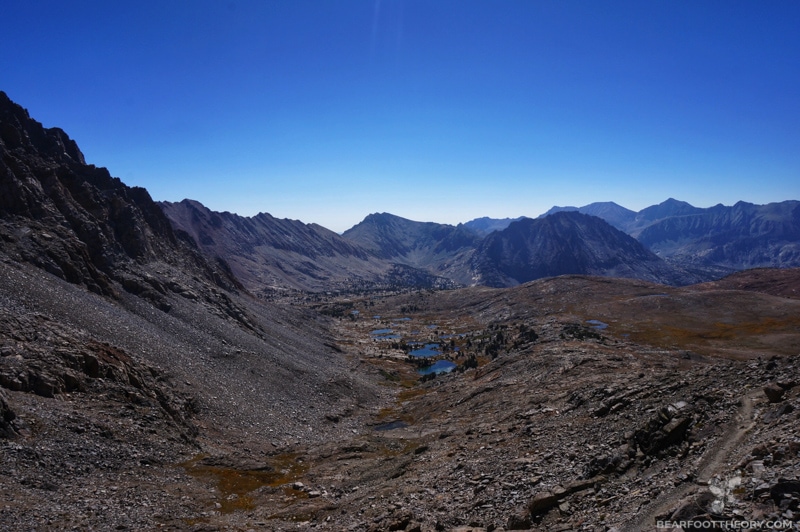 There were some appealing campsites at Twin Lakes and this unnamed lake on the west side of the trail. These were the last attractive spots to camp that we noticed between here and the Woods Creek Junction.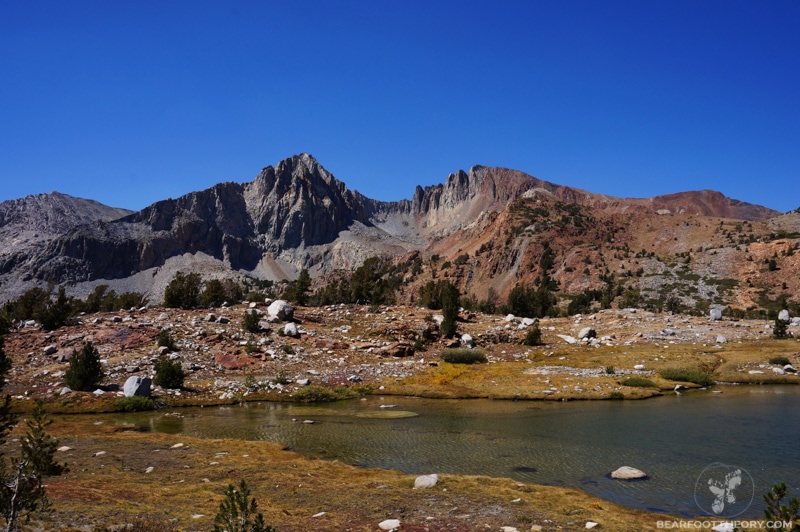 Soon after Twin Lakes, we passed the Sawmill Pass junction and met up with Woods Creek. For the rest afternoon, the trail hugged the creek with little shade. When we were about a mile from the Woods Creek junction where we would be camping that night, we spotted an awesome swimming hole down below the trail. While we were eager to get to camp, we were hot and dusty and agreed a little dip would lift our spirits. BEST. DECISION. EVER.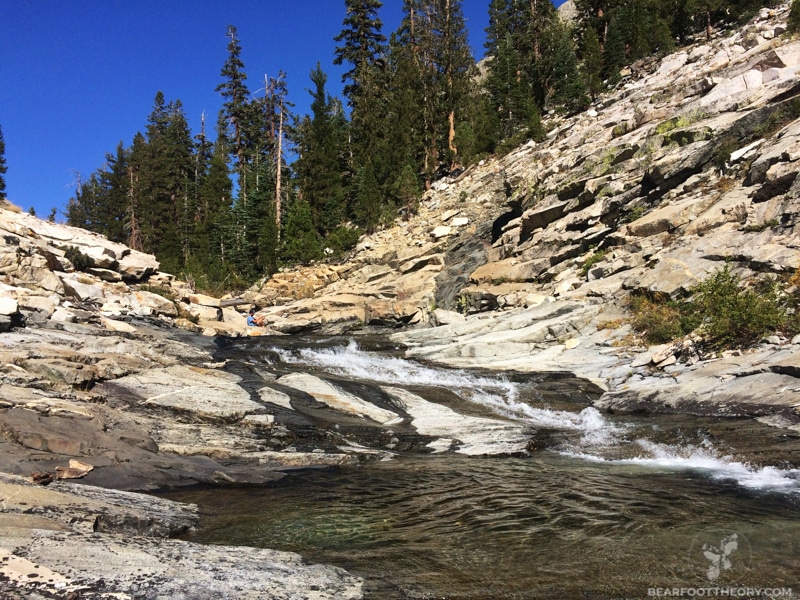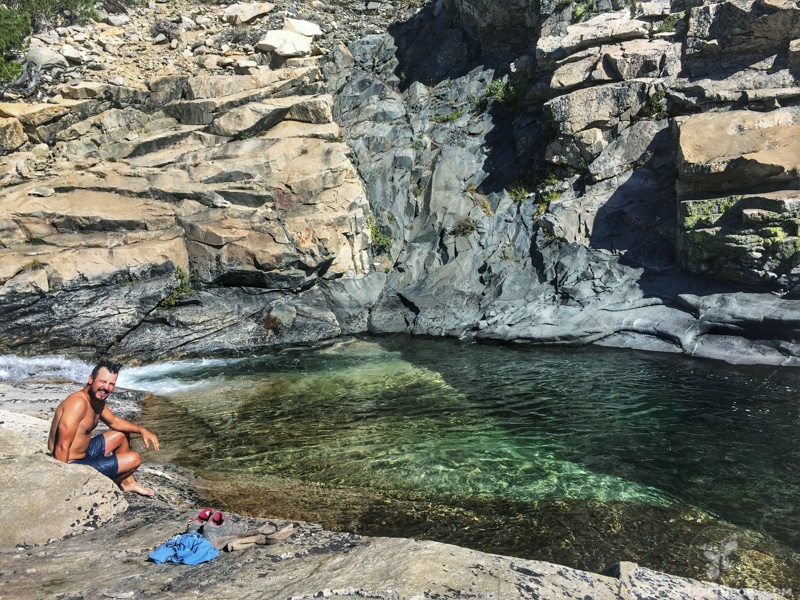 We enjoyed a swim and then sunbathed on the warm granite for at least an hour. It felt so good to rinse my hair and wash off the dirt and grime. A tip: You'll never regret going swimming. Never Ever.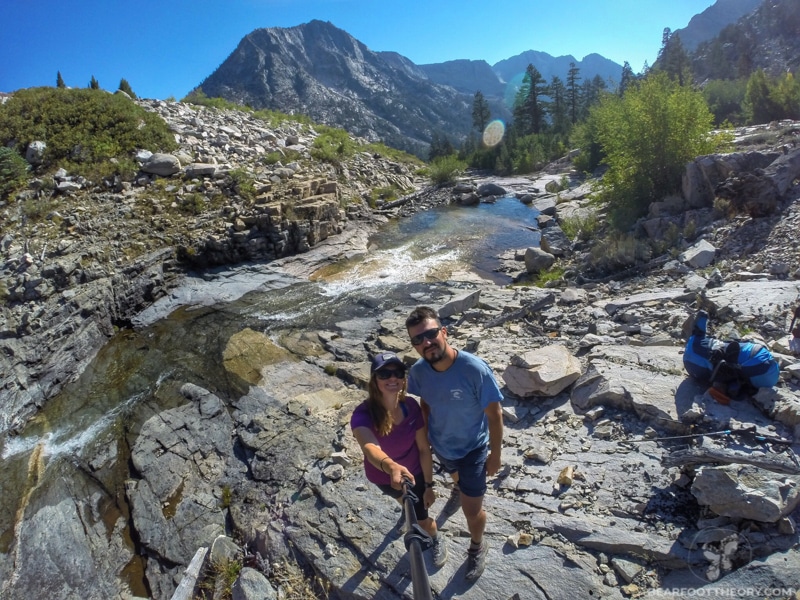 A quick 30 minutes after our sun-tanning session, we reached the Woods Creek Junction. Here the trail turns left, crossing Woods Creek on this old rickety suspension bridge. The bridge swayed like crazy as I was crossing, making sense why only one person is allowed to cross at a time.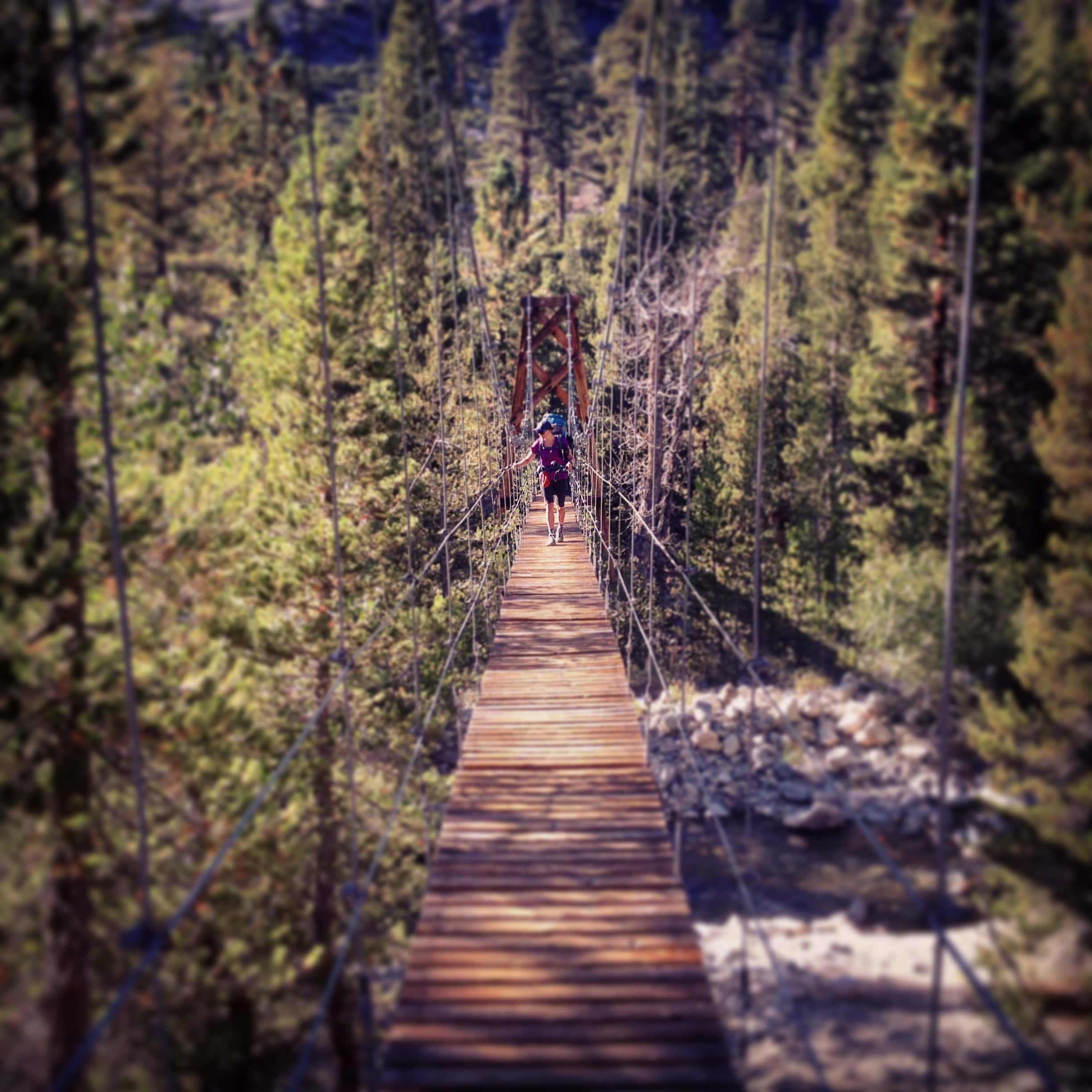 Once we crossed the bridge, we found at least a dozen campsites. Some of them were occupied and directly on the trail. As always, we wanted some privacy, so we wandered around for a few minutes until we found a spot that was isolated from the rest.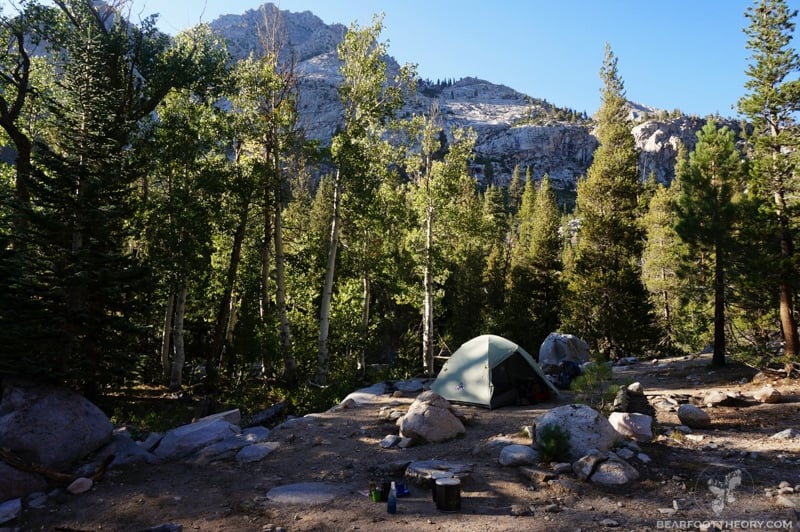 Since this is one of the last places that we would be allowed to have a campfire on the rest of the JMT, we thought we'd go for it. So we gathered some firewood and got all excited. We even invited some of our trail friends who happened to be camping at Woods Creek too. It was going to a be party. Maybe we'd even stay up past our typical 8pm bedtime. Ha!
Well. Things didn't quite go as planned. As it got dark, we ate dinner, stirred up some hot chocolate, and went to check in on our friends. We ended up hanging out at their site for a while since they were cooking up some fish that they had caught earlier that day. By the time that was done, it was 9pm, and we decided to nix the fire. Oh well. To bed it was!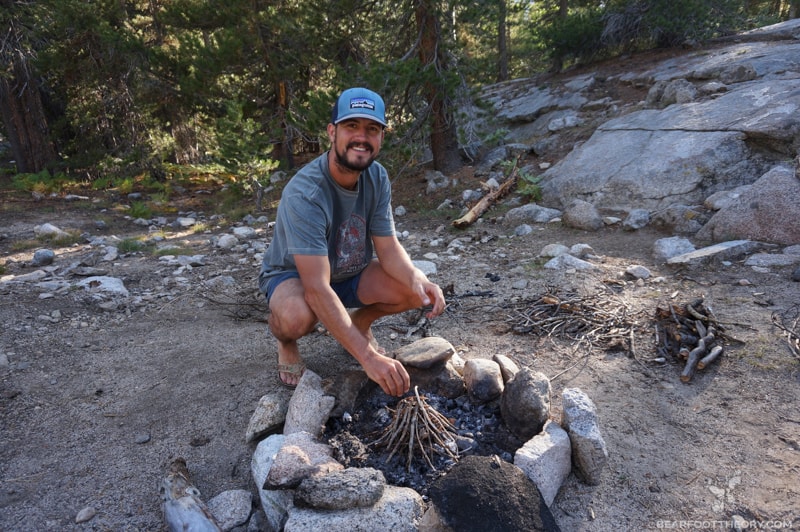 DAY 17 – WOODS CREEK JUNCTION (MILE 168.4) TO MIDDLE RAE LAKE (MILE 175)
This was the day I was most looking forward to on our entire trip. Our return to Rae Lake. I just remember how awesome our campsite was. We also had a super short day. Only 6.5 miles. We decided to bust it out as quick as possible so we could get to camp and hang out all afternoon. So we hustled our way up the trail, leaving Woods Creek in the dust.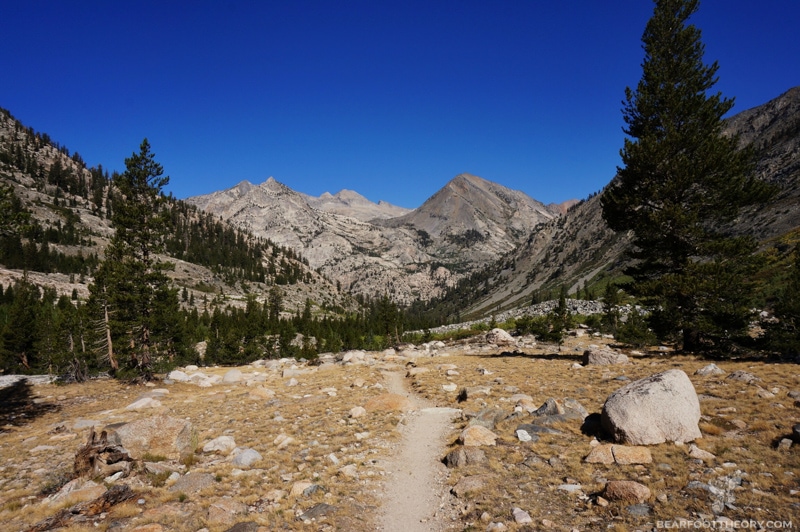 Even though we were in a hurry, we decided to take a quick break at Dollar Lake. The tall round mountain in the background is appropriately called Fin Dome.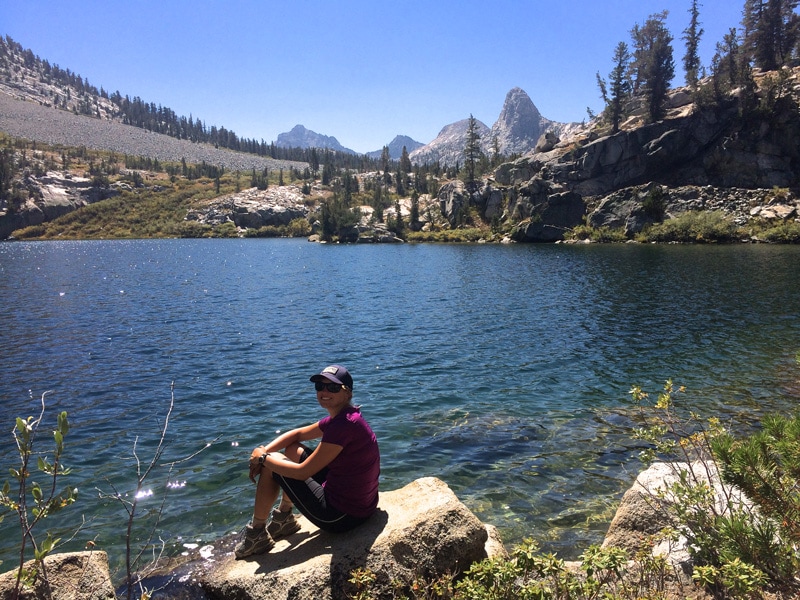 As we left Dollar Lake, we entered this beautiful meadow with clearer views of Fin Dome.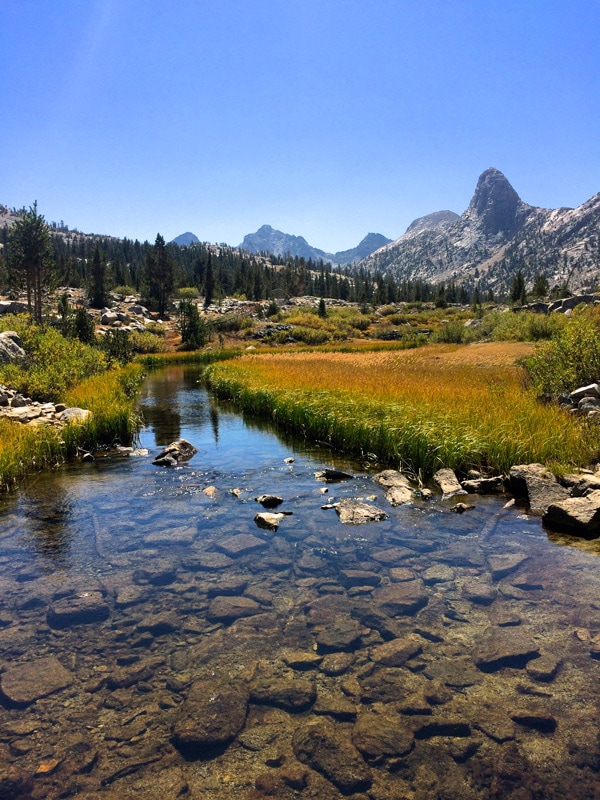 We also contemplated stopping here at Arrowhead Lake. But we were so close to Rae Lakes that we kept on trucking.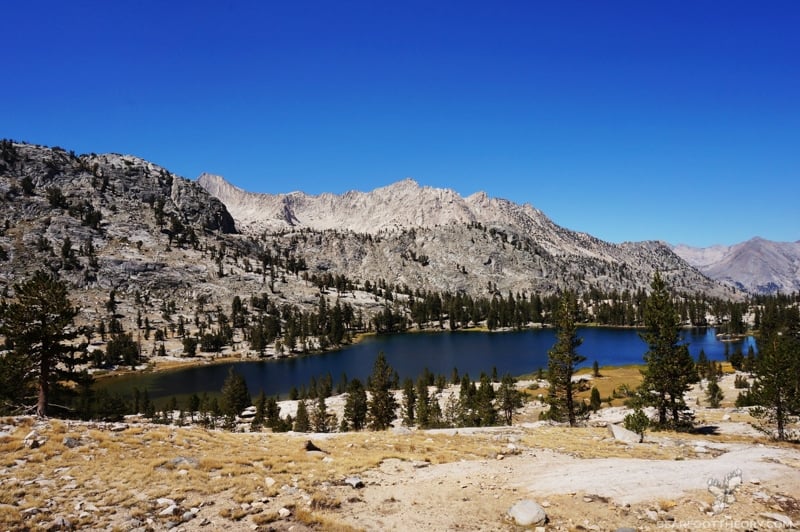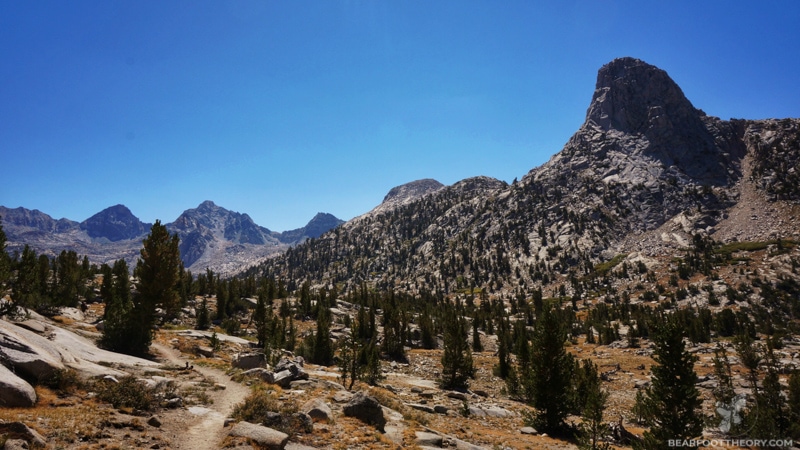 We finally arrived at Middle Rae Lake. The trail hugged the edge, and we began to scout for a campsite.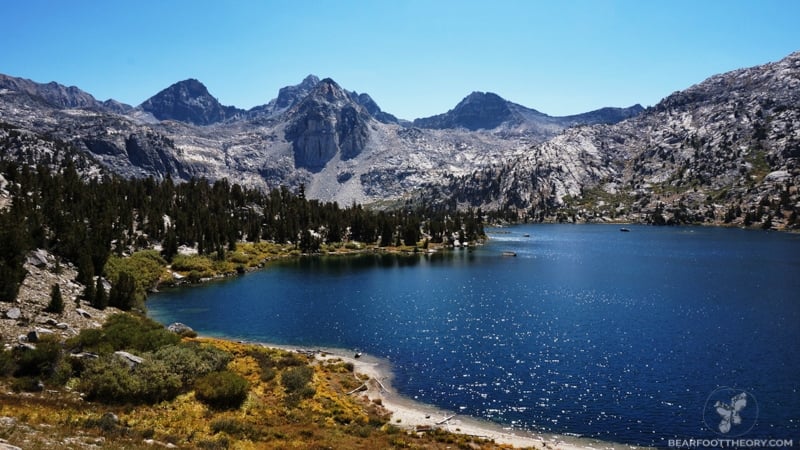 There are a ton of sites spread out all around the east edge of Middle Rae Lake, including a bunch of sites near the Ranger station with a bear locker. While we normally went for the off-the-beaten path sites, this time we chose a site that was a little closer to other groups. We just couldn't resist this view. Plus our trail friends were also there, and we were looking forward to hanging out.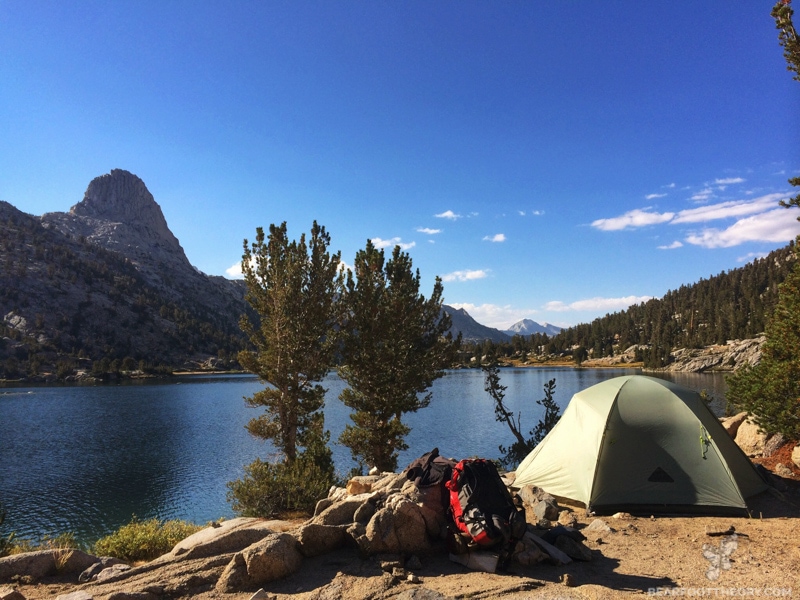 By 1:30pm, we had already eaten lunch and gotten our tent set up. Record speed, and we couldn't have been happier. We headed down to the beach in front of camp where there was a sandy entrance to the lake. We dove in and had the rest of the day to swim (Rae Lake surprisingly wasn't as cold as some of the other lakes on JMT) and to sunbathe. This was the most relaxing day we had throughout our entire trip, and we were so thankful.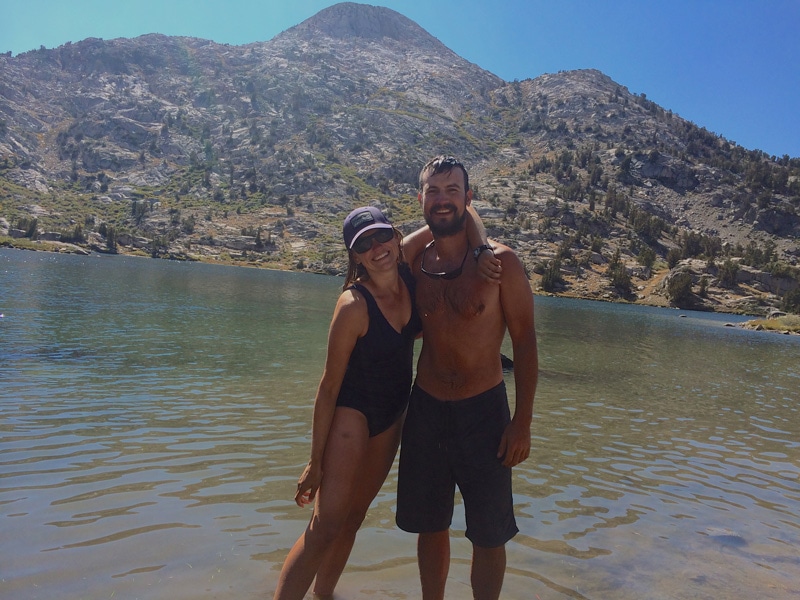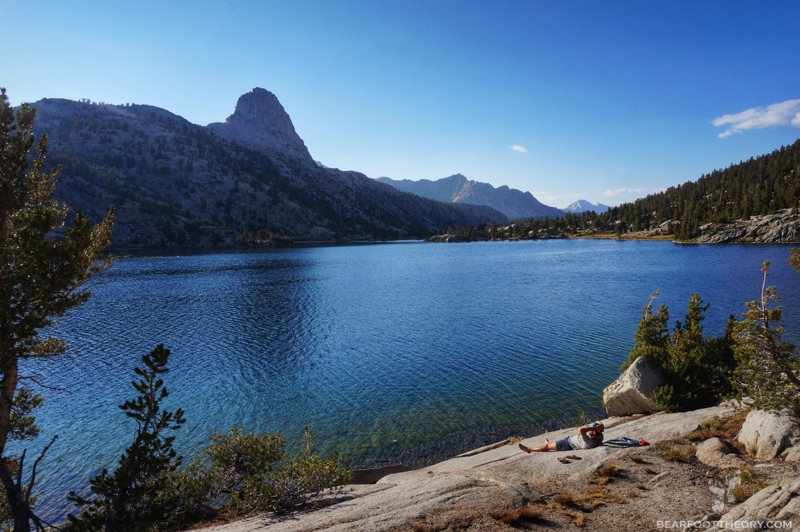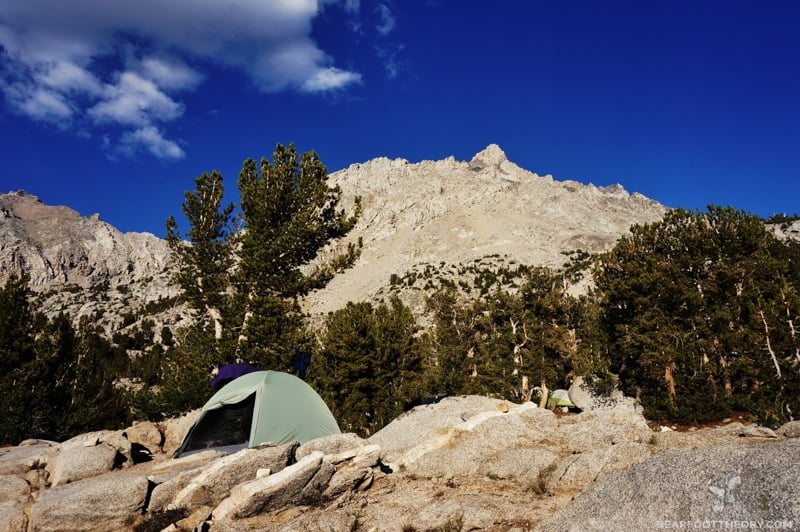 As the sun went down, we cooked dinner and enjoyed the evening light over Glen Pass and the Painted Lady where we would be headed the next day.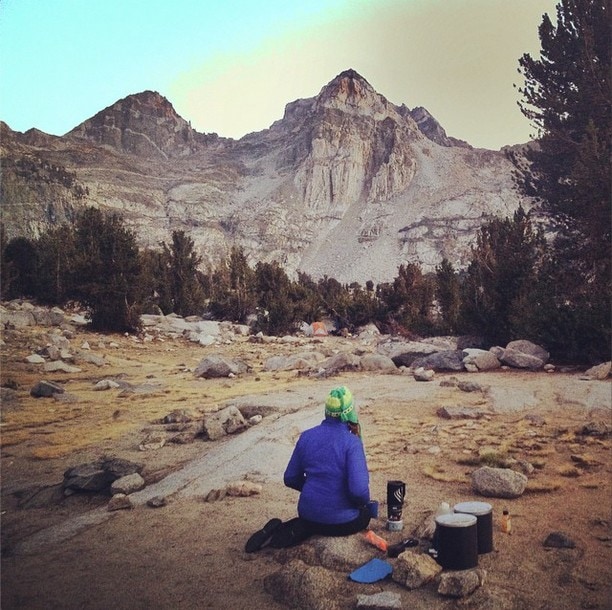 DAY 18 – MIDDLE RAE LAKE (MILE 175) to FLOWER LAKE
The sunrise is what I remember most about camping at Rae Lakes five years prior. And this morning did not disappoint. I woke up at the crack of dawn in hopes of snapping some nice reflection shots. I took both of the photos below from the same rock in front of our campsite. This made camping near the other groups the night before totally worth it.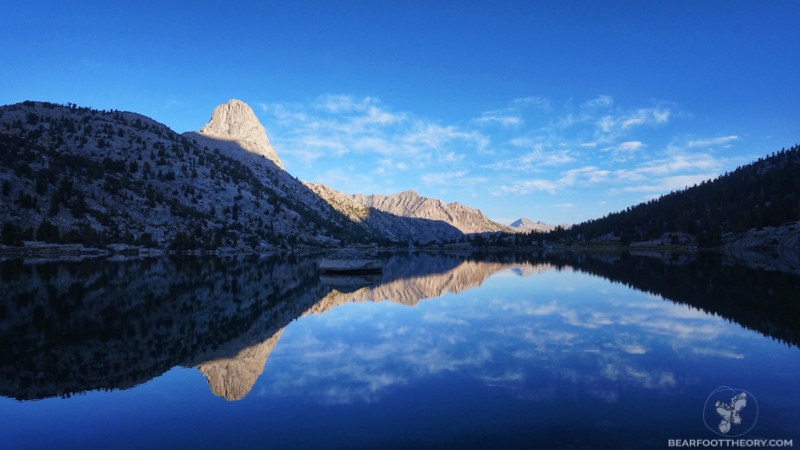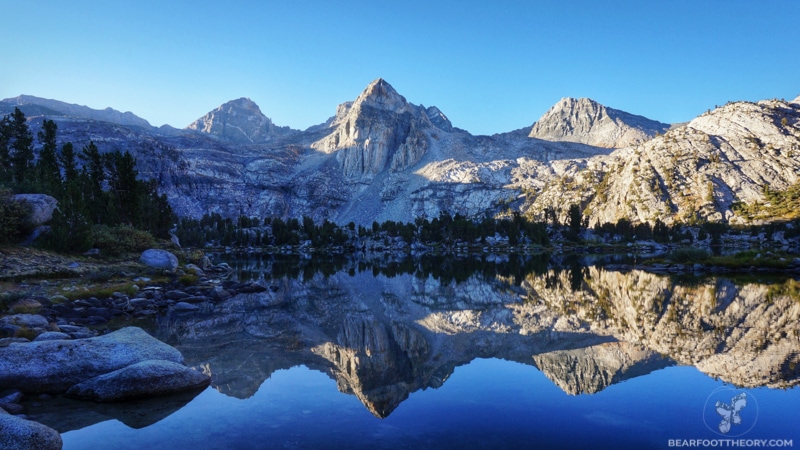 I hung out for a while and observed as the sun light up Fin Dome and the surrounding peaks. These photos are exactly why I wanted to return to Rae Lakes.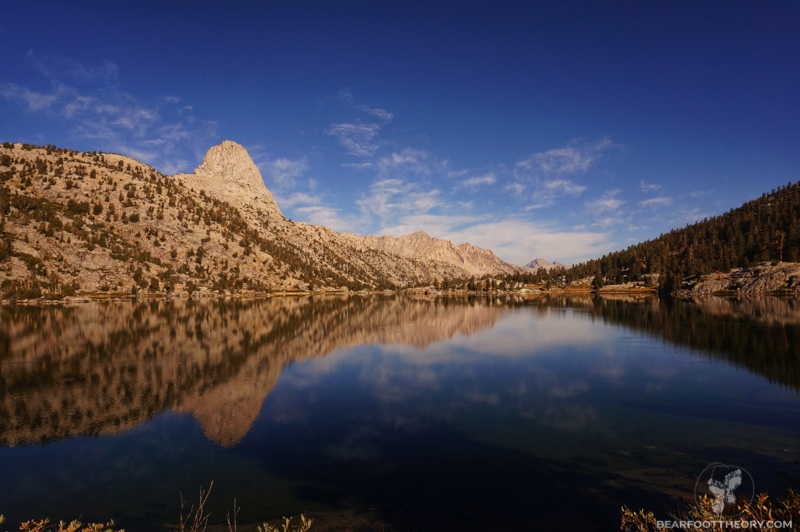 Thanks to the spectacular skyline, we had a lazy morning and got a late start out of camp. We finally hit the road and made our way by Upper Rae Lake and the Painted Lady, which is the tall peak in this photo.

Then we started to climb up Glen Pass. I remember Glen Pass being challenging, but for some reason it seemed steeper and longer than I remember. This is bRad with our friend Arnie, who you may remember from Muir Pass in Section 3.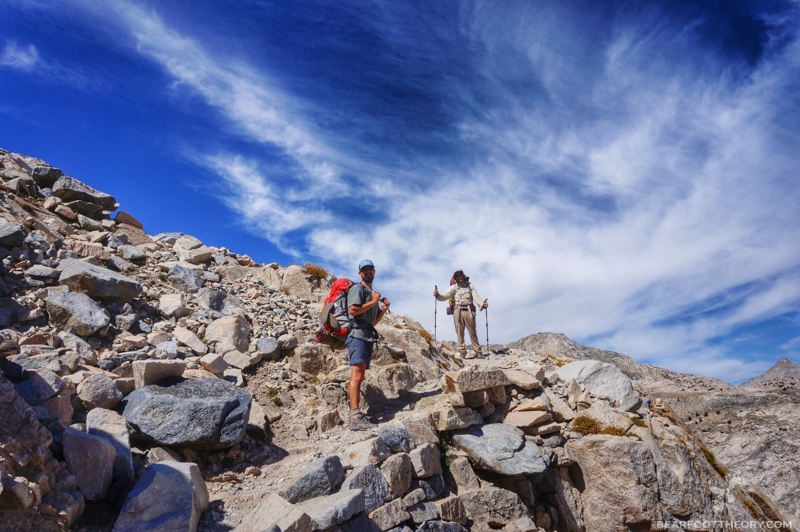 I think the views as you climb Glen Pass are some of the best on the trail. The colors of the lakes below the Pass were mesmerizing.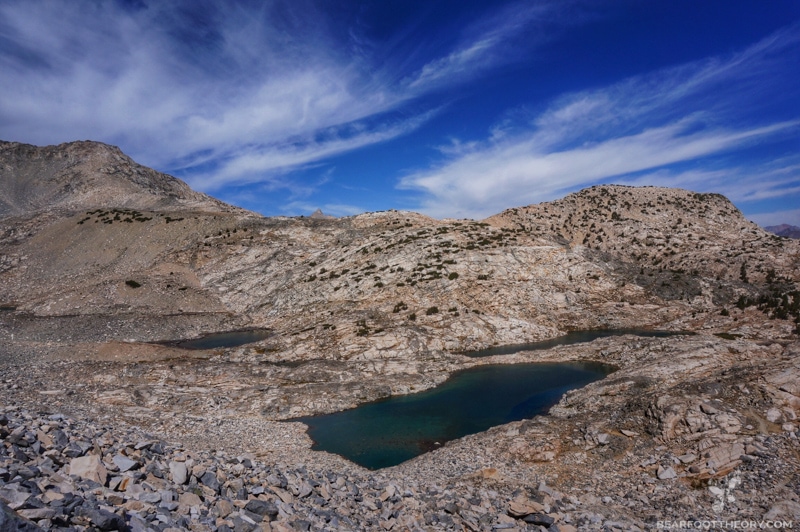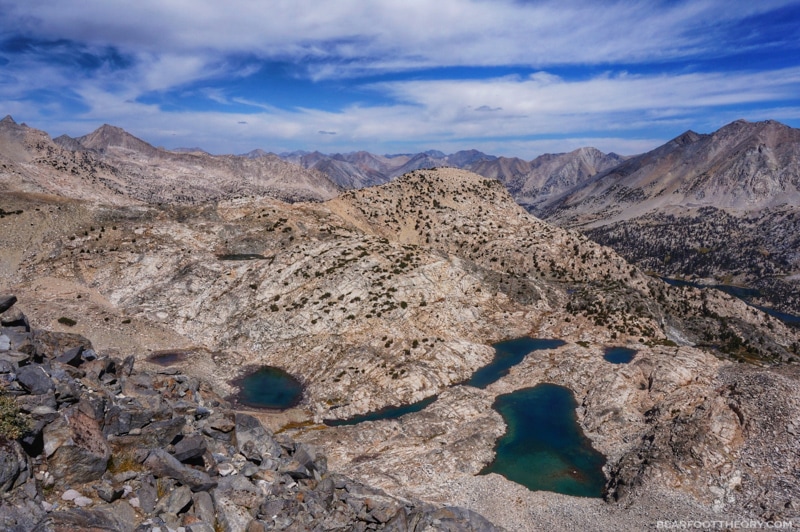 Yay! We finally made it to the top. We were stoked to have such a clear view on this gorgeous day.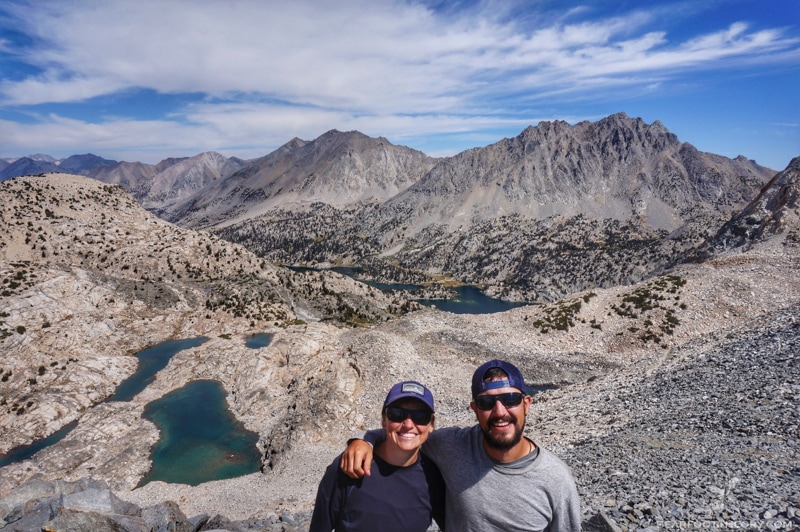 When we got to the top, we found a bunch of our trail friends. We hung out, ate snacks, traded stories. Soaked it ALL in.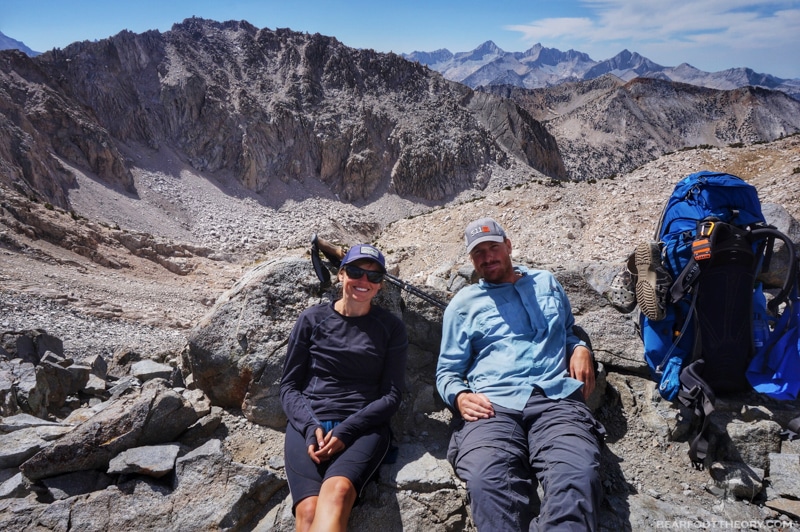 After a good hour, we took off down the south side of Glen Pass, first passing this cool pothole lake.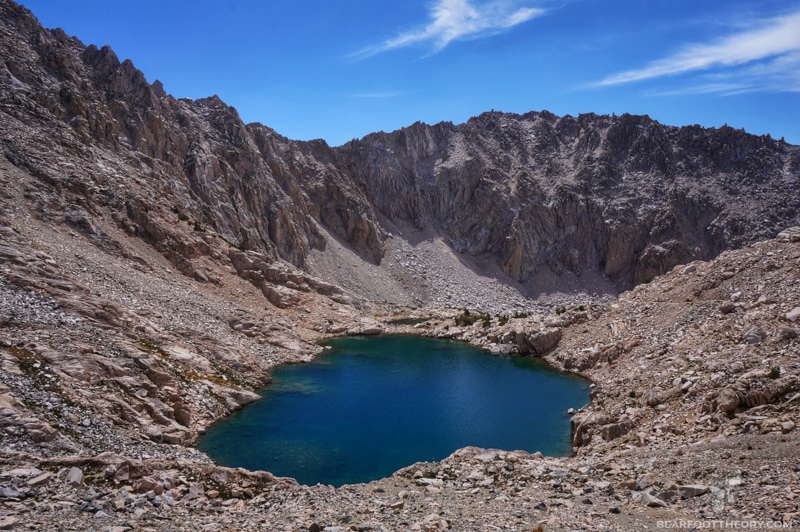 Shortly thereafter, we came to the junction that led to Kearsarge Pass. This was the moment we had been dreading for days. Here we had to get off the JMT to go pick up our last food drop at Onion Valley. This was a 14 mile detour…and we were NOT happy about it. We were also not stoked to be heading towards our second pass of the day. We had heard that Kearsarge Pass wasn't too hairy, but still. Two in one day is one too many.
Frustrated, we hung a left up towards Kearsarge Pass and once again started to climb. As soon as we got these views of Bullfrog Lake below the trail, we decided that maybe it wasn't so bad after all. Taking this detour also gave us a little more perspective on possible routes for our next Sierra backpacking adventure.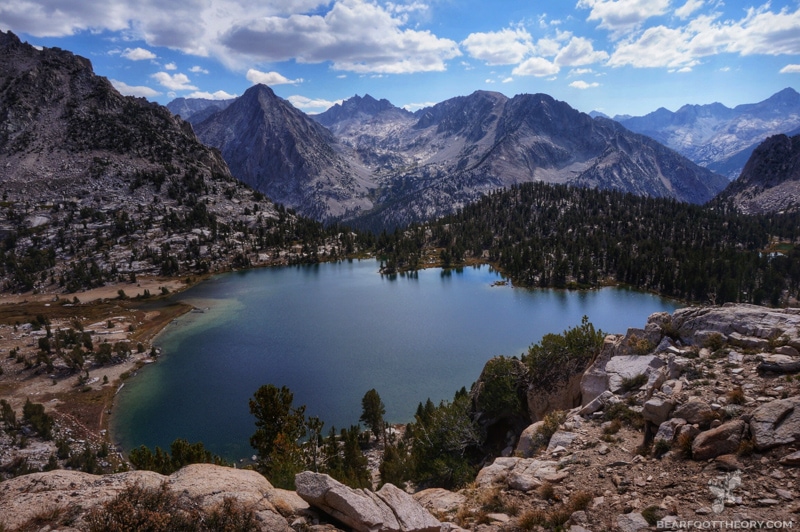 Next we passed Kearsarge Lakes. We heard there were some nice spots to camp down there, although there had been reports of bear activity in the area.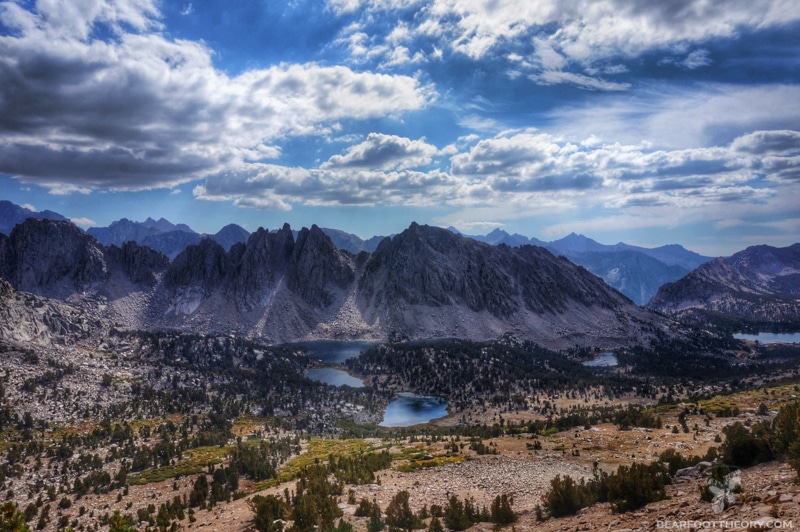 Climb, climb, climb. Here we are making our final push to the top of Kearsarge Pass. What we heard was right. Kearsarge was doable, and certainly easier than Glen Pass where we had just come from.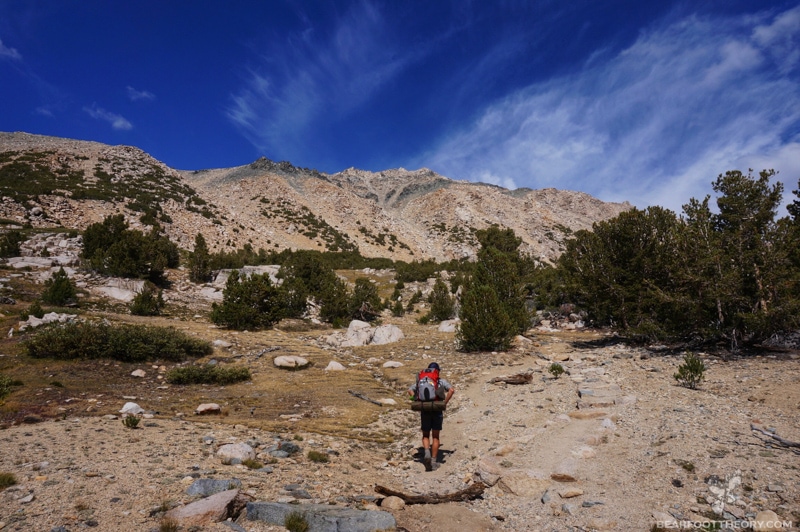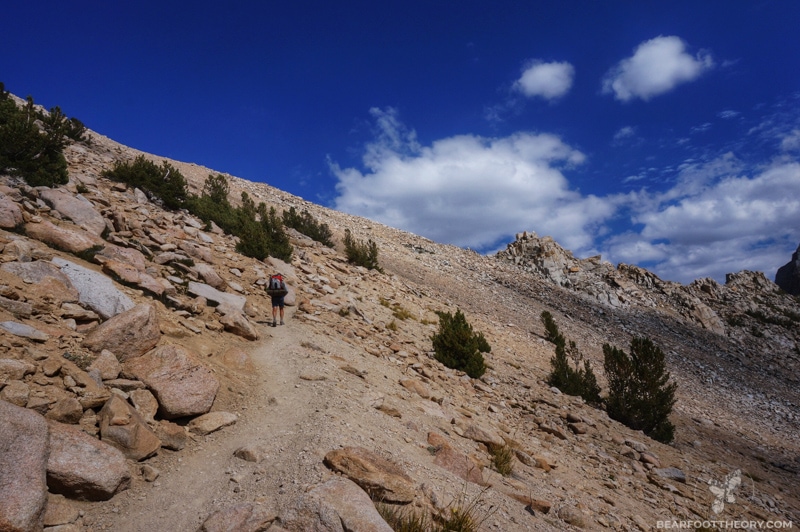 After making it to the top, we were on the home stretch. Only 3.5 miles to that bag of sour patch kids I knew was stored away in my resupply box. We started to make our way down and rather than taking our full bags all the way down to the trailhead, we decided to drop them at Flower Lake and set up camp. By the time our tent was up, it was getting late. We knew we'd be making our way back in the dark. So we put on some warm clothes, grabbed our empty packs and headlamps, and headed down to the parking lot in a hurry.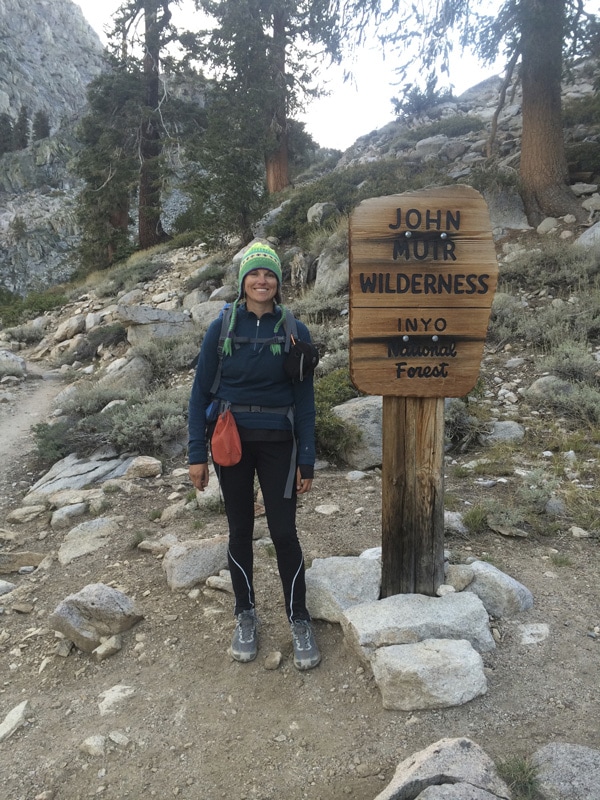 That's it for Section 4. Only 4 more days till we'd be standing on the top of the tallest mountain in the lower 48.
In the meantime, leave any questions in the comments below and follow my pinterest board for additional JMT planning resources.
Follow Bearfoot Theory I Kristen Bor's board JOHN MUIR TRAIL PLANNING on Pinterest.