Are you itching to hike during COVID-19? I'm definitely craving the physical and mental benefits of the outdoors right now. Nature is a huge part of my life (hence this blog), and it's always been my go-to when I need inspiration, guidance, and a little peace of mind. So, you'd think that I'd be spending even more time outside than usual now, right?
Well, for for the first two months of quarantine, I actually didn't hike at all. Of course, getting outside offers a way to clear our heads, but, when COVID-19 was declared a pandemic, I thought we needed to put our personal needs and desire to adventure aside, while prioritizing the health of others and the greater collective good. And that meant minimizing time away from our house.
However, as restrictions are loosening up across the country, people are starting to flock to the outdoors as an escape from everything that's been going. Here in Utah where I live, they are encouraging us to go outside and hike, but in order to be a safe and responsible hiker in the midst of COVID-19, there are some important things to keep in mind.
Back in early March, right after COVID-19 was declared a global pandemic, I went hiking and was surprised, and frankly angered, to see many large groups of people together on the trail (not practicing social distancing), and it got me thinking. How can I be a responsible hiker during COVID-19 while abiding by the current CDC guidelines?
Ultimately, the CDC says the best thing we can do right now is wear a mask and practice social distancing, which is what I'm choosing to do. Not only is my choice driven by a desire to protect my own health and that of my Type 1 Diabetic (immunocompromised) significant other, but the sooner we all act with society's collective health in mind, the sooner things will go back to normal. I've been using this time to find other ways to stay active indoors. And I've also taken this as an opportunity to engage in home-based activities I might not have had time for otherwise.
If you're hoping to hit the trail during this time (assuming your local regulations allow it), there are several critical precautionary steps to keep in mind to keep yourself safe and prevent the spread of the virus. Here are some basic guidelines that were just released by leaders in the outdoor industry for how to #recreateresponsibly.
Ready to hit the trail? In this blog post, I share some tips on how to be a responsible outdoor enthusiast, comply with the recommendations, and hike safely during COVID-19.
Here's how to recreate responsibly and hike safely during COVID-19.
Act Like you Have the Virus
How would you behave if you knew you had the virus? There are increasing reports of young people carrying the virus and having zero or very mild symptoms. Further, the incubation period is 14 days, so you could be carrying the disease and not know it. If you go about business as usual, you could be unknowingly spreading it to others, like our parents or people with weakened immune systems (like my partner). First and foremost, be a considerate person, and act like you have the virus. This mindset should guide all of your choices moving forward.
Consider your impact on the communities where you hike
While most place are open for tourists right now, it still might not be time to head out on a road trip. Before decide to go anywhere, you have the responsibility to check with the local governments in the areas you want to visit to see if visitors are welcome. Rural communities do not have the supplies to handle an influx of visitors. Small-town grocery stores and gas stations have limited access to resupply, and they're experiencing greater shortages due to an influx of non-resident visitors using this "free time" as a chance to road trip.
Even more importantly, these rural communities do not have the medical resources or facilities to handle an outbreak. For example, the town of Moab, Utah only has 3 ventilators and 17 hospital beds. If this small town (home of Arches National Park and Canyonlands National Park) were to have an outbreak, they simply do not have the resources and equipment to survive. Their back-up plan is to airlift patients to major hospitals several hours away.
Back in March, the town of Moab had to shut down all non-essential businesses and the national parks, because they had record-breaking numbers of visitors to their national parks despite their requests urging visitors to stay away.
Please, do what you can to reduce the chance of spreading the virus and causing more distress. If you do decide to travel to trailheads away from your local area, consider your impact on those communities and take extra precautions.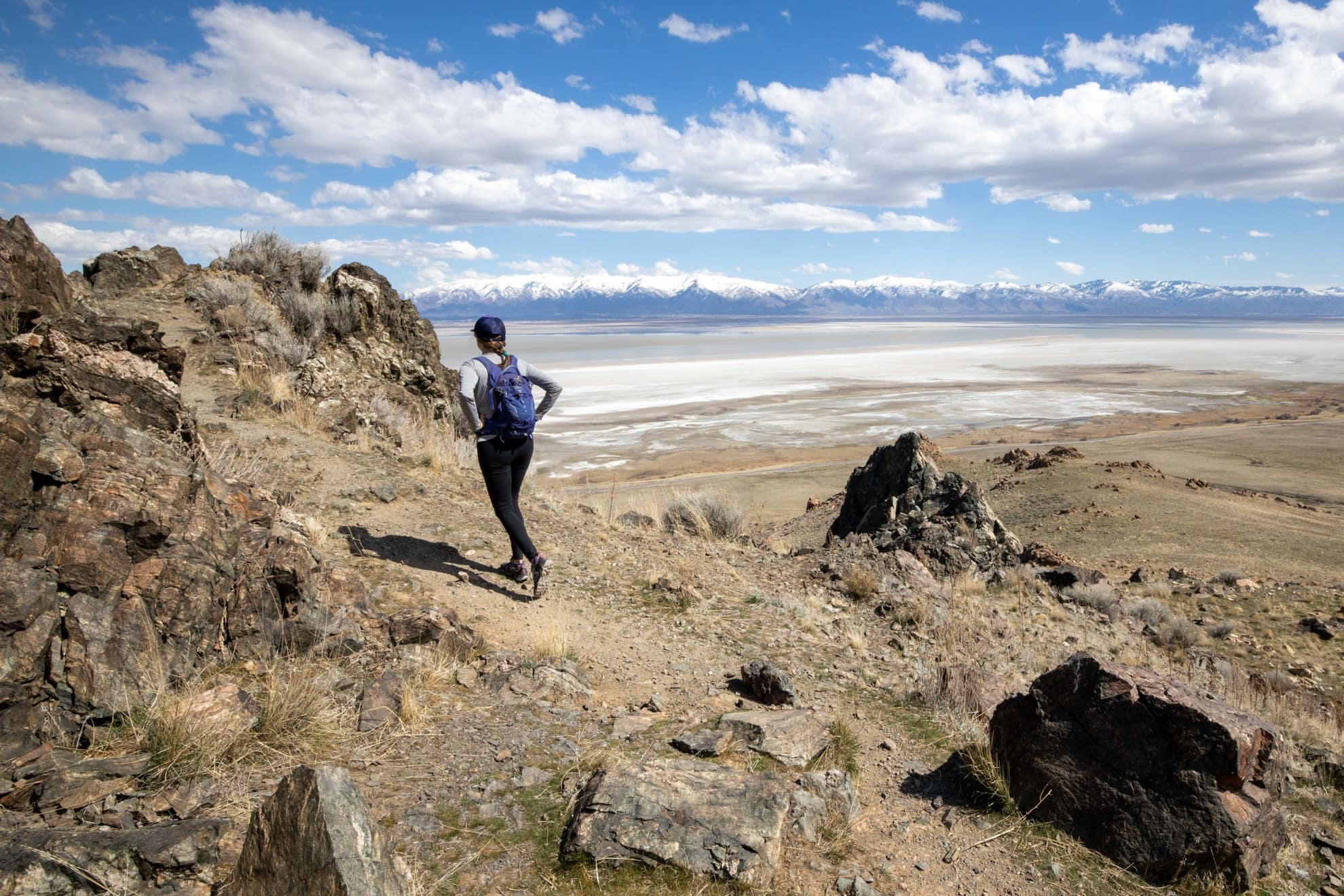 Don't Carpool or Congegate in the Trailhead Parking Lot
It's probably the only time you'll hear me tell you not to carpool. But… it's the best thing right now. Driving in cars with friends means you'll be in pretty tight proximity, so it's advised not to carpool unless you're driving with the people you live with.
Want to celebrate the hike with a post-trail beer? Go home and have a virtual happy hour. Don't crack beers and sit on the back of your truck socializing with other hikers.
Practice Social Distancing on the Trail
Social distancing while hiking is just as important as it is in the supermarket. When practiced properly, social distancing works to slow the spread of a contagious disease, in efforts to ensure the healthcare system is able to manage cases as they come.
Your best bet to hike safely during COVID-19 is to only go out with those that live in your household. Because, in all honesty, you're probably not going to stay 6+ feet away from your hiking partners the whole time, even with the best intentions.
Keep your distance from others (6+ feet at least)
Try to pick a wider trail and step off the trail to let people pass
Don't use this as a time to socialize in big groups – instead, get some exercise and clear your mind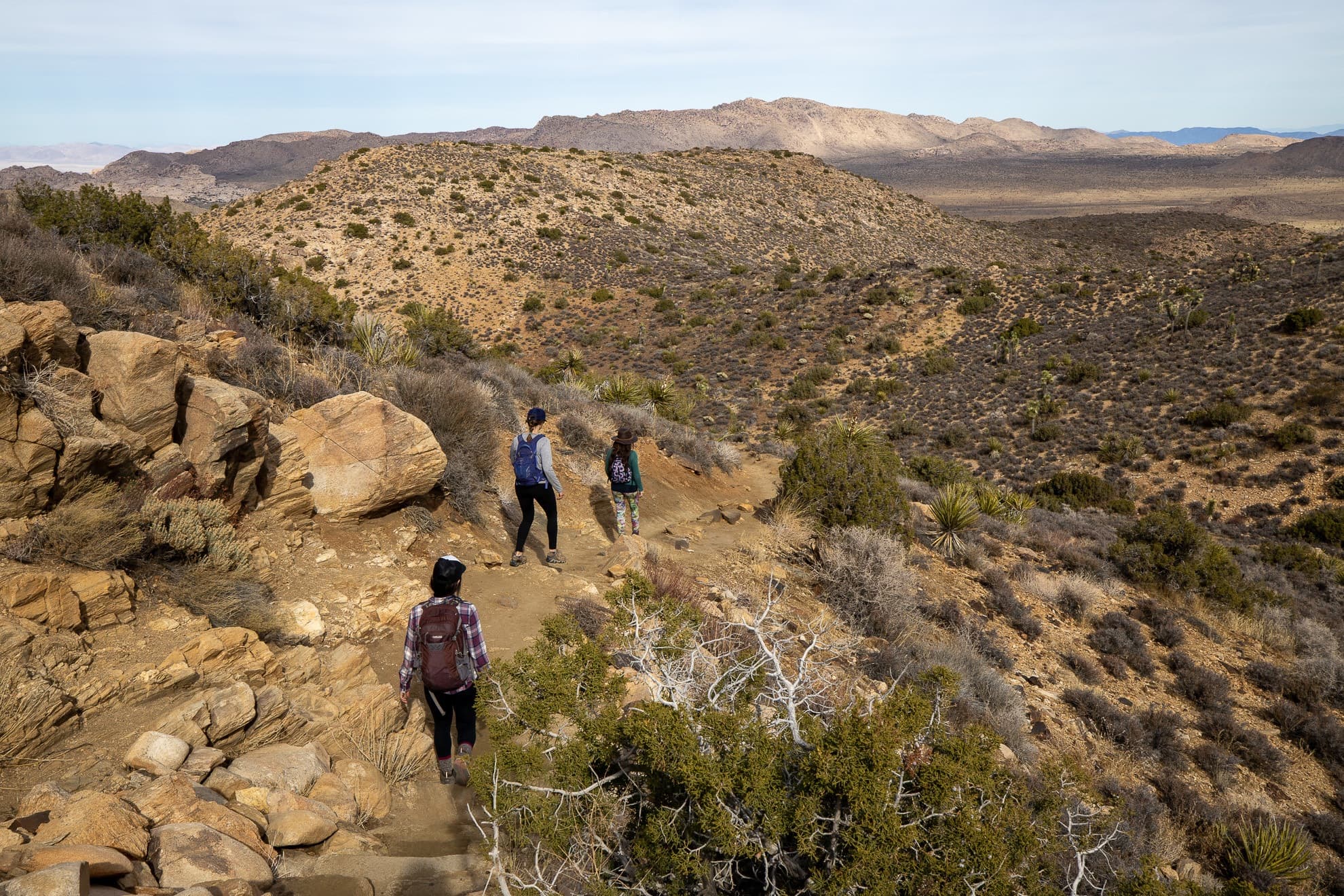 Keep a Mask Handy
I typically wear a Buff for sun protection and for the last few months have been pulling my Buff up over my face when I pass people. But in early August, a study found that this style of face coverings (neck gaiters and bandanas) are not effective compared to other types of masks. It's not surprisingly really, so, now, I recommend keeping an actual mask in your pocket that you can quickly throw on as you pass people, especially on busy trails. Not only does it keep our trails safer, but it shows other hikers (especially people that might be immunocompromised) that you care. I recently got this mask that allows you to slip in a filter and has adjustable ear loops. It's also quite comfortable.
Only Go Out with People You Live With
One more time for extra measure. Unless you can be absolutely certain that your friends have been taking quarantine and social distancing as seriously as you, it's best to only go out with people who live in your household. You have no idea who your friends have been in contact with or how many unnecessary trips they've been taking to the grocery store. Many young people are carrying it and have no symptoms, and it's for the good of the collective to be extra safe right now.
Don't Pet Dogs (or Let Other People Pet Your Dog)
There seems to be some conflicting advice about whether or not the virus can live on a dog's skin and fur. The concern here is if the owner has the virus and they kiss/pet their dog, droplets containing the virus might be present on their fur. Just to be safe, avoid petting other people's dogs right now and try not to have other people pet yours. (I know, it's tough.)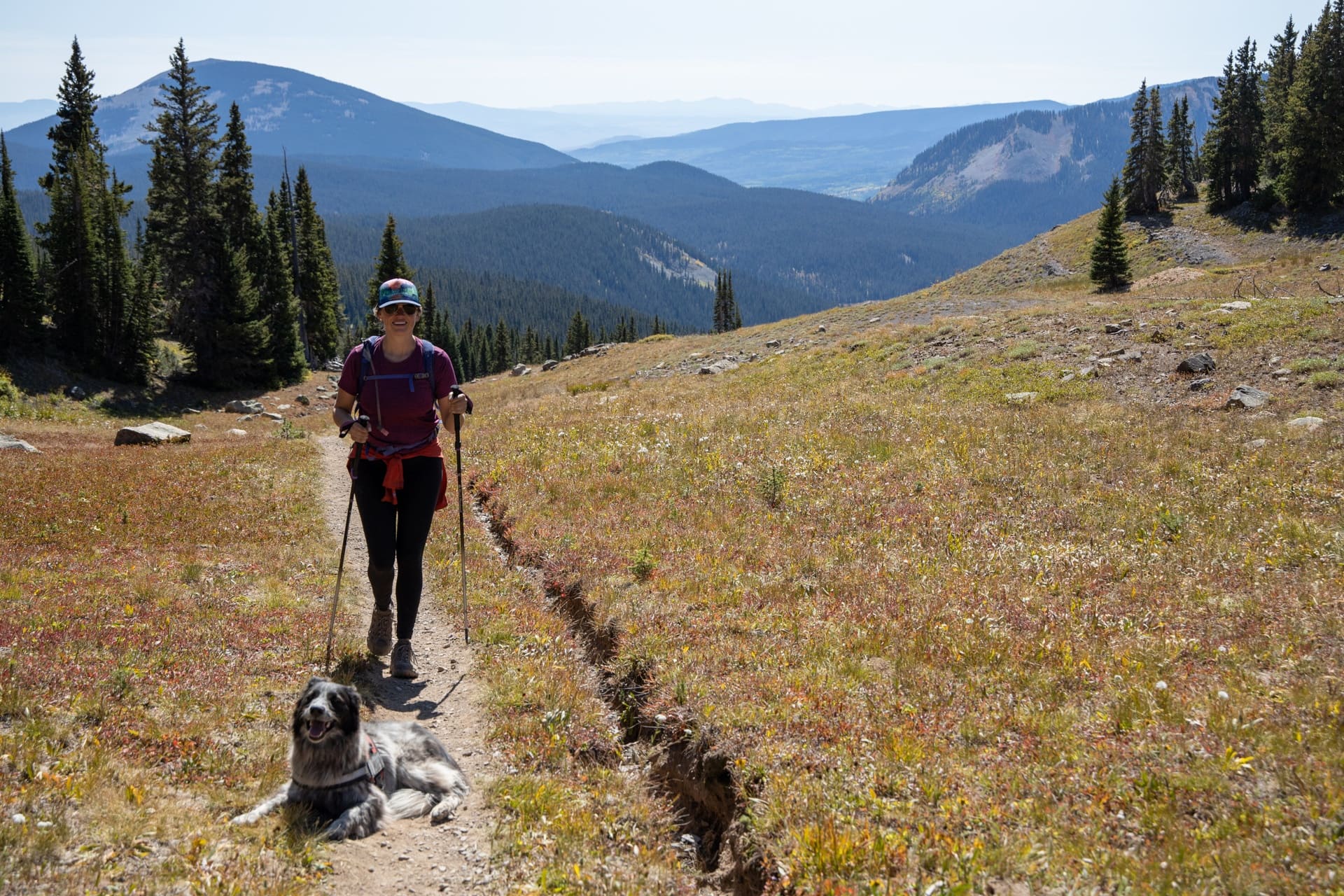 Be Prepared
Know before you go. Many visitor centers and bathrooms are closed now throughout state and national parks. If duty calls and you need to go, know the ins and outs of Leave No Trace. (Learn how to poo' outdoors in this blog post!)
Take your hiking goals down a notch during COVID-19
As I said, visitor centers are closed, bathrooms are locked, and healthcare providers have a lot on their hands right now. Do what you can to prevent accidents from happening. Take extra precautions NOT to get hurt, because if you do, you'll be putting unneeded strain on the medical system.
Now isn't the time to take risks and go on the most rugged bike trail, hike, or climb. If you want to hike safely during COVID-19, use this time to go a little slower, enjoy your time outside, and notice the little things.
Think Twice about Climbing
Just think about the holds and all the sweaty hands that have grabbed it before you. (Need I say more?) It's still unclear to what extent the virus can be transmitted via the hands, so I'd wait it out until everything is in the clear.
Hike in the Off-Hours & Avoid Popular Trails
You can hike safely during COVID-19 by hitting the trail outside of peak times. A lot of people like to go mid-morning and at sunset. Instead, wake up before sunrise and enjoy a quiet stroll on the trail as the sun comes up. This way, you'll be done by the time most people are just getting to the trailhead.
Steer clear of popular trails and look for lesser-known more off-the-beaten-path trails (near your house) to limit the number of people you encounter.
Be Self-Sufficient
This one's for you, van lifers and road trippers. As travelers, we have the responsibility to make sure we're completely self-sufficient to minimize our potential impact on towns we travel through. Take some time to plan out your meals for the next 2-3 weeks, then stock up on food and water. And, make sure your gas tank is full. This way, you'll minimize the number of trips to the grocery store and gas station. If you need more advice about van life and COVID-19, check out this blog post.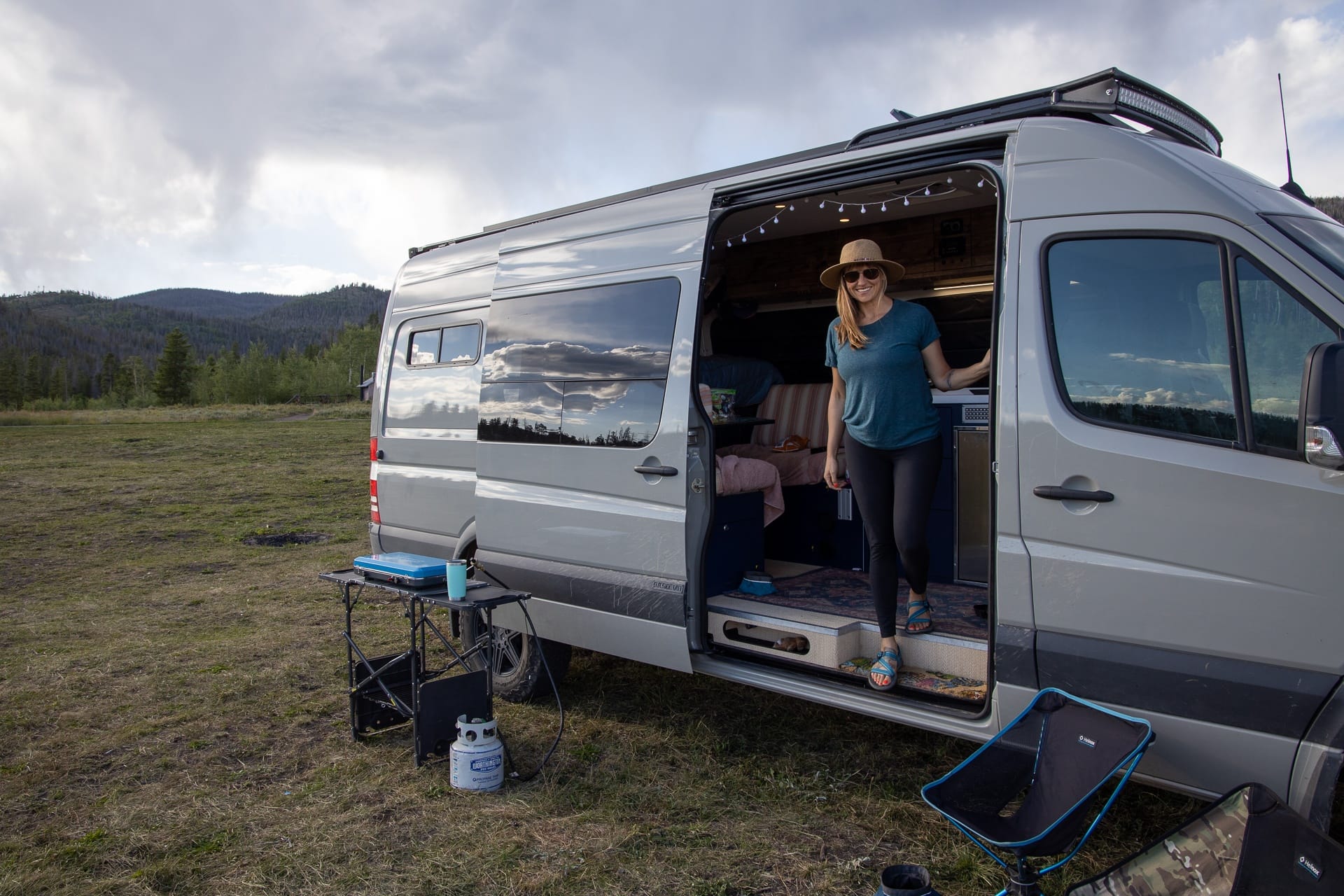 When we choose to be responsible outdoor enthusiasts, we're making a choice to contribute to the greater good. But, if you do decide to go out on the trail, please heed these precautions and hike safely during COVID-19.
==