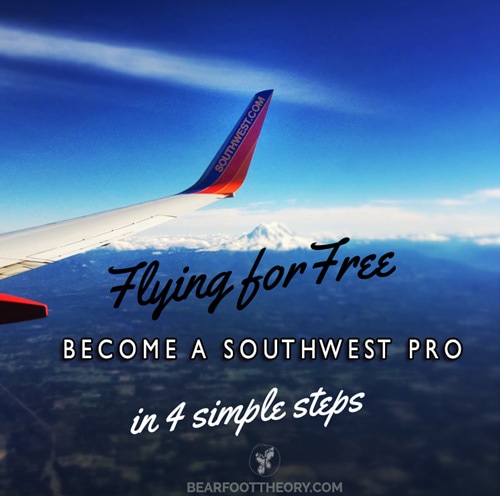 While this isn't a topic I would normally write about, I wanted to let you in on a little secret.
I'll start by telling you that I'm a wholly unabashed Southwest Airlines loyalist. I can't even remember the last time I flew domestically on another airline. There are three main reasons I almost exclusively fly on Southwest:
No change fees
No baggage fees
I almost never pay for a plane ticket
Yep, you heard the third point right. I think it's probably been a couple of years since I paid cash for a Southwest plane ticket.
Free flights on Southwest are what have allowed me to travel so much.
It means that I can spend my limited funds on cool experiences in my destination, rather than on an expensive plane ticket just to get there.
The awesome thing is…scoring free flights on Southwest doesn't require crazy travel hacking skills or booking your ticket a year in advance. All you have to do is follow these 4 simple steps to becoming a Southwest pro and before you know it you'll be jetsetting all over the West and beyond.
STEP 1: OPEN A SOUTHWEST RAPID REWARDS ACCOUNT
Rapid Rewards is the name of Southwest's frequent flier program. Go here and sign up now. It's free and only takes a minute. In addition to earning free flights with no blackout dates, you'll also receive the occasional set of free drink tickets in the mail (yay!) and be eligible for discounts with their car rental and hotel partners.
Once you're in the club, the most basic way to earn points is by flying with Southwest, where the number of points you earn with each flight is relative to the cost of the ticket. So the more you pay for the ticket, the more points you get. But there are much easier, cheaper, and faster ways to earn your points, which leads me to step 2.
STEP 2: APPLY FOR A SOUTHWEST CREDIT CARD
*UPDATE: Since this post first published, Southwest has reduced the sign-up bonus from 50,000 to 25,000 points. However, the bonuses change frequently…so read on and keep an eye on Southwest's site, as the bonus is likely to go back up sometime after the new year*
Southwest has 4 different credit cards, all offered through Chase. Two of the cards are personal credit cards, while the other two are business credit cards. (Don't think you are eligible for a business card? Think again.)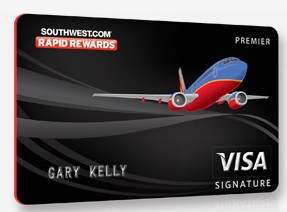 Throughout the year, Chase offers varying sign up bonuses, and right now the sign up bonus is high. For each card you are approved for, you will receive 50,000 bonus points. The only catch is that in order to get the bonus, you must spend $2,000 on the card within the first three months.
If you have good credit, you can get approved for more than one Southwest card at a time. For example, I first applied for the Southwest Plus card and a week later applied for the Southwest Premiere card. I was approved for both and ended up with 100,000 bonus points just like that. The only caveat is you must be sure you will be able you meet the minimum spend requirement of $2,000 on each card in three months, otherwise you will forfeit the bonus points.
There are many creative ways to meet the spend requirement, as explained by mile blogger extraordinaire, Daraius Dubash of Million Mile Secrets.
In addition to using the cards for all of my daily expenses, the quickest way for me to meet the spend requirement was to pay my rent with my Southwest credit cards using the service William Paid. However, there is a fee to use this type of service, so I would only suggest doing this when you are trying to meet the sign-up bonus spend requirement.
STEP 3: BOOK YOUR FREE FLIGHTS ON SOUTHWEST
Shortly after you meet the $2,000 spend requirement, the 50,000 points will automatically be deposited into your Southwest Rapid Rewards account. From there, booking reward travel is super easy. All you have to do is sign into your account, enter in your desired itinerary, and opt to show the fares in Points.
The number of points needed for the flight is based on how much the flight would cost in dollars. The cheaper the cash fare, the less the reward ticket will cost. This means that if you book your reward travel during a sale or you are willing to travel at off-peak times, you can make your points go far.
Here's an example. I just searched for a round trip ticket from Las Vegas to Seattle departing on Friday January 16th and returning Monday January 19th. The screen shot below shows just a few of my flight options. I selected the two non-stop flights circled in blue.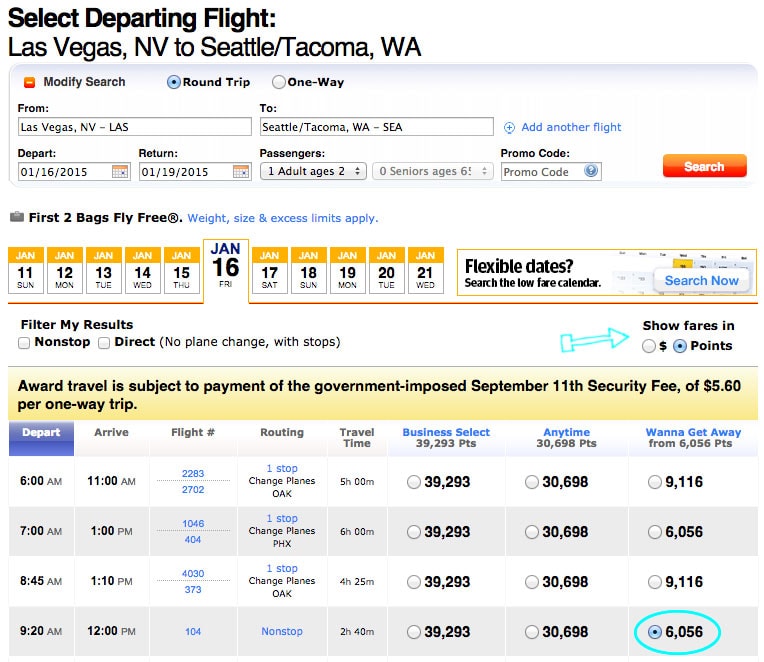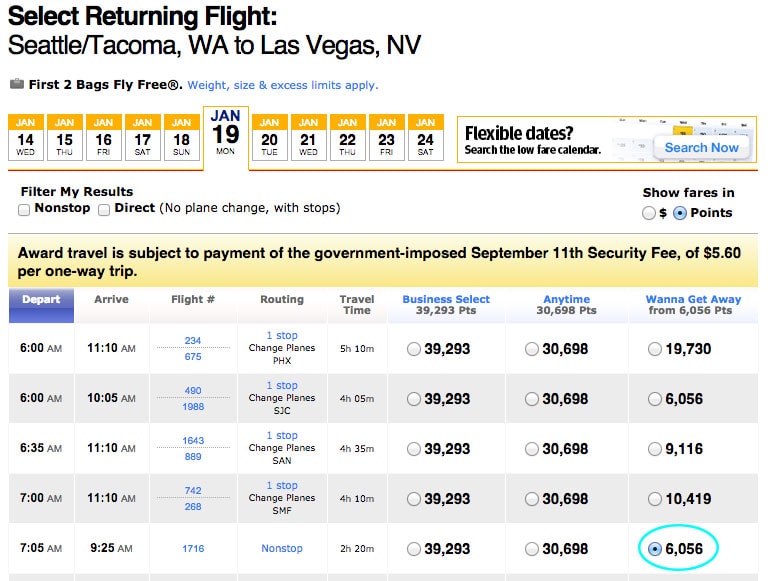 As seen in my final itinerary below, the total round trip cost is only 12,112 points plus $11.20 in taxes and fees. At that fare, I could fly for free to Seattle and back four times just by opening one Southwest credit card. Also, if I had paid for the same ticket in cash, the fare would have been $214, making the annual card fee more than worth it.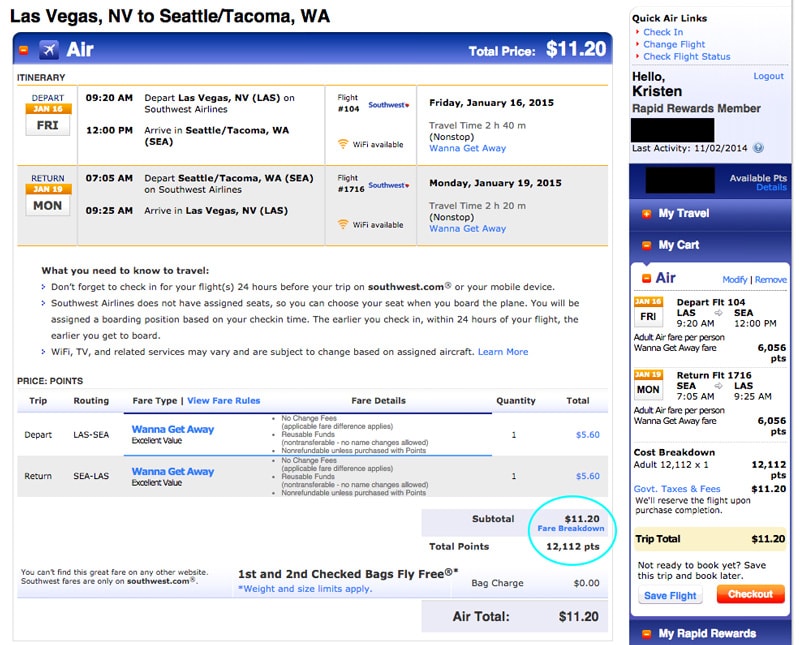 With Southwest, you are no longer limited to domestic flights, as they recently started flying to Mexico and the Caribbean. In January, there are round trip reward tickets from Las Vegas to Cancun for as cheap as 16,800 points + $71.09 in taxes. That means you could be crushing al pastor tacos and sippin' on beachside margs for less than the cost of a Cirque du Soleil ticket here in Vegas. AND you'd still have almost 35,000 points left over!
And it gets even better. Say you book a reward ticket, and then something happens. You can't get the time off, you get sick. It doesn't matter what the reason is. If you need to cancel your trip, all you have to do is log into your account and cancel. All of the points get redeposited into your account, and you can apply the money you spent on the taxes and fees to future travel.
STEP 4: SCORE A COMPANION PASS
The Southwest Companion Pass is one of the best airline perks out there. A Companion Pass allows your designated companion to fly with you for free anywhere, anytime.
This is NOT just a single use pass. Once you earn your Companion Pass, it is good for an unlimited number of flights for the remainder of that year plus the entire next calendar year. This means that if you receive your companion pass in early 2015, your companion can be added to any of your itineraries through the end of 2016.
It doesn't matter whether you book the ticket with points or with cash, and the only charge you are responsible for is the taxes which are usually around $5-10 per leg. You are also allowed to change your designated companion three times during the life of the Companion Pass.
How do you earn one of these? To be eligible for a Companion Pass, you must earn 110,000 points in a calendar year. This is fairly easy since the 50,000 point bonuses from each of the credit cards count towards the 110,000 points.
To learn more about the Companion Pass and how to get your hands on one, check out this post from the blog "Extra Pack of Peanuts."
How do you save money on travel? Share your tips in the comments below!