Orcas Island Travel Tips: Moran State Park Travel Guide
Last month, I traveled to Orcas Island in the San Juan archipelago off the coast of Washington state. This charming island is home…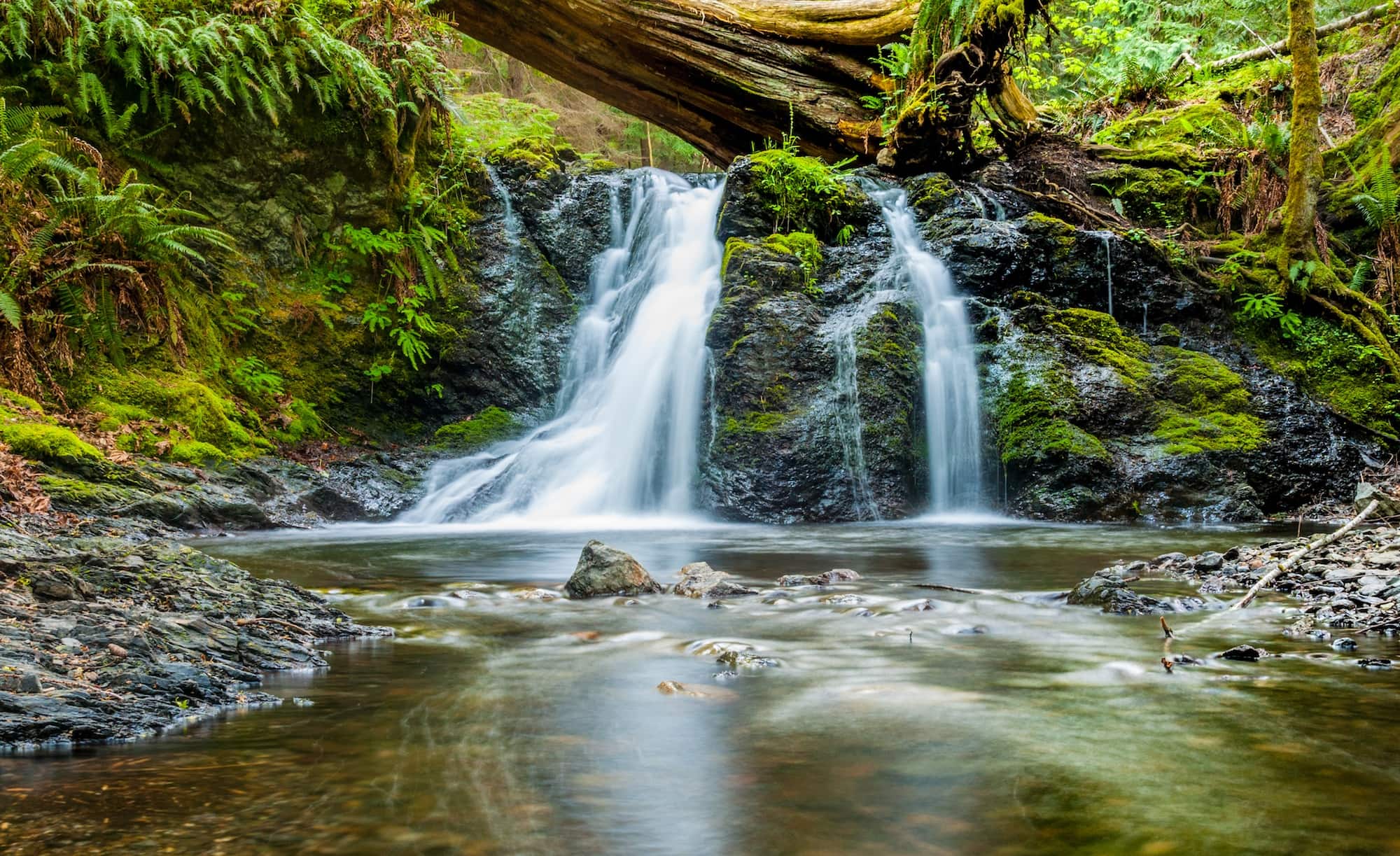 Last month, I traveled to Orcas Island in the San Juan archipelago off the coast of Washington state. This charming island is home to Mt. Constitution, the tallest mountain in the San Juans, and is characterized by dark rocky shoreline, huge evergreen trees, and a friendly, artsy mood. 
The reason for my trip was to celebrate the wedding of one of my best college girlfriends, and I give her major props for picking a wedding location that put the outdoors at our fingertips. The wedding itself was located in Moran State Park, a super green, lush forest covered in blankets of ferns and dense groves of Western Hemlock and Douglas Fir. It was absolutely gorgeous and a truly memorable weekend.
Normally the draw of the San Juans is the ocean, but here in Moran State Park, the forest is the main attraction. With 38 miles of trails and 5 freshwater lakes, here's my recommendations for how to make the most of your time in this enchanted forest. 
Orcas Island: Moran State Park Travel Guide
[separator style_type="double" top_margin="20″ bottom_margin="40″ sep_color="#74c3ae" icon="fa-tree"]
THINGS TO DO
Moran State Park Hiking
Moran State Park has more than 38 miles of hiking trails, from laid back forest loops to the challenging ascent to the top of Mt. Constitution. Depending on which hike you choose, you may encounter mountain lakes, waterfalls, wildlife, and stunning views of the Cascade and Olympic Mountain Ranges. When you enter Moran State Park, the Ranger will provide you a brochure with a map and trail descriptions, and once you are on the trail, everything is really well marked with clear signs.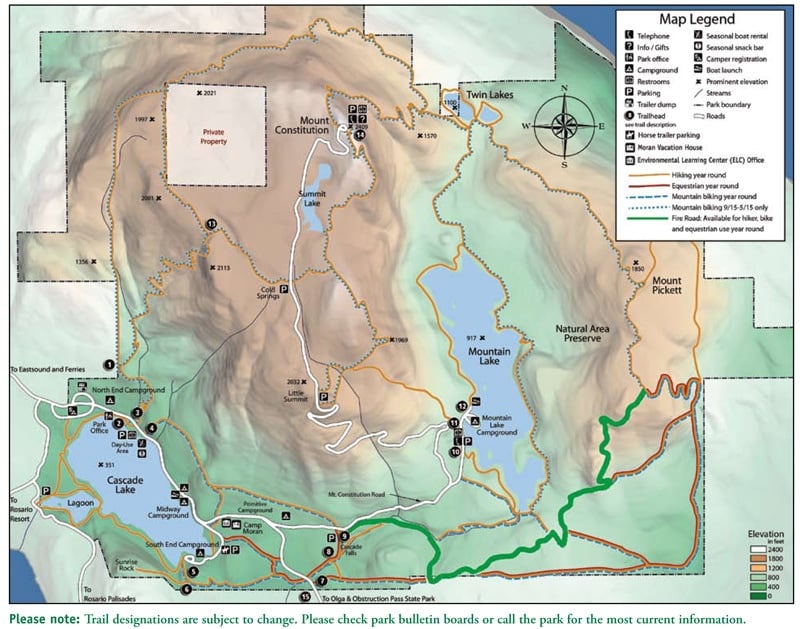 Mount Constitution Loop
Distance: 6.7 miles 
Elevation Gain: 1,490 feet
This is a challenging trail with a good chunk of uphill hiking, but it's totally worth the effort. You cover all of the best ground in Moran State Park, passing by several isolated lakes that you will likely have all to yourself. The climax of the trail is the summit of Mt. Constitution, where you get sweeping views of the ocean and the surrounding islands. For folks that are unable to do the trek, you can also drive to the top. But driving means you will miss all of the sites along the way. I recommend doing the trail clockwise from the parking area at Mountain Lake.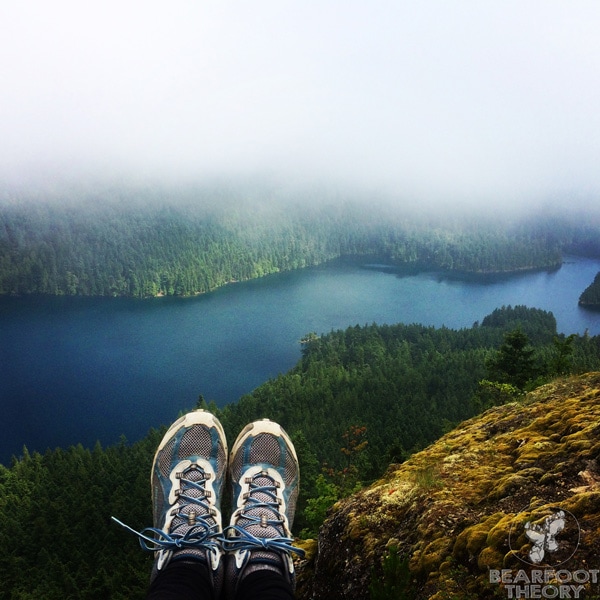 An overlook of Mountain Lake from the Mount Constitution Loop Trail

The view from the summit of Mt. Constitution, the tallest point in the San Juan Islands.
Picnic Area to

Ca

scade

Falls
Distance: 1.5 miles to the falls
Elevation Gain: 200 feet
This easy hike leaves from the day use parking area on Cascade Lake, passes by some giant trees, and eventually crosses the road before reaching a 75 foot high waterfall. Once you've taken some pictures, rather than turning around and hiking back the way you came, I recommend making a clockwise loop by following the Equestrian Trail to the South End Campground. Once at the campground, you cross the road again and eventually connect back up with the original trail. 

Non-native, but beautiful foxglove on the trail to the waterfall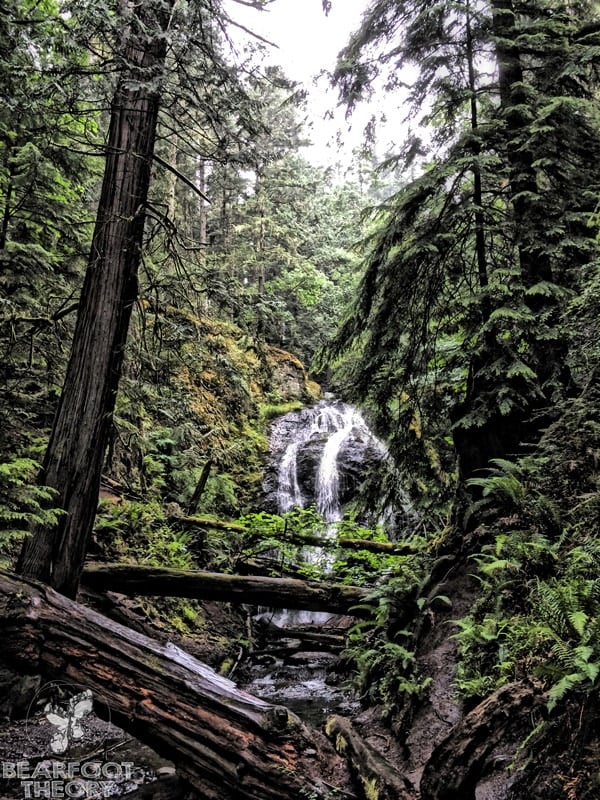 [separator style_type="single|dotted" top_margin="20″ bottom_margin="40″ ]
Moran State Park Swimming
Cascade

La

ke
Take a colorful sunset swim in Cascade Lake. The water is surprisingly warm and the sun sets over the northwest end of the Lake, making it a perfect way to finish off a day of hiking.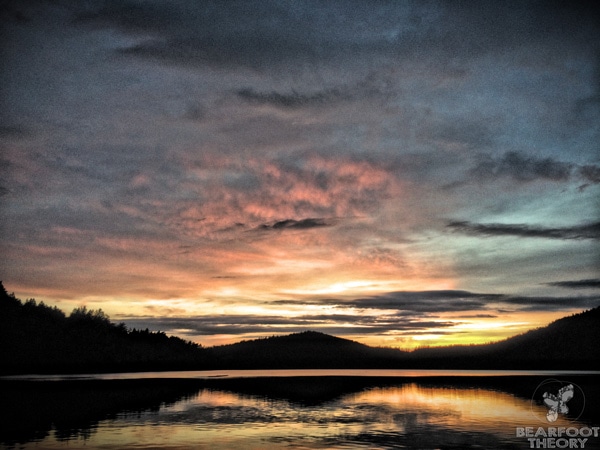 The sunset over Cascade Lake from Camp Moran
Moun

tain

Lake
Mountain Lake is cooler than Cascade Lake, but thanks to an epic rope swing, swimming here is worth the chills. To find the rope swing, hike north from the Mountain Lake Campground for about 10 minutes. Keep an eye out for a faint trail on the right leading down the lake. The trail is not well marked, but it is parallel to a large island that is in the middle of the lake. When we were there, we had the rope swing all to ourselves, and we even saw a bald eagle soaring overhead. (Warning: swing at your own risk!)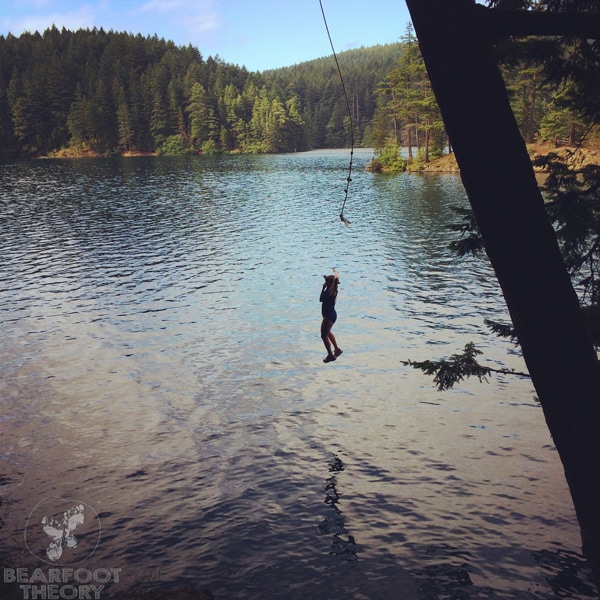 The rope swing into Mountain Lake. And yes. I am plugging my nose. Total nerd alert.
[separator style_type="single|dotted" top_margin="20″ bottom_margin="40″ ]
Boat Rentals
If you are looking for a relaxing day out on the water, rent a boat from Orcas Adventures (360-376-4665), located at the day use parking lot on Cascade Lake. This small lakeside shop rents pedal boats ($20/hour), single kayaks ($15/hour), double kayaks ($20/hour), row boats ($20/hour) canoes ($20/hour), and stand up paddle boards ($25/hour). They also offer half day rates. Reservations are not accepted, and boats are rented on a first come first serve basis from Memorial Day to Labor Day. The shop opens at 10am.
[separator style_type="single|dotted" top_margin="20″ bottom_margin="40″ ]
Fishing
The Department of Fish and Wildlife stocks Cascade and Mountain Lakes with trout. The park also rears Kokanee that are released into Cascade Lake. The fishing season begins on April 30th, and a fishing license costs $8. Electric boats are allowed with a $7 launching permit. 
[separator style_type="double" top_margin="20″ bottom_margin="40″ sep_color="#74c3ae" icon="fa-tree"]
LODGING
Camping
Moran State Park has 131 standard campsites, with the best sites at the South End Campground on Cascade Lake. These lake front sites are isolated from the road and are situated perfectly for watching the sunset. However, there are no restrooms at these sites. If you need a nearby restroom, check out the Mountain Lake Campground. Standard campsites run $20-31 per night depending on the season. To see pictures of all of the campsites or to make reservations, visit the Washington State Park website. 
[separator style_type="single|dotted" top_margin="20″ bottom_margin="40″ ]
Nearby Hotels
If you prefer to explore Moran State Park by day but retreat to a comfy bed at night, these are some good close by options:
Doe Bay Resort and Retreat
Doe Bay is a hot springs resort about 10 minutes from the Park located right on the water. They offer cute and comfortable cabins that range in price depending on the size of your group. The cheapest cabin is $70 and sleeps 2 people. Or you have the option of renting a private yurt. Some of these are really cool and are right on the beach. Yurts do not have heat and also require a short walk to reach the bathroom. Yurts run $50-120 per night. What's really special about Doe Bay is its waterfront soaking tubs (clothing optional) and its cafe that serves up local delicacies, some of which are grown right on the property. They also make a bomb bloody mary.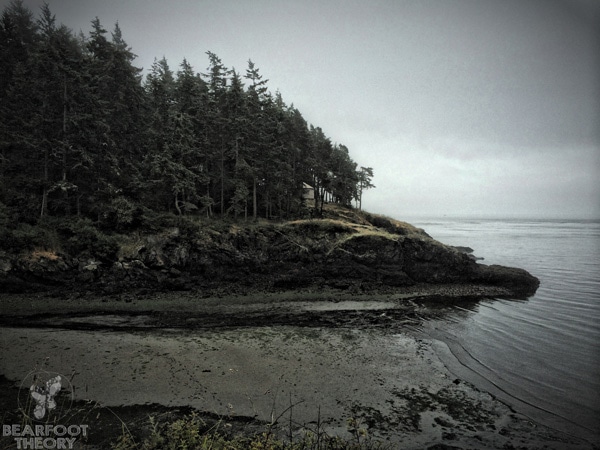 Doe Bay Resort and Retreat. Check out that yurt hidden in the trees!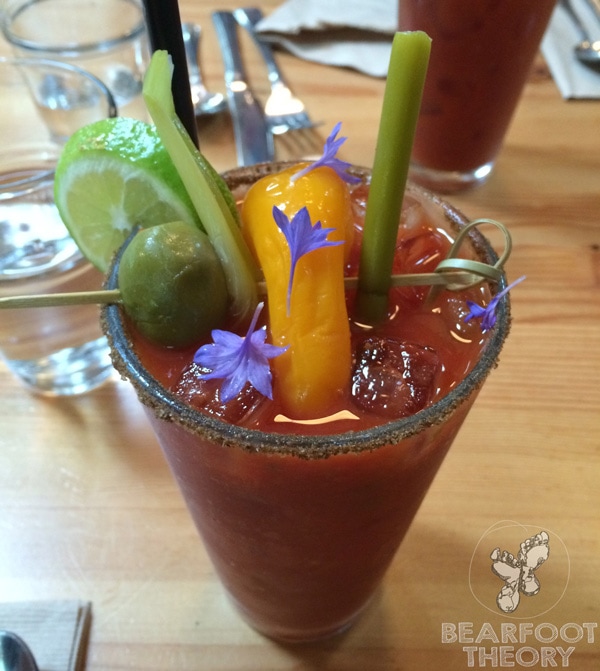 Rosario Resort & Spa
Rosario is perfect for those seeking a bit more luxury. Also located right on the water, Rosario is known for its shipbuilding museum, its gorgeous spa, a waterfront pool, and a fabulous restaurant with amazing views. Depending on the season, standard rooms range from $99-189 and suites range from $159-399.
[separator style_type="double" top_margin="20″ bottom_margin="40″ sep_color="#74c3ae" icon="fa-tree"]
GETTING THERE
Getting to Orcas Island takes a little perseverance, especially if traveling on a summer weekend. The ferry to Orcas Island leaves from Anacortes, which is a one and a half hour drive north of Seattle. If you are taking your vehicle on the ferry, it is recommended that you arrive to the Anacortes ferry terminal up to three hours in advance in order to get a spot on the ferry. The ferries fill up quick, especially on summer Friday afternoons, and they only leave every few hours. So missing the ferry because it is full is a major bummer.
The round trip cost is $51 per vehicle plus $13 per person traveling in the vehicle. To view the schedule, go to the Washington State Ferries website and in the drop down menu on the left choose Anacortes / San Juan Islands. Note that not all ferries leaving Anacortes make a stop on Orcas Island. After you depart from the ferry terminal, the whole trip takes approximately one hour. 
Once on Orcas Island, depart the ferry terminal and follow Orcas Road until you hit Main Street. Take a right and drive through East Sound, the main part of town. Then hang a right on Olga Road and follow it for 4.5 miles straight into Moran State Park. 
[separator style_type="double" top_margin="20″ bottom_margin="40″ sep_color="#74c3ae" icon="fa-tree"]
ADDITIONAL TRAVEL TIPS
A few final tidbits of information:
Day access to Moran State Park costs $10. 

There is limited cell phone service in Moran State Park, so plan ahead.

If you have time to explore more of Orcas Island, make sure to swing through the town of East Sound. There are several restaurants, a bunch of cute shops, and a grocery store.  There is also a farmers market every Saturday from May to October.
For those interested in trying some salt-water activities, San Juan Island Outfitters, located on neighboring San Juan Island offers both single day and multi-day sea kayaking itineraries, where you'll have the chance to encounter the region's infamous orcas, eagles, other marine mammals, and tide pool creatures.
Have you been to the San Juan Islands? Share with us your travel tips in the comments below!
To learn about more destinations in the Pacific Northwest, follow my Pinterest board Northwest Nature:
Follow Bearfoot Theory I Outdoor Lifestyle Blog's board NORTHWEST NATURE on Pinterest.