EAST COAST BEACH CAMPING: THE ULTIMATE GUIDE TO CAMPING ON ASSATEAGUE ISLAND
by Bearfoot Theory's East Coast expert Katherine Oakes
East Coast beach camping at Assateague Island means oceanfront campsites, wide open beaches, wild ponies and beautiful forests. Not too shabby, right? This famous barrier island is a National Seashore that sits right off the coast of Maryland and Virginia and as we mentioned before, is home to an iconic herd of wild ponies that are famous for their annual swim across the bay.
So, if you're ready for a true Assateague Island camping experience on the wild island we've compiled all the info you need to make it happen.
From permits to directions and a few key items to pack, here is the ultimate Assateague Island camping guide
How to Get to Assateague Island National Seashore Campground
Assateague Island is a barrier island off the coast of Maryland, so the best and only way to get there is to travel through over the iconic 4.3 mile-long Chesapeake Bay Bridge from the Chesapeake Bay near Annapolis, Maryland. Drive through the lower peninsula of Maryland and all the way out to Assateague Island National Seashore via US 301-N/US 50-E until you get on US-13 which will take you straight to the island.
The Best Time to Visit Assateague Island
Assateague Island is best during the late springtime through late summer and since campsites are quite literally only a stone's throw from the beach, you'll want to be here for the high summer season (June-August) if you can.
The off-season is nicer in terms of crowds, but the weather can be hit or miss. Kristen once visited in March and ended up getting rained out the entire time.
Things to Do On Assateague Island
This beautiful and rural island is an oasis for outdoor-lovers — especially people who love the water and the beach. Oceanside camping is surely a highlight of the trip, however, you can also enjoy miles of biking and walking paths that wind around the island. Choose from the Wildlife Loop, Woodland Trail, Black Duck Marsh Trail or others. Bird-watchers make sure to bring your binoculars.
Visitors can even choose to bike to the island.  From Maryland, cyclists may travel to Assateague over a bicycle-pedestrian bridge and follow a paved bike path along Bayberry Drive through 4 miles of island habitat. From Chincoteague, Virginia, a paved path leads bicycles from Chincoteague to Assateague.
There are also self-guided nature trails, surf casting, crabbing in the bay and of course, swimming, kayaking, and windsurfing. More information on outfitters & rentals can be found on the NPS website. If you're traveling with small children you can also find the beach lifeguard schedule online.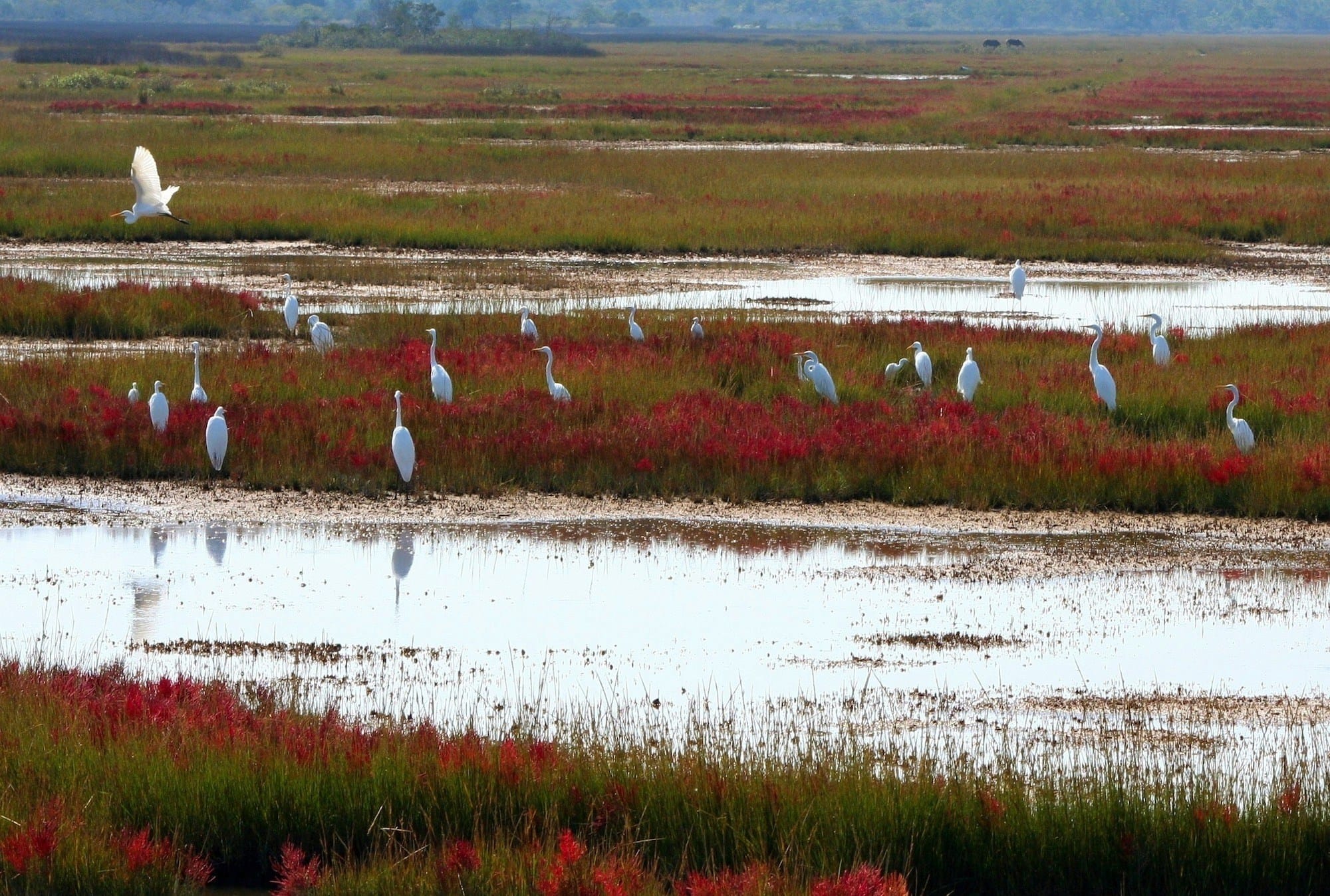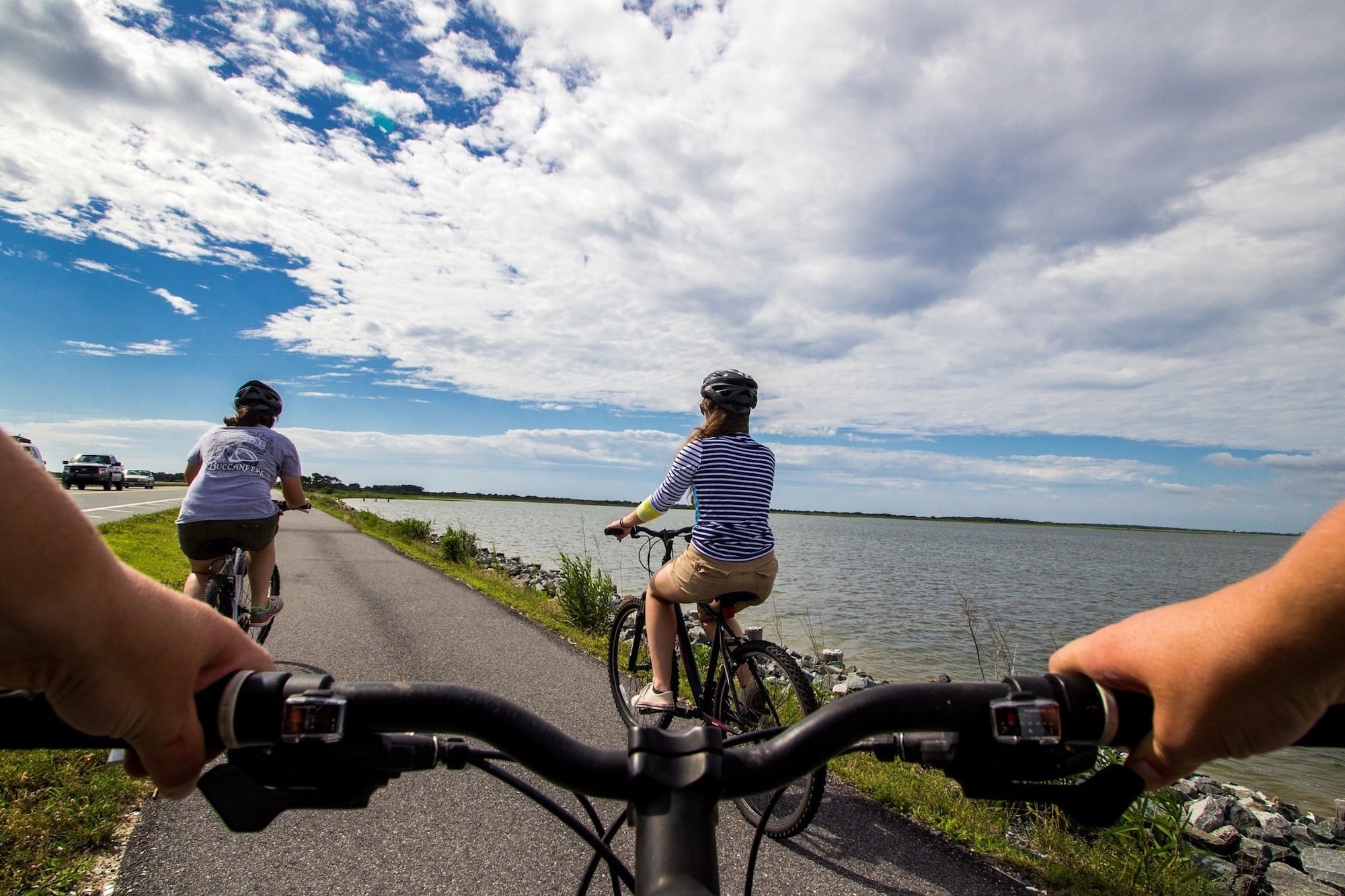 How to Make Camping Reservations for Assateague Island National Seashore Campgrounds
Since Assateague and its connecting sister island of Chincoteague cross the state line of Virginia and Maryland, it's important to know that camping is only available in the Maryland region of Assateague. It's run by the National Parks Service and campers are required to make a reservation and obtain a permit for camping. While it can be competitive, it isn't difficult to snag a prime spot. There are several different options available depending on what type of camping you plan on doing while you're here. These fall into one of two categories: RV camping or tent camping. It's also important to note that there are no electrical or water hook-ups at any of the campsites, so be prepared to bring everything you need.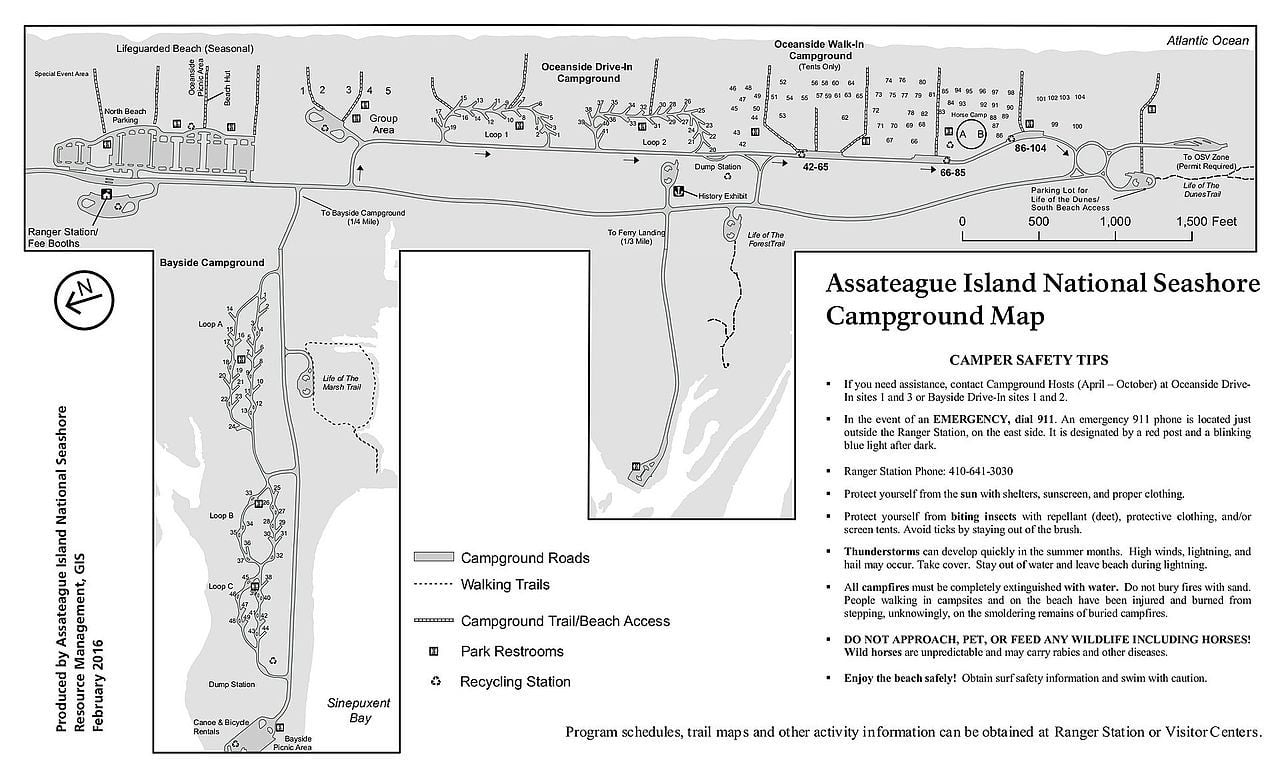 Oceanside Drive-In
For those who are planning to camp in a vehicle like an RV, camper and want to be close to the beach, you'll want to reserve an oceanside drive-in campsite. Tent camping is not allowed in this RV only area.
There are no hook-ups but there are picnic tables and fire pit available to use.
Bayside Drive-In
Essentially the same campground as the oceanside drive-in, however, it's away from the ocean and nearer to the bay.
Vehicles, RVs, and campers are only permitted at this site. Tent camping is not allowed in RV camping spots.
Oceanside Walk-In
Tent only camping located 100-200 feet away from parking areas and just a short walk from the beach
Fire pits & picnic tables available.
Group Campsites
For large groups, you'll need to reserve a group campsite for $50 per night that is also 100-200 feet away from the parking areas.
Picnic tables & fire pits are available.
There are facilities on the premises that include chemical toilets, showers (cold water only!) and drinking water should you need to refill.

For all camping, just make sure to plan ahead and be aware of the following:
The National Park Service has maps of the camping areas available online.
Generally, reservations are required for campsites from March 15th through November 15th and are available six months in advance but currently through March 14, 2019, campsites available on a first-come first-served basis while the NPS changes its nationwide reservations contractor. This does not affect group camping sites which can still be booked online at Recreation.gov 
Campsites are desirable so do be mindful that many reservations for weekends are filled in March as soon as they become available.
You can call this number to make a reservation  1-877-444-6777 (10:00 AM – 10:00 PM EST) or visit www.recreation.gov.
Campsites are $30 per night
Once you've made your reservation, you can grab up your permit at the entrance of the campgrounds from the park service upon arrival. Leave it in your car in the windshield or somewhere that's easily noticeable for park rangers.
Backcountry Assateague Island Camping
If you're up for even more of an adventure, the Assateague Island National Seashore Campground also offers backcountry campsites if you want to paddle or backpack to the island from the mainland. There are 2 oceanside campsites and 4 bayside campsites available that also require a permit. You'll need to get a 7-day backcountry entrance fee permit for $10 a person and $20 per vehicle if you're driving in. No fresh water is available at backcountry campsites. More information on backcountry camping at Assateague Island can be found here.
How to Prepare for Assateague Island Camping
The National Parks Service strongly suggests planning ahead to make the most of your time on the barrier island and trust us, it's worth it. The island climate and habitat can be harsh at times whether it's the sun or the bugs, you'll want to be prepared.
Sun protection
There isn't a whole lot of shade on Assateague Island. Since you will be spending the majority of your time out exploring the area, you will be exposed to the hot sunlight. Bring plenty of sun protection like waterproof sunscreen, hats, sunglasses, and layers. Plus, a tent or some sort of shade covering for your time out on the beach.
Insect Repellent
During the high summer season, you will encounter some relentless (and annoying) bugs. Horseflies, mosquitoes are known to plague visitors during late summer into early fall, however, if you bring good, non-toxic bug spray, you'll be in the clear.
Wild Ponies
The famous herd of wild ponies that inhabit the island are just that: wild. Just as you would do for any other wildlife, keep your distance and admire them from afar. You will see them out on the beach and they might even come up close but do not feed the ponies or touch them.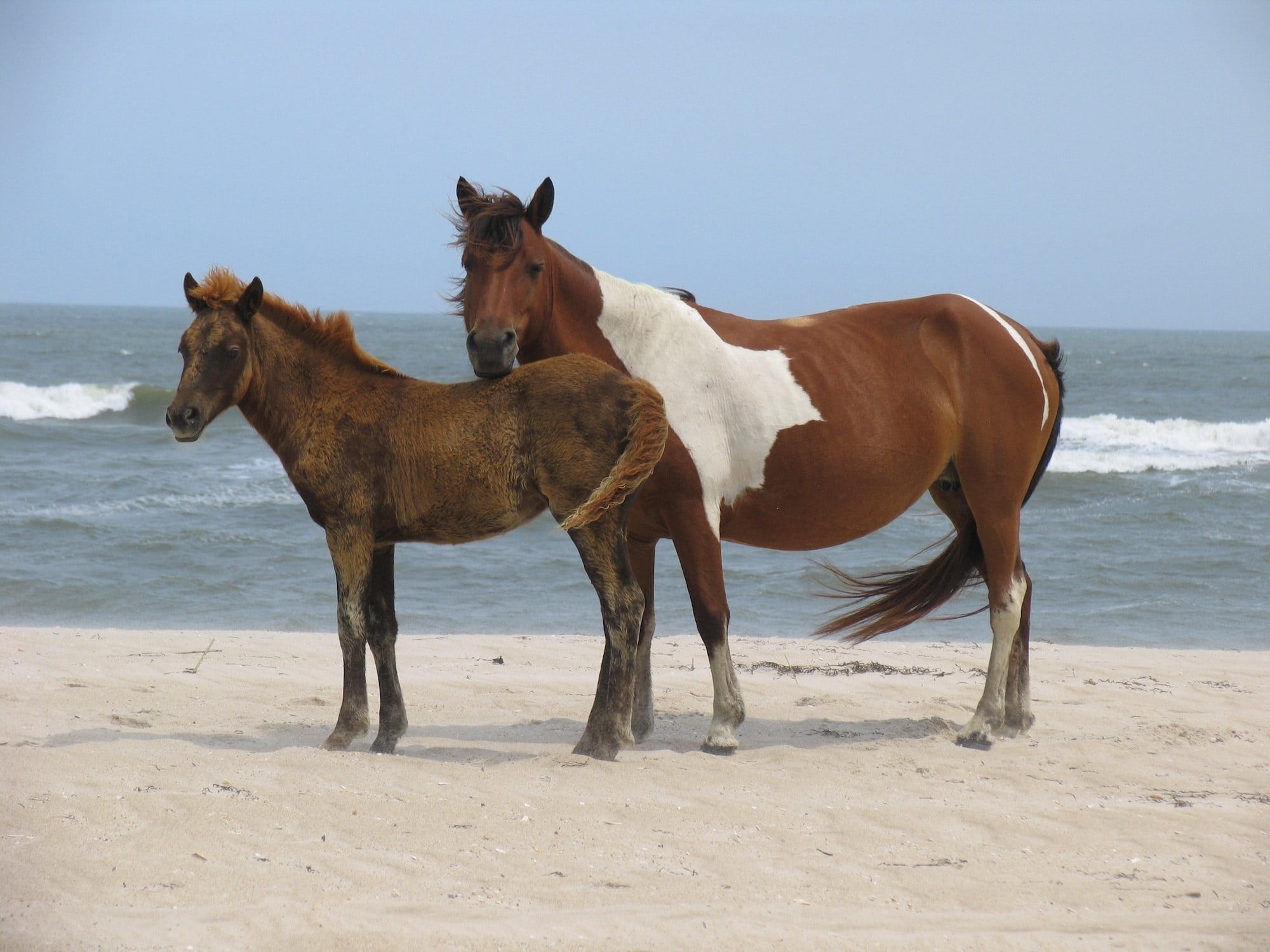 Weather conditions
Since Assateague is a barrier island it experiences rapid changes in weather more than you might expect. Thunderstorms blowing in from the ocean can catch you off guard so bring rain gear and warm layers with you just in case. If you're camping, make sure you have stakes and a rain fly to hunker down. The island has been known to experience inclement weather from time to time, so be prepared and ready for whatever happens!
Food
The island is bare bones and you won't find any food stores nearby in case you run out of rolls for dinner, so pack enough food, and then some. Here are some of our favorite one-pot camping meals.
Firewood
You must purchase firewood locally and won't be allowed to bring your own firewood into the park. The island has experienced an infestation of Emerald Ash Borer Beetles that threaten the forest lands when visitors bring their own firewood. If you happen to bring your own by mistake, the park asks you burn it and leave no trace behind.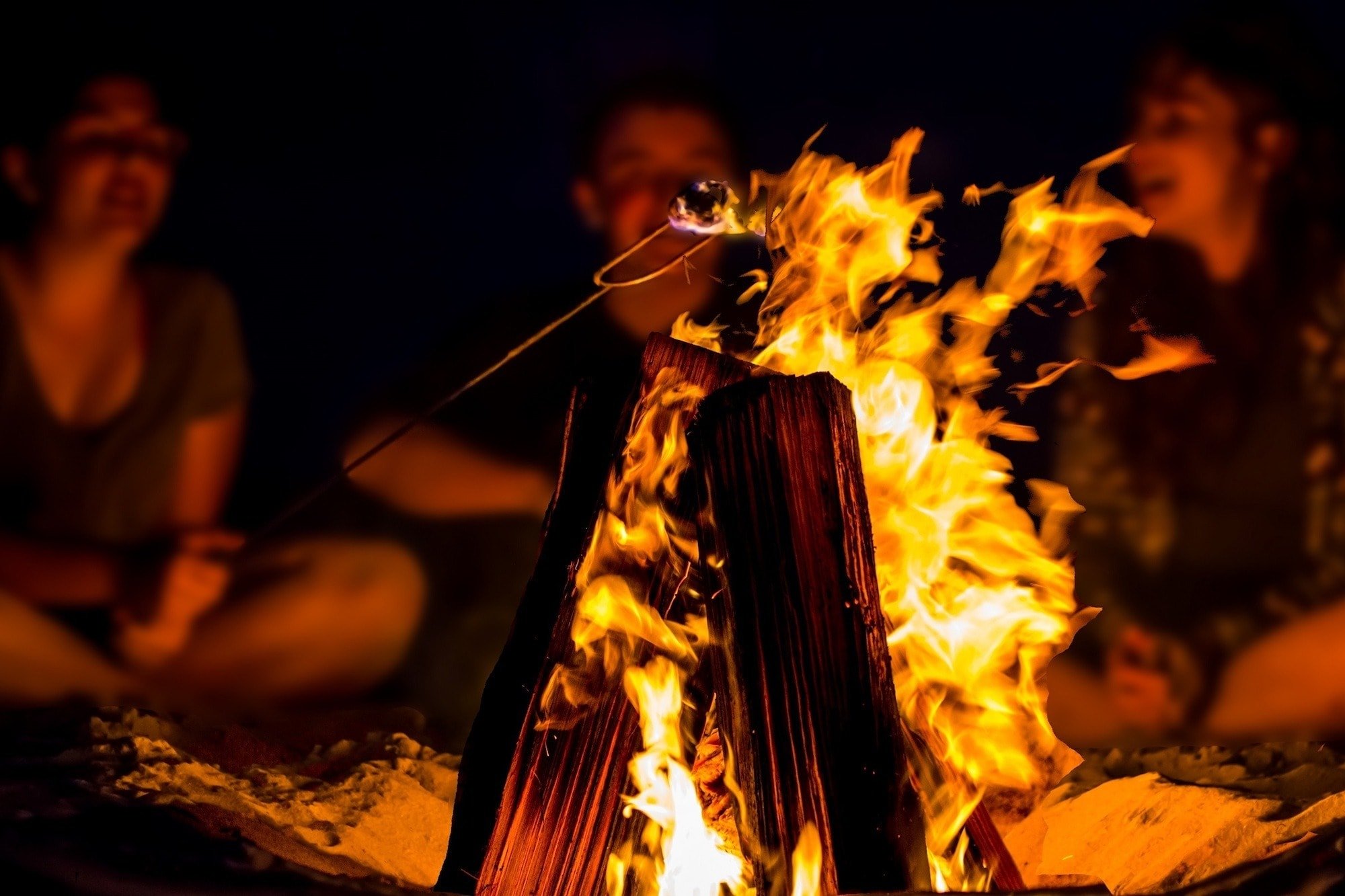 Have you ever been camping or exploring on the barrier islands of Assateague or Chincoteague? Got questions or comments? Share them with us below!