Chasing Waterfalls on Milford Sound with Cruise Milford
Exploring fiords, waterfalls & wildlife in Milford Sound is a must for anyone traveling to New Zealand! This post has the details on my boat tour with Cruise Milford.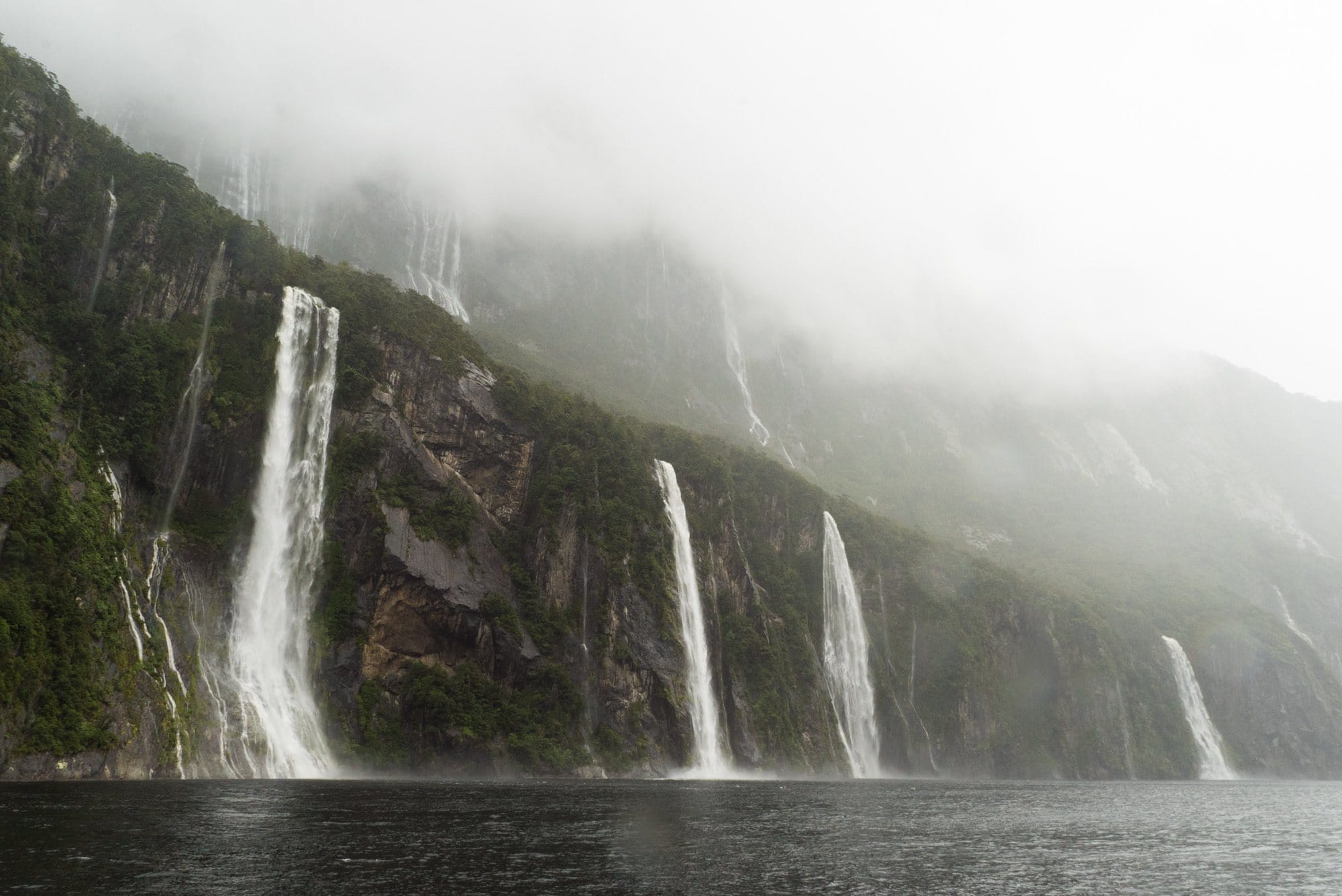 Milford Sound is a 15km long saltwater fiord located in Fiordland National Park at the bottom of New Zealand's South Island. Its rainy cliffs are home to massive waterfalls, rainforest, friendly seals, and elusive penguins, and exploring Milford Sound is a must-do for anyone traveling in New Zealand.
Milford Sound basically starts where the road ends, which means that you cannot explore it from your vehicle. Instead, you'll need to sign up for some sort of tour – kayaking, a boat cruise, helicopter – all of which have their advantages.
While I was in the area, I did a helicopter flight over Milford and an overnight kayaking trip on a neighboring fiord called Doubtful Sound. Both of those trips were amazing, but I also wanted to get closer to the wildlife and waterfalls that Milford Sound is famous for. So I signed up for an hour and 45 minute tour with a boat operator called Cruise Milford . Here's the full scoop and make sure to scroll to the bottom for my Cruise Milford video edit.
Chasing Waterfalls in Milford Sound with Cruise Milford
Cruise Milford Travel Vlog
Watch the highlights from my trip with Cruise Milford in this short travel vlog!
Why I chose Cruise Milford
There are a ton of different boat operators in Milford Sound. Some of the boats are massive with hundreds of passengers and offer lunch buffet. That wasn't for me. I could just imagine having to elbow my way to the railing of one of these boats just to get a photo of the waterfalls.
Cruise Milford offered a more personal experience, and the boat was one of the smallest at the dock. A smaller boat meant there was enough for every single passenger to be outside with a view. The boat would also be more maneuverable, allowing us to get right under Milford Sound's waterfalls and maybe closer to some marine life as well.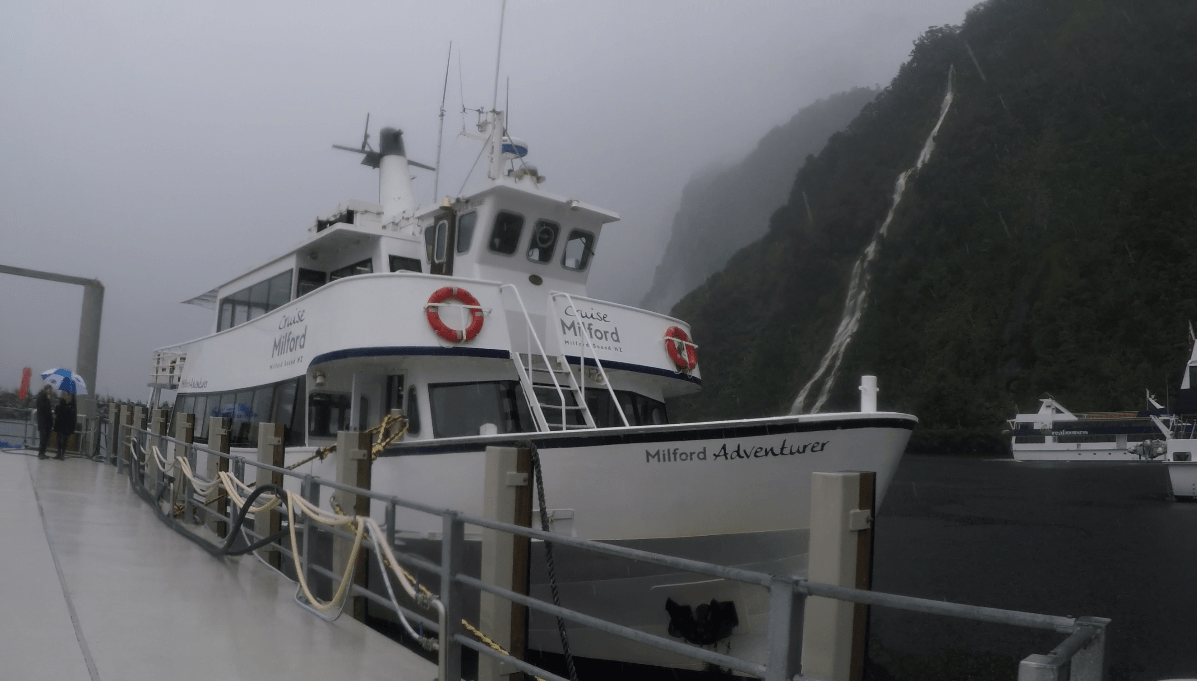 The Cruise Milford vessel had two levels. On the ground floor, they had free tea, coffee, cookies, and  plenty of seats with floor to ceiling windows. On the top floor, there was an inside area with some comfortable couches and a large covered outdoor deck with benches. I was relieved that I could be outside in the rain with my camera…as long as I stood under the awning, I wouldn't have to worry about getting my camera wet.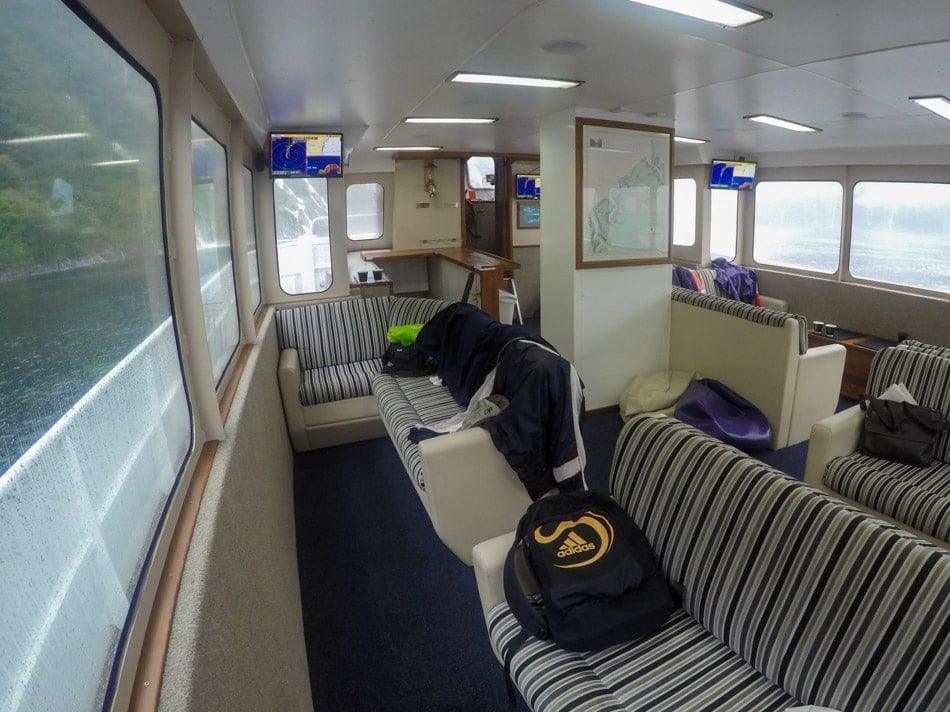 What you See on a Tour with Cruise Milford
The tour lasted 1 hour and 45 minutes, and we had the chance to travel the entire length of Milford Sound. During that time we saw over 100 waterfalls (no joke) and a couple of families of fur seals. They were super cute and didn't seem to be bothered by us one bit.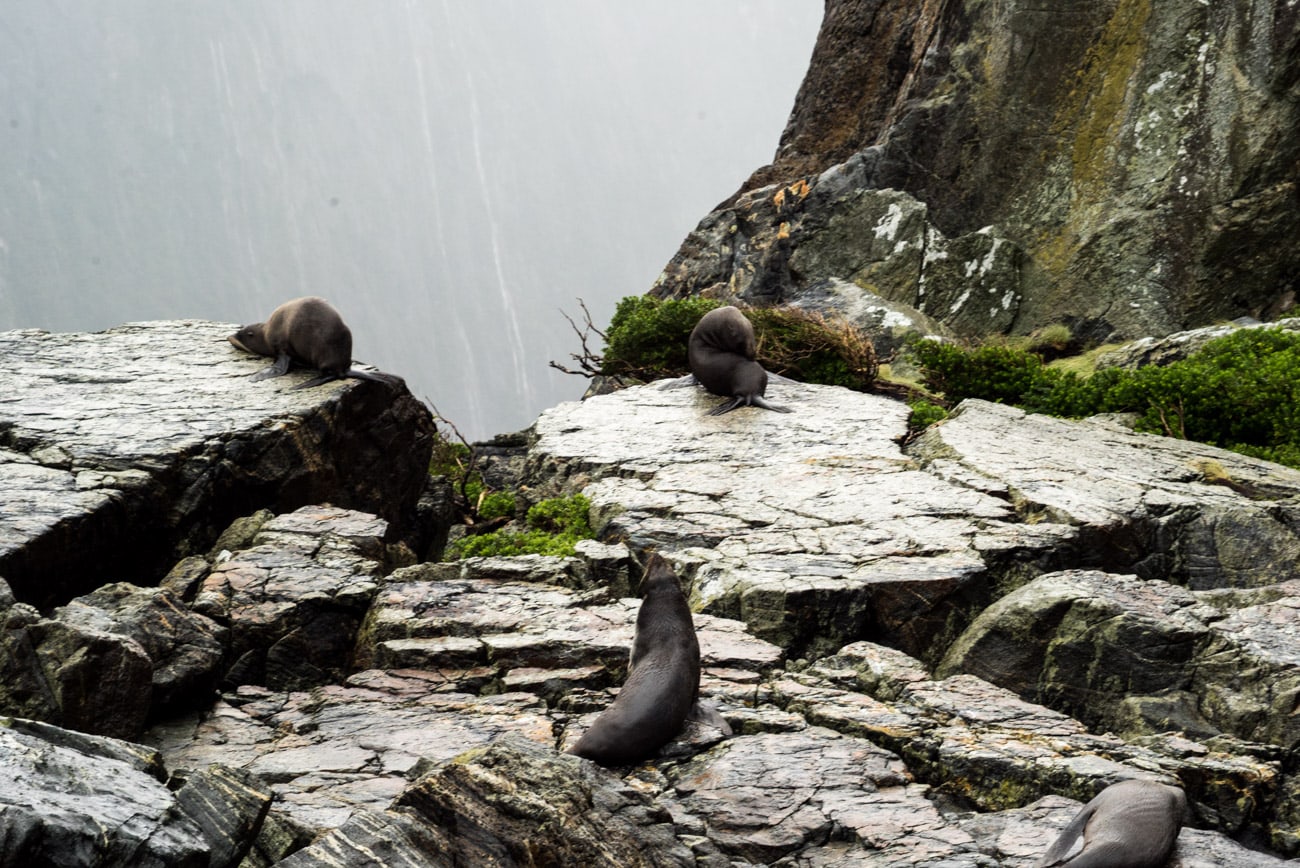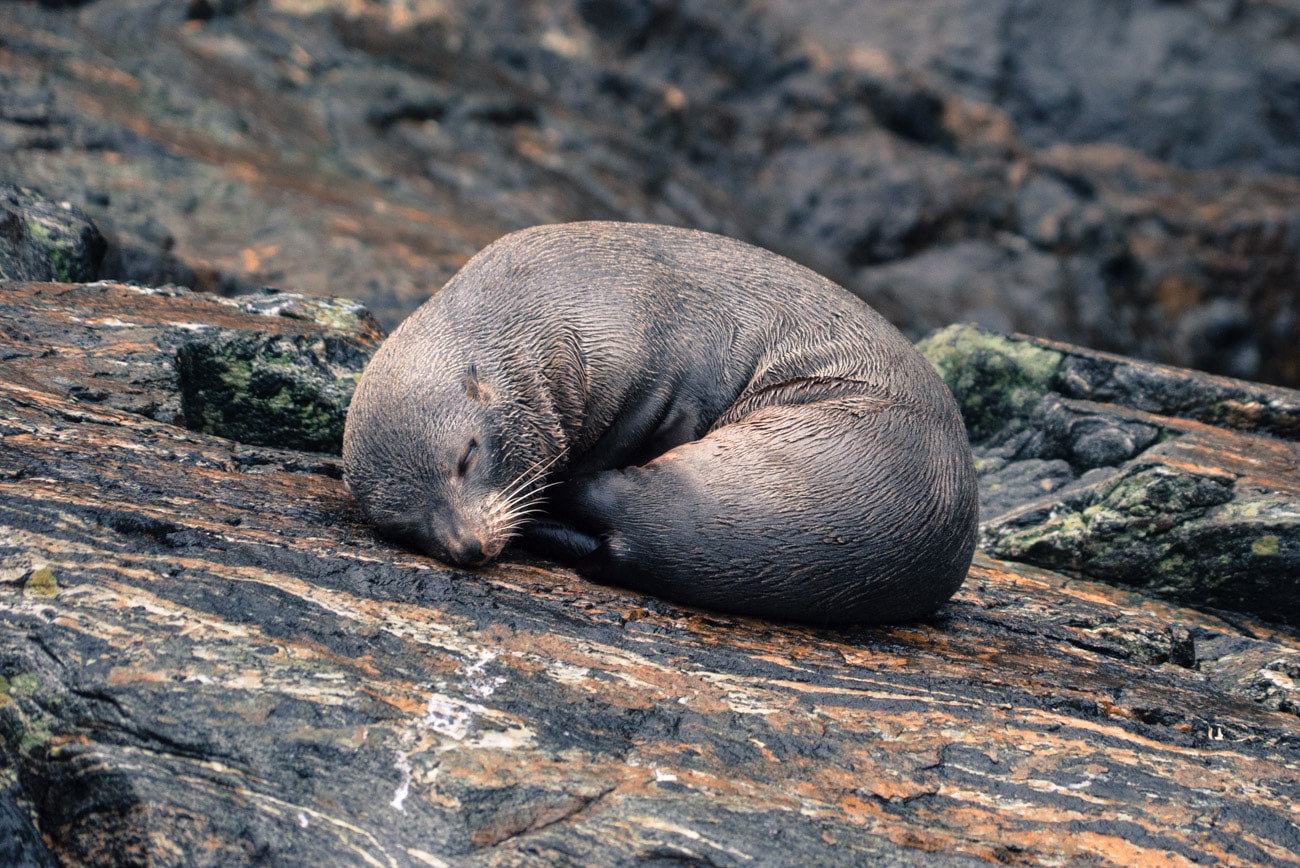 One of the coolest parts of the tour was when our boat captain drove right up to one of the giant waterfalls. I was feeling adventurous, so me and one of the guys from the crew ran up on the bow of the boat so we could feel the power of the falls. We got soaked, but luckily I had a solid rain gear on and stayed completely dry underneath….if you go on the tour, come prepared so you can do this too!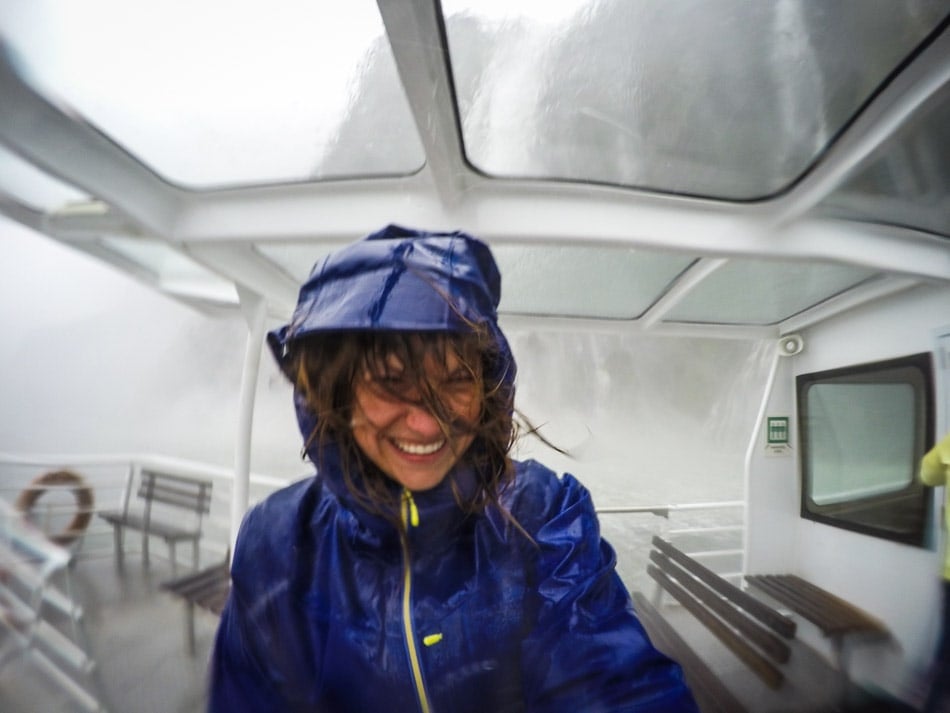 –What if it's Raining? —
During the tour, the crew were walking around and answering questions and the captain was on the speaker giving us some interesting tidbits about the area. We learned that there are actually only 2 permanent waterfalls in Milford Sound, and only following heavy rains do the falls gush like we got to experience.
I'll admit that when I was putting all of my rain gear on in the morning, I was not too thrilled. I thought we were going to miserable, and I was bummed that some of the big peaks were engulfed in clouds. But once I was out there on the boat and heard this, I realized a rainy day is the best way to see Milford Sound. These waterfalls are what make it so magical and unique. Point is….if you get there and it's rainy, don't skip the tour because of weather. Instead, you should feel lucky!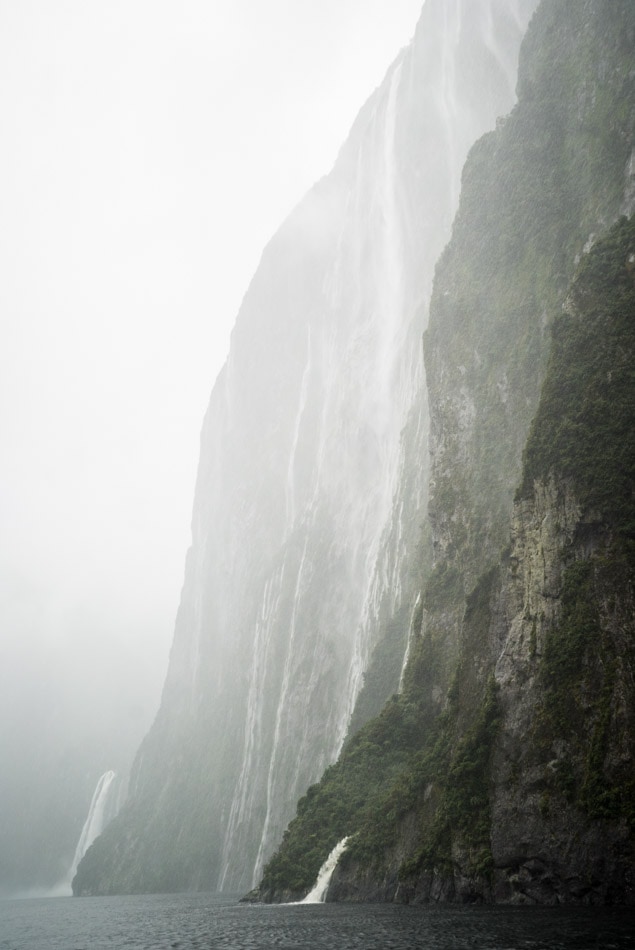 What to Bring on your Cruise Milford Tour
No matter which boat you go on, there's a few things you'll want to bring on the tour, especially if it's raining.
Rain Gear: Even though the Cruise Milford boat has an awning that protects you from getting wet, you'll still want some good rain gear. It will allow you to move around outside and get the best views, rather than sitting in the cabin hiding out.
I have Mountain Hardwear's Straight Chuter Waterproof Shell, (mens version here) which is also my ski jacket at home. It might be a little overkill if this is the only wet activity you plan on doing. However, if you plan on doing any skiing or camping in cold, wet weather, this jacket is windproof, warm, and totally waterproof.  I also find the cut to be pretty flattering.
If you want something a little less hardcore, I recommend the North Face Venture Rain Jacket (mens/womens).
On the bottoms, any old pair of rain pants will do.
Camera: You're definitely going to want a camera for your Cruise Milford tour.
For my normal camera, I shoot with a Sony mirrorless camera. They have diverse lineup, and for the average traveler who likes taking pictures, I recommend the a5000 or a6000 models. The kit lens that comes with either of these cameras is 16-50 mm. At the 16mm end, you'll be able to get some great wide angle shots that capture the magnitude of the waterfalls. At the 50 mm end, you'll be able to zoom in a bit in the case you come across some of those fur seals. If you have a grocery store bag, bring that along and you can use it to cover the camera if you are shooting in the rain.
A GoPro is also awesome for your Cruise Milford tour since the GoPro is waterproof when it's in its case. Getting fun video footage is super easy with a GoPro as well, and the entire video above was shot solely with my GoPro Hero 4 Black.
** Read More: Go Pro Tips & Tricks for Awesome Travel Photos **
How to Get to Milford Sound
All of the boats depart from the Ferry Terminal at the end of the road in Fiordlands National Park. The drive takes approximately 2 hours from Te Anau or 4 hours from Queenstown. Give yourself plenty of time as driving there is slow.
If you'd prefer not to drive, Cruise Milford also offers a boat package that includes transportation from either Te Anau or Queenstown. If the cruise is all you are doing and you aren't planning to explore anything along the way, I'd recommend doing the bus, as it gives you a chance to enjoy the scenery along the drive (which is mind-blowing). However, if you want to hike or check out some of the other stuff in the area, driving will give you a lot more flexibility to stop wherever you want, and there is also plenty of cheap camping between Te Anau and the Milford Sound tunnel.
Cruise Milford Contact Info
If you are looking for a more unique experience in Milford Sound with personable staff and a chance to get up close to the goods, I highly recommend a tour with Cruise Milford. Cruise Milford runs 3 cruises per day, and you can book directly on their website. The price for the boat tour is $80 NZ (approximately $57 US) per adult.
WOULD YOU LIKE TO VISIT MILFORD SOUND?
LEAVE A COMMENT, TWEET ME, OR WRITE ME A POST ON FACEBOOK. 

A big thanks to Cruise Milford for hosting me. As always, all opinions and words are entirely my own.