8 Cool Camper Vans We Loved at Open Roads Fest
Need some van inspo? Check out 8 cool camper vans we loved at Open Roads Fest!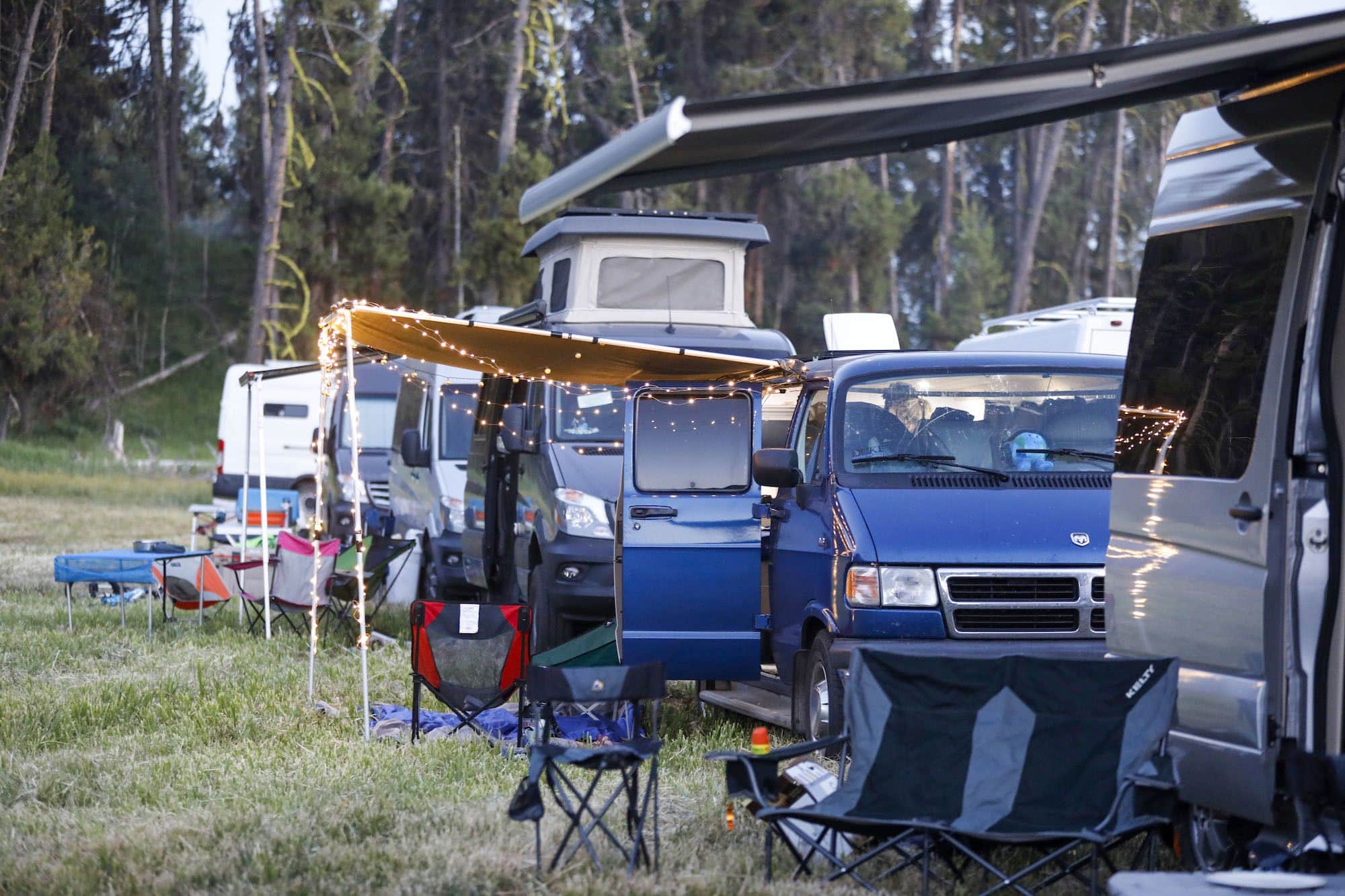 In July of 2019, Bearfoot Theory hosted the first-ever Open Roads Fest at Jug Mountain Ranch in McCall, Idaho. The beautiful sprawling ranch gave us all a chance to reset, reconnect, and do what we love most: get outside and get together. From skidding down the windy berms of their world-class mountain biking trails, to paddling out on the reservoir, and soaking in all the valuable van life tips from the amazing sponsors and speakers of Open Roads Fest, it reminded us of the many reasons why we love van life.
One of the best parts about Open Roads Fest was having a chance to see all of the cool camper vans that rolled into the festival and who was behind the wheel. Whether it's a bold design, a custom DIY build-out, or small details that make it unique, this weekend proved that there's no right way to do van life and that the variety is what makes it so much fun.
With a field full of vans and van lifers, we couldn't help but scope out the scene to check out some cool and creative rigs to get some inspiration and new ideas.
Read Next: Top Highlights from Year One of Open Roads Fest
In need of vanspiration? Here are 8 cool vans that we loved at Open Roads Fest.
Max and Josh (@sheilathevan)
This cool couple, Max and Josh, drove down from British Columbia in their van (they named her Sheila) with their two pups in tow to join us at Open Roads Fest. They just recently became full-time van lifers, shacking up in their 158″ Sprinter Van that they converted themselves. It was a light and airy build-out with details like a faux marble countertop and a wooden table, where we caught them having a bite to eat. Their favorite thing about the van? The miniature stove that sits adjacent to the kitchenette; a perfect spot for hunkering down after a long day of skiing that deep BC pow.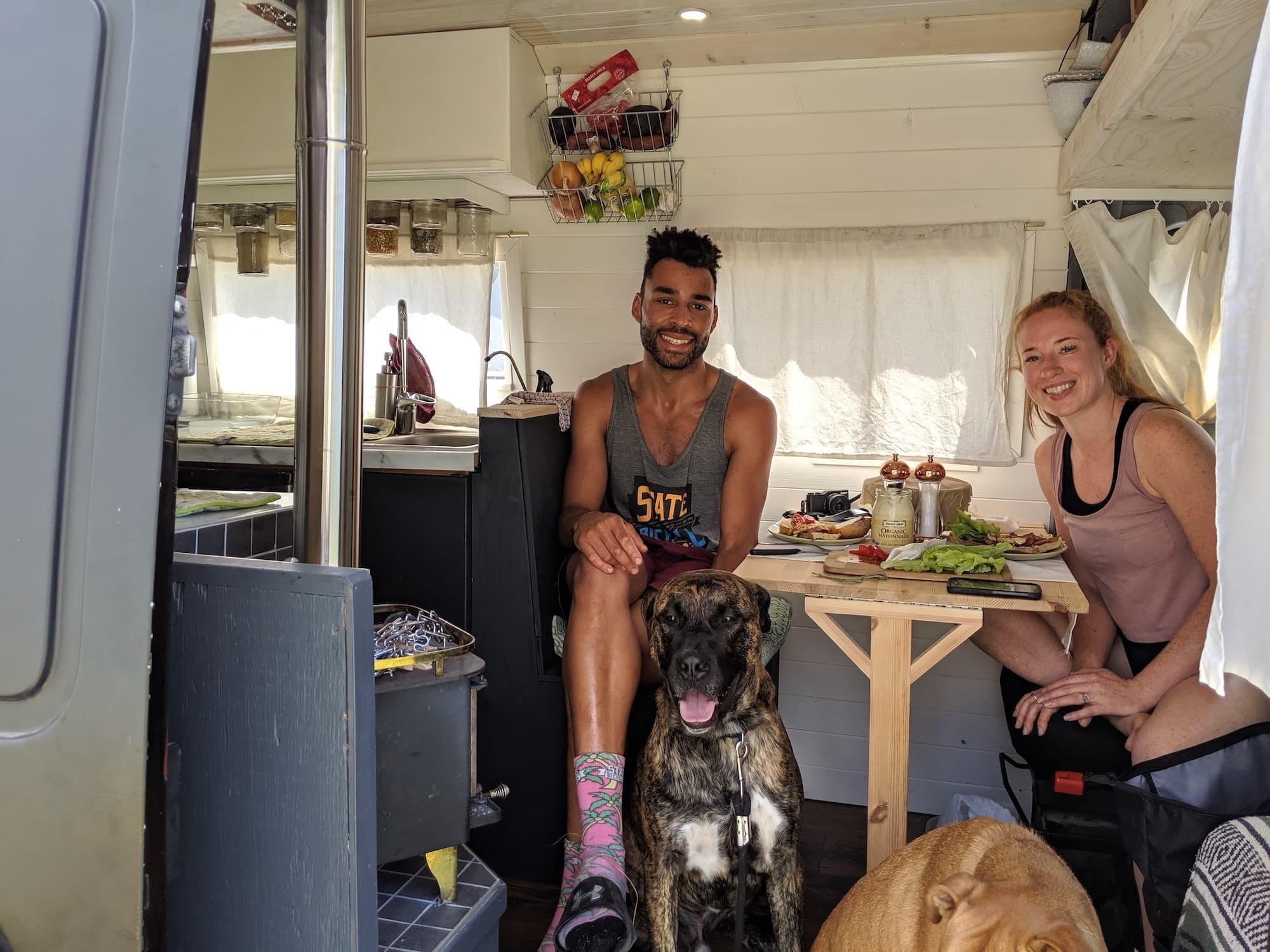 [separator style_type="single" /]
Megan (@meganmcable)
From the second you walk by Megan's rig, the colorful interior immediately catches your eye. While we also love the clean white and wood build-out like so many other van lifers, Megan's had a character and personality all her own. The 144″ Sprinter Van was co-built with Vanessa and Adam of Create Wondr, who also gave a talk on the subject as some of the first-ever Open Roads Fest speakers. Her favorite thing about her van? The green paint of course, that contrasted beautifully with brass hardware and handmade curtains.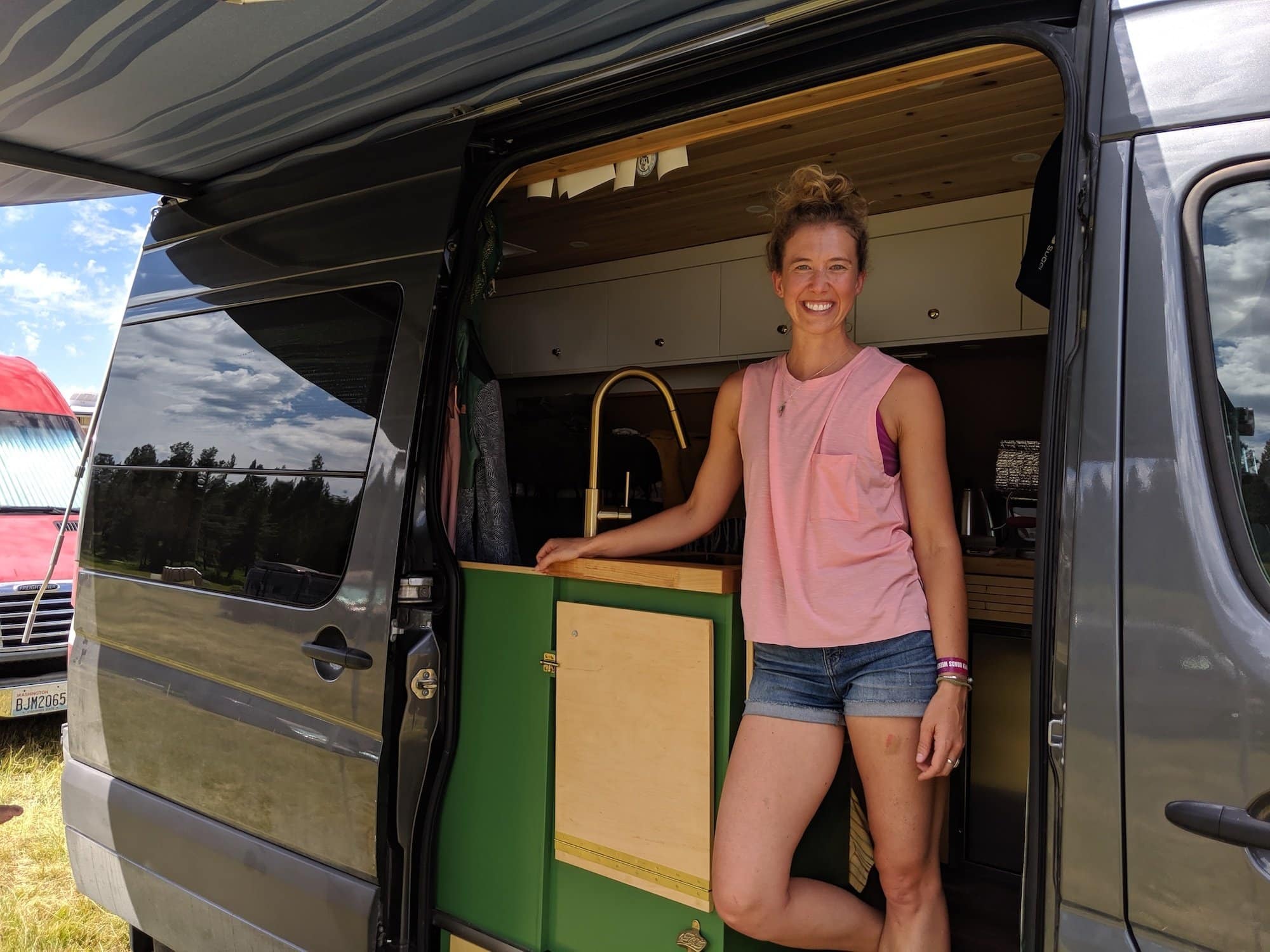 [separator style_type="single" /]
Mark (@nymsailor)
Doing van life means having easy access to the outdoors and all the activities that you love. For full-time van lifer, Mark, this meant having a well organized and souped-up gear garage right in the back of his 170″ Sprinter Van. He's a passionate skier (with the bedspread and fleet of sticks to prove it) who chases storms in the winter and loves to run rivers in the summer. When we asked him what his favorite ski mountain was he replied, "anywhere it's snowing".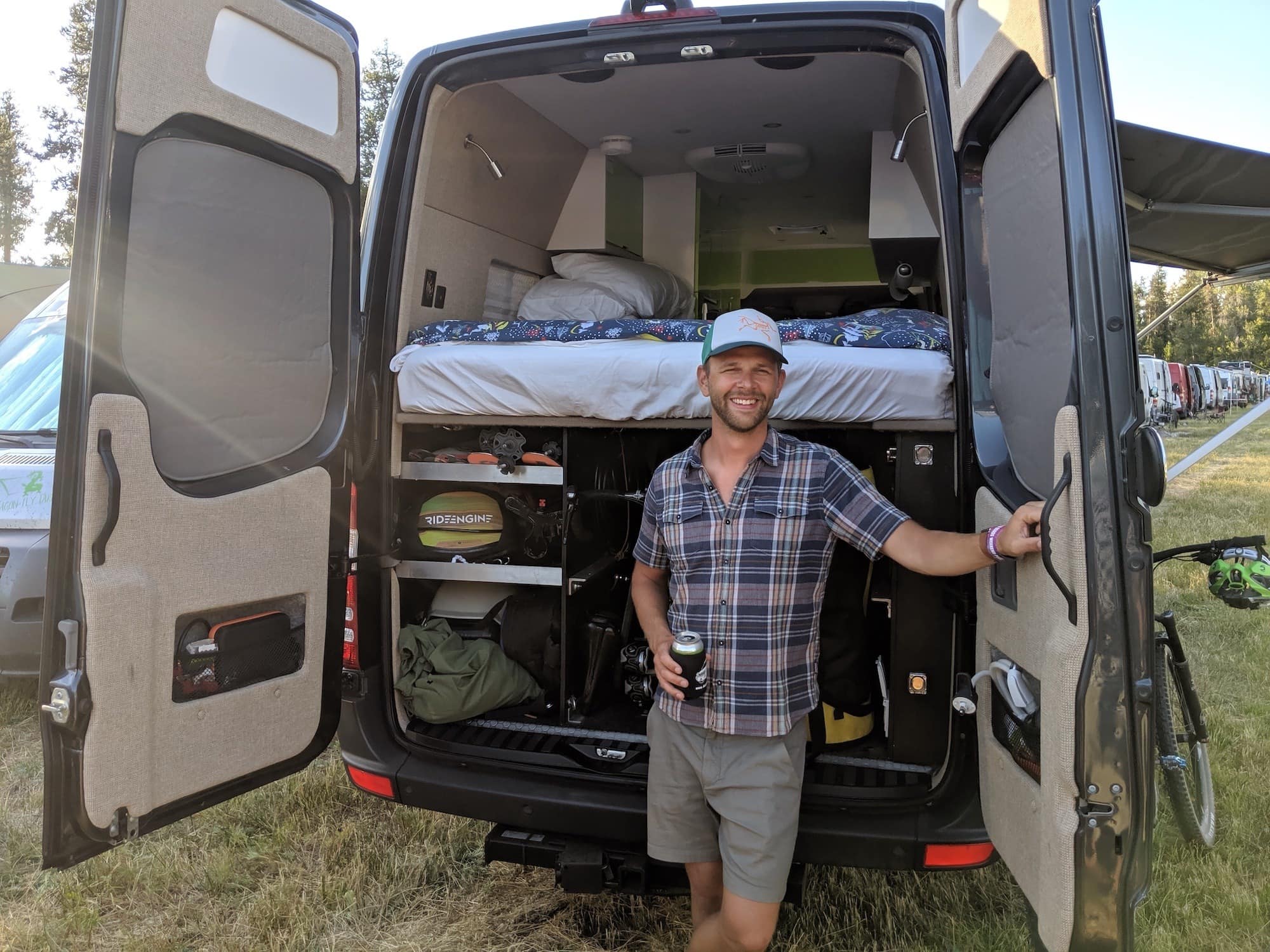 [separator style_type="single" /]
Jenny (@jduffonthebeat)
The personal touch and handmade quality is what made us love Jenny's 144″ Sprinter. Geo-shaped lights were strung up within the interior of her bright and freshly built-out van which she did entirely on her own. The sweet, simple details of her rig were intimate and inviting — something she wanted to incorporate into this home on wheels. Although it wasn't captured in the photo, Jenny's favorite part of her van is the custom bookshelf she built right above her bed for easy access to some of her favorite reads.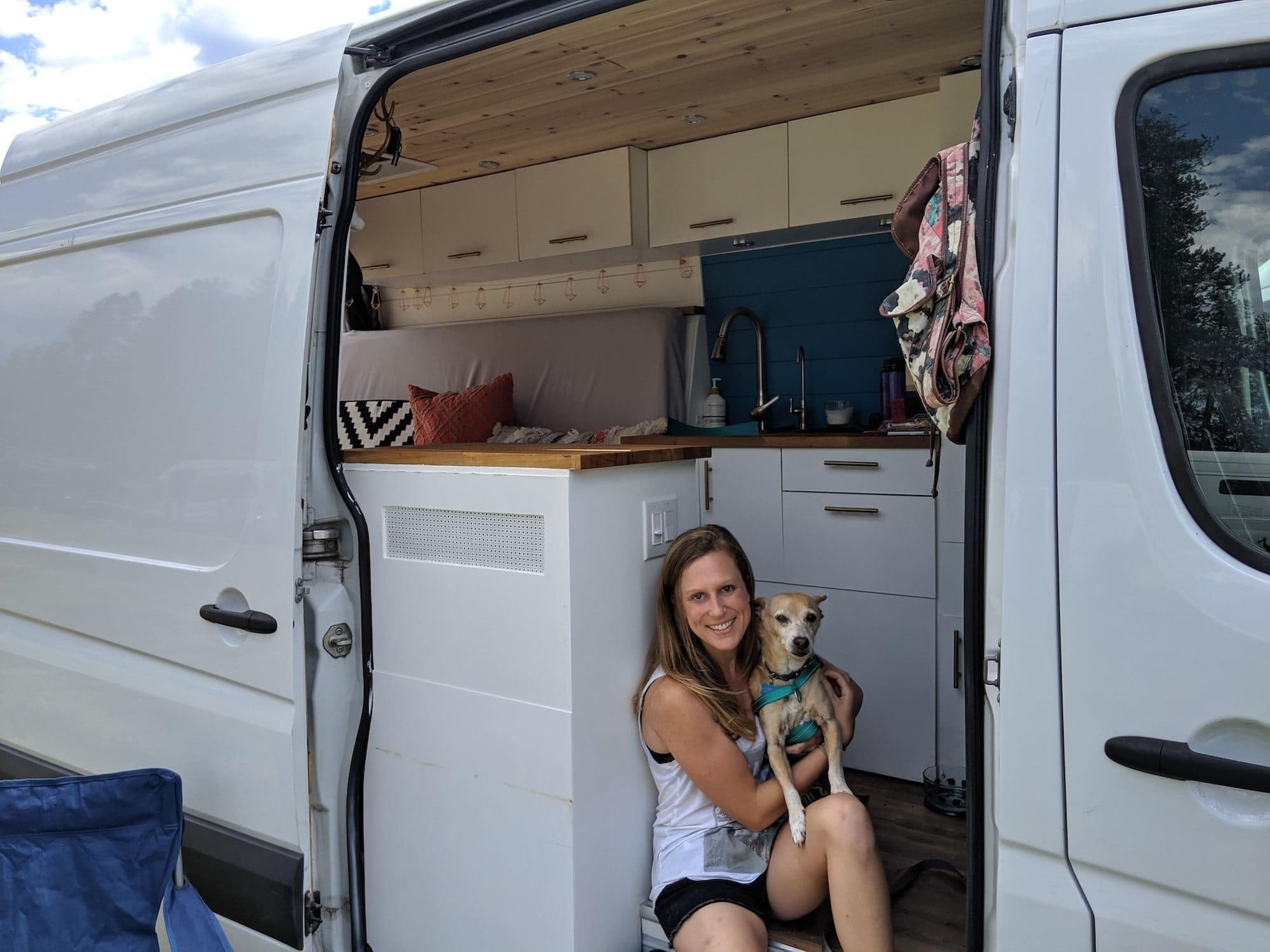 [separator style_type="single" /]
Greg and Jess (@drifter.journey)
For this adventure-loving couple, and awesome Open Roads Fest volunteers, their van is all about ease, functionality and innovation. When asked whose van stood out, festival-goers quickly replied that we had to go check out the hydraulic lift bed that Greg and Jess brilliantly incorporated into their 159″ long Dodge Ram Promaster. One push of a button raises the bed up to store their mountain and motorbikes, and lowers it down when they need space. Not surprisingly, it's their favorite part and well, everybody else's too.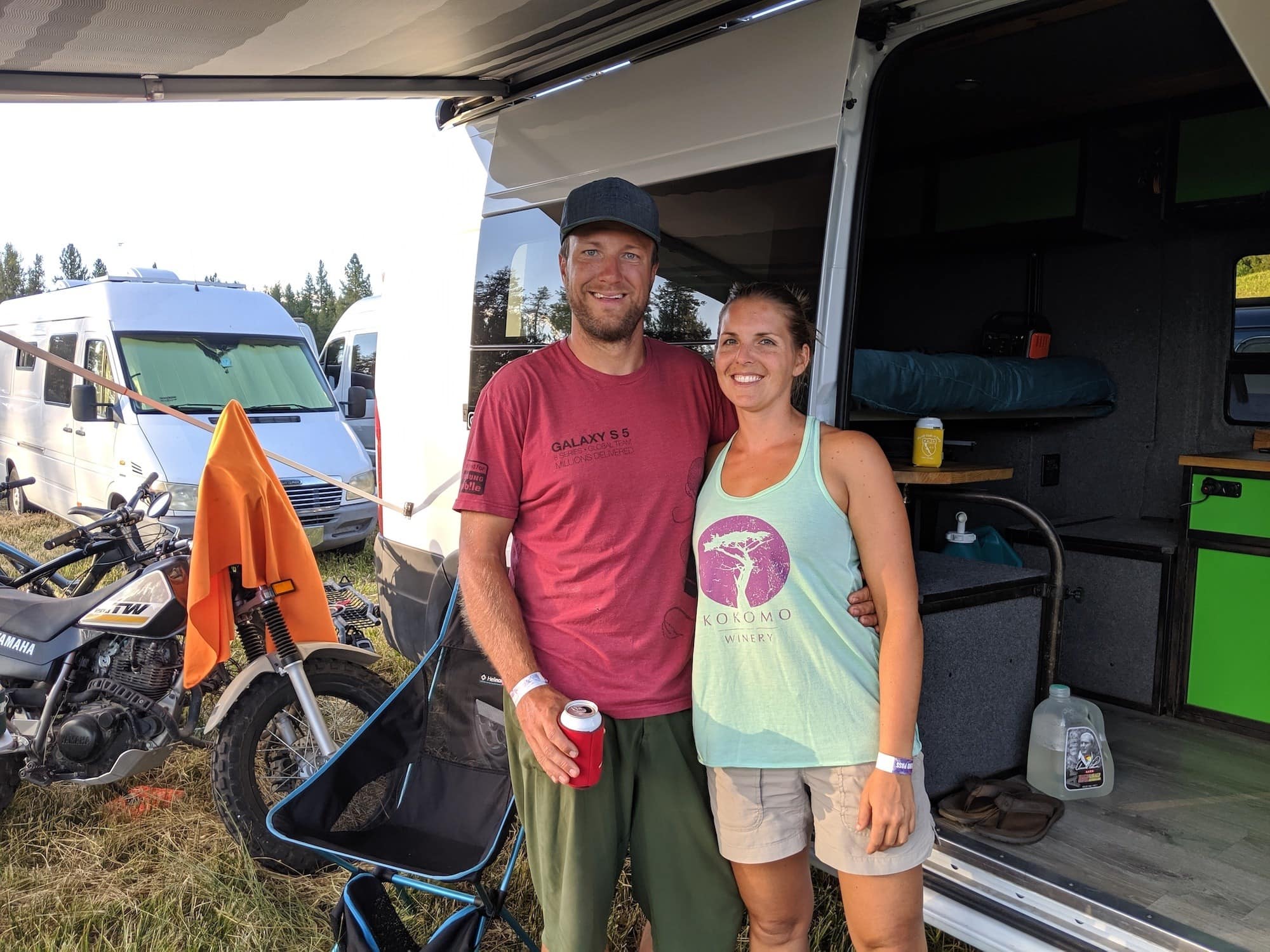 [separator style_type="single" /]
Jolene (@jswoboda)
While most vans have a wow-factor just behind closed doors, part-time van lifer Jolene got a little creative and spruced up the exterior as well. Her Nissan NV2500 van caught our eye thanks to a super cool custom decal on the side door featuring a mini mural of mountains, pines, and wildflowers. What's more is that Jolene rents out her rig on Outdoorsy.com when she's not using it to share the van life love with others. We thought this was a pretty awesome way to do van life on a budget, oh and we loved the cute dog too of course.

[separator style_type="single" /]
Jaime (@peacelovenvanlife)
Being closer to the outdoors is something that full-time van lifer, Jaime, quite literally lives on the daily. His 140″ Sprinter has a rare double-door design that allows him to keep things wide open and connected to the wild spaces around him. His easy breezy take on van life was emulated in the zen-like décor, natural wood materials, and all-around chill vibes that went far beyond his wheels.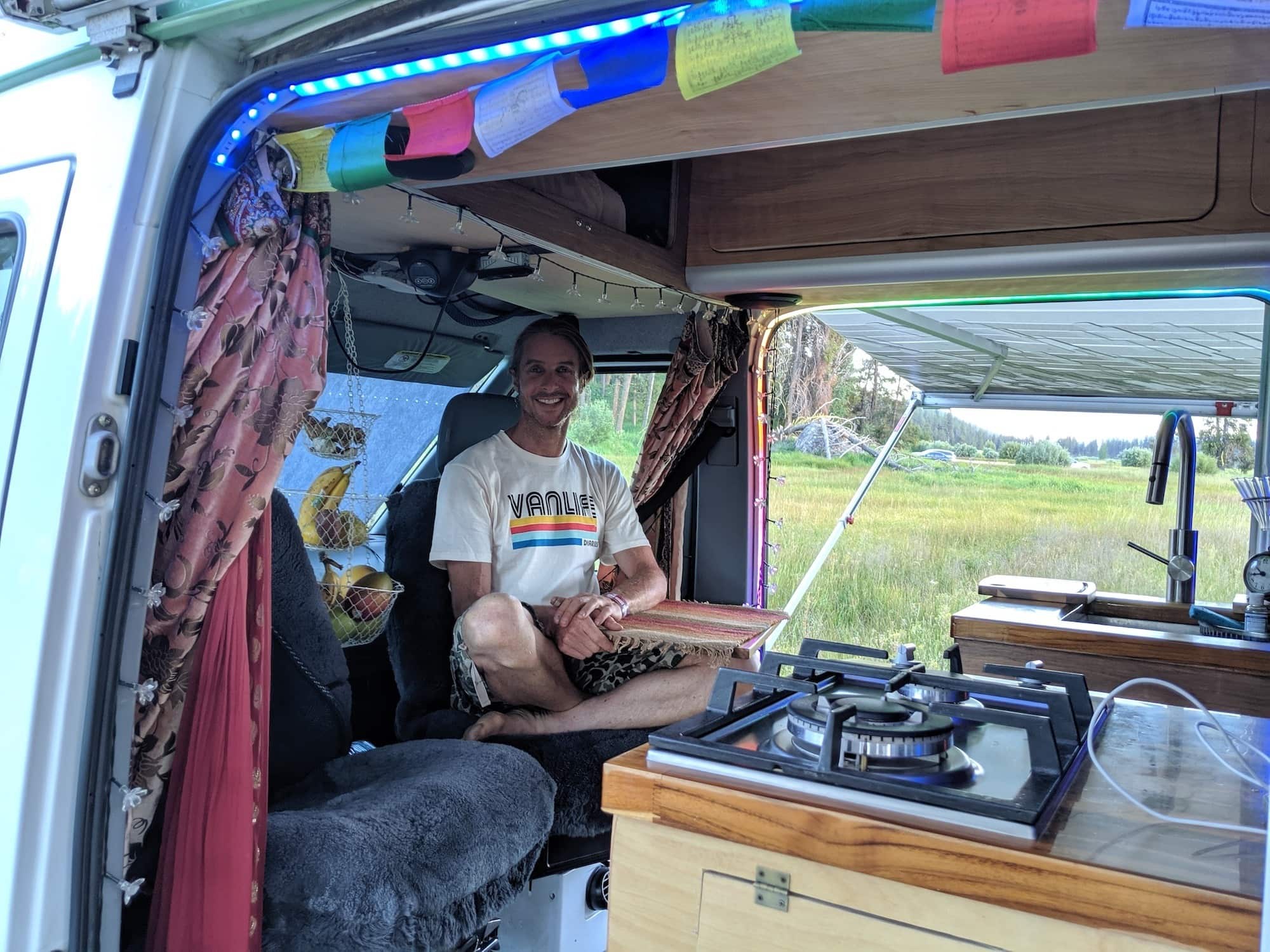 [separator style_type="single" /]
Andrew (@1513adventures)
Gear junkies were downright freaking out over Andrew's van set up at Open Roads Fest. He lives life on the road full-time in a Ford E350 that was tricked out with a sleek Aluminess rear bumper and galley box, plus a bike carrier that could hold multiple bikes, made by 1Up. Even though the top and front of his van was equally as cool, Andrew was especially stoked on his rear accessories and gave us all some serious van-envy.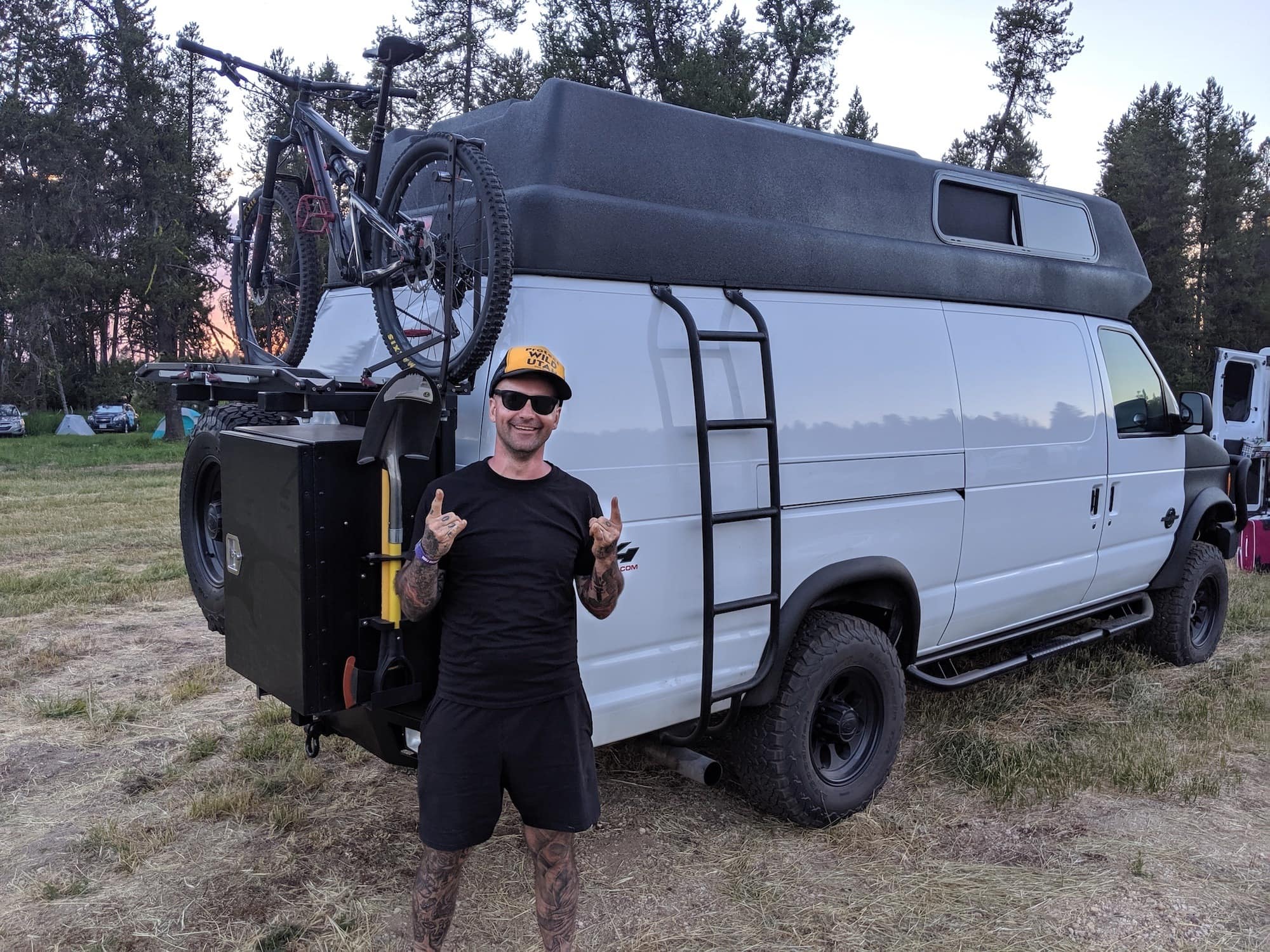 [separator style_type="single" /]
Did you make it to the first-ever Open Roads Fest? What about our 2022 event? What were some of the cool camper vans that caught your eye? Leave a comment below.