This post is sponsored by REI.
Right now many of us would normally be planning road trips, hitting the hiking trails, and visiting our State and National Parks. However, with our current COVID-19 situation and necessary social distancing, traveling and getting outside like we normally do isn't happening right now. So how can we make the best of being home?
If you have a backyard, patio, or balcony, you're probably thinking about creating a nice outdoor space where you can hang out and enjoy the fresh air. And you may also be asking how you can do it on a budget. Personally, I'm shocked by how expensive patio and outdoor furniture is, and right now, that's definitely not in the cards for me.
But hey, we're a resourceful bunch who are experienced at finding ways to get comfortable outside, right? So I started digging through my gear bins to see how I could use my camping gear to create my own simple Rancho Relaxo at home without dropping a ton of cash. All you really need is a place to relax, a table, shade, and a few nice touches.
By utilizing your camping gear, you can simply pack up your outdoor space and go when it's ok to hit the road again. And if you're like me, you'll be stoked you didn't spend all of your money on patio furniture, so you can make the adventures ahead a priority.
In this blog post, I share some of my favorite car camping gear and tips for creating a budget-friendly outdoor space.
---
Swing your Worries away in a Hammock
Grab your camping hammock and hang it between a couple of trees. Then nap away, read a book, study a map, or Zoom with your friends. I personally love the ENO Double Nest hammock, as it fits two people (or one person + a dog) for the ultimate cuddle sesh. They come in a variety of colors, and if you want to a contribute to a great cause, you can choose their National Park Foundation or Leave No Trace editions where a portion of the purchase is donated. Use a pair of hammock straps to make hanging a cinch or simply use some rope for a budget-friendly option. If you don't have any trees in your outdoor space, you can try one of ENO's portable hammock stands that packs down so you can take it along on your next trip. These stands also provide a great living room solution if you want to hammock indoors.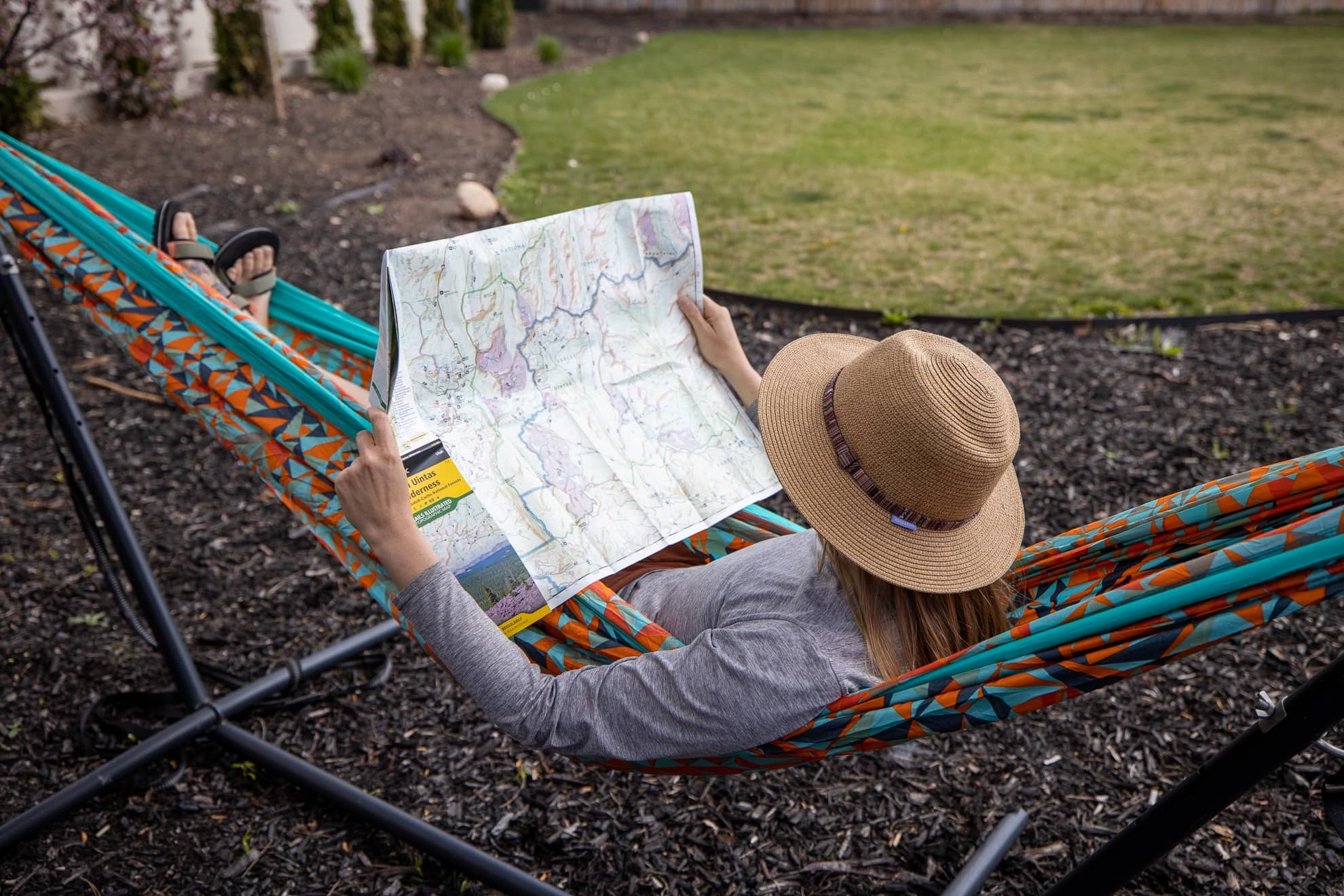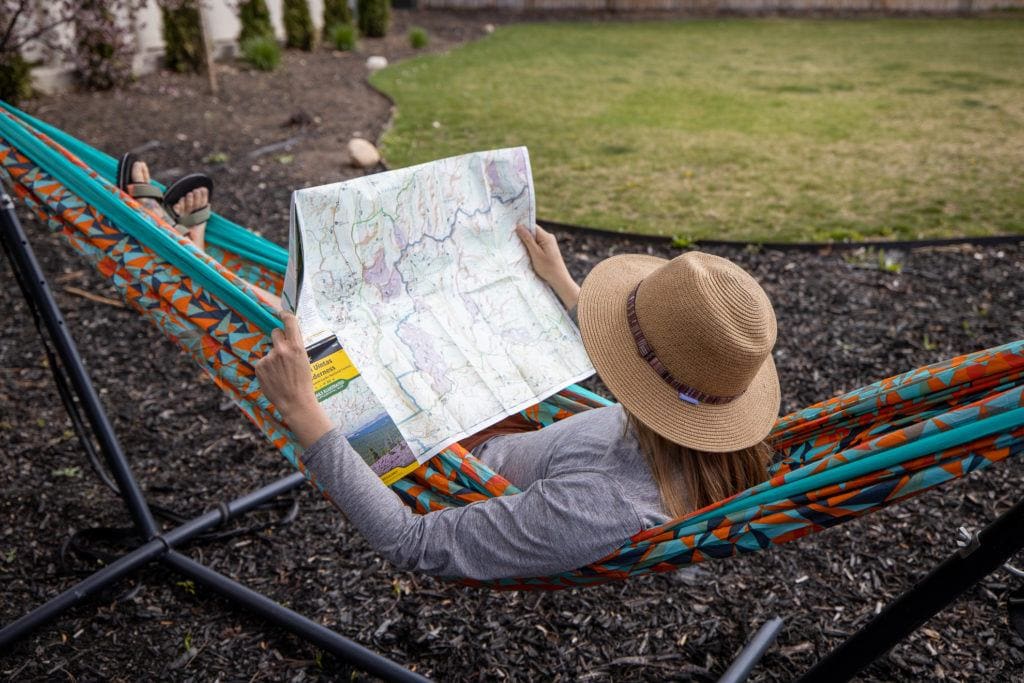 ---
Teleport to the Backcountry with a Portable Firepit
Missing those nights around the campfire and the smell of your clothes in the morning? Use a portable firepit to transport you to the backcountry. For the most packable solution, try the Primus Open Firepit that folds down flat and won't take up any room in your car when it's time to road trip. This firepit comes with a Leave No Trace ash tray, so it won't make a mess of your patio or your campsite. It also comes with a grill grate for cooking over the fire, and what better time than right now to practice those camping recipes.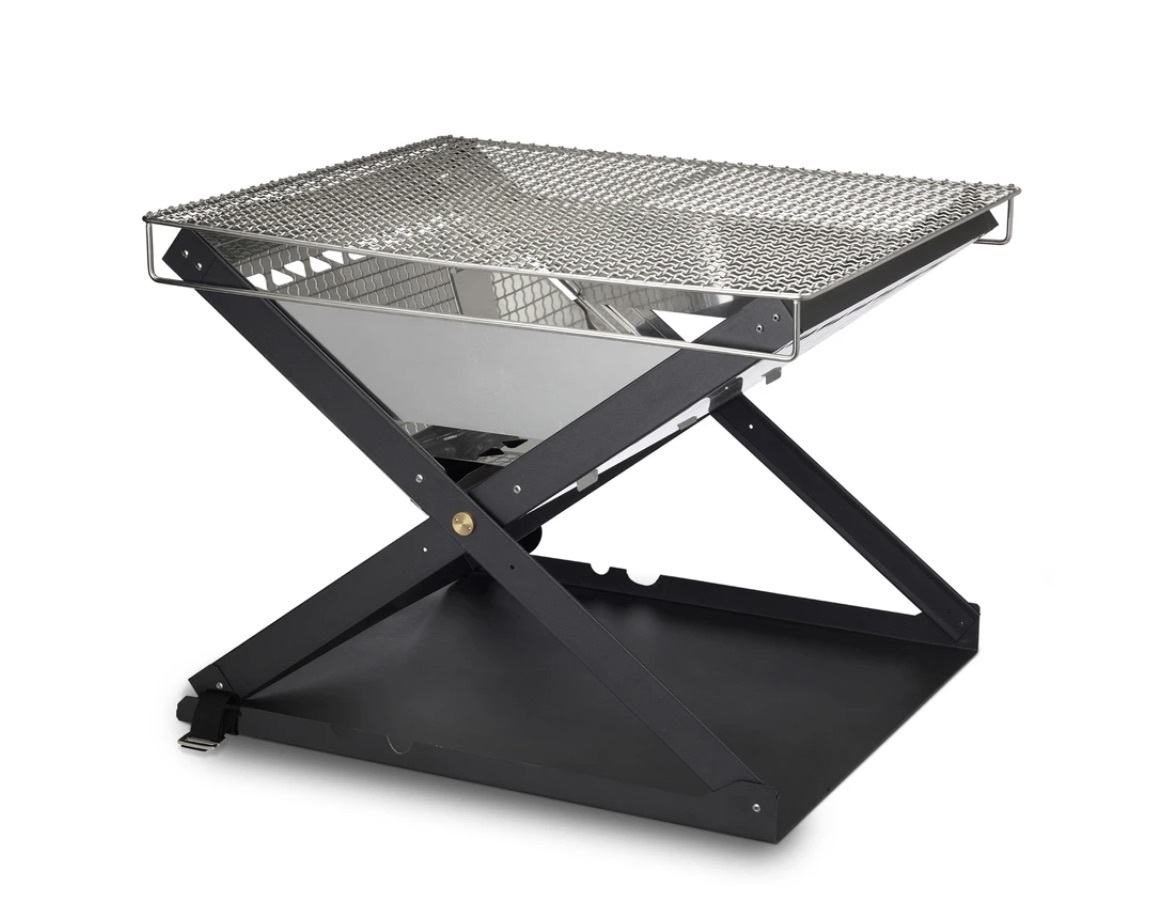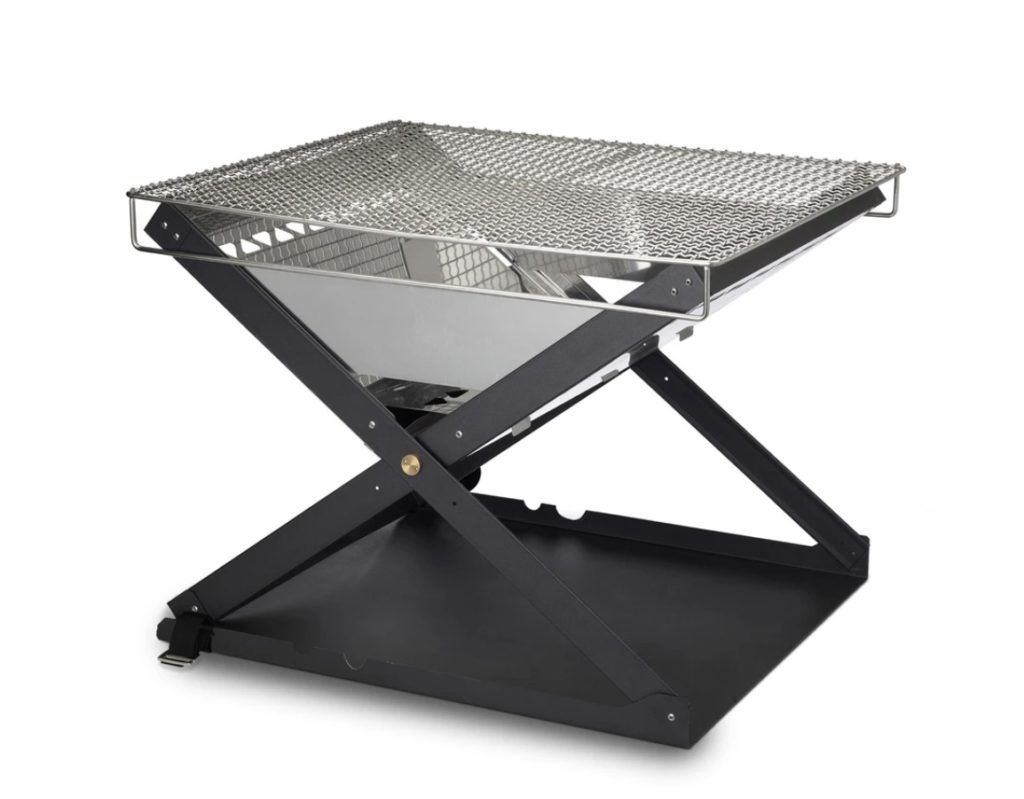 If you don't care about size, Solo Stove also makes a great bonfire pit that's intended to minimize smoke, but it comes at a higher price tag. Or for the ultimate Leave No Trace, solution that doesn't require wood, check out this budget-friendly propane fire pit by Camp Chef (on sale as of writing).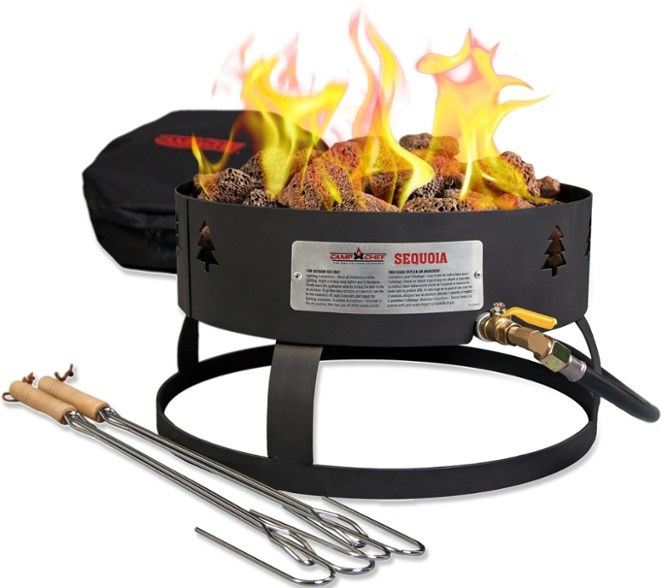 ---
Create Ambience with String Lights
Achieve the ultimate evening ambiance by hanging some warm camping string lights around your outdoor space. These solar powered string lights by MPOWERD are my favorite. Not only do they charge all day in the sun with a built-in solar panel, but the base of the unit also serves as a storage compartment so the lights don't get tangled when they aren't in use. And don't worry, if you don't get a lot of sun, these can also be charged by USB.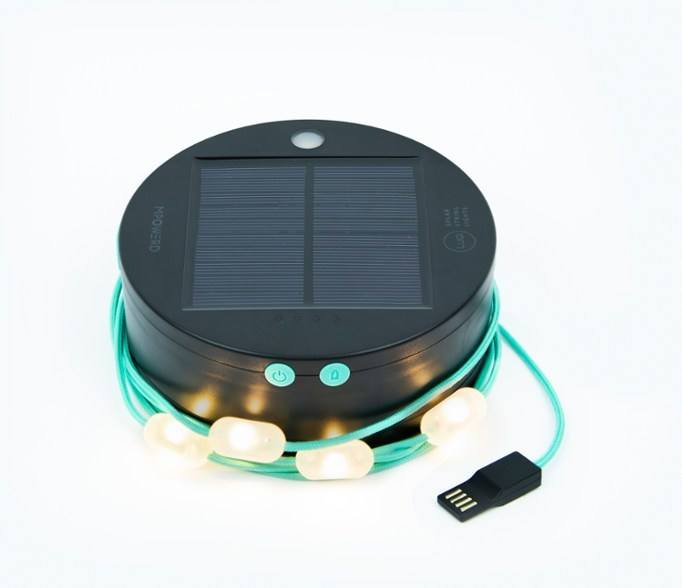 ---
Relax in Your Favorite Camp Chair
We all need a comfy camping chair. That's a fact. If you don't have one already, now might be the time to invest in this critical piece of camping equipment that can also be used in your backyard. I'm working on a blog post with the best camp chairs I've tried over the years, but for now, I'll make a few suggestions. Right now in my backyard are the ENO DL Loungers. These camp chairs are extremely comfy and ergonomic, and I never have any lower back pain after sitting for long periods. They aren't the most compact when packed away, but I think it's worth the room they take up.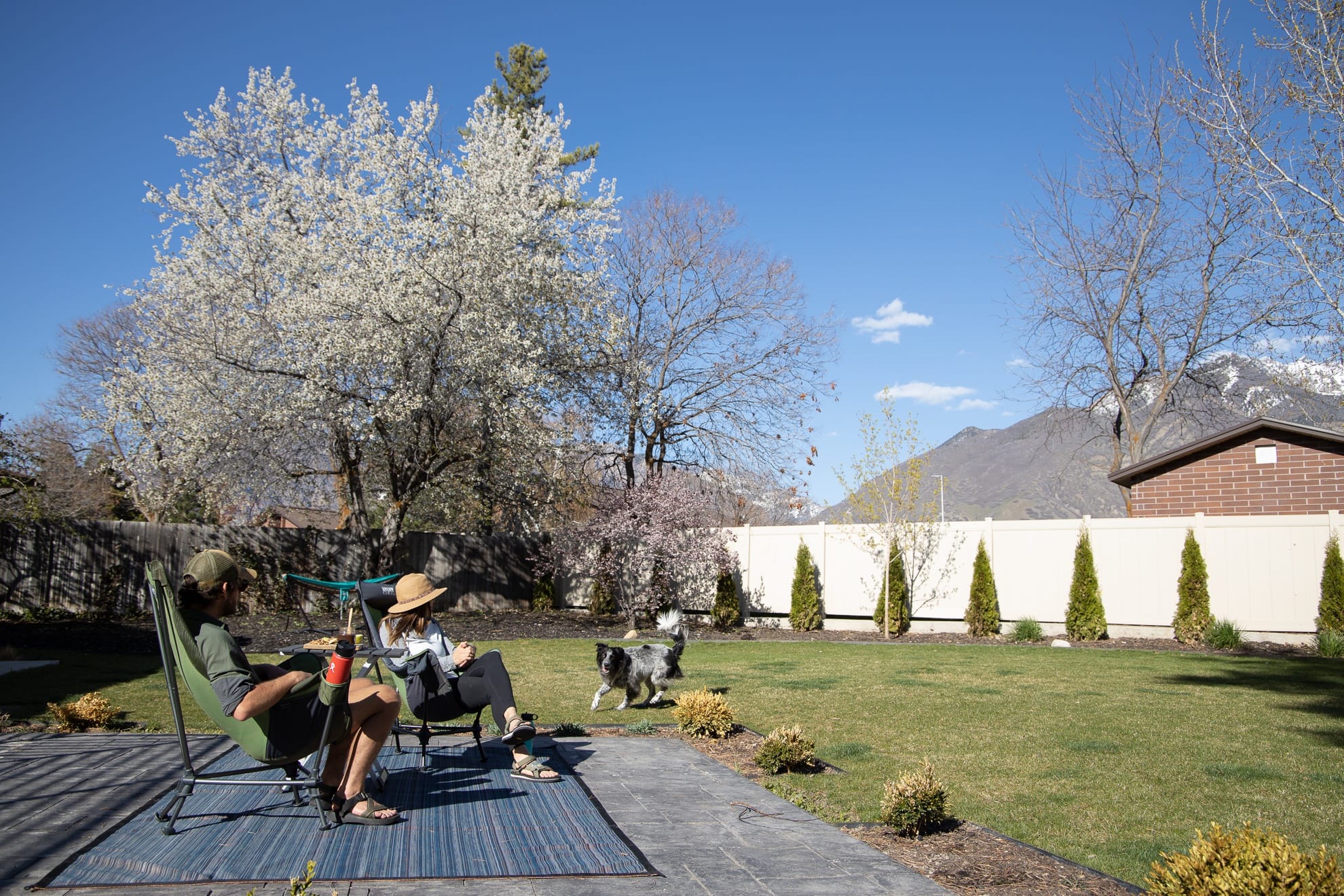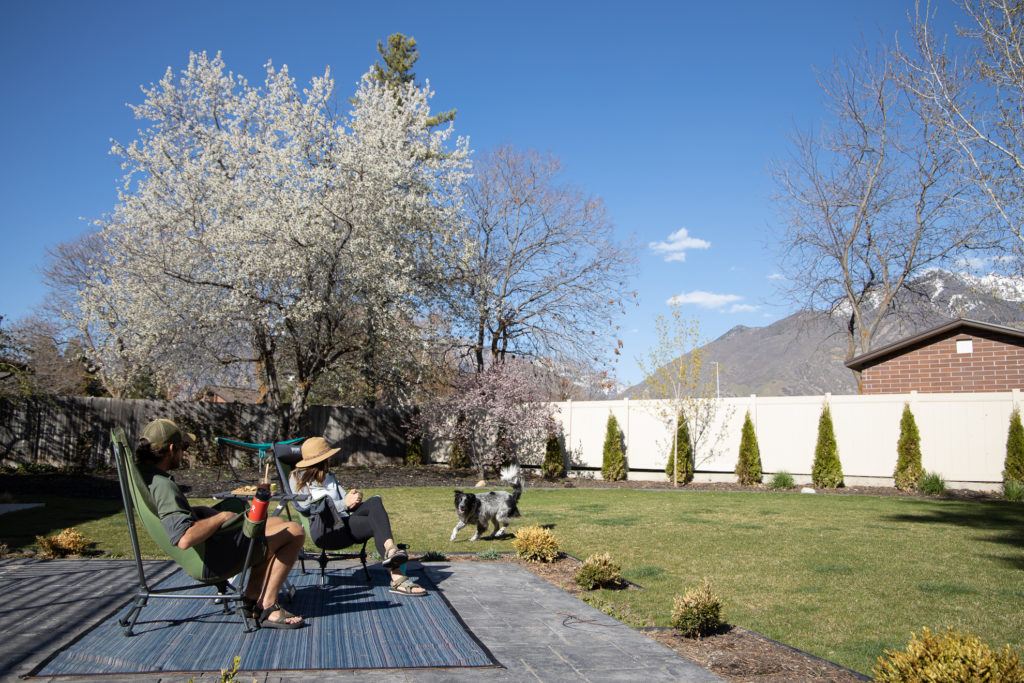 If you're limited on outdoor space and want a chair that works just as well on your balcony as it does on the trail, the REI Flex Lite Air Chair (on sale at time of writing) weighs a mere 1 pound, making it extremely versatile for weight-conscious backpackers.
---
Use your Camp Table for Outdoor Happy Hour
Who needs a fancy patio dining set when you have your quick-to-set up camping table? A compact camp table can provide an alfresco dining experience on the smallest of patios at a fraction of the price. I really love my GCI Compact Folding Camp Table (see the larger version here), and it's sitting in my backyard as we speak. It packs down flat, so it takes up no room in my vehicle, and it even has two different height settings.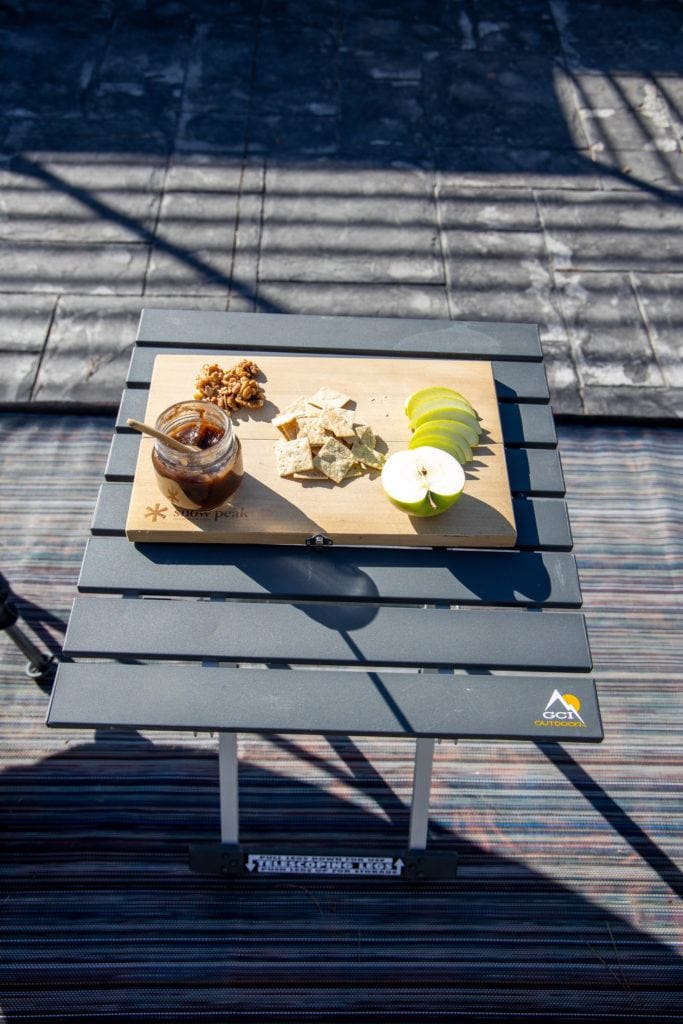 ---
Ditch the Patio Umbrella and Use a Tarp
Patio umbrellas are crazy expensive and really only have one use, so I've been brainstorming ways to create shade in my outdoor space as the summer is quickly approaching. If you have a camping tarp, a pop-up tent or any other kind of shade shelter, you create a comfortable area to sit on the hottest of days. I recently tried the Neso Grande Sunshade, and if you have a decent-sized backyard, this thing is pretty sweet. You'll especially love it if you're a beachgoer as that's where this shade structure really shines. Keep in mind you'll need either heavy rocks, sand, or some other way to keep the tension taut when you set it up, as it doesn't use stakes.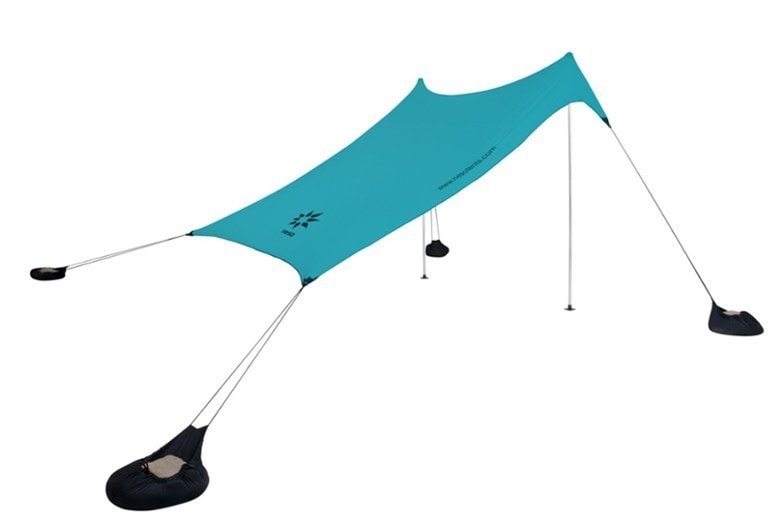 If you're looking for something a little more diverse and like the fun challenge of setting up a tarp (it's a great time to practice, isn't it?), I'd suggest the Kammock Kuhli Shelter (find the XL version here). This is an ultralight backpacking tarp that is both waterproof and provides sun protection, and the normal version only weighs 1lb 5 oz.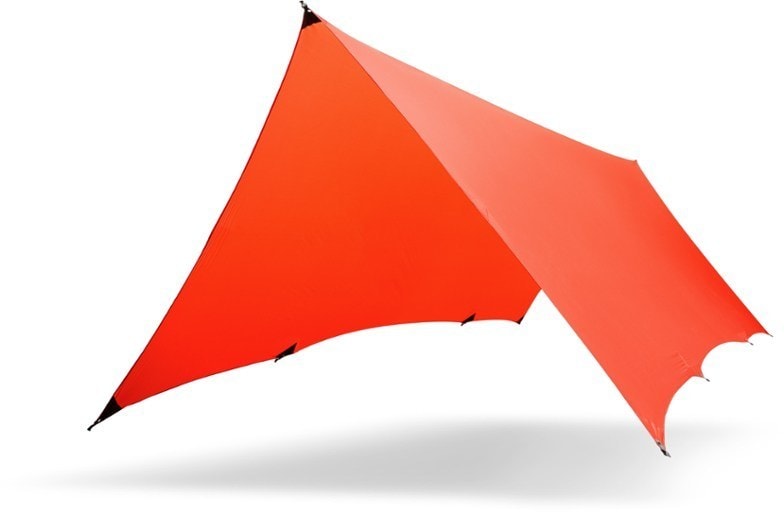 ---
Tie it all Together with a Camping Mat/Rug
They say a rug ties the space together. So throw down your camping mat for a final touch. It will give your outdoor space a pop of color and protect your bare feet from small rocks and sticks that might be hiding in your grass. Then when you are able to go camping, it can double function as a picnic blanket or a front porch for your tent. The CGear Sandlite Sand-Free mat is what we use in our van, and it's a lightweight, packable, and as the name implies, sand-free mat that helps keep dirt and dust at bay.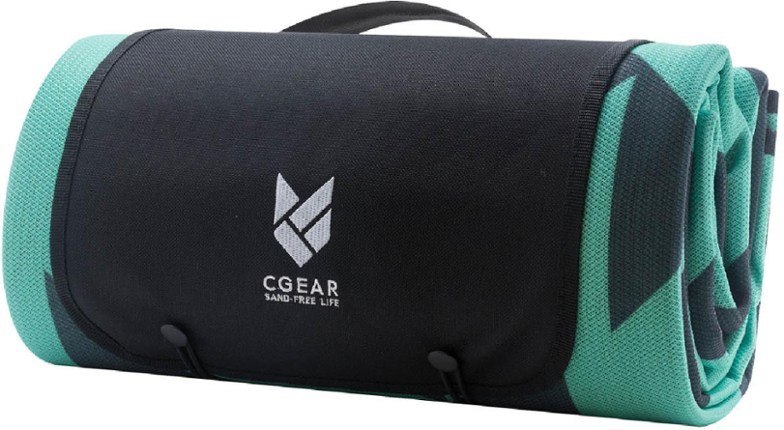 ---
I hope this blog post provides some inspiration for how you can create a budget-friendly outdoor space with gear that can serve as dual purpose. Got other ideas or questions? Leave them in the comments below!