10 Places to Go Snowshoeing in the Western US
If you're feeling cabin fever this winter, check out this blog post for 10 fun places to go snowshoeing this winter in the Western US. Snowshoeing is a great winter outdoor activity to do solo or with friends and family. While I love hiking, sometimes it's not an option in the winter. So, I'm always on the lookout for winter outdoor sports that will keep me active in the snow. Before I started skiing back in 2015, snowshoeing was an obvious choice for me. It's easy, fun, and way cheaper than skiing. Apart from the snowshoes, all you need is a good pair of winter boots, some gaiters, and hiking poles, and you're set. To make your trip planning easier, I compiled this list of the 10 best snowshoeing destinations west of the Rockies that pack a punch with views and solitude! The trails below are so cool that your skiing friends may even join in.
If you're looking for a fun winter vacation, here are the 10 best snowshoeing destinations west of the Rockies!
New to snowshoeing? Check out this post about how to snowshoe for tips and gear suggestions!
Bryce Canyon National Park (Utah)
First up on the list of the best snowshoeing destinations is Southern Utah's Bryce Canyon. This high altitude desert is always a magical place, but in the winter, the white snow against the mighty orange pinnacles provides a stark, colorful contrast that can't be found anywhere else. A winter vacation here means cheap lodging and thin crowds, even though most of the park's trails remain open. Fairyland road and Paria Point road close to vehicles and are left unplowed for skiers and snowshoers to enjoy. For an even more exciting adventure, plan your trip around the full moon and find solitude among the eerie moonlit hoodoos on a self-guided or free ranger-led nighttime hike.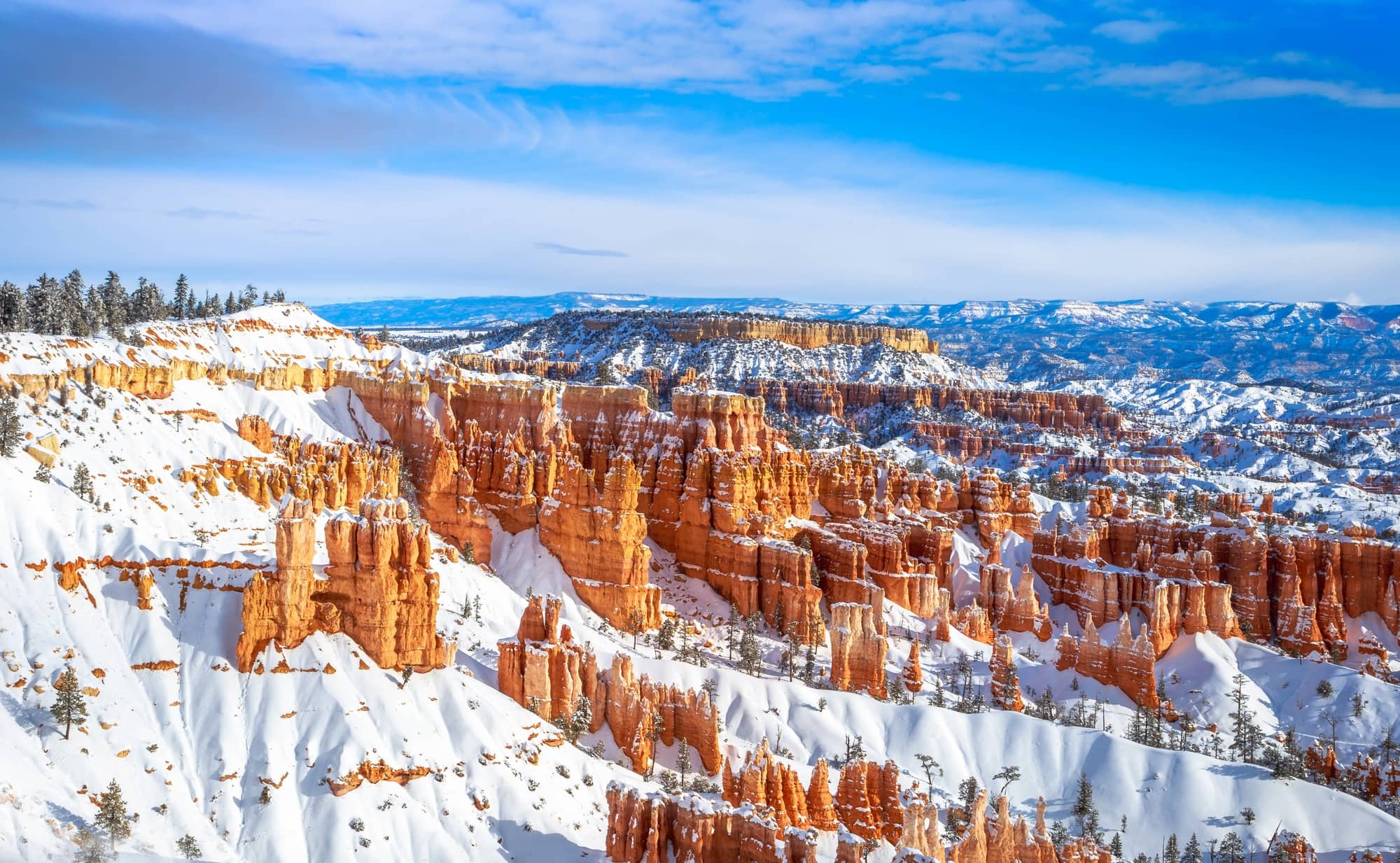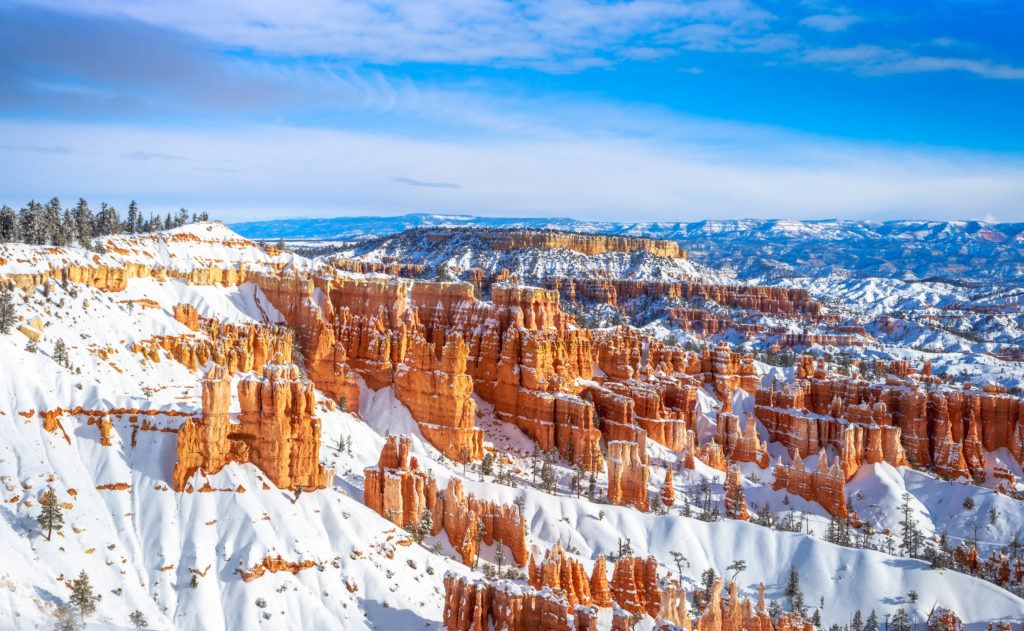 Rocky Mountain National Park (Colorado)
Rocky Mountain National Park has over 300 miles of hiking trails, many of which are perfect for winter exploration. Best conditions are found at elevations above 9,000 feet where the snow is deep and abundant. For your first visit, head to Estes Park and take the Bear Lake Trailhead up two miles to Emerald Lake, a frozen, bowl-shaped lake backed by 12,713 foot Hallett Peak. The route itself passes through beautiful pine forest with awesome views of the Rocky Mountain's alpine terrain. Only two hours from Denver, this is one of the more accessible snowshoeing destinations for a winter vacation.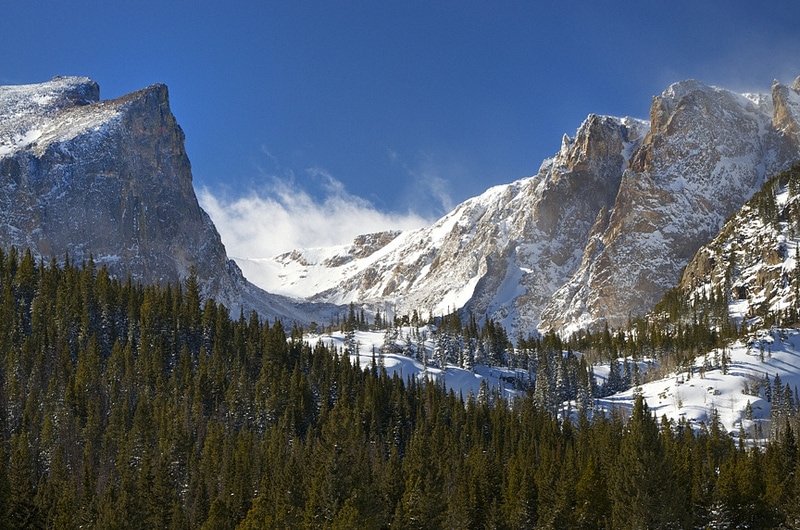 Source: Brendan Bombaci
Castle Rocks State Park (Idaho)
Next up on the list of best snowshoeing destinations is Castle Rocks State Park. This off-the-beaten-path landscape in rural Southern Idaho is right down the road from the more well-known rock climbing mecca, City of Rocks. Castle Rocks is known for its unique rock formations, out of this world sunsets, and a heritage steeped in ranching. There are a wide variety of trails to choose from, with the 5 mile Castle Rocks Loop being a great choice to see the park's highlights. For those wanting an overnight stay, there are two 6-person yurts ($50/night), as well as an 8-person ranch house ($150) that can be rented with advanced reservations.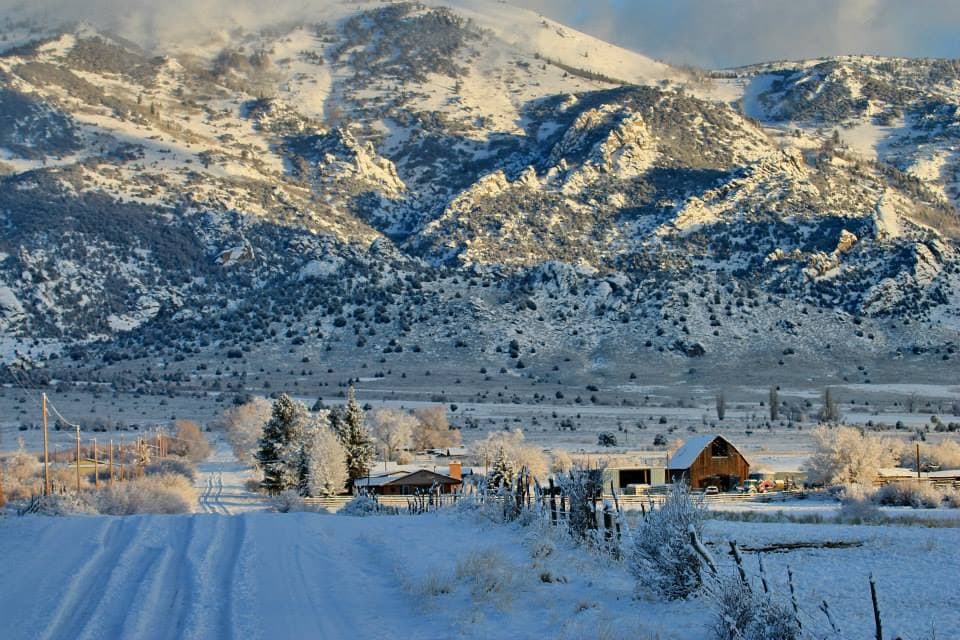 Source: Visit Idaho
Jug Mountain Ranch (Idaho)
This is another awesome evening excursion offered by Blue Moon Outfitters in the gorgeous mountain town of McCall, Idaho. The Blue Moon Experience begins with an exciting snowshoeing excursion to your destination, where you'll then enjoy a culinary adventure in a serene yurt. Start with a warm beverage next to the rustic wood-burning stove, followed by a delicious gourmet spread planned personally by the chef. At the end of the night, you make your way back, while gazing up at the stars and enjoying the silence of the forest. Oh, and it's BYOB, so don't forget that bottle of red to compliment your meal. The cost is $135/person and requires advanced reservations.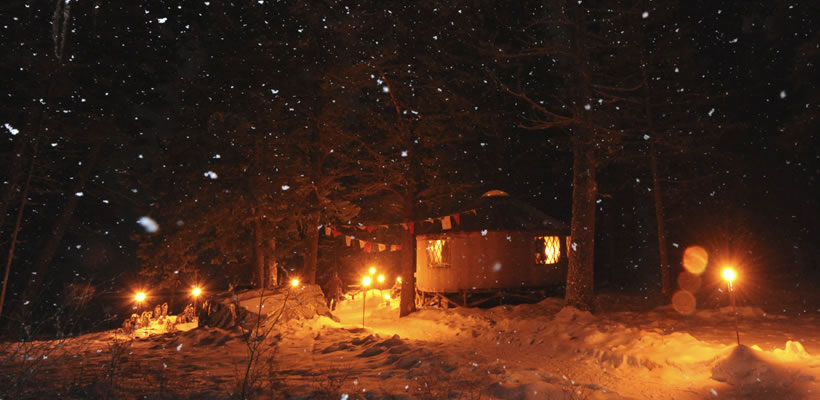 Source: Blue Moon Outfitters
Mt. Rose Peak (Nevada)
On the Nevada side of Lake Tahoe, Mt. Rose is an extinct volcano and one of the most prominent mountains in the Carson Range. While this 10-mile, all-day snowshoe hike is challenging, the real reward for making it to the top of this mountain is a stunning panoramic view of Lake Tahoe. At the end of the day, head down to Incline Village where there are tons of Airbnb rentals and dining options right near the lake.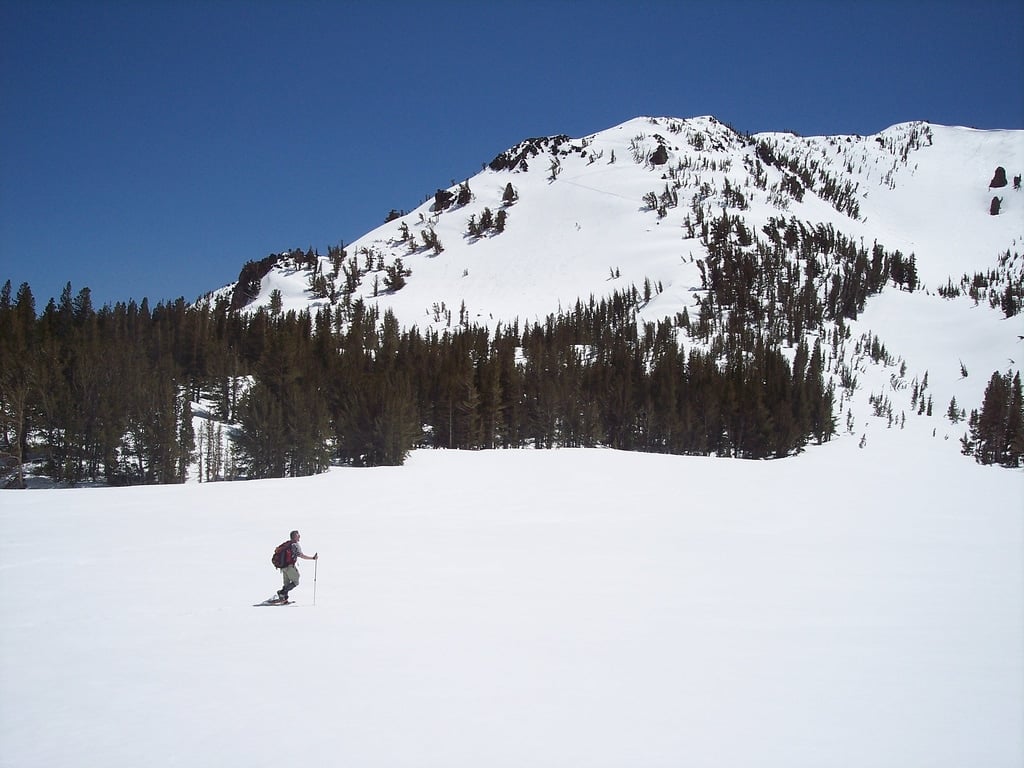 Source: Michael D
Glacier Point, Yosemite National Park (California)
Recognized by its stunning granite rocks and mountain faces, Yosemite National Park is always open to cross-country skiing and snowshoeing in the winter. To enjoy breathtaking views of some of Yosemite's most magnificent rock formations, including Half Dome and Clouds Rest, start at the Badger Pass Ranger Station and make the 7-mile moderate round trip trek to the top of Dewey Point. This is one of the most notable snowshoeing destinations in the country.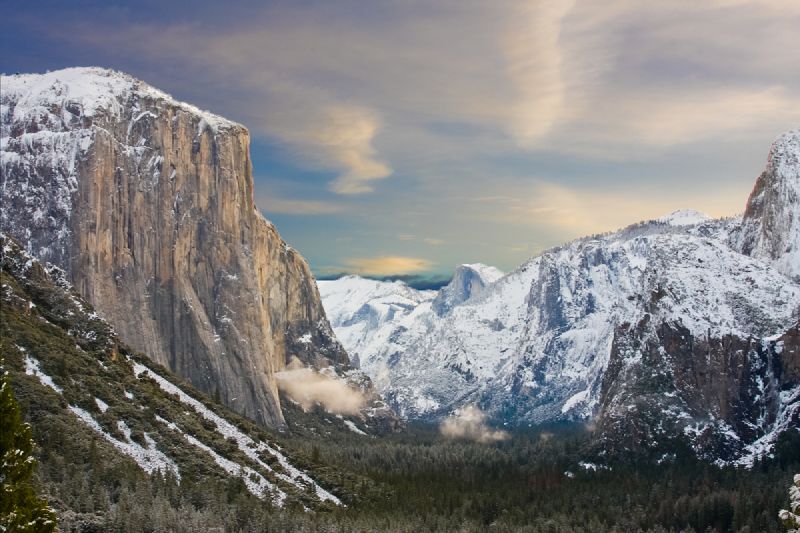 Source: Dale Carlson
Mt. Rainier (Washington)
One of the most prominent single mountains in the entire United States, Mt. Rainier has snowshoeing options for all abilities. Here you'll encounter some of the most gorgeous glaciers that you'll find south of Alaska. One of the quintessential winter hikes at Rainer takes you to Refection and Louise Lakes where you will have expansive views of the mountain and the surrounding Tatoosh Range. If you're feeling really adventurous, this is also a popular route for winter camping due to its spectacular sunrises.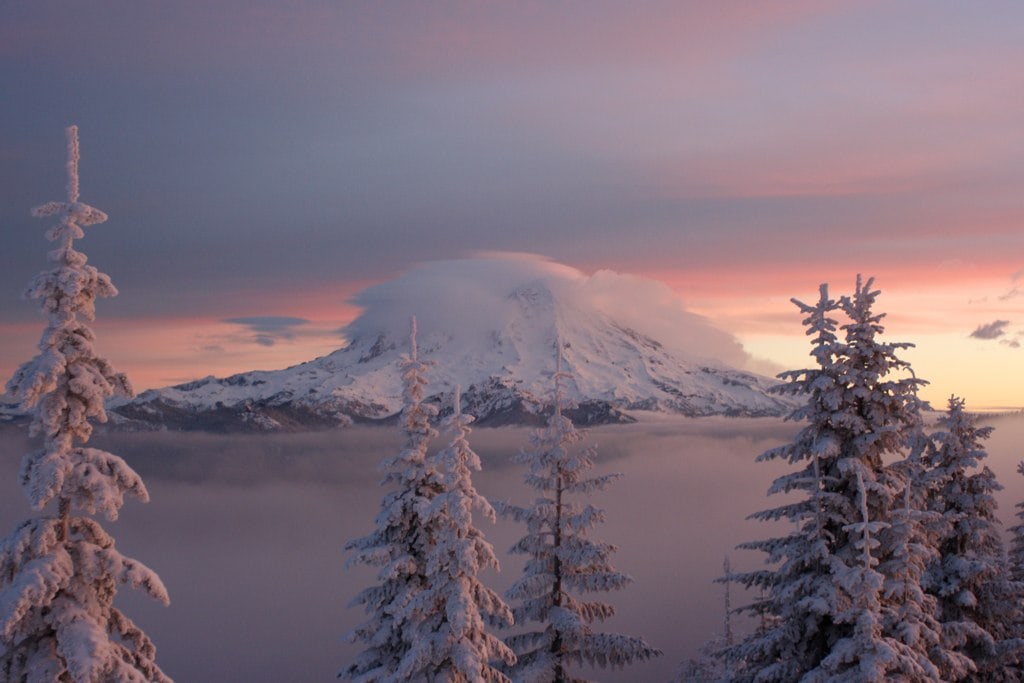 Source: Anna Brones
Lily Lake Ski Area (Utah)
Two hours from Salt Lake City in the heart of the High Uintas Wilderness, the Bear River Outdoor Recreation Alliance maintains 6 backcountry yurts that are accessible by snowshoe between 2 to 7 miles from the Lily Lake Trail System trailhead. An overnight stay requires packing in food, water, and supplies, so make sure you pack what you'll need.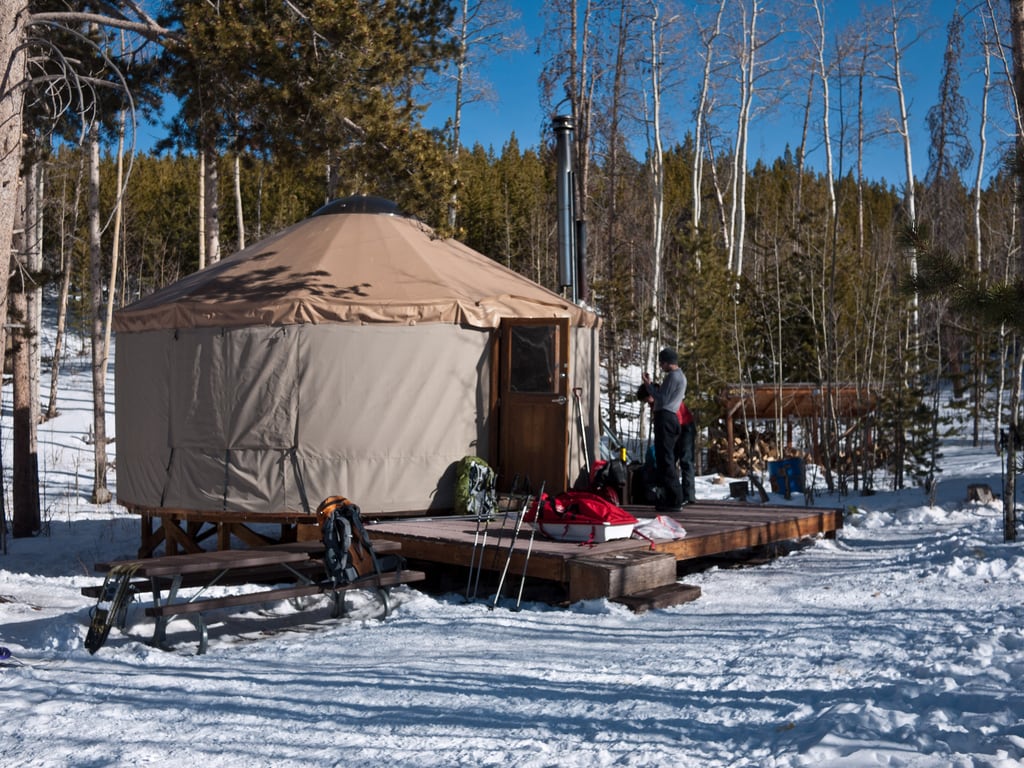 Source: Andy Delcambre
Sandia Crest (New Mexico)
You may have never thought you could snowshoe somewhere as far south as New Mexico. However, just a short drive away from Albuquerque, the Sandia Mountains are home to a number of snowshoe trails. For a fun day, ride the air tram to the top of the Sandia Crest and then follow the crest line until you are ready to turn back and head down. You'll find trails ranging from half a mile to 30 miles. Just remember to check the snow report before you head out to make sure there is sufficient snow.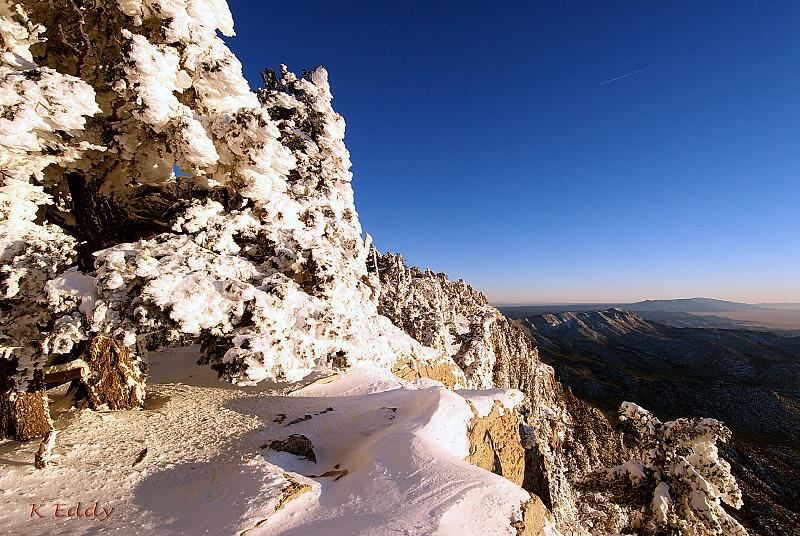 Source: Kevin Eddy
Yellowstone National Park (Wyoming)
Last but not least on the list of best snowshoeing destinations is Yellowstone National Park. In winter, most of the roads in Yellowstone are closed to vehicles, but there's still a lot to explore. From the north entrance near Mammoth Hot Springs, hire a snow coach to transport you to the Old Faithful Snow Lodge, where you can stay in an overnight cabin for as little as $120 per night. From there, take the trail to Kepler Cascades waterfall and then follow along Firehole River to Lone Star geyser. The cone-shaped geyser erupts a stream of geothermal water 45 feet in the air every 3 hours. The total trail is 9 miles roundtrip. Keep an eye out for wildlife, which is one of the most exciting parts of visiting Yellowstone.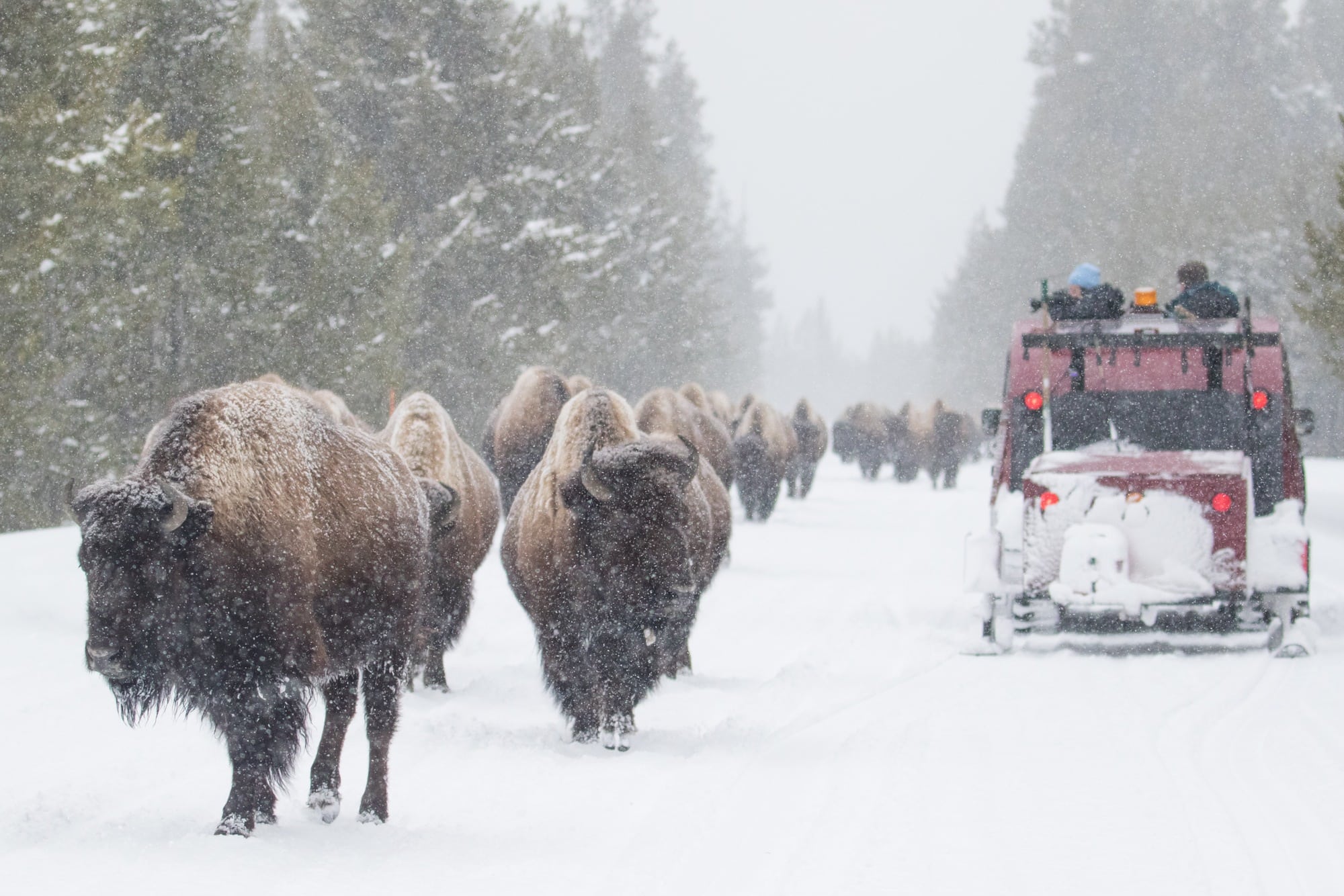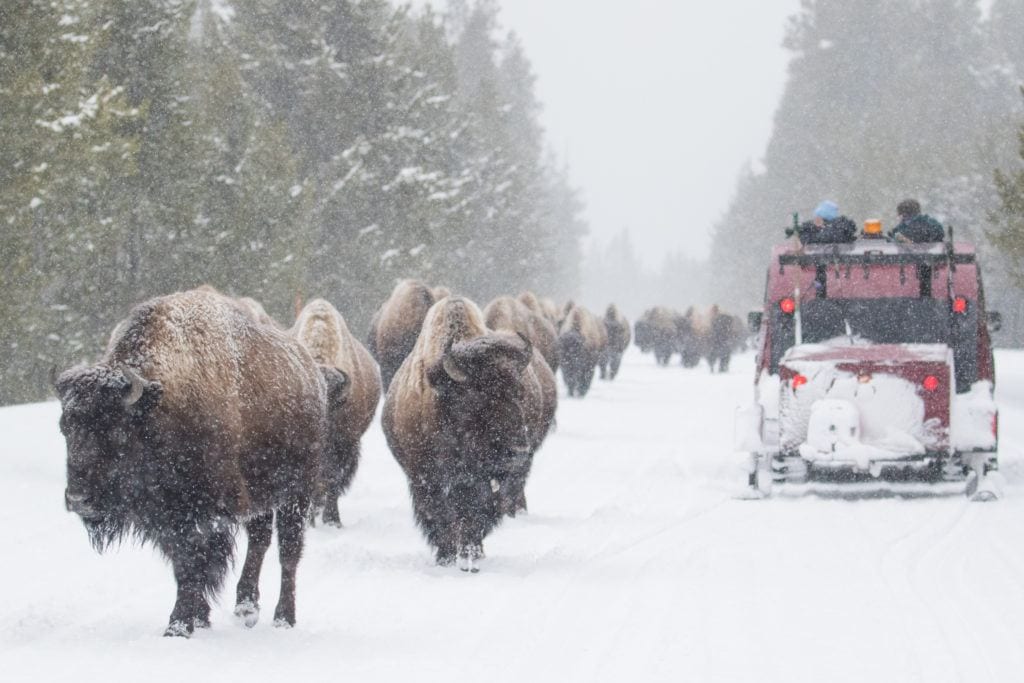 Which of these best snowshoeing destinations in the U.S. would you like to visit? Let us know in the comments below or join the conversation in the Bearfoot Theory Outdoor Adventurers Facebook Group.
Need more snowshoeing inspiration? Check out my SNOWSHOEING Pinterest board for tips, gear, and cute snowshoeing accessories!