Best Places to Go on a Safari in Tanzania
If you are a wildlife buff, Africa should be at the very top of your travel bucket list (along with Yellowstone). In September, I traveled to Tanzania for a 7-day safari, one the best places on the planet to get up close to Africa's incredible wildlife.
When I first arrived in Tanzania, I had no idea what to expect. I knew we'd see some cool animals, but I figured we'd really have to search for them. When we spotted our first zebra in Tarangire National Park, I shouted to our guide "stop stop stop! There's a zebra. Oh my gosh, let me grab my camera." Our guide politely chuckled and slowed down while I tried to get the perfect shot of a zebra half hidden in the trees about a 100 yards away.

My first zebra shot in Africa. hahah!
Once I was satisfied, we continued on, and then BAM! About 2 minutes later, we encountered hundreds of animals – zebras, wildebeest, Thompson gazelles. There was even a recent kill, and hungry vultures were feasting on what was left of a zebra carcass. Ok, so I guess this is what we were in for.
No matter how you plan, having a guide is a must in order to hit up the best places to go on a safari in Tanzania. Tanzania is a massive country, and there's a lot of different places you can go to encounter the Big 5 and all the other amazing wildlife. We spent a total of 6 full days in 3 different parks. It was a quick trip, but we were able to cover a ton of ground and witness a lot of action.
In this guide, you'll find information on the best places to go on a safari in Tanzania, a few of my favorite photos, and what was so special about each of these parks.
— Tarangire National Park —
Tarangire is the closest park to the international airport in Kilimanjaro airport (and the domestic airport in Arusha), and is a good first stop on your Tanzanian safari.
On the way to the Park, you'll see several small Masai villages (one of the major local tribes), herds of cattle, and people wearing the traditional Masai clothing. It's an interesting drive and will give you your first glimpse into the lives of the indigenous population.
Tarangire is less traveled than the Serengeti, but that doesn't mean there is less to see here. In fact, during the dry season (May to October) many animals flock here as the swamps surrounding the Tarangire River are some of the only places water remains available.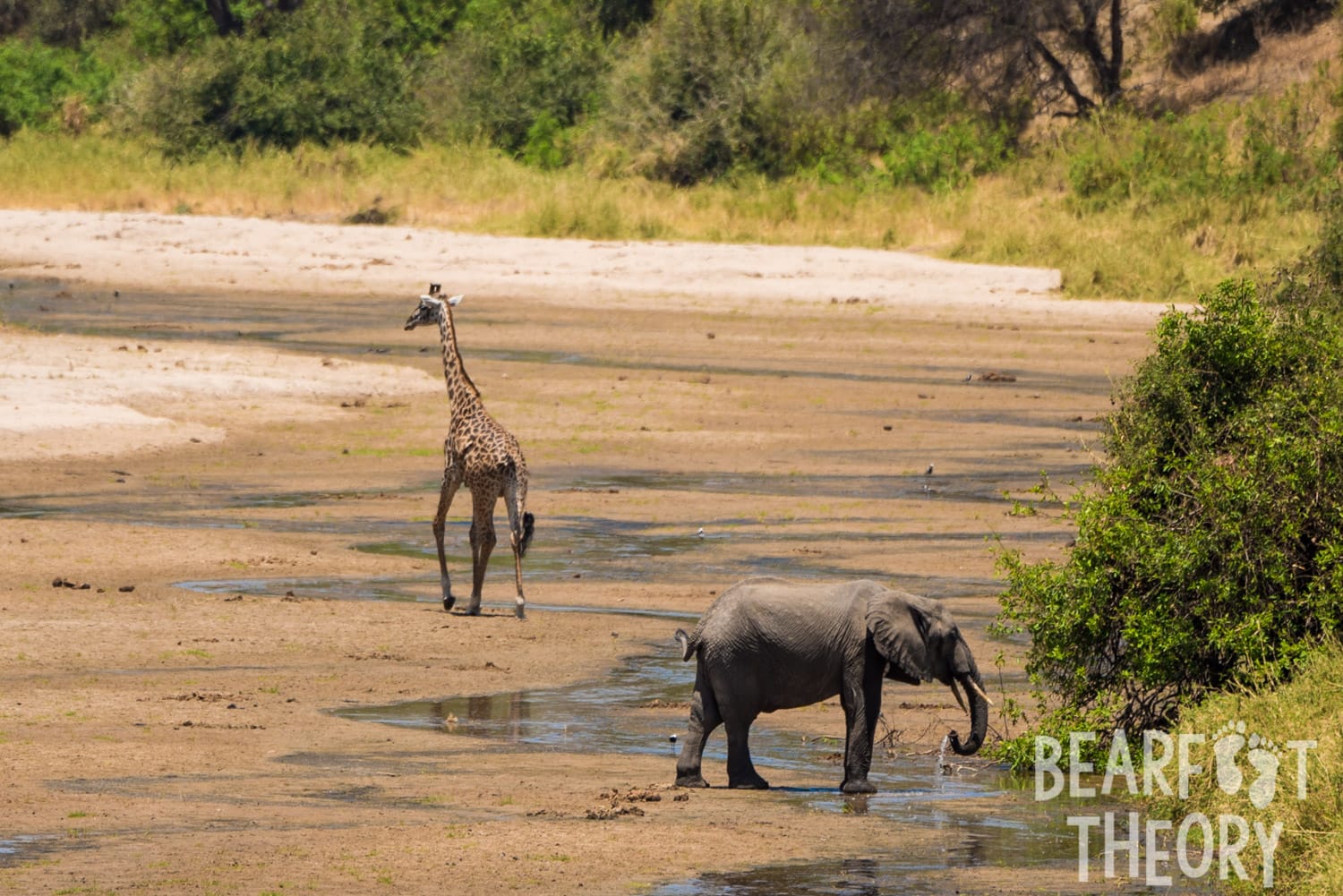 Large herds of elephants live in Tarangire, and during my September trip, we easily spotted 30-40 elephants in one day in the northeast section of the park. We also encountered zebras, wildebeest, ostrich, impalas, and giraffes in large numbers. Although lions do live here, we didn't spot any.
We only stayed for one day, but with 1,100 square miles, the park is plenty big to spend a few days of exploring if you have more time than we did. There are also a number of lodges at the north end of the park if you want to stay the night here.
— Ngorongoro Crater Conservation Area —
The Ngorongoro Conservation Area is a UNESCO World Heritage Site and is home to one of the densest populations of mammals in Africa. The walls of the Ngorongoro Crater riser up to 1800 feet above the crater floor, and because the crater is completely enclosed, the 27,000 animals that live in its grasslands do not migrate and can be found year round. This includes wildebeest, zebras, warthogs, hyenas, lions, buffalo, hippos, and more!
The sheer volume of animals in such a small space was really incredible. As soon as we hit the crater floor, we encountered a ton of wildebeests and zebras, who are often found hanging out together. If you visit during late in the dry season, you will see much larger herds of wildebeest than you will see in the southern parts of the Serengeti.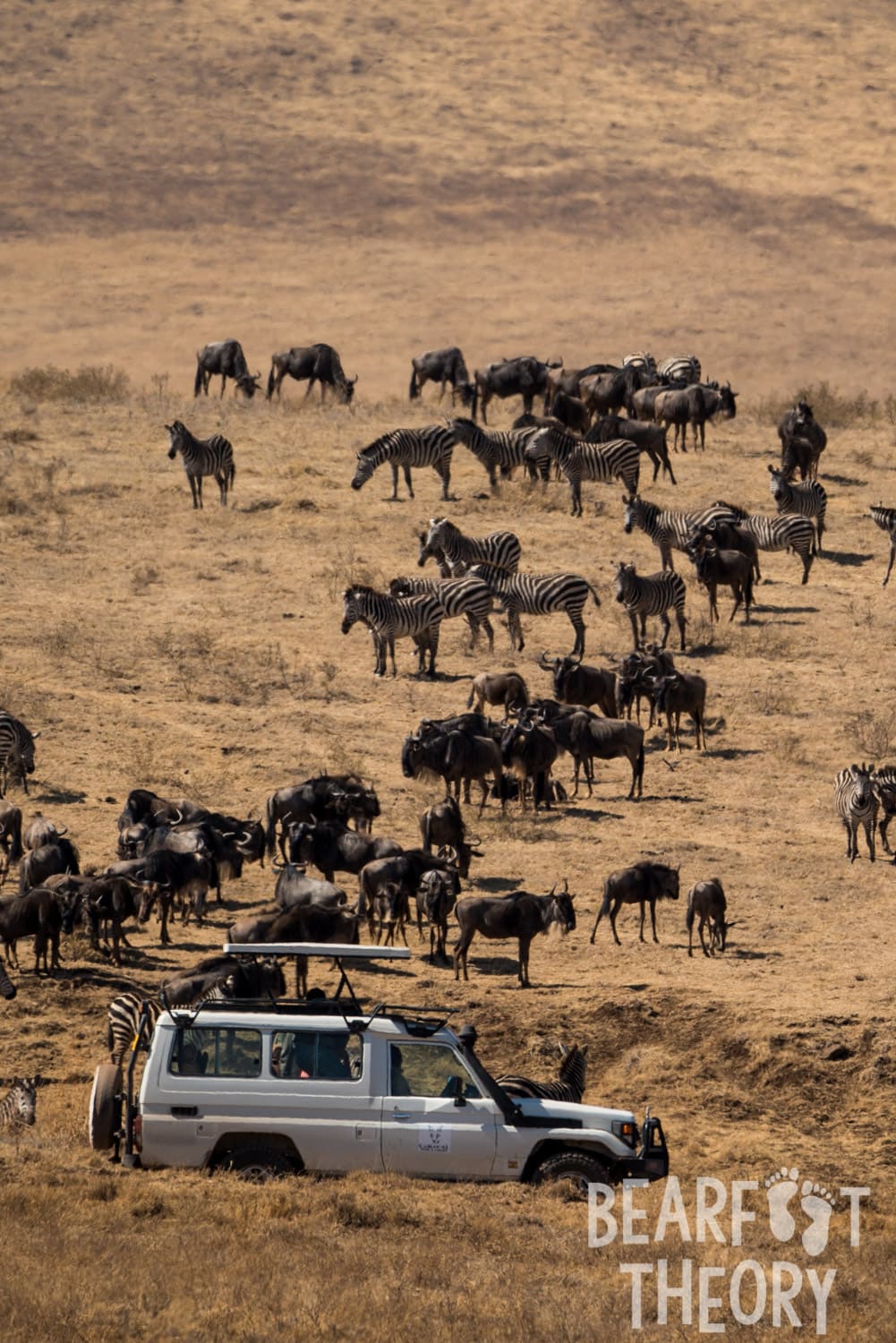 We also spotted our first lions in Ngorongoro Crater who were not in the least bit shy. You also have your best chance of seeing the highly endangered black rhino in the Ngorongoro Crater. There are only about 120 left in total in Tanzania, and 40 of them live on the Crater floor. We were lucky to spot two, but they were very far away and could only be made out with binoculars….but still….it was waaaaay cool!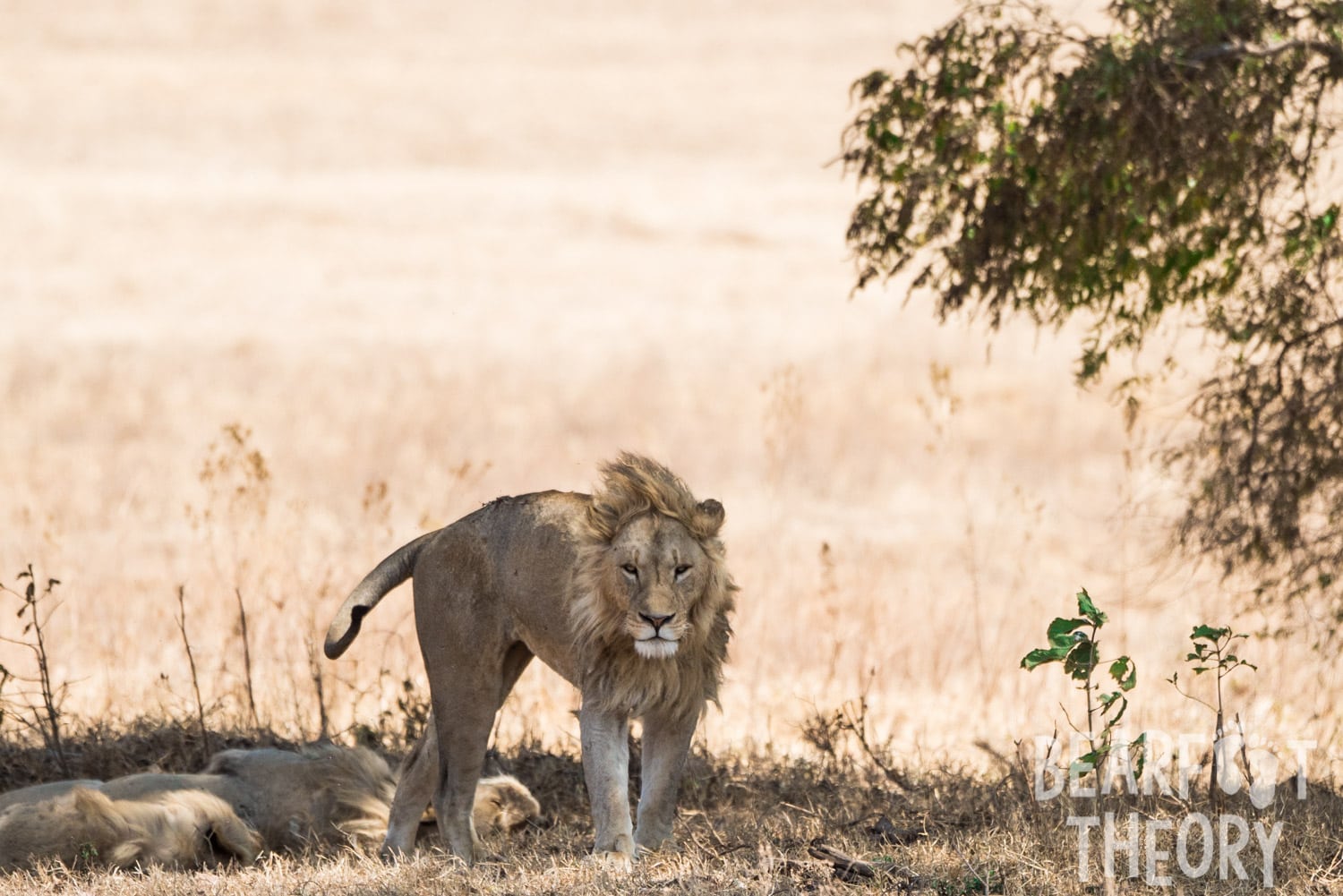 With the high density of predators in Ngorongoro Crater, you also have a good chance of seeing some sort of chase. We got really lucky and caught a full kill from start to finish. (How morbid do I sound?). Anyways, we saw a hyena lurking around in the grass close to a wildebeest herd, and then all of a sudden, we saw dust fly up and a big commotion. The hyena chased the wildebeest for about a kilometer before finally taking him down. Luckily this happened right next to the road, so we were able to witness the pack of hyenas chowing down less than 10 feet away. The blood, the sounds…witnessing wild mother nature like this felt like a once-in-a-lifetime moment.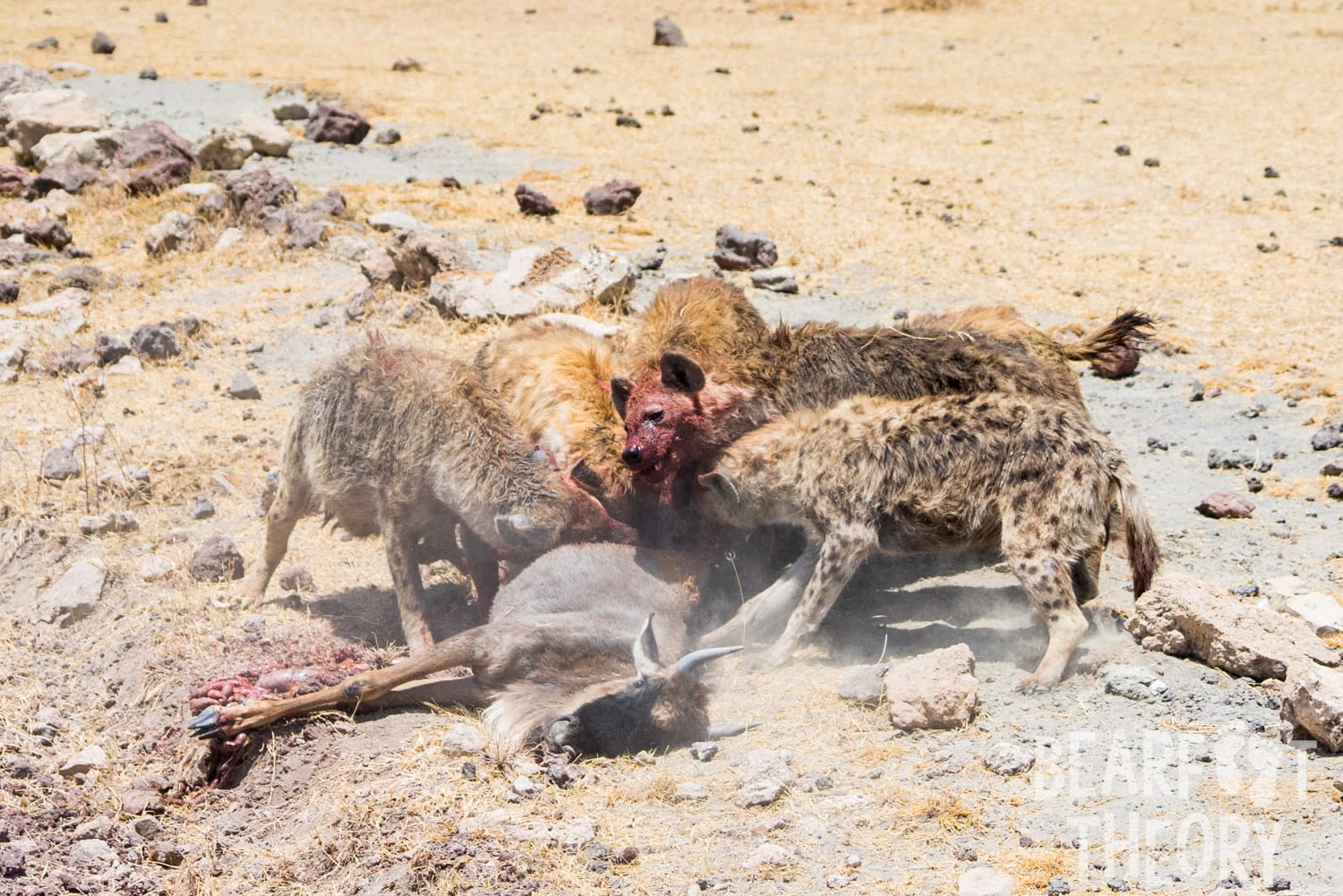 The other thing that was unique about the Ngorongoro Crater was the landscape itself. The Crater Rim, where many of the lodges are located, is a lush (often fog engulfed) rainforest, while the bottom is grasslands and savannah. Having these different ecosystems provided a nice contrasting background in the photos that you won't get in the Serengeti.
— The Serengeti —
Where you go in the Serengeti depends on what you want to see and what time of year you are going to visit. June through October is the most popular time to visit the Serengeti. During this dry season, the grass is shorter making it easier to spot wildlife, roads are easier to navigate, and animals are concentrated around swamps and rivers.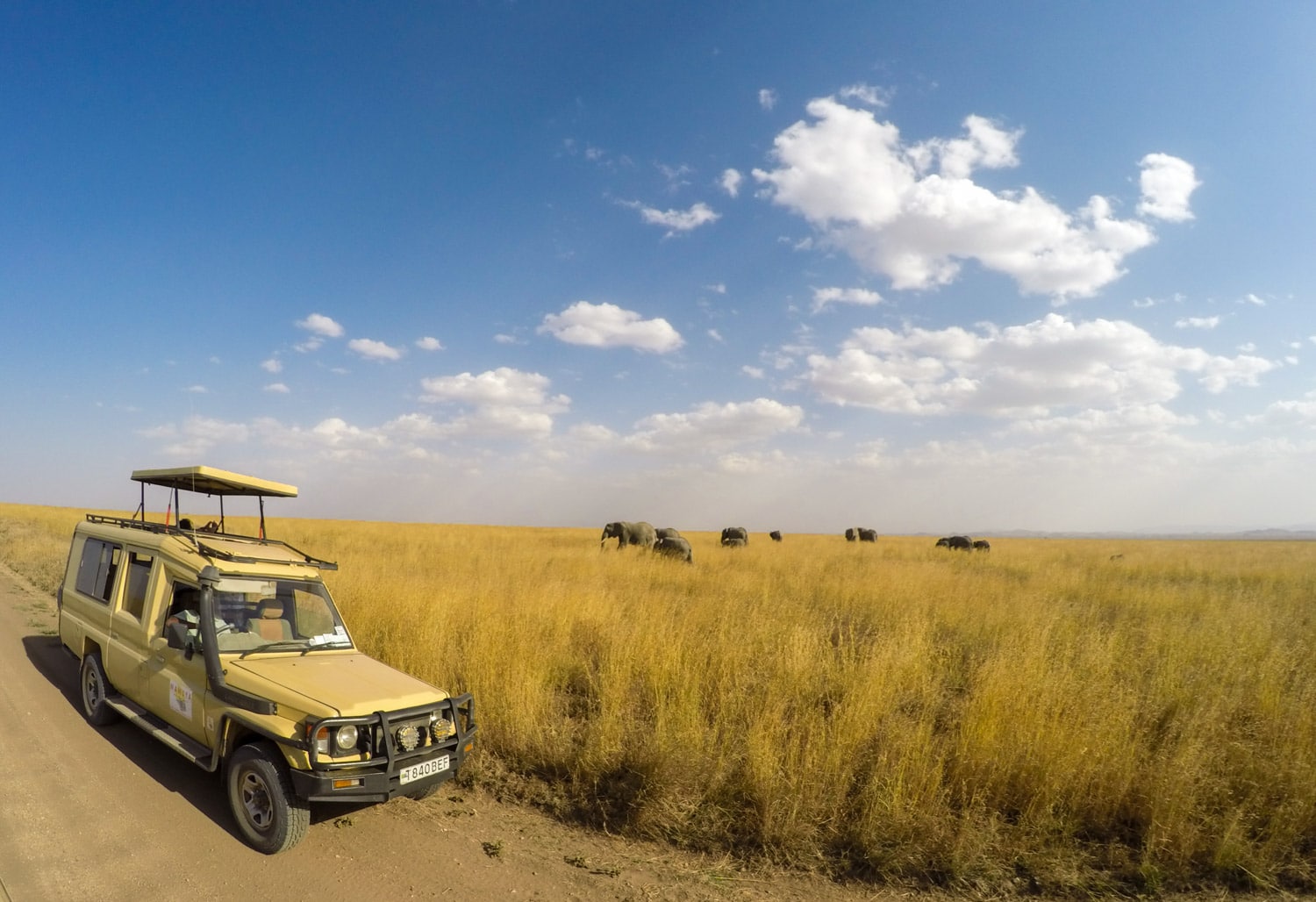 In June and July, the 1.5 million wildebeest that live on the Serengeti are heading north on their annual migration and are concentrated around the Central Serengeti. If you want to see gigantic herds without having to travel too far, this is a great time. As the dry season continues, the wildebeest get further north near the border with Kenya. It's still totally possible to see them, but you'll spend a full day driving to get there (or you can also take a bush plane from the Serengeti airport).
When I visited in September, temperatures were super pleasant….think 80s during the day and high 60s at night. Mosquitos were at a minimum, and we still saw a TON of animals. September is also the tail end of the busy season, so crowds were pretty thin. For example, our night at the Kiota Camp (which has a 60 guest capacity), there were only 11 guests (including our group of 5). Going when there are fewer people means there are fewer cars on the road to disturb the wildlife and overall a better experience in my opinion.
We encountered several large families of elephants crossing the road right in front of our jeep, saw at least 50 lions, cheetahs, the elusive leopard, gazelles everywhere, hundreds of hippos, etc.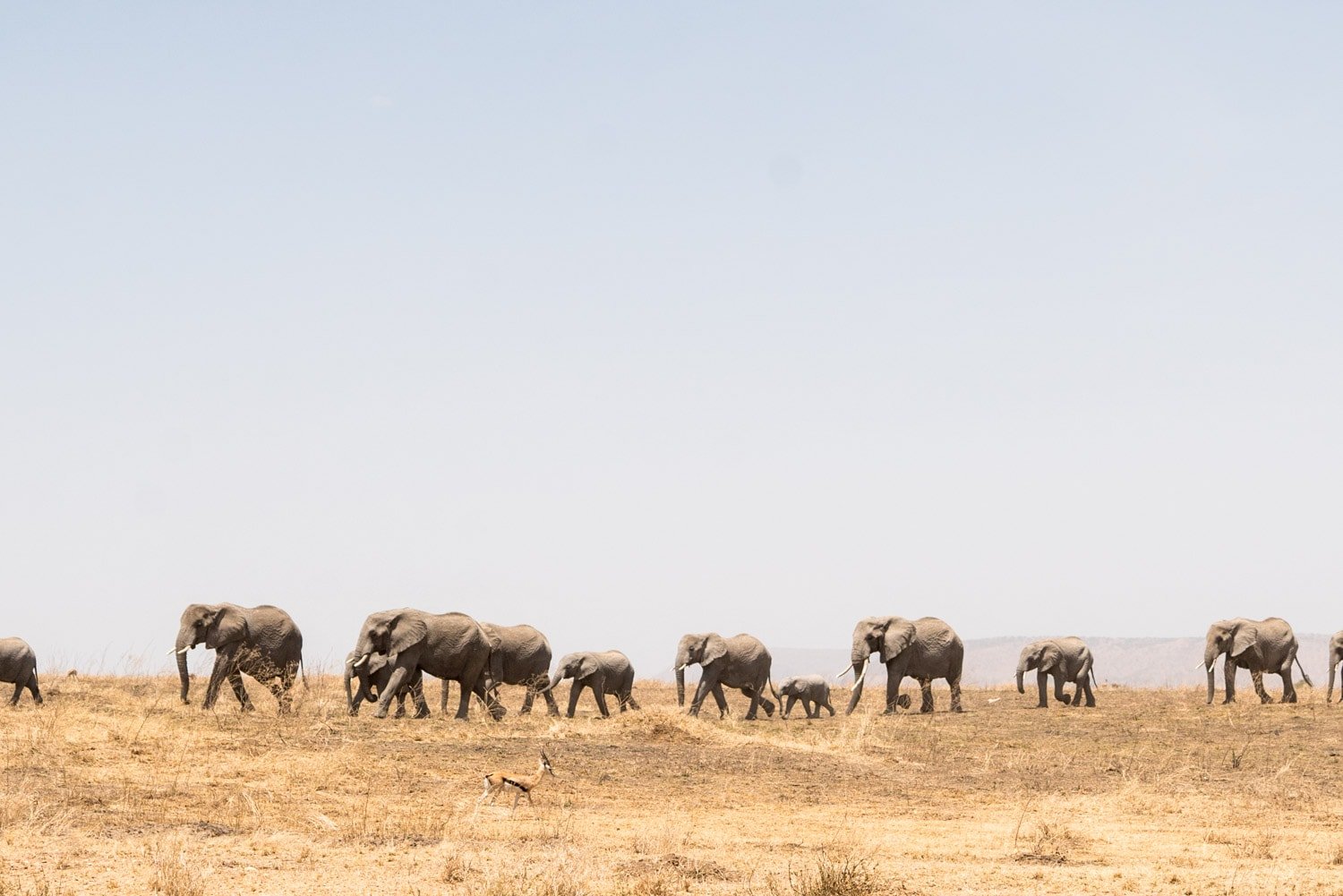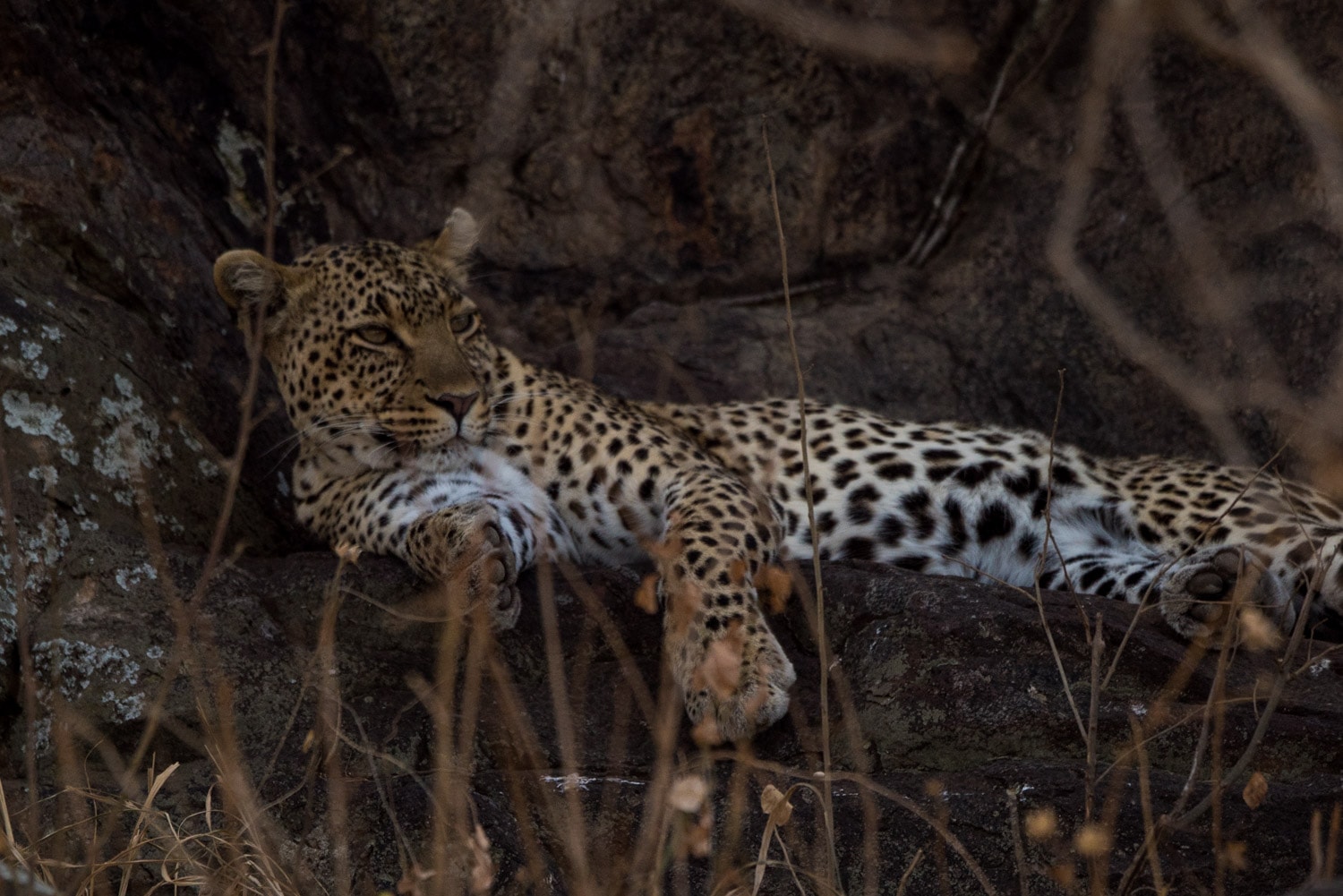 Our guide told us that January and February are also nice times to visit. Everything is super green, and it's wildebeest caving season….which also means it's a great time to catch some predator action. Rates are also lower during this time and you'll encounter the least amount of people.
There are a ton of different lodge and camp options in the Serengeti. You can even do actual camping (not glamping) if you are on a budget. Whatever guide company you choose should be able to make several recommendations for accommodations based on your budget and your itinerary.
GOT QUESTIONS ABOUT THE BEST PLACES TO GO ON A SAFARI IN TANZANIA?
LEAVE A COMMENT, TWEET ME, OR WRITE ME A POST ON FACEBOOK.