While East coast skiing might not have the same hype as mountains out West, New England is home to some of the best ski resorts in the country. The Northeast is home to ski resorts that will take you to lakeside ski towns, provide panoramic views of the Northeast's biggest mountain ranges, and give you a taste of the small, family-owned hills that embody the heart and soul of ski culture.
If you live in New England or are just visiting for a long weekend, you'll want to spend a day (or three!) at some of the region's best ski resorts.
Here are the best New England ski resorts and a few tips on how to save money on your East Coast ski vacation.
Vermont Ski Resorts
Bromley Mountain | Peru, Vermont
Bromley is a Vermont ski resort on a super fun mountain with wide-open trails that are not too steep but just challenging enough for beginners. It's a small resort with a laid-back and easy-going vibe, so it attracts families and skiers who are just out for a cruise. Bromley is an easy ski-in, ski-out resort and has some really incredible views.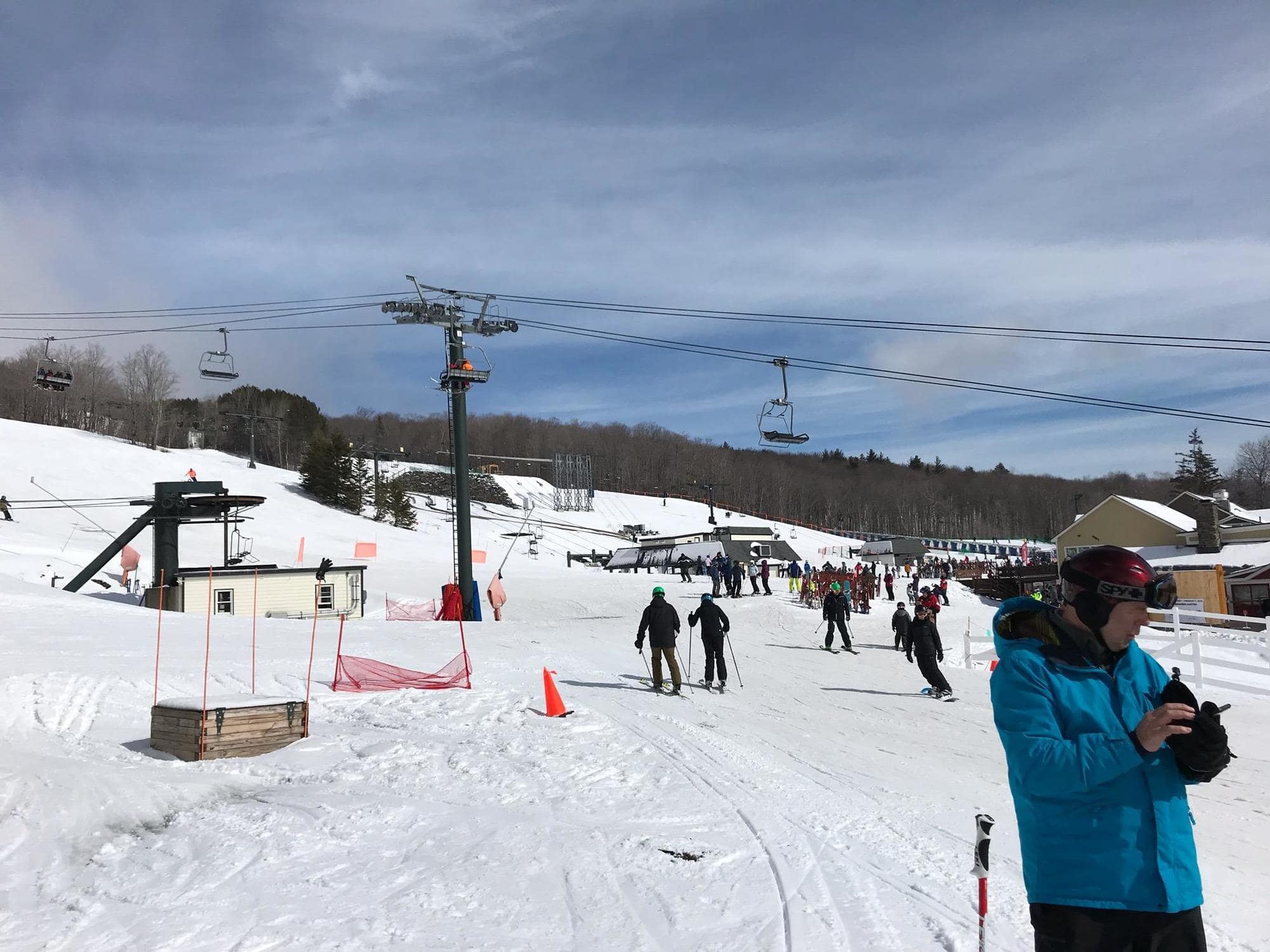 Okemo Mountain | Ludlow, Vermont
Southern Vermont's Okemo Mountain is one of the best New England ski resorts thanks to its manageable terrain and friendly crowd. With tons of green and blue runs, it's great for beginner skiers too. The only high-octane thing about Okemo is its heated six-person chair lift. Not so bad, huh?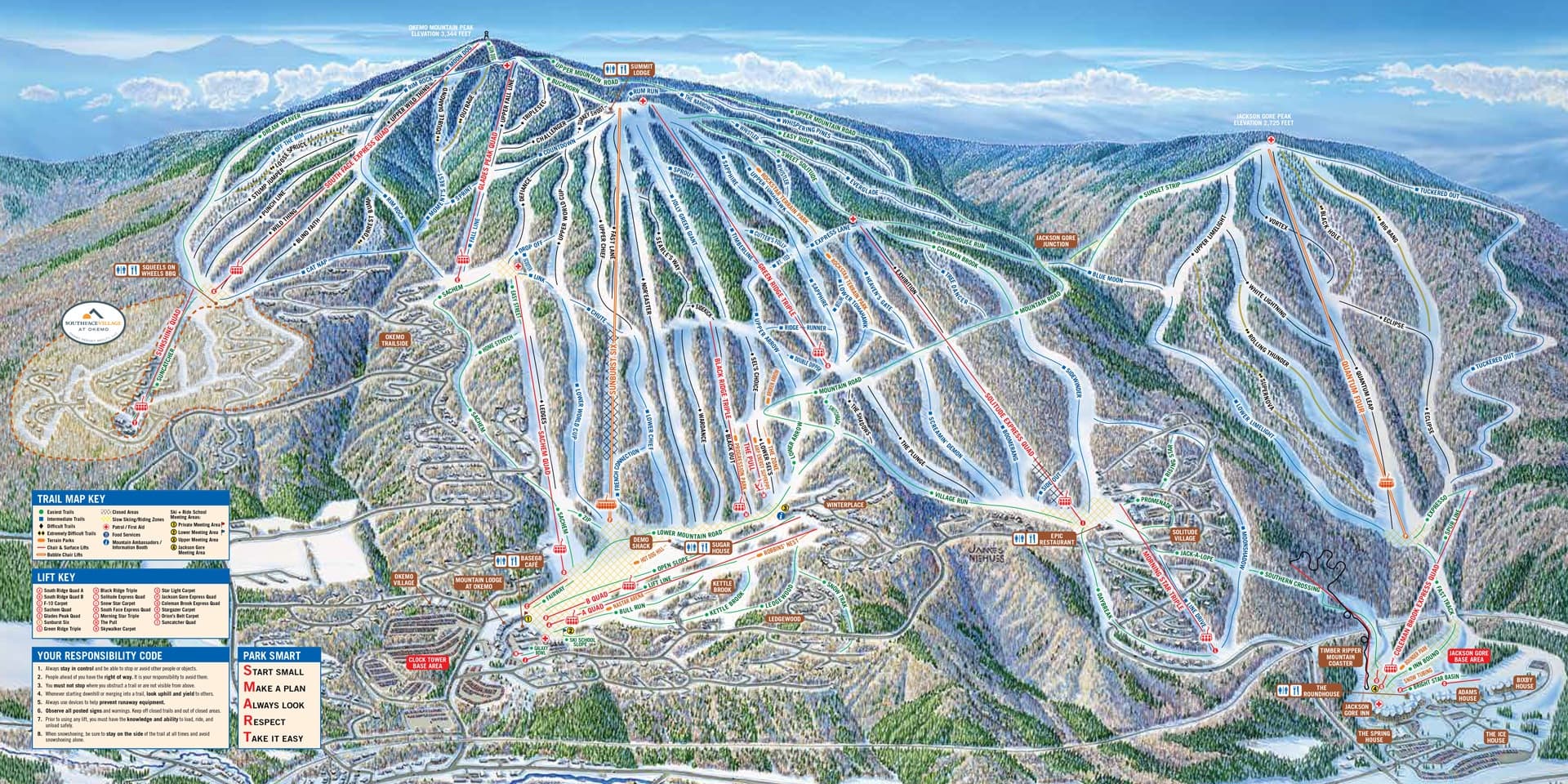 Stowe Mountain | Stowe, Vermont
Skiers are drawn to Stowe Mountain for its reputation as an exceptional mountain as well as the quality of ski instructors, both of which make this resort one of the best New England ski resorts for veterans and beginners alike. Plan a ski vacation to Stowe in Vermont and invest in taking lessons while you're there to gain confidence, skills, and have fun!
Magic Mountain | Londonderry, Vermont
Vermont's Magic Mountain fully embraces its retro ski persona with a throwback style and throwback prices, making it one of the cheapest ski resorts in the Northeast. There is certainly expert terrain, but they cater to beginner skiers with plenty of green trails and ski lessons to help you grow.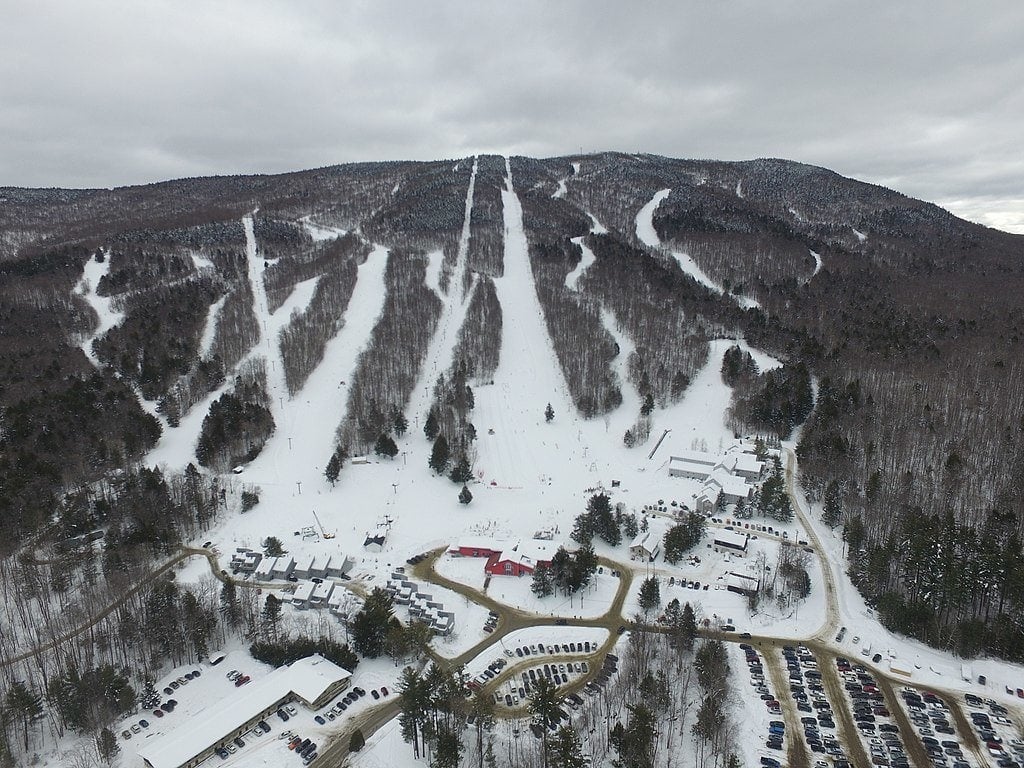 Maine Ski Resorts
Sunday River | Newry, Maine
Located in Southwestern Maine, Sunday River is a fun and welcoming ski resort that is easily accessible and a great place to ski for a weekend or longer. You'll enjoy incredible panoramic views of the White Mountains.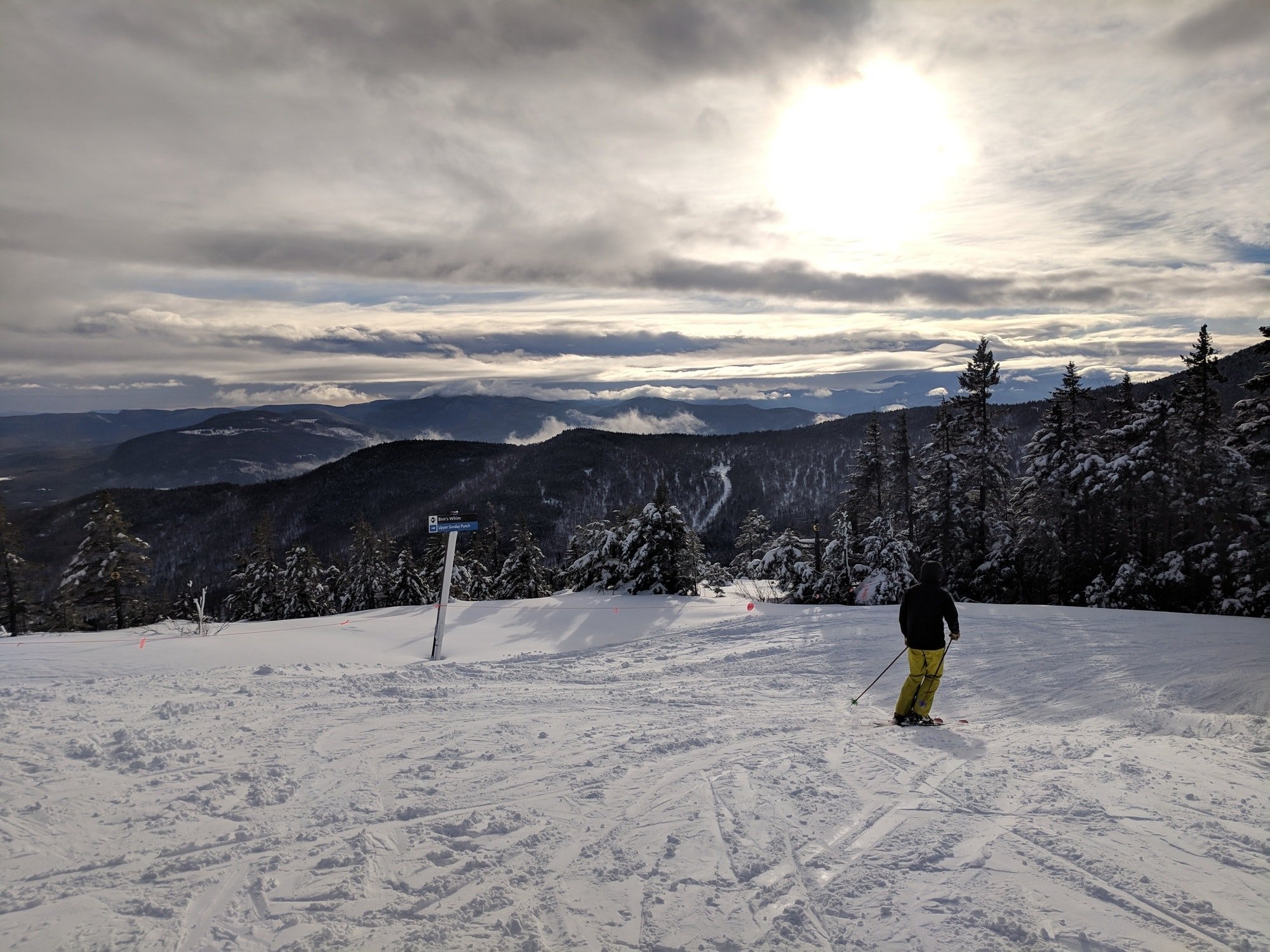 Sugarloaf Mountain | Carrabassett Valley, Maine
Sugarloaf Mountain in Maine is one of the biggest and best ski mountains in the Northeast. About a quarter of Sugarloaf's terrain are green trails that are very well-marked and perfect for helping any new skier learn how to navigate the slopes.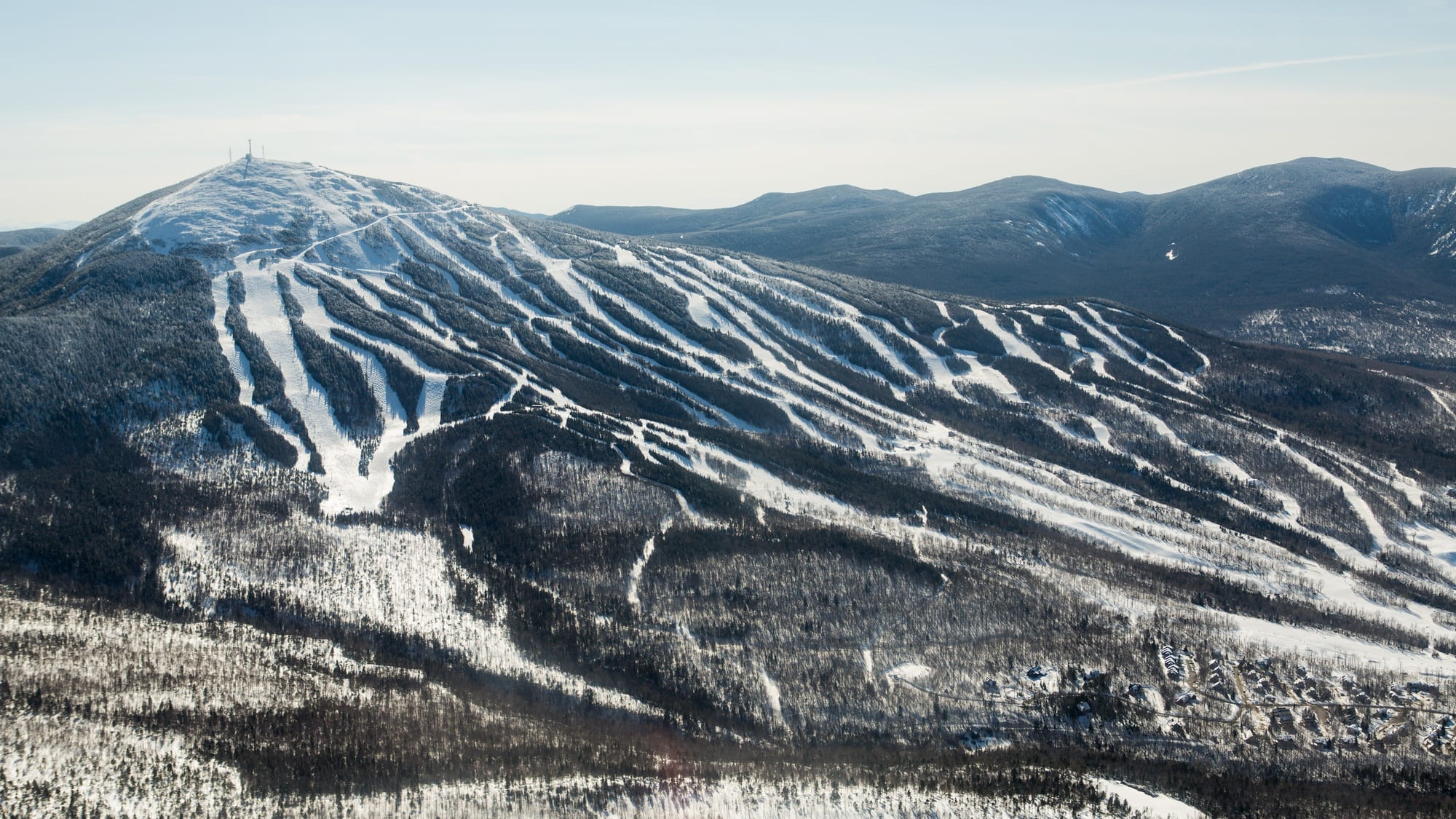 New Hampshire Ski Resorts
King Pine Mountain | Madison, New Hampshire
King Pine is one of the best ski resorts in New Hampshire where you can enjoy a visual feast of lake views. The mountain is primarily made up of beginner terrain, which makes it a haven for folks just learning how to ski. The beautiful Purity Spring Resort slopeside lodge is also a great place to stay if you want to splurge for a nice winter ski vacation in the Northeast.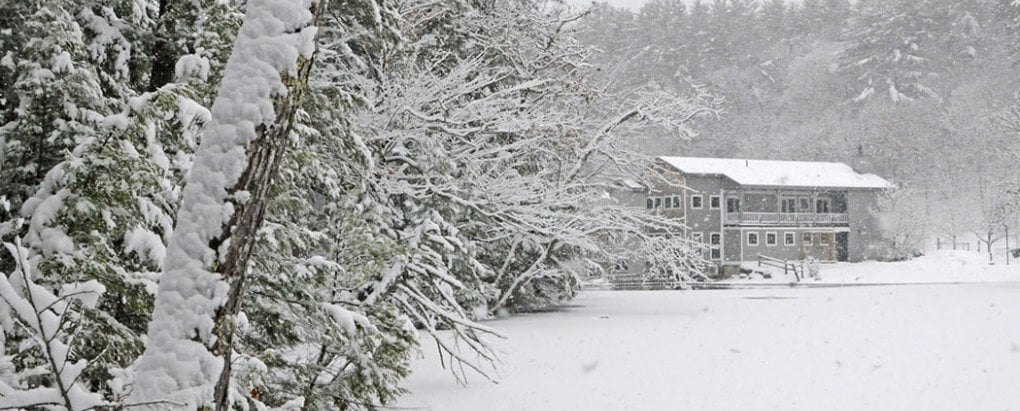 Ragged Mountain | Danbury, New Hampshire
Ragged Mountain Resort is easily one of the top New Hampshire ski resorts with 30% novice terrain, 30% intermediate, and 40% expert. If you are a beginner skier, don't fret. Ragged Mountain offers one of the best beginner skiing deals in the entire Northeast.
Through their FREE Bebe Wood Learn to Ski program, you will receive three free lessons which include three free lift tickets and three free rentals. Then, if you complete all three lessons, you can buy a season pass for the rest of the year for $69 – less than the price of a one-day ticket. It's the best deal in New England, and it's at a great ski area!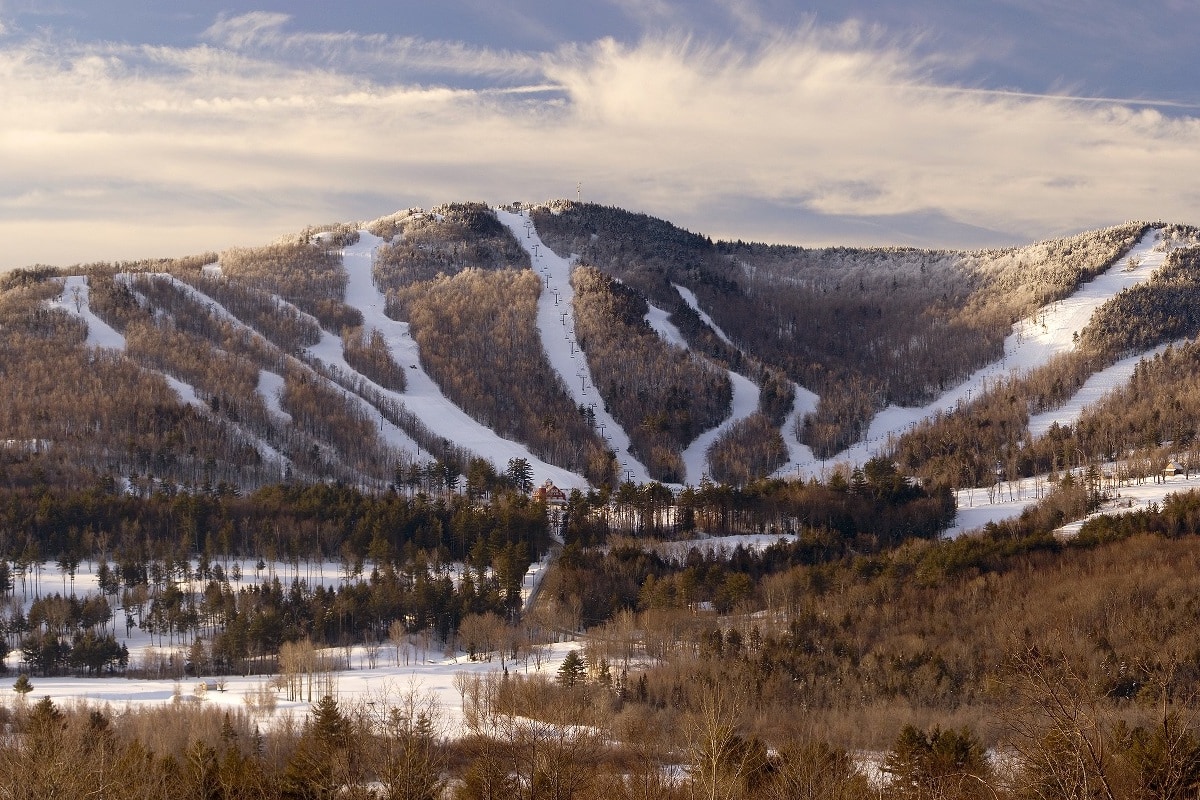 Loon Mountain | Lincoln, New Hampshire
While Loon Mountain has more intermediate than beginner-level terrain, the trails are still accessible for novice skiers. Plan a ski-and-stay vacation here for both skiing and exploring the town of Lincoln, which has a fun downtown area with shopping, restaurants, and bars.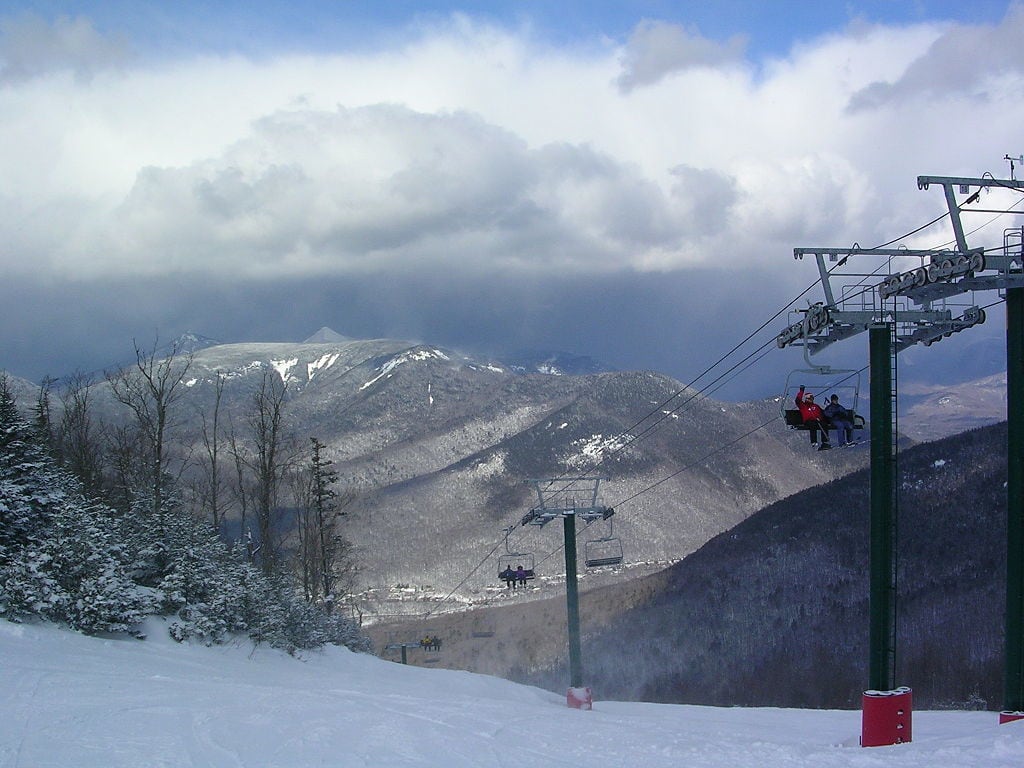 ---
How to Save on New England Lift Tickets
Skiing can be an expensive sport to pick up, so let's cover how to save money on lift tickets while East coast skiing. The good news is that there are plenty of ways to save. You can score deals of up to 60% off all the mountains on this list by logging onto Liftopia where you can buy tickets in advance and save.
If you plan on visiting Sugarloaf, Sunday River, or Loon for a long weekend or skiing more than 5 times at any of those ski resorts look into the New England Pass or the Ikon Pass. Both of these options offer a discounted season pass, plus deals on lodging, lessons, and more. The Ikon Pass will give you access to more mountains worldwide, whereas the New England Pass only covers the 3 destinations mentioned above.
The Epic Pass is another large-scale season pass that includes several New England ski resorts, including Stowe Mountain. Like the New England Pass and the Ikon Pass, this pass also gives you discounted lodging, which is worth considering if you know you're planning a ski trip to an Epic Pass resort.
We hope this blog post helps you plan your next (or first) New England winter ski adventure!
Looking to ski out West? Read our guide to discover the best West Coast ski resorts, tailored for beginners.
Do you have a favorite New England ski resort? Which one and why? What other East coast ski resorts would you add to our list?