THE DEFINITIVE GUIDE TO MAKING THE BEST CAMP COFFEE
To some, it's an art form and to others, it's a practical way to stay warm and energized. No matter how you look at it, making a great cup of camp coffee is an essential part of your morning ritual while camping. Even though it's simple (hot water + coffee beans = coffee) there seem to be a hundred different ways to brew a cup of camp coffee
As lovers of both coffee and the outdoors, we at Bearfoot Theory decided to break it down and see just how many ways you can make a fresh cup of java while car camping or backpacking.
Ready to get your morning buzz? Here's your official guide to camp coffee.
Different Ways to Make Camp Coffee
Instant coffee is the best way to brew a cup of coffee while backpacking because it's easy to pack, dissolves completely and creates one tiny piece of waste. No coffee grinds, filters or extra beans to worry about storing!
We love Alpine Start for a solid cup of instant coffee (the dirty chai is amazing!). Kim, BFT's former Community Manager who is lactose-free and has to be cautious with powdered coffees gave their Coconut Creamer Latte 2 thumbs up on a recent backpacking trip. Their coffee is strong and makes a larger cup than other instant coffees we've tried.
The Bearfoot Theory Outdoor Adventurers Facebook community are superfans of Maxim Gold Instant Coffee. It's only $20 for 100 packs and it already has a little cream and sugar mixed in. I usually like to double up on the Maxim for strength and put two packets per cup of coffee.
Using a french press to make your camp coffee is an easy method when you are car camping and have enough storage space. This requires carrying coffee grounds and a measuring spoon to add the coffee rather than the convenience of instant coffee. Although it is not a lot, you want to take into account that it adds more weight to your pack and will need a good rinse to wash away coffee grounds when you're done. Remember to align with the Leave No Trace Principles when disposing of your coffee grinds at the campsite–that means pack them out! (This is the reason we prefer instant coffee for backpacking).
Snow Peak makes a great lightweight, stainless steel french press option that won't break under pressure and will make you a solid cup. Or if you have a JetBoil you can buy a French Press attachment that can turn your JetBoil into a French Press.
This method is also known as Cowboy Coffee. When you're brewing a pot or making coffee for a crowd, a coffee percolator like this one from GSI Outdoors will help keep you caffeinated at the campsite. Since this is a little bulkier, it's not ideal for backpacking, as it requires more water and coffee grinds—so stick to using the percolator while car camping. It's great for large groups!
You might already know our love affair with the Aeropress, if not, you can read all about the Aeropress here. As far as brewing methods go, the Aeropress is our favorite gear for a delicious cup of camp coffee on trail, in the van, and even at home. It makes a strong cup of coffee and clean up is a cinch. Plus, it's lightweight, inexpensive and a whole lot of fun since it's super easy to use. Pick up the AeroPress Coffee and Espresso Maker for yourself and let us know how it goes!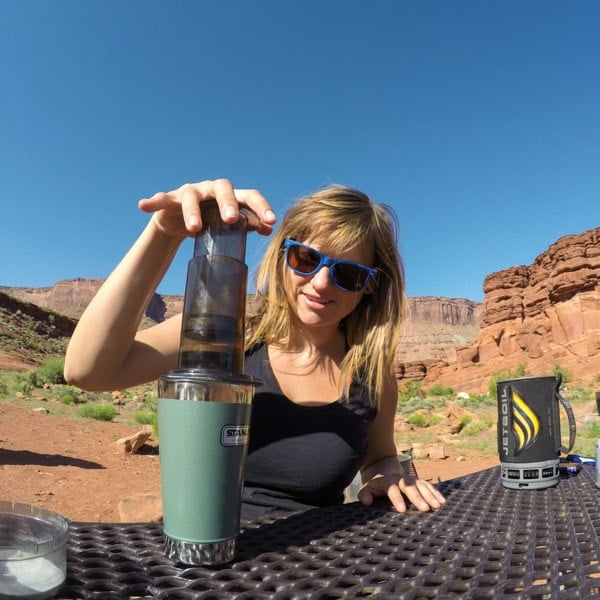 The classic pour over is a quick and easy way to get your caffeine fix while camping. This simple setup only requires a mug and the top coffee brewer that are lightweight and easy to clean. However, consider yourself warned: uneven, rocky or grassy surfaces are prime coffee spilling spots, so pour your camp coffee with care! This lightweight pour over coffee maker by GSI Outdoors is great for backpacking.
The Ins & Outs of Making Coffee While Camping
The best way to boil water for your morning cup of camp coffee is with a portable, lightweight stove like the Jetboil Flash Stove which is a compact and efficient piece of gear for backpacking and car camping. If you're in need of a bigger stove and a bigger pot of coffee, check out the Camp Chef Everest.
Read our guide to finding the best backpacking stove
How to Properly Dispose of Coffee Grounds While Camping
In every situation, it's important to carry in and carry out all trash, waste and food scraps in accordance with the Leave No Trace Principles. If you have leftover coffee grounds from brewing coffee while backpacking or car camping simply bring a sealable bag or container to store them in until you can properly compost them or dispose of them in a trash can. This ensures the area will be just as you found it and that you won't attract hungry critters looking for a caffeine fix.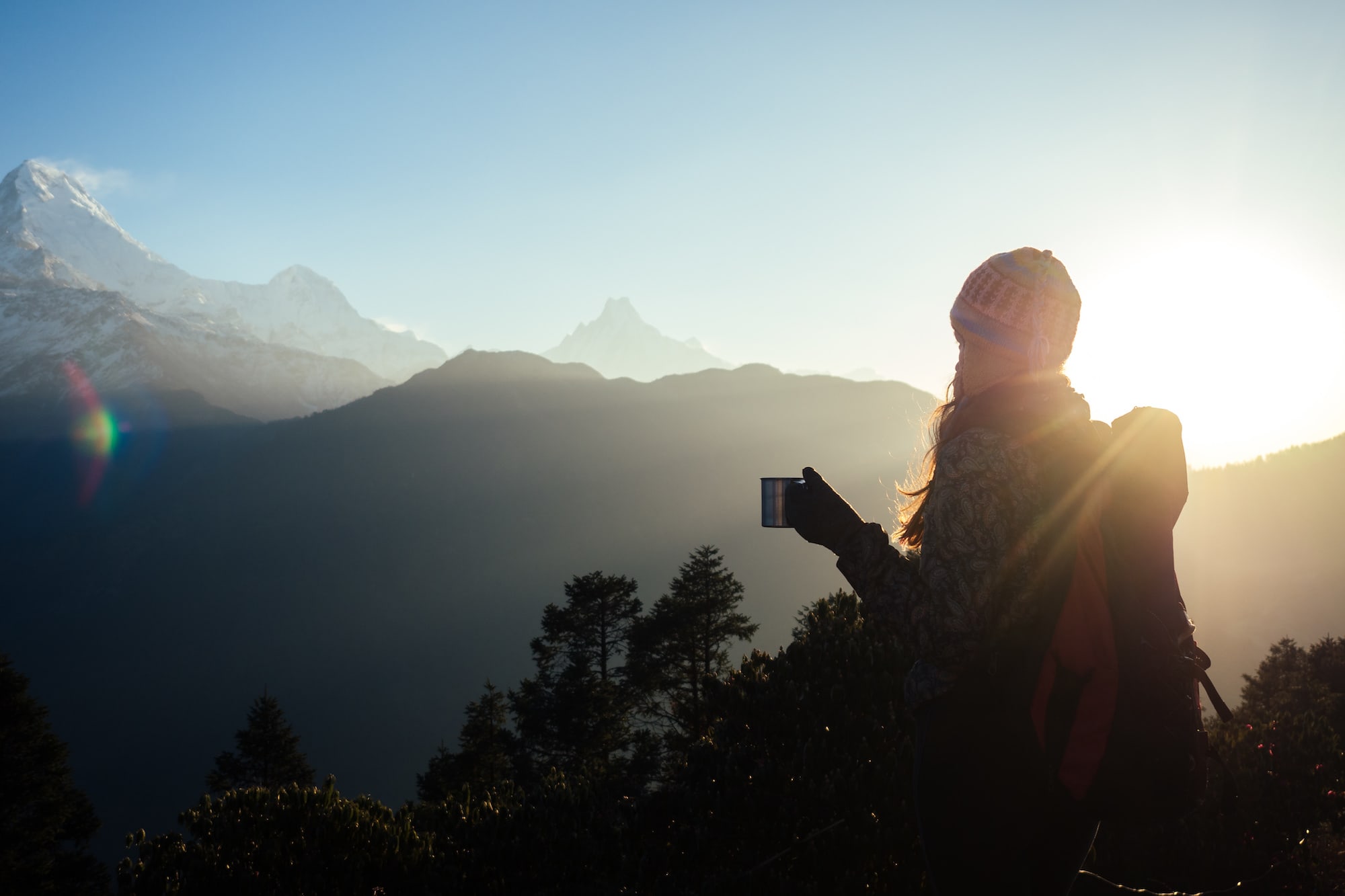 Freshly-Ground Beans v. Pre-Ground Beans
For some folks, freshly-ground coffee is necessary for the kitchen and at the campsite. Not surprisingly, bringing whole beans will take up more room and you'll need a coffee grinder to brew your coffee. So for freshly-ground coffee purists, grab the GSI Outdoors Java Mill, a lightweight, and portable coffee grinder. Otherwise, a bag of pre-ground coffee will for sure get the job done. For an easy space-saver, pre-measure the coffee beforehand so that you only bring what you need.
A Few More of Our Favorite Camp Coffee Must-Haves