BA BIKES REVIEW: FOOD BIKING TOUR IN BUENOS AIRES
At the beginning of the latest Bearfoot Theory Group Trip to Patagonia, I had a few days in Buenos Aires before the tour started. I had heard the food in Buenos Aires was out of this world, and I wanted to make sure I sampled some of the hot spots throughout the city. In my research, I came across BA Bikes, a company that runs bike tours in Buenos Aires. They have a number of different tours, but the one that caught my eye was their Food Bike tour, which sounded like the perfect intersection of my interests – being active and eating good food.
In this blog post, I share my BA Bikes review and some photos and information from their Food Bike Tour.
BA Bikes Shop
Our group arrived to the BA Bikes Shop at 10:30. The shop had a fun vibe with lots of information available about the city – from the best tango shows to favorite vegetarian restaurants to must-do yoga classes.
Shortly after we arrived, we got outfitted with bikes and helmets. The bikes were a mix between a road bike and a cruiser with slightly larger tires than a road bike. Our guide Caesar gave us a rundown of the plan, including safety tips for riding the busy city streets. They also offered to store any important items they recommended we not bring, like passports, in a locked room at the office.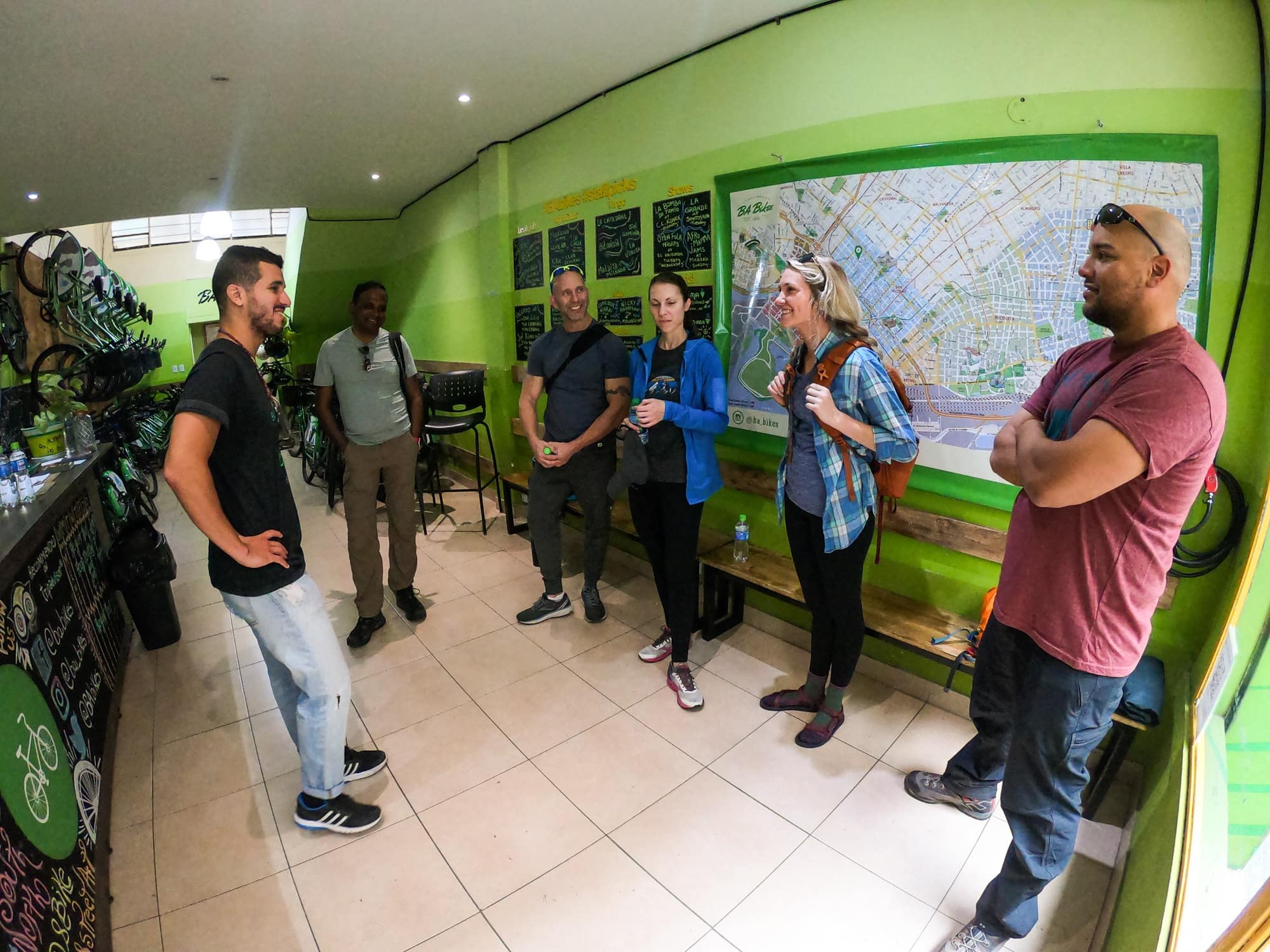 As I mentioned, I had set up a private Food Bike Tour for our group, but they also offer a variety of other tours. You can choose which region of the city you want to explore (north or south), or you can pick based on interest – like food, street art, markets, or a full-day tour that takes you over the Uruguay border.
Shortly after our orientation, we were on our way. Our guide's name was Caesar, and he spoke excellent English. He was super friendly, full of knowledge, and very patient as we ate our way around the city.
BA Bikes Tour Stops
First stop – Congress Buildings, Obelisco de Buenos Aires & Guerrin Pizza Shop
Just a few blocks away from the BA Bikes shop is the Congress Building, which is the largest in South America. The forecast called for rain and within minutes we in a downpour. It didn't stop us from having fun, but it did prevent me from getting out my real camera.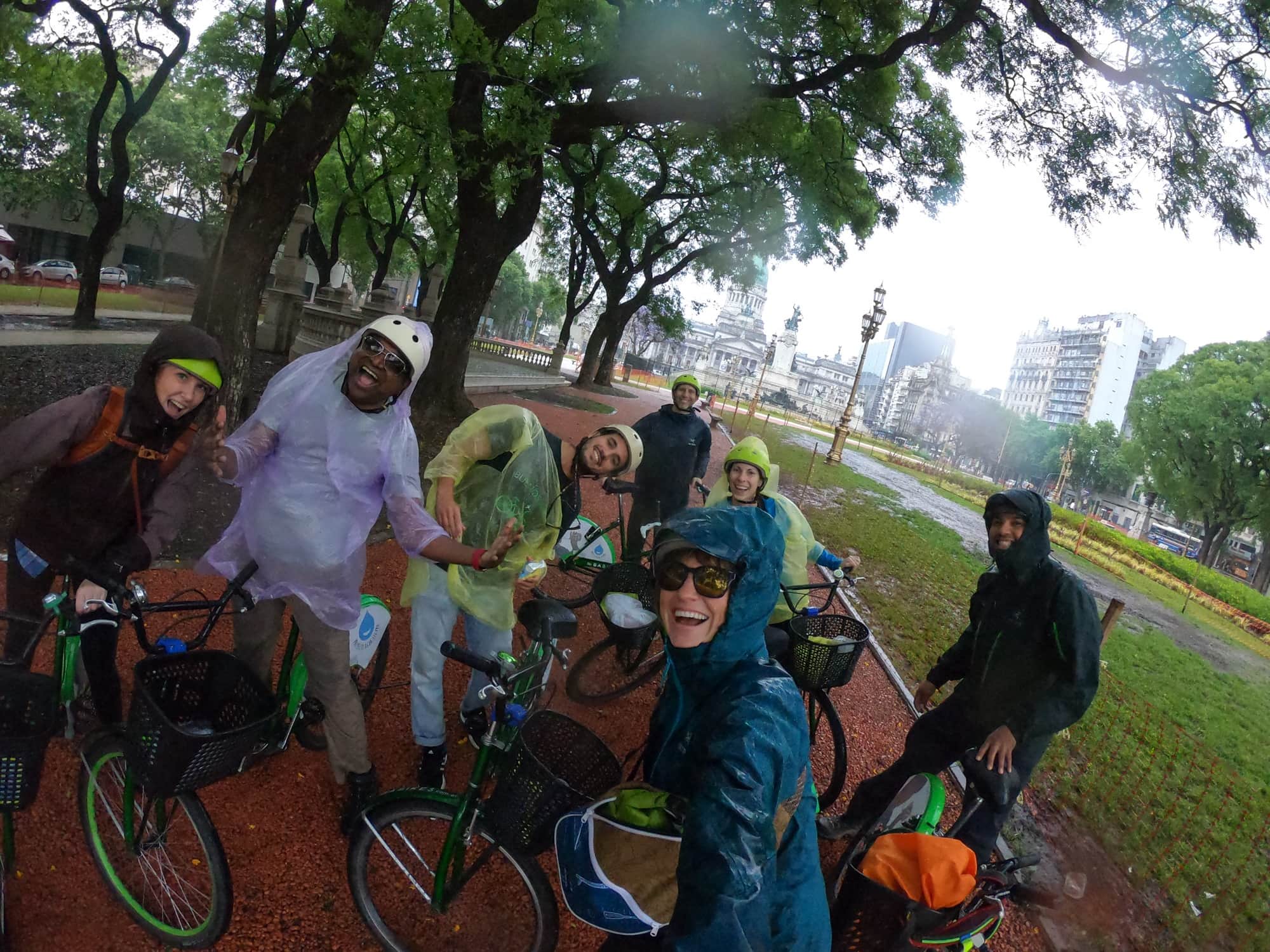 We also had to adjust our plans a little. Originally the tour calls for empanadas in the park, but instead, we decided to continue on the bikes in search of a dry restaurant.
On the way, we stopped by Obelisco de Buenos Aires – a national historic monument in the city built where the first Argentina flag was raised. Built in 1936, it looks like the Washington Monument in Washington DC, but slightly smaller. It's located at an intersection of Corrientes and Avenida 9 de Julio, which is the widest street in the world with 16 lanes!
After navigating the busy streets, that felt a little like New York City, we arrived at Pizzeria Guerrin, a famous establishment on Broadway Street that first opened its doors in 1932. According to Caesar, this is a spot frequented by actors and people attending the theater.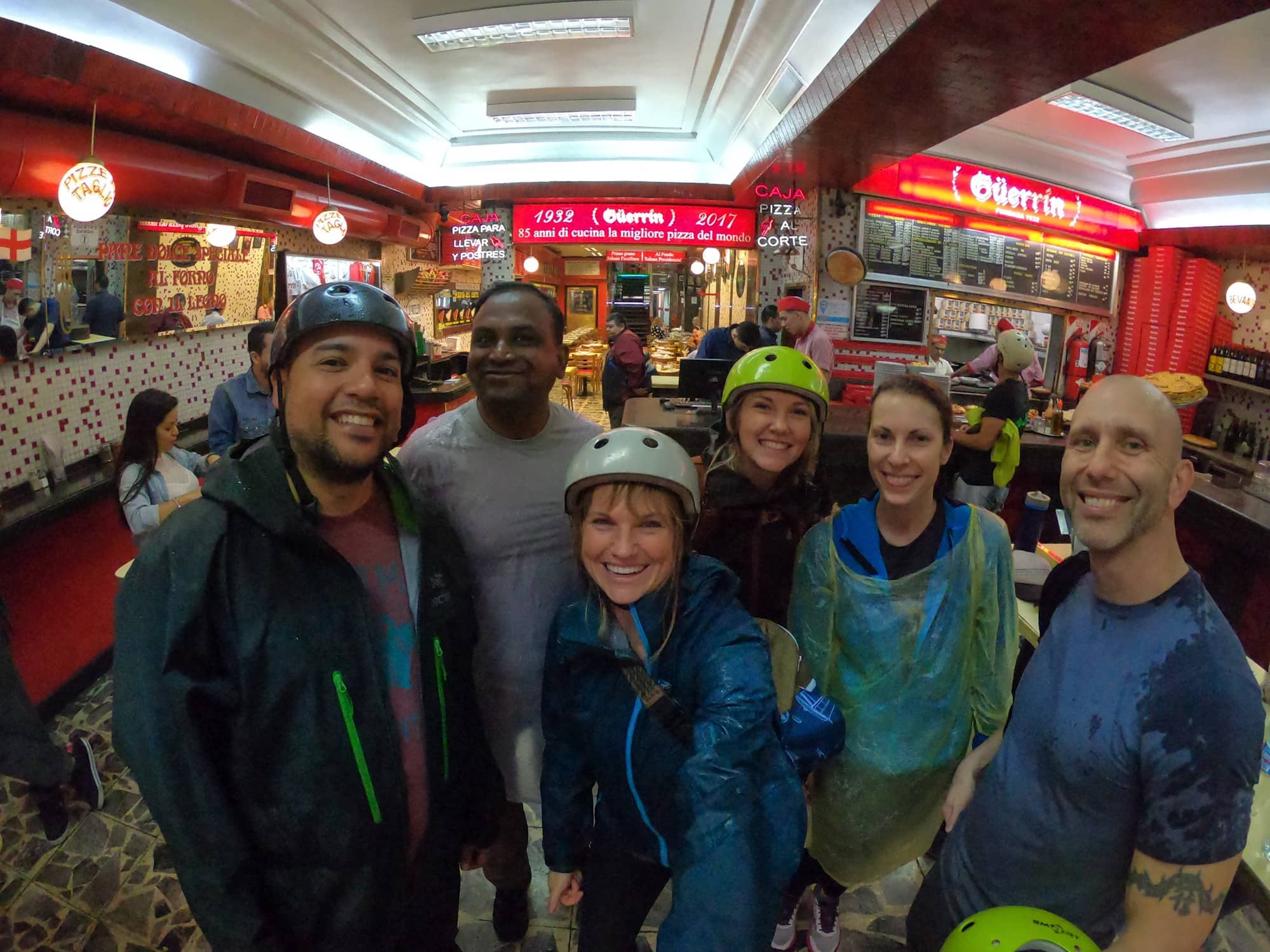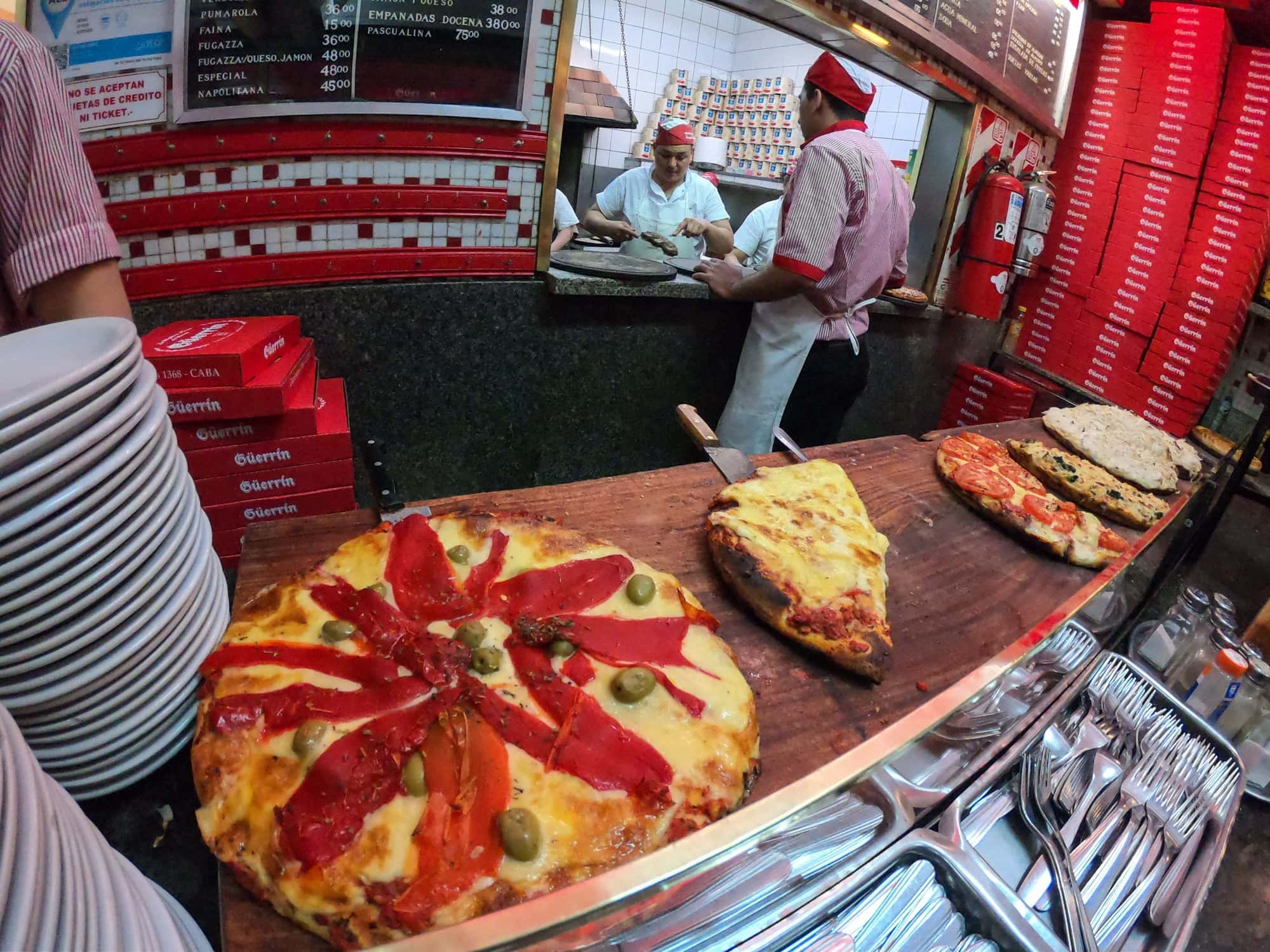 This is a good time to mention that Buenos Aires cuisine is European inspired, so it's quite different than other Latin America countries where tortillas are king. Asado (BBQ meat), chorizo, pasta, Milanesa (fried meat), and pizza are a few staples, along with sweets.
Pizzeria Guerrin, is one of the most traditional Argentinian pizza joints, with a delicious mozzarella/tomato pizza. They also had a pizza made with unleavened chickpea crust called "faina," which also has Italian roots.
Second Stop – Puerto Madero waterfront & Plaza De Mayo
After pizza, we continued riding through downtown in the rain down to the Puerto Madero waterfront. This is a newer area of Buenos Aires that was once the original Port but has since been restored from port warehouses into condos and restaurants. This barrio is also home to the tallest building in the city.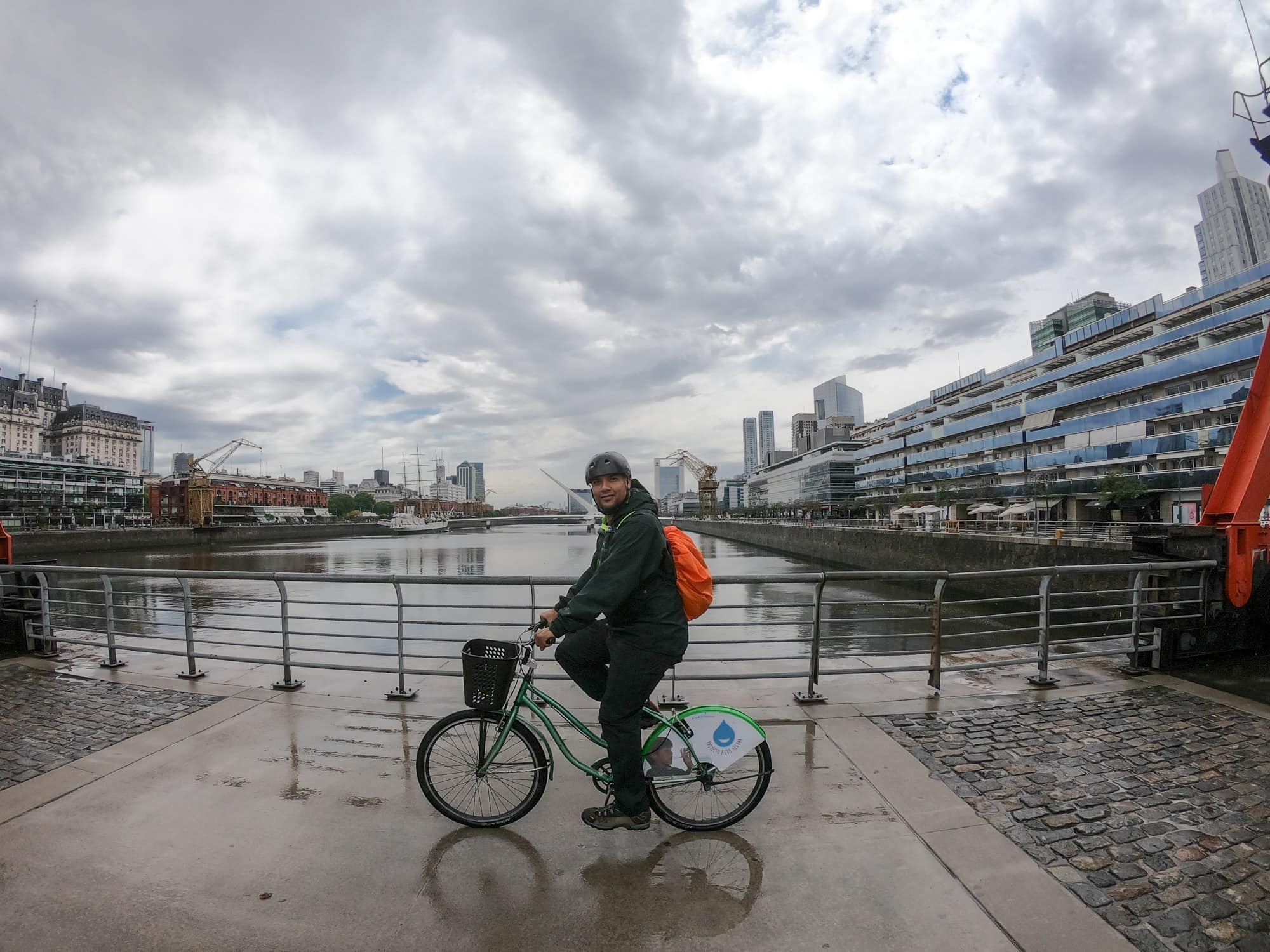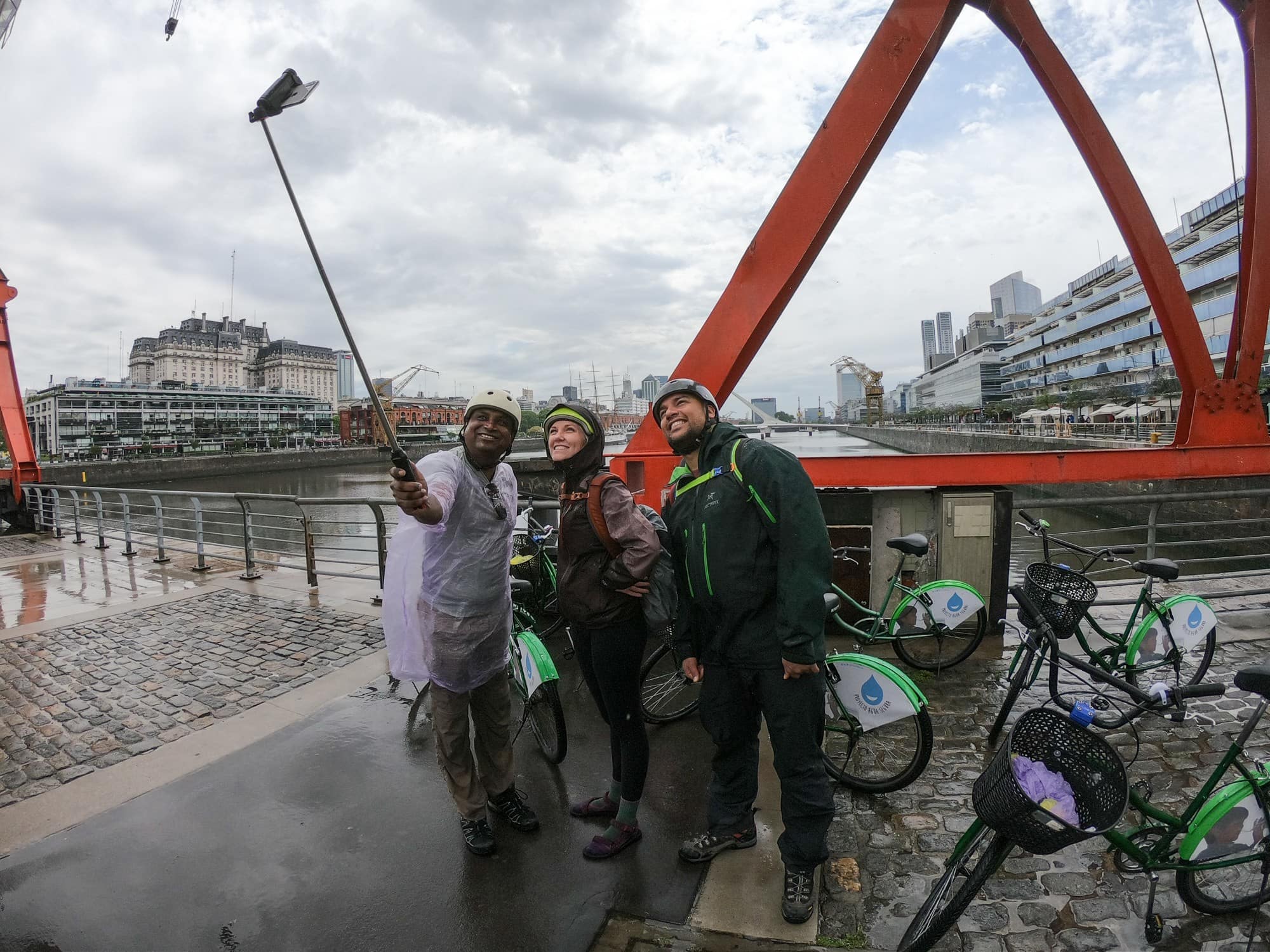 Typically the BA Bikes Food Tour explores the waterfront in more depth, visiting a bunch of local food trucks. However, with the rain, our guide Caesar decided to reroute our itinerary towards the Central Square – Plaza De Mayo.
Plazo De Mayo is the financial district of Buenos Aires, with the National Bank and several other government buildings. This plaza commonly hosts mass demonstrations and is a gathering place for citizens who want to voice their political opinions. On the day of our tour, there was a large LGBTQ and women's rights organized protest.
Third Stop – Mercado del San Telmo
San Telmo is the oldest neighborhood in Buenos Aires. Think cobblestone streets, colonial architecture, cafes, tango parlors, and historic churches. This area is currently undergoing a major revitalization and is home to one of the city's most vibrant markets.
The San Telmo Market features antiques, art and crafts, fresh produce, and artisan food products. You could easily spend an afternoon wandering around all of the aisles and exploring all of the stalls.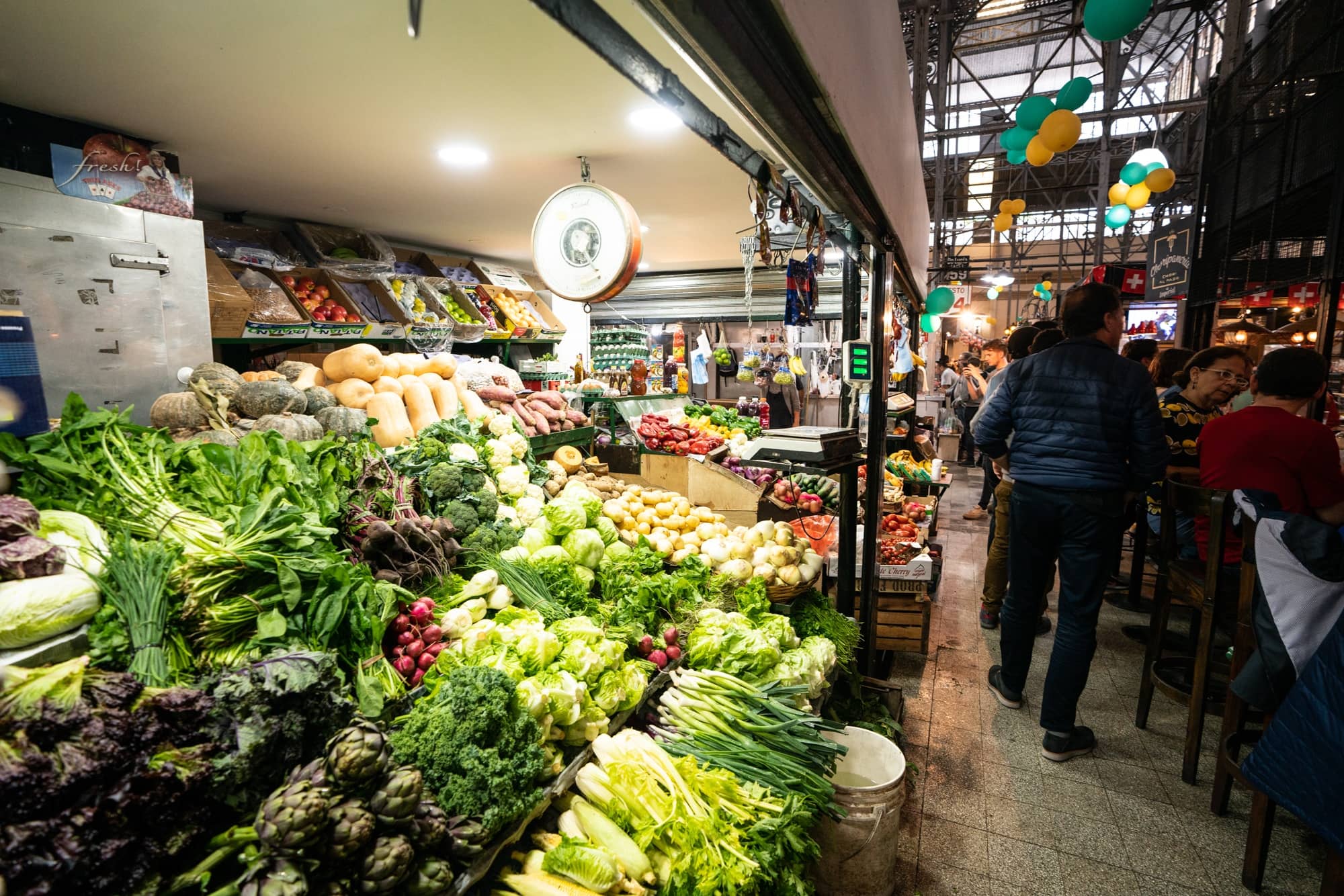 Our destination was a small bar dishing up local choripan (chorizo sandwiches), cold beers, and house music – smack in the middle of the market. Choose from pork or lamb. In all cases, I went with Caesar's recommendation.
After poking around in the market, it was dessert time at Persicco, a popular Buenos Aires ice cream chain. Get the dulce de leche. You won't regret it.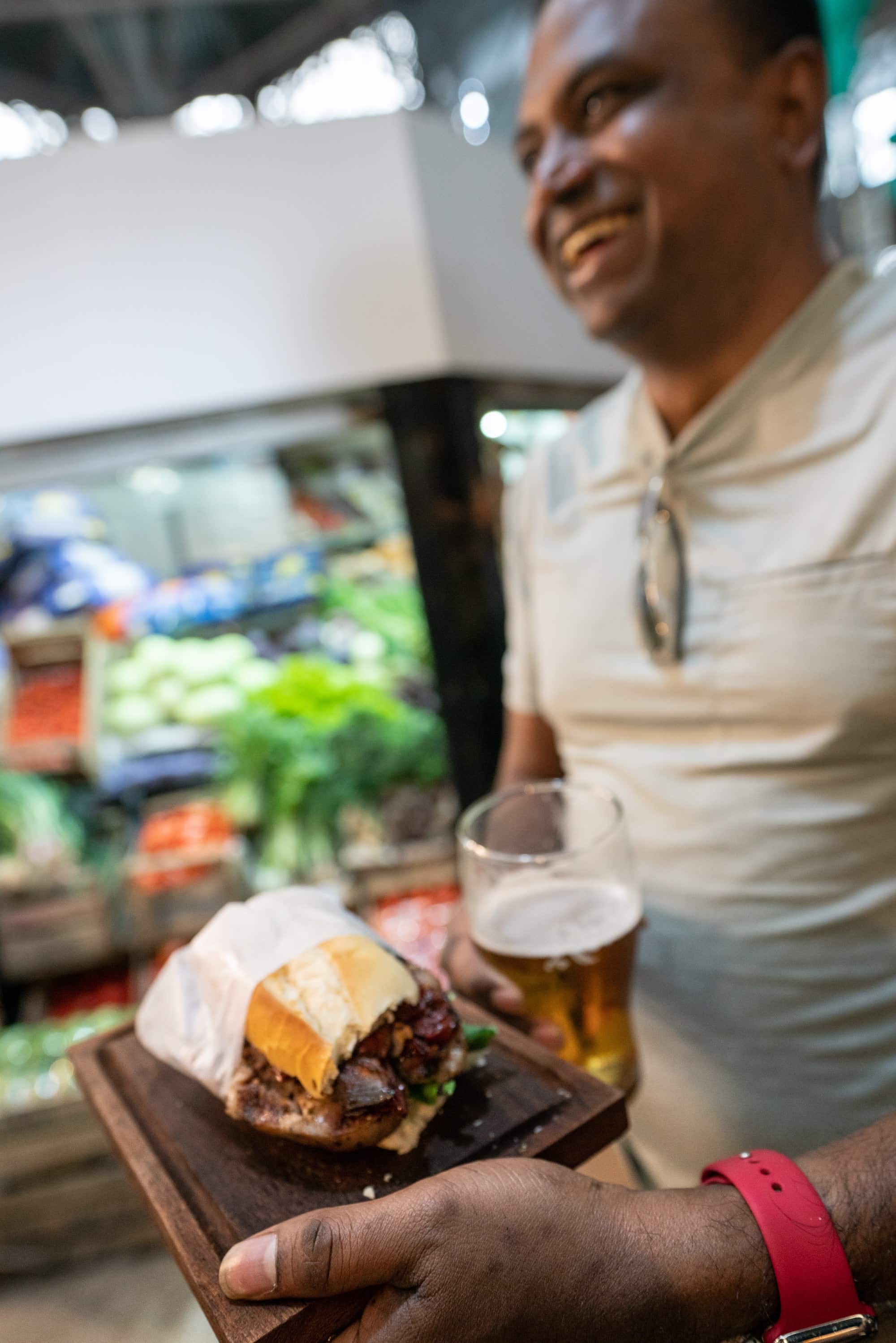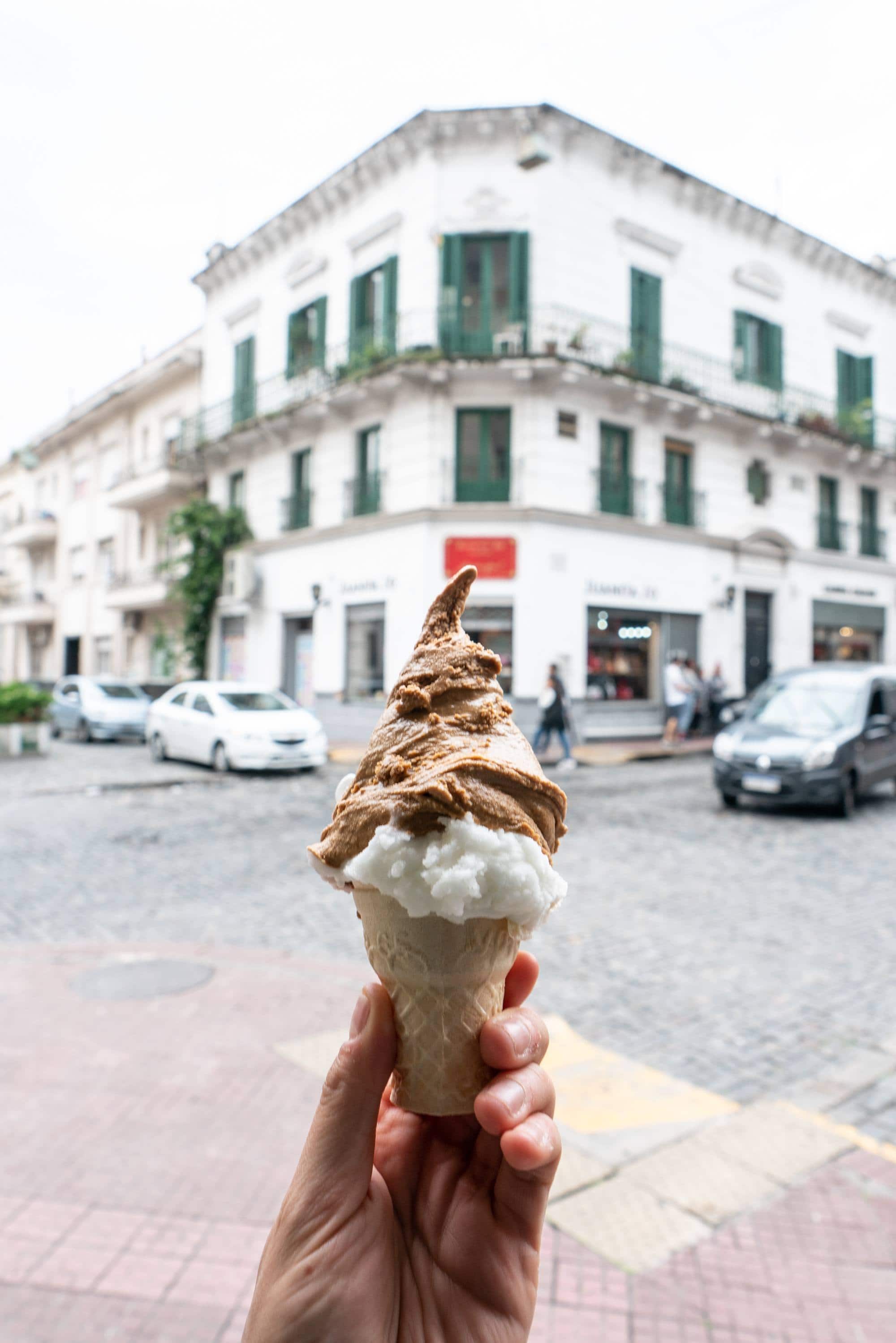 Final stop – Coffee at Los 36 Billares
What better way to finish off a bike tour of Buenos Aires than with a cortado, which is a small cup of espresso with milk. We got our caffeine fix at Los 36 Billares, a cafe/pool haul with nightly tango shows.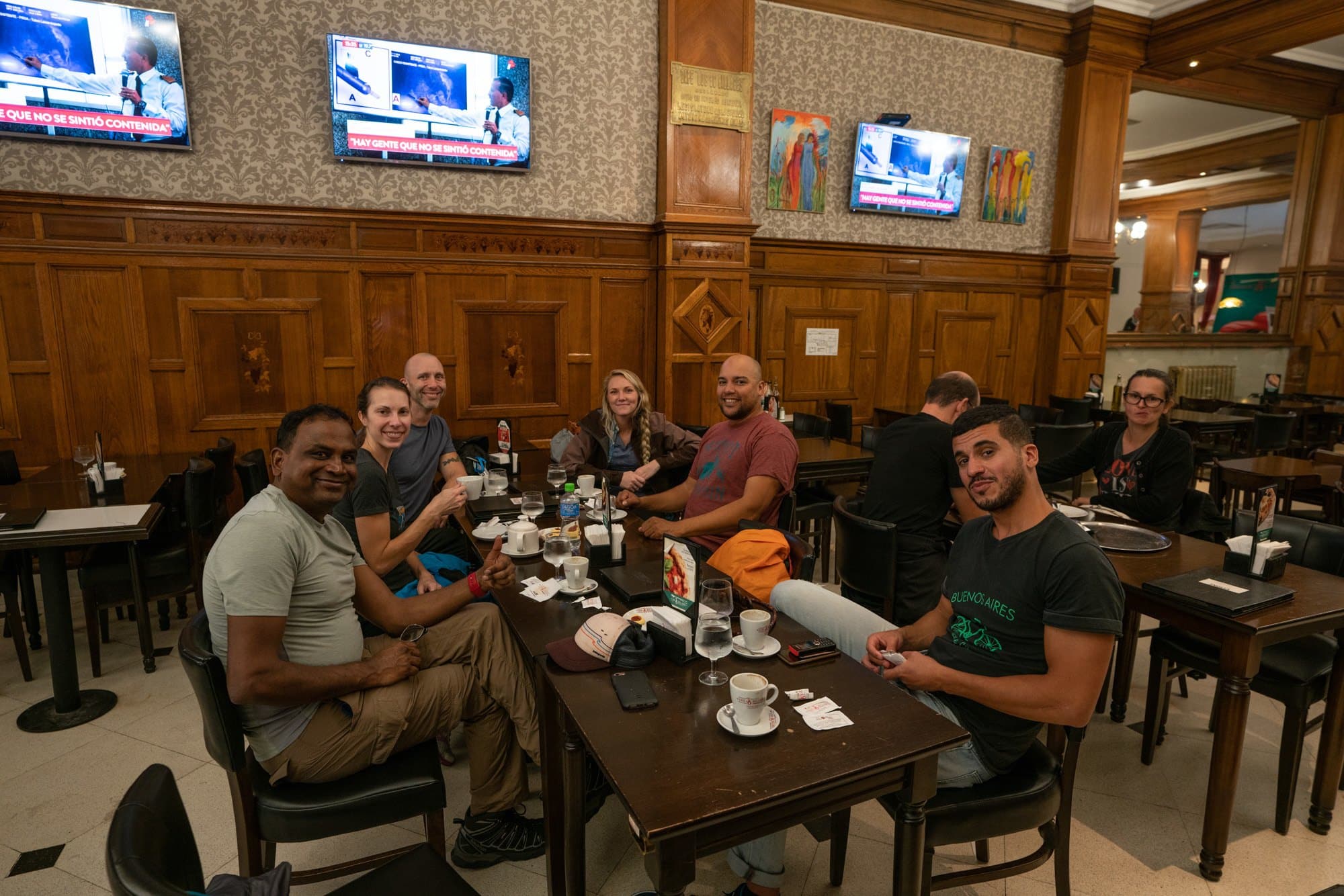 BA Bikes Review
The BA Bikes Food Tour was a fantastic way to see the city. Moving faster than walking, but slower than a car allows you to deeply take in all of the sights, smells, and feels of Buenos Aires in a short period of time while learning about food which is such an important part of Argentina's culture. Do keep in mind, our tour was altered from the normal itinerary that doesn't typically visit San Telmo, which ended up being my favorite part of the tour. If you are more interested in the historic part of town or other important cultural sites (more so than the food), you might consider either their North or South circuit.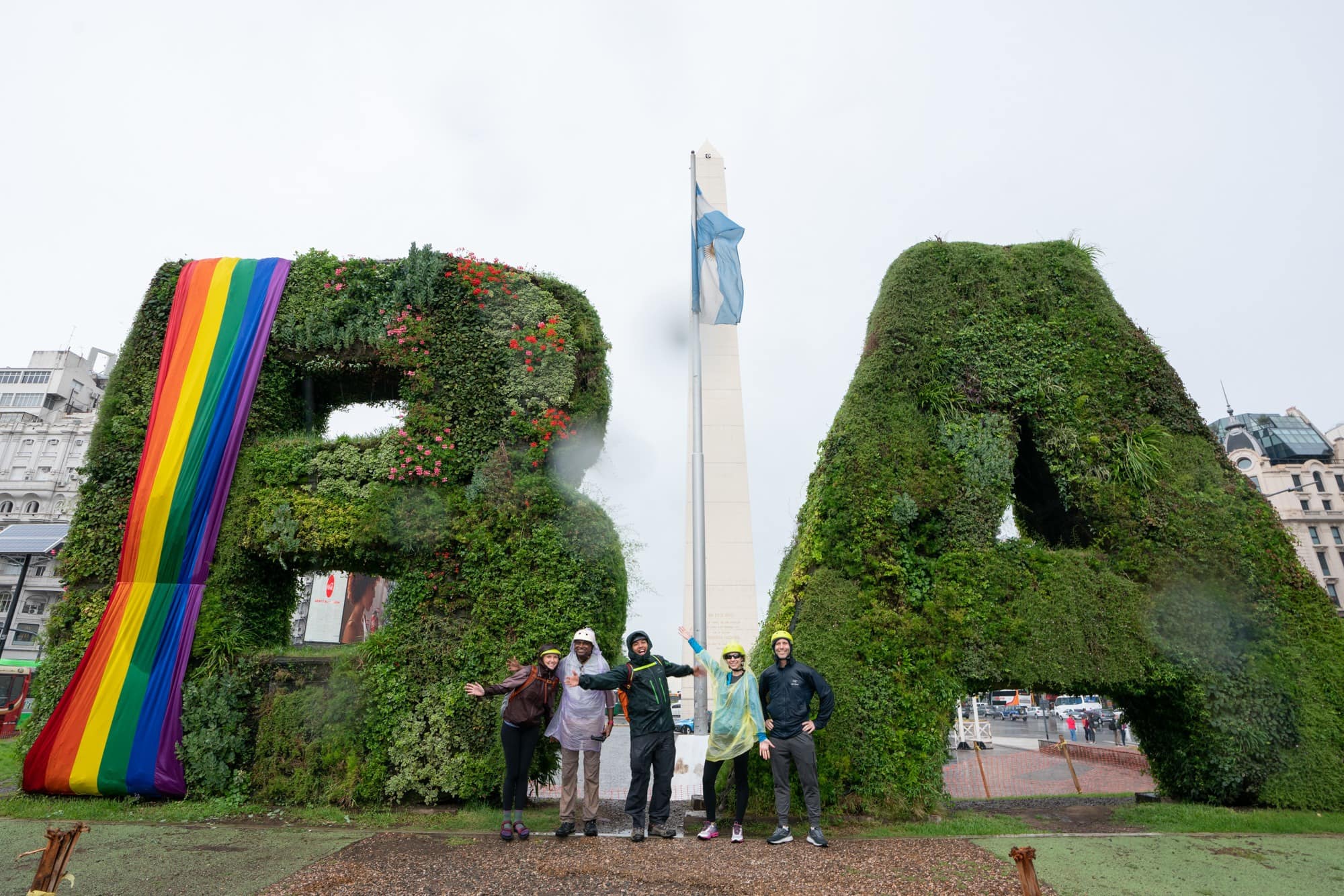 I found the staff at BA Bikes to be very helpful, so if you aren't sure which bike tour is for you, I'd suggest emailing them and telling them about your interests so you can make sure you get set up on the right itinerary.
Tours prices start at $35 a person. The food tour was $85 and includes all of the food and drinks.
If I ever come back to Buenos Aires, I will definitely do another BA Bikes tour to another part of the city to see what else Buenos Aires has to offer.
For more information, visit BA Bikes website.
Thanks to BA Bikes for hosting me on the tour. As always, all words and opinions are crafted by me and me only.